Journalists Open Faizabad's First Tailoring Shop for Women
As #Afghanistan's economic situation takes a turn for the worst and jobs become scarce, women struggle to find employment that will meet their needs.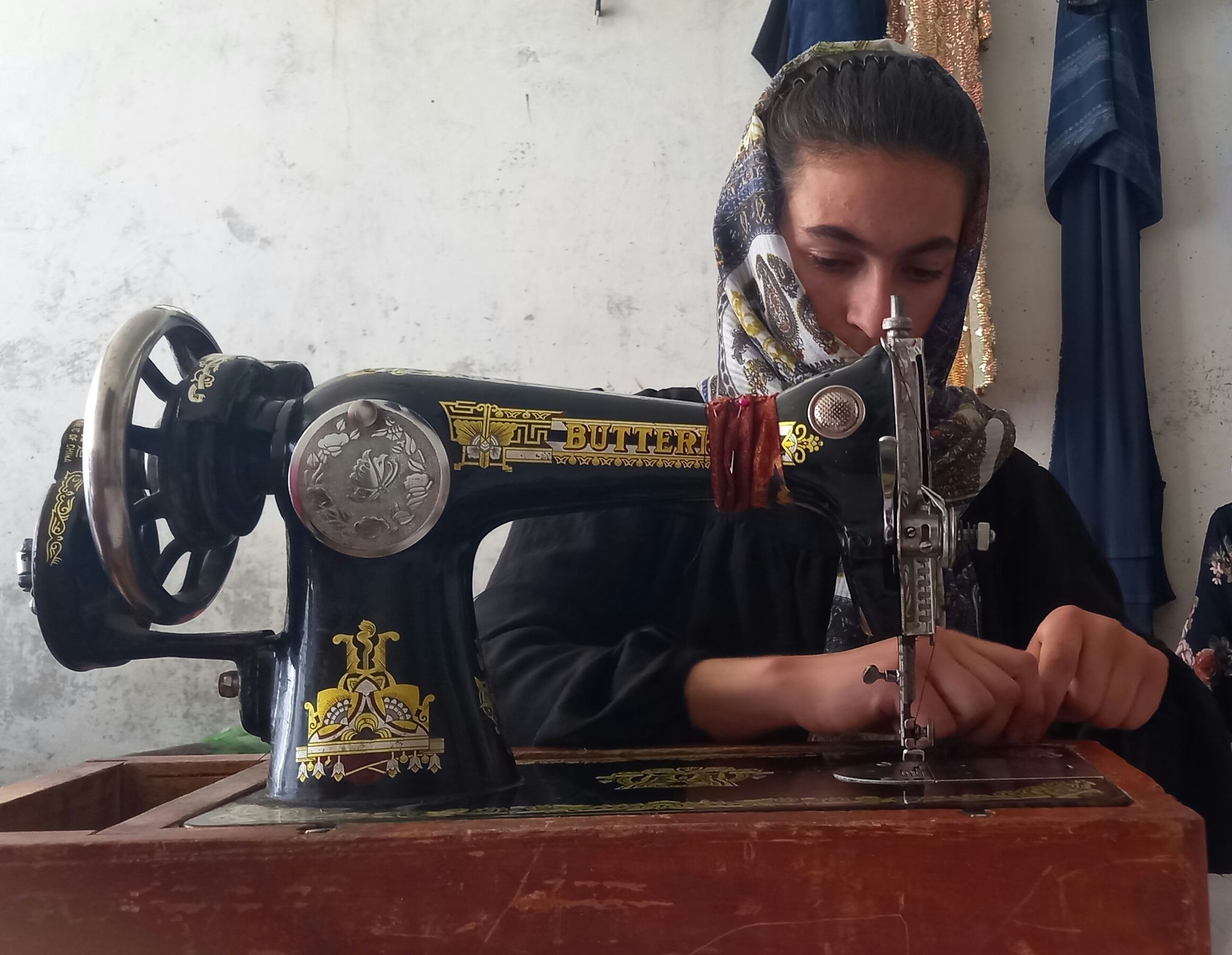 — One Day in Afghanistan —
Reported by Shabana Farahmand, written by Abdul Ahad Poya, edited by Mohammad J. Alizada, & Brian J. Conley
---
Alive-in is a not-for-profit media agency that mentors journalists from underrepresented communities to increase local and international understanding. Subscribe to receive our stories directly in your inbox.

If you are able to support our work financially, please click the button below.
---
FAIZABAD — Since the Taliban victory in Afghanistan in August of 2021, the country's economic collapse has continued in a downward spiral, fueling a skyrocketing unemployment that has left many Afghan families strapped for cash and dependent on scarce humanitarian aid.

According to a UN International Labor Organization report in January this year, more than half a million people have lost their jobs in Afghanistan since the Taliban takeover.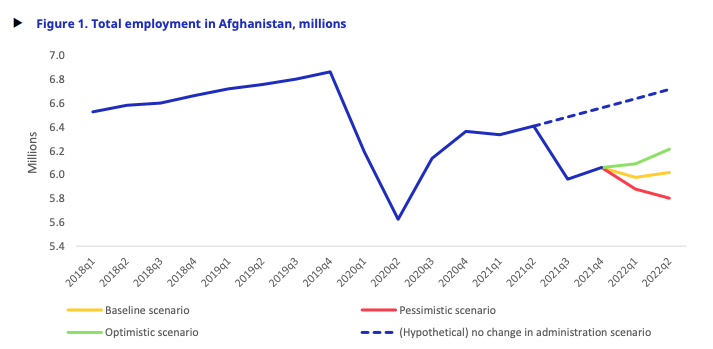 "Employment losses are expected to increase to nearly 700,000 by the second quarter of 2022, as enterprises struggle to stay viable and work becomes scarce," the report said, adding that, "If the situation of women deteriorates further and outmigration intensifies, employment losses could increase to more than 900,000 jobs by the second quarter 2022."
According to the report, the impact on female employment is severe. Unemployment among women increased by an estimated 16 percent to a total of 917,774 in the third quarter of 2021, with an expected 21 percent increase by mid-2022.
For more information about the struggle of Afghan businesses, read Alive in Afghanistan's – (Herat's Industries in Nine Month Freefall), and (Female Business Owners Concerned About Future).
In today's One Day in Afghanistan episode, Alive in Afghanistan's Shabana Farahmand visits a tailoring shop that employs women in Afghanistan's northeastern Badakhshan province. [Editor's note, this story was researched while Muslim holy month of Ramadan was still ongoing.]
It's 8:30 am and I enter a relatively big shop in a hard to find corner of Faizabad, the capital of Badakhshan. The shop is a little dark and has only a single entrance, a brown mat occupies the entire floor, pieces of cloth and thread of different colors cake the mat. Wooden tables with pieces of fabric, and sewing machines fill part of the store. The walls are off-white but what drew my attention were the shades of red, pink, blue and green fabric that were either being used by the employees to make clothes or ones made hanging from the store walls, giving the otherwise boring structure a bit of life.
Several women are busy carrying out their tasks. The interaction between them is friendly and they work with enthusiasm. The environment feels more like a busy family home rather than a shop for tailoring. Women are hard at work sewing punjabis for various customers.
Punjabis are outfits primarily worn by Indian and Pakistani women, consisting of a sleeved tunic-like top that hangs to mid thigh and loose trousers that become narrow at the ankle. A scarf, or dupatta, is often draped around the neck as an accompaniment to the suit.
Afghan women have taken a liking to the style of dress over the past several years.
"I learned sewing from my mother when I was 10 and have been sewing for nearly 25 years," Hasina told Alive in Afghanistan. 36 year-old Hasina works at the store alongside two of her daughters, Maryam and Sohaila, to help provide a livelihood for their family. Her husband Ghulam Yahya is a laborer whose job does not earn enough to cover the family's expenses.
According to her, "Tailoring is hard work and requires a lot of patience. Attention to detail is vital for a seamstress because of customer satisfaction and earning an income. Therefore, if you don't like your job and art, you seldom make the effort to do better."
While she is at her job, her younger kids stay with their grandmother, who lives nearby.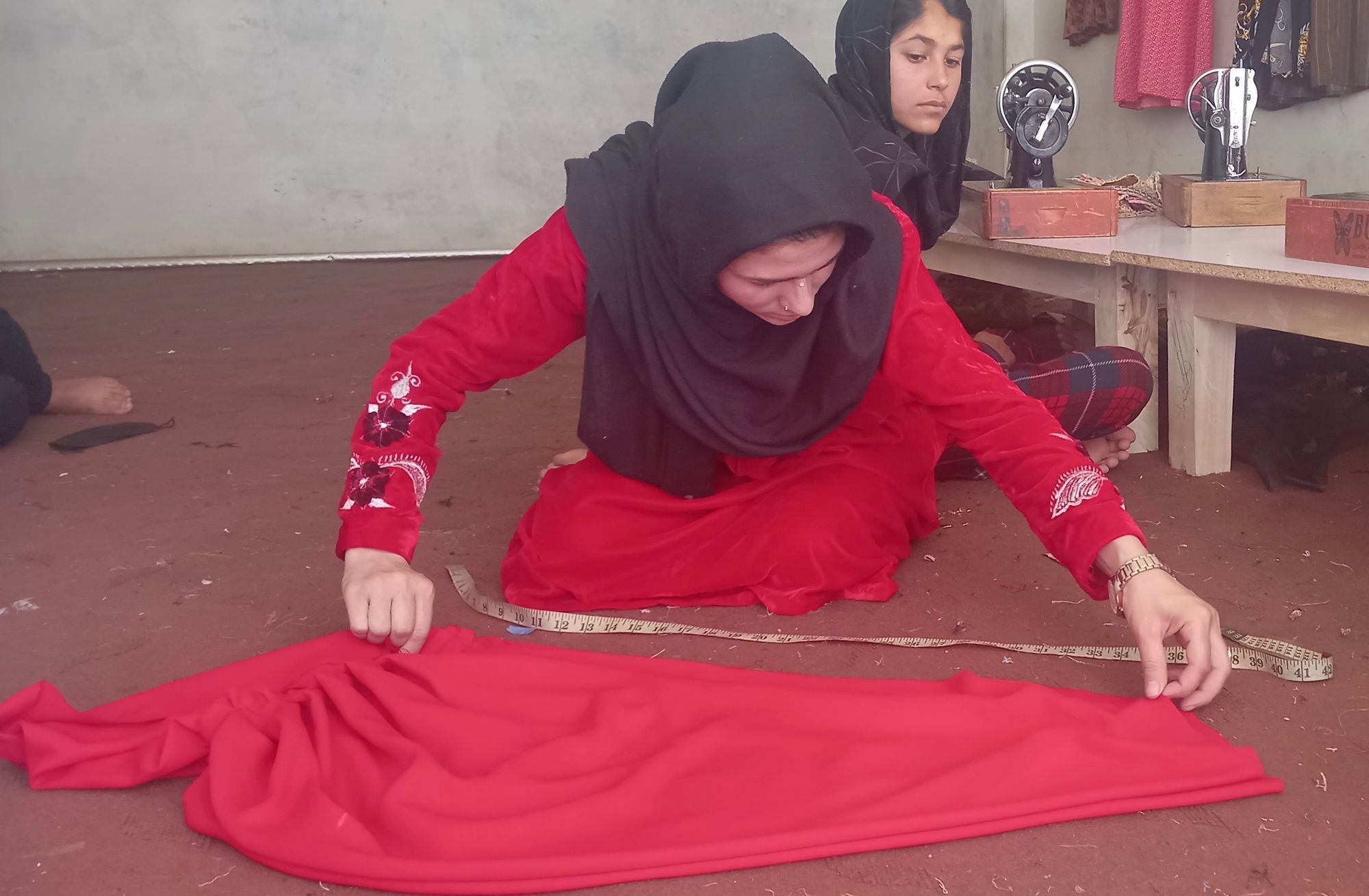 Maryam, who wears a red dress with a black headscarf, graduated high school just before the fall of the previous government.
"One of my greatest dreams was to go to university and become a journalist, but my hopes have turned into despair and hopelessness. I don't know if my dreams will ever come true," Maryam said.
The hopelessness of a generation of young Afghan women is plain on her face as she talks.
The Taliban reopened universities across Afghanistan in March, (For more info, read Alive in Afghanistan's article, Afghan Universities Reopen with New Gender Rules) but Maryam has not yet taken the entry exam required to join a public university. She fears that the Taliban only reopened the universities to deceive the international community and will shut them down again once their objectives are met.  
Maryam manages the women's tailoring shop, takes orders from customers, hands those orders to the seamstresses, and handles the payments from customers once their orders are ready for pickup.
Each order costs between 200 to 300 Afghanis ($2.30 to $3.45 USD), there are 10 women working in the store, six of whom are paid. In addition to other expenses, four professional seamstresses are each paid 4,000 Afghanis ($45 in USD) monthly but the helpers who work at the store to learn, do not receive wages. The shop's owners also provide lunch and breakfast for the employees. The store earns between 1,750 and 2,500 Afghanis per day (approximately $20 to $28 USD at the current exchange rate).
"The women's tailoring shop is the first one in Faizabad. Although it was created by two local journalists, it is managed by women," Maryam says.
The tailoring shop was opened by two former local journalists and friends, Nazem Qasemi and Abdul Baees Hakimi, after they lost their jobs following the Taliban's victory in Afghanistan.
According to a survey by Reporters Without Borders (RSF) in December 2021, a total of 231 media outlets closed and more than 6,400 journalists lost their jobs in the first four months after the Taliban returned to power.
In Badakhshan, eight out of 19 active media agencies closed, leaving nearly half of the 131 men working in the media without jobs.
The duo's aim by opening the store is not only to help themselves earn an income, but also bring positive change to the lives of women like Maryam and her family by providing them employment. It is the first tailoring shop in Faizabad exclusively managed by and for women.
Maryam protests the misogyny against women in Afghanistan, "People tell us; What is the need for women to work outside? Take your sewing machines home and work from there, you are not doing anything valuable anyways."
She believes that women shouldn't stop working and progressing because of public opinion about them, "We shouldn't just sit idly by because of some comments when we can do something, and help ourselves, our families and communities."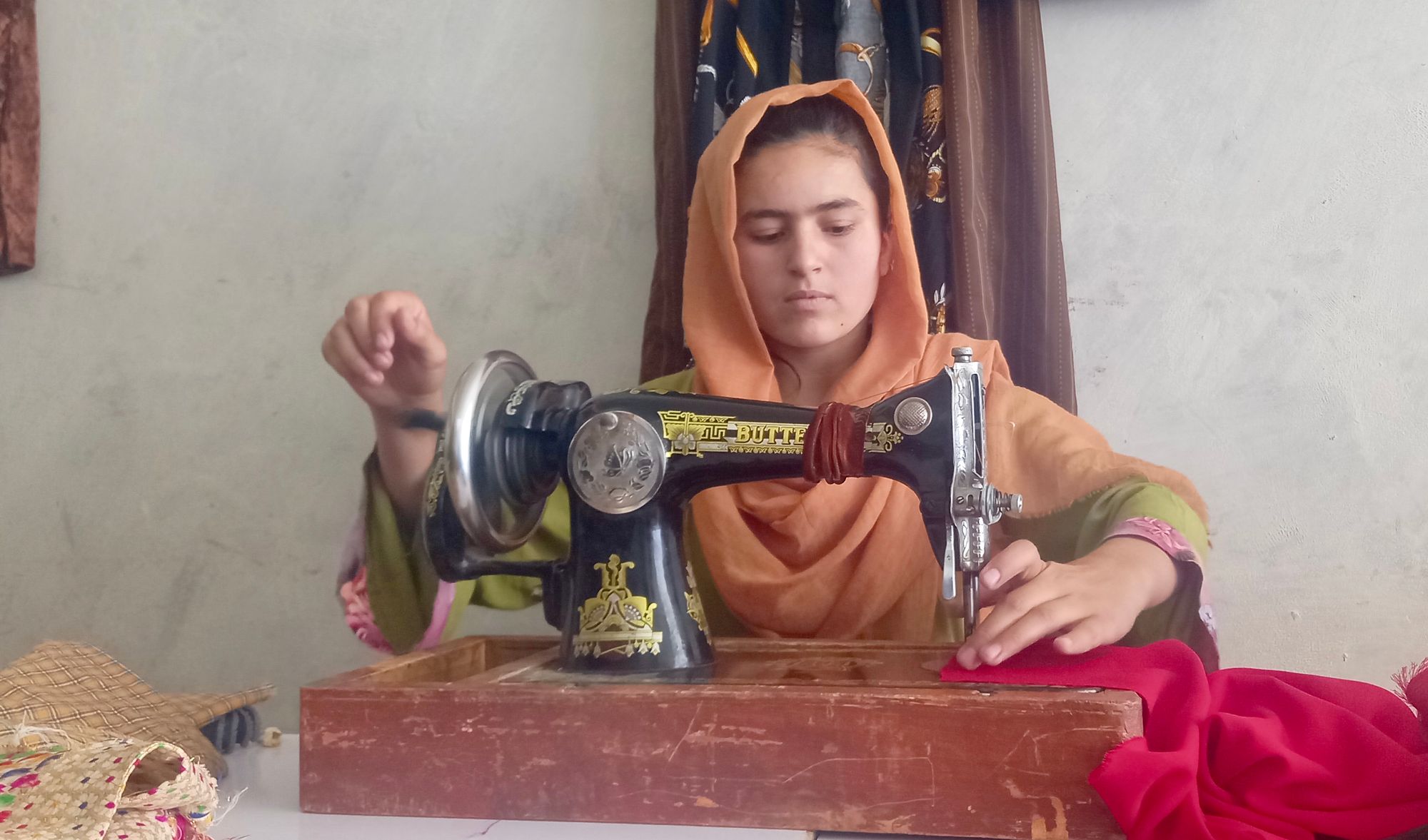 It's 10:25 am. Shigofa, a girl wearing an orange scarf, and a green top, is ironing the clothes that have just finished being tailored. Shigofa's primary job at the store is to iron the clothes after the seamstresses are finished making them. She has been working in the tailoring shop for the past five months.

Shigofa was a high school student before the Taliban's victory but cannot go back to school as the Taliban have not yet reopened schools for girls above 6th grade. For more info, read Alive in Afghanistan's article, Schools for Girls Above 6th Grade Remain Closed in Afghanistan.
It takes her about 15 minutes to iron two pieces of clothing, she then sits behind her sewing machine and announces her readiness to help her coworkers. "I  am not doing anything, if you have clothing to be sewn, bring it over!" she said.
"Come here, I have something for you to do!" Maryam tells Shigofa as the clock strikes 11 am. She then hands Shigofa 500 Afghanis ($5.50 currently).
"Take this and get me four meters of fabric, remember to bargain so the shopkeeper does not sell you the fabric for a higher price," Maryam reminds Shigofa, who is new at the job and does not know much about bargaining. Bargaining is usual in Afghanistan, nothing is purchased without bargaining for it first.
Talking continues between the staff as they work. Sohaila, Hasina's other daughter turns to her sister and says, "If our schools were open, I would spend half my day there, and half here. But we are very unlucky to be born in such an environment, where we are deprived of our most basic rights." Sohaila was headed to 11th grade when the Taliban closed schools for girls above 6th.
"We lost the smidge of hope left upon their arrival," Maryam replies back to Sohaila, referring to the Taliban.
At noon, a flurry of customers including two elderly women and three young girls enter the store. Maryam welcomes them and asks them to sit down. The women came to order new dresses for their daughters for the upcoming Eid and had already bought the fabric elsewhere in the city. They first have Maryam write down their orders, then take a seat on a wooden bench made for customers and start speaking to each other while they wait.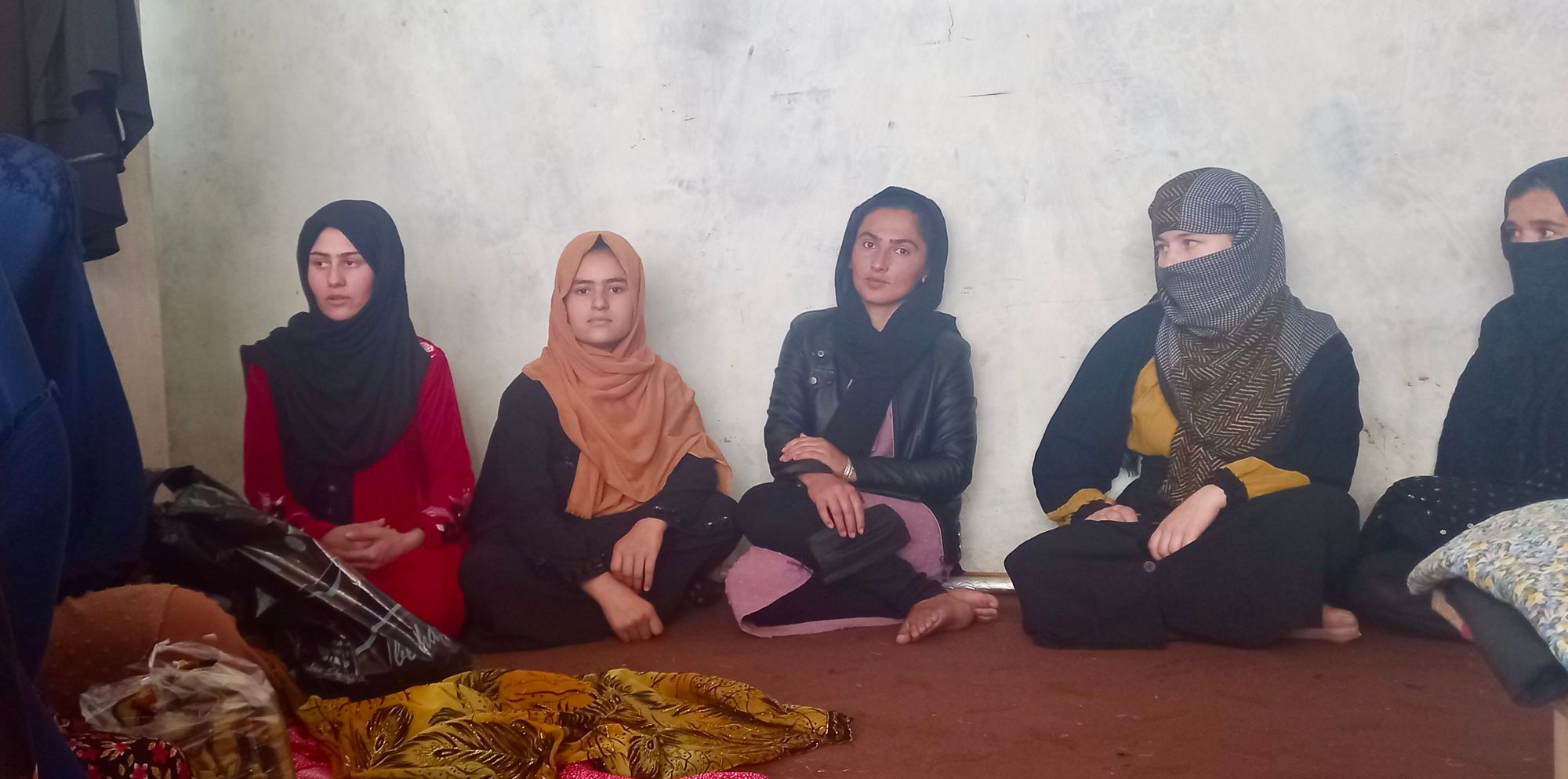 The conversation includes lamenting about the increase in prices of daily goods, dried fruit and ready-made clothing in the markets during the month of Ramadan.
For more information about the increase in prices of daily goods, read Alive in Afghanistan's article, Afghans Frustrated by Ramadan Price Increases.
"Since the Taliban takeover as well as during the month of Ramadan, price hikes have reached their peak, I have bought less dried fruit for Eid this year. I also bought fabric for my daughters because we cannot afford ready-made clothes," Abida, one of the customers, says.
Dried fruit is part of the feast laid out during Eid celebrations in every Afghan home. The colors of the fabric Abida has chosen for her daughters are blue and red. The customers sit in the store for a while and leave after their daughters' measurements are taken.
Since it's the month of Ramadan, no one is talking about eating or drinking. After a little period of silence, Maryam invited everyone to get ready for noon prayers as the speakers across Faizabad project the Azan, or call for prayers, and work stops for about 45 minutes.
By 1:50 pm, everyone pulls their sleeves up and returns to their work stations. While working, Shigofa talks to one of the seamstresses, Maria, about her time in school.
"Fereshta, one of my teachers always used to advise and motivate me, I felt like she was my sister. I don't know if I will ever return to school and see her," Shigofa tells Maria.
"Have faith," Maria tells Shigofa.
Shigofa would like to get a law degree. Her goal is to defend the rights of Afghan women. Her biggest concern is the closure of girls' schools above 6th grade that has deprived her of education and her dream of becoming a lawyer.
But unlike Shigofa, Maria has no interest in studying. "I would like to get married, have a family of my own and have a life void of concern."
Hasina, who was listening to the conversation between Maria and Shigofa jumps in saying, "I think every girl must finish her studies, then think about getting married. If I was an educated woman, maybe my life would have been better now and I wouldn't have only dreamt of a nice house, and a comfortable life in this age. Don't ever stop trying to learn because everything has its own time and place in life!"
"My biggest concern and fear is the closure of girls' schools," Hasina continues. "I am scared of a future where my children can't go to school, because I don't want them to be illiterate like me."
Work days during Ramadan are short, by 3 pm, everyone is ready to leave. In addition to working at the tailoring store, the women must help prepare the meal for breaking their fast each evening at sunset.