No Jobs, No Food, No Hope
Afghans across the country lament the lack of employment while voicing concern over the increasing poverty.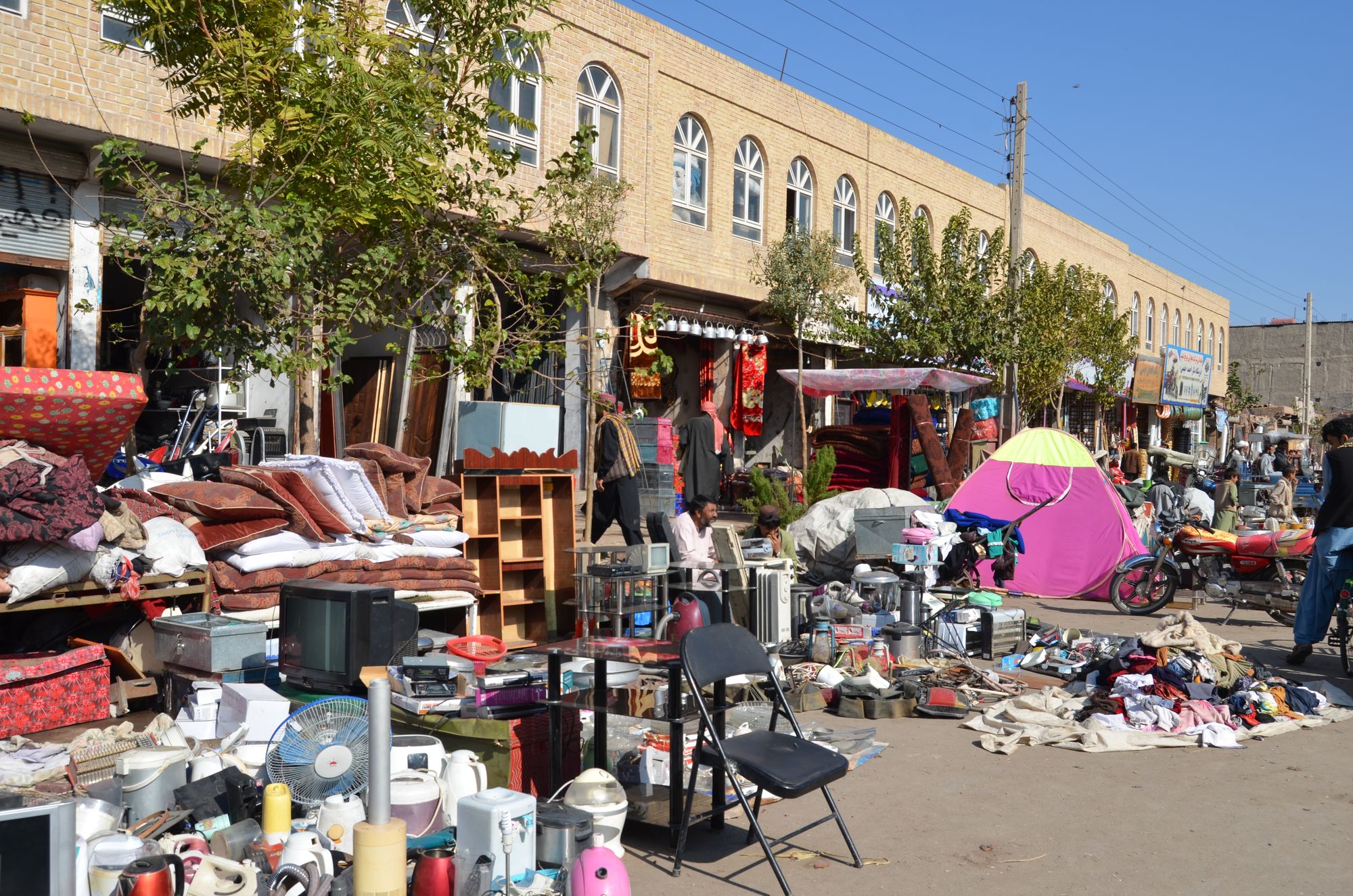 Reporting by Shabana Farahmand, Abdul Karim Azim, Samira Wafa, and Razia Jafari
---
Editor's note: Former government employees and members of the Afghan security forces have been given pseudonyms to protect their identity.
---
AFGHANISTAN — Afghans are experiencing an unemployment crisis worse than any experienced in over twenty years. With many increasingly unable to afford rent, much less food, starvation and homelessness seem increasingly likely.  

Alive in Afghanistan reporters in Nimroz, Herat, Kabul, and Badakhshan interviewed former Afghan security forces, staff of the previous government and Afghans who worked in the private sector.
Alive in Afghanistan reporters spoke to a number of former Afghan security force members, government and non-government employees, and residents in Nimroz, Herat, Kabul, and Badakhshan provinces.
---
Selling a child to save her siblings from starvation
NIMROZ– Facing financial challenges and security threats, former members of Afghan security forces in southwestern Nimroz province are struggling to survive. Their lives turned upside down after the fall of the previous government, those who sacrificed so much are now hurting the most.
45 year-old Mahboba Hashemi is a former policewoman and a mother of 5 children. Her husband, Sultan Ahmad, is disabled, leaving her as the only breadwinner of her home. Mahboba is a resident of southwestern Afghanistan's Nimroz province.
Running out of money, she began by selling valuable household items, but that did not last long. Seeing no alternative, Mrs. Hashemi sold one of her daughters to a neighbor last year.
"I sold my fridge, carpets, dishes… everything I could so my children wouldn't starve to death, but it didn't work. I was forced to marry my 10 year-old daughter to a neighbor for 35,000 Afghanis a year ago, so I wouldn't have to at least take care of her (the daughter's) expenses," Mrs. Hashemi told Alive in Afghanistan.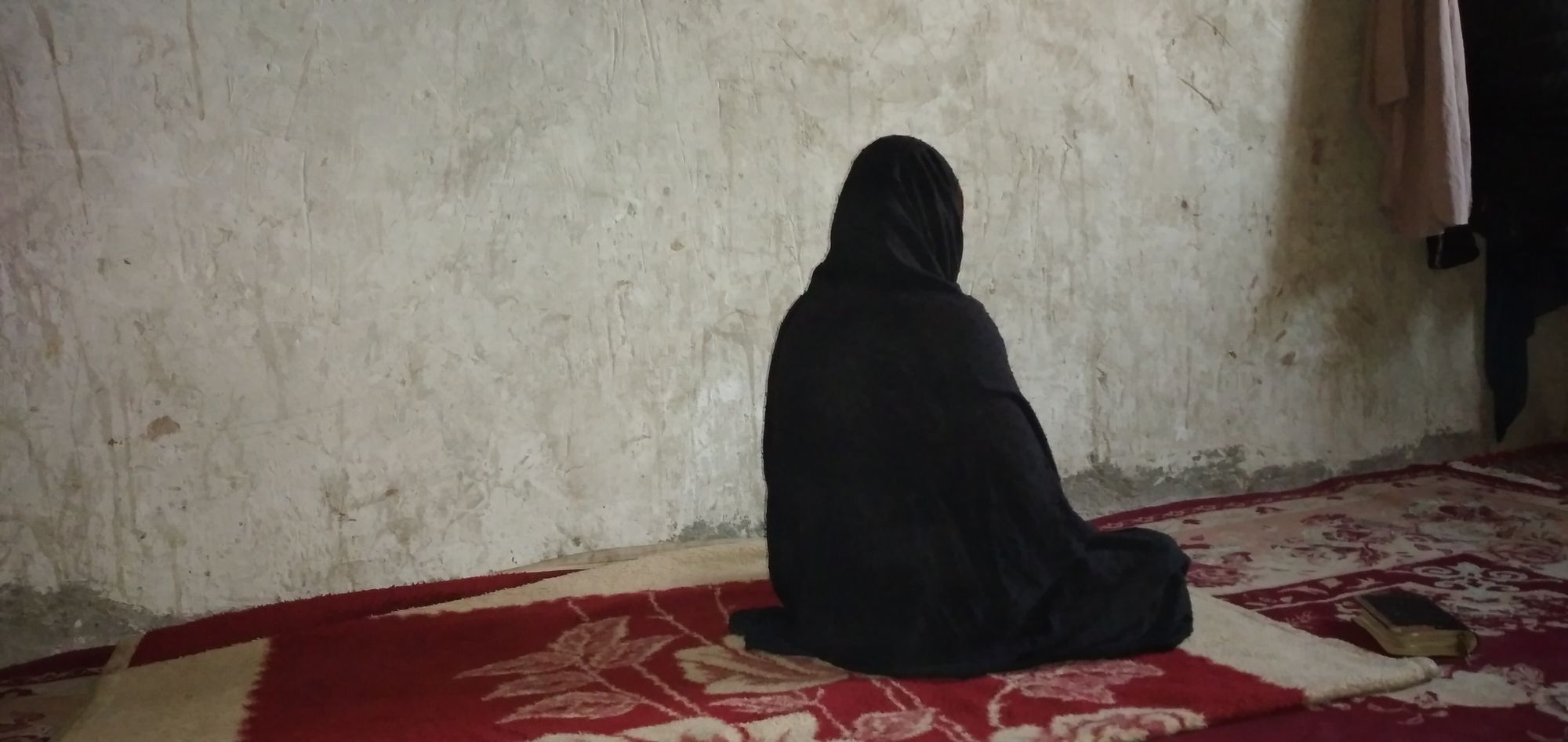 Mahboba has lost hope in the international community's ability to help Afghan women under the Taliban's rule. She accused the world of abandoning the Afghan people to the mercy of the "tyrannical and terroristic" Taliban.
While acknowledging the challenging situation faced by all Afghan women, she notes that former policewomen are in an especially dire situation, as they are not only dealing with financial difficulties but also facing heightened security threats.
Thousands of Afghan policewomen, including Mrs. Hashemi, lost their jobs following the collapse of the previous Afghan government amidst security threats.
Mrs. Hashemi worked as a policewoman for 10 years and received a monthly salary of 12,300 Afghanis (equivalent to $137.43 at the current exchange rate). However, since the collapse, she has been facing financial difficulties. Sultan Ahmad's disability allowance was also reduced from 5,000 to 3,000 Afghanis ($55 to $33) a month, 2,000 Afghanis ($22) of which goes towards their monthly rent.
Mrs. Hashemi, who has never begged in her life, now finds herself asking for help from anyone willing to provide it. Since the collapse she has been washing other people's clothes and carpets, and cleaning their homes to earn money to feed her family.
"I earn 200 to 300 Afghanis a day (~$2.25 to $3.37), which is just enough to buy bread because the prices of food have increased," Mahboba said.
Mrs. Hashemi appeals to the countries still engaged with Afghanistan's government to go beyond issuing mere declarations condemning the oppression, injustice, restrictions, and deprivation of Afghan women and girls from their basic rights. Instead, she urges the international community to take concrete actions to support Afghan women in these challenging times.
Mrs. Hashemi's son, who was also a former policeman, resorted to drugs after losing his job, leaving her to take care of his wife and two children by herself.
"He applied for jobs in several [government] agencies, but was dismissed and humiliated after being identified as a former policeman through the biometric system," Mahboba said.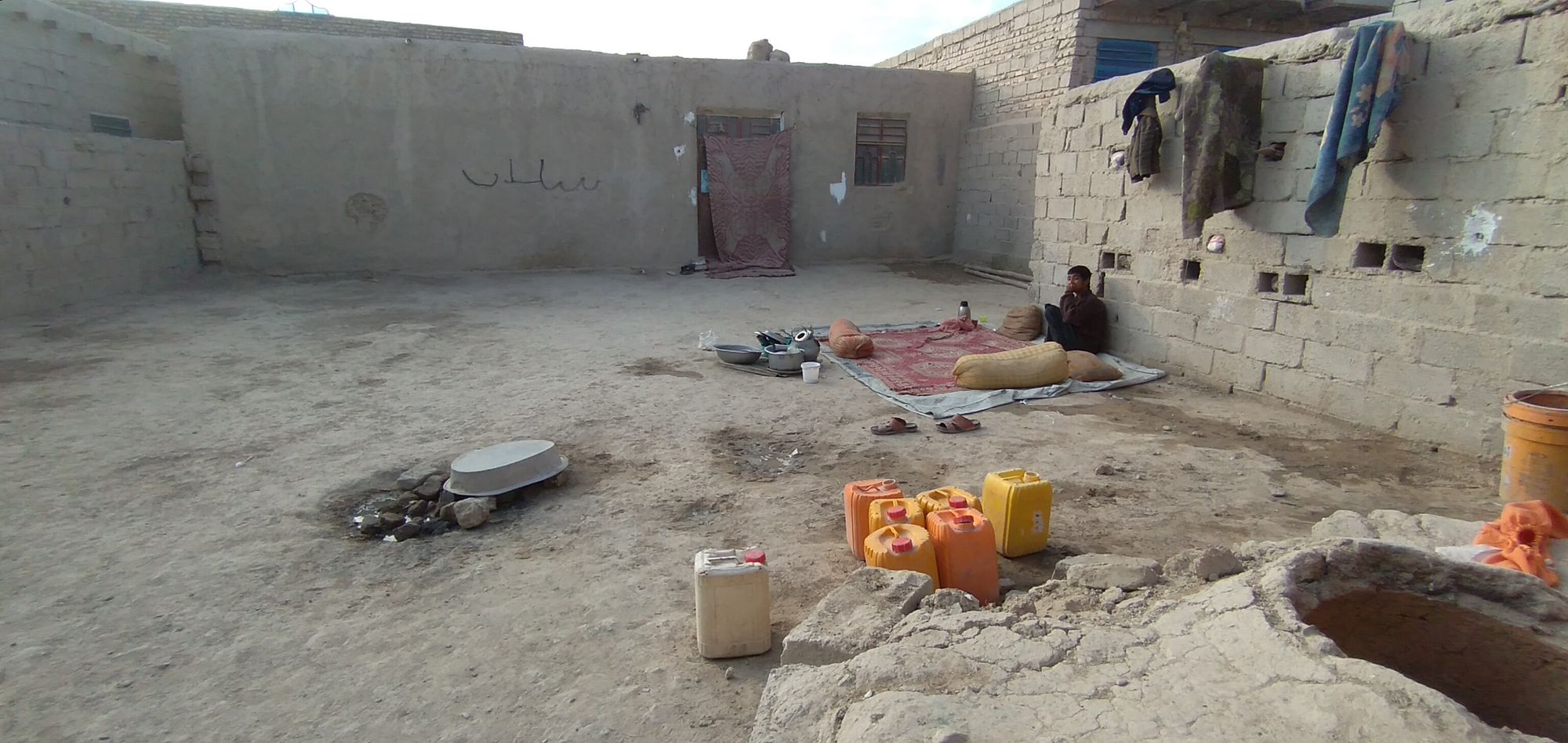 Aziz, Karim, and Hikmat, brothers and former members of the Afghan army, have been unemployed since the Taliban deposed the previous government, leaving them facing financial trouble.
The fear of unemployment and security threats forced many former soldiers to flee the country and become refugees or immigrants in other nations. However, these three still hold onto the hope of a better tomorrow in Afghanistan and choose to remain in their home country.
Rahima, mother of the three brothers, tearfully shared with Alive in Afghanistan that Hikmat was paralyzed from the waist down two years ago, after an improvised explosive device struck his vehicle. He currently relies on a crutch to walk and suffers from mental illness. Before the collapse Hikmat received a pension from the government. Karim, her other son, has turned to drugs. Meanwhile, Aziz, the only son who remains healthy, is lucky if he can find work as a laborer twice a week.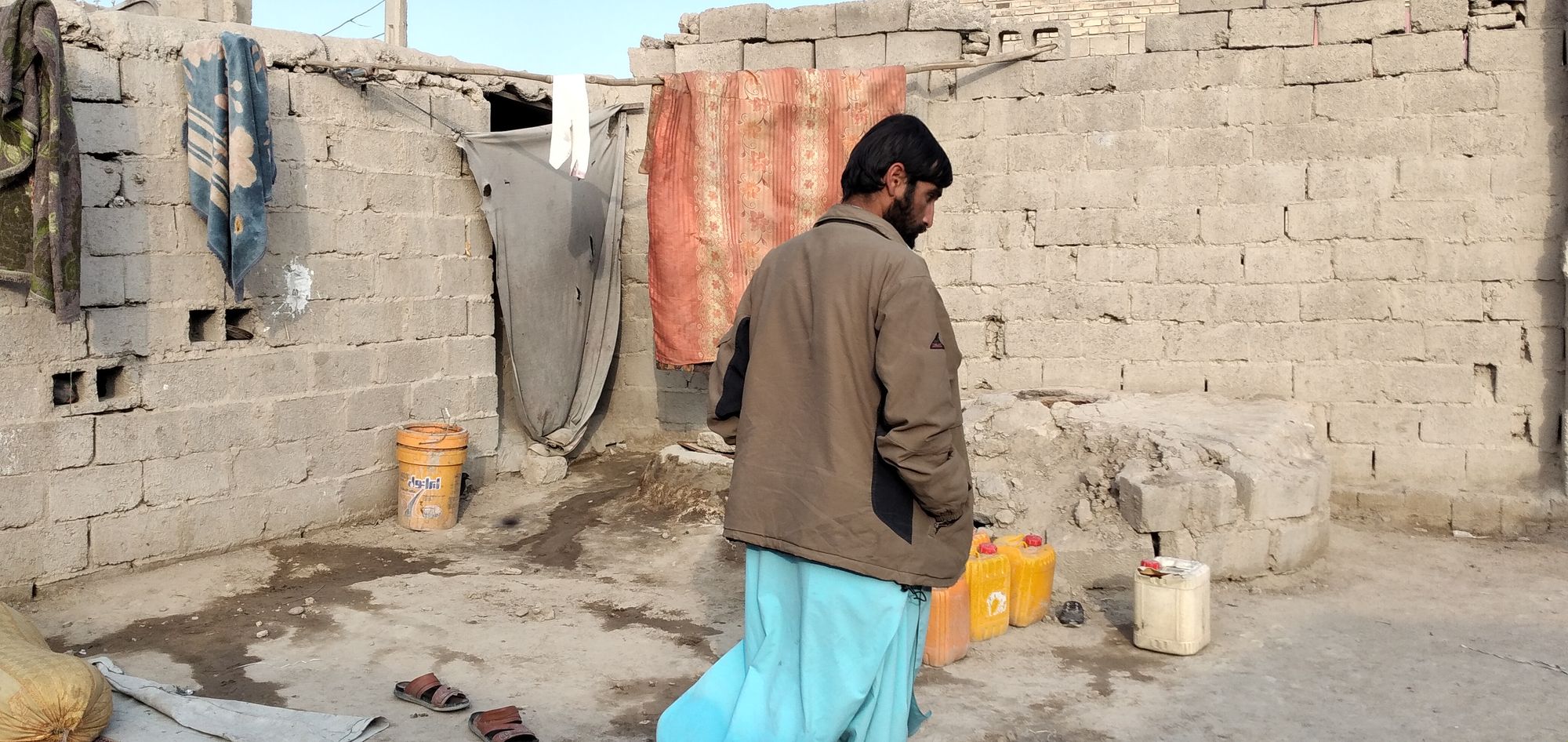 According to Afghans, unemployment is a major factor in drug addiction. For more information, read Alive in Afghanistan's Afghan Drug Crisis, in the Words of Users.
"We were all serving in the National Directorate of Security (NDS) before the collapse, but no one has hired us following the collapse," Aziz, who does not want to be photographed due to security reasons, told Alive in Afghanistan. NDS was a paramilitary and intelligence-gathering agency under Afghanistan's previous government.
According to Aziz, former members of the Afghan security forces not only struggle with financial hardship they also face increased security threats, placing additional stress and pressure on both the individuals and families.
"I served in the agency for a year. Following the collapse of the [previous] government, the Taliban refused to hire me. I applied for a job in a telecommunications company, but they said that they do not hire former soldiers," Aziz told Alive in Afghanistan, adding that he now works as a laborer, barely making 200 Afghanis ($2.23) a week. His income covers only a fraction of the  2,000 Afghanis ($22.35) he spends monthly on rent, leaving nothing to cover his other expenses.
Aziz asserted that the Taliban not only refused to employ former members of the Afghan security forces but also treat them violently.
"The civilian staff all returned to their duties, but the Taliban assault former security force members when they ask for work. The Taliban slapped my friend several times and kicked him out of the National Directorate of Security (NDS) [when he went to ask for a job]," Aziz said.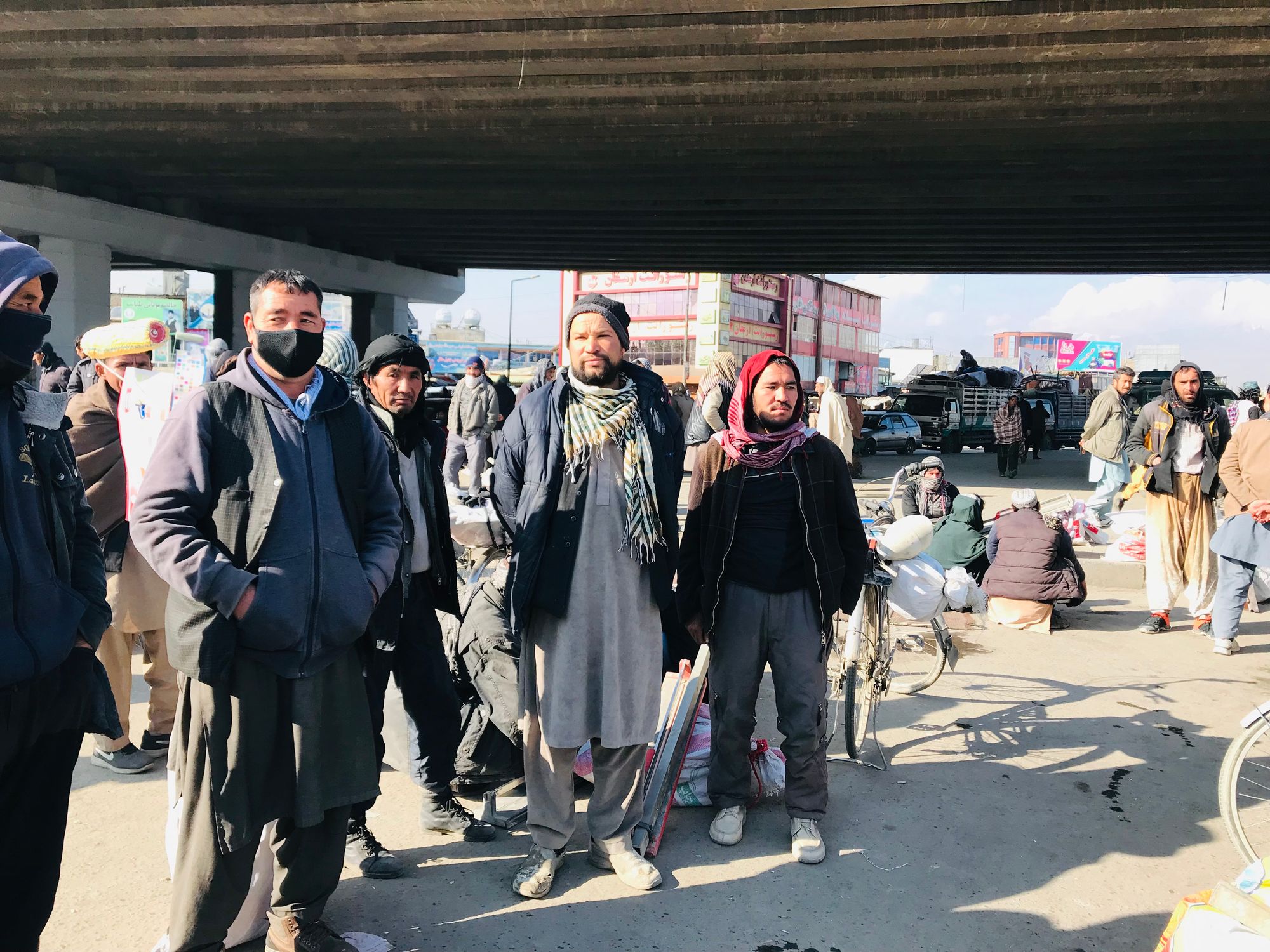 Amina, a resident of Nimroz and a former policewoman has been unemployed since the Taliban took over. She served as a policewoman for five years. Despite the challenges, she works hard to take care of her four kids by occasionally resorting to begging and other odd jobs, when she can find them.
"The Taliban are paying the salaries of all civil servants, but refuse to give us jobs or pay a salary. How can I feed my hungry children?" Amina claimed tearfully. Her current home does not even have a gate. It's typical for homes across Afghanistan to have an outer wall as a cultural norm that provides privacy and increased security.
"I don't have a heater or fuel in my house. My children and I must work hard and sometimes even resort to begging. We are strangers in our own country and not even allowed to breathe freely. They [the Taliban] say to not beg, but they neither pay salaries nor provide jobs," Amina said.
She urges the international community to take action to alleviate poverty and promote job opportunities for women in Afghanistan, and to engage in dialogue with the Taliban on this issue. Amina believes that making women stay home only adds to the extent of the humanitarian crisis in the country.
Afghans across the country endured an unprecedented cold snap in January that left dozens of people and thousands of livestock dead. For more information, read Alive in Afghanistan's Between Life and Death in Winter's Cold.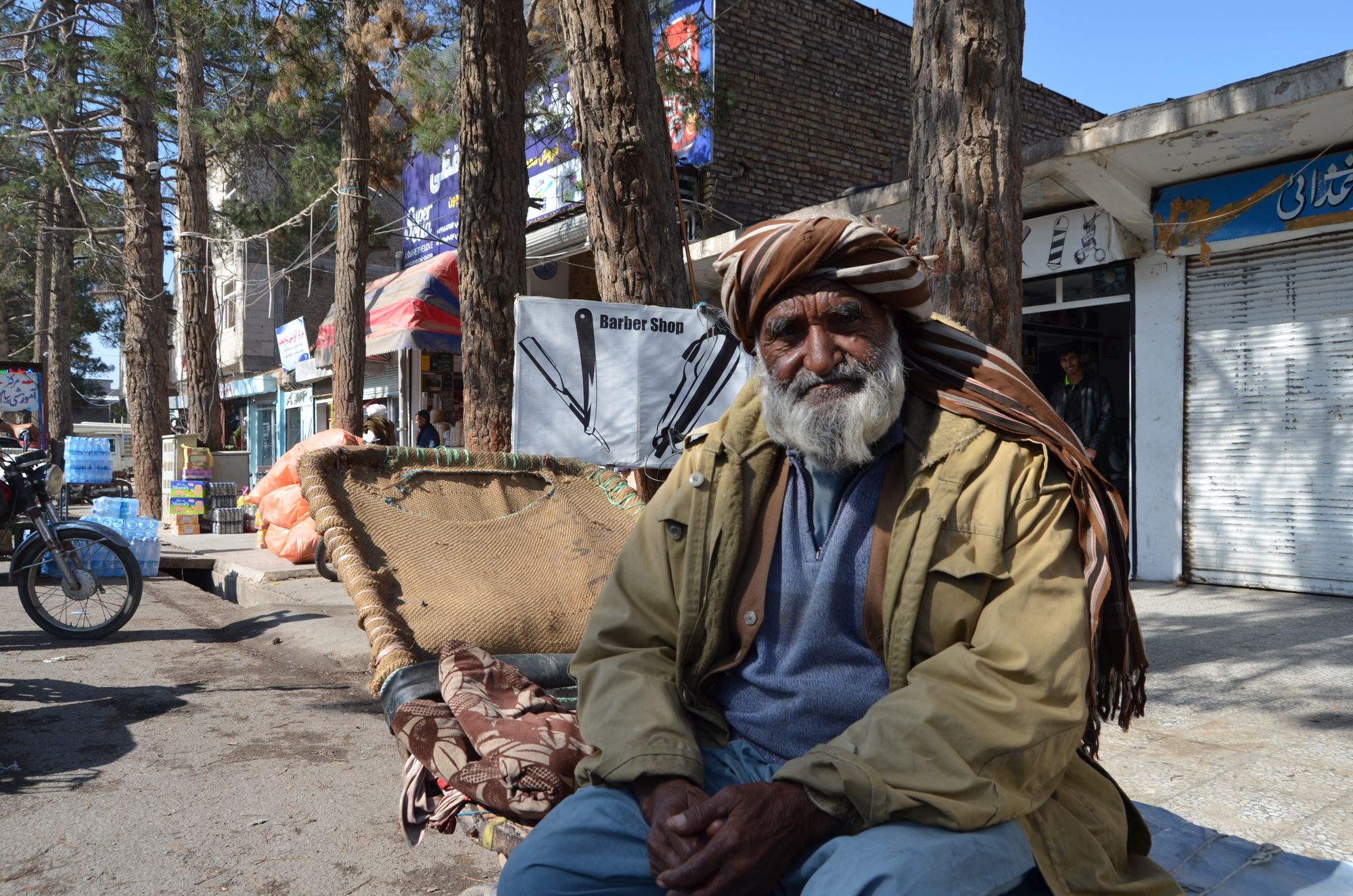 ---
"We often go to bed hungry!"
HERAT–In Herat, laborers waiting in the hope of finding work gather and wait in various locations all day. Darwazay Qandahar is one such location, shops in this market trade used household items. Forced to sell his household items due to the unemployment crisis, Ghulam Rabbani brought his belongings to Darwazay Qandahar's shop.
"There are no jobs, I sell the items to take care of household expenses," Mr. Rabbani said.
Ghulam has been unable to find work for a month now. He attributes the difficulty finding daily labor to the dire state of unemployment in Afghanistan.
Khaliqdad supports his family of seven by charging a fee for transporting purchased goods using his wheelbarrow. According to Khaliqdad, his business has come to a standstill following the Taliban takeover, leaving him unable to afford basic necessities such as food and heating fuel during this cold winter.
"I [barely] earn 100 Afghanis ($1.12) a day." Mr. Rabbani told Alive in Afghanistan. "I only earned 40 Afghanis [today] ($0.45) and wonder what I can buy with this?" According to Mr. Rabbani, his family burns plastic to heat their home and the only food they have to eat is leftover bread he begs from street vendors.
Mr. Rabbani voiced his concern over the distribution of aid, claiming it is biased and fails to reach a significant number of impoverished and underprivileged individuals. He wants the government and aid organizations to provide them with immediate help.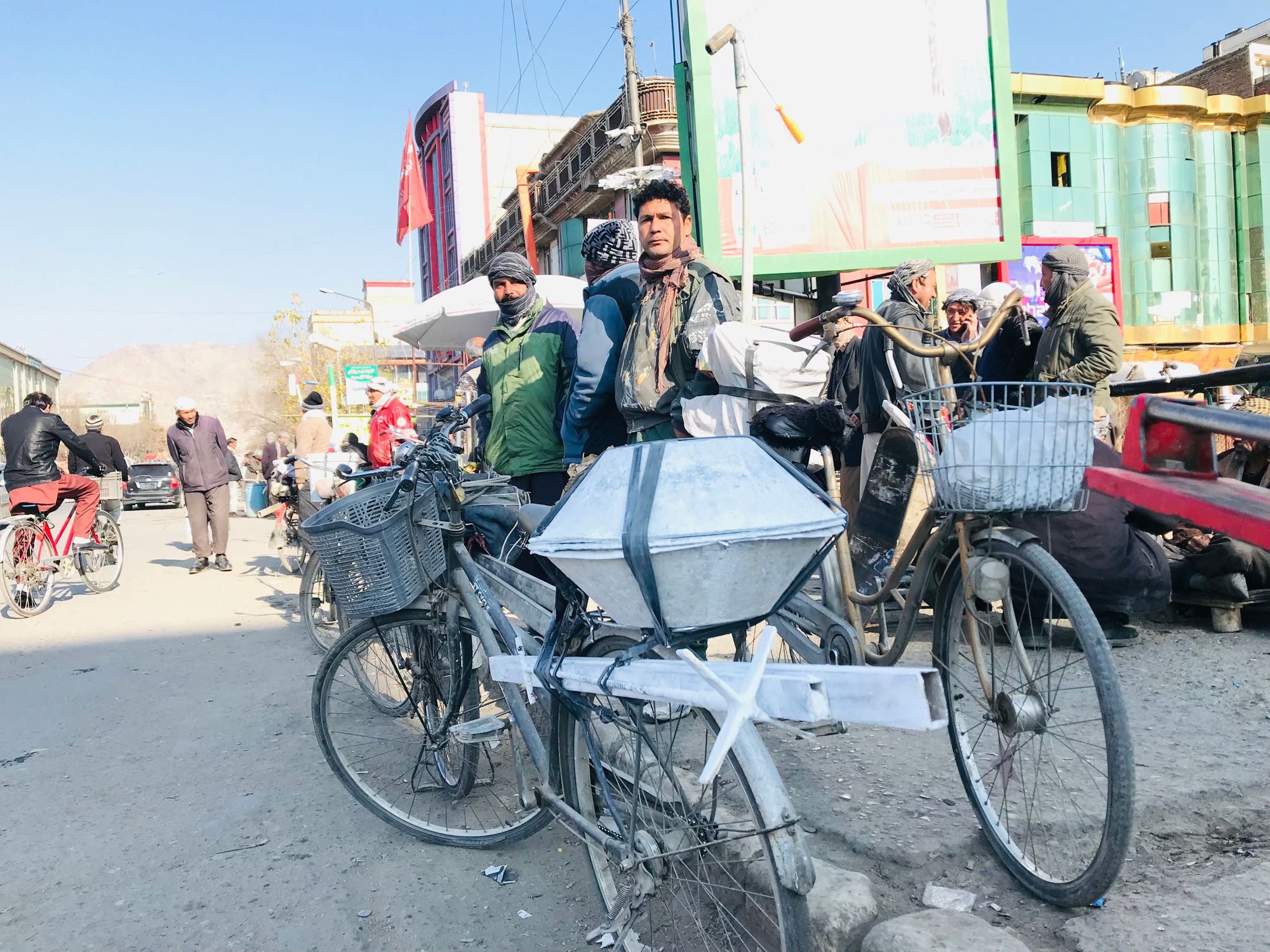 Yar Mohammad, supports his family of eight by charging a fee for transporting purchased goods using his wheelbarrow. He told Alive in Afghanistan,"I pay 1,500 Afghanis a month for rent (nearly $17). Oftentimes my neighbors help me pay rent because I cannot afford it myself."
"We often go to bed hungry," Yar Mohammad added.
---
The means of survival taken away
KABUL– A man with a haggard beard and a bag of tools strapped to the back of a bike stood nearby, scanning the crowd but no one expressed interest in hiring him.
The man, a 40 year-old laborer named Hafizullah Fazili, told Alive in Afghanistan, "I have been waiting here with my tools since 6 in the morning. I will wait in this cold weather till noon, but will return home disappointed if it doesn't happen."
Mr. Fazili is responsible for a family of five and currently resides in a rented accommodation. He claimed that prior to the Taliban takeover, laborers could secure work at least "twice a week," but for the past year, he has been unable to find regular employment. Mr. Fazili urged the Afghan government and other organizations to create job opportunities for the public.
Nawroz Bahaduri is a mason and father to six children. He goes to Pul-e Sorkh, another nearby shopping district, to find work but failed to find anything.
"Construction has stopped," Mr. Bahaduri said. According to him, those with the financial means left Afghanistan and those who have stayed behind are unable to feed their families.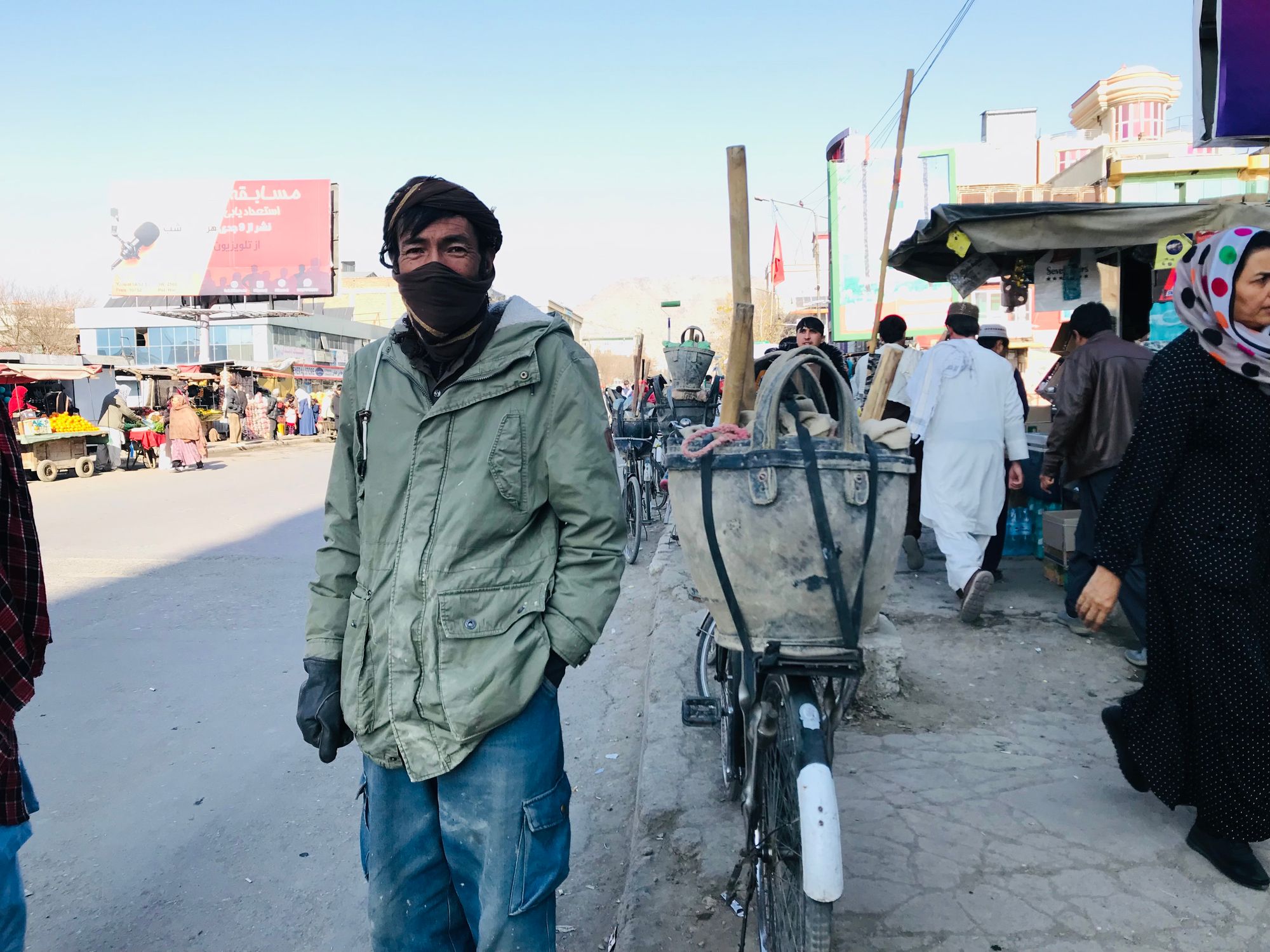 "It is unclear how long we will stay alive in this situation," Nawroz said.
Kabul resident Safdar Ali Hussaini told Alive in Afghanistan he did not go to Iran with his family due to his fear of drug addiction.
"I am a laborer and tile worker. My family all went to Iran because there was no work here, but I didn't go. My eldest son went to Iran previously and became an addict. I don't have good memories of Iran," Mr. Hussaini said.
---
Lawyer turned shopkeeper with no customers
BADAKHSHAN–The sound of hammers hitting iron and the hiss of boiling furnaces heating iron is overwhelming. The ironsmiths in this area of Faizabad, capital of northeastern Badakhshan province, fill my ears with a riotous cacophony.
40 year-old ironsmith Ghulam, said, "I have been working as an ironsmith for 12 years, making heaters, chests, and household items. I have never been without work in these past 12 years, but in the past two years I struggled to make even 100 Afghanis ($1.12) a days."
"My income from the business was very high, I could even save money. But now I can hardly make enough to buy bread," Ghulam said. He is the breadwinner for a family of 6.
22-year-old Nazif, a local tailor, is the only breadwinner in his family. Nazif worked as a security guard for an aid organization in his home province but lost that job after the collapse of the previous Afghan government.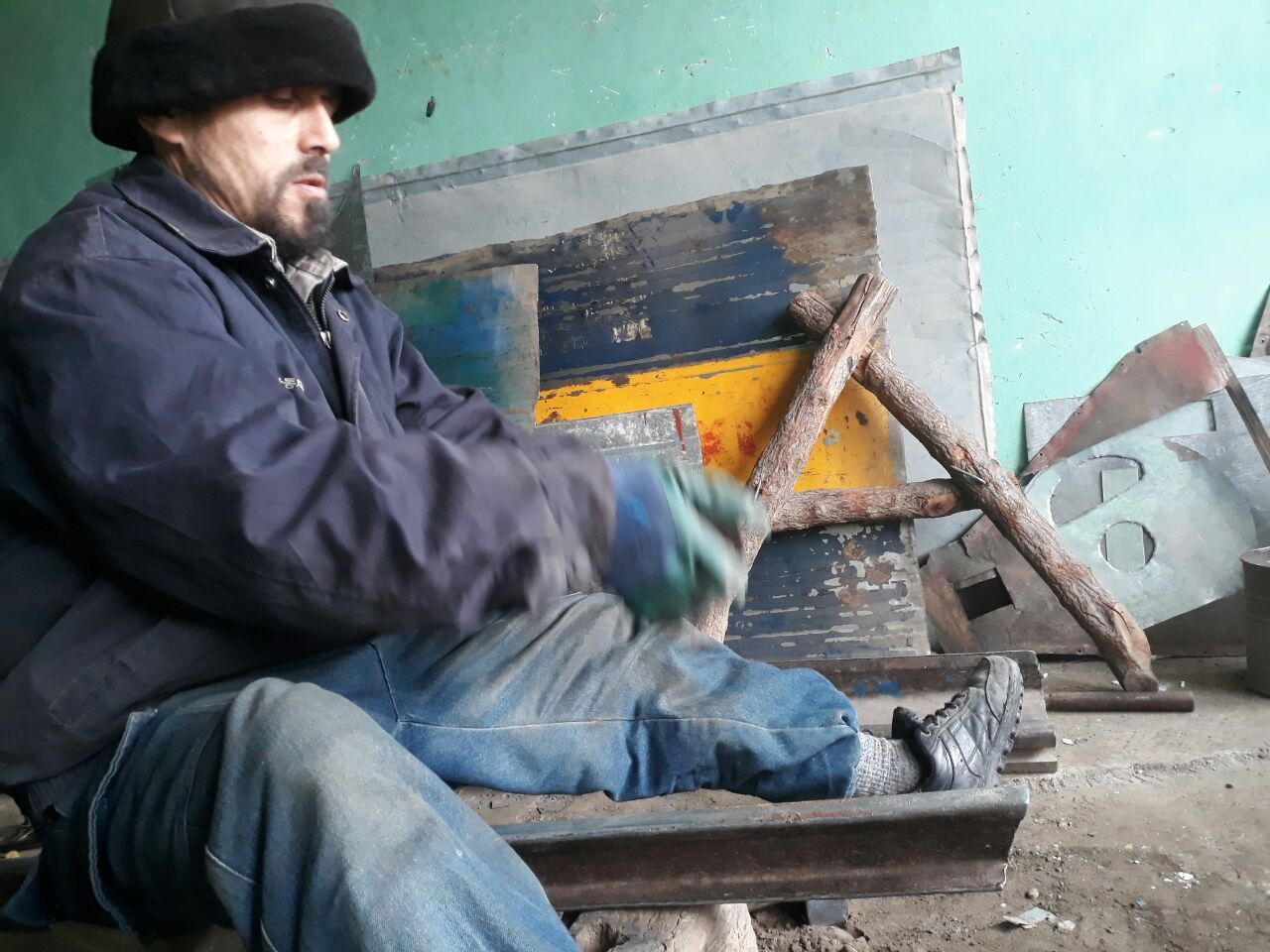 "I earned 15,000 Afghanis ($168) a month [back then], which was enough for us," Nazif said. Nazif learned tailoring while in school and turned to the profession after losing his job as a security guard. Unfortunately, the tailoring store he currently works for has also been experiencing a lack of customers.
Hafez, a lawyer who failed to find work after the Taliban takeover, opened a grocery shop in Dasht-e Qarogh, his home village.
"I invested the money I had in this store, but have lost capital since. Grocery stores have no market currently," Hafez said. Hafez's parents spent their savings to educate their son, only to see him become a struggling shopkeeper.
The United Nations Office for the Coordination of Humanitarian Affairs in Afghanistan (OCHA) in its latest survey found that Afghanistan is facing the biggest humanitarian crisis in the world and is considered the worst country for women.
According to UN-OCHA, 28.3 million people in Afghanistan need humanitarian aid, of which nearly 6 million people are close to famine. The survey further stated that Afghanistan's economy is on a "steep decline" and people face "limited access to essential services."
---
Alive-in is a not-for-profit media agency that mentors journalists from underrepresented communities to increase local and national understanding.
If you are able to support our work financially, please click the button below.
---