Afghan Drug Crisis, in the Words of Users
Rampant poverty and the increasing unemployment rate, due to Afghanistan's continuing economic crisis are playing a major role in the increase in the number of people with a substance use disorder. In Badakhshan alone, users have increased from 40,000 to 50,000 in the last year and a half.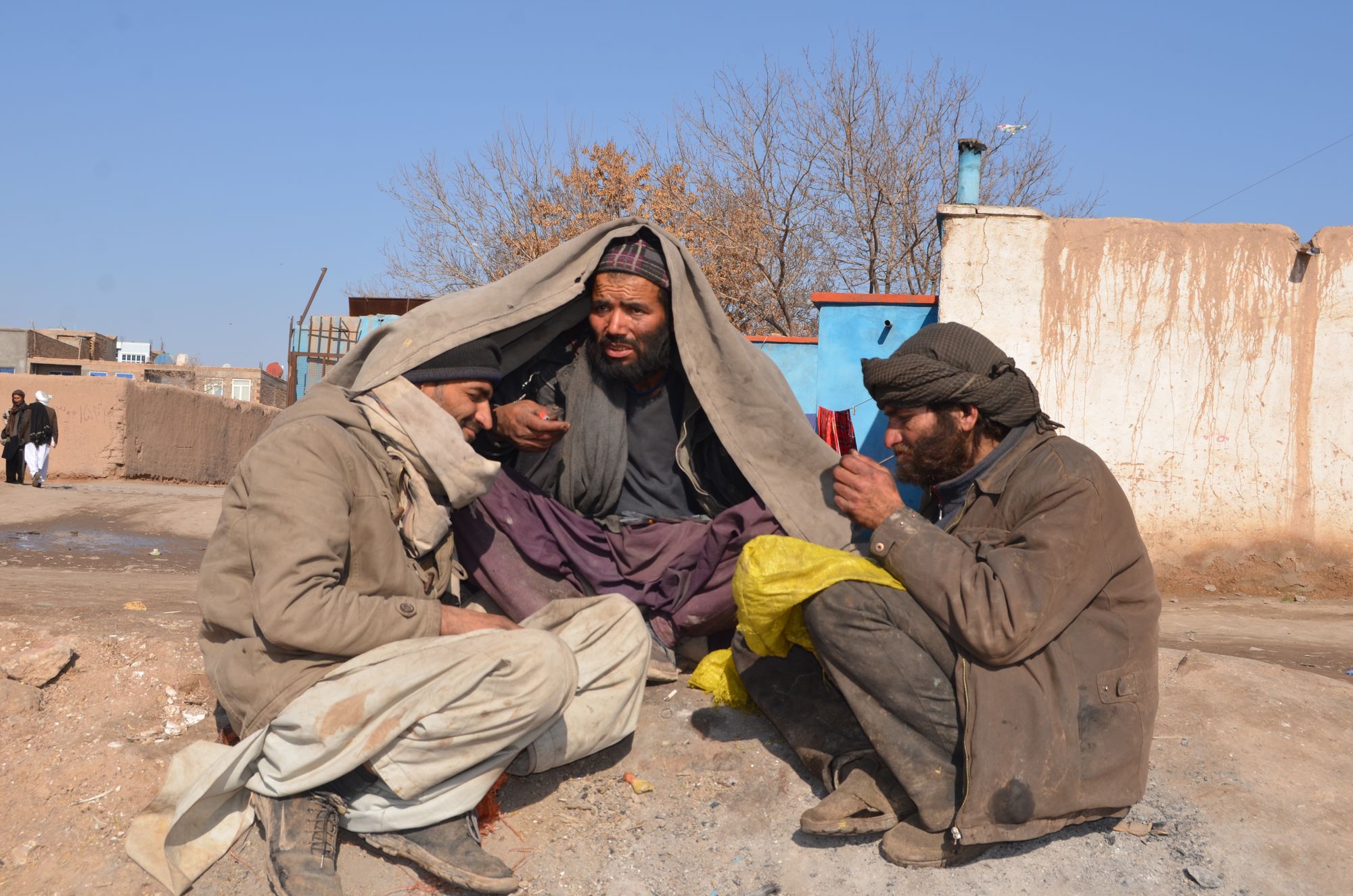 Reporting by Shabana Farahmand, Abdul Karim Azim, Samira Wafa, and Razia Jafari
AFGHANISTAN — Rampant poverty and the increasing unemployment rate, due to Afghanistan's continuing economic crisis are playing a major role in the increase in the number of people with a substance use disorder. Substance users across four Afghan provinces western Nimroz, Herat, and capital Kabul were interviewed for this article.
---
"Hungry" and "Cold"; the life of a person battling a substance use disorder
Nimroz hosts hundreds of Afghans from across the country who are either on their way to or returning from neighboring Iran. A number of those returning home, by choice or force, bring addiction with them.
One of the main gathering spots for those suffering from a substance use disorder is the Khairabad village in the provincial capital of Zaranj. They gather in the ruins of a cluster of former buildings with walls colored shades of white and khaki. Some squat in groups on the ground wet from a recent storm. One man has thrown his large brown patu (scarf) over him to hide his face. Their gaunt faces and lean bodies look like they may not have seen water for months.
"Please help me, lend me this one time and I will pay you back when I find money, please, I am in pain, please let me smoke a couple of puffs,"  25 year-old Mohammad Arif, an army soldier in the previous government, begs the other men huddled nearby.
A resident of Chahar Burjak district, Arif served in the army for three years until the previous government's collapse. Severely affected by the loss of his job, Arif resorted to drugs to numb his pain.
"I knocked on every door but the Taliban didn't hire me, I finally resorted to this sinister act. The life of an addict is horrifying, we sleep hungry on the streets at night, we have no shelter during this cold winter, and many addicts die due to the cold," Arif told Alive in Afghanistan.
Arif collects scrap metal and recyclable material that he sells for 20 to 30 Afghanis ($0.22 to $0.33 at current exchange rates). He uses the money to buy drugs and often borrows from friends (other substance use victims). Arif is single, his extended family immigrated to Iran following the Taliban takeover.
"I want to be treated, but there are no treatment centers," Arif says. He wants the Taliban to build rehabilitation centers because the presence of individuals with a substance use disorder is damaging to the community.
37 year-old Abdul Samad from neighboring Farah province has been battling addiction for 18 years. Samad is scavenging a pile of garbage, looking for scrap metal and recyclables he can sell to buy drugs. He claims his substance use disorder started with his employer encouraging him to use while he was working in Iran 18 years ago.
"I was given a puff first, smoked two puffs the second day, and was addicted to it. My brother tried to save me but he was sent to prison. I ruined my life in the first year and a half he was in jail. I began with opium and now use heroin and meth," Samad tells Alive in Afghanistan.
Samad said he had been using for 18 years and his body was riddled with wounds from all the drugs he'd taken. Yet he would still spend up to 500 Afghanis ($5.53) a day on drugs if he could find the money.
"I consume 2 to 3 grams of heroin daily, I try to have a gram of meth as well, but meth is very expensive," Samad says, adding that he has no money left for food or clothes once he purchases the drugs.
Dr. Seyed Khalil Shah Kazemi, the head of Nimroz's Rehabilitation Center, tells Alive in Afghanistan that heroin costs more than meth, but the latter's effects last longer than the former. A gram of heroin costs 140 Afghanis, and a gram of meth, 110 Afghanis ($1.55 and $1.22).
According to Samad, drugs can be found all over the province of Nimroz with ease if your finances are sufficient. Drug dealers can be found at city intersections and other specific locations across the capital city where users can get their fill.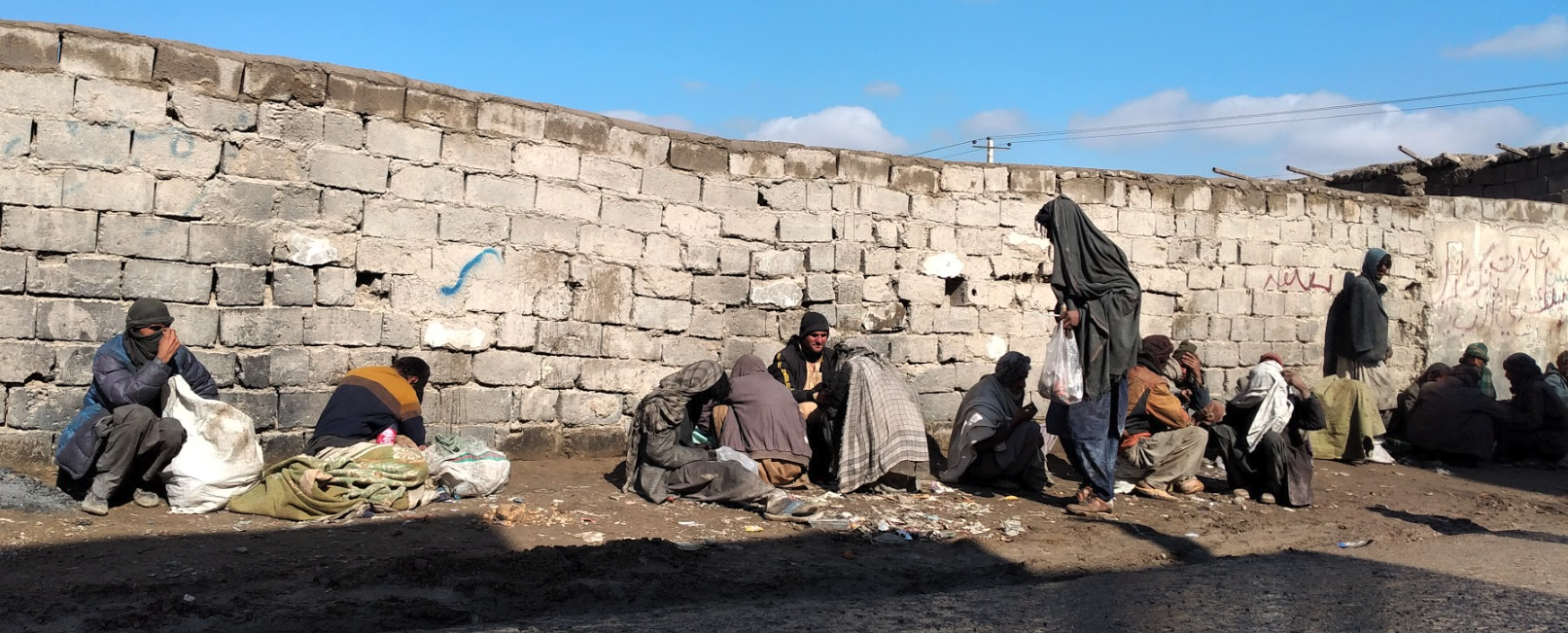 40 year-old Abdullah, a resident of northern Faryab province, has been battling a substance use disorder for the past four years. He doesn't even know if his wife and only child are alive or not!
"Life is very difficult for an addict, no one will take him [individual suffering from a substance use disorder] in. I went to three places to sleep; [people residing in that specific area] would either throw a rock at me or dump cold water on me to deter me from sleeping there. Eighty of us have died in the cold this year," Abdullah tells Alive in Afghanistan.
According to Abdullah, they are taken to rehabilitation facilities that have no food, facilities, or medication for treatment. "They were not feeding us and would torture us. Quitting an addiction is impossible this way," Abdullah says.
Dr. Kazemi said no patients with a substance use disorder are currently being treated at the province's only rehab facility. Instead, 11 women, four children, and 30 men are currently being treated in the provincial correctional facility.
Recently two children, one nine and the other eleven were treated and handed over to the provincial orphanage.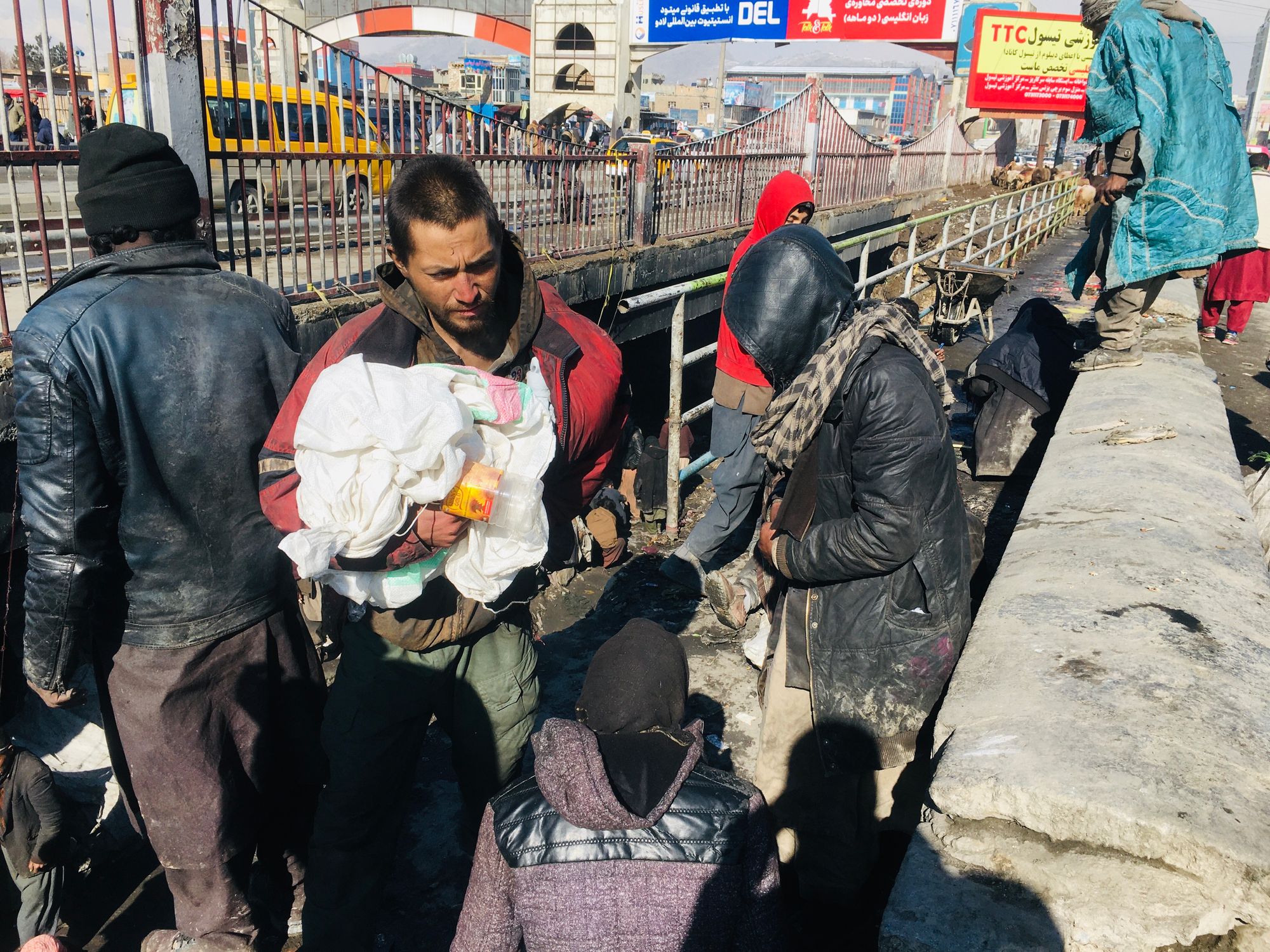 The province's only rehab facility has room for 50 patients, 20 of which are allocated for women. However, a lack of medication to treat those with a substance use disorder, long delays in payments of staff salaries, and the lack of a budget for the facility caused more than a third of the staff members to leave their posts since the Taliban takeover.
"The Clinic's personnel didn't receive their salaries for almost a year. We received six months of our paychecks after 11 months of waiting and have not been paid the rest yet due to administrative issues in the [Public Health Ministry]," Kazemi tells Alive in Afghanistan.
The clinic used to admit between 180 to 200 patients due to the high volume of people with a substance use disorder when it was operating. Because there are only beds for fifty patients, many were forced to sleep in the corridors or anywhere they could find space. According to Dr. Kazemi, the Taliban only recently allocated a budget to reactivate the facility. When asked, Kazemi declined to provide details about the amount necessary for running the facility or how much the Taliban had allocated.
According to statistics provided by the Nimroz Rehabilitation Center, 12,000 people battle with a substance use disorder, including over 2,000 women and around 500 children. The overwhelming majority of male users live on the streets.
---
"I intend to quit, but only if I get a job!"
Long ago ostracized by their families, and with no shelter to house them, the staggering number of people with a substance use disorder occupy every open space available in Herat City, the capital of Herat province. The number of those needing shelter has become so great that many are now squatting around Herat's historic minarets. These towers are all that remains of a large complex built in the early 15th century that once housed a mosque, madrasas, and a number of tombs of local royalty and at least one poet, Ali-Shir Nava'i.
The public views drug users as lowlifes. People insult, humiliate and beat drug users at every chance; the community has no trust in them, and those who use drugs know they can no longer rely on their community.
At the Sherkat-e Pashm area in central Herat, a man in tattered clothes digs through the garbage. Shir Aqa has been battling with a substance use disorder for the past 10 years. With no shelter in sight, Shir sleeps on the streets or under bridges. He used to be a mason, earning 500 Afghanis ($5.53) a day, but no one hires him due to his disorder.
"I collect scrap from the garbage on a daily basis, sell it for 100 Afghanis ($1.11), and buy meth with it," Sher says.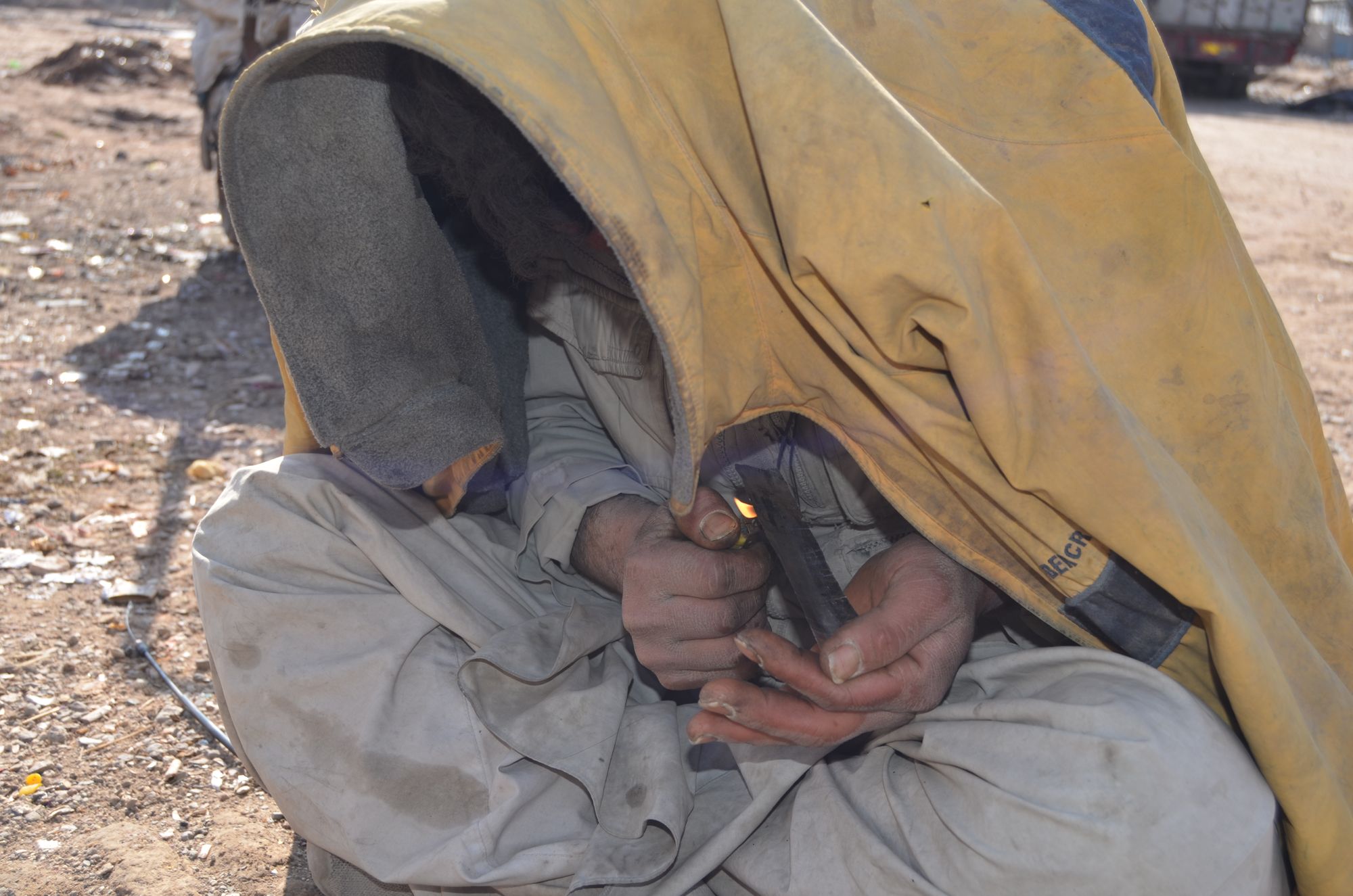 Sayed Ahmad, also collects waste to make money for drugs. He admits to "stealing" from people if he is unable to make enough to buy drugs.
His wife left him and his three children after six years of marriage. Their children are currently being taken care of by their grandfather. According to Sayed Ahmad his family sent him to rehab several times, but each time he returned to using drugs despite his family's efforts. He believes "the government" must provide job opportunities for those battling with addiction, "Otherwise, they will return to drugs."
33 year-old Shah Pur battles a substance use disorder and told Alive in Afghanistan, "I intend to quit, but only if I get a job. If there is no work, it won't benefit us even if they try hundreds of times. It's the same spaghetti in the same bowl [an Afghan expression meaning the same old will continue]."
The Municipality of Herat recently launched a commission to round up people battling a substance use disorder. The initiative is aimed at treating their addiction and giving people who use drugs shelter during the winter.
Hayatullah Rohani, the Director of Herat's Counter Narcotics Directorate, welcomed the move, and told Alive in Afghanistan that provincial authorities do not have the sole responsibility to collect these individuals; the agencies need the public's cooperation as well.
"The province of Herat has more than seventy thousand people including women and children battling addiction. Ten thousand alone are without shelter. We aim to gather those living on the streets and are trying to identify and arrest drug dealers as well," Mr. Rohani said.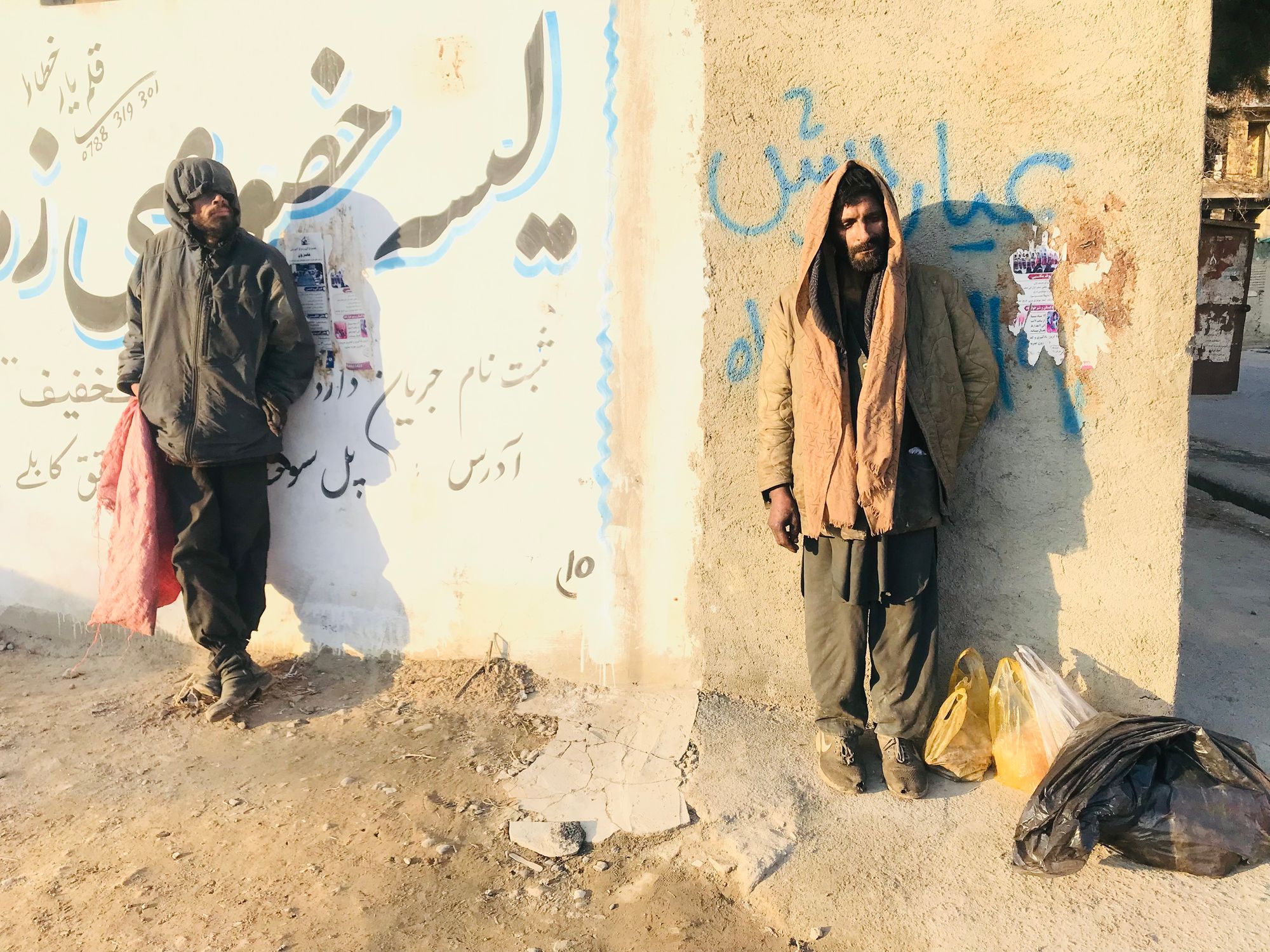 ---
"My family hates me, I have no place among my relatives!"
Pul-e Sukhta is one of the most famous gathering spots for drug users in Afghanistan's capital Kabul. For many years individuals who use drugs have congregated in the hidden spaces beneath bridges over the Kabul River. They are one of the many places Afghans can find a place to get high with their fellow outcasts. The bridges cross a portion of the Kabul river that is dry most of the year, except for the flow of sewage waste.
Mohammad Hassan Ehsani has been battling with substance use for 12 years. Hassan, who has chosen the space beneath the bridge as his home, said when he was 18 years old, he went to work in Iran, where his friends encouraged him to use drugs.
"No one in the community treats me well. My family hates me, I have no place among my relatives. Even when a child sees me, he runs away. Sometimes I think about the terrifying creature that I am. This kind of behavior gives me great pain," Hassan tells Alive in Afghanistan.
Hassan adds that some institutions under the previous government took them to rehabilitation centers. The Taliban soldiers, according to Hassan, come to the bridge during the night and beat them with sticks, but have no plan to treat them.
"I collect scrap during the day and sell it for 50 to 100 Afghanis, using the money to buy meth. My food is whatever I find in the garbage," Hassan says.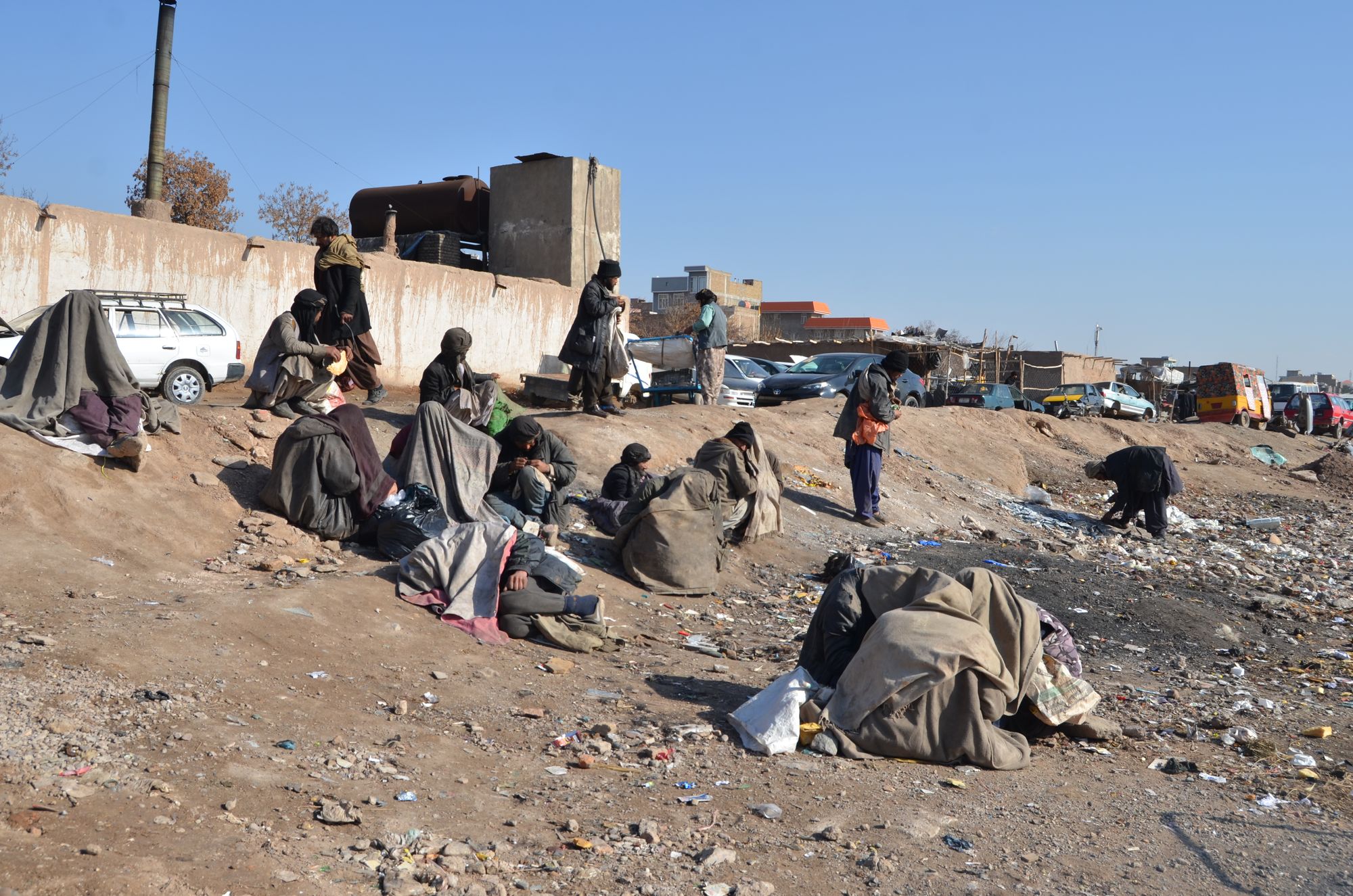 40 year-old Abdullah Mohammadzai has been battling a substance use disorder since he was 15 years old. Originally from   the province of Ghazni southwest of Kabul, Abdullah is the father of five children, all of whom still live in his home province.
"There was no work in Ghazni. I went to work in Iran 25 years ago but became addicted. There were people there who brought me meth sometimes, saying it had no effect. I slowly got addicted. Then [the Iranian government] kicked us out of Iran and I haven't gone home since. Pul-e Sokhta is my home and heroin and meth, my family," Abdullah says.
Mohammad Saleh Hussaini is a 60 year-old man who has been battling a substance use disorder for 35 years. His family, including his wife and five children, all live abroad.
"I went to a military school, but am now in this condition. I try to stay away from my family and community so no one recognizes me," Saleh says.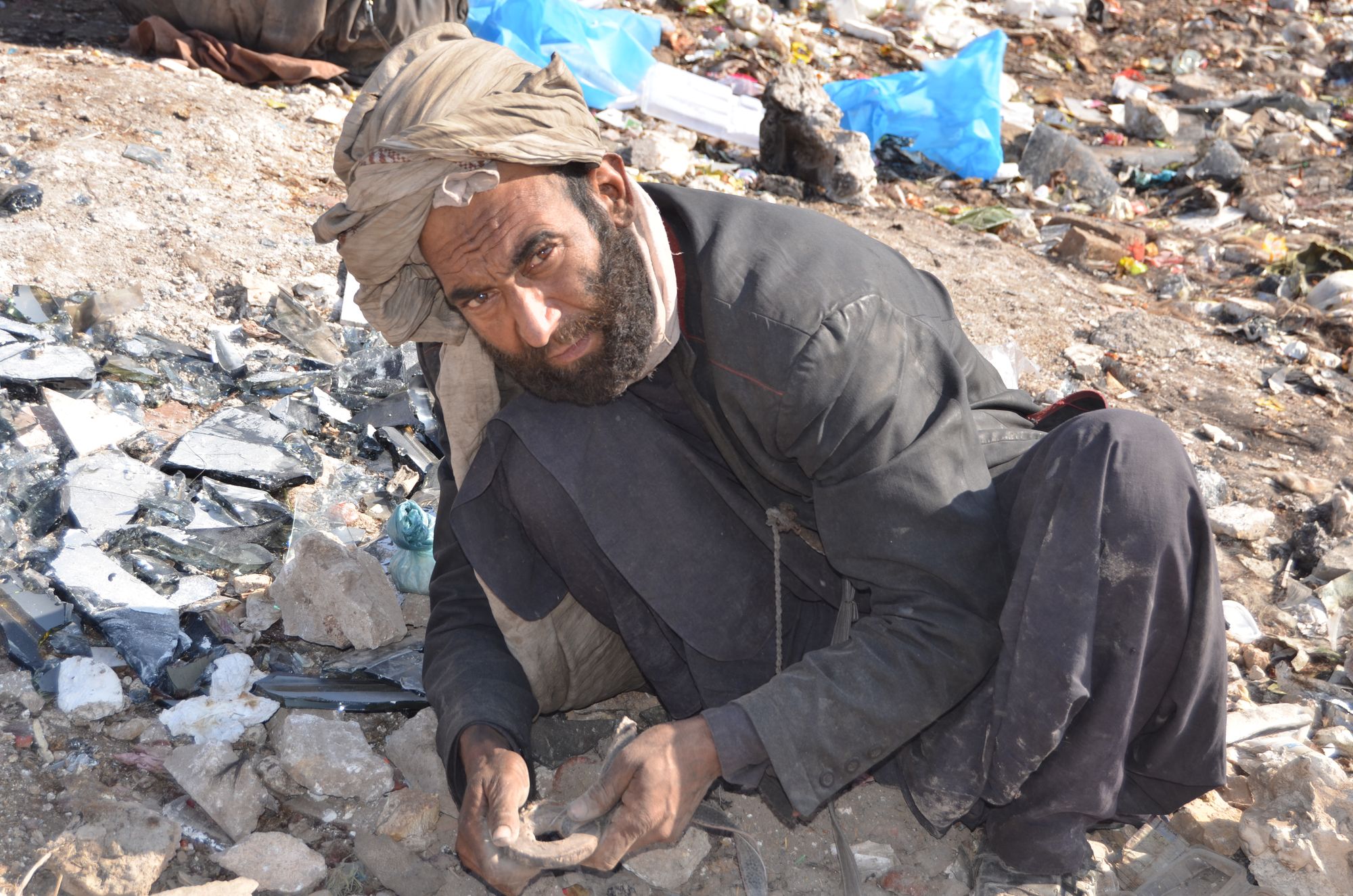 ---
"A Pitch-black pit"
In Faizabad, the capital of northeastern Badakhshan, the big bridge connecting the old and new city districts is home to the city's population of people with a substance use disorder. Under the bridge reside a community of ill-fated individuals who will do anything for their fix.
25 year-old Hashmat is a high school graduate and has been battling a substance use disorder for the past three years.
"Unemployment and poverty are reasons I resorted to drugs. If the country was in a better situation, or educational opportunity was provided, I may have been in a different position, my life may have had a different color," Hashmat says.
Hashmat wants the Taliban to prevent the drug trade and help stop the youth from destroying themselves. His greatest wish is to continue his studies, one day serve his people, be an influential person in his community, and be respected.
"All my hopes have now vanished, I see myself in a pitch-black pit, the more I struggle to save myself, the deeper I sink," Hashmat says.
So far, no institution or individual has tried to treat Hashmat. He says that he is ready to quit if the treatment is provided.
Shafiqullah Hafizi, Badakhshan's Director of Counter Narcotics says more than 5,000 people, including over 500 women and children with a substance use disorder have been treated since the Taliban takeover of Afghanistan. Mr. Hafizi added that the collection process in his province continues. According to him more than 50,000 people are battling a substance use disorder in Badakhshan, up from 40,000 during the previous government.
The UN Office on Drugs and Crime (UNODC) in Afghanistan was contacted for comment on the countrywide statistics on the estimated number of people with a substance use disorder. Alive in Afghanistan did not receive a response by the time of publication.
Editor's note: In late January the Taliban recently rounded up all drug users from Pul-e Sukhta and are making an effort to clean and repaint the bridge. Interviews in Kabul were conducted before the Taliban's decision to round up people with a substance use disorder.
---
Alive-in is a not-for-profit media agency that mentors journalists from underrepresented communities to increase local and national understanding.
If you are able to support our work financially, please click the button below.
---