Young Carpet Weaver Makes Beautiful Designs
Zaynab is an Afghan carpet weaver keeping the tradition and culture alive. She knows patterns by memory and has worked in the industry for more than six years.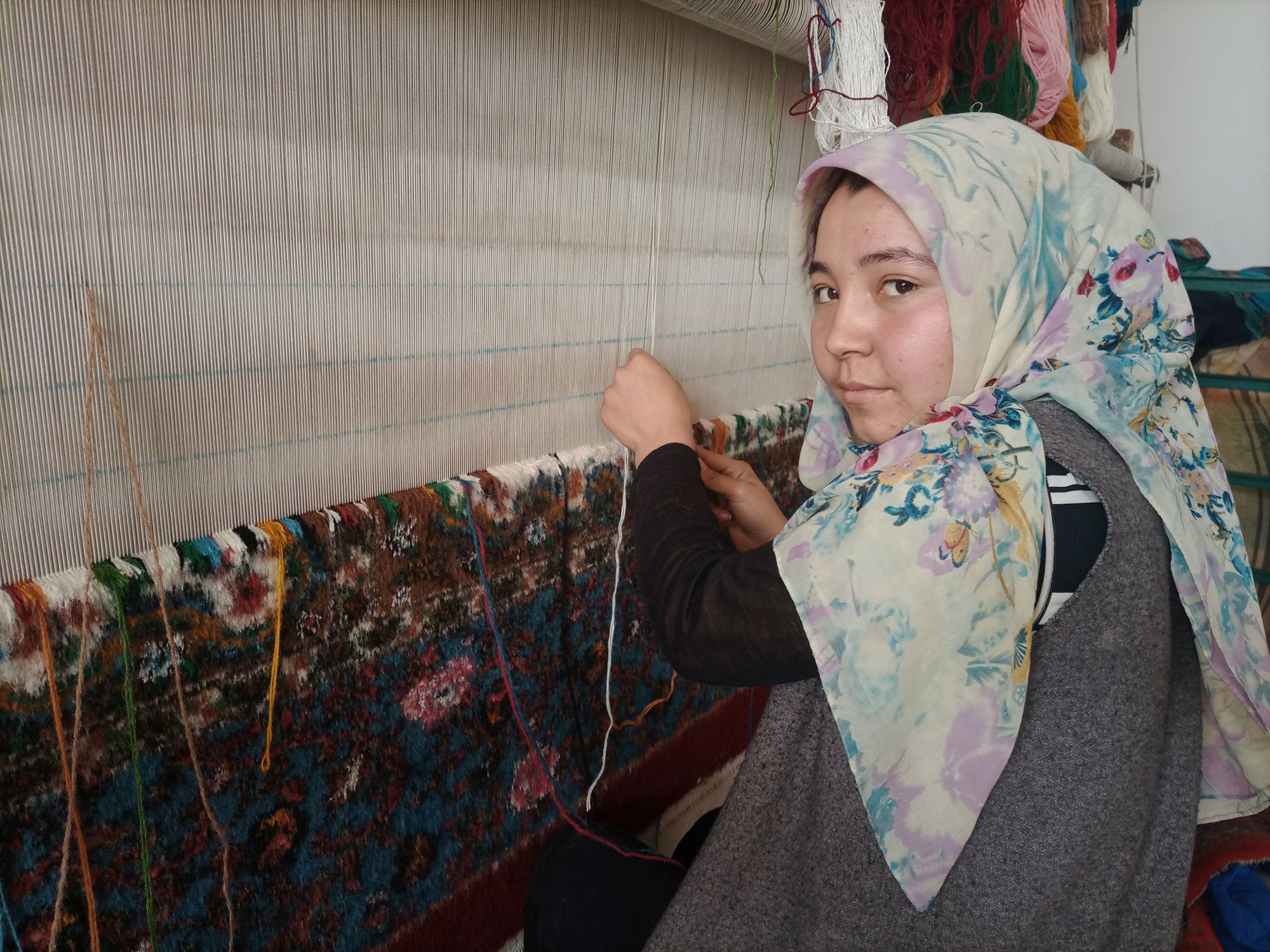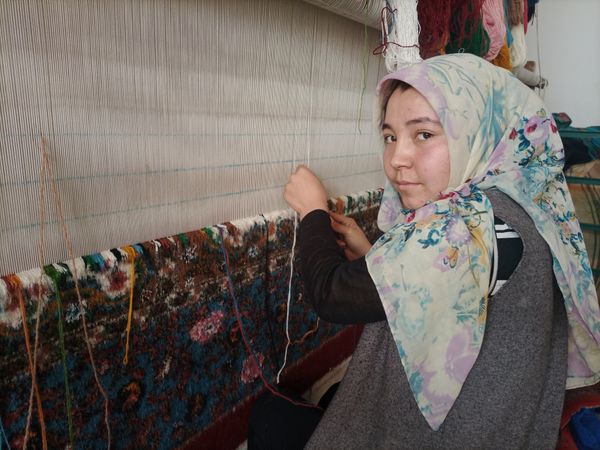 — One Day in Afghanistan —
Written by Abdul Karim Azim, edited by Mohammad J. Alizada & Brian J. Conley
---
Alive-in is a not-for-profit media agency that mentors journalists from underrepresented communities to increase local and international understanding. Click the button below to receive our stories directly in your inbox.
---
HERAT — Weaving carpets is a traditional and valuable art in Afghanistan, with Afghan handicrafts considered among the best in the world. In addition to the economic profit that carpets bring to weavers and businessmen in the trade, they also showcase the cultural and artistic side of Afghanistan.
Each community or ethnic group and region weaving carpets has their own style. The more creativity used in weaving the carpet, the better its design and value. This is the reason why Herati, Turkmani and Hazaragi carpets are the most famous rugs in the region.
Herat is a province in Afghanistan's western region. Hazaras and Turkmans are two different ethnic groups in Afghanistan.
In today's episode of One Day in Afghanistan, Alive in Afghanistan's Abdul Karim Azim profiles the life of a carpet weaver in Afghanistan's western Herat province.  
23 year-old Zaynab Hussaini is a brave Hazara girl from Herat who lives in Al Mahdi Jebrail town. She earns 150 to 200 Afghanis ($1.67 to $2.22) daily, a total of around 7,000 Afghanis ($77.78) a month from weaving carpets. Previously a portion of her income went towards her university fees while the remainder helped cover her family's expenses.
But universities in Herat no longer teach female students. After being open for a few days in March, students were told that the segregation process is still ongoing, therefore female students are not to attend universities until further notice.
Afghanistan's education system has been thrown into a disarray since the COVID-19 pandemic began, as well as the Taliban takeover of Afghanistan in August of 2021.
According to a university professor in Herat who spoke to Alive in Afghanistan on the condition of anonymity, both public and private universities in Herat have closed and reopened for female students at least three times since March. Although there has been no official announcement by the Taliban, the students have been told that the Taliban are still working out the segregation process.  
For more information about the reopening of universities and the country's educational situation, read Alive in Afghanistan's Afghan Universities Reopen with New Gender Rules and other articles on Education.
Since the universities have been closed, Zaynab works at the carpet factory from 8 am to 4 pm. She has seven family members including her 60 year-old father Mohammad Asghar, 55 year-old mother Maryam, three brothers and a sister.
Zaynab is a very creative member of the staff at the carpet factory she works in. In the six years she has been a carpet weaver, she has familiarized herself with different intricate designs and patterns. She weaves ten lines of carpet every day, earning 20 Afghanis ($0.22) per layer. She tries hard to weave ten lines so she can make enough money for the day. There are more than 30 carpet weavers and two supervisors at the factory she works in.
Carpets are made in two or three steps, the first step is knotting–where the knots are tied around the loom's vertical threads (the warp). The second step is the weft crossing and combing. After tying the knots on every row, two horizontal strings, one tight, and one loose, are taken across the warp and then tightened against the knots with a comb in a downward motion, creating a single line.    
Zaynab's father is a realtor and her older brother works in neighboring Iran. According to Zaynab, her dad's business doesn't have any income due to Afghanistan's economic crisis, causing Zaynab to work harder and allocate a large part of her income in taking care of her family.
In April, the United States Institute of Peace (USIP) said, "Afghanistan's economy and people have suffered an overwhelming shock since the Taliban takeover last August. The ongoing crisis has been driven by the cutoff of development aid, existing international sanctions, and the freezing of Afghan foreign exchange reserves. This has sparked the incipient collapse of the private sector, banking system and the urban economy in particular — precipitating enormous humanitarian needs."

My conversation with her is very easy, she seems to have no racial bias or discrimination. She is proud of her identity as a Hazara while at the same time inviting her countrymen to unite. "One of the main problems in our society is the lack of unity and tolerance."
"Our God is one and we must not discriminate," Zaynab says.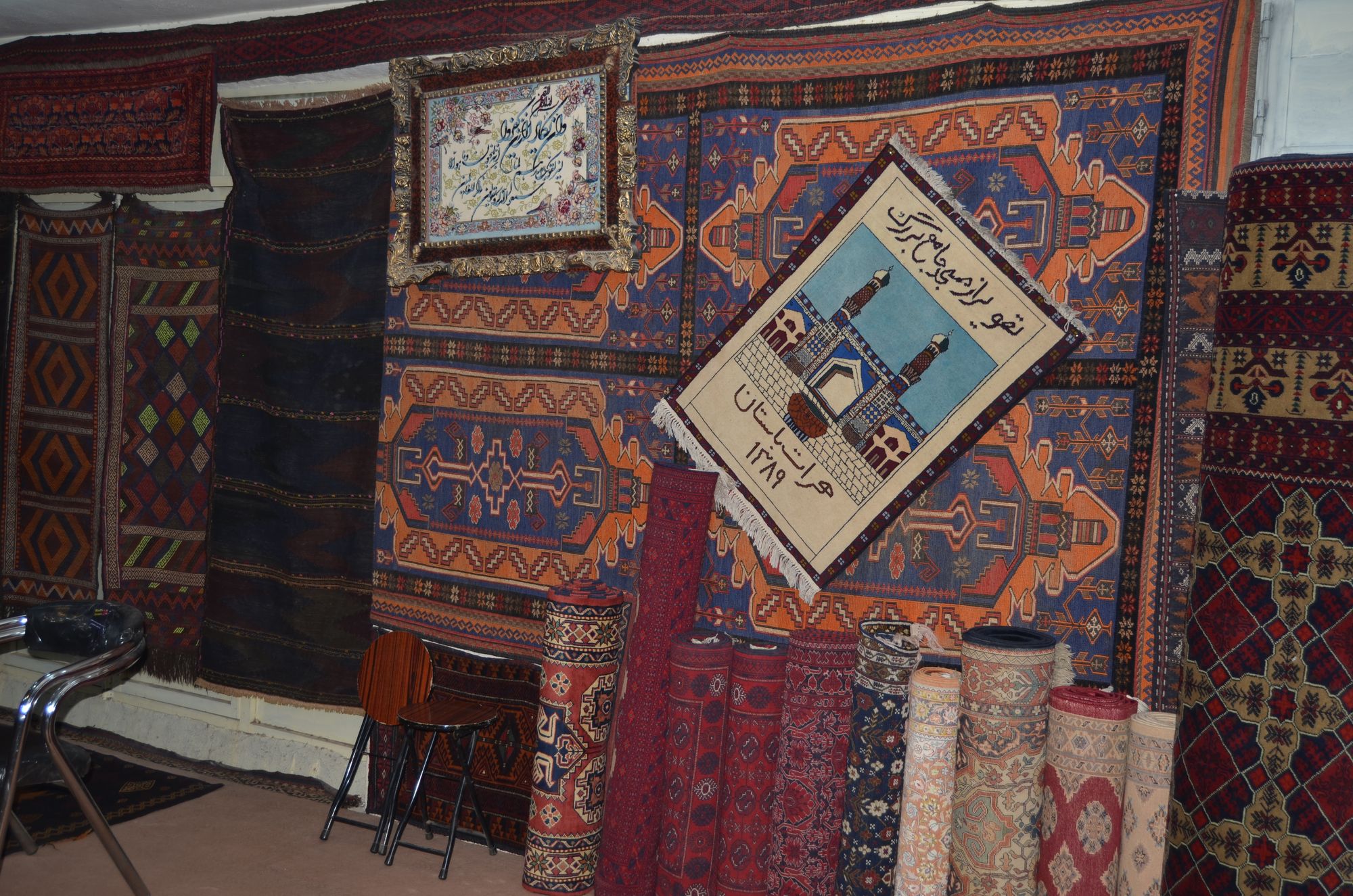 It's now 9:30 am and Zaynab is showing off the designs she works on. The carpet she is currently working on is a silk rug with very condensed, thin lines. But she knows a variation of different designs and flower patterns by memory. She says she is skilled in weaving Herati, Hazaragi, Iranian and Turkmani designs. Zaynab can also weave texts and portraits into carpets.
"When I started working as a weaver, my wage was 30 Afghanis per day, but I now make 200 Afghanis a day," Zaynab tells Alive in Afghanistan as she picks different colors of thread to tie the knots.
It's now 10:20 in the morning. Zaynab talks about some of the difficulties in life. When the universities were open, she used most of the money she earned on her tuition fees.
"My father wouldn't let me study past high school, but my mother and neighbors convinced him," Zaynab says, adding that her father didn't understand the value of education. Zaynab is a hairstylist and make-up artist in addition to being a carpet weaver. Those businesses attract less customers now, because of this Zaynab spends all her time weaving carpets.
In addition to Zaynab, her brother and sister, who are twins, work in the same factory, earning 30 Afghanis a day.  
As I look at the clock, it's now 11:30 am.
"I am very optimistic for my future because if you really want to do something, you can do it. I have hope that problems will go away one day, but we have to make an effort," Zaynab says. One of her wishes is to be useful for her community.
Although she is not yet married, she wants to marry someone who works hard and is religious, "Not a lazy person." According to Zaynab, dowry is not important, being a good person from a good family is. But what her family thinks of that is not clear.
A dowry in the Muslim faith is a gift, or a promise of a gift, to the wife by the husband. It is negotiated shortly before the couple's marriage and is often in written form. It is often paid in gold coins, cash or land.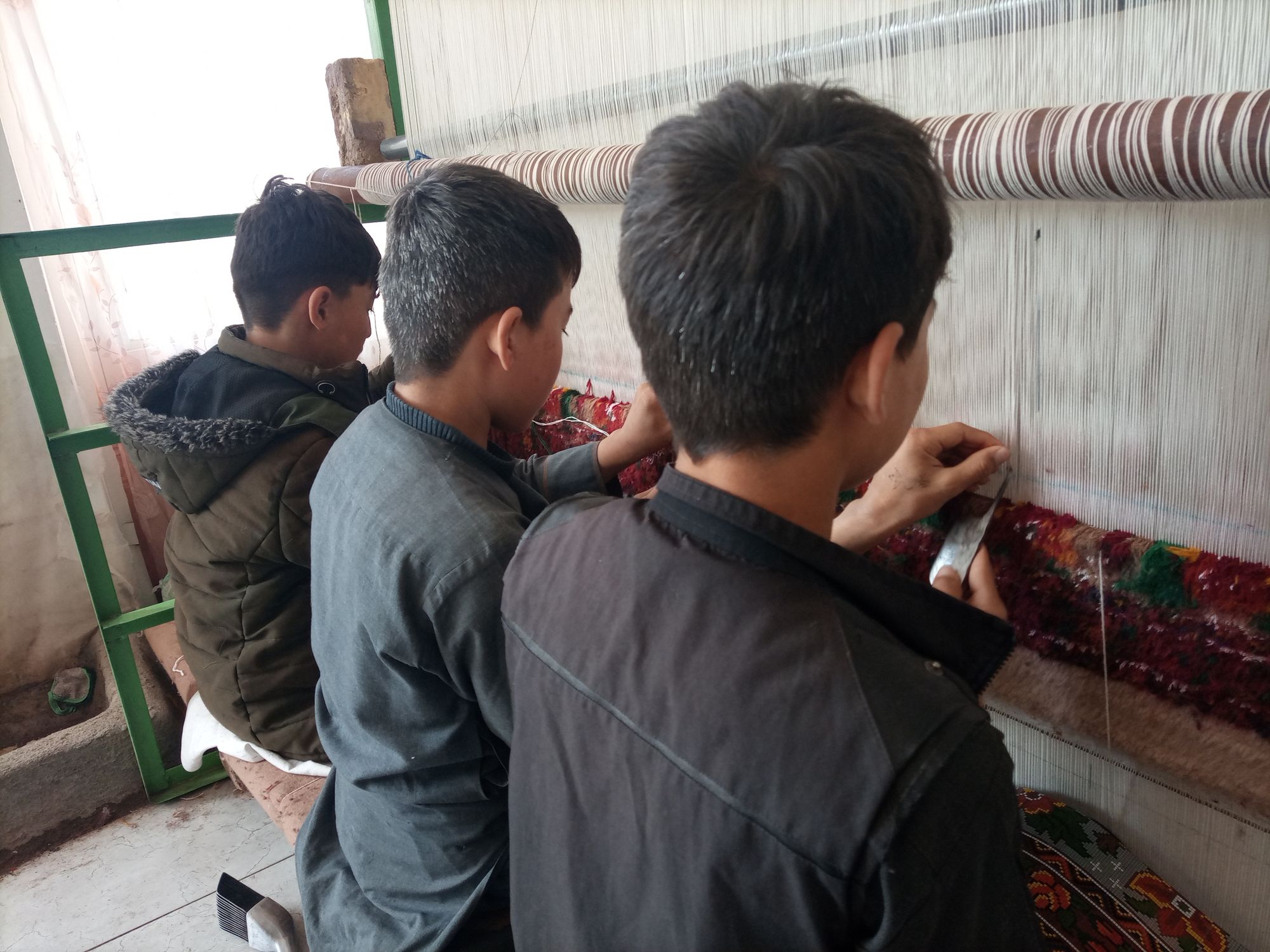 I was talking to Zaynab until the clock ticked 1 pm, their lunchtime. Although Zaynab and her supervisor ask me to have lunch with them in the Afghan hospitality fashion, I refuse politely and leave for the market nearby to have lunch and pray.
In Herat, there are more than 50 rug and carpet sellers in different markets across the city. It's 2 pm as I enter Haji Zalmai Haidari's shop, a carpet salesman. The walls and doors of the shop are decorated with antique rugs and carpets older than 100 years, making the store appear elegant and organized.
"My business has had an improvement in sales over the past two months but it's nothing compared to what it used to be," Haji Zalmai tells Alive in Afghanistan.
Haji Zalmai says that he sells all kinds of rugs, saddlebags, prayer mats and anything to do with handcrafted rugs at his store. He shows me different designs on the carpets like the blue mosque in Herat, the Minaret of Jam in neighboring Ghor provinces and other historical places in Afghanistan.
"NATO forces and other foreigners used to come to my shop and buy my products, but business is no longer as good as before," Haji Zalmai says.
Mr. Haidari laments the current export situation saying, "We used to export carpets to Australia, the United States, Germany and Canada, but currently exports are halted."
He asks the government and international organizations to reopen export routes so, "We don't lose a part of our tradition."
However, it's not the Taliban who decides what countries they can export Afghan goods to. Many countries severed their relationship with Afghanistan following the collapse of its previous government. These nations refuse to deal with the Taliban, a government that has not been recognized by any nation since the group took over Afghanistan.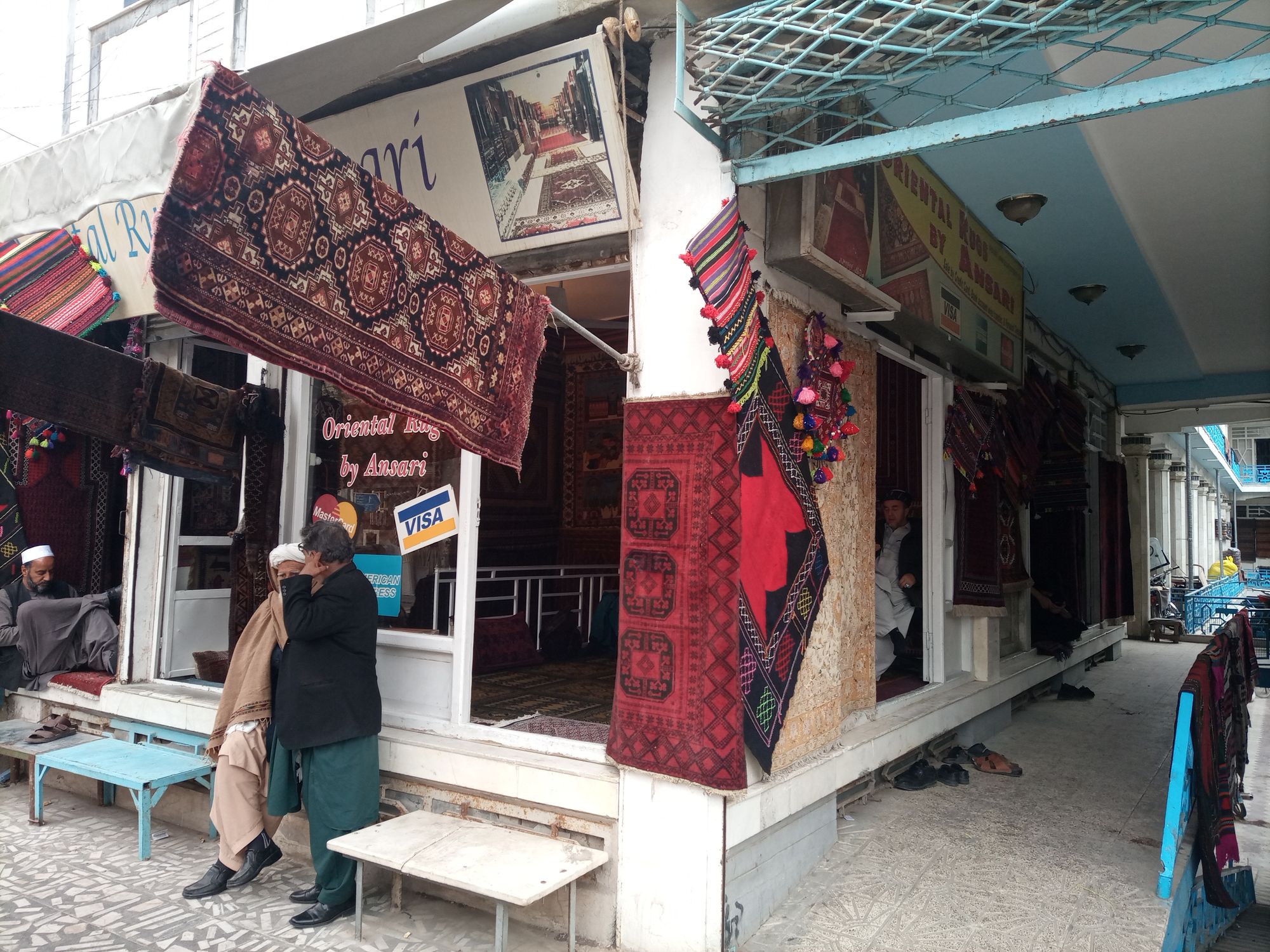 I return to Zaynab's workplace around 3 pm in order to follow her work until her day ends. She says she is interested in sports, especially martial arts but has never had the opportunity to join a club. Returning to weaving carpets, she says her family doesn't mind her working or continuing her education.
According to her, "Working or weaving carpets is not a shame, being lazy and useless is." She advises others to pick a profession so they can help their families and reduce their financial issues.
The job market in Afghanistan has been hit hard since the Taliban takeover as the economic crisis gets worse.
However, Zaynab asks businessmen dealing in carpets to open up more weaving factories and provide job opportunities for more girls and women.
"We want employment, not food assistance," Zaynab says.