When Art is Your Only Means of Escape
Mixed media artist Mohammad Rafiq Sadiq is a businessman from Afghanistan's southwestern Nimroz province who uses art as an escape from the continuous conflict that has torn his country apart.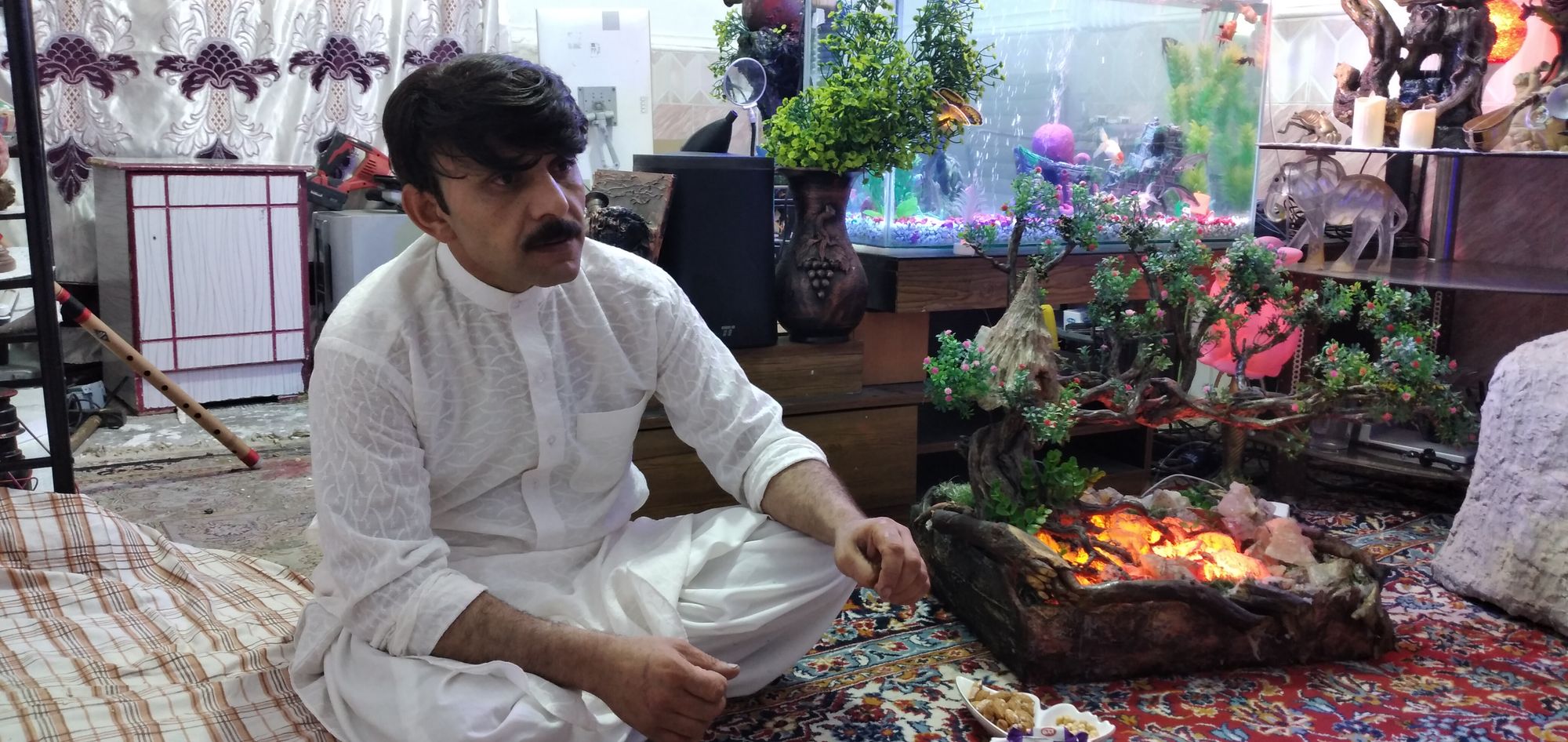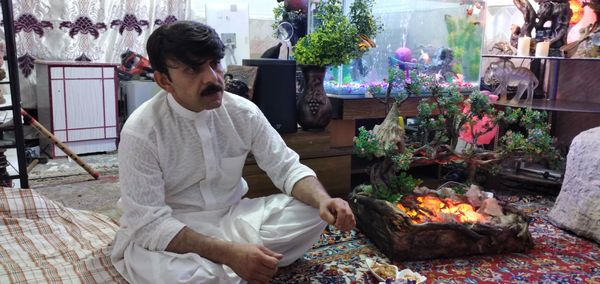 —One Day in Afghanistan —
Written by Shaima Seddiqi
KAKAR HA, NIMROZ — Despite billions of dollars being spent on reconstruction efforts from 2001 to 2021, Afghanistan remains an extremely conservative country lacking in diversity. Anything controversial is often written off as Haram, regardless of whether or not it is actually banned under Islam.
One group particularly hard hit by this rigid mentality is sculptors. Since it is forbidden in Isalm to create three-dimensional renderings of living things, Afghans who hold traditional values have contributed to a stigma against artists who sculpt. Social pressures aside, there are serious consequences for those who choose to disregard the Koran. In 2001, the Taliban used this reasoning to justify blowing up Afghanistan's renowned Buddha statues in central Bamiyan province, and since taking over in 2021, have begun threatening sculptors and forbidding them from creating any art that could be seen as Haram.
Prior to the Taliban's recent take over, efforts were made in the last twenty years to encourage growth and development in the arts like theater, cinema, painting, sculpting and music. Afghan artists made huge strides, with some of them gaining global recognition since the Taliban were overthrown in late 2001. However these art forms are becoming less important by the day since the Taliban returned to power in August 2021.  
Despite all the challenges and dangers of working under such conditions, a number of artists remained in Afghanistan either due to the love for their homeland or an inability to escape. These artists are working hard to portray the real image of Afghanistan,reflecting the beauty, history, and lifestyle of their community through their art.
In today's episode of One Day in Afghanistan, I document the life of mixed media artist Mohammad Rafiq Sadiq who lives in Kakar Ha village on the outskirts of Zaranj city, the capital of Afghanistan's southwestern Nimroz province.
Traveling with my husband, we start our day heading towards Kakar Ha, about 15 kilometers from Zaranj, around 9 am and find Mr. Sadiq's house on the backstreets with the help of his fiancee Muzhda Barakzai, who guides us by phone.
Although both of his wives were notified of our appointment with Mr. Sadiq, they still are surprised to see us. They welcome us inside and guide us to their husband's workshop.  Every nook and cranny is filled with a variety of amazingly intricate art made with clay, glass, metal and other repurposed objects.  
Rafiq enters the room about 40 minutes later while  we are still marveling at his art. He is 38 years old and is originally from the province of Kandahar. Rafiq married Parwin, his first wife, when he was 19. Together they have six children, two girls and four boys. He married second wife Zarghoona Samoon 12 years ago, in what he calls, "Family tradition and destiny." Zarghoona and Rafiq have four children together. He got engaged to his third soon to be wife, Muzhda just nine months ago.
Mr. Sadiq says his father had two wives and Parwin's father had four, as he put it, it is a family tradition to be married to multiple women.
Rafiq is a businessman who owns an ice factory, a much needed commodity in the scorchingly hot Nimroz province. Two years ago he also purchased a private primary school. The school is managed by his fiancee and teaches about 150 students, both boys and girls.
Rafiq spends his free time at his art studio, making a variety of pieces, "Decades of war has taken a psychological toll on our people." He says, "I recommend doing something positive to keep ourselves busy."
Mohammad Rafiq has been interested in mixed media art and sculpting since childhood. He says, "Looking at toys would motivate me and make me curious about making them when I was 10 years old. I made a water fountain when I was 20."

Among his vast array of art you can see some pieces featuring different kinds of wild and domesticated animals, sculptures of marine life and even one of an alien. But what draws my attention is the three dimensional carving of a man bitten by a crocodile on his left leg, while being dragged by chains around his right leg, arms and neck by four other men while he tries to free himself.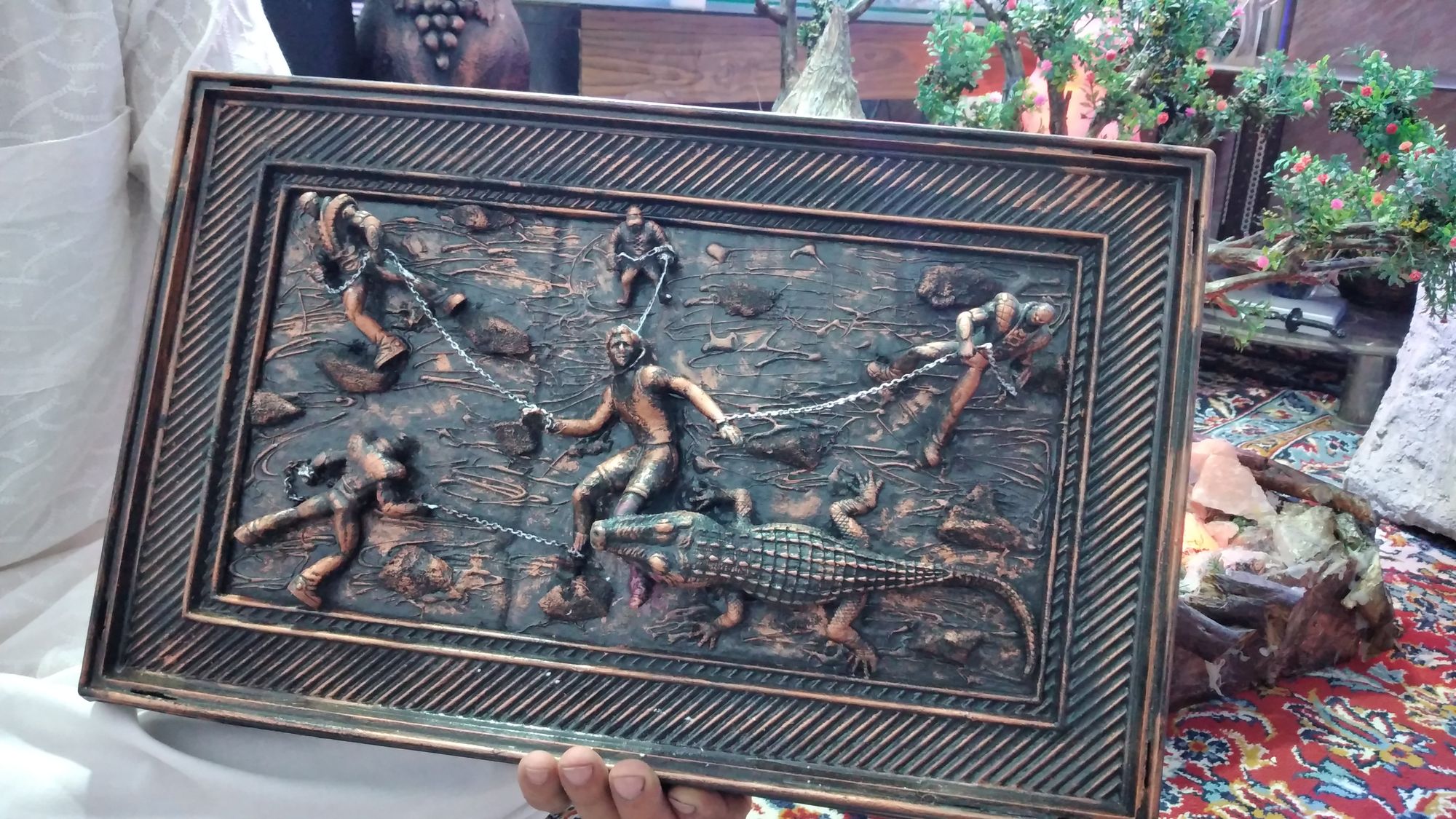 "That's my Oppressed Afghanistan or Life in Afghanistan piece, one of my most important and valuable art pieces," he says with a sad sigh. This piece articulates the pain Rafiq has experienced throughout the continuous bloody war and unrest.
Rafiq believes Afghanistan is a battleground and her people the victims of proxy wars by regional countries, an abstract concept he sought to capture in this piece.
But his romantic side has not escaped the pieces as well. He shows me an engraving that depicts a glass of wine being filled by a woman which he made in honor of his fiancee.
The big clock hanging inside the room shows its 10 am. Mr. Sadiq goes behind his desk and asks one of his sons and wife Parwin to get him some tools. Today he is going to show us how he makes a waterfall or fountain. According to him this is one of his smallest artistic pieces and will take five to six hours to complete.
Other art pieces can take from 15 days to a month to complete. However, if he feels motivated, he can complete two per week, depending on how much free time he has.
Rafiq begins by pouring about 1.5 kg of pebbles into a large glass bowl. He then drills a small hole in the bottom of a clay pot before mounting it into a metal circle connected to an elevated stiff length of chain which wraps around the glass bowl, creating an almost anti-gravity appearance to the pot as it pours water over the pebbles below.

Next, he creates a base for the fountain by attaching the glass bowl of pebbles to a wooden board and wrapping strip lights around the bowl. All this takes about 20 minutes.

Once that is complete, Rafiq begins to cut a large piece of foam into a circular shape in order to fit the bowl inside it. The foam will later be painted and transformed into a pile of rocks surrounding the bowl of pebbles.

He now turns his attention back to the clay pot, deciding to use a bit of blonde, straw-like material to cover the metal ring holding it up.

"All the materials e.g. cans, bottles, matchboxes, foam, corks, gravel, glue, hair, paper, etc are used, most of them are either purchased at cheap prices or collected from garbage. I wash them and reuse them," Rafiq tells Alive in Afghanistan.

For today's piece, Mr. Sadiq has purchased the clay jar for 30 Afghanis ($0.34), the strip lights for 60 Afghanis ($0.67), and the bowl for 100 Afghanis ($1.12). His total expenses don't even amount to 200 Afghanis ($2.25). He also uses glue, paint, chalk plaster, and cement for today's work.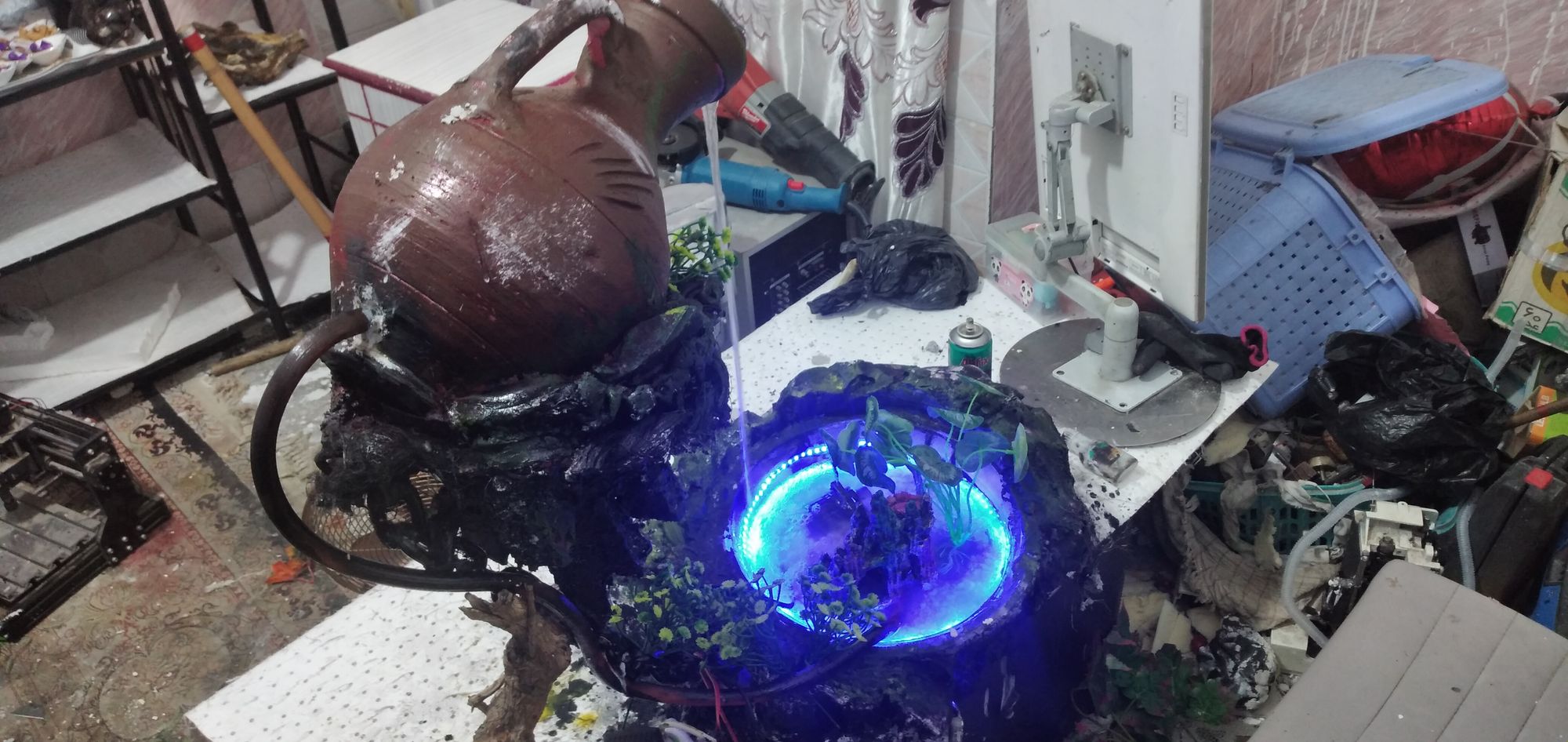 When the glue is dried, he prepares some plaster with the help of his son Imran. He fills and covers the holes around the jar and the bowl with the plaster so that they are tightened. The plaster gives the whole thing the shape and sight of a rough mountain. At this moment Muzhda brings energy drinks and fruits for Mr. Sadiq's refreshment.
We all wait for an hour so the plaster dries completely. During this time, Mrs. Parwin brings us tea and fruit as is customary in Afghan tradition. Afghans are notorious for their hospitality, which is uniform across the country.
Read Alive in Afghanistan's Hospitality for Travelers, an Afghan Tradition to find out more about Afghan hospitality.
We sit together with teacups in our hands as we wait for the plaster to dry and once again we start talking about their family life.
Parwin says, "Rafiq is a kind and good-natured person. I didn't stop him from marrying another woman because I wanted him to be happy. I went and asked for Muzdha's hand in marriage along with his second wife."
Rafiq is silent and doesn't share anything more about his wives.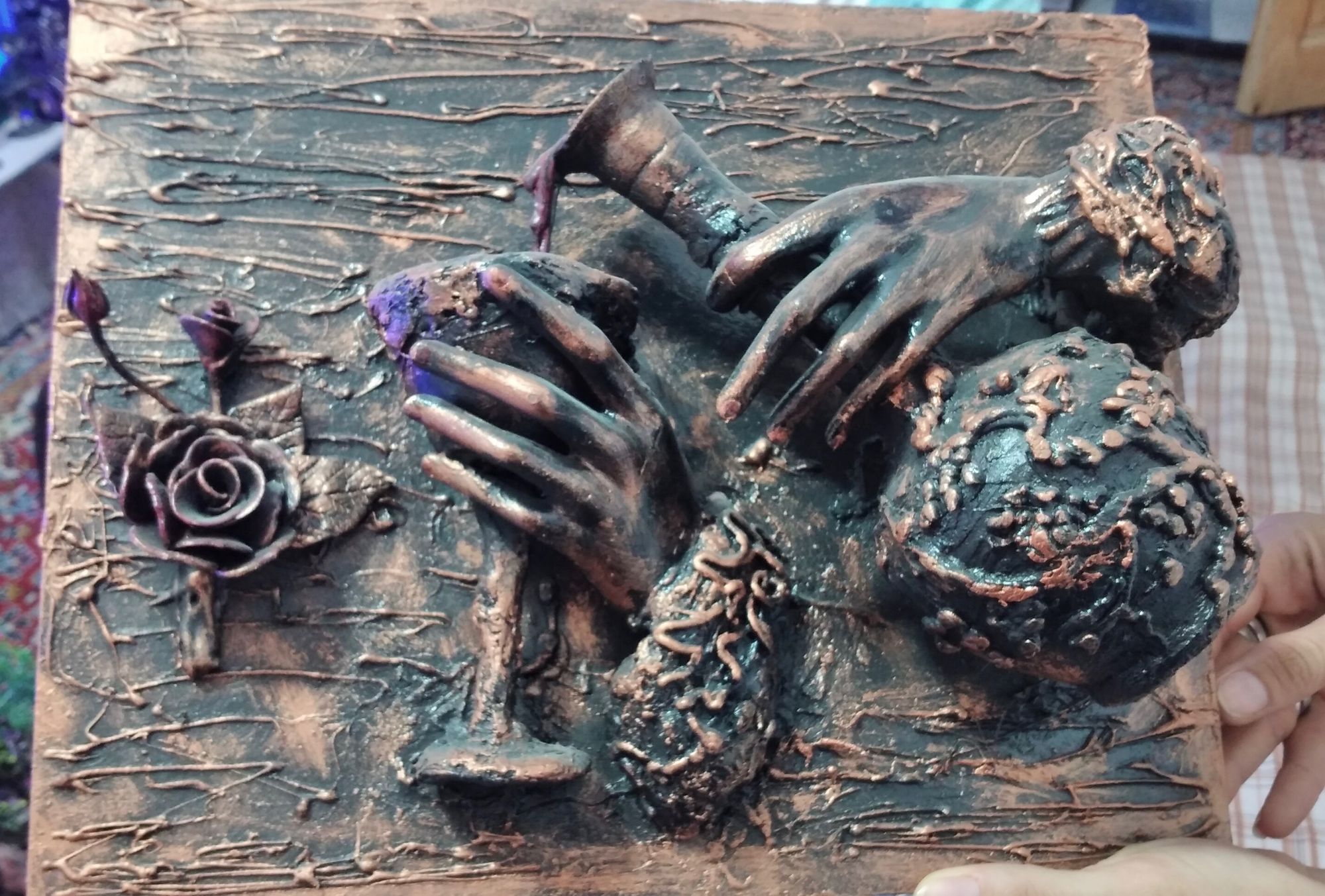 It's now 12:30 pm and we leave their home for lunch and afternoon prayers and return at 1:30 pm. Rafiq has changed from his white shalwar-kameez to shirt and pants, his work clothes. He proceeds to paint the foam portion of the sculpture with the help of Imran, Parwin and Karima.
We wait another 40 minutes for the color to dry while Mr. Sadiq continues moving, doing small things around the jar, including spray painting it silver. He then shapes pieces of foam to look like dried water droplets and glues them to the bottom of the jar.  
According to Mr. Sadiq, has made a lot of handicrafts and art pieces that have been exhibited in both Kabul and Nimroz provinces.
Rafiq's artwork has been exhibited in the local museum and the Nimroz's Directorate of Information and Culture. For the most part, his art has been met with encouragement and appreciation, however, some view his work as sacrilegious and have gone so far as to threaten him for his work in the past.
"The Taliban have threatened me several times, forcing me to not do sculpting anymore and instead transition to making more natural art," Rafiq says. Rafiq made several sculptures of people dying during the COVID-19 pandemic, "But this was severely criticized by extremist members of the public who took it as me creating humans and interfering in God's work."
Although he has faced harsh criticism for his work, Sadiq has also gifted the Taliban several sculptures that did not depict living things, most recently gifting them a mosque he has modeled for them.
"Rafiq works hard, he rests very little, and only eats once a day," Parwin tells Alive in Afghanistan, adding that her husband spends most of his time working.
The artist has so far created a variety of mixed-media art, including natural sceneries such as Afghanistan's national park Band-e-Amir, the sculpture of Frakhunda, a woman who was publicly lynched by a mob in Kabul in 2015 after being falsely-accussed of burning the Quran, the Corona Virus, Buddhas and other historical places in Afghanistan. During the inauguration of Nimroz's Band-e-Kamal Khan dam in March last year he created a bas relief of the dam and presented it as a gift to Afghanistan's former President, Ashraf Ghani.
Muzhda also questions her husband's artwork.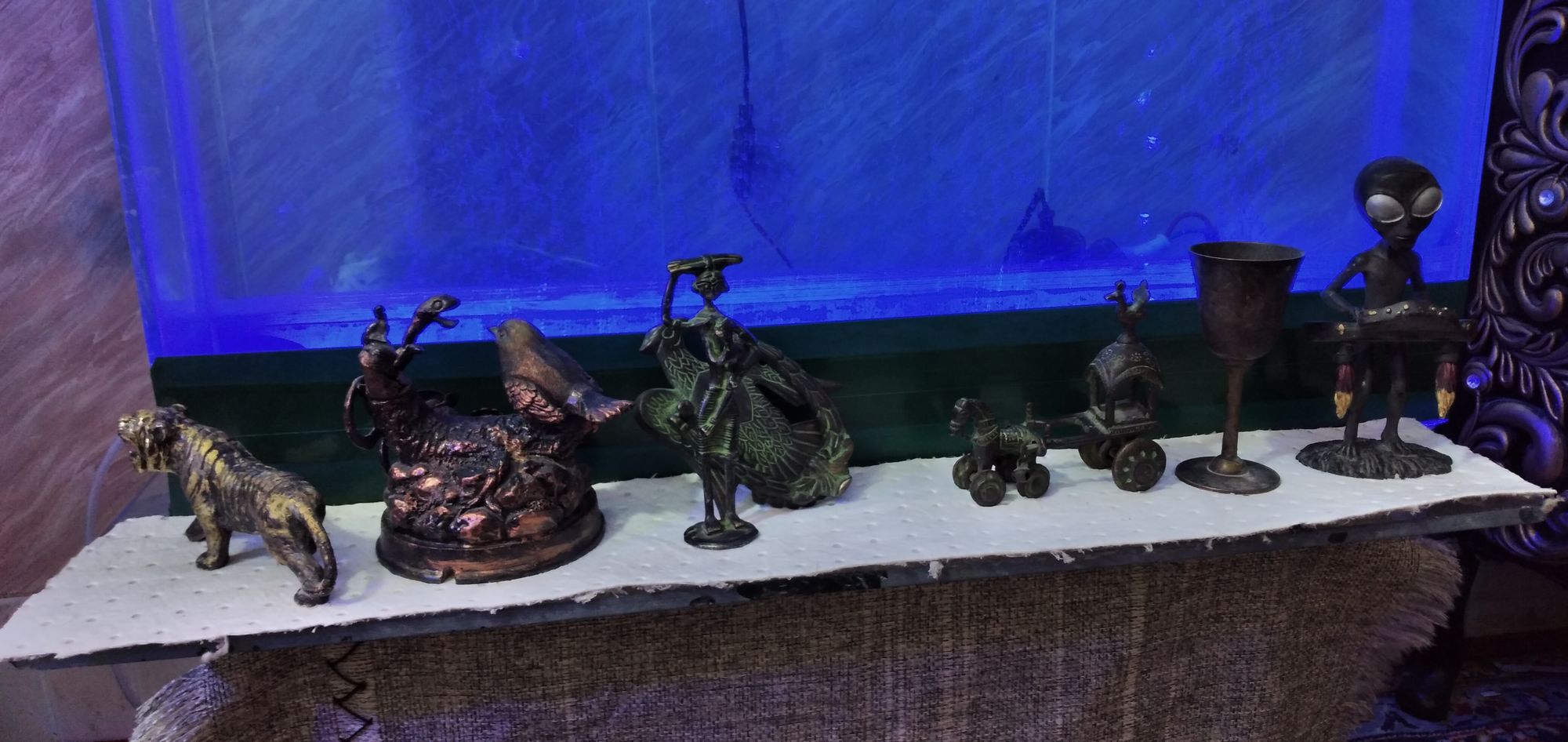 "Rafiq made a piece depicting the earth and sky, but he burned himself," Muzhda says, believing the incident was a signal from God not to replicate his creation. She does not provide any more details about the incident.
It's now 3 pm and Mr. Sadiq seems very tired but continues to work with his face and hands full of paint. He mixes some yellow and black together, making it a darker green and starts painting the foam that surrounds the jar and bowl. His attention is completely on what he is doing while we watch. The painting project takes another 45 minutes until the foam looks like a rock covered with algae.
"I mix and combine the colors so that the material takes a natural shape," Rafiq says. We wait another half an hour as he and Parwin dry the paint with a handheld fan. For the next stage, he takes a small sponge, dips it in yellow paint and brushes it on parts of the foam.
Mr. Sadiq paints the jar a shade reminiscent of coffee and says, "The jar should always be painted brown like the color of coffee because it adds a special beauty to it."
By 5:10 pm, although Mr. Sadiq seems tired, he tries to finish the piece in a hurry. He installs a small water pump inside the bowl, then sprays a 50 cm orange hose black. He attaches one end of the hose to the water pump and puts the other end through the hole inside the jar so that it can circulate the water.
For the final stage he arranges an electric wire that is connected to the strip of lights and asks his wife to bring some water. Parwin brings a jerry can and fills the bowl.  Connecting the electric cables together for this last step takes time and frustrates Mr. Sadiq until Karima comes to help her dad start the fountain up.
I am really excited when Rafiq plugs in the fountain. The water in the bowl goes up to the jar with the help of the water-pump and flows back from the mouth of the jar into the bowl. The strip of lights around the bowl also light up at the same time, adding to the fountain's beauty.
It's now 5:30 pm and we leave Mr. Sadiq's house. Though Mr. Sadiq is tired, he is happy and thanks me for portraying a day of his artistic life.