Forcing Children Into Marriage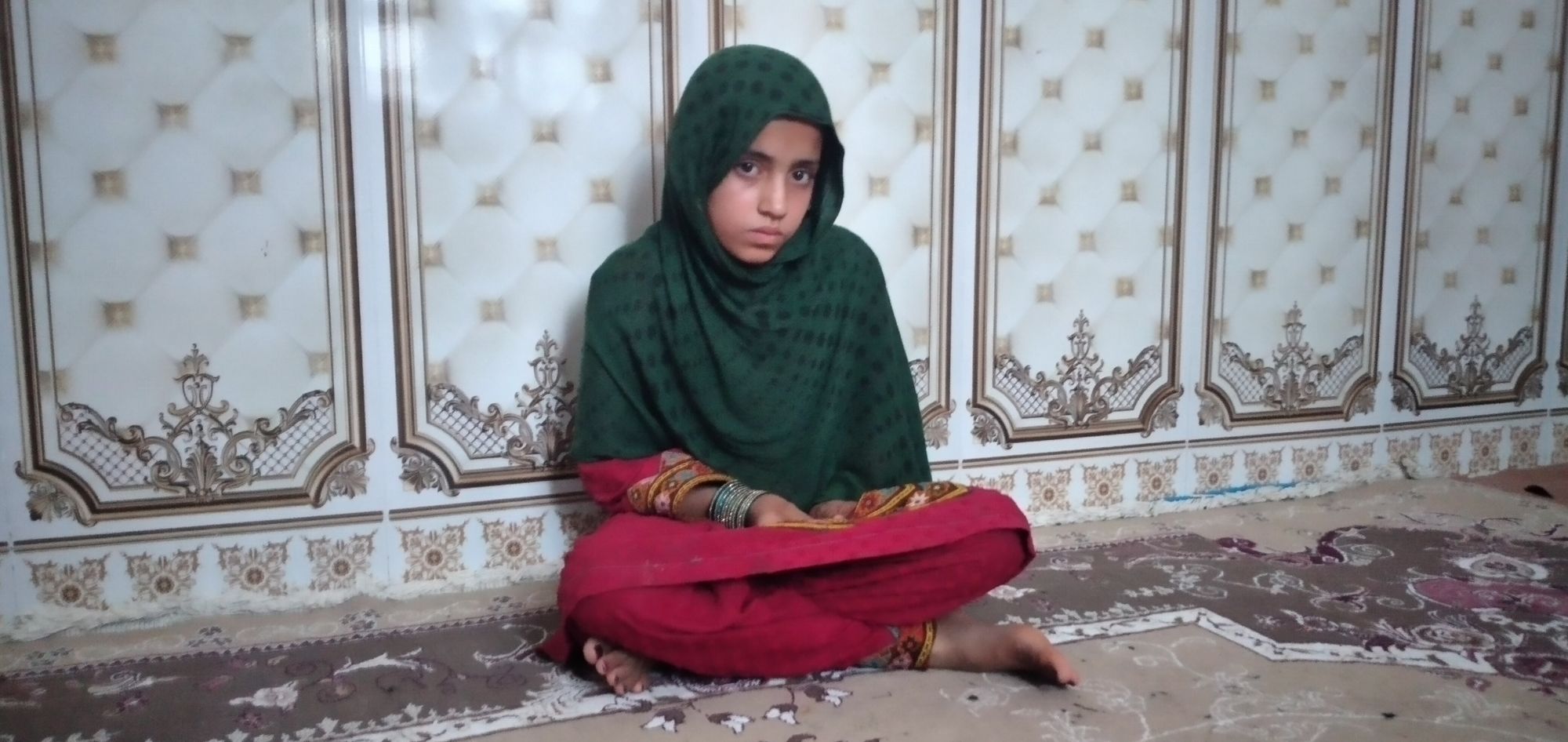 Written by Samira Wafa
ZARANJ, NIMROZ — "Don't raise your voice; you have no say!" 11 year-old Nazia was told by her father when she was engaged to Ghani, a 26 year-old man working in neighboring Iran–she was only seven at the time. Nazia's dowry was a mere 8,000 Afghanis ($102), but her father has collected around 100,000 Afghanis ($1,273) from Ghani so far, "All of which he has spent on drugs," Nazia told Alive in Afghanistan.
Two of Nazia's sisters, 12 year-old Marzia, and 10 year-old Jamila, all three from southwestern Afghanistan's Nimroz province, met the same fate. Marzia was given away for 7,000 Pakistani Rupees ($24), and Jamila for 15,000 Rupees ($51), by their uncle to pay off debt, according to Nazia. Due to being born female, all three were deprived of their most basic human rights including access to education, the right to choose their partner, and the right to be a child.
"My uncle told the creditors (those he owed money to) that 'I don't have money to give you.' They said, 'Give us your nieces.' So, my sisters were offered as collateral. We were seven sisters; one creditor wanted three million Toman back from my father, so he took my older sister. One of my sisters was taken by my maternal uncle to marry his son for free. My uncle spent most of the money obtained from my sisters' engagements. He said if the money was given to my father, he would spend it on drugs," Nazia said.
Nazia's story is similar to countless Afghan girls forcibly married off. The three sisters who are still living with their father work as house cleaners in and around Zaranj City, the capital of Nimroz province in order to feed their family.
"My father is addicted to drugs and doesn't work; he stays home all day. If we don't work, all three sisters and our younger brothers will go to bed hungry," Nazia told Alive in Afghanistan.
Although signs of puberty are not yet visible in Nazia, her father constantly pressures her to move into her fiancé's house, a situation that is unimaginable and unbearable for Nazia.
"It was during the month of Ramadan when [Ghani] came, bringing me clothes, a pair of shoes, and a gold necklace. I put his belongings inside my house; I won't wear them. He scares me a lot," Nazia said.
Nazia hid in a closet the night of her engagement, "My father found me and beat me, telling me not to make a sound and to go to sleep with my fiancé. But when [Ghani] wanted to sleep, I quickly opened the door and ran away. I came to the neighbor's house and cried all night."
Nazia, who is under severe psychological pressure, constantly clenches her right hand over her left hand and talks about the hardships of her life: "In our family, it's a shame to divorce a daughter, even though I don't like that man. But I don't want them to label me as a divorcee."
Being labeled as a divorcee in Afghanistan carries a social stigma in which girls are blamed and ostracized for the failure in the relationship and often either remain single or are married off to much older men.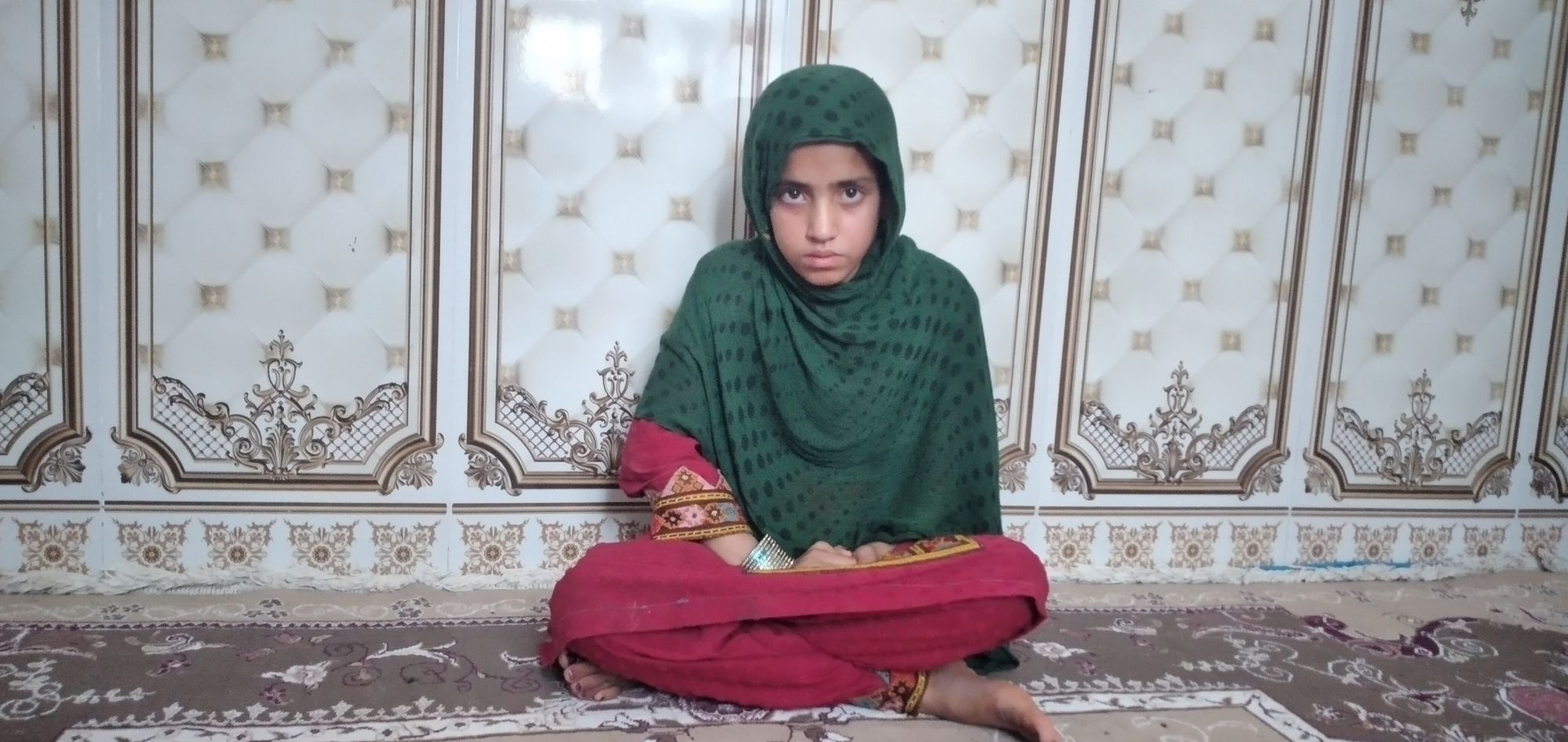 For Nazia and her sisters, the problems of forced marriage are not the only ones that weigh them down. According to Nazia, when they work in people's homes, they face anger, harassment, and even abuse, but they have no choice but to accept their situation.
According to Nazia, Ghani spent the entire month of Ramadan in her home while Nazia worked to provide food for him. "The man would say he wanted meat, rice, and fruit every night since he had paid, but I didn't make that much. Sometimes we would go to bed hungry ourselves," Nazia said.
Nazia and her siblings are among the countless Afghan girls forced into relationships at a young age. Read Alive in Afghanistan's Children Raising Children and  Hopeless Brides and Refugee Grooms for more information about Afghanistan's customs around dowries, bride prices, child marriage, and teen pregnancy.
A World Health Organization (WHO) report published in June said, "Adolescent mothers (aged 10–19 years) face higher risks of eclampsia, puerperal endometritis and systemic infections than women aged 20–24 years, and babies of adolescent mothers face higher risks of low birth weight, preterm birth and severe neonatal condition."
A press release by the United Nations Children's Fund (UNICEF) in November 2021 estimated that 28 percent of Afghan women between the ages of 15 to 49 were married before the age of 18. In a 2022 report, Amnesty International said there has not been an assessment of nation-wide trends of child, early, and forced marriage; yet several indicators pointed to a sharp increase.