Female Baker Makes Famous Cookies
Sakina Jamali is a 40 year-old baker who has been in the business of making the famous Badakhshani cookies for the past 16 years in northeastern Afghanistan's Badakhshan province.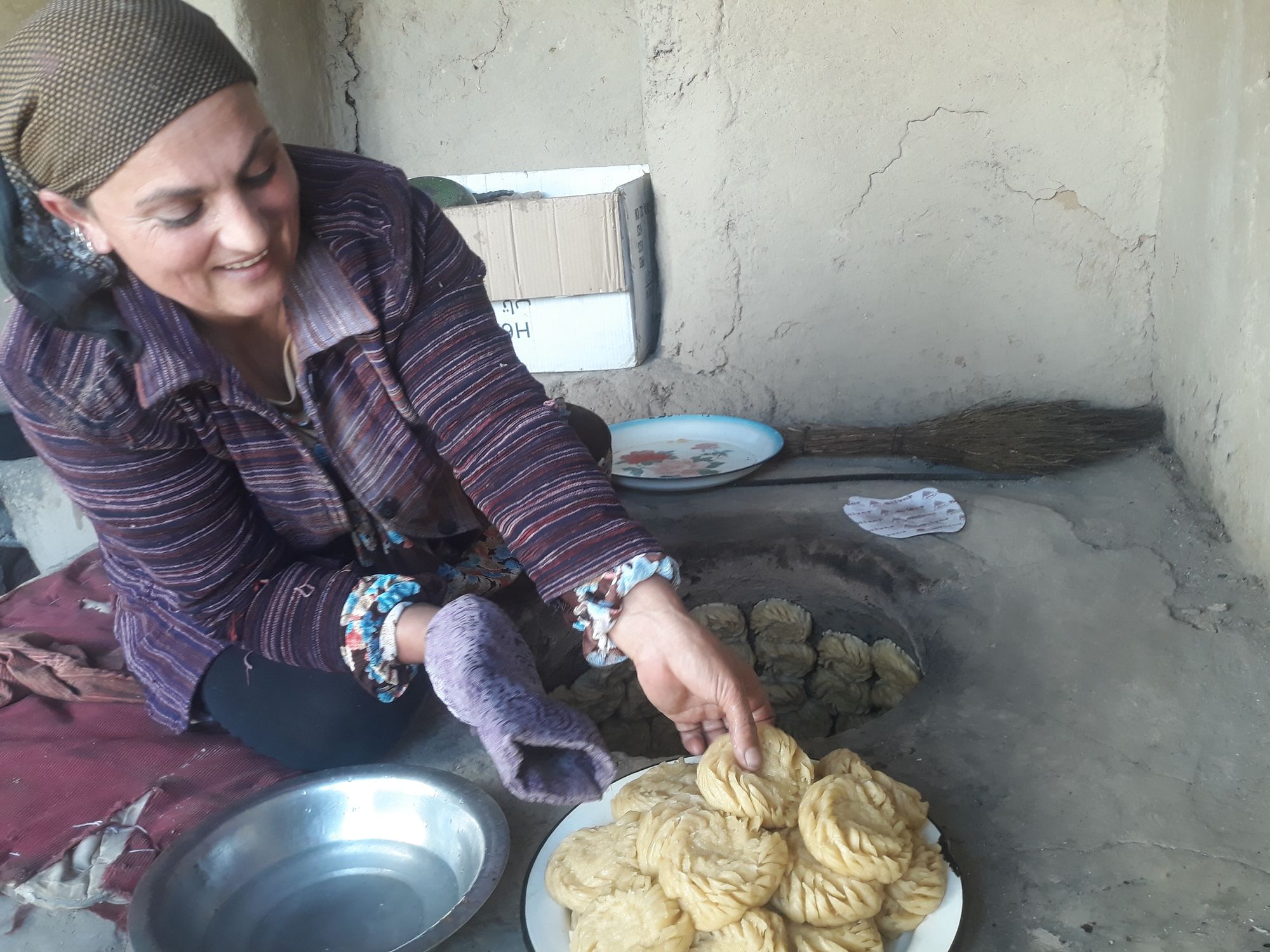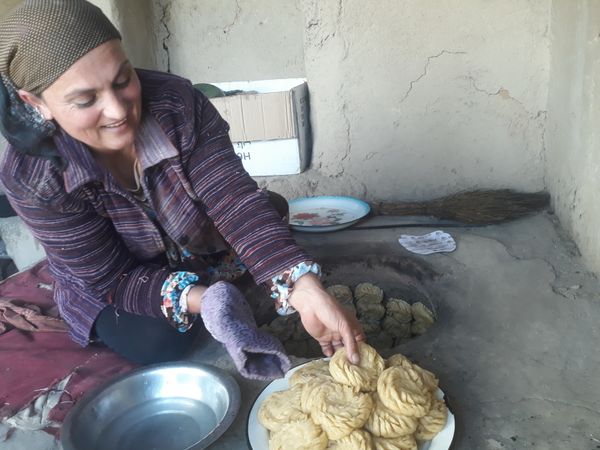 — One Day in Afghanistan —
Written by Shabana Farahmand
GOZAR-E DEG REZI, BADAKHSHAN — In this episode of One Day in Afghanistan, Alive in Afghanistan's Shabana Farahmand documents the life of 40 year-old Sakina Jamali, a baker in Gozar-e Deg Rezi of Faizabad district in northeastern Afghanistan's Badakhshan province.
I leave the house around 10 am and hail a taxi. The driver's tired and disheveled look speaks of the burden and difficulties of life that he has shouldered. He says he will charge 500 Afghanis ($5.62) for the trip to Gozar-e Deg Rezi. He insists that gas prices are high and the roads are bumpy, so I accept and we start the journey.
"The situation is really bad, gas prices are super high, 100 Afghanis ($1.12) per liter. Sometimes I cannot afford to pay for my gas, let alone cover my household expenses," Ahmad says sadly when I ask him about his ability to make ends meet.
He adds, "At least under the republic you could find enough to eat, but that's not possible anymore either."
The republic he mentions is Afghanistan's previous western-backed government that collapsed in August of 2021.  
"There are only a few passengers, if we raise the fare, they won't pay," the old man says. I reach my destination after two hours and get out of the cab.
Badakhshan is famous for its Shor Chai (salted milk tea) and Badakhshi cookies. Shor Chai, a tradition in northeastern Afghanistan, is a variation of milk tea. However, instead of using sugar to sweeten the tea like in India and Pakistan, people here add salt and crushed walnuts to it. The first and second sip can be a little hard to take in but by the third sip, one gets used to the taste and it is quite delicious.
It is customary to serve cookies with Shor Chai during breakfast in Badakhshan. These cookies, pronounced "kolcha" by the locals, have a special preparation method and are crispy and savory.
Once I reach Sakina's home, a mudhouse with three rooms, she greets me with a warm hug and invites me inside. One of the rooms is used as a makeshift preparation area where the dough is made, the tandoor oven required to make the cookies is in the long veranda in front of the rooms.  
Sakina has five sons and two daughters. She lost her husband, Jamaluddin two years ago. Jamal was a shopkeeper but at the age of fifty he died, leaving her as the sole breadwinner and head of the household. Although Sakina has a 25 year-old son, he is still unemployed after getting a bachelor's degree in economics.
Sakina has been a baker for 16 years now.  She studied up to 7th grade, then her parents forced her to marry in 1372 (1993-94). Sakina wanted to become a teacher when she was young, but that dream never took off as she was married off before she could finish school.
Arranged and child marriages are a norm in most of rural Afghanistan where the girl has little say in when she is married off or who her future partner will be.
Her business was running at a pace that enabled her to comfortably feed her family, but she lost most of her customer base following the Taliban's takeover of Afghanistan.
"If it were not for the UN and the aid they provided, the flour, oil, rice and other household items, I might have had to sell my belongings to spend on living expenses," Sakina tells Alive in Afghanistan.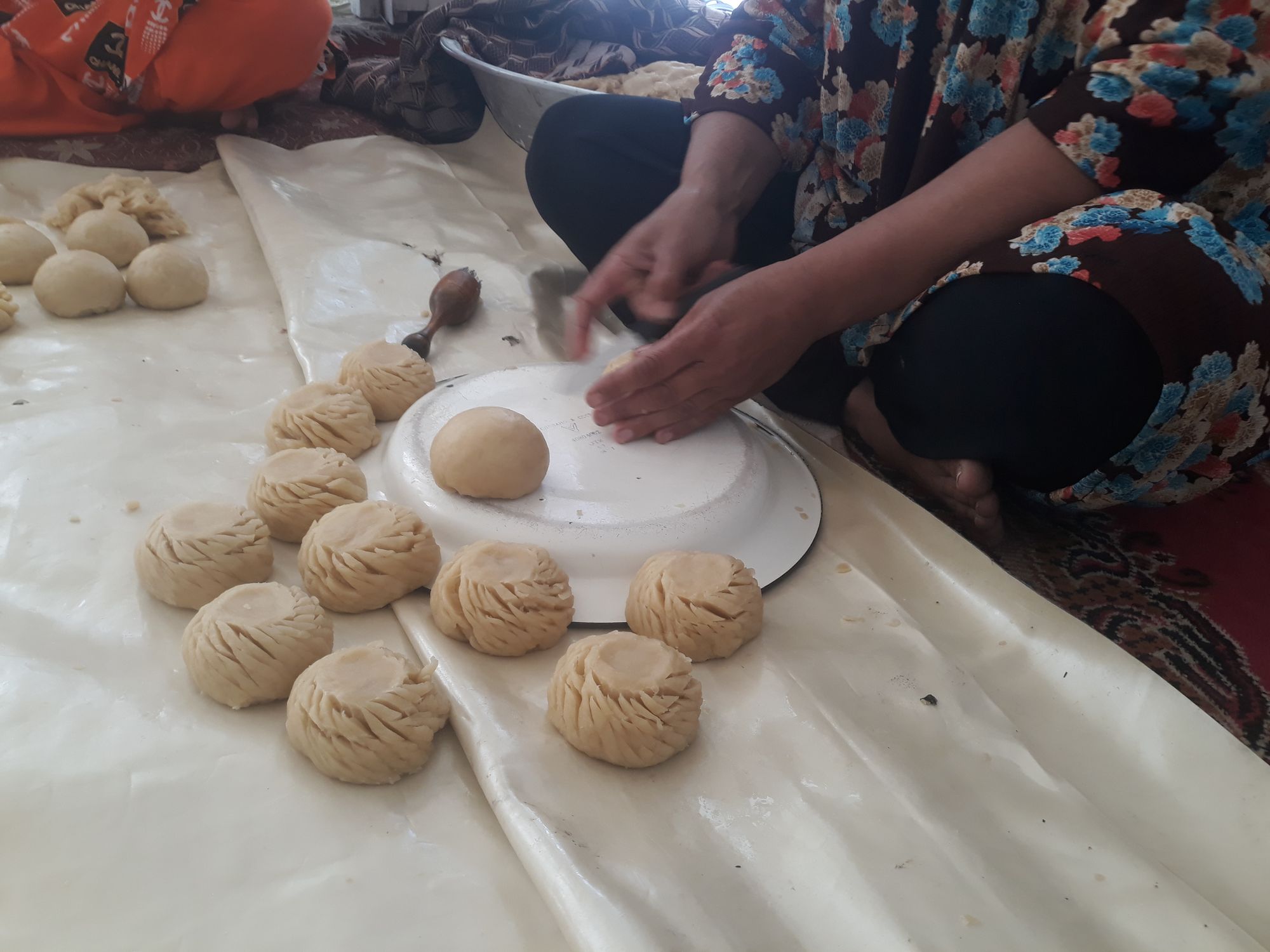 She adds that the bakery had no customers for months after the Taliban takeover, but has improved to some extent since. However, prices for flour and cooking oil remain high and her orders are still low.
"I only have one order a week, from a single customer and the order varies in weight," Sakina says, adding that she sells seven kg of cookies for 1,500 Afghanis (approx. $16.95). Sakina makes between 6,000 to 7,000 Afghanis ($67.80 to $79.10) each month, but that is not nearly enough for her expenses.
In contrast, Sakina made around 15,000 Afghanis (approx. $169) a month before the Taliban takeover. During the Eid holidays, she would make 30,000 Afghanis ($338).
"At that time the cost for buying the raw materials was much cheaper so my profits were great," Sakina says.
We sit and talk while the ladies keep working. Sakina goes on to tell me how the cookies are made.  
Badakhsi cookies are made of flour, oil, yeast, salt and water. Oil is first heated and mixed with the flour, then salt and water are added. The flour is kneaded until it becomes dough and left to sit for two hours until it rises.
After two hours, the dough is shaped into small balls, the edges are shaped with a knife and then the top is beaten with a pestle. The cookies then go into the tandoor oven and are baked on low heat for at least two hours with the tandoor covered.
After that the cookies are ready to eat, Sakina explains. Mursal, Sakina's 23 year-old daughter  sits on the other side of the linen where the cookie doughs are being prepared.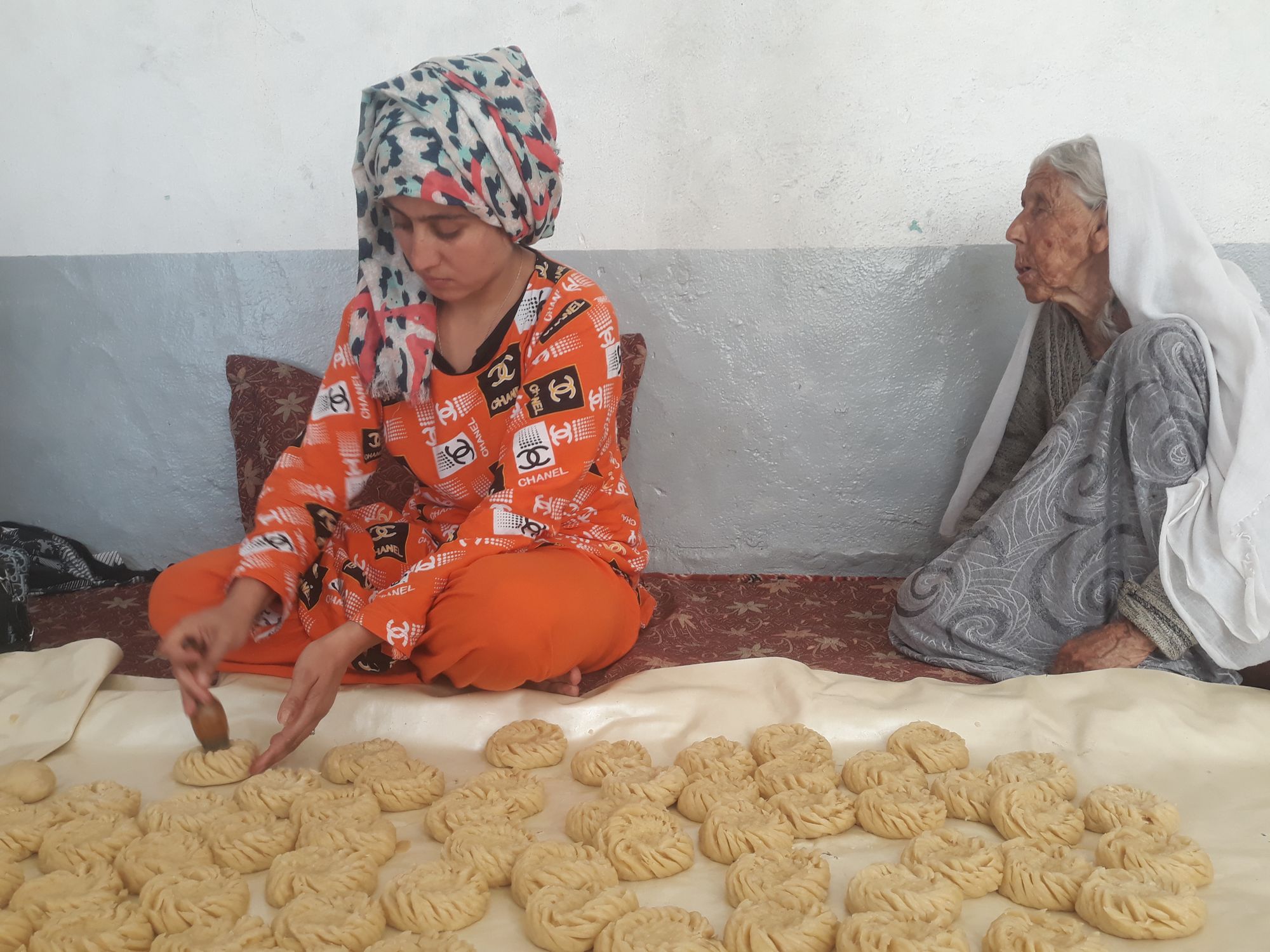 Mursal has a bachelor's degree of Law and Political Science from the Badakhshan University. She used to work at Badakhshan's Department of Justice and the Human Rights Commission but lost her job in the last months of Afghanistan's previous government rule. She has been unemployed since.
During her years of being a student, Mursal experienced a lot of difficulties.
"I didn't have money to buy books and chapters, so I used to write them in a notebook," Mursal says of her university days, adding that she didn't have enough money for copying the books or chapters either. But she felt great on the day she graduated, "Like a bird that wants to fly."
The little hope Mursal had left collapsed with the fall of Afghanistan's previous government, "I felt very bad and disappointed the night of the fall. Before the fall, I had heard that if the Taliban took over, they would forcibly take young girls and marry them. I was very scared. I thought life was over and terrible days were waiting ahead. Although that didn't happen, what did happen is still no less than that."
Mursal would like to continue her education and serve her community as a fair judge in the future, "But recent developments have made me feel that I must bury this dream of mine." With unemployment increasing as a result of sanctions, and aid cuts since the Taliban took over, Mursal has little hope that she will get to continue studying.
"I am filled with grief and sadness that I cannot continue my studies," Mursal tells Alive in Afghanistan as she preps the cookie dough to go into the oven.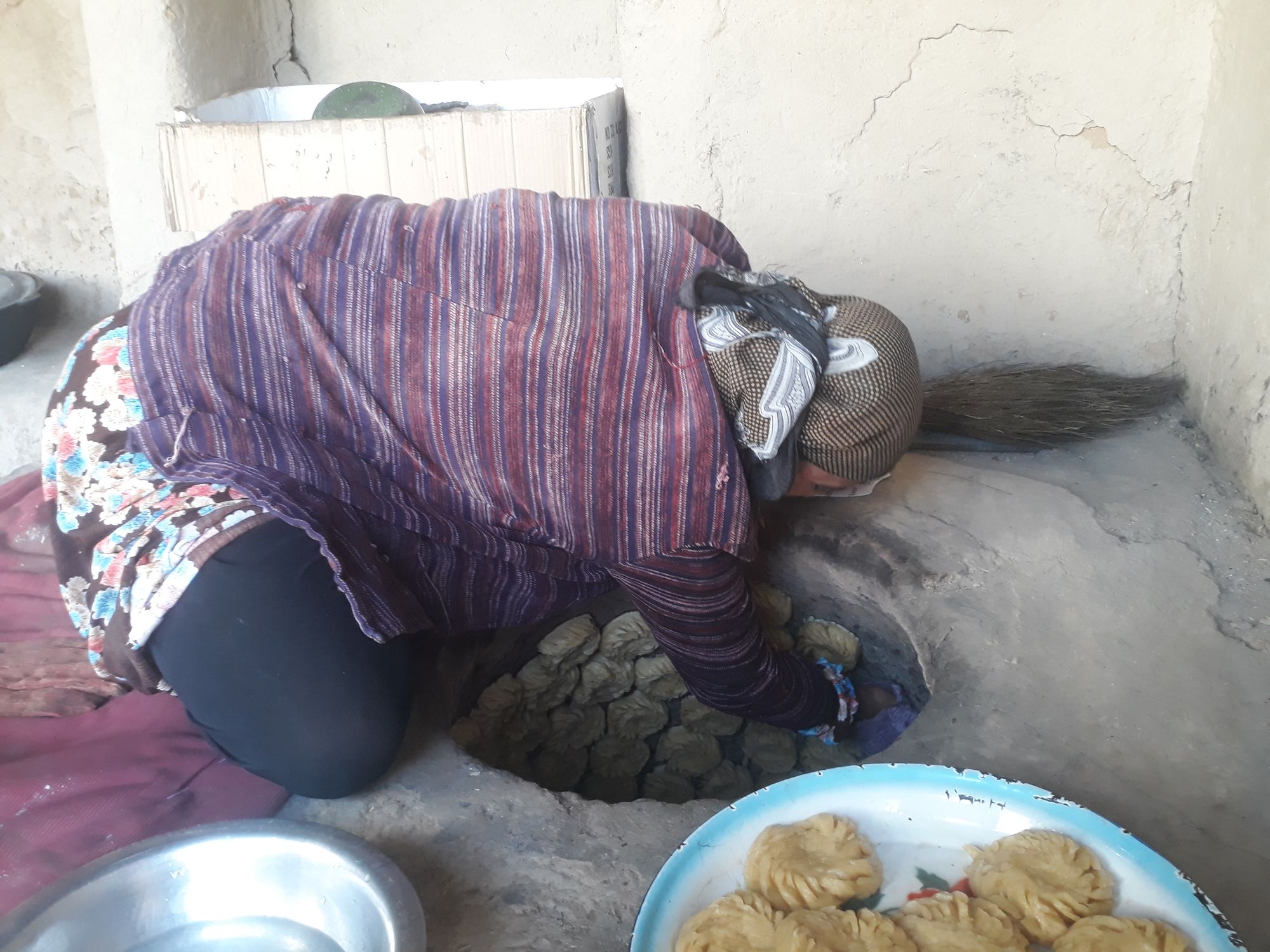 Zuhra, Sakina's 16 year-old daughter, is in worse condition. She is supposed to be going to high school now, but has been out of school for at least a year as the Taliban continue to ban girls above 6th grade from attending school across most of Afghanistan, save for Daikundi and Jawzjan.
Read Alive in Afghanistan's articles on Education to find out more.  
"Zuhra talks less, laughs less and cries most of the time," Sakina says, adding that she is afraid her daughter might suffer from severe depression. "I hope the government of the Islamic Emirate thinks about our children's education. Unemployment, purposelessness, and barring our youth from seeking education has severe negative consequences," Sakina adds.
Mursal believes that if the Taliban toughens their stance on education, the distance between the public and the caretaker government will increase, "Which is not in anyone's interest."
Sakina carries another batch of cookie dough to the oven as we are talking about her daughters. It is now 12 pm, time for lunch. Sakina invites me to join them for lunch, as is tradition across Afghanistan. Afghans are notorious for their hospitality, which is uniform across the country.
Read Alive in Afghanistan's Hospitality for Travelers, an Afghan Tradition to find out more about Afghan hospitality.
Lunch includes a beautiful spread of the cookies, Chalaw Palaw, a type of food made from flour, oil, sugar, milk and cardamom, served together with potato curry. The spread looks amazing and tastes delicious, the added kolcha and Shor Chai hits different. We all perform ablution and offer prayer after lunch.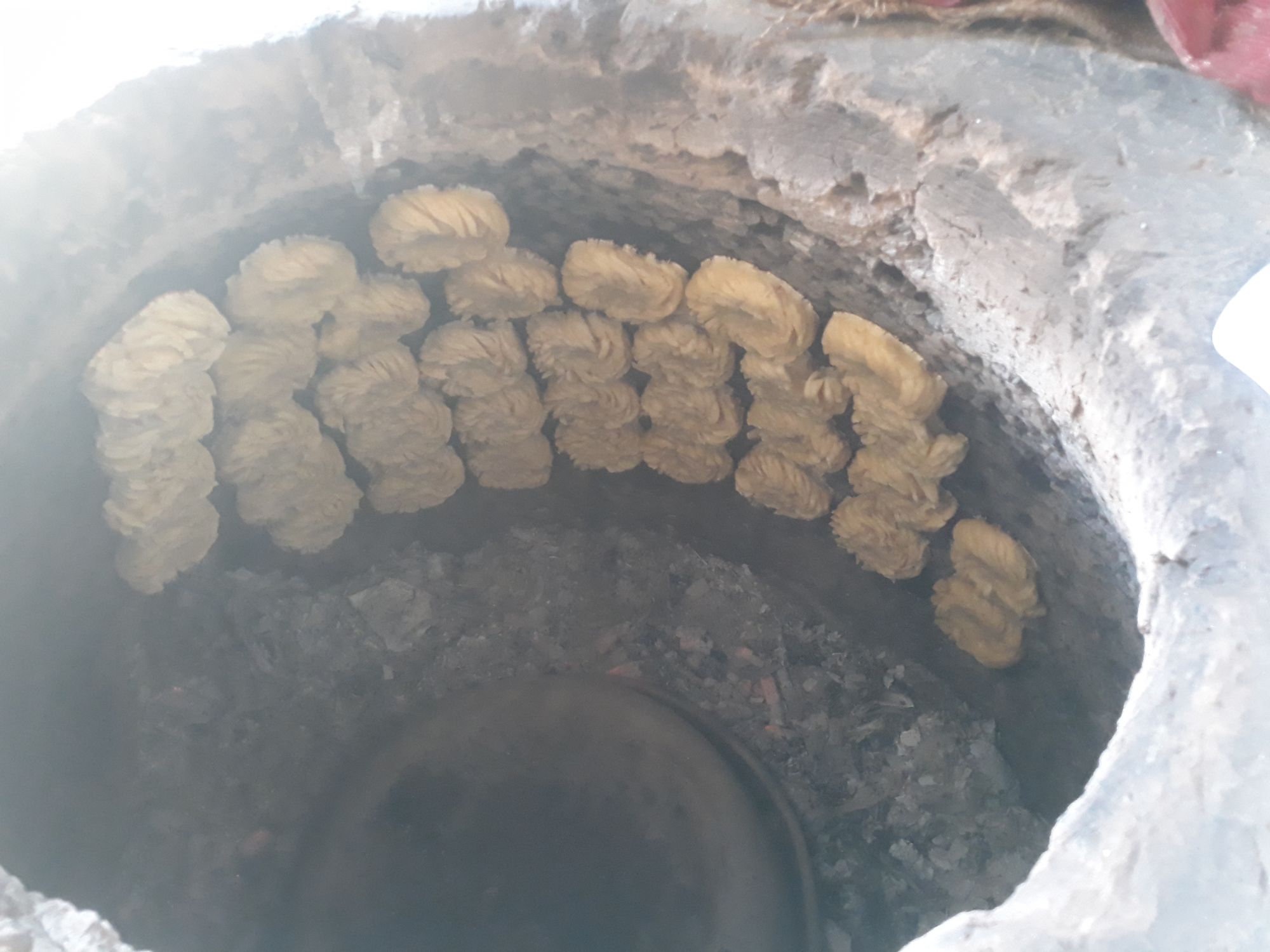 At 1 pm, Sakina puts another batch of cookie dough inside the oven, then closes the lid for two and a half hours. While the cookies are baking, I chat up an 80 year-old sitting beside me. I ask her if life is better now or before.
She says she cannot talk much these days but prefers to just sit and listen. Her name is Tajwar, but everyone calls her "Bibi Jan", and she is Jamaluddin's mother.
"I have not been outside this house for over three years now, I am always in this room," Bibi Jan tells me.
"My son took my conscience with him. He was my entire existence, my only son. But he is with God now," Bibi Jan says.
"Life was better before, my son used to come to me and in a sweet Badakhshani accent, ask me, (Appa chi mikuni?) – What are you doing mom? He loved Ash (spaghetti), whenever I wanted to cook Ash, he would come and say, (Appa, your hands have magic, your cooking skills are unique my lady!)" Bibi Jan recites memories of her son.
"I still feel as if he died yesterday, it hurts and I miss him. I go to the gate every day in the hopes of finding someone who looks like my Jamal just to look at him, but there is no one like him!" Bibi Jan says.
Afghanistan is a land of broken families, families who can barely find enough to eat these days. Families who have lost their loved ones to the continuous war as members of one group or the other, or simply just being collateral.
But when the men who are considered to be the head of the household pass away for one reason or another, the women must spring into action and take responsibility for their families just like Sakina. A responsibility that does not come easy and is to only get harder as the Taliban restrict access to women seeking education and their right to work.
My day with Sakina might be over, but her life as a strong woman propelling her family into an uncertain future continues.