Family Lives on Scraps
The Gala Bacha family are farmers who work on a melon farm in southwestern Afghanistan's Nimroz province. Droughts over the past several years have hit them hard, forcing the family to ponder over the viability of their future in this village.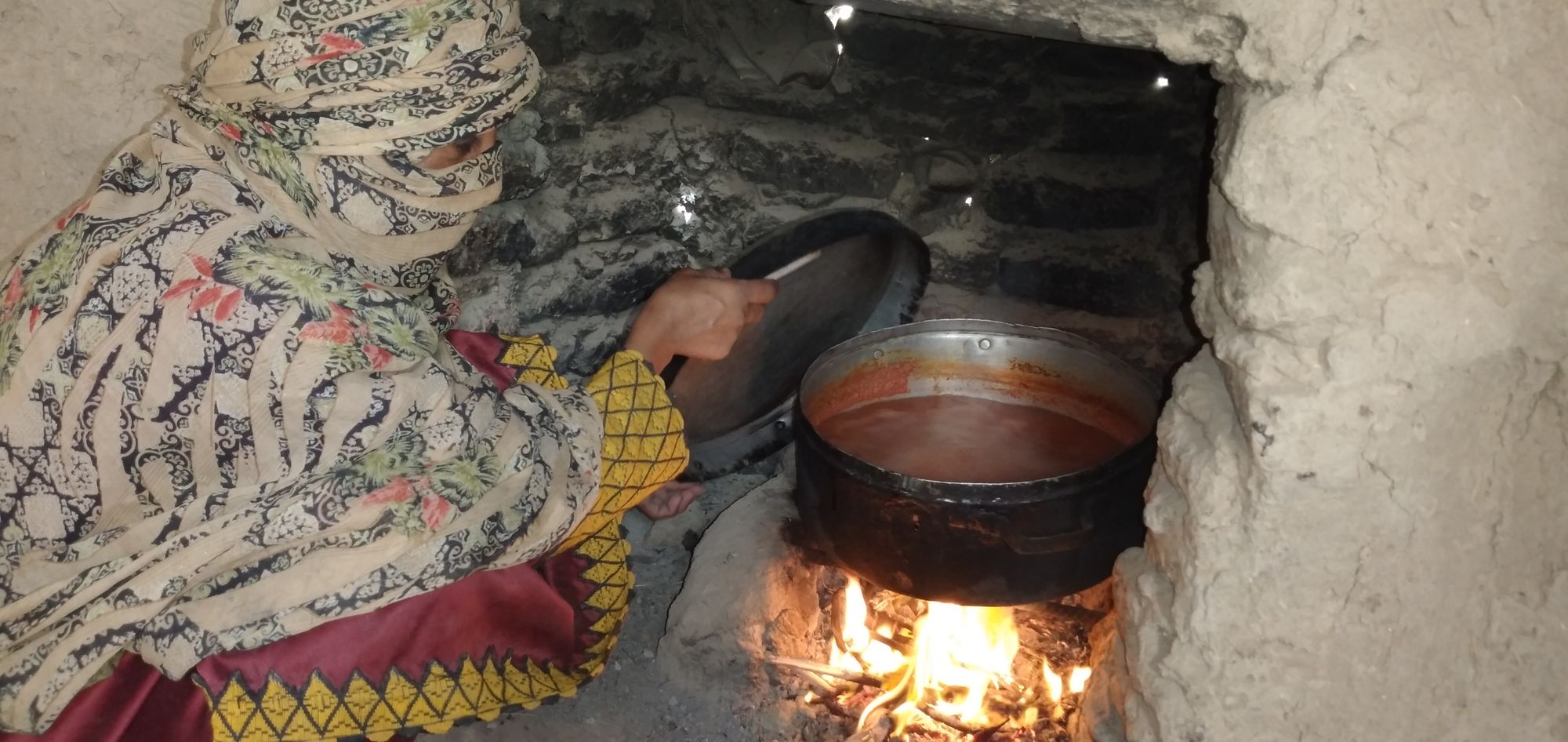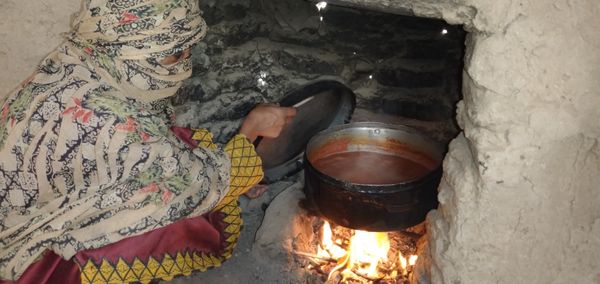 Written by Shaima Seddiqi
ASL-E CHAKHANSUR, NIMROZ —  During the harvest season making sheera (watermelon jam) and chawli (dried melon) is a valuable skill and lucrative business for villagers across southwestern Afghanistan's Nimroz province.
Residents of Kang and Asl-e Chakhansur (otherwise known as just Chakhansur) districts make a living by selling these two sweet products during the summer.
In today's episode of One Day in Afghanistan, Shaima Seddiqi travels to the Haji Lalzad village in Chakhansur district of Nimroz to document a day in the life of a family that makes the products.
This small village is home to four extremely poor families. Deprived of the basic amenities of life, they are just trying to survive.

My point of contact with this family is 25 year-old Zahra Baloch. Zahra married Ayoub Gala Bacha two years ago. The couple have one child together and live with Ayoub's parents and siblings. Ayoub's family moved back to their hometown of Chakhansur from neighboring Iran 15 years ago.

Ayoub works as a migrant farmer and serves as the primary breadwinner of the family. Arif, the family's youngest son is a shepherd earning around 1,000 Afghanis per month. Fatima and Pari, Ayoub's sisters are unemployed and Marzia, his youngest sister who studied up until 8th grade, stopped going to school after the Taliban takeover.
Marzia currently spends her time earning an income doing tailoring jobs at home. Sayed Ahmad Gala Bach, the family's eldest member–typically the primary breadwinner–, ahas been ill for the past four years. Although he had two surgeries to remove part of his intestines, he remains ill and his family cannot afford further treatment for his condition.
The family lives in a house owned by the village elder and tend to the farm in exchange for rent.
It is now 10:30 in the morning. Sanobar, Zahra's mother in law, wants to make some watermelon jam and also show me how to dry melons.
Zahra brings 15 watermelons into the main hall, and cuts them together. Pari, one of Zahra's sister-in-law, rolls up her sleeves. She puts a pot under a strainer, grabs the half watermelon and compresses it with one hand as the juice falls into the pot below. This is the easiest way to get the watermelon flesh out, she says. She then squeezes the watermelon bits to get the juice out.  
The watermelon halves are a shade of white and red on the inside, making them appear not quite ripe.
According to Pari, their landlord gives the family the unripe watermelons. She says, "We have to make due with what we got."
"The drought in Chakhansur is severe this year; people have not been able to harvest a lot of crops from their farms because of the intense heat, and the lack of water. The increase in the number of rats has also caused a lot of damage to the farms," Pari says.
According to Pari, the produce didn't ripen on time due to the lack of water. Additionally, the increase of rats compelled farmers to harvest products before they fully ripen.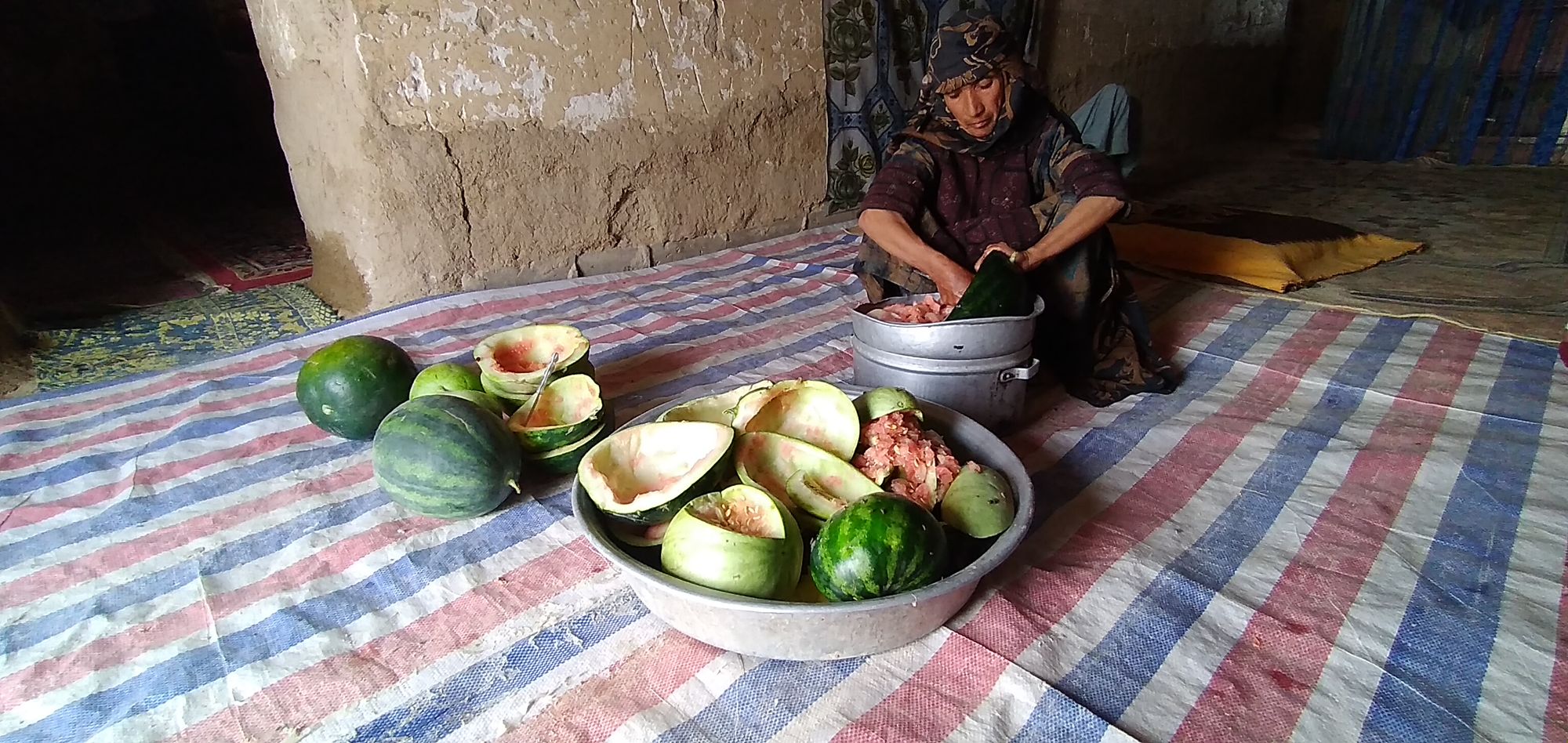 Pari, who has the most knowledge in this field says, "We can only produce 2 kilograms of jam from 20 kilograms of watermelon."
This is their job every year and their only source of income during the season, "But even watermelons are scarce this year and we cannot make a living out of it."
Successive droughts over the past several years across Afghanistan have left farmers unable to earn enough to take care of their families. Since agriculture is one of the main sources of income for most of rural Afghanistan, this has devastated the region and had a far reaching impact throughout the country.  
Pari cuts 10 watermelons, continuously pressing and squeezing them so the juice pours into a pot as we converse, while Zahra keeps the fire burning under a pot filled with watermelon juice.
"Even though it takes a lot of effort to make the jam, we can't even sell it for more than 300 Afghanis per kilo (about $3.40 cents for 2 pounds), but we don't have a choice," Pari says.
According to Pari, the family makes watermelon jam on 15 to 20 times each year, "We go through around 40 kilos of watermelon each time but get only two kilos of jam. We work for eight to 10 hours continuously."
Pari juices five more watermelons, taking the juice into the kitchen before straining the juice through a piece of cotton. The duo then pour the juice into the pot to make it into jam.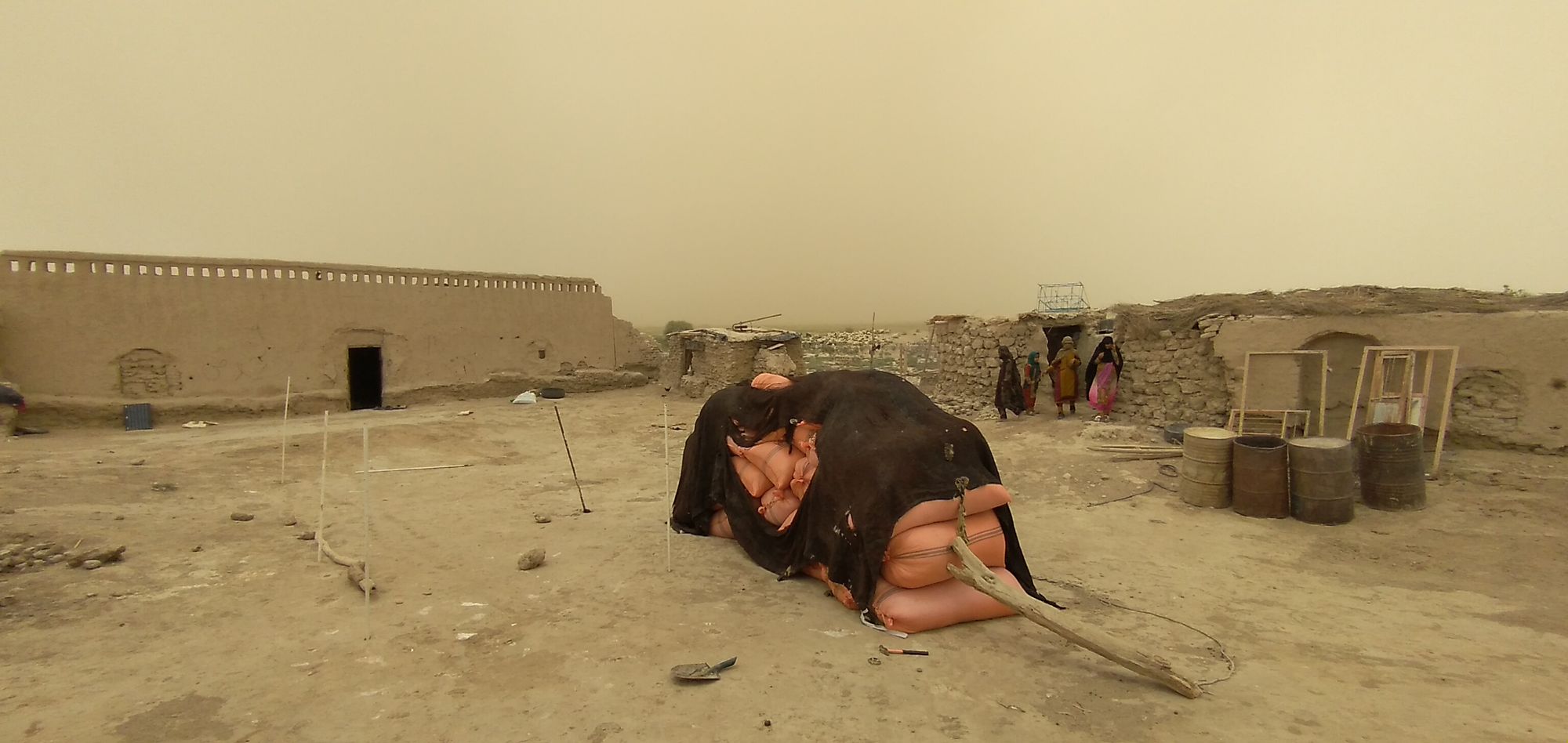 It is now 12:30 in the afternoon. The men of the household are out either tending the livestock or farming. Lunch for the women of the house is pieces of bread served with yogurt. I leave their home for lunch and return around 2 in the afternoon, finding Pari inside their kitchen, which is caked with dirt from the winds.
Pari's face and head are wrapped in a scarf to protect her from the constant wind, dirt and sand blowing through. In the western and southern regions of Afghanistan a northerly wind, known as the "wind of 120 days" blows almost constantly from June to September. This wind is usually accompanied by intense heat, drought, and sandstorms.
Her eyes have reddened due to the smoke from the fire but she continues to increase the fire in order to get her work done sooner.
Pari appears to be the most hard-working girl in her family and most of the responsibilities of their home falls on her.
"Five people would have to work together normally, which includes breaking the watermelon, squeezing out the juice, straining and cooking the jam," Pari tells Alive in Afghanistan.
However the family will make less jam today due to the dust storm with only three of them working. The family sometimes work night shifts if the day is too hot to cook.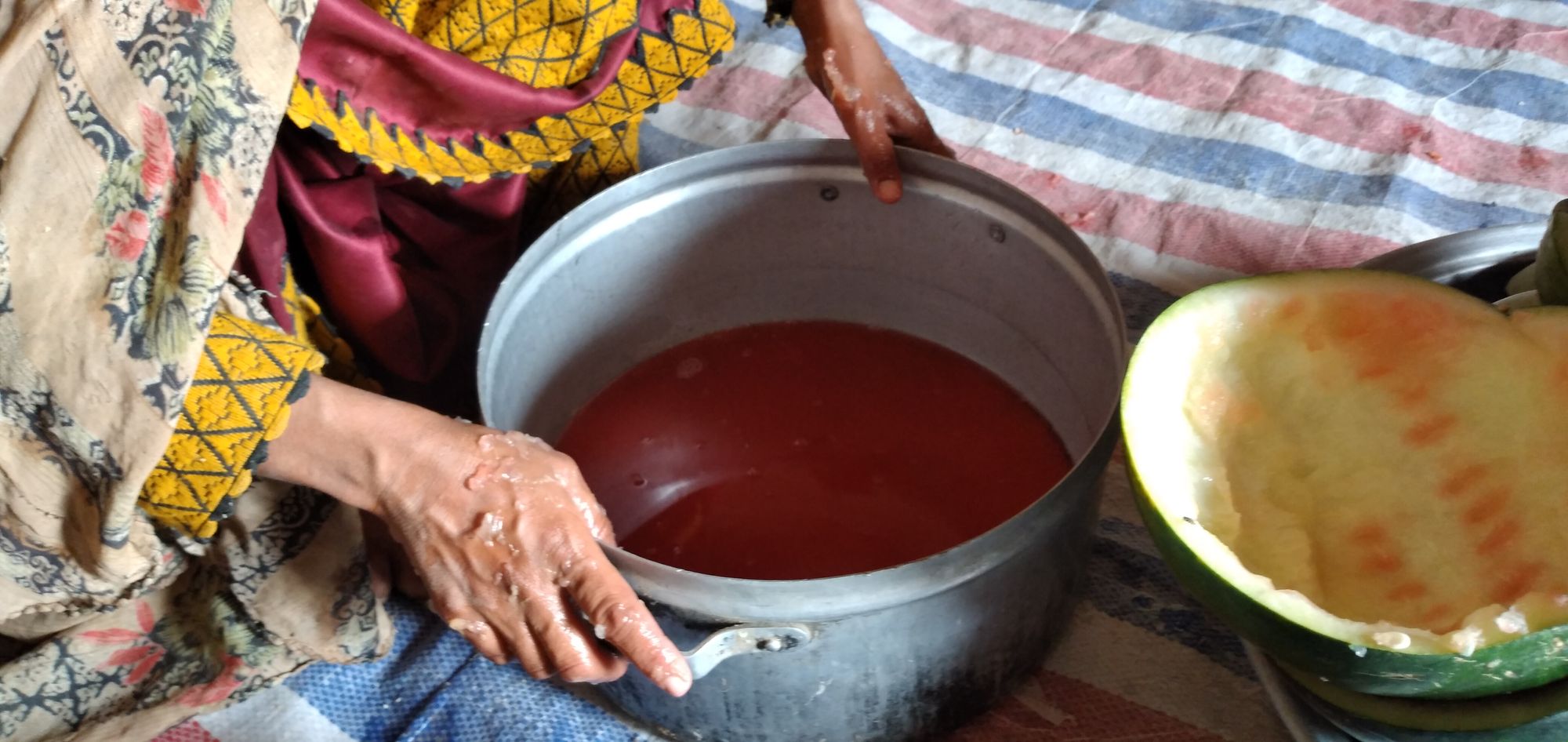 Pari's mother enters the kitchen to supervise her daughter's work. The pain hidden inside this old woman is infinite, a little of which she reveals to me today.
"My husband is sick and bedridden. I borrowed 30 million Iranian Toman ($909) for his treatment," Sanobar says, adding that her husband did not get well despite receiving the surgery.
According to Sanobar, although the doctors recommended that his surgery be done in western Herat province where medical facilities are better, the family couldn't afford treatment outside of their home province. "The operation was conducted in Nimroz after a lot of requests and begging from the physicians."
60 year-old Sayed Ahmad has been unable to work for several years now because of his condition. The Gala Bacha family had to move into this house three years ago after a flood destroyed their home. They didn't have the ability to rebuild but did make some repairs to the house they are living in now.
Seeing the cracks on the walls, the looming possibility that their current home could collapse at any time is never far from imagination.
"There is no hope except God, Chakhansur has dried up this year and the hope we had for harvesting crops has sunk," Sanobar says while Pari entrusts Zahra with the responsibility of maintaining the fire and goes back to the hall to prepare chawli. I follow her to see what she is doing.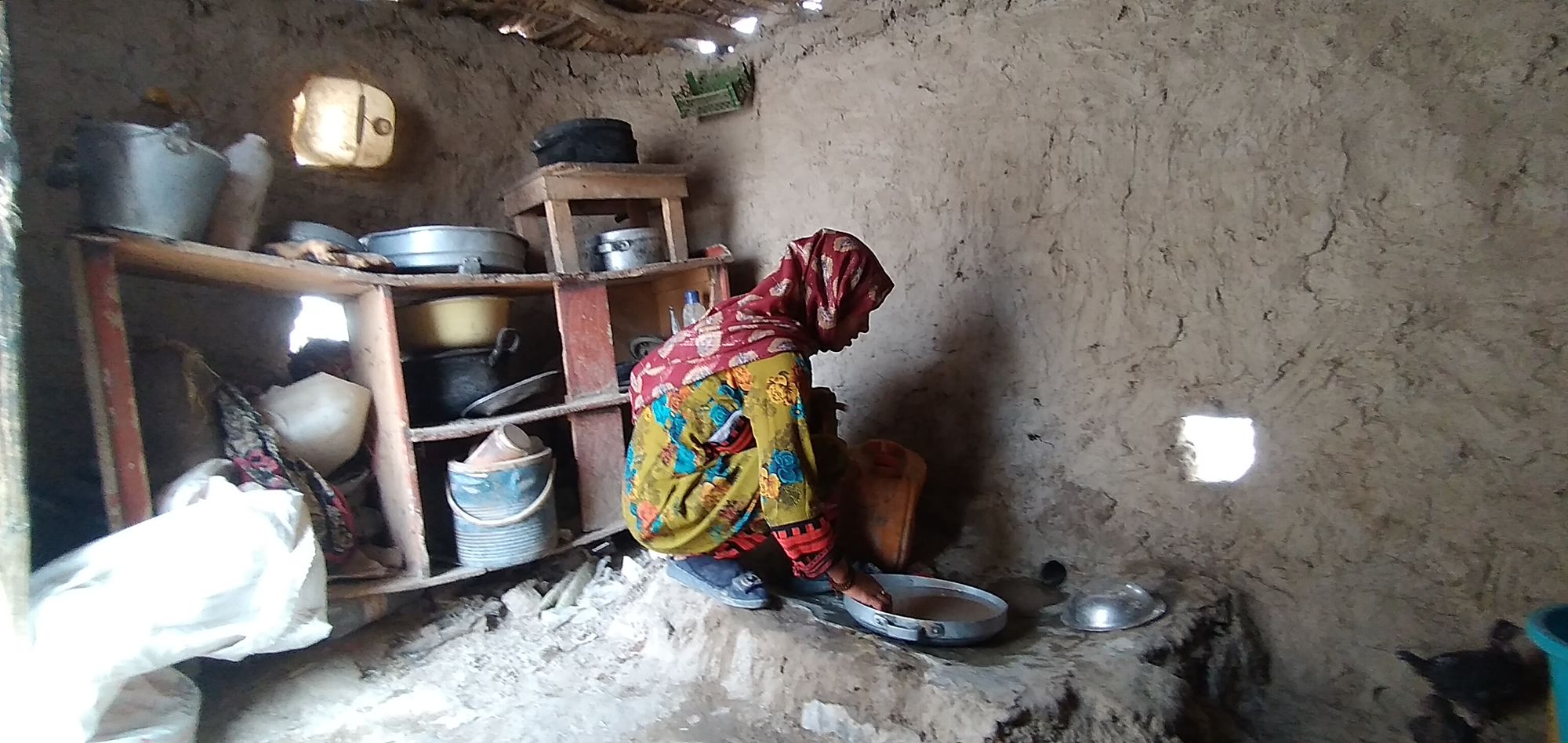 Pari cuts melons in long slices, removes the skin and puts it in a tray. Although the work does not seem to require much effort, it is a good source of income for the people of Chekhansur.
They leave the melon flesh in the sun for 3-4 days to dry completely, after that they fold it into little pieces and sell them. Farmers who work on the farms get the produce for free.
Pari shows me some of the dried chawli they made before telling me they cook the seeds with rice which makes it very tasty. Some people take them with tea as a snack as well.

"We produce 5 kilos of chawli from 10 kilos of melon and sell each kilo for 100 Afghanis ($1.13)," Pari says. In addition, they usually sell the dried melon seeds for 80 Afghanis ($0.91) per kilo, but the drought has caused the seeds to be hollow this year, which means they cannot be sold.
The construction of the Kamal Khan dam raised the hopes of Sanobar and her family that there would be more water available this year.
"We hoped there would be plenty of water so we bought wheat to cultivate, but they were watered only once during the entire year and failed to ripen," Sanobar says.
The Kamal Khan dam construction was launched by Afghanistan's previous administration in March of 2021, but it was not completed before his government fell in August. With the freezing of international aid after the return of the Taliban to power, it is unclear whether the dam will ever be completed.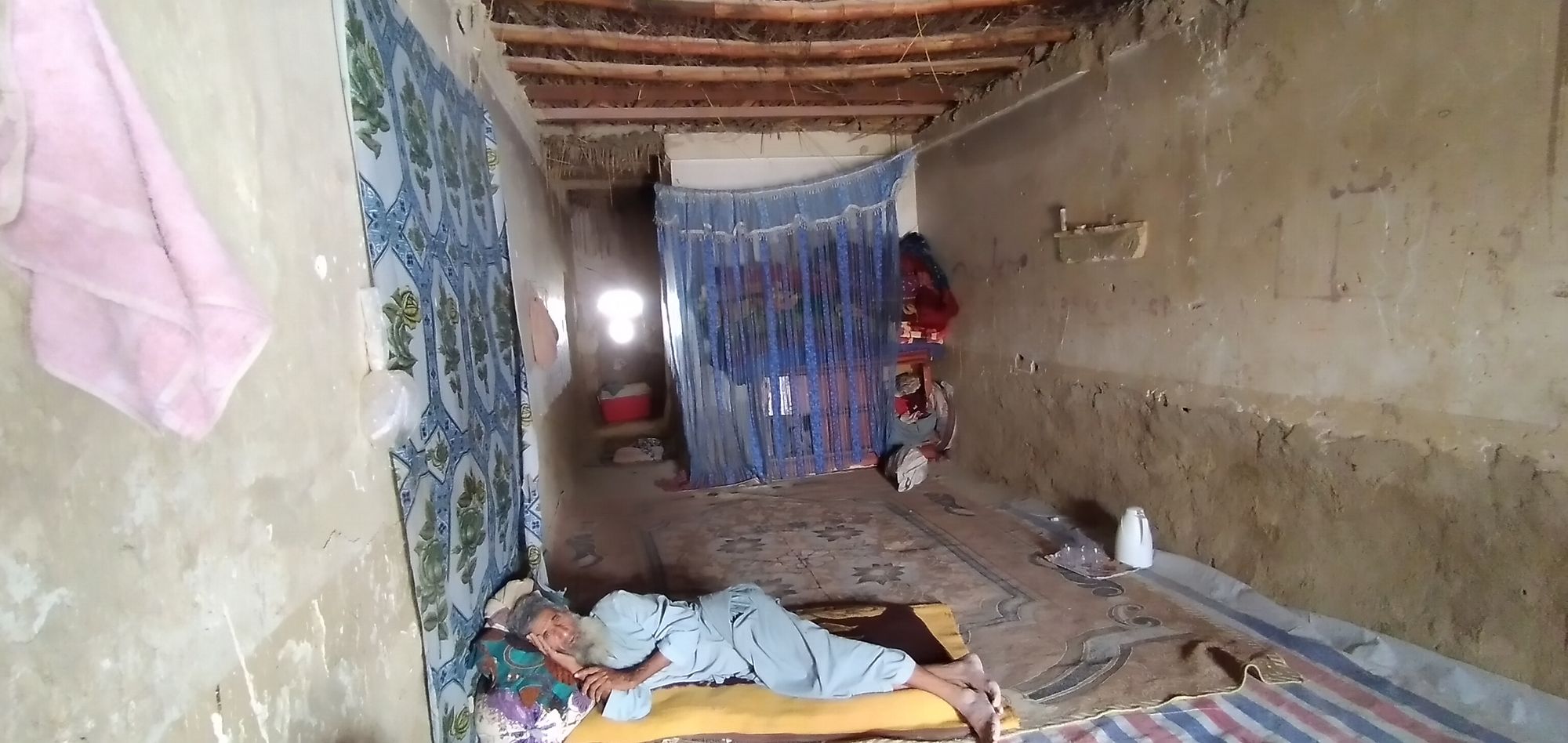 According to Sanobar, four families work on 200 acres of farmland. The harvest is divided between the land owner and the families working on the farm. The Gala Bacha family cultivated 150 kilogram of wheat and harvested 100 kilograms this year, losing 50 kilograms. The land owner takes half of the harvest and the other half is kept by the Gala Bacha family. But some of that wheat was hollow this year.
Each bag of wheat (50 kilograms) sells for 1,000 Afghanis ($11.35). Meanwhile there is no other job and income in Chakhansur leaving the family to wonder about continuing life in this district.
"Ayoub is sick and cannot work for long periods, my youngest son has weak vision and can only be a shepherd," Sanobar says with a cold sigh. She is worried about taking care of her family with her ill husband, and children considering the economic crisis.
Afghanistan has been battling a worsening humanitarian situation and economic crisis due to the freezing of Afghanistan's assets and cuts in aid following the country's collapse to the Taliban in August of 2021.
It is now 3:30 in the afternoon. Pari leaves two trays of melons at home until the storm subsides and goes to the kitchen again. Zahra is still busy maintaining the fire, Pari takes off the lid of the pot and finds that the bottom has hardened a bit. She quickly takes it off the fire while we wait for 20 minutes for the boiled jam to cool down. Zahra then brings a glass bottle and hands it to Pari who pours the jam into the bottle using a spoon.
According to Pari, the sheera they made today is smoother and brighter than usual because of the number of watermelons used, which was less than required. Sheera is usually served with cream, milk and butter as a breakfast item.
This type of breakfast is very popular in rural areas and is typically prepared for grooms because the people cannot afford such an expensive breakfast outside of special occasions.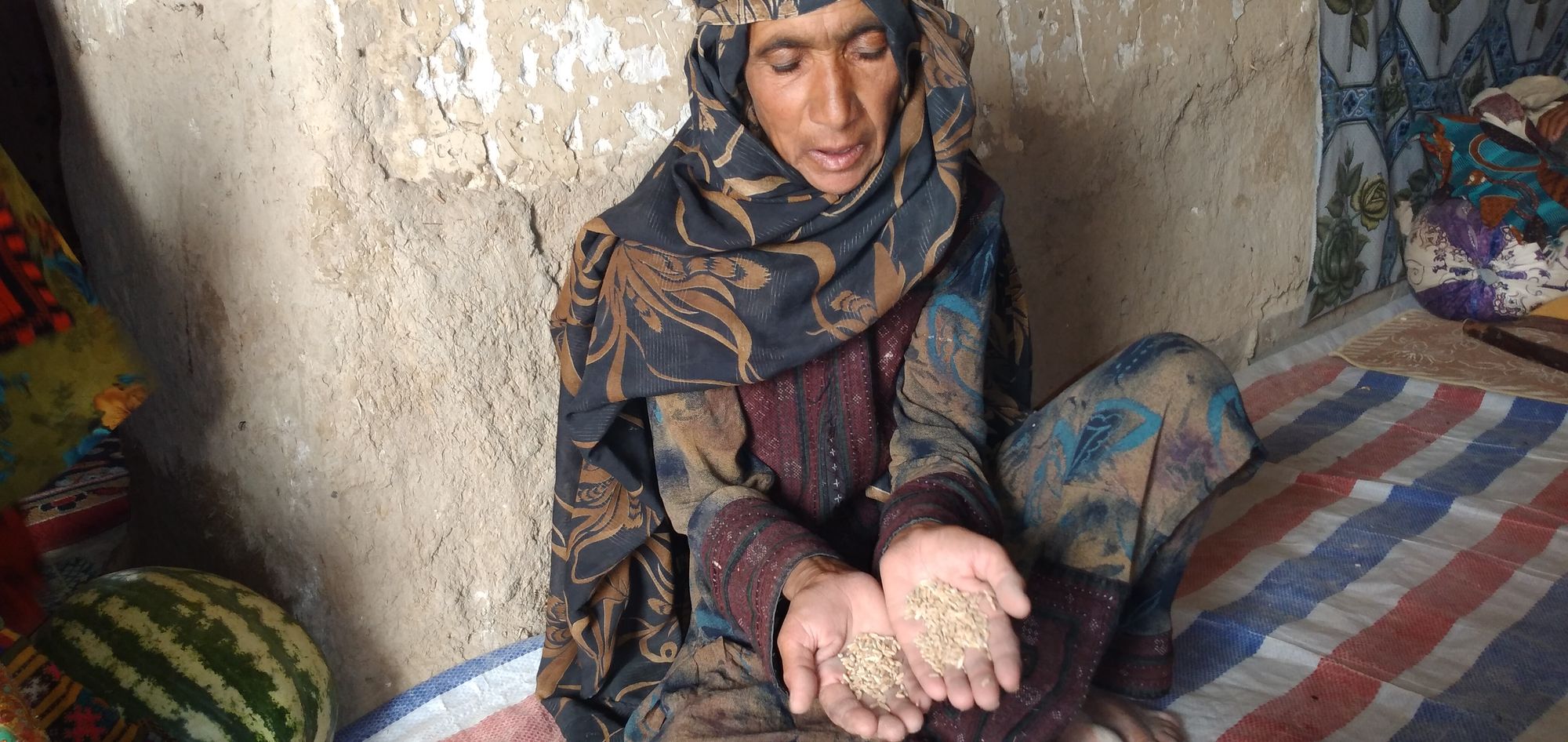 The Haji Lalzad village has no electricity, so people rely on solar energy to power their homes. Access to water is very difficult. The Baloch family has to walk 200 meters to a well, fetch water and carry it back using a wheelbarrow.
According to Pari, none of the villagers have access to education. The closest school is at least three hours away on foot. Pari only studied in Iran until 6th grade, while her oldest brother studied up to 3rd grade. Her youngest brother attended school until  4th grade when his eyesight became too weak to read.
According to the World Health Organization (WHO), 400,000 Afghans are blind and 1.5 million suffer from visual impairment.
WHO experts believe that if proper eye care facilities were established and maintained, about 80% of blindness is avoidable.
But Afghans like Malalai are making strides despite blindness. For more information read Alive in Afghanistan's Blind Afghan Girl Tops Her Class.
It is now 4:20 in the afternoon and the intensity of the storm's wind is 100 kilometers per hour today. I said goodbye to the Baloch family and leave Lalzad village to return to my home in Zaranj.