Banks Lack Cash to Pay Government Salaries
The banking system in Afghanistan is struggling to meet the demand of hundreds of customers lined up outside banks who sometimes wait for days to withdraw their meager salaries.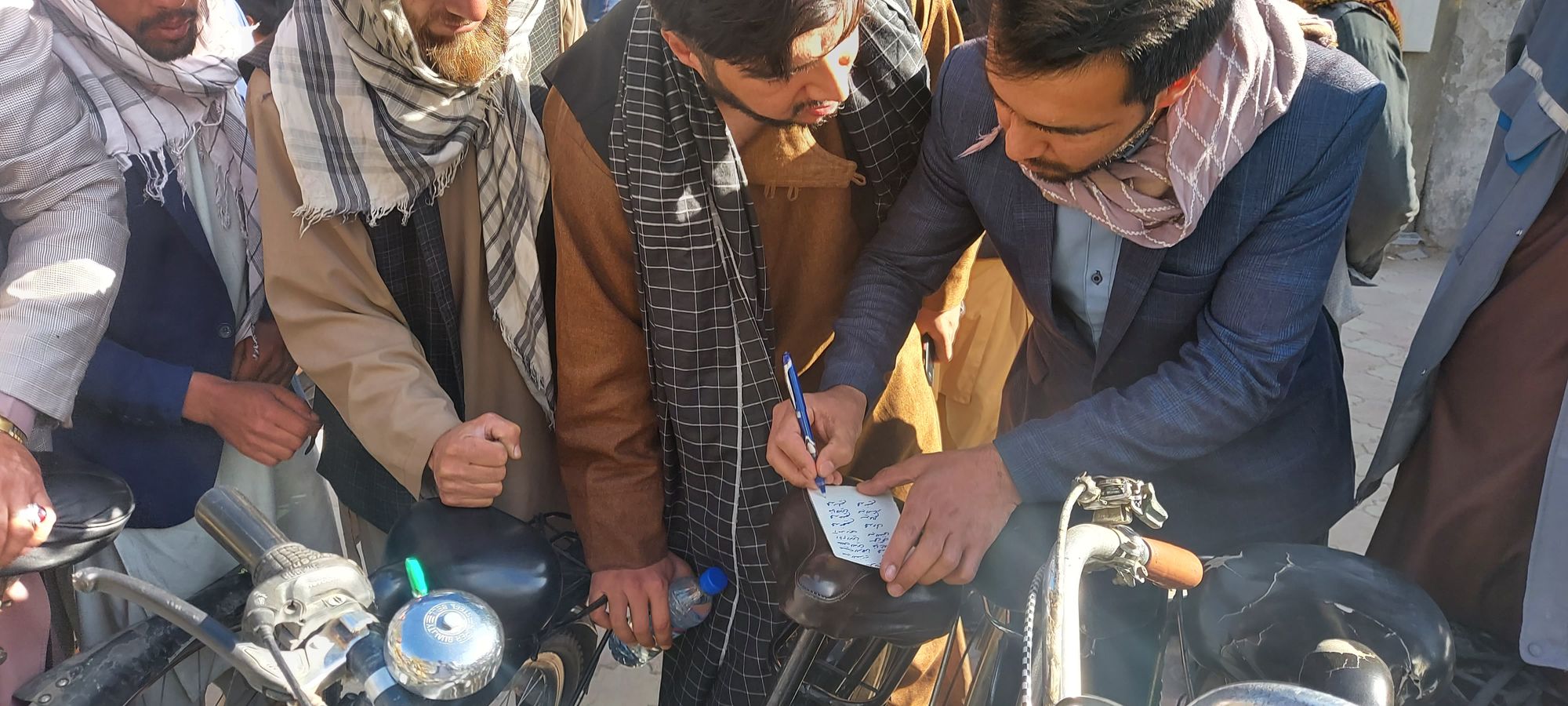 Written by Abdul Ahad Poya, edited by Mohammad J. Alizada and Brian J. Conley
Strapped for cash, the banking system in Afghanistan is struggling to meet the demand of hundreds of customers lined up outside banks who sometimes wait for days to withdraw their meager salaries.
After numerous complaints by residents in Kabul, banks around the city reactivated their ATMs, only to shut them down again soon after. Kabul's only working ATM, located at the main branch of the New Kabul Bank, now has a huge lock on its door.
Although the limitations on the amount of cash one can withdraw have been removed, most bank branches do not have funds to disperse. Only the main branches of these banks are open to customers forcing them  to travel from all over the city and province to access their funds. The customers then have to wait for their turn to speak with a bank teller, which can take hours or even days.
Government employee Dur Mohammad Gulbahari was only able to withdraw one month's worth of his salary from his account at the New Kabul Bank. Mr. Gulbahari spent seven days and visited several bank branches just to obtain 8,000 Afghanis ($90).
"This is not how you run a government," Dur Mohammad told Alive in Afghanistan after visiting the bank. Although happy he could take care of his family for a little while, Dur Mohammad lamented the Taliban's inability to pay government staff on time.
These problems are not unique nor new. The New Kabul Bank has been managing the payment of  government salaries for years now. However, rather than decreasing, challenges continue to grow in size and variety. Previously banks would run out of cash only at certain times of the year, such as ahead of Nowruz or Eid, when families would withdraw large amounts. However, as the conflict with the Taliban drew to a close, cash reserves became increasingly scarce.
In addition to the lack of cash reserves, another issue persists from the previous government of Afghanistan: nepotism. Customers with friends or relatives inside the bank have been able to jump ahead of people who have been waiting for hours or days, having gone from one branch to the next. Male customers also complain that women are given priority at the banks.
Maiwand Qayoomi, another government employee, has been to several bank branches over a period of nine days to get paid.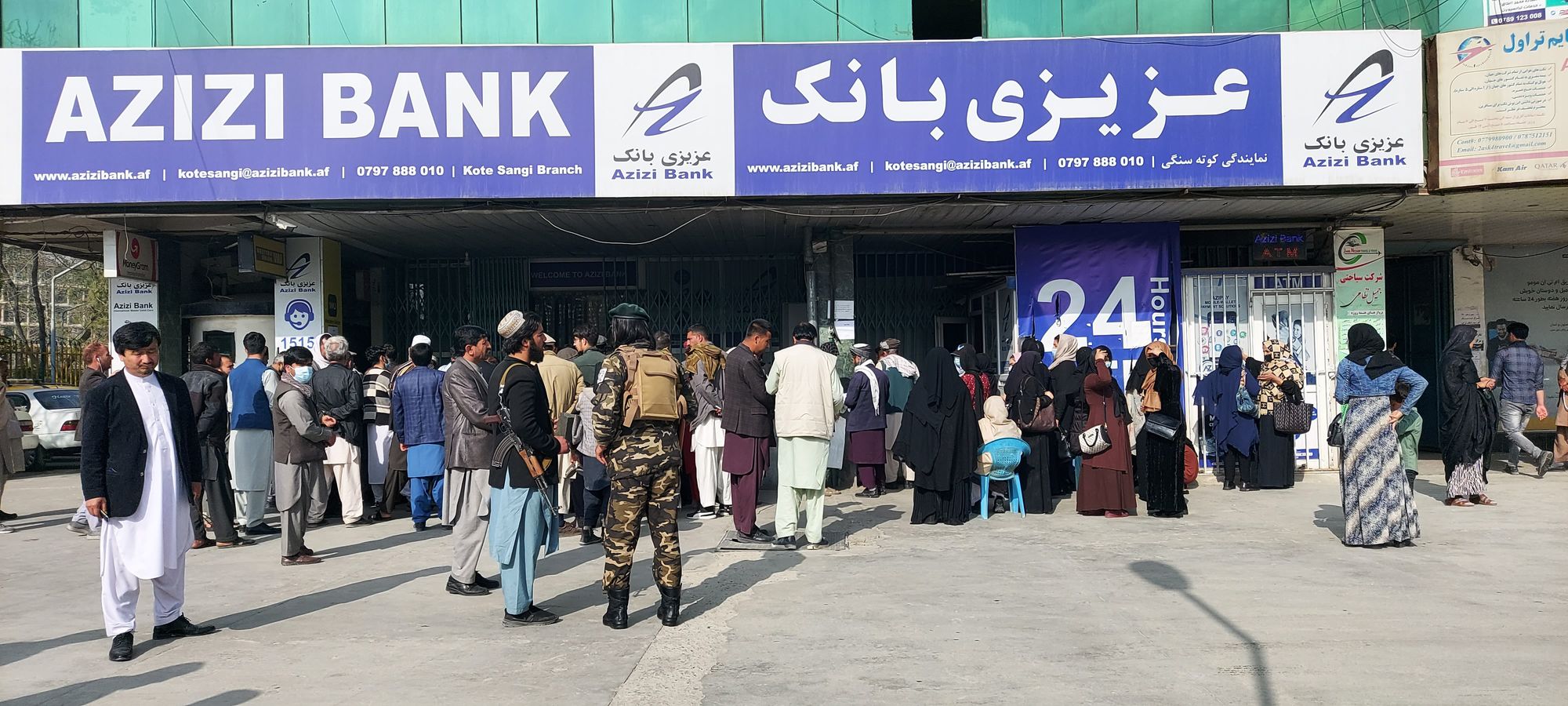 "I first refused coming to the bank after hearing how hard it is to withdraw money, but I had to change my mind after running out of cash. Today I was lucky, after 10 minutes of standing in the line, a bank employee ushered me inside after he recognized me," Mr. Qayoomi said.
Zabihullah Zaki, another government employee, has yet to be  paid after 10 days and numerous visits to several bank branches.
"I didn't have the guts to visit the bank after hearing from other friends how hard it was to withdraw money, but I had no other choice," Mr. Zaki said.
Disappointed and strapped for cash, many customers go home after standing in line for hours, only to come back in the morning and repeat the routine.
A number of banks including New Kabul Bank developed a strategy to reduce the frustration of their customers despite the ongoing long waits. Each day they collect the ATM cards of customers who are still in line and promise to pay them in the next few days, in order from first to last.
However, people waiting outside the Islamic Bank told Alive in Afghanistan they had been waiting for four days after the bank collected their cards and have yet to be paid.