Afghans Rush Banks; Banks Running Out of Money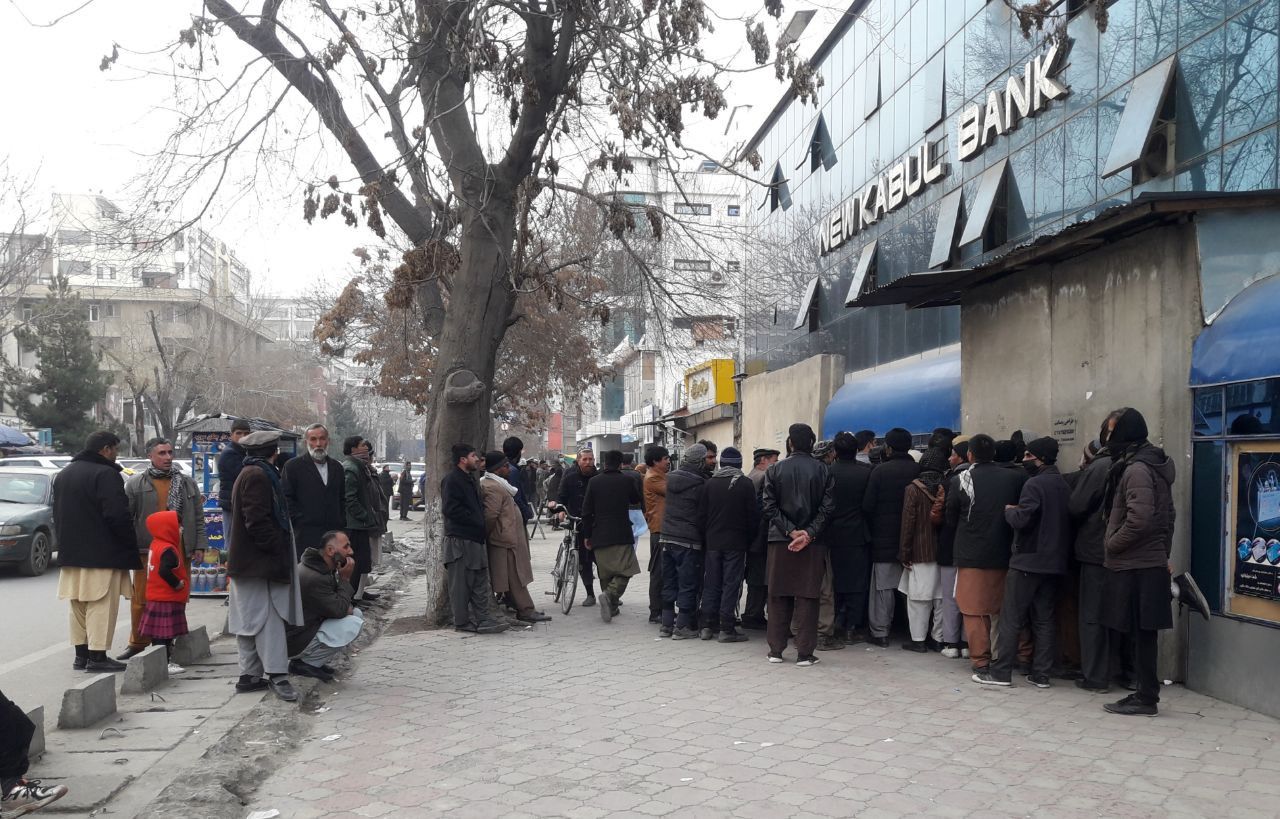 Written by Abdul Ahad Poya and Abdul Karim Azim, edited by Mohammad J. Alizada and Brian J. Conley
AFGHANISTAN — Only two months' worth of salaries for school teachers and 20 other government organizations were deposited into their bank accounts by the Taliban government on Tuesday, nearly five months after Afghanistan's collapse.
Following the announcement by the Taliban, a pool of people rushed to their nearest bank branch in Kabul and Herat to receive their long-awaited salaries. Hundreds of people could be seen waiting outside bank branches across the city all day, only to be turned away by banks without enough cash to dispense.
Among all the private and public banks in the capital, New Kabul Bank is under contract to pay the salaries of most government staff; but none of the branches, except the main, is ready to pay salaries as agreed. According to the bank they do not have cash to dispense.
Ajmal Niazi is a government employee who rushed to a bank in the Kot-e Sangi neighborhood of Kabul after hearing that his salary had been deposited into his account.
"I got there as soon as possible so the bank would have cash and I could get paid, but the bank was closed and the bank staff were telling customers that they don't have money to give out," Mr. Niazi said.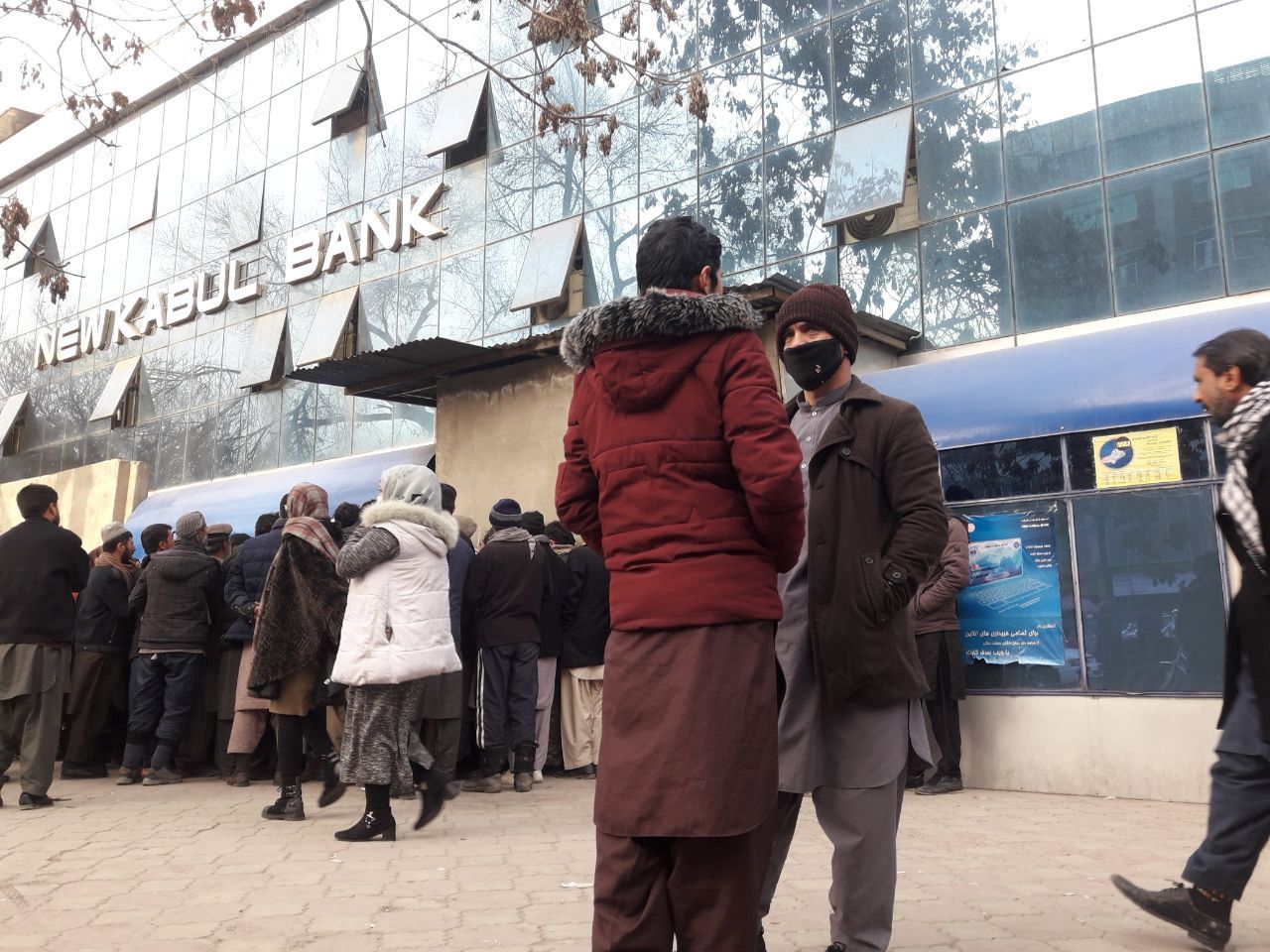 After being turned away from that bank, Ajmal rushed to the main branch and waited till dusk but was unable to get inside the bank and was not paid.
Meanwhile, a long line of more than two thousand teachers from Herat city and the districts of Herat province, all waiting to get paid two months of their salary totalling to 14,000 Afghanis ($147 currently).
Abdul Qasim, another teacher from Keshk-e Robat Sangi wants the Taliban to pay the salaries of teachers on time and provide more working opportunities for the youth besides teaching.
One of the teachers at the front of the line who wishes to remain anonymous says he has only been paid once in the past five months and now is waiting to be paid for another two months of his time, which will not be nearly enough for all his needs.
Teachers in Afghanistan get paid between 7,000 to 10,000 Afghanis ($73 to $105) monthly.
"We cannot provide for our families as our pay stays the same and the price of daily goods has doubled," the teacher says, adding that their salaries should at least be paid on time if not increased.
The teacher blames the bank for the crowd, due to the lack of proper systems in place and adds that the Taliban should pay more attention to the teachers.
Back in Kabul,Sohaila Jahish, a school teacher in Kabul city's northern neighborhood of Lecay Maryam, got to her bank soon after she received a text that her salary had been deposited but was turned away by her bank due to lack of cash.
"Our economic situation is very bad, I couldn't contain my happiness when I heard the news; but it's now 3 pm and I still haven't been able to enter the bank." Sohaila said she is returning home empty handed after waiting out most of the day.
Soraya Wesal who has a bachelor's degree in Language & Dari Literature has been teaching at a school in Kabul city for the past two years.
"I continued my education despite a host of challenges facing me and got a teaching position at one of the schools, I have not paid for six months now. My sister told me today that I had received my salary and I came to the bank as soon as I could, but due to the crowd I can't get inside," Ms. Wesal said.
Abdul Qadir Barakzai, an elderly man working for the Ministry of Justice, is also waiting to cash his paycheck outside the main New Kabul Bank branch.
Mr. Barakzai complains about the bank's service and says they lack the ability to provide timely services for customers and fulfill their needs.
The crowd of people in front of the bank is so large that the bank security is beating them away with heavy cables. One of the bank security pushes a woman away causing her to fall and another uses the butt of his weapon to hit a man in his abdominal area; despite all this, people are still trying everything to get to the main gate so they can receive their paychecks.
Government staff and teachers consider the payments by the Taliban an important step and want the state to pay their salaries on time going forward. They also want the international community not to leave the people of Afghanistan alone at this important time and to prevent a humanitarian catastrophe from taking place.
Although bank hours are coming to a close and bank staff are leaving the building one after the other, a large number of Afghans are still waiting outside in the hopes of getting inside.