Women No Longer Able to Feed Their Families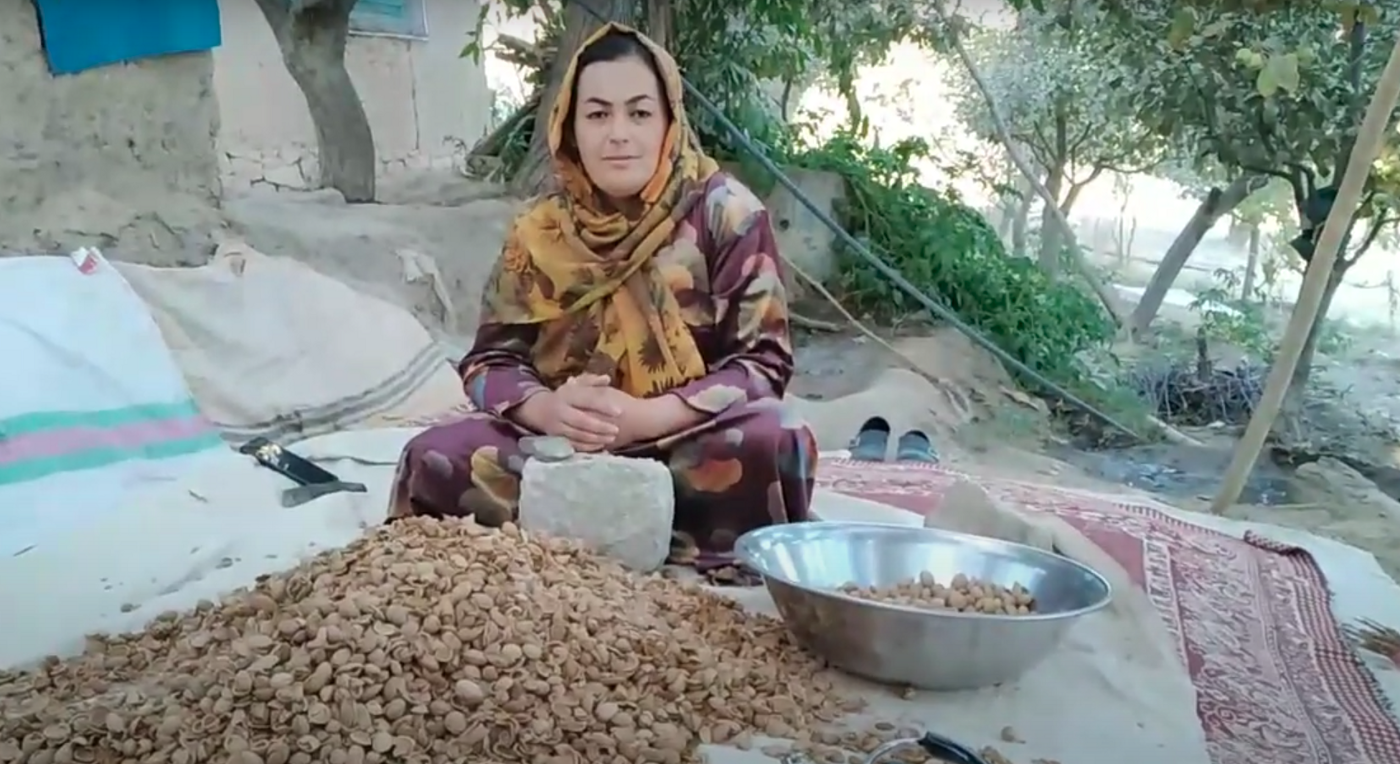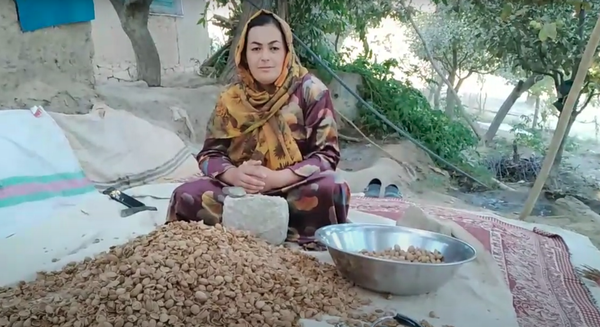 Reporting by Sima Siawash, written by Mohammad Jawad Alizada, edited by Brian J. Conley
Nili — Sitting in a triangle on several layers of cloth and flour bags stretched wide in a yard full of trees and other vegetation, a woman and two girls are shelling almonds in the shade of a two-story mud house in Nili, the capital of central Daikundi province of Afghanistan. The crackle of the rock breaking the almond shells echoes through the house.
A young girl sits beside a small, makeshift grill, heating water to make tea while another girl brings a thermos.
A huge pile of almonds with the shells broken lies in the middle as the women keep working. 40 year-old Masooma Khawari, who grew up as an Afghan refugee in neighboring Iran, returned to Afghanistan some 25 years ago.
Masooma also got married 25 years ago, has 6 kids, 18 year-old twins Nelab and Nilofar, 16 year-old Neelgon, 14 year-old Ali Reza, 8 year-old Bahnam and 6 year-old Yosouf. Her three oldest children are girls and the three youngest are boys.
Masooma's husband was a day laborer who had an accident years ago and can no longer do any heavy lifting, so he stays at home most of the time. This leaves Masooma as the main breadwinner of the house.
"We live in a shadow of uncertainty, all our efforts throughout the past 20 years have been annihilated," Masooma said during an interview with Alive In Afghanistan.
The Taliban are yet to allow women in Afghanistan to return to work and girls' schools above 6th grade remain closed in many provinces. Women who once worked and went to university across the country are stuck at home with an uncertain future.
"I personally cannot pay for everything my children need," Masooma said.
World Food Programme (WFP) Country Director for Afghanistan Mary Groarty told BBC news recently, "There is a tsunami of absolute despair, suffering and hunger sweeping across Afghanistan."
According to Groarty, 19 million people in Afghanistan barely have enough to eat on a daily basis, while that number is set to increase to 23 million over the next couple of weeks, which Groarty says is "frightening".
Afghanistan has a population of close to 39 million, according to the UN population data.
Women like Masooma, previously breadwinners of their family, are mostly out of jobs since the Taliban seized control of Afghanistan in mid-August. Now they can barely earn enough to eat.
Ms. Khawari worked for different NGOs before the fall of the previous government but is now unemployed. Her daughters, who according to her, were excellent in school, have no future as there are no longer educational opportunities for them.
"A bag of flour costs 2500 Afghanis ($28), for a family of 8 like me. It is very difficult to purchase that with what I am earning."