Woman Owned Businesses at Risk in Afghanistan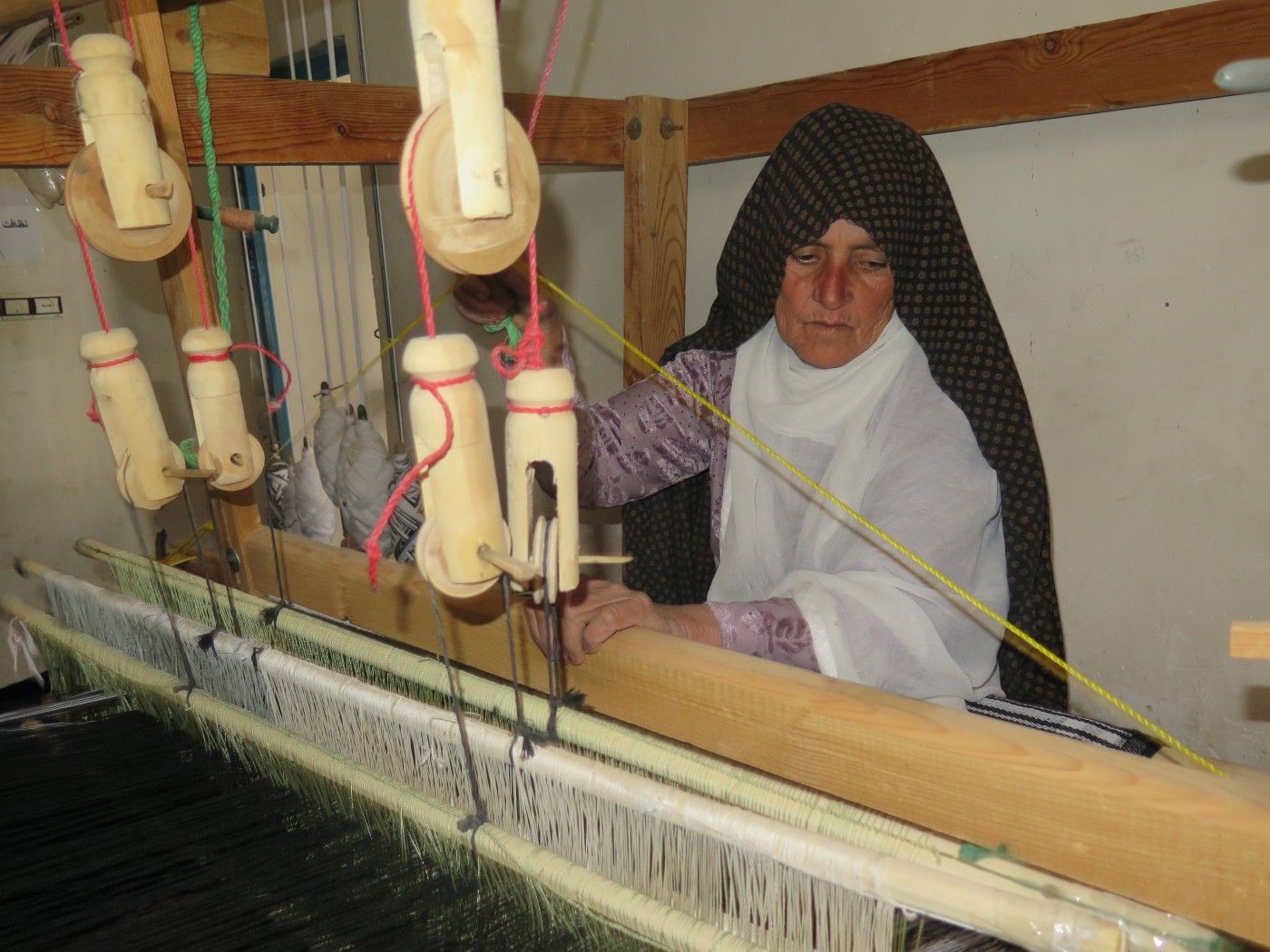 — One Day in Afghanistan —
Reporting by Abdul Karim Azim, written by Abdul Ahad Poya, edited by Mohammad J. Alizada and Brian J. Conley
ZINDA JAN — In a country where patriarchy is more dominant now than ever, women continue to be cast out from the social fabric, and deprived of education and work. Ms. Maryam Shaikh, a resident of Mahal-e Khawjaha in Zindajan district of western Herat province, located about 50 kilometers from the city of Herat, is standing against patriarchy by establishing a silk production company, which in addition to feeding her family of six, employs a number of women.
Only a small number of people can afford to buy products made of silk. To profile a day of her work and how silk products are made, I am here in Mahal Khawjaha village about 8:30 in the morning.
Ms. Shaikh is 26 years-old and is a member of a family of six which includes her mother, dad, two sisters and two brothers. Her father, Mudirullah Baksh is 50, mother Najla is 48, sister Muzghan is 26, Muzhda is 22, brother Ali Ahmad is 26 and Basir Ahmad is 24. All her siblings are studying but Ms. Shaikh manages the factory in addition to her studies.
Maryam launched her company in 2017 and employs 90 people, including 70 women, but her company has had to downsize due to the high price of raw materials and the lack of a market for her products. Today Maryam's factory only employs 6 women and 4 men.
It's 9 am and Ms. Shaikh and her sister Muzghan invited me to visit the factory which is just 500 meters from their home. The factory is based in a rented house that has three rooms which are used to boil the silk, turn the silk into thread, and bundle the thread. She pays 1,500 Afghanis ($15 currently) monthly for the rent. The team working in this house is all men. One room houses the silk reeling machine, which separates the silk thread from its cocoon by using hot water. This job is the responsibility of 40 year-old Khalifa Osman who works 8 hours a day to provide for his family of 6.
According to Khalifa Osman, removing thread from the cocoon requires a lot of skill. Mr. Osman starts work around 6 in the morning and goes home around 2 pm, earning about 300 Afghanis ($3) per day.
"The silk worms are purchased and imported from China, the worms produce silk during the first months of summer and roll it in a way that makes a cocoon like the pieces of a bead. We collect the cocoons and thread them," Maryam Skaikh tells Alive in Afghanistan.
We enter another room that houses the machine which puts the thin threads together in a much bigger roll. 46 year-old Abdullah is in charge of this section, also earning 300 Afghanis per day.
Next we enter another house that is about 200 meters from the factory, which houses the woman working for Ms. Shaikh. Ms. Shaikh says she pays 2,000 Afghanis ($21) each month for the 5 room house. Two of the rooms serve as workshops for making silk scarves. he woman working in the first roomis Maryam, who is 45 years old and has the same name as the owner. She is busy making a white silk scarf with black patterns. The machine she uses to make the scarf requires both her hands and feet to work simultaneously.
"I have been in this profession for the past 10 years," Maryam says adding that she is the sole breadwinner of her family of seven, earning between (300 to 450 ($3 to $4.5) per day. Her husband is ill and cannot work.
"I try to make as many scarves as I can each day so I can earn more for my family," Maryam, whom everyone in this company calls Khala Maryam "Auntie Maryam," says while making the scarf.
Khala Maryam earns 150 Afghanis ($1.57) for each scarf. According to her, she can make between two to three scarves each day.
"I eat lunch here and go home around 4 pm each day. I will be happy if my job continues, otherwise it will be very difficult for us," Khala Maryam says.
Since the collapse of Afghanistan's western-backed government in mid-August last year unemployment is at an all time high in Afghanistan. Female breadwinners have faced a host of challenges since the collapse: sanctions against the country, assets have been frozen, and employment opportunities have taken a nosedive amidst an economic collapse fueled by the exit of international forces from Afghanistan.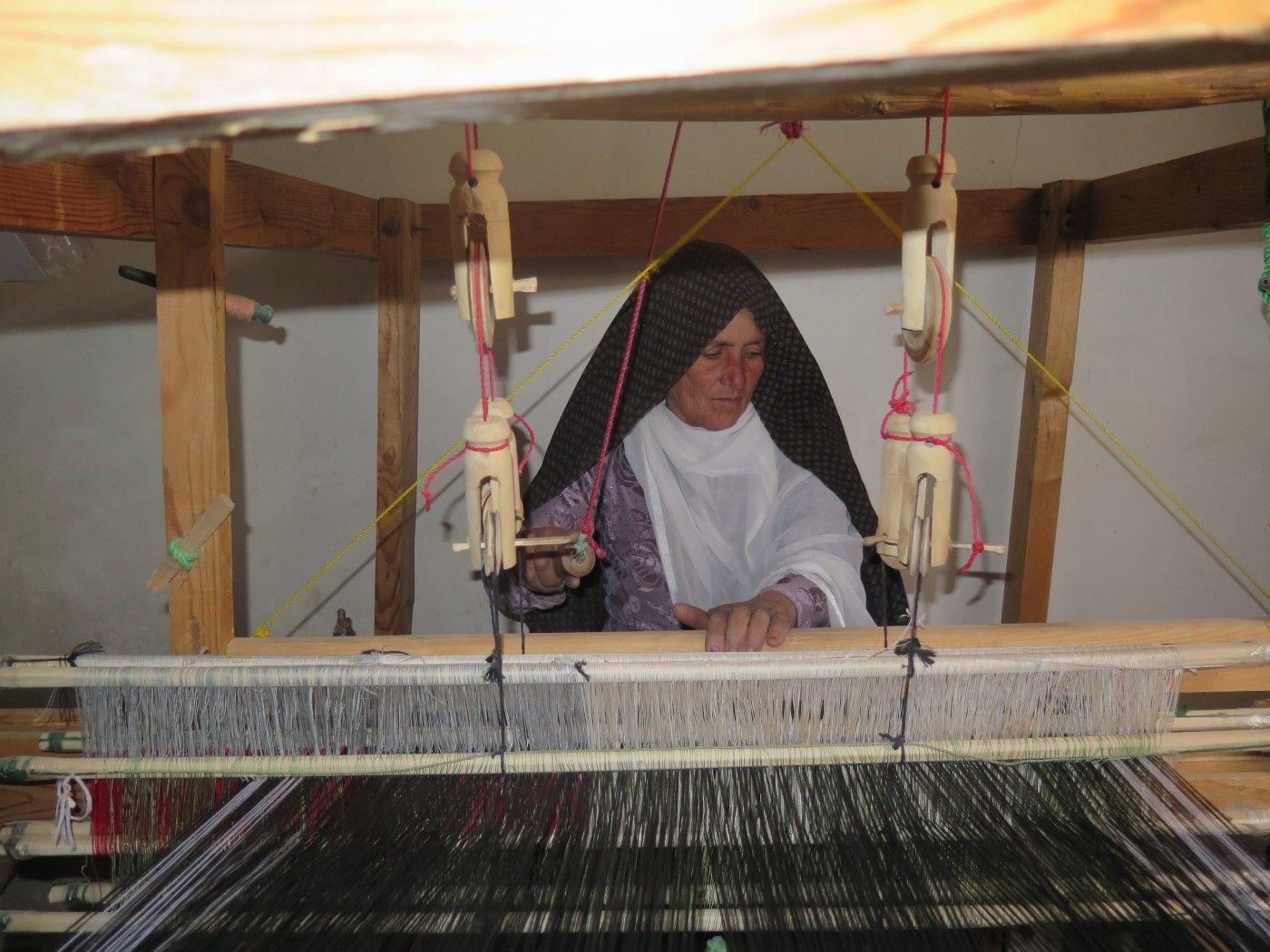 "We used to have 10 of these machines in this house, now only two remain and the number of employees have decreased too," Ms. Shaikh says.
In another room, 21 year-old Nooria Noorzai is also busy making a scarf. Ms. Noorzai is a member of a family of 6 and a high school graduate, but she couldn't continue her education due to poverty.
"My father and brother are farmers but are not able to earn enough due to the persistent drought, so I must work to help my family," Nooria says.
The decrease in rain and snowfall along with the persistent drought across the country have negatively impacted farmers in recent years forcing many to shut their farms in a country where agriculture is the main source of revenue.
Nooria, who only started recently is not as experienced as Khala Maryam and can only make one and a half or two scarves per day, earning between 150 to 250 Afghanis per day ($1.57 to $2.63).
Nooria sighs and says, "There were a lot of technical courses available in the district before the Taliban took over, but those are gone now."
Ms. Noorzai's hope for a better future has not yet diminished so she reads every day after getting home from work in the hopes of being admitted to a university, as she says,"Once the situation gets better."
This is while the doors to most educational facilities for women have been shut since the Taliban took over the country in mid-August last year.
It's now 12:30 and time for lunch.
"We used to give lunch to our employees before the collapse but we cannot do that anymore. Because of the decrease in sales, they now bring food from home," Ms. Shaikh says.
I return at 2 pm and go straight to Khala Maryam's workshop. She seems very happy with her day's work, She has made four scarves which will earn her 600 Afghanis ($6.31), but her happiness does not last long. She is still concerned about the future of her job.
"I am really worried that Ms. Shaikh might close this company due to pressure from the Taliban or lack of a market for our products. How am I going to provide for my family if that happens?" Khala Maryam asks.