Weaving a Life From Reeds and Straw
Small, agricultural-based businesses are suffering the impact of Afghanistan's economic crisis and the persistent drought devastating communities across the poverty-stricken country.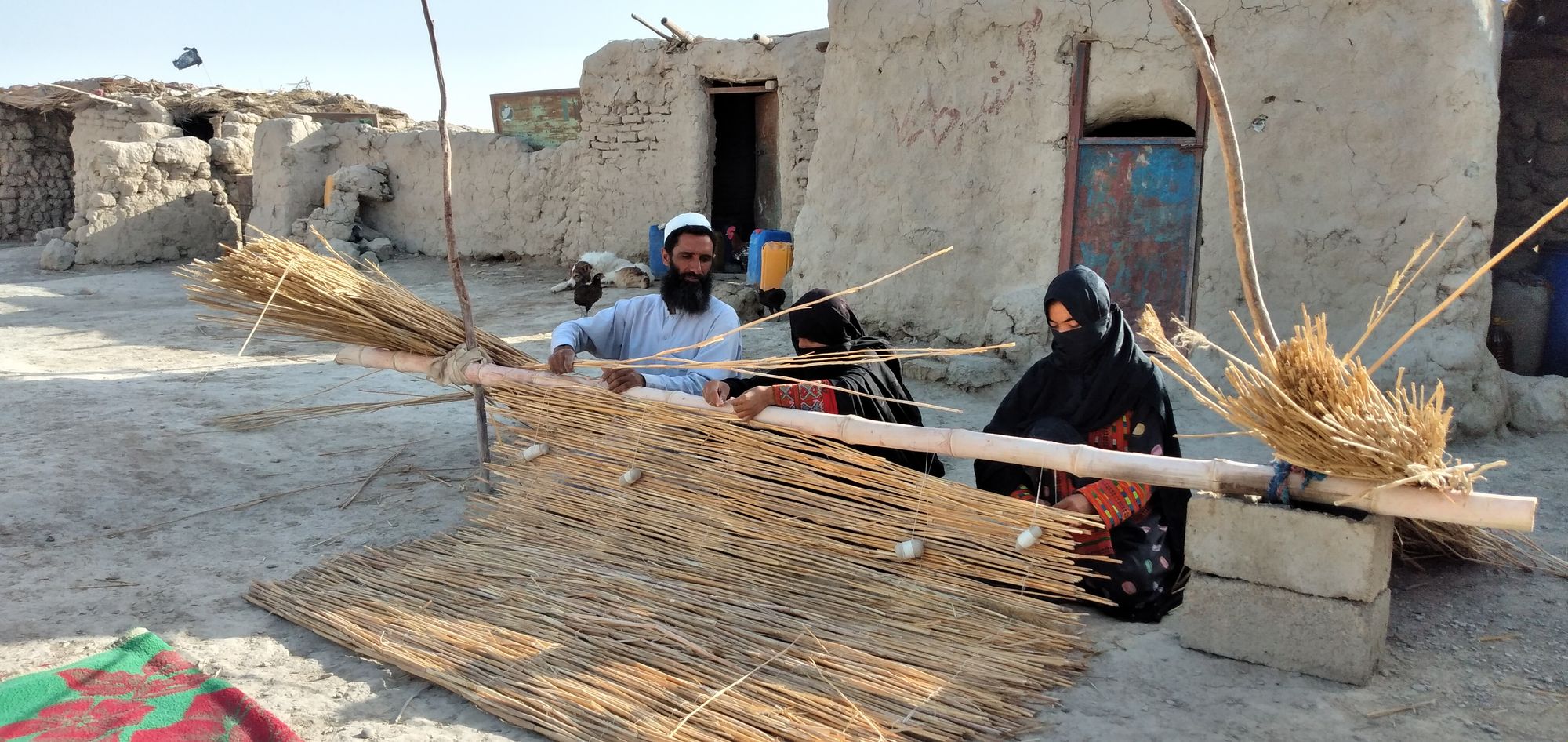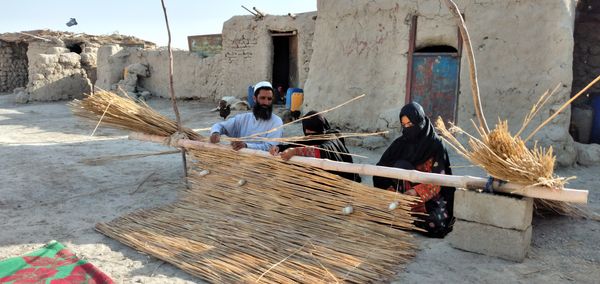 — One Day in Afghanistan —
Written by Samira Wafa
ASL-E CHAKHANSUR, NIMROZ — Weaving reed fences, known as Nal Bafi in the Baluchi language, is one of the many professions that villagers of southwestern Afghanistan's Nimroz province are good at and considering the current harsh economic condition, this occupation has become a necessary source of income for the poor.
In today's One Day in Afghanistan episode, Samira Wafa documents the life of 39 year-old Sayed Ahmad Dah Murdah, a fence maker from Haji Nabi, a village in Nimroz's Asl-e Chakhansur district (otherwise known as Chakhansur).
I leave home in the morning, cross the scorching wastelands of the Margo desert, and arrive at the Haji Nabi village at 9:30 am after traveling a distance of 102 kilometers. Sayed Ahmad greets me warmly following our arrival.
His home looks like every other home in this part of Afghanistan, but there is one difference. Here there are reed fences hanging in each doorway. The fences have been modified to create door screens on the outside of each room, allowing the family to keep their doors open during the summer heat to let air into the rooms.
The room we walk into is designed with colorful Baluchi handicrafts that include white embroidered curtains with pink, purple, and green flower patterns. Some of the pillowcases are beautifully embroidered pieces as well, giving a welcoming and comforting vibe to Sayed Ahmad's home.
Sayed Ahmad takes a seat in front of a wall covered with embroidered curtains and leans on one of the embroidered pillows.
Our conversation starts with him telling me about himself and his family. Ahmad's parents emigrated to Iran's Zabul city, right across the border around 40 years ago–before he was born.
Ahmad studied up to 7th grade at a religious school in Iran, becoming a construction worker afterward. He married Bibi Gul 18 years ago and the couple has five children, three girls, and two boys.
The couple lost a daughter to cancer at age two, he has a lump in his throat as he speaks about her. As the only son in the family, Ahmad is the sole breadwinner as well.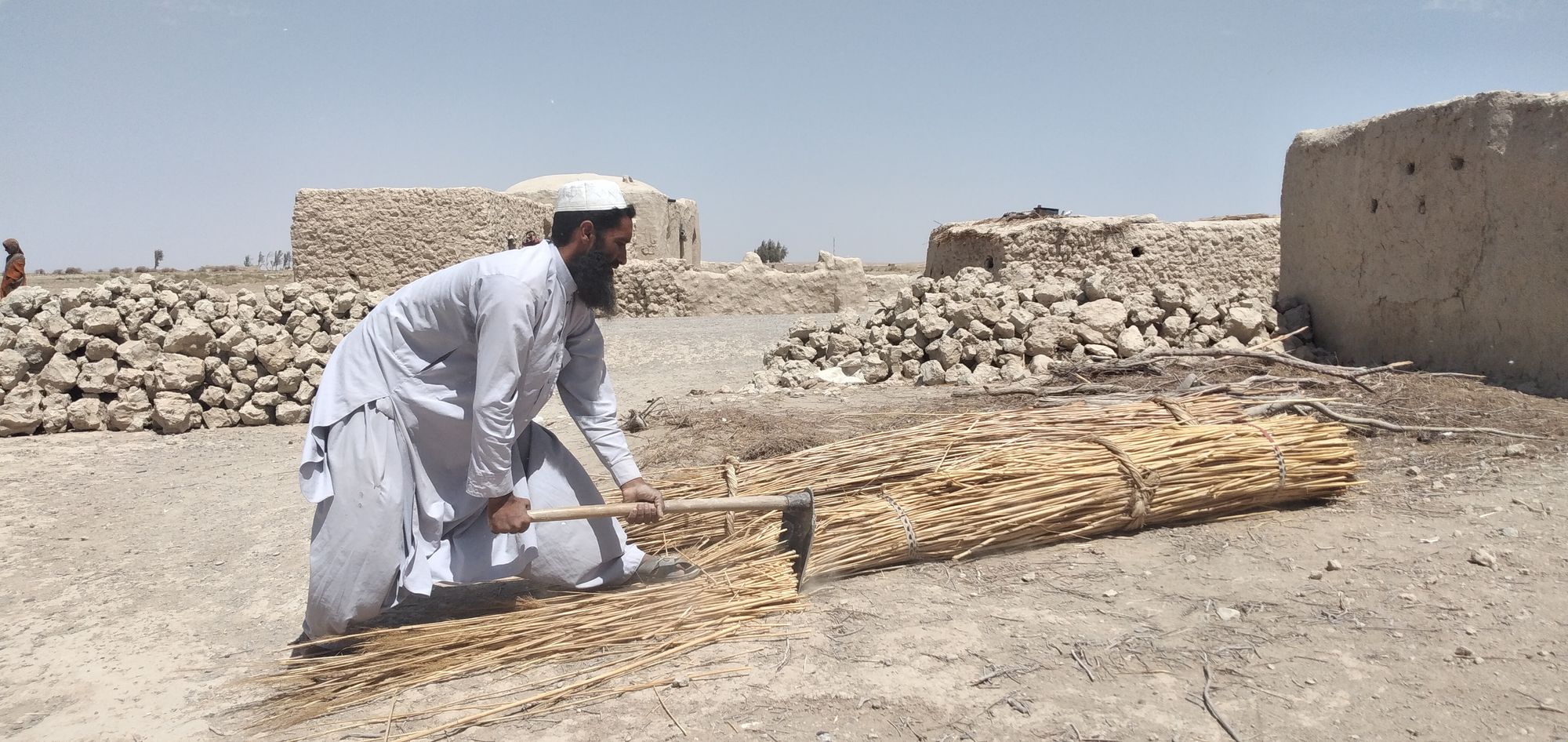 Upon the family's return to Afghanistan, Ahmad got into farming, but the persistent drought over the past several years in Chakhansur made agricultural lands arid. Ahmad began making reed fences three years ago.
"The marshes are adjacent to our farmlands, about six kilometers from the Haji Nabi village. The marshes are now dry as well, resulting in less reeds for us to harvest," Ahmad tells Alive in Afghanistan.
Ahmad starts working after the tea is served. It's now 10:10 in the morning. He walks out of the room with me following behind. Ahmad plans to spend the day making fences. He first brings a handful of reeds from a rickshaw and cuts them evenly using a hoe.
Next, he moves the reeds to the weaving spot that is made up of a 3.5 to 4-meter-long bamboo stick suspended about 25 to 30 centimeters in the air, by two wooden sticks lodged into the ground.
The bamboo is hanging far enough off the ground for Ahmad and any assistants, today his daughter Nazanin, to sit cross-legged comfortably while making the fences. Nazanin prepares the spools of cotton thread wrapped around small, spools made of hardened mud, so they will be ready while Ahmad uses chalk to mark the bamboo so the fence lines are woven evenly.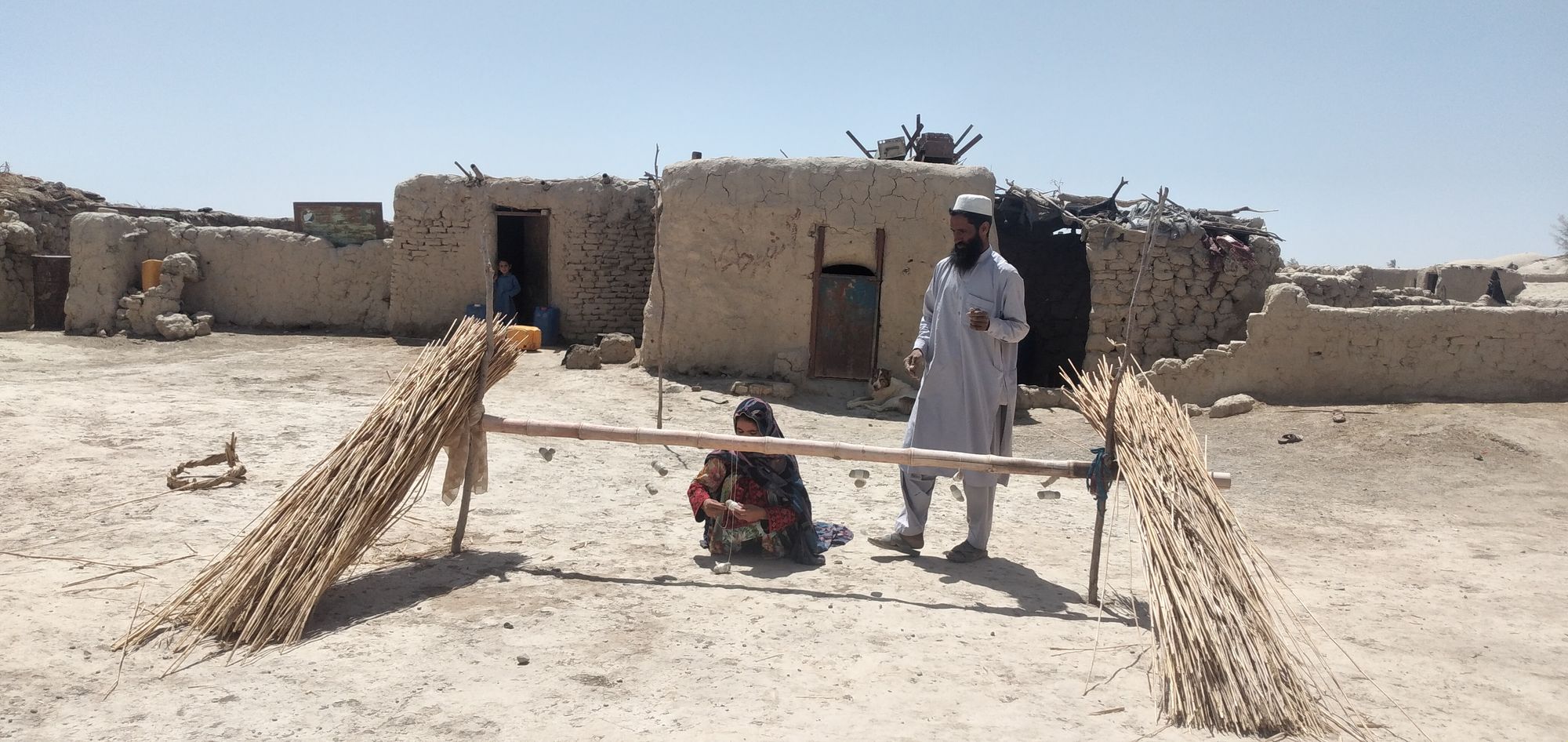 One kilogram of cotton thread is purchased for 100 Afghanis ($1.13) and is enough for making 50 fences.
Ahmad explains the work process while making a fence, "I harvest reeds for four days straight, collecting them and letting them dry completely. I gather and move them here for the next two days."
Ahmad adds that he must try to bring the reeds home soon after harvest because animals can eat them or they can be blown away by the wind.
As he talks, Ahmad and Nazanin take two or three reeds from the pile, level them with the bamboo stick, then walk the thread lines one over the other, forming a knot. There are five pairs of thread spools across the fence, each pair making a knot with one above and the other below.
According to Ahmad, "Four days of the harvest will make 10 fences." The fences are two meters high and six meters long. One person can make a fence in six hours and two in three hours. Ahmad can make one to two fences per day.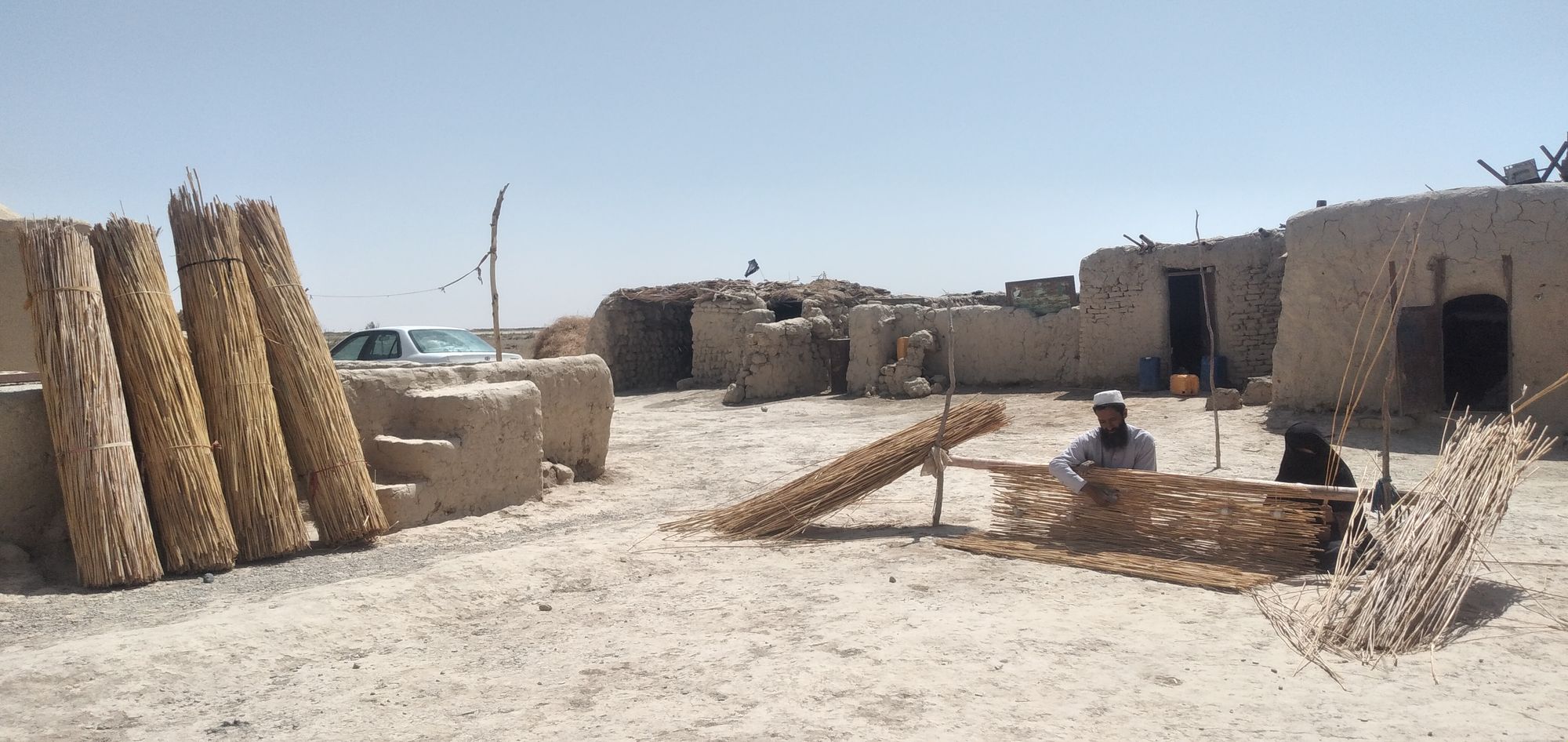 Nazanin who is wearing a black scarf and a colorful Baluchi dress with a beautifully embroidered sleeve works slower than her experienced father. The two work while the rest of the family is busy taking care of other house chores. Bibi Gul feeds the family's animals and one of Ahmad's sisters bakes bread.
In an hour, Ahmad and Nazanin have woven through two meters of the fence. Ahmad says each fence used to be sold for 100 Afghanis ($1.13 at the current exchange rate) but due to the recent economic crisis, the prices have increased to 120 Afghanis ($1.35) for a single sheet of reed fence. Ahmad earns about 240 Afghanis ($2.71) daily, which is barely enough to keep the family fed for a day.
Oftentimes when he is gone harvesting reeds, his wife and daughter make the fences. Their monthly income from the business is around 8,000 Afghanis ($90.60).
According to Ahmad, "Reed fences are used to protect fresh fruits and vegetables during transport, in construction of house ceilings, and used as shade structures."
Although the duo is tired, they keep working. The normal work routine for Ahmad and his family is to wake up at 5 am, perform morning prayers and work until 9 to 10 am, beating the day's heat during the long Nimroz summer. He resumes work mid-afternoon and continues until 7 pm.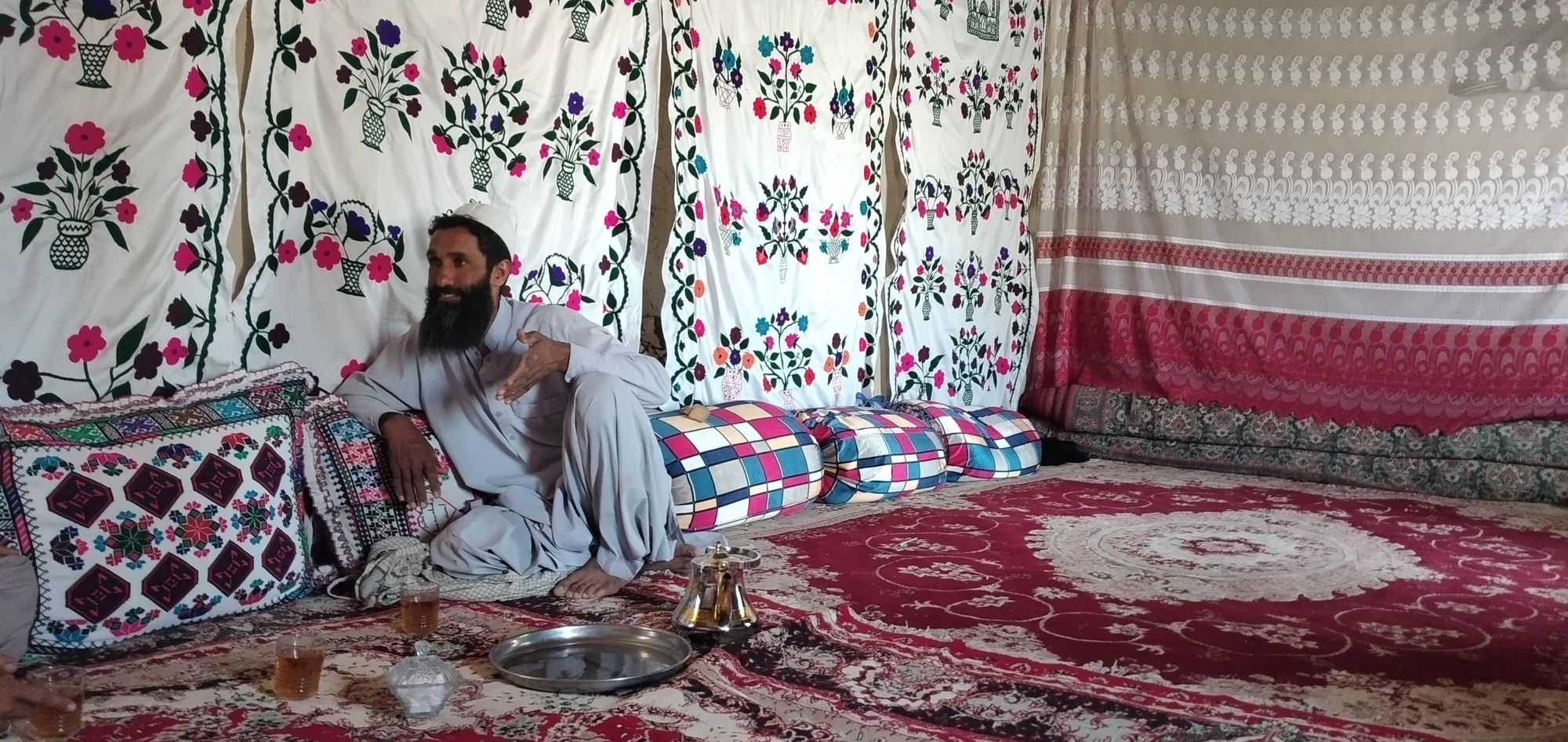 It's now 12:30 pm, Nazanin and Ahmad have woven four meters of the fence so far. As we talk, the call for noon prayer is announced through the speakers of the nearby mosque, where Ahmad serves as an Imam. Upon hearing the prayer call, Ahmad stops his work, performs ablution, and heads toward the village mosque. I leave their home for a lunch break and return at 1:30 in the afternoon.
Ahmad's family brings tea while we wait for him to return from the mosque. He returns at 2 pm and takes an hour's break before restarting work. At 3 pm he resumes work, with his part of the yard now shaded from the sun by their home.
"I can only harvest reeds three to four times a month and have to work collectively with my family as I am the only provider," Ahmad says. Zainab, Ahmad's younger sister, used to help with the family's finances through her job at an organization in Zaranj but was laid off following the Taliban's decree in late December last year to bar women from working in NGOs.
"Reed fences are not profitable if sold in Nimroz because it's purchased at a low price from us. But there is a better market in neighboring Farah, Helmand, and Kandahar provinces. So we keep the fences for customers who come from other provinces," Ahmad adds.

Rising food prices, increasing unemployment, and poverty rates across much of Afghanistan have made it difficult, if not impossible to make ends meet. The persistent drought also means fewer reeds to harvest, leaving Ahmad unable to find reeds for days at a time.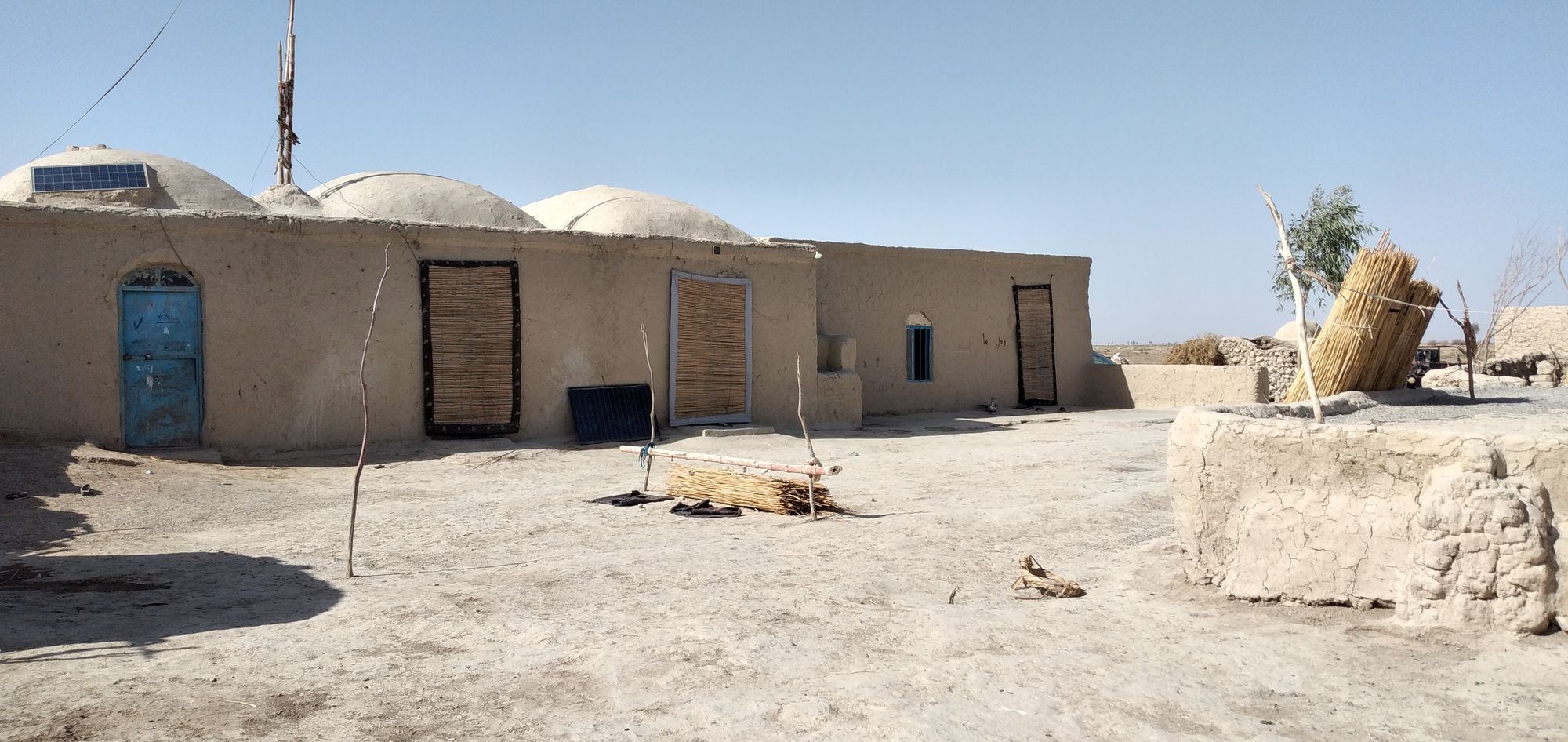 "If the customers are from Nimroz, they come with smaller trucks, buying only 80 fences once a month; but customers from other provinces buy 200 fences and pay the money all at once," Ahmad says.
It is now 4 in the afternoon. Ahmad and his daughter have completed weaving a fence together, ending their work for the day.
After ending their workday, Ahmad rolls and wraps the two fences he and his family have made with a thicker thread. Next, they move the fences to an open area away from the animals. Around 100 fences are stored here.
Our day with Ahmad ends after he drops the fences off at the storage area, with us bidding goodbye to each other.
---
Alive-in is a not-for-profit media agency that mentors journalists from underrepresented communities to increase local and national understanding.
If you are able to support our work financially, please click the button below.
---