Turbans Always Sell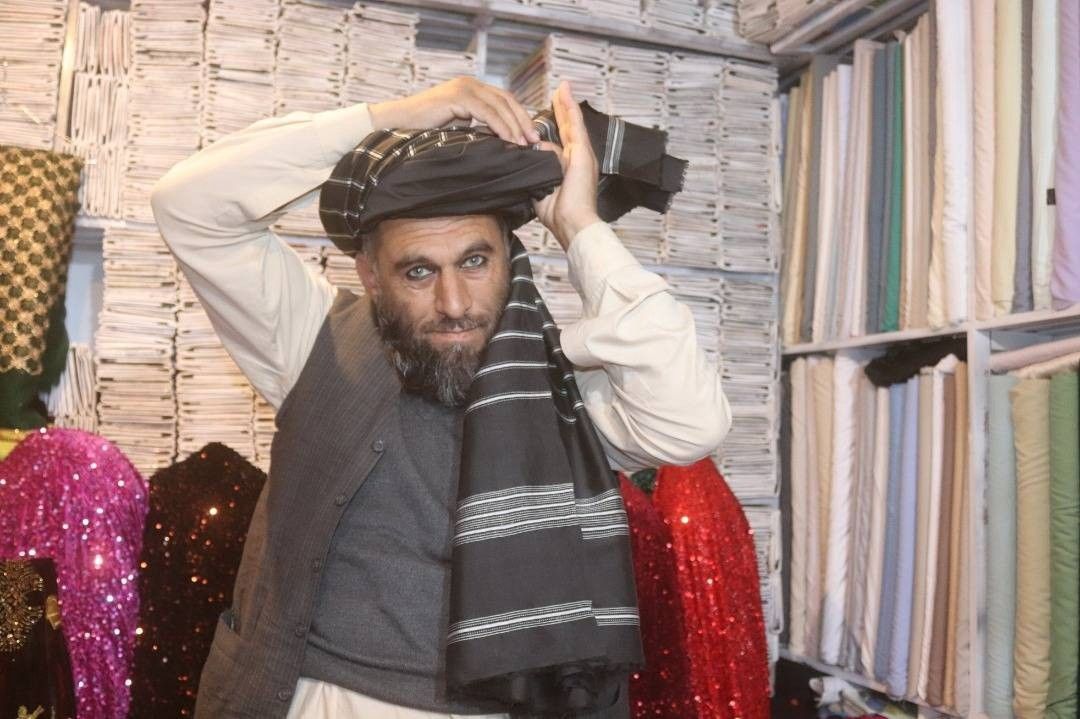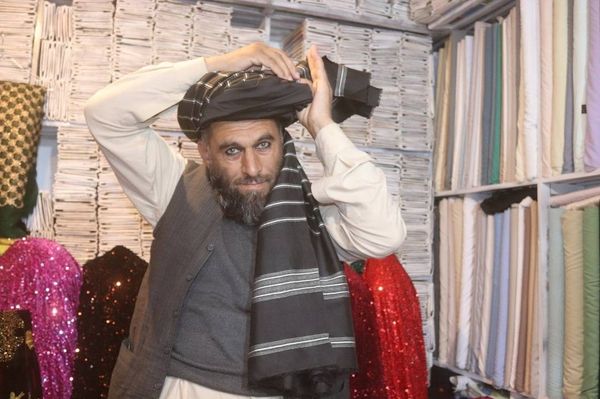 — One Day in Afghanistan —
By Ahmadullah Ahmadi, edited by Mohammad Jawad Alizada and Brian J. Conley
Gardez — Turban or in Pashto, Shamla, is an old tradition and has a spiritual value in Afghanistan. Some consider it part of their culture while others consider it an Islamic tradition.
Turbans are worn by many elders and a number of young people on a day to day basis as well as special occasions like national holidays, weddings, engagements, gatherings and other events all over Afghanistan, especially in the southeastern region of Paktia, Khost and Paktika provinces.
Today I'm following 33 year-old Mohammada Jan Ahmadzai, a turban store owner in Gardez, the capital of Paktia province. Mr. Ahmadzai runs the store together with four of his brothers, 27 year-old Mohammad Amin, 25 year-old Mohammad Azim, 22 year-old Mohammad Rafiq, and 18 year-old Mohammad Sediq.
The 24 member family, including 16 men and 8 women live some sixteen kilometers outside of Gardez area in Ahmadabad. Normal business hours for the shop is from 8 to 4 or 5 pm and feeds the large family through profits from the store.
"I bring turbans from Multan in Pakistan twice a year and sell them to the people here," Mohammada Jan says. The shop is adorned with closet space that is filled with turbans of all kinds on the back end while two other sides are filled with garments for women and men.
Mohammada Jan says he has about 8,000 customers year round. "We have 15 types of turbans in four categories which include Paktiawal turbans, Ghafoori, Hindi, and Tesar Patkai, selling from 150 to 5,000 Afghanis ($1.65 to $55)."
According to Mohammada Jan, one type of turban, which the Katawaz tribe of Paktika wears costs 15,000 Afghanis ($165), "but that kind of turban does not have a market in Paktia and people do not recognize it."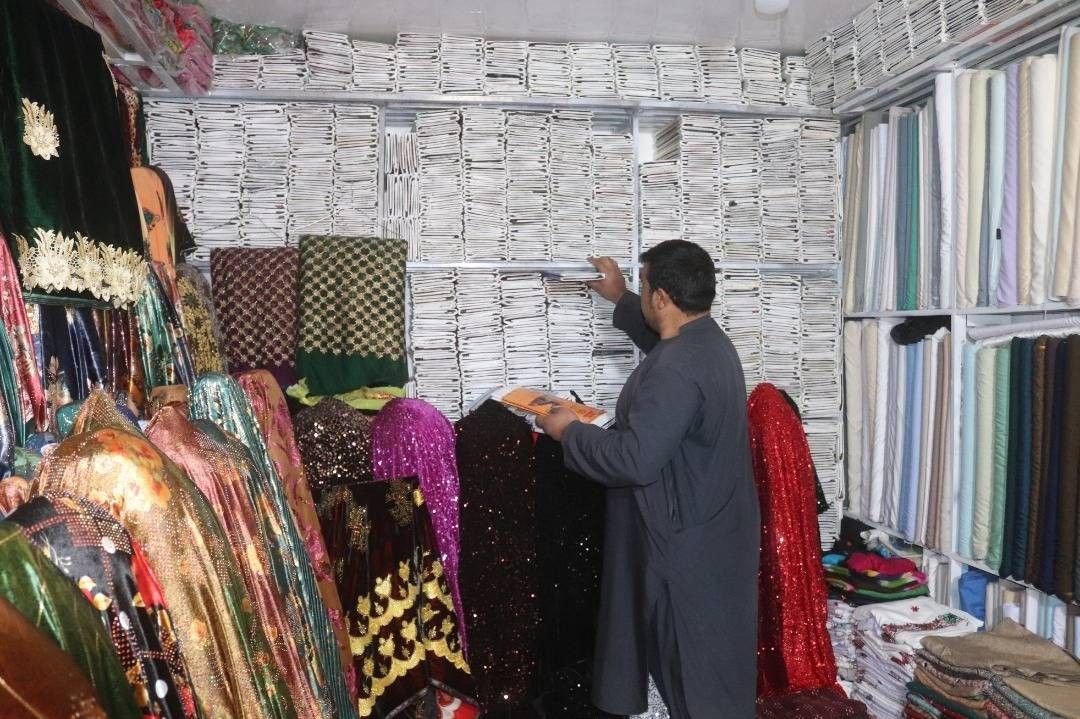 Mohammada Jan also distributes turbans to neighboring provinces of Logar and Khost, as well as around Paktia. He had given 110 turbans to three shopkeepers just the day before. Profits from each turban vary as well depending on the price.
Mohammada Jan has been in this business for the past 20 years and inherited it from his father. He has two kids, Najibullah and Hifzullah, who are in second and fourth grade at a private school, which Mohammada Jan pays for.
"I work so I can pay for their school and university, for their future," Mohammada Jan tells me.
Since Afghanistan fell to the Taliban mid-August this year, black turbans have become more commonplace and have more customers, before then, both gray and black turbans were common.
"Best time for selling turbans is summer, as there are more events and people also buy them as gifts for others," Mohammada Jan says.
It's now 11 am, although no customers have yet come in to buy a turban, people, including women, do come in to buy fabric. The women are not allowed to speak or take pictures with the media.
"I once had a customer from the Kuchi tribe buy a turban in the spring, after four months he came back wearing the turban he had bought from me, already well worn out, and wanted to exchange it for another one."
Kuchis are a nomadic Pashtun tribe in Afghanistan who move in accordance with the changing seasons.
A customer, Qadir, walks in as we are talking and wants to buy a yellow turban but refuses to talk or take pictures. While Qadir is buying a turban, 55 year-old Chinar from Sayed Karam district walks in. Chinar has been wearing a turban for the last 30 years.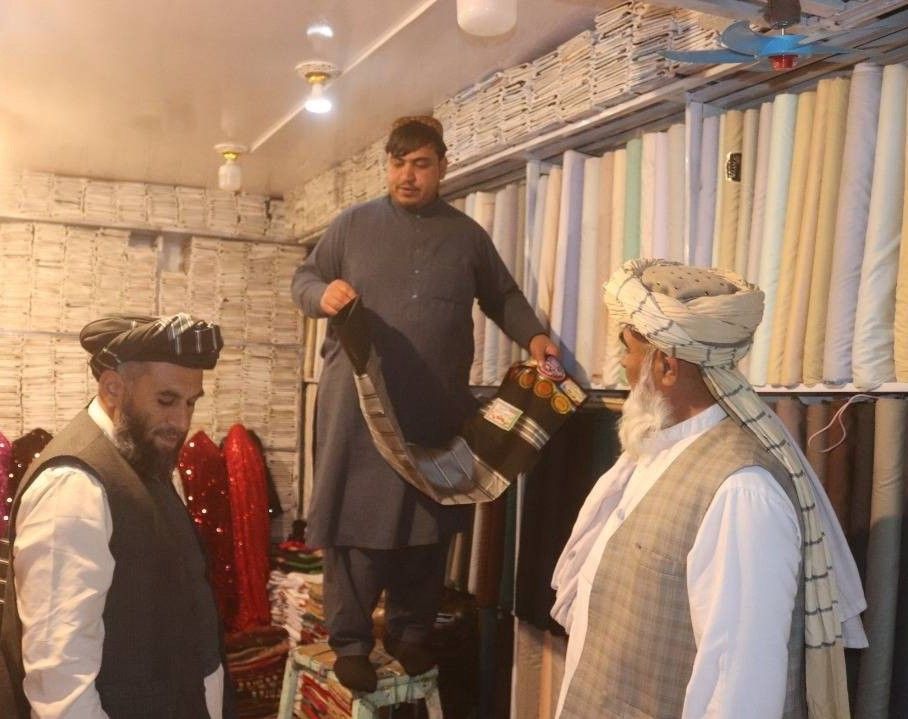 "I am buying a Hindi turban since it's not expensive," Chinar says adding that, "40 years ago most people wore turbans but the tradition has faded over the years and young men only wear turbans during celebrations.
According to Chinar, he used to give turbans as gifts to special guests during celebrations, and this tradition is still practiced in some areas.
Lunch today is okra being cooked by one of the Ahmadzai brothers while another brings fresh bread from the nearby bakery. Today lunch is delayed because one of the brothers is traveling back from another district and everyone is waiting for him.
It's now 3:25 pm and the sun is low in the afternoon sky when Haji Omar Stanekzai who is from eastern Nangarhar province walks into the shop to buy a turban. In Pashtun culture, the turban is a symbol of honor, leadership and pride and is worn to honor the character.
Stanekzai says the type of turban every tribe wears vary. People of Paktia, Paktika, Khost and Logar wear a lot of Indian (Hindi) and Katawazi turbans while people in Wardak province choose gray colored ones.
According to Stanekzai, every king and ruler throughout the history of Afghanistan who came to power has worn the turbran and it has been a source of pride for Afghans. While Afghanistan's economy has taken a deep dive for the worse since the Taliban came to power, one business has been increasing, the business of turbans.