The Woman that is Worth a Thousand Men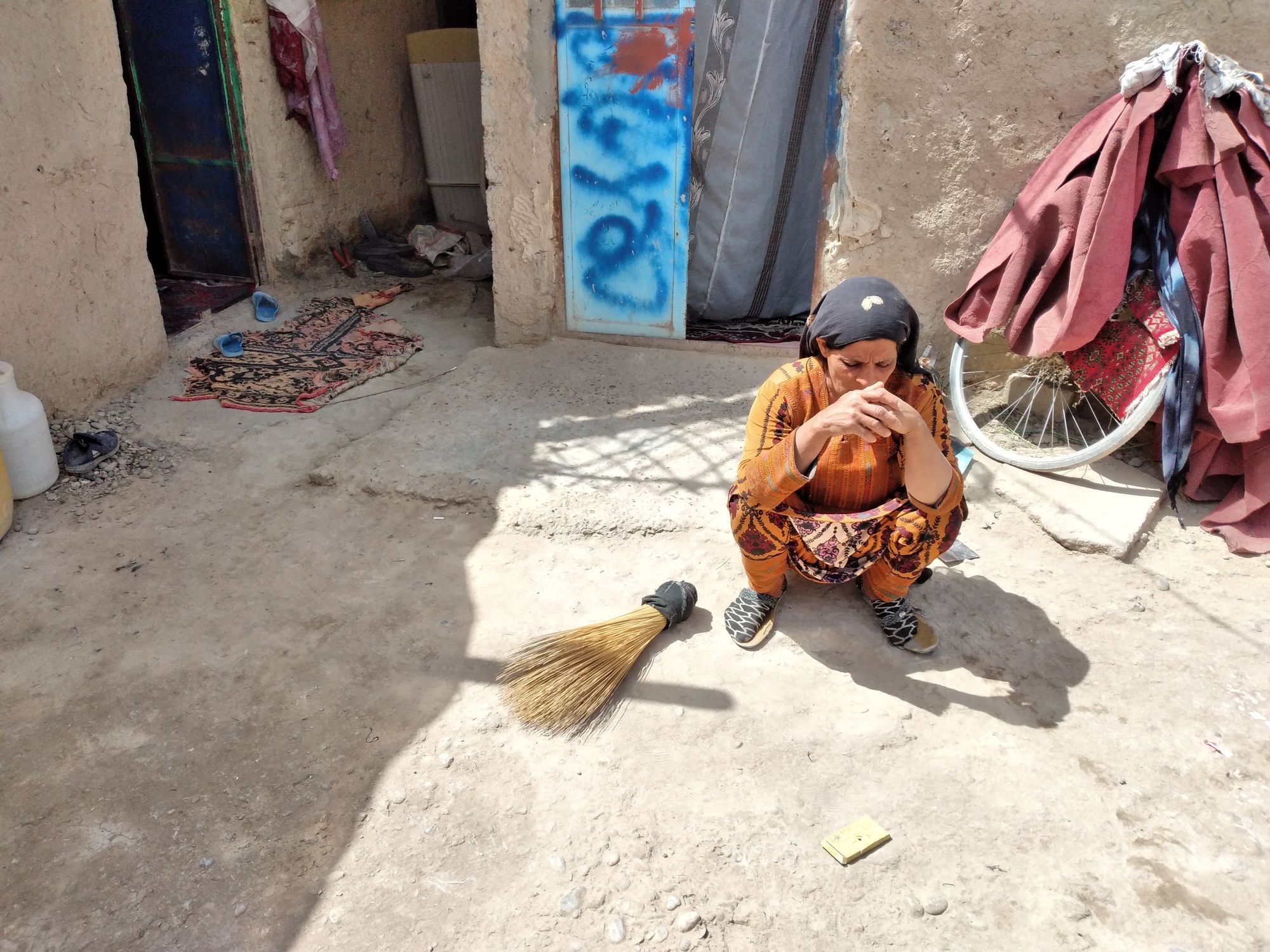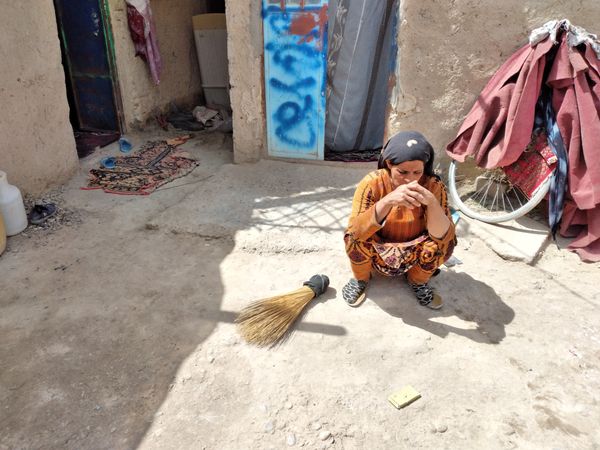 Amina is a champion of a woman who hardly realizes her resilience, hardwork and self-worth. While caring for livestock on her own  at home, she also bakes bread and washes her neighbors' clothes for money, in order to take care of her family. She has done this throughout her life. Amina stands in the face of every problem life throws at her not because she has to, but because she is a champion, an idol, proving that women are as strong as men, if not more, at taking care of their families, that the misogynist rules restricting women is not only illogical, it is utterly nonsensical.
— One Day in Afghanistan —
Written by Shaima Siddiqi, edited by Mohammad J. Alizada and Brian J. Conley
---
---
ZARANJ, NIMROZ – Animal husbandry is one of the most common occupations for Afghan villagers. They raise animals such as cows, sheep, goats, chickens, and rabbits in their place of residence, and sell their products such as wool, cotton, milk, yogurt, cheese, meat, curd, oil, etc. in the market because these products are part of Afghans' daily needs, which produce a tremendous amount of income.
The skin and wool from Afghanistan are exported abroad, and used to make high-end products while ranchers in the country are hurting due to lack of support. Livestock and animal husbandry have been largely affected by climate change and the persistent drought in Afghanistan's southwestern Nimroz province.
A large number of livestock are dying every year due to the persistent drought. However, the last two years have had a profound effect on farmers and their livestock in the province.
Although a dam was completed in the Char Burjak area of Nimroz province in March 2021, just months before Afghanistan's previous government collapsed, the canal project, aimed at irrigating agricultural lands in the province remains incomplete, leaving  farmers and ranchers still facing water shortages.
At least 700 goats and sheep died due to the drought in Kang and Chakhansur districts during 2019, paving the way for the smuggling of livestock to Iran and Pakistan. Thousands of livestock were smuggled to the neighboring countries and sold at exorbitant prices ahead of Eid al-Adha, an Islamic holiday celebrated with the sacrifice of a sheep.

Therefore, I want to dedicate my first report to and profile one day in the painful, and chaotic life of a powerful and heroic woman who has been raising animals, among many other daily chores she carries out to take care of her family in a corner of Nimroz for many years. I have traveled some seven kilometers to the village of Khwja Karim, on the outskirts and east of Zaranj, the capital of Nimroz province to meet this hardworking woman.
48 year-old Amina Ghilzai is the head of and the only woman in a family of seven, including her 45 year-old husband Zahir, and and five children, 25 year-old son Waheed, 23 year–old Farid, 20 year-old Parwiz, 16 year-old Sohrab, and 12 year-old Qasim. Parwiz and Waheed are unemployed while Farid works in Iran.
It is 8:30 in the morning as I enter the family home, upon which I see eye-catching and sad scenes. Built with mud and cinder-block in the corner of a 1000-meter plot of land, the house looks more like the ruins of a former building, than an actual home.  The family lives in a two room home covered with logs and brush, with a barn, a doorless bathroom covered with a curtain,  old oil cans used for water, a hay barn, a chicken coop and a chained guard dog.
"I married Zahir 27 years ago during the last period of Taliban rule and we have 5 sons. I was married before, but was divorced after the birth of a daughter due to some family issues. Once I married Zahir, my daughter Rahela was forced to stay with her grandmother and was not allowed to come with me," Amina told Alive in Afghanistan.
Amina's first marriage was some 32 years ago, when she was just 16.
The couple is originally from the Ghilzai tribe and spent their lives in different parts of Zaranj city, the capital of Nimroz province. They have taken up various occupations, including labor, farming, and animal husbandry, to generate income.
When I entered their home, Amina, with a sore body and a face full of dust, was preparing hay and water for the goats.
"I don't rest for days; I must take care of these animals to be able to use their milk and make yogurt," she said.
Amina was always on the move during the time I spent with her, she would work and talk at the same time.
She said, "Sometimes I benefit from the milk, other times when they give birth. I have to borrow money from my neighbor's wife to feed the animals on occasion and sometimes the animals spend days hungry which causes the goats to produce less milk."
She then went into the chicken coop, although the chickens jumping around were annoying and stinky, Amina searched the coop with patience, only finding a single egg that was laid the day before. She sells every egg for 5,000 Iranian Rial (15 Afghanis or $0.17 USD) to have the pocket money for her son Qasim's Holy Quran course. Qasim doesn't go to school without money and says the neighbor's kids and his classmates have money to spend, but he doesn't. She says, "Qasim didn't want to go to school yesterday because I didn't have any money, then I beat him. He did go to school eventually but school was over by the time he got there."

"I have no life, people are making progress and I am moving backwards. I don't know what will happen to me in the future."
She then goes towards the place where the family keeps their pigeons. The pigeons are bought and sold by her son Parwiz who keeps them for entertainment. Amina came out of the pigeon coop looking sad after a short while, saying one of the pigeons was stolen by the neighbor's kids.  The dog chained in the corner of their yard scared me twice by barking loudly. It was clear that Amina had to endure such a miserable life just because of her children. Amina's wrinkled and sad face would melt every human being's heart but Amina is also very strong, she managed to raise five children under such difficult circumstances in a place like this.
She swallowed hard as if swallowing the bitter pill which was her life, "My oldest son Waheed worked in the traffic department for two years and saved his monthly salary for his marriage, with the fall of the previous government he became unemployed and went to Iran to gather some money for his marriage. He broke his leg and is worried about whether he can work or not."
While crying, she said, "He worked in a factory in Zahedan [Iran], unfortunately, a piece of iron fell on his feet, and the doctors said he should stay in bed for 4 months. I couldn't sleep last night thinking about him."
Weddings are hugely expensive affairs in Afghanistan, with excessive costs for wedding halls, lavish meals and usually a bride price. The bride price is the money paid by the groom's family to the bride and her family, but is a contested tradition with no foundation in Islamic law.
Waheed has been engaged for two years but has not been able to marry yet due to financial constraints.
---
---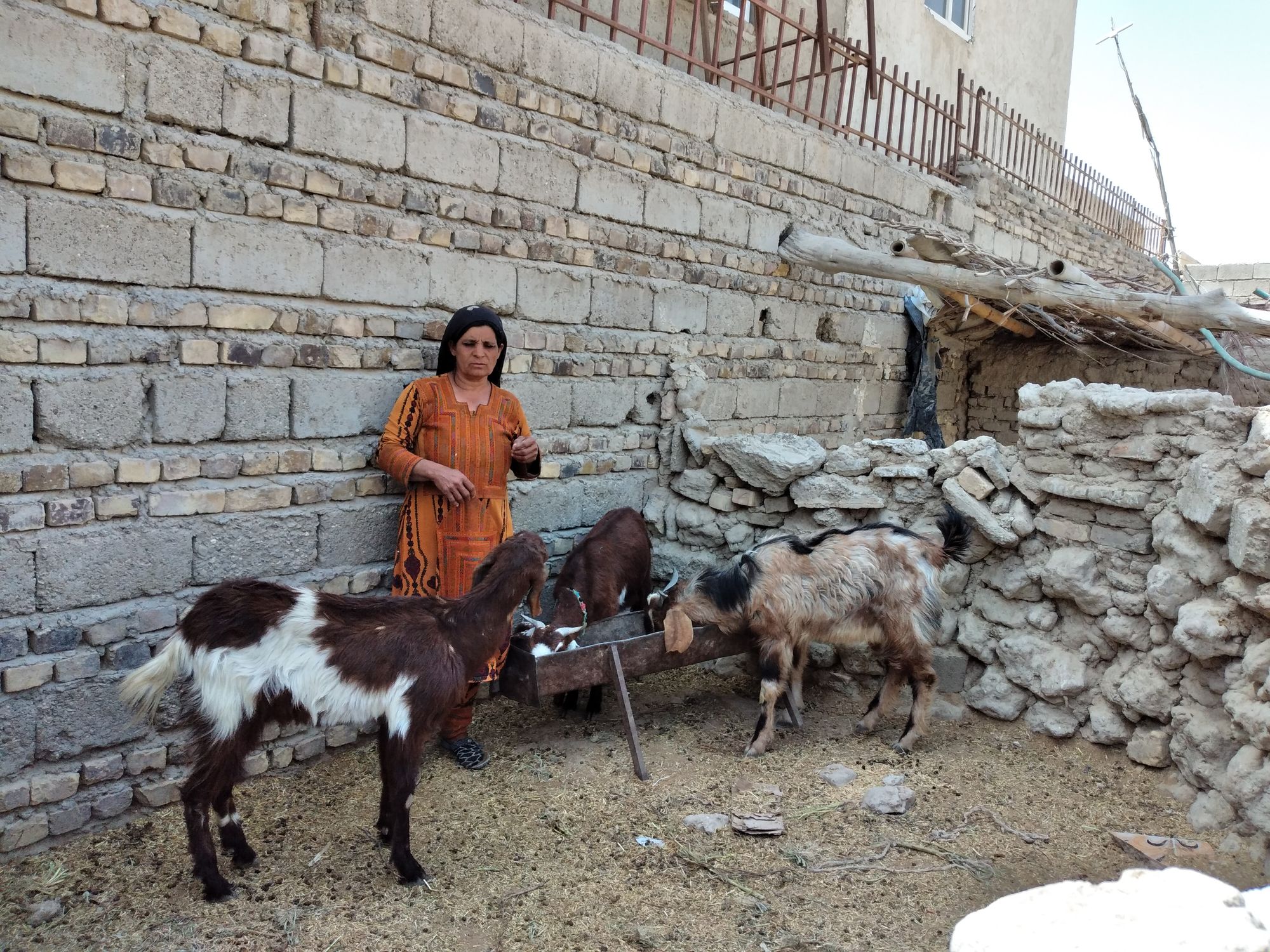 Farid, her second son, had a rickshaw and worked inside the city. He saved enough money for his wedding, but left for Iran as soon as he got married, "Because his wife was not happy with our lifestyle. He doesn't care about his parents at all."
Amina cries every time she sees her son's room because of the memories that come flooding back and the distance between them. Farid now lives and works in Yazd city of Iran.
Her third son, Parwiz, worked at a businessman's house but lost his job after the collapse of the previous government so he also left for Iran. Not being able to get a job there, he returned to Afghanistan a few weeks ago.
Amina's husband Zahir used to work as a laborer and was later hired as a postman. He worked as a postman for 10 years but lost his job as well after the collapse. He goes out every day in the hopes of finding something to do, walks for miles, but only occasionally manages to find enough for 10 loaves of bread.
Amina suffers from a herniated disc in her back and resents how hard life is for her.
"I don't think there's anyone more desperate in the world than me, I try very hard but still life always goes backward. I don't see any light in my life."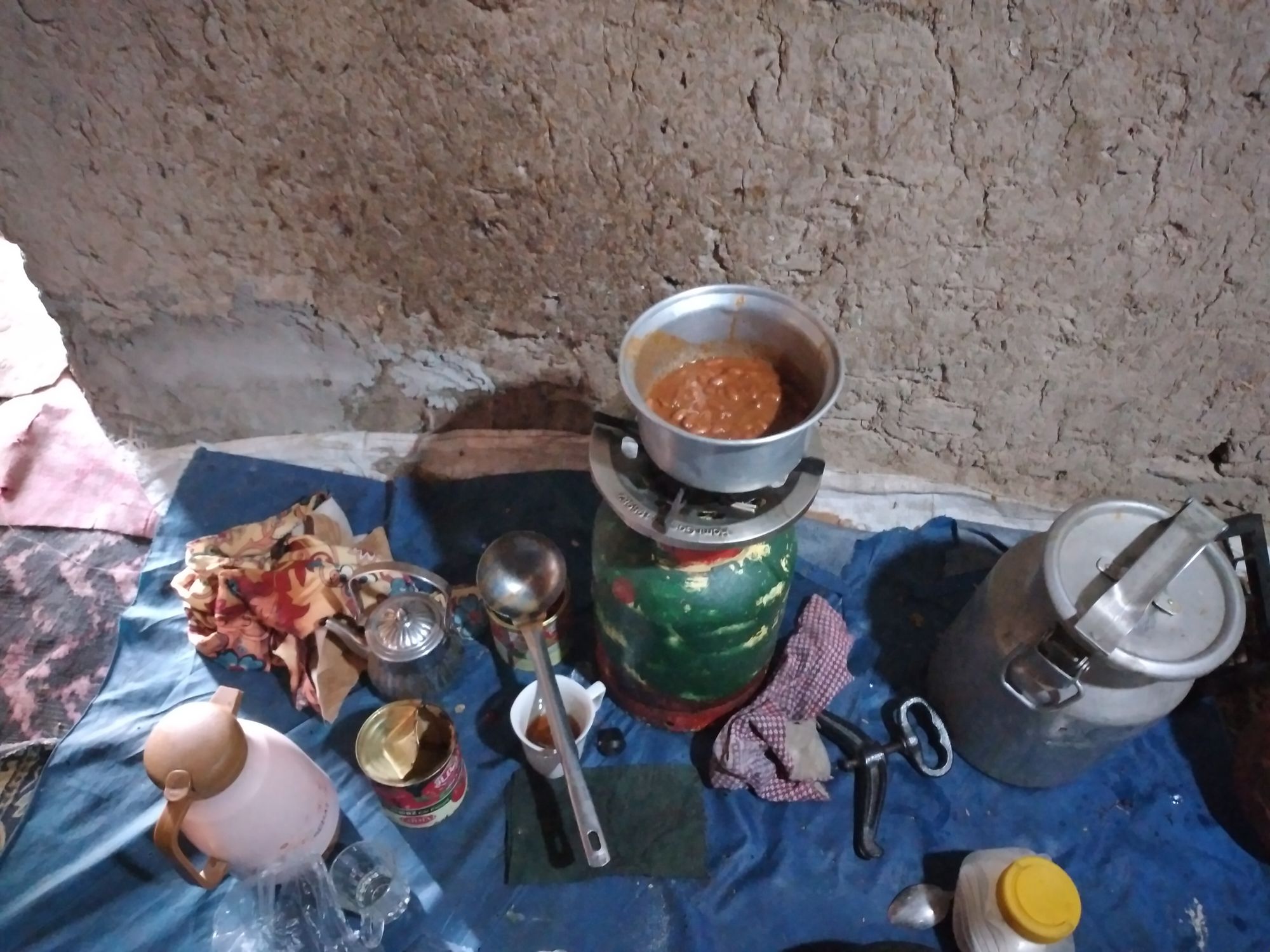 It is now 12:30 pm, Amina goes toward the fridge to bring Qasim food, and I follow her. Her kitchen was a very sad sight, there was only a small portion of leftover beans from dinner that she warmed up for Qasim and Sohrab. She says, "Sometimes we have nothing to eat for lunch, I just cook a meal for dinner."
Amina lamented about the head of their village, saying that, "Last week they came to survey poor families. The head of the community did not include us on the list. They only listed their relatives and those who don't need help."
Unequal distribution of aid has long been a problem in Afghanistan, due to a variety of reasons such as favoritism, bribes, and ethnic bias.  
I get out of their house and go out to have lunch as Amina brings the warmed up beans for her sons.
I returned to Amina's place at 1:30 p.m to find her embroidering. Amina said, "I must do anything to support my family, but not beg."
She was sewing Baluchi clothes in the hopes of selling them to earn money for the expenses during Ramadan but she has to use glasses because of her poor eyesight. The neighbors have told her that her embroidery does not have the delicacy and finesse required for this trade because of her eyesight. Although her eyesight might be weak, her very tragic and painful stories attest to the heroism, courage, and keenness of Afghan women as a whole.
"Because I am poor and have no money, I am even worthless to my mother and brothers. They distribute their zakat [charity] to others, but not me. I would not go to their house if it was not to see my daughter," she said.
According to Amina, her relationship with her biological family is on the rocks. Amina believes this is because she is poor. While sighing heavily, with tears welling up in her eyes, she says, "I remember going to my brother's funeral who was killed while serving in the Afghan army but returned home without eating anything."
Pots full of rice and meat were distributed among the neighbors and the poor, but none were given to Amina's children. Meals are usually served in Afghan funeral ceremonies, Amina's sisters are invited over by her mother, but never her.
"I am not wanted anywhere, my mother is afraid that I will stay at their house and will be a burden on them. I do not live well in my husband's house. The children I raised with lots of difficulties have left me. Sometimes I think I have reached the end of the world. My world is so small, and I no longer have the ability to fight on."
Since Amina doesn't have a daughter, she has to do all the house chores alone. She took the broom and first cleaned her son's room, who had left  for Iran with his wife. She sat in the room and complained about her exhaustion and her daughter-in-law, who did not get along with her.
She said, "I raised my children with all these difficulties and poverty so that one day they will take my hand, and be my cane. But now I am all alone. My daughter-in-law didn't like our poverty and she couldn't live in this ruin of a house."
After 3:10 pm, the neighbor's son came in and said, "Auntie Amina! my mother said to come over and bake our bread in about an hour." Amina accepted.
Stunned by Amina's physical and mental abilities, I asked, "How can you bake bread being this tired and sore?"
She replied, "Helplessness and compulsion force people to do anything, and hunger is hard to deal with." She bakes the bread for Homaira's family (their neighbor) once every week, charging a small fee. She charges 30 Afghanis every time she bakes bread for the neighbors.
It is now 3:40 p.m., Amina's husband, Zahir, came home, and shortly went out again. Although I wanted to talk to him, he refused.
Amina went back to her goats and mixed hay, flour, and water with her hands to feed them. She got about a kilogram of milk from the goats and said they produce less milk because they eat less grass. According to Amina, she milks the goats twice a day, in the morning and in the evening. She then fed the chickens, then the pigeons, but she didn't pay attention to the dog because the dog was her husband's.
The bare, dry, wrinkled hands of a kind mother reflect the truth of Amina's efforts every day. It was difficult for me to see all these scenes and my throat was choked up.
My phone's clock showed 4:20 p.m. Qasim returned home from school, but he was upset and told his mother that the teacher humiliated him because he didn't have the fee to pay for the Quran lessons. She told her son, "Don't worry I will borrow some money for you."
After washing the dishes and rearranging the house, Amina got ready to bake bread for the neighbor, handing the house and animals over to her son Qasim.
I asked her what she was going to cook for dinner when she was already going to the neighbor's house to bake bread for them. She said, "I am waiting for the father of my children to bring something with him to cook, otherwise we have some milk for dinner."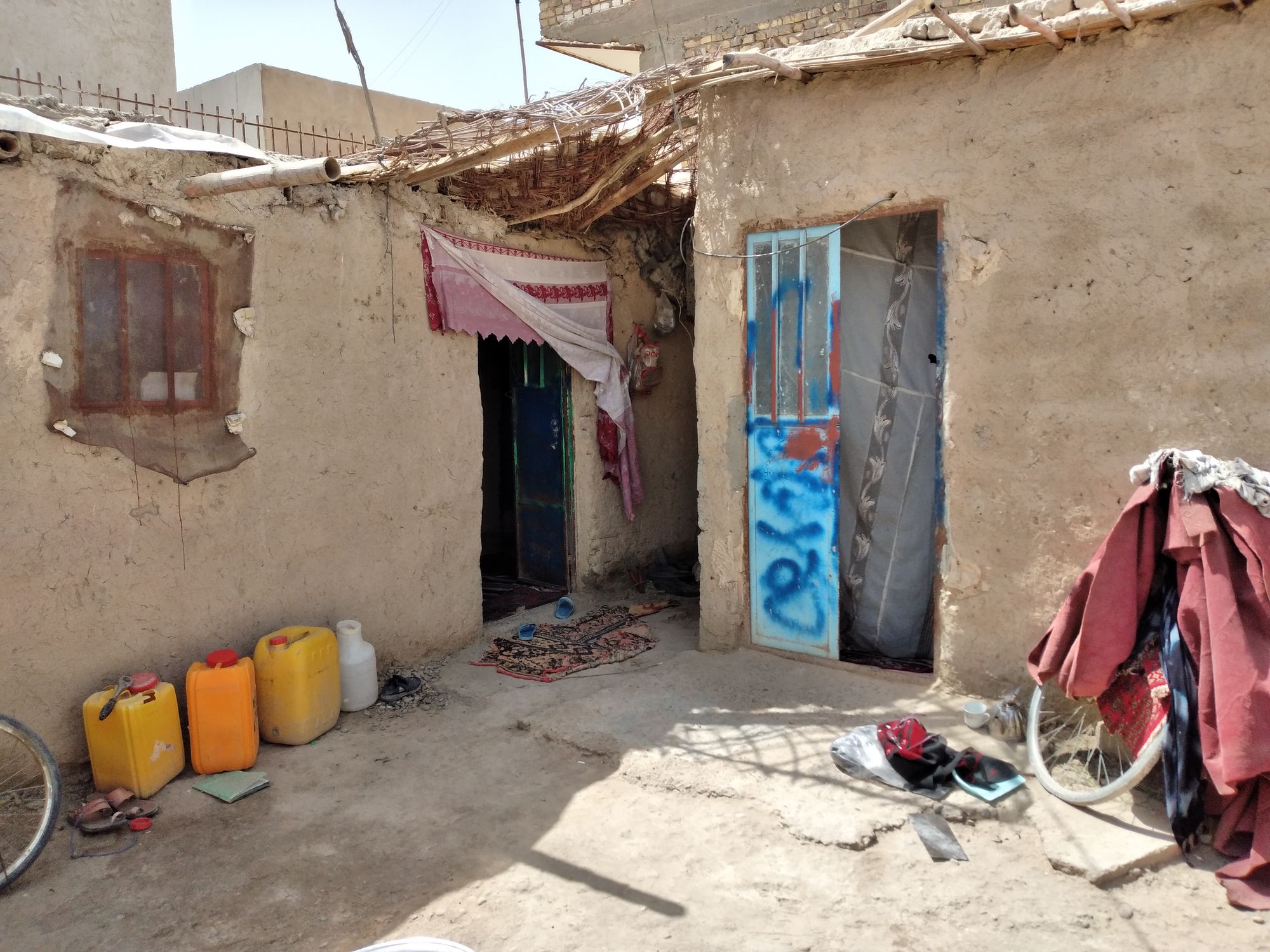 ---