The Taliban Evict Hazara Families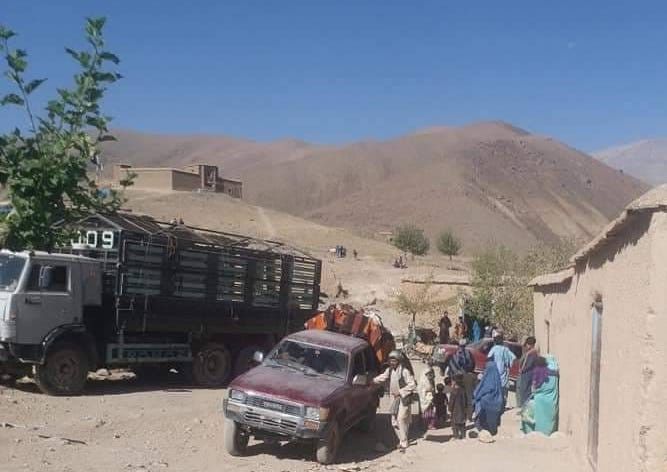 Reporting by Sima Siawash, edited by Mohammad Jawad and Brian Conley
Updated with a comment from Zabihullah Mujahid, Taliban spokesman.
Daikundi — The Taliban have ordered the eviction of hundreds of ethnic Hazara families from at least two districts — Gizab and Pato — in central Daikundi province of Afghanistan within the last couple of weeks.
According to residents, people have been ordered to vacate the villages of Kindir, Shahgolja, Kharakak, Maidan-e Majid, Robat, and Dahan-e Nala among others. Residents in Kindir, the first village the Taliban ordered to vacate, had to pack their belongings on whatever mode of transport they had, including mules as well as cars, and leave their area immediately.
Residents speak of 80 to 100 Taliban fighters descending on their village after dawn. One resident, Qudrat, said they had to leave the only home they had known, with no hope of where they might end up.
Kindir and the Lora Shew valley are part of Gizab district while all other villages are part of Pato district, both in Daikundi province. Gizab was, until recently, attached to Urozgan province.
"I am the head of a family of 11 that have been forcibly displaced from Kindir," Qudrat told Alive in Afghanistan, adding that they live in a small house with three other families.
According to Qudrat, they get whatever food they can from locals of Beri village, where some of the families have taken refuge.
According to Radio Nasim in Daikundi, residents of Nala-e Olya, Nala-e Sofla, Shagolja, Sialash, Majbor Joy, Joy-e Bagh, Balay Sartagablor, Maidan-e Malik, Nawabad, Kindir and Lora Shew valley consisting of around 2,300 families have been threatened with or forcibly displaced from their villages.
Alive in Afghanistan could not independently confirm the account.
Taliban spokesman Zabihullah Mujahid denied anything happened in Daikundi and the reports published are baseless.
Photos on social media showed burnt houses and people living in makeshift tents. All while winter is closing in. The areas people have taken refuge in are located in mountainous regions with heavy snow intake and extremely cold temperatures.
"We have no shelter, living in squalid conditions and are in a very bad situation," one of the IDPs told Alive in Afghanistan.
The IDP said, "We could only take very little with us, only what fit on the back of mules and or that we could carry ourselves."
Hazaras are predominantly Shiite Muslims residing in central and northern Afghanistan while the Taliban are predominantly Sunni Pashtuns. The ethnic group fears a repeat of history and return to late 1990s and early 2000s when the Taliban were in charge and the minority ethnic group were persecuted in droves.
Since the Taliban's takeover of Afghanistan mid-August, fear of ethnic cleansing and forced displacements have been increasing.
According to the residents, Taliban fighters claim that these lands belong to them and the Hazaras have only a limited amount of time — from two hours to ten days — to get out of the area or face repercussions.
"We had 80 to 100 armed Taliban descend on our village in the morning," Rohullah, a resident of Kindir village in Gizab district, told Alive in Afghanistan. Rohullah said the Taliban ordered them to leave within two hours only taking minimal belongings amid harvest season.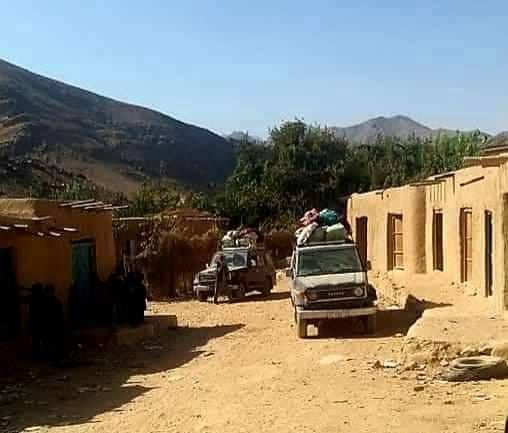 According to Rohullah and other residents, the Taliban have confiscated their farms, pastures, livestock and only allowed the residents to leave with few belongings. Some 200 families were ordered to leave Kindir, according to Rohullah and another resident who spoke to Alive in Afghanistan on the condition of anonymity. The Wall Street Journal also reported on the displacements last week.
These actions may not be confined to the Hazara ethnic minority. Afghans elsewhere have made similar complaints. Residents of Panjshir, a province over 250 miles northeast of Daikundi say the Taliban killed civilians across several villages in the province after taking over parts of Panjshir.
Alive in Afghanistan could not verify the accounts as communication lines to Panjshir, including telephone and internet, have been cut since the first week of September following Taliban attacks on the valley.
Panjshir was the sole province out of the control of the Taliban for weeks after the group took over Afghanistan. One resident who escaped the province told Alive in Afghanistan that people were killed, "for the crime of being Panshiri."
Another resident said the Taliban massacred people across several villages. "Taliban were targeting anyone following the capture of Bazarak in Panjshir as they began house-to-house-search." Last month the BBC reported at least 20 civilians were killed by Taliban fighters in Panjshir.
The identities of those interviewed will remain anonymous for fear of retribution against the individuals and their families.
"We wanted to let people know that this is the Islamic Emirate of Afghanistan, that we are about justice, but a number of our mujahideen did things that shamed us in front of the tribe," a Taliban official tells Panjshiris in a video aired online.
Although the Taliban have said that alleged mistreatment and crimes committed by Taliban fighters will be investigated, no result of those investigations are yet announced to the public.
In Daikundi, the residents complain that the Taliban handover lands they have lived on for decades, to people from the same tribe as the Taliban without any reason given.
"We have lost everything, all that we have worked for, is this justice? Is this what the Islamic Emirate is about?" a resident told Alive in Afghanistan on the condition of anonymity.