The Lives Impacted by Taliban Takeover
Following Taliban's ban on live music in Afghanistan, a huge number of Afghan musicians earning an income by playing at events, lost it and now have to take care of their families using minimal resouces available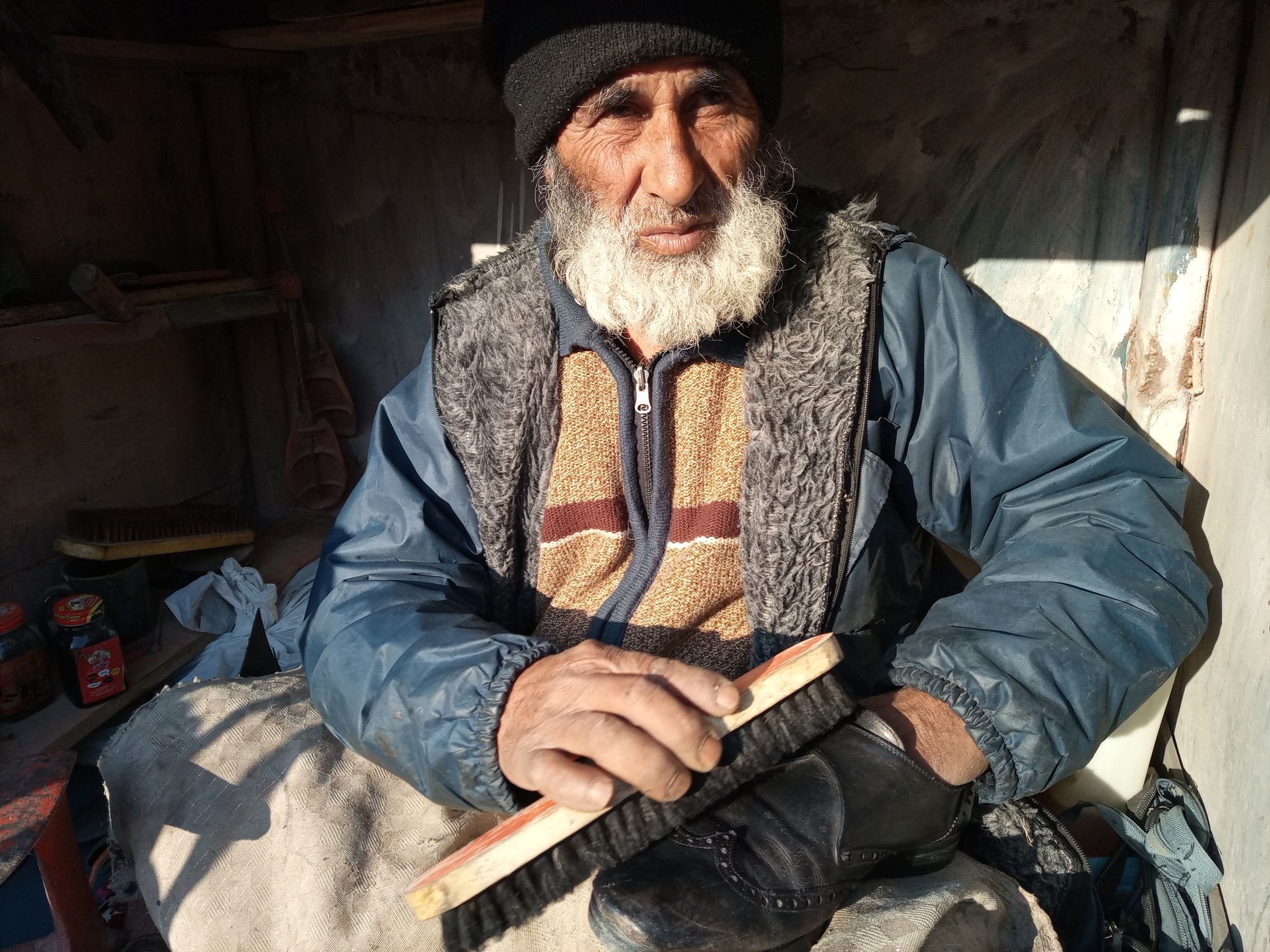 — One Day in Afghanistan —
Written by Abdul Karim Azim, edited by Mohammad J. Alizada and Brian J. Conley
---
---
In the current circumstance in which poverty, unemployment, and economic crises are soaring, it is too hard to find food in Afghanistan. For this segment of One Day in Afghanistan, I will profile 60 year-old shoe cobbler and musician "Mama" Faiz Mohammad Ghaffari.
Mama Faiz plays the Rabab, a national musical instrument of Afghanistan, which everyone in our country is familiar with, and pleased by its melody. This well-known instrument is played alongside other musical instruments and has a unique and captivating sound.
Rubab is a traditional Afghan music instrument, made from mulberry wood. This musical instrument is composed of two parts, the trunk and the head. Its trunk is covered with goat skin. It has three strings made of intestines, and others made of wire. In addition it has two main strings that are made of bronze and alloy, and its sub-strings are made of steel. The total number of strings in a Rubab varies between 14 and 15. The instrument has been known as Rabab for more than a 1,000 years, but is called "Rawada" in Persian in Iran.
Faiz Amad Ghaffari is a resident of Ghalwar Village in Engil district of western Herat province, located some 20 kilometers west of the city. Mama Faiz lives with his wife who is 45 years old, two sons and a daughter.
Faiz Mohammad has been providing food for his family through cobbling shoes for the past 30 years. He earns between 50 to 70 Afghanis daily. According to him, he can make shoes if he has the equipment. Mama Faiz said that he cannot solve his family's problems with the small amount of money he is able to earn from cobbling shoes. Mr. Ghaffari has sold all his property to be able to take care of his family since the Taliban came to power in mid August of last year.
His eldest son, 22 year old Mohammad, has been to neighboring Iran many times but has returned empty handed, according to Faiz.
It's 08:30 am now. Since I arranged our day with Mr. Ghaffari the previous day, I found him having breakfast when I arrived at his home. After finishing breakfast, we headed to his workplace, usually about a 10 minute bike ride from his home.
Mr. Ghaffari talked about his life while we were heading to his workplace. Holding back tears, he said, "There is no work in this country. I spend all day sitting alongside the road, but even finding enough for a piece of bread is now hard."
We are slowly arriving at his workplace, a booth made of cement, with a wooden door set up along a sidewalk that he has to sit in to be able to fit. The shoe cobbler started working after opening up his booth.
It is now 9:00 am, and a young woman brings a pair of black high heel shoes for Mama Faiz to repair. She bargains with the shoe cobbler, insisting to pay 20 Afghanis for the repair job while the shoe cobbler stresses on 30 Afghanis. The shoe cobbler finally agrees to fix the shoe for 20 Afghanis.
The woman then leaves to come back in an hour. 20 Afghanis is not going to help him much, which worries the shoe cobbler a lot. Unemployment and poverty, as well as the banning of live music by the Taliban has been hurting the man every moment since the collapse.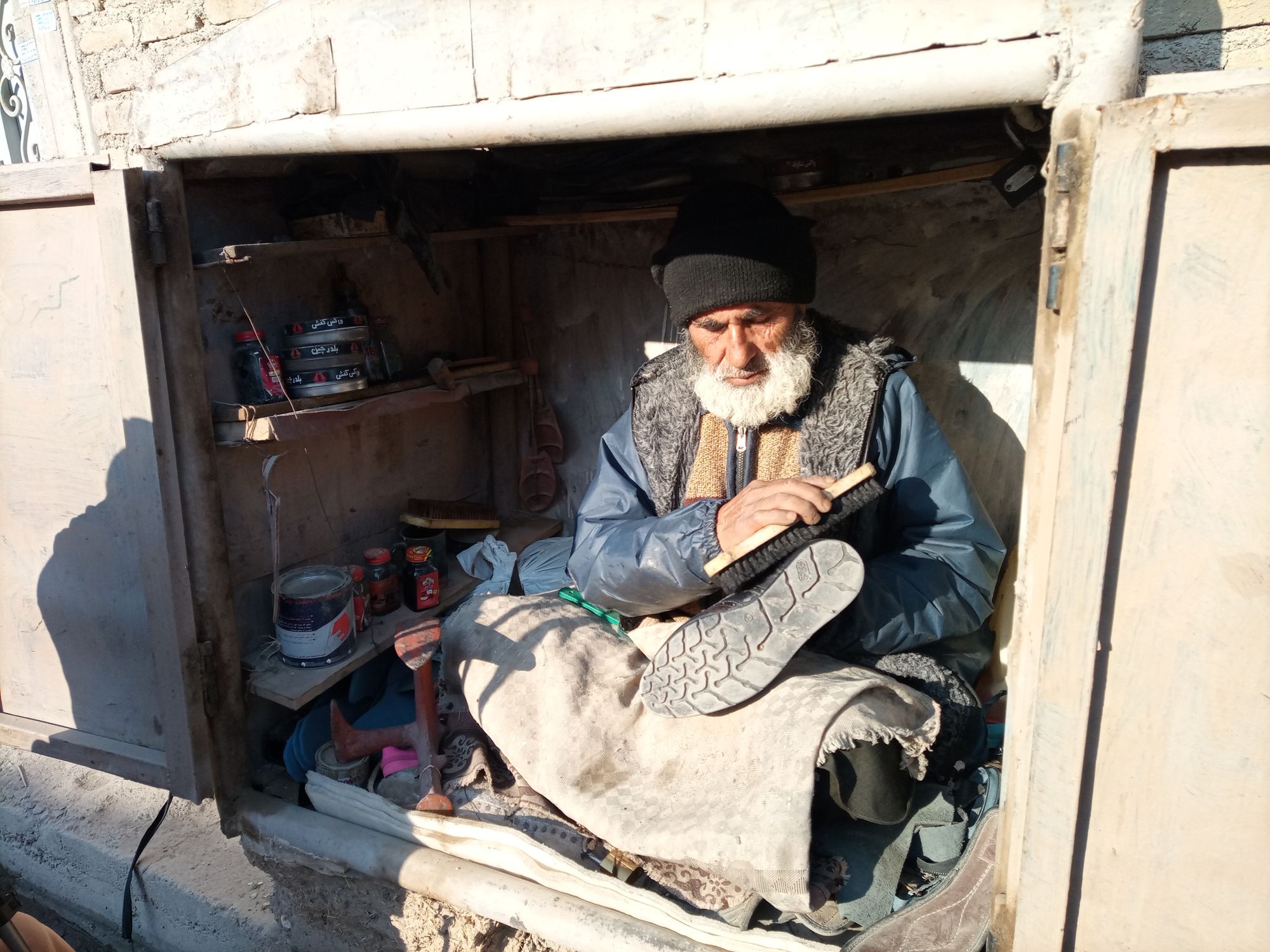 Mama Faiz Mohammad earned between 15,000 to 20,000 Afghanis a month by playing music at events before the Taliban overtook Afghanistan. Mr. Ghaffari lost the income from music and does not earn very much from cobbling shoes either.
---
---
The value of the Afghani against the dollar has dropped significantly. Afghanis were exchanged at 75 Afghanis to $1 just before the collapse. Now the exchange rate has fallen to 88 Afghanis to $1.
Mama Faiz becomes personal for a little bit, smiling while in thought, he says, he loves his wife very much but is not sure about his wife loving him as much as she used to.
"My wife loved me a lot when I was young and my income was good, but the current undesirable situation has waned her love," Mr. Ghaffari ended with a solemn face.
The woman from an hour ago returns to take her shoes around 10:00 am. "Babu! Have you fixed my shoes?", the woman asks as she gets close to Mama Faiz's booth. She then picks up her shoes from Mr. Ghaffari and leaves after paying him.
Mama Faiz however does like being called that name. In Herat, "Babu" is a term used for older men, but the phrase can be insulting depending on the tone of voice.
Then a young boy came and started bargaining with the shoe cobbler to repair his shoes. The shoe cobbler told the boy that he would repair it for 50 Afghanis, but the boy wanted to pay 30 Afghanis. Mr. Ghaffari finally agreed to repair the shoes for 30 Afghanis. The shoe cobbler and the boy continued talking with each other the 20 minutes it took to repair his shoes, after which the boy left the area.
The shoe cobbler and I started talking again. He spoke about the food cooked by his wife, saying that she can cook rice and any other kind of food but his favorite is Shorba, an Afghan variation of soup made with meat.
"But due to poverty, I usually only have bread with a cup of tea," Mama Faiza says.
My wristwatch shows it's now 10:20 am, as Ghulam Hazrat Sarwari, a middle aged man who is a friend of the shoe cobbler, shows up at his booth. Mr. Sarwari also plays the Rubab. He has come here to take us to Mama Faiz's home where they will play music together.
While playing Rubab, it's clear that the shoe cobbler is afraid of the Taliban.
"What if the sound of the music goes outside, not only will the Taliban mistreat us, but they may hang the instruments around our necks and make us walk around in public," Mama Faiz tells Alive in Afghanistan.
Taliban banned music during their previous rule (1996 to 2001), there have also been many incidents with Taliban burning, and breaking music instruments since the takeover.
But the duo keeps playing in spite of the fear. The tone of the melody sounds familiar as Mama Faiz plays, "Bia ke burim ba Mazar – بیا که بریم به مزار", on the Rubab, a famous Afghan folklore song.
I couldn't help but daydream about the past while the man was singing. I remembered the days in which everyone had the right to freedom.
"We do not have the right of freedom, or the right of education for women anymore," I keep thinking.
"Will we ever taste freedom again?" I ask myself as the music stops, but I am too engrossed in past memories to notice. Mama Faiz brings me out of my daydream by asking me where my thoughts are.
It is 11:00 am and the singing is over. We return to talking about his life.
"I have been through the ups and downs of life, escaping death many times. I was a laborer in Iran where I fell down into a well, I also fell down from a building, I have faced many other problems, but thank God, I am still alive", he said.
The clock on the wall is showing that it's now 11:30 am. I start talking with Mama Faiz's friend, Ghulam Hazrat who came here to help Mama Faiz Mohammad play music. Mr. Sarwari lives in Hawz-e Karbas area in District 7 of Herat City. Ghulam Hazrat is the head of a family of five; his wife who is 48 years old, two daughters, and a son.
Mr. Sarwari used to earn a good income from playing music before the collapse of the previous Afghan government. After the Taliban takeover, he lost the income from music and now drives a taxi, only earning 200 Afghanis a day. Although Mr. Sarwari does not have a good income as a taxi driver, he does not have any other option. The artist wants the international community to rescue the people of Afghanistan from this maelstrom (difficult situation).
Like Faiz Mohammad, Mr. Sarwari lived as an immigrant in Iran. Ghulam Hazrat praises the respect Iranians have towards art and artists but laments the lack of respect for musicians in Afghanistan.
Mr. Sarwari's favorite food is rice. "Rice should be part of every dinner, otherwise, I do not eat as much as I would like to," Ghulam Hazrat says.
Lamenting about the bad economic situation, Mr. Sarwari says, "People are in such a situation that they want death at every moment." But he wants people's lives to improve.
Mr. Sarwari says that, "Music is banned by the Taliban and our union – Herat's Union of Musicians – is closed now. There were about 40 Rubab players in Herat Province, 20 of them have left the country since the collapse."
At 12 pm I leave Mama Faiz's residence to go out and eat lunch, and return at 1:30 pm to another session of music. I ask Faiz Mohammad about people's behavior towards him. With unhappiness, he answered, "Unfortunately, our people do not know the value of an artist or a craftsman." I asked him, "How?"
He says, "There is no good culture and custom in our society. Everyone, including young children and the elderly men call me "the cobbler Babu". When they bring their shoes for repair, they are very disrespectful, calling me "Babu" fix my shoes!"
It's now 02:30 pm, the three of us head back towards Faiz Mohammad's workplace. When we get there, a middle aged man is waiting for Faiz Mohammad to fix his shoes. Like other clients, he bargained so that Faiz Mohammad repairs his shoes for 20 Afghanis. The middle aged man stayed and talked with the shoe cobbler. While sitting on a wooden chair made by the shoe cobbler the client talked about unemployment and the current crises in the country. He said two of his sons had gone to Iran due to poverty and unemployment. One of them left five months ago, and the other had left some three months ago, but they are yet to find work there.
It is now 4pm, and Mr. Ghaffari has only been able to earn 80 Afghanis. As we wrap the day up, I am reminded again that although I may move onto another story, Mama Faiz will have to come back to this small booth in the morning. He has lost all his income from music and the only source of income for him is cobbling shoes, which is hardly enough for feeding one person, let alone a family.
---
---