The Lifeline of Families Carried by Children
Water scarcity has been a problem for many years across Afghanistan. In Kandahar children as young as four carry water delivered by tankers to their households on a daily basis.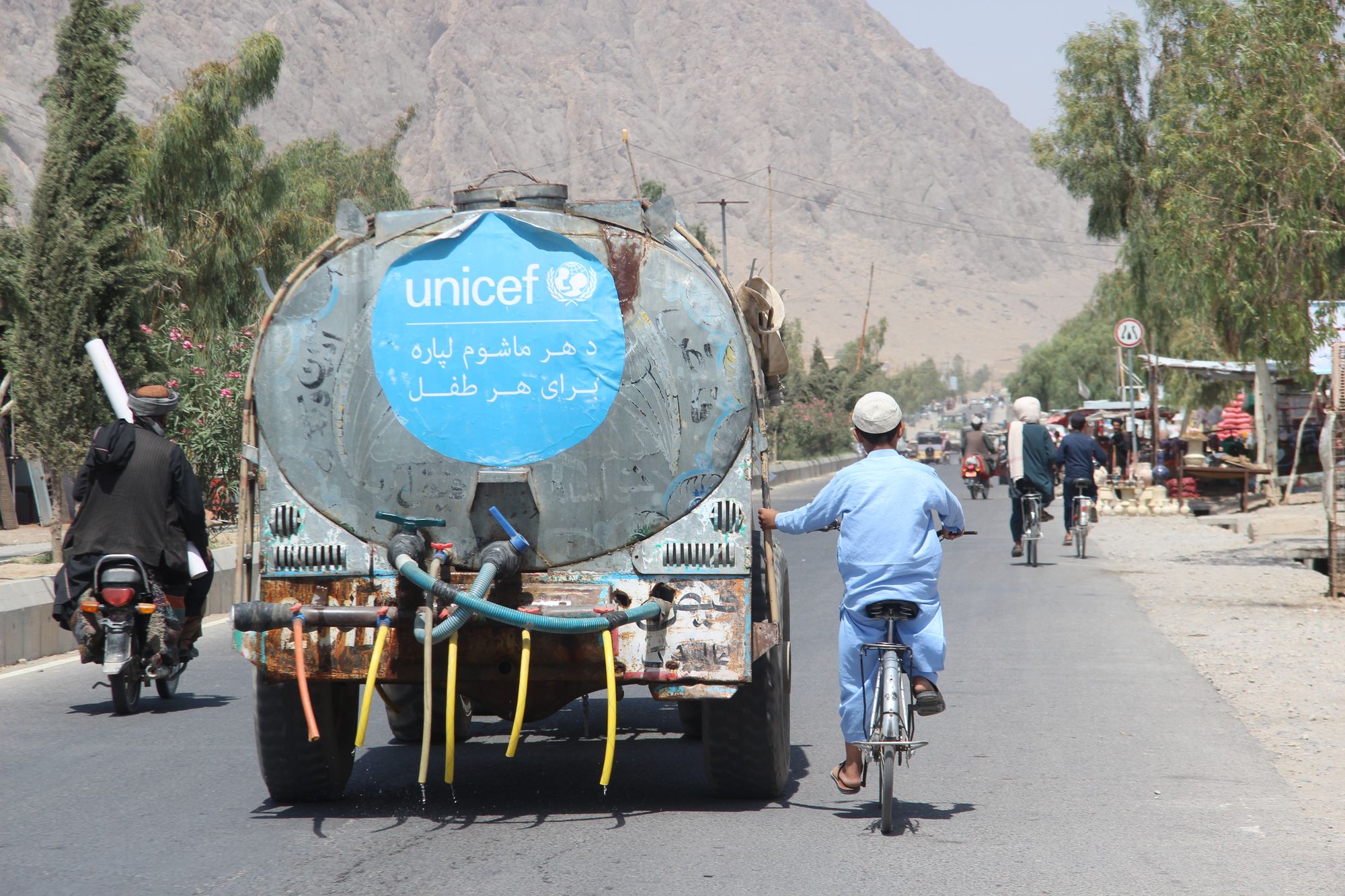 Reporting by Waheed Rahman Afghanmal and Written by Mohammad Jawad Alizada
KANDAHAR, AFGHANISTAN — Small children as young as four hold yellow jerry cans and buckets as they wait to get their daily delivery of drinking water. Children who might otherwise be counting the minutes until school is out spend their day waiting for the water tanker to arrive.
When the tanker arrives, the children are all smiles. One child says to another, "Look, the water tanker has arrived. Bring the rest of the buckets from inside so the tanker does not leave again like the last time. What will we do then?"
"Why are you standing here?"
"For water, there is no water!"
A conversation between Alive in Afghanistan's reporter Waheed Rahman Afghanmal and Bilal Ahmad, a 12 year-old child waiting in earnest to receive their much needed daily water allowance.
Each household in this area of Kandahar city, the capital of southern Afghanistan's Kandahar province, gets between 8 to 10 buckets of water, about 80 to 100 liters per day. Residents in this dry Kandahar neighborhood say the quantity is not nearly enough for meeting their needs, but they have no choice in the matter.
Children too weak to even carry 10 liter vegetable oil cans repurposed to be used as water containers haul the jerry cans and buckets to and from home every day. The children in this area play an important role to determine the quantity of water their families receive. They have to be fast and fight off other neighbors to get their daily allowance. Nobody waits for a turn here.
"We wait for an hour to an hour and a half every day," Bilal Ahmad told Alive in Afghanistan, adding that his family of 10 uses the water for drinking, washing clothes and bathing.
According to Bilal the water levels are very low in their area. So the children wait, terrified that if they leave, their families won't even have enough water to drink.
"Climate change is driving increasingly frequent, intense natural disasters that are hitting communities already devastated by conflict," The United Nations Refugee Agency (UNHCR) said in a  report in August.
The report said that, "The drought continued in 2022 and was accompanied by a heatwave so intense it led to multiple wildfires in the country's east. Then came unseasonably heavy summer downpours and flash flooding in many parts of Afghanistan that submerged villages and damaged houses, roads and farmlands."
This is no more evident than in this corner of Kandahar city where Bilal and other children in his neighborhood say they are not allowed to go to school because they need to get water.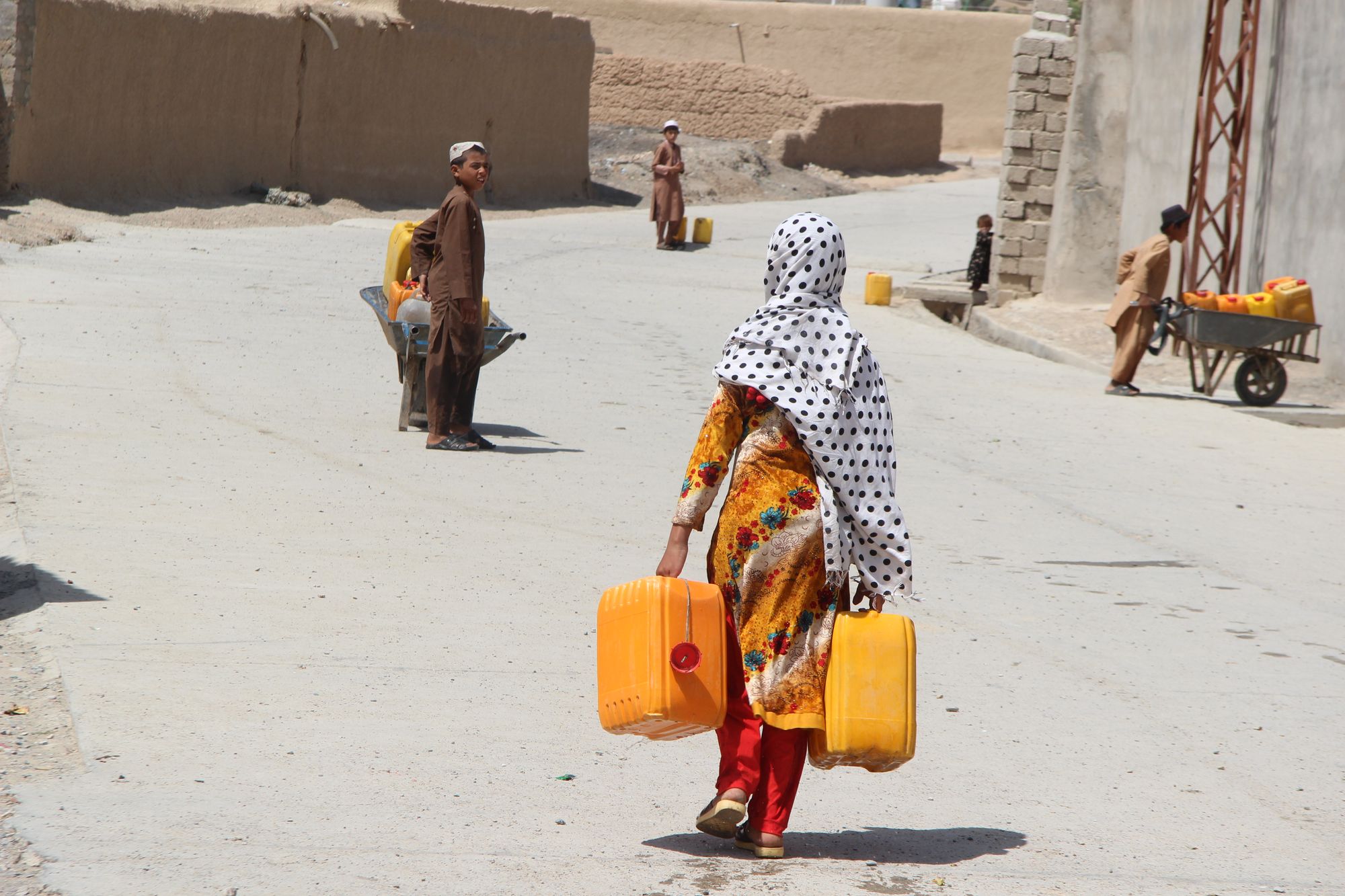 According to Bilal, the nearest school is at least an hour away on foot, the older males in the household work if they can find it and the women carry on household chores, leaving the children responsible for collecting water.
The children have learned different tricks to stay with the tanker. Some wait at the intersection on the main road with their bikes, then hook themselves to the back of the tanker by holding onto an iron bar in hopes of being the first to fill their cans.
The children waiting for the tanker range between 4 to 17 years old.
Instead of studying, 14-year-old Sediqa has spent years fetching water for her family. But she is not alone, her brothers also help her fetch water. According to Sediqa, one of them fills and takes care of the buckets and cans while two of them carry the water home. "We have to leave someone here because the cans might be stolen otherwise."
"Before, when my father was alive, he used to buy water but that is impossible now," Sediqa told Alive in Afghanistan, while moving swiftly to carry the filled buckets and cans home before returning as fast as she can.
Currently the price for a 15,000 liter water tanker in Kandahar is 1,200 Afghanis ($16), however many families cannot  afford even that amount in the current economy.
Afghanistan is in the grips of a worsening economic crisis fueled by sanctions and cuts to international aid following the Taliban takeover of Afghanistan in August of 2021.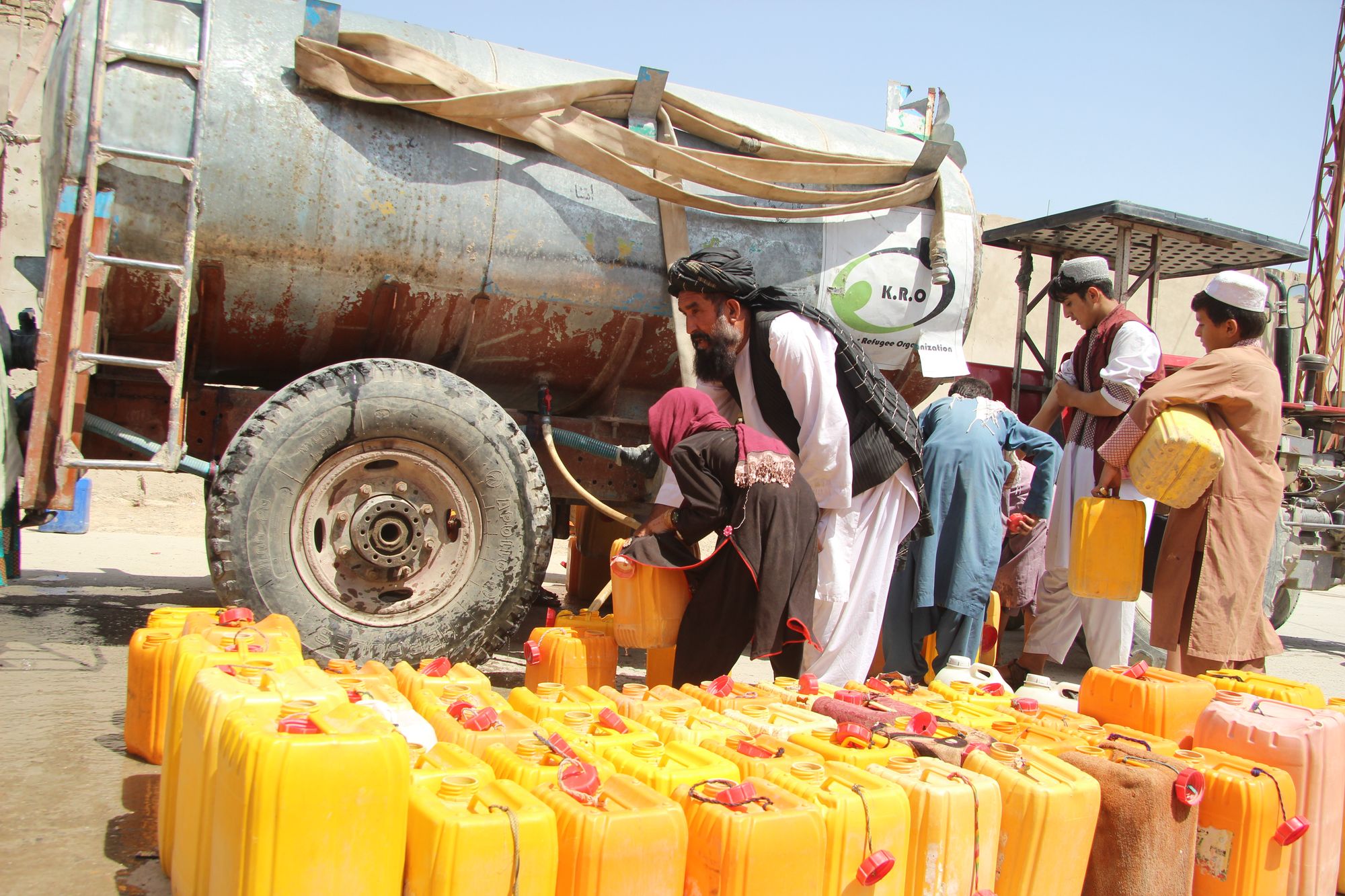 35 year-old Sayed Wali is waiting for the tanker to arrive alongside two of his daughters. According to him the tankers with the blue UNICEF stickers bring them water from the nearby Arghandab river.
"When they come here, they are in such a rush that people can hardly get their turn," Sayed Wali told Alive in Afghanistan.  Wali added that he has to warn his family to use as little water as they can because "The tanker won't be back until noon the next day."
"The drivers tell us to not use a lot of water because the river might dry as well, so they don't give us all of the water we need," Sayed Wali said. According to Sayed Wali, the 10 cans he takes home every day with the help of his children is not nearly enough for his family of nine, "We only have enough to survive."
Wali said maybe 30 cans of water, or 300 liters per day is a sufficient amount of water for his household, "Water scarcity has become a huge issue for us."

When approached by Alive in Afghanistan the tanker drivers refused to speak.
In wealthy countries like the United States, an average household might use more than 1000 liters per day.
"I have kept my children from going to school because I have to work and they are the only ones that can bring water home. We won't have water if they go to school," Wali said.  
According to Wali, the nearest public school is about an hour and a half away. "There is a private school about five minutes from here, but we cannot afford that!"
For more information, read Alive in Afghanistan's articles on Drought and Economy.