The Female Seamstress and Her Taliban Customers
Masooma Haidari didn't give up hope and reopened her tailoring shop 20 days after the Taliban took over Afghanistan. What she didn't expect is to be sewing clothes for members of the Taliban who have become her primary source of revenue.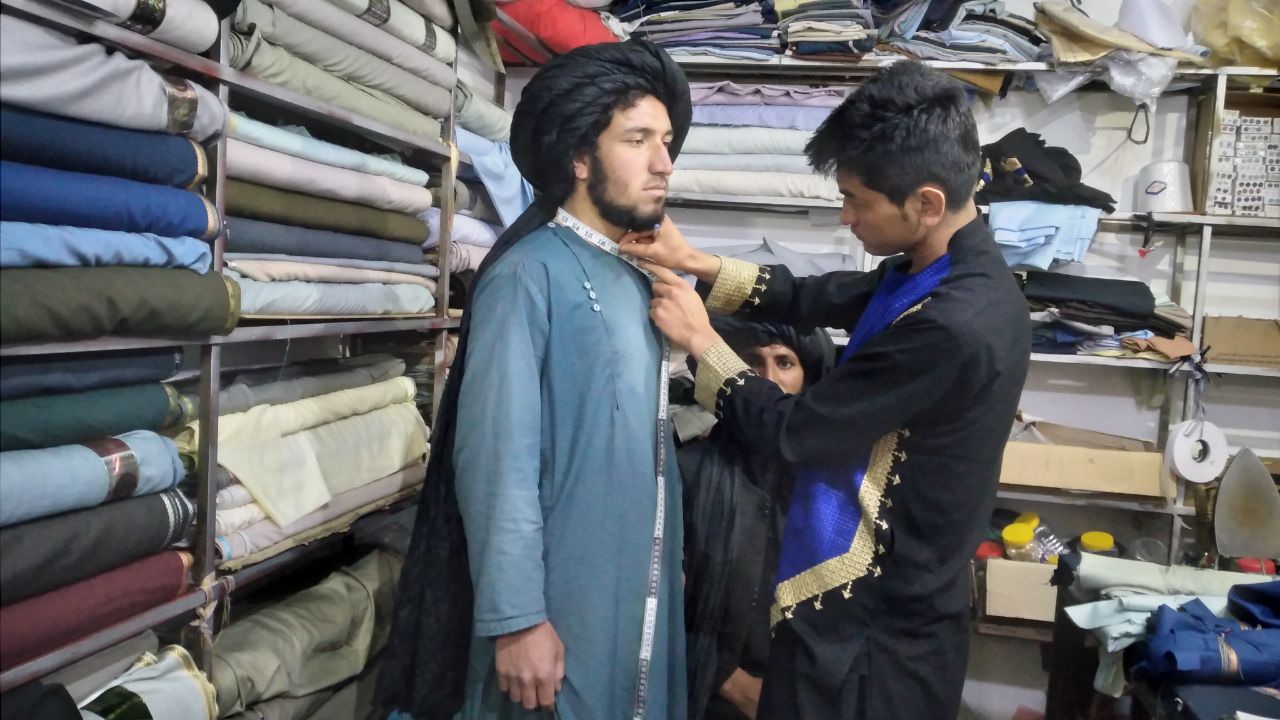 – One Day in Afghanistan –
Written by Sima Siawash, edited by Mohammad J. Alizada and Brian J. Conley
---
---
Life took a dark and sad turn for the Afghan public, especially Afghan women since the Taliban takeover of the country in mid-August of 2021. Suddenly, women found themselves surrounded with disappointment and an emptiness fueled by the fear that Taliban will restrict them from any activity, as the group has been notoriously known to do so. Women increasingly feel as though their achievements in the last two decades amounted to nothing.
However, there are a multitude of exemplary and fearless women, who have not lost hope and are standing with all their strength to fight on. Ms. Haidari is one of these brave women, who is working in a corner of Nili, the capital of central Daikundi Province.
For this segment of One Day in Afghanistan, I want to profile the life and work of 27 year-old Masooma Haidari, known as Banu Sharqi (The Eastern Lady/The Lady of the East), for our audience. Ms. Haidari owns and runs Banu Sharqi, a well-known tailoring shop in Nili.
I had arranged our meetup the previous day and arrived at her store around 9 am. Ms. Haidari welcomed me with a smile on her face while offering a seat and tea, showcasing the well-regarded Afghan hospitality.
Ms. Haidari, a single woman, is a member of a family of eleven, who moved from their home district of Shahrestan to Nili six years ago. The family includes her paternal grandparents, Khodabaksh and Rahila – both above 65 years of age, her 47 year-old dad Mohammad Ali, a teacher at Chaparack Boys High School, and her 43 year-old mother Qamar. Masooma has six siblings, including three brothers and three sisters, all younger than her.
Her grandparents live between Shahrestan and Nili and her siblings were seeking education prior to the Taliban takeover, but the situation has taken a 180 degree turn with none of their lives going according to plan.
Ms. Haidari's pleasant attitude towards her clients demonstrates her happiness and satisfaction with her job while customers keep crowding her store, ordering clothes to be sewn or picking up an order placed previously. Her small shop is easily crowded and her clients seem to be primarily members of the Taliban.
One member of the Taliban seemed irritated about the shop's previous work, and said to Ms. Haidari's 18 year-old brother, Nematullah, "You didn't sew my friend's clothes the right way." Busy sewing a blue shalwar kameez, Masooma asks what his friend's name is, but the conversation is difficult because the members of Taliban do not speak Dari and Masooma cannot speak Pashto. Nemat has so far only learned enough Pashto to carry out negotiations on prices with the Taliban.
Her clients used to consist of both women and men, but primarily women, however orders from men have significantly increased since last August. Currently men make up 80 percent of Masooma's customers.
"I can't take your orders, we plan to go to Shahrestan for a little while before Eid and your orders will not be completed," Masooma tells her non-Taliban customers. Laughing, Nemat, tells me that they have too many orders, which is impossible to process in time.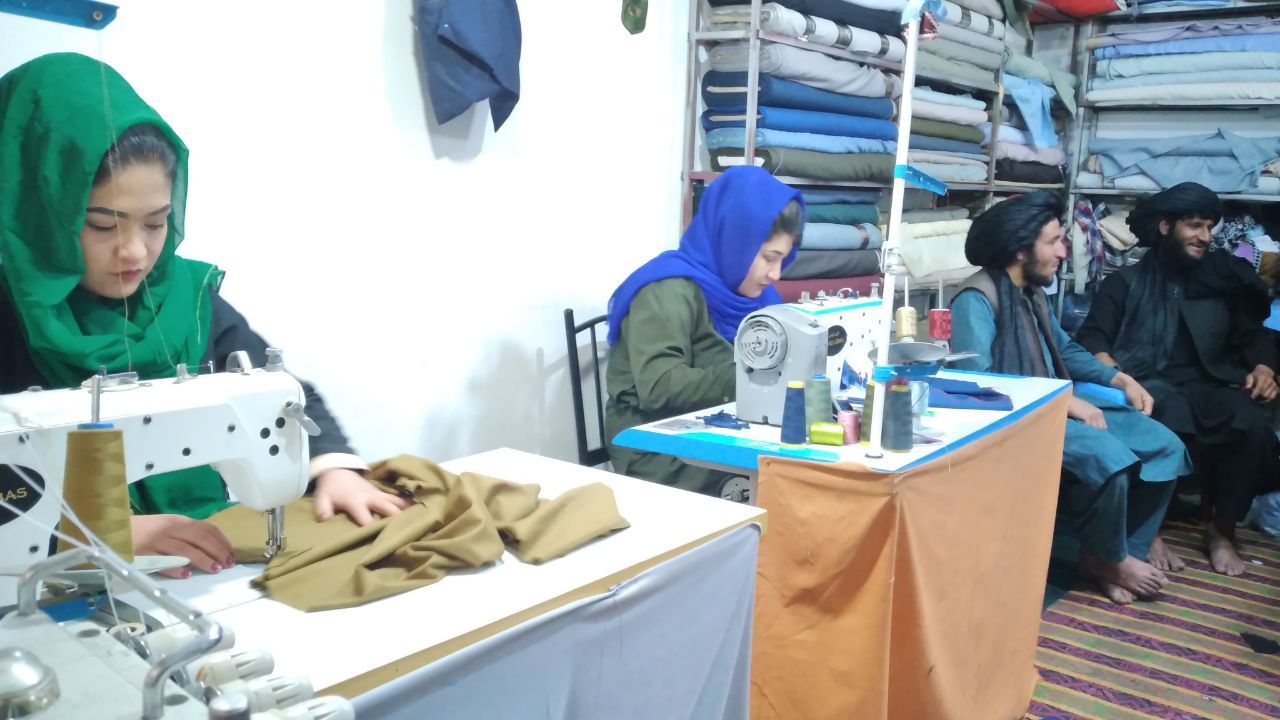 The contrast seen in this store is very interesting. Ms. Haidari is a young woman running the store with her siblings for Taliban clientele as customers. As a group, the Taliban have been known to avoid talking to women, to bar women from public spaces, and add further restrictions on their lives, but none of that is evident here. Her reputation has preceded her within the group who come here to have her stitch their brand new clothes.
---
---
During the last era of Taliban rule (1996 to 2001), the group did not let women work, seek education or venture outside their home without a male guardian.
The exchanges between Ms. Haidari and members of the Taliban seem pleasant while Nemat takes measurements. They try to speak Pashto with the Taliban members but I feel very uncomfortable and exit the shop to walk around the market for a while.
"Where did you go Ms. Siawash? Were you scared of our brothers [members of the Taliban]?," Namat asks sarcastically when I return. Laughing, I responded, "No! I just wanted you guys to be comfortable."
Nemat is a very funny young man who tries cracking jokes and taking pot shots at me every chance he gets. He keeps photobombing my shots while wearing a military coat a Taliban friend gifted him. Nemat helps his sister with ironing and measurements until the fate of universities and schools are clear in Daikundi. Masooma's 20 year-old sister Nooria is also helping her keep the store running by tailoring. Ms. Haidari used to hire two or three employees before the collapse but has now transitioned to having her siblings work for her, save for one woman who cuts the fabric based on measurements provided.
Although she does not pay her siblings, she does take care of their daily needs and is saving up for their educational fees.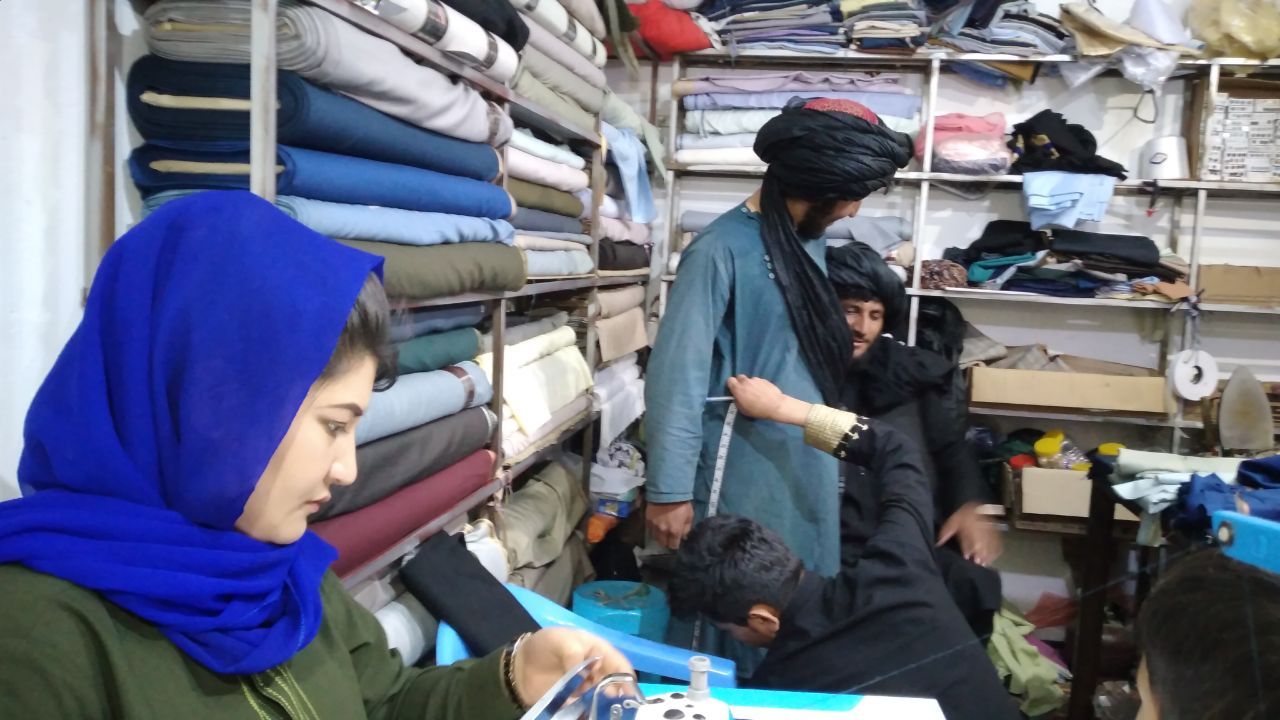 While pouring tea for me, Ms. Haidari states that she has a Bachelor's Degree in Natural Science and is a licensed pharmacist.
"As the oldest child in my family, it was really important for me to have a job and income to be able to take care of all of us, and help pay for my siblings' education," Ms. Haidari tells Alive in Afghanistan. Masooma used to work at a tailoring store during the years she studied, but was unable to find a job in her field of study following her graduation so she seriously looked into the tailoring business and opened her own store. Her success at her job is evident now.
The clock shows it's 11 am but Ms. Haidari hasn't had a single free moment. Masooma refuses to say how much she earns per day, only saying it is enough to take care of her huge family.
Nematullah takes measurements for two men, writes them down in their notebook, and posts pieces of cloth as samples on their bills. Then two women enter the store to buy fabric. Ms. Haidari hands them their fabric of choice, cuts it for them and gets 450 Afghanis in return while Nemat and Nooria are joking around and laughing. Currently, a dollar is exchanged for 87.50 Afghanis.
Afghanistan's economic collapse seems to have disappeared at Ms. Haidari's store as there is no shortage of customers. Masooma has to say no to some of the non-Taliban customers.
Masooma's two other sisters, 24 year-old Sakina and 22 year-old Momina are at home. The duo used to study at one of Nili's universities before the collapse, but are now awaiting the reopening of their university.
"They either busy themselves with something here or travel to Shahrestan to spend time there," Masooma says. I notice that it's lunch and prayer time after Masooma asks her sister to pick up some tangerine to serve with lunch, upon which I leave to eat something despite her insistence to stay and share their meal.
Following the Taliban's rise to power, suitable places for dining have disappeared, leaving only a few options for eating out. I return to Banu Sharqi's store to see another Taliban member waiting for his clothes to be ironed out before he takes it away. Once the ironing is done, Nemat neatly folds the freshly sewn Afghan shalwar kameez, puts it into a plastic bag and hands it over to the customer who then pays a 500 Afghani fee before leaving the store.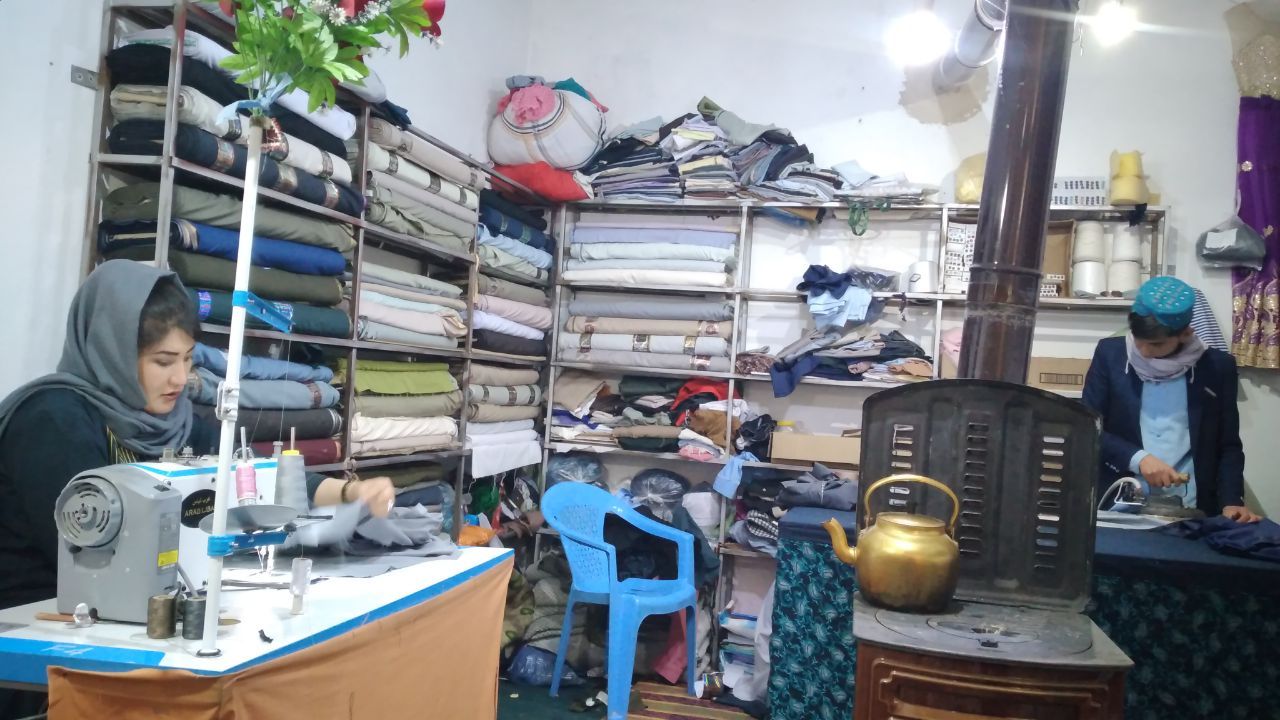 "My mother cooked some delicious cauliflower today, I wish you would have stayed and had lunch with us," Nooria tells me and I thank her for her kindness as Reza, their 14 year-old brother, puts the dishes in a plastic bag and starts heading back home. Reza has the responsibility to bring home-cooked lunch to his siblings every day.
Masooma had also opened a restaurant about three months prior to the Taliban taking over, but had to shut it down due to loss of customers following Afghanistan's collapse. She hopes to reopen her restaurant if Afghanistan's situation improves.
"I had a good number of customers, most of them were previous government personnel, and NGO staff," Ms. Haidari says, adding that she had to shut down her tailoring shop and restaurant following the takeover. She reopened the tailoring store 20 days after the collapse, with her siblings serving as her helpers.
Ms. Haidari encourages women to work and make an effort. "I succeeded because I believed in myself, trust my ability, and didn't give up when it got hard," Masooma said. The uncertain future of Afghanistan concerns Masooma and adds to her hopelessness more than the future of her business.
"The success of my business is tied to the improvement of the situation in Afghanistan. One flower doesn't make it spring," she says. Masooma expects the international community to defend the rights of women in Afghanistan under any circumstances.
It is her belief that the international community should fully expect and must be ready for preventing Taliban measures to harm women and their freedom further.  Ms. Haidari emphasized that, "It is unjust to leave Afghan women alone in these circumstances and any economic, social, political, and cultural move by women must be supported."
---
---