The 102 Year Old Afghan Leathersmith
One of the oldest man in western Afghanistan's Herat province keeps one of the most ancient professions alive.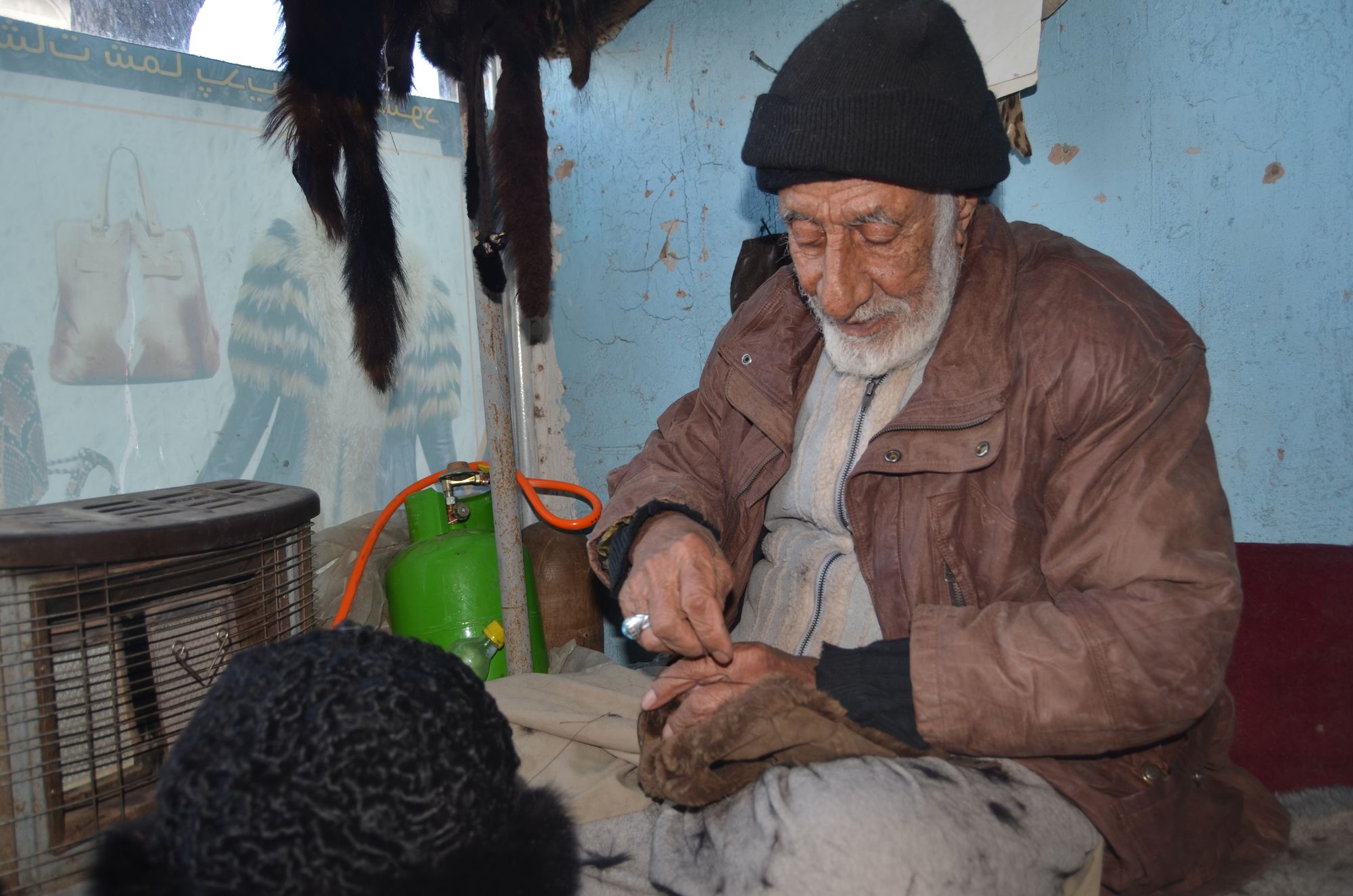 — One Day in Afghanistan —
Written by Abdul Karim Azim
Leathersmithing is a traditional sewing technique widely practiced in northern and western provinces of Afghanistan such as Herat and Faryab. Leathersmiths use leather obtained from sheep and cows to create various types of clothing, including vests, jackets, and overcoats. Before the leather can be made into clothing it must be tanned. The process of tanning involves several steps: skinning the animal, salting it, washing it, rolling it, soaking it in a solution of salt and barley, drying it, sunbaking it, moisturizing it, shaving it, cleaning it, spraying it with oil, and softening it. Once this process is complete the leathersmith is ready to cut and sew it into different products.
The purchase and use of items made from hides has been on the decline due to the high cost of the material. As a result, only a few skilled individuals, such as 102-year-old Ghulman Haidar Akrami, have remained in the profession.
In this episode of One Day in Afghanistan, Abdul Karim Azim documents one day in the life of leathersmith Ghulam Haidar.
It is 8 a.m. on a Friday, and I have arranged a meeting with Mama (uncle) Ghulam Haidar in advance. I take public transportation to reach his shop and spend around half an hour on the way. I arrive at Behzad avenue, get out of the car, and walk for 15 minutes to reach Mama's shop, arriving around 8:45 a.m. When I arrive, I wait for Ghulam Haider's permission before entering the shop. After no more than a moment, he appears and greets me with a warm welcome.
After offering me a seat, Mama Haidar looks at me shivering slightly, and says, "Have tea young man, it will warm you up!" The tea, which has already been prepared, is called "Karaki" by Heratians. After drinking my tea, I pull my camera out to photograph Mama Haidar. Although very old, Mama Haidar is extremely patient and polite.
"I am Ghulam Haidar Akrami, also known as Haji Mama, and I was born in the year 1300 (1921) in Dastgerd village of Injil district, located 25 kilometers away in the southwest of Herat City. My father Haji Ghulam Reza was also a tanner," Mama Haidar says while introducing himself.
Around 60 years ago Mama Haidar left his village and moved to Herat City, the capital of Herat province. He purchased a piece of land and he still lives there today. His house was originally constructed out of mud but over the years he upgraded the building to one made of cement with several storefronts attached to the front, one of which Mama Haidar uses for his business, with the help of his sons.
"I married my first wife Fatima, whom I loved greatly, 86 years ago when I was 15. At the time, my mother said that I am still a kid, not ready for marriage, but my brother insisted to find me someone so I would get my life together and not gaze at people's wives or daughters," Mama Haidar tells Alive in Afghanistan, adding, "I married my second wife at 45 with permission from my first wife. Although I was content with her, she told me that she could no longer satisfy my needs and I am allowed to take a second wife; so I did."
Mama Haidar has three boys and four girls. His descendants now number 120 people, although his first wife passed away a while ago, his second wife, two years ago and his oldest child died 30 years ago.
"I am thankful for Allah's blessing and waiting for His will; will he grant me another wife or not," Mama Haidar says. According to Mr. Hairdar, his great-grandchildren now have five and six year-old children, "It is Allah's blessing that I am still vigilant, walk, work, eat, and talk at this age. What else would I ask from Allah?"
A third wife, in his own words.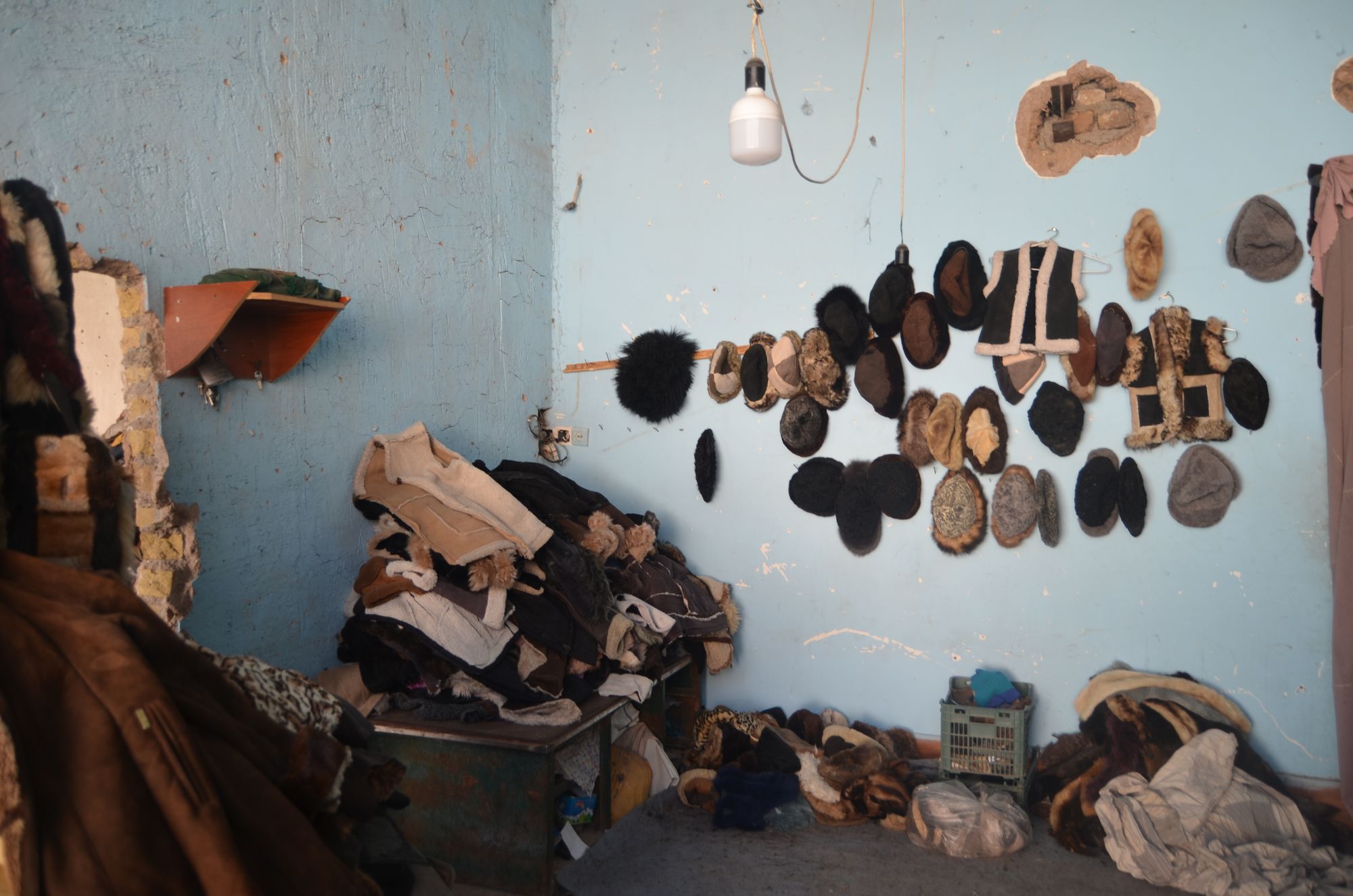 Mama Haidar's family, according to him, have always been leathersmiths. "Even my wives were leathersmiths. I am happy with the job Allah has assigned to me and I won't quit it until the day I die." Mama Haidar adds that he will carry on being a leathersmith despite the business no longer earning much profit.
Haji Haidar recited an Afghan poem about his love for his homeland,
این خانه من اگر چه زشت است!
زادگاه من است، به من بهشت است!
Although this house of mine is ugly!
It is my homeland, heaven for me!
It's 10 o'clock in the morning, and Haji Mama is sharing with me the number of students he has trained in the leather crafting business. According to him, he has mentored approximately 5,000 individuals, both men and women, throughout his career, and many have become skilled masters of the craft, now running their own successful businesses. Haji Mama's students can be found across various countries, from Afghanistan and Iran to Turkey and Germany.
"The job was entrusted to me] and I have to give it to others. Our prophet was a trustee, honest, so I must be honest too and follow his path," Mama Haidar says, adding that he has never betrayed the trust of a student in the 91 years of his career.
It's now 10:30 in the morning. "It has been 91 years that I have had this job; the needle and thread are my closest friends. Although I have encountered many challenges, endured the ups and downs, I have never quit this job and got by with whatever I made."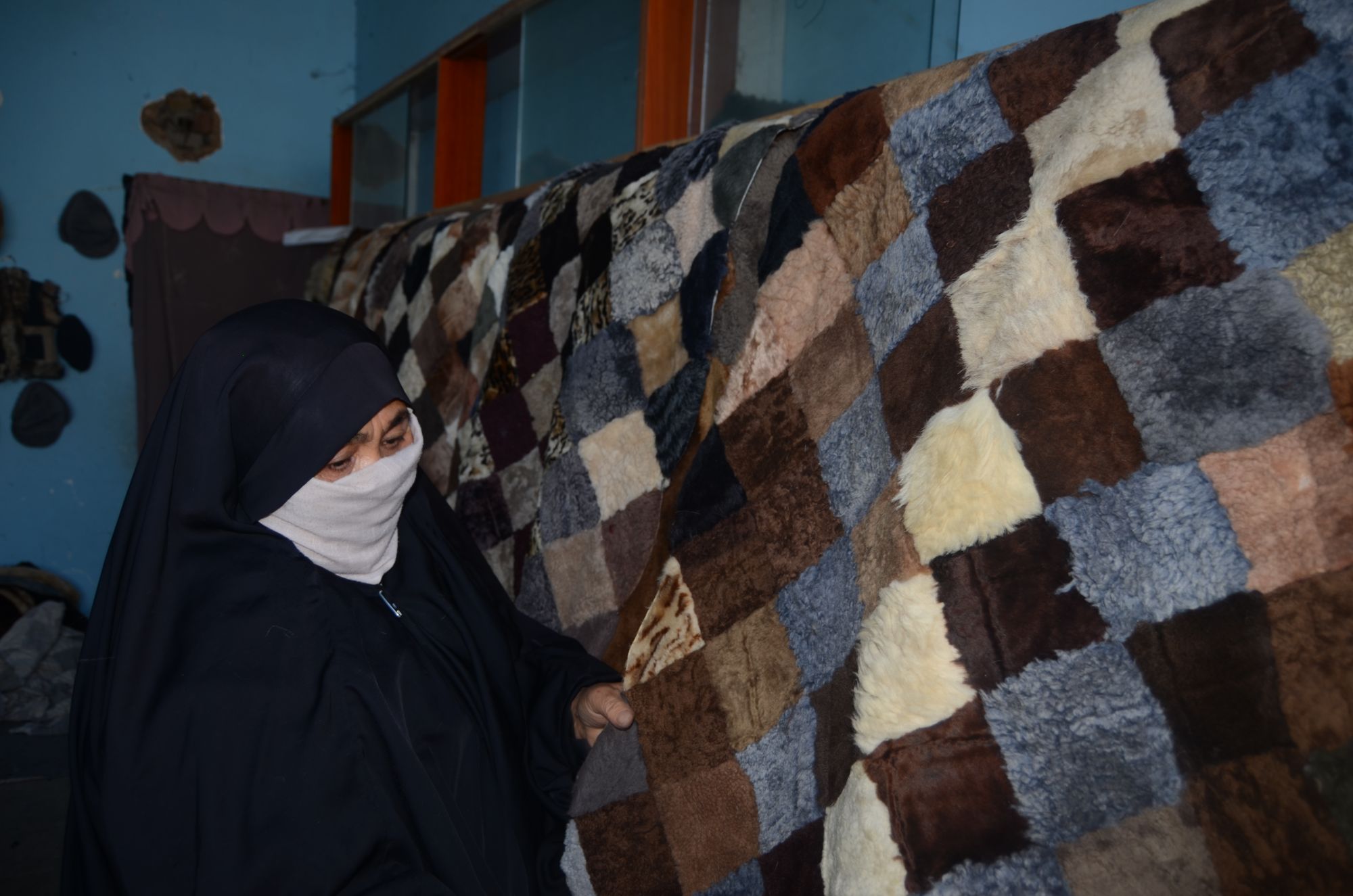 According to Haji Mama, he taught his students to make jackets, vests, hats, indoor footwear, tablecloths, chair parts, bags and other household items designed by him.
"I can make anything that is made of leather, and am the only person in Herat with all these skills; keeping this craft alive," Haji Mama claims. He goes on to say that the job requires tremendous effort that involves several processes to get the leather ready for use.
It is now 11:30 am and Mama Haidar has been sewing a hat vigorously while describing the challenges to his business
"We don't have the rolling machines in Afghanistan and so organic hides produced by us [Afghans] are exported to Iran and Pakistan and in return, low-quality materials are imported. We have no option but to buy back the Afghan hide for a steep price, causing our business to stagnate and lose customers due to the high price of our products."
Haji Mama claims that low quality products imported from neighboring Pakistan and Iran sell for a fraction of the price he would need to even make the products. A leather hat made in Pakistan is sold for 60 Afghanis ($0.67) in the market while Haji Mama spends 200 Afghanis ($2.24) just to make a genuine leather hat.
"I have to sell it for 300 Afghanis ($3.37) because I have a family and have to make a living," Haji Mama says, adding that a leather jacket sells between 800 to 2,000 Afghanis ($8.98 to $22.47), making a profit of between 200 ($2.24 to ($3.37). In addition to lamenting other businessmen for importing low quality products, whom he believes have caused the downfall of the business, he asks the Taliban's government to prevent such violations from taking place in the market and support businessmen producing and selling genuine Afghan products.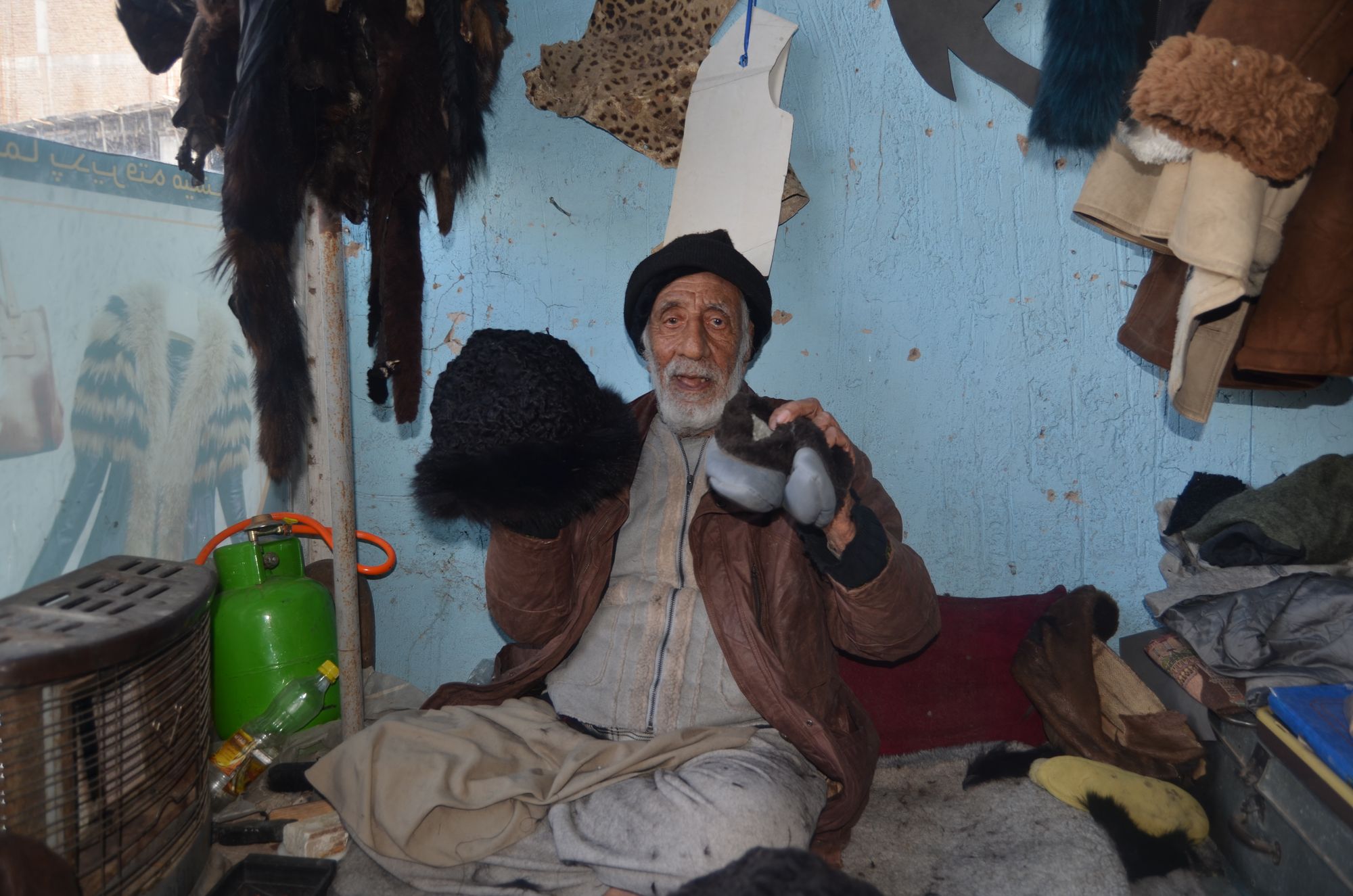 Advising the youth, Haji Mama says, "A man is defined by work. The youth should work hard, learn a skill and be content with whatever they make."
At 12:30 Haji Mama invites me to eat lunch with him but despite his insistence, I leave to eat elsewhere before praying and returning to his shop at 1:30 in the afternoon. Despite his old age Haji Mama still goes to the mosque to pray and has already prepared black tea for us before I return. He is sitting behind his anvil, with his scissors by his side while he works on a hat.
He fills my cup with tea, adds  a single cube of sugar, and hands it to me, "Drink before it gets cold."

I drink my tea and record a few videos of his shop. While recording, I notice the blisters on his hands and even though he is over 100 years old, he is still able to thread a needle easily without the assistance of prescription glasses.
Mama tells me he started his business with an investment of 50,000 Qerans, equal to 5,000 Afghanis today ($56.17); which his brother lent to him 90 years ago. A customer wanting to buy a hat walks into the shop while Haji Mama talks about the start of his business.
"The price is 300 Afghanis or $3.37, but here's a little incentive for you," Haji Mama chuckles, showcasing his sharp wit and agility despite his age. "If you can pry open my fist, not only can you have this item, but you can also take anything else in the shop for free."
As I watch, the young man exerts tremendous effort trying to pry open Haji Mama's fist, causing beads of sweat to form on his forehead. Despite his best efforts, he fails and utters, "It won't budge." Sensing the young man's embarrassment, Haji Mama glances at me and chuckles, "You know, once an athlete came to my shop and ordered a vest. Even he couldn't open my fist."
The time is now 2:30 in the afternoon and one of Haji Mama's students, Mrs. Askari, who is a resident of Jebrael–a town near Herat City, enters the workshop. Mrs. Askari has been working with Mama Haidar for two years, making 5,000 Afghanis ($56.17) a month currently, which she uses to cover the expenses for her family of five.
According to Ms. Askari, her husband has a substance use disorder, leaving her to take care of their family alone. Happy with Haji Mama's demeanor and his treatment of her, she says, "He has never mistreated me, I have learned this craft from this kind man and now know how to cut, and sew."
"I used my paycheck from this job to go on pilgrimage to Karbala," Mrs. Askari shares, talking about a city in Iraq that is sacred to Shi'a Muslims. She adds that the business isn't as lucrative as it used to be, and the money she currently earns barely covers her living expenses, leaving nothing left over for savings. Despite that, Mrs. Askari will remain at the job as long as Haji Mama will let her.
"Other women from Jebrail and other parts of Herat whose husbands have a substance use disorder take orders from Haji Mama and work from home," Mrs. Askari says, adding that once the orders are done, the women come to Haji Mama's store to collect their paycheck. Each of them, according to Mrs. Askari, make about 100 to 150 Afghanis a day ($1.12 to $1.68).
At 3:30 in the afternoon I return to speaking with Haji Mama, who laments traders bitterly saying, "They don't think about merchants, all they know is  how to import low quality goods and pocket people's money."
"If they cared, they would have exported domestic products and thus, provide jobs for hundreds. I personally could hire 50 individuals," Haji Mama claims, adding that he had to let his staff go due to Afghanistan's recent economic crisis following the Taliban takeover of the country in August of 2021.
Haji Mama adds that trade exhibitions in the past, helped the shop sell around 50,000 to 70,000 Afghanis ($561 to $786) in each exhibition. Money which he used for paying his staff and covering the costs of the shop and material, but exhibitions are now a thing of the past.
Before I leave him, Haji Mama asks foreign organizations and aid agencies to facilitate marketing and loans for businesses, especially leathersmiths so they could continue their business.
---
Alive-in is a not-for-profit media agency that mentors journalists from underrepresented communities to increase local and national understanding.
If you are able to support our work financially, please click the button below.
---