Ten Years' Hard Labor, Feels Like One Hundred
Zumarai Ahmadi has spent years working as a construction material salesman in Afghanistan's Badakhshan province, selling everything he finds there; sand, gravel and rock.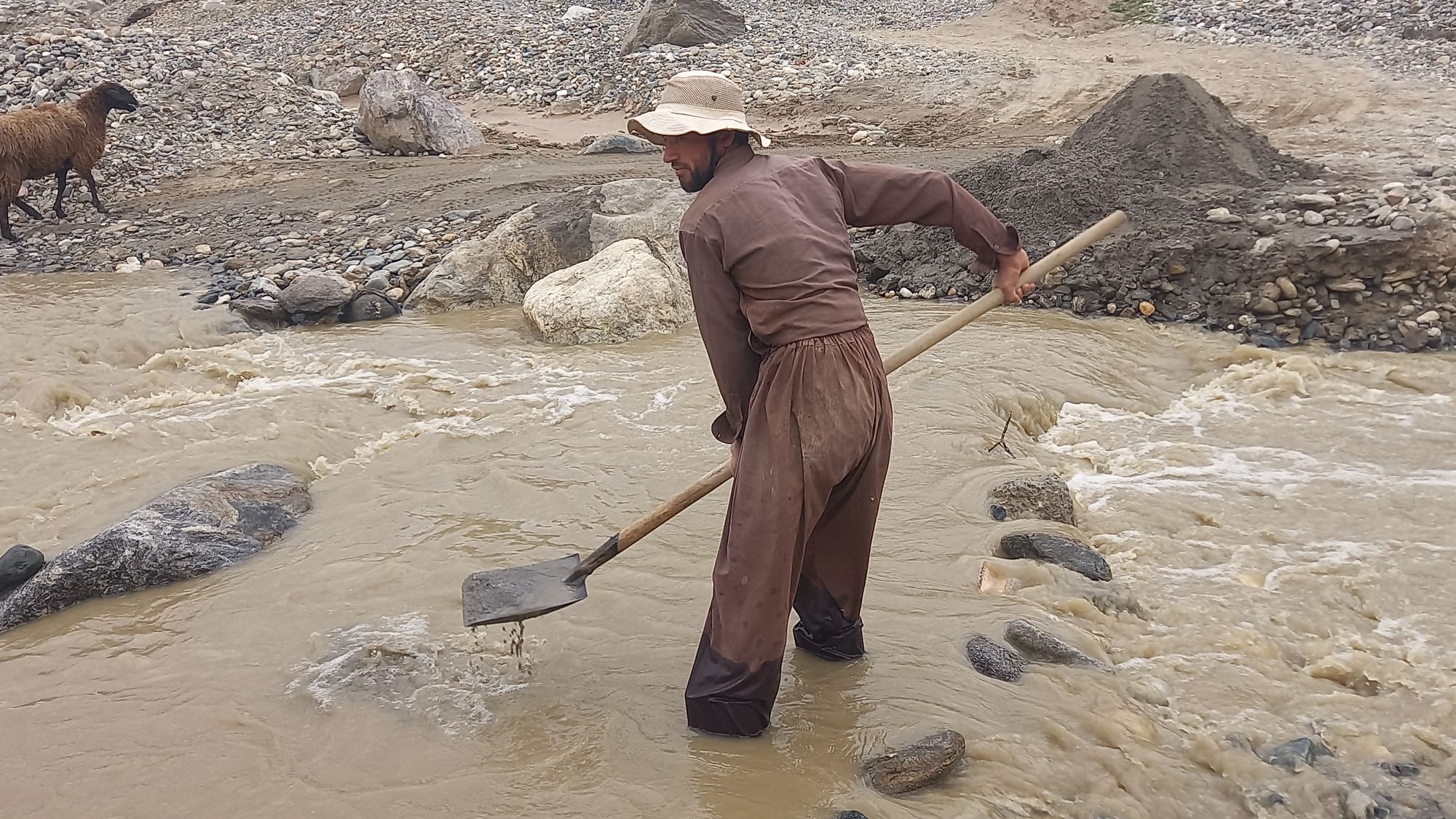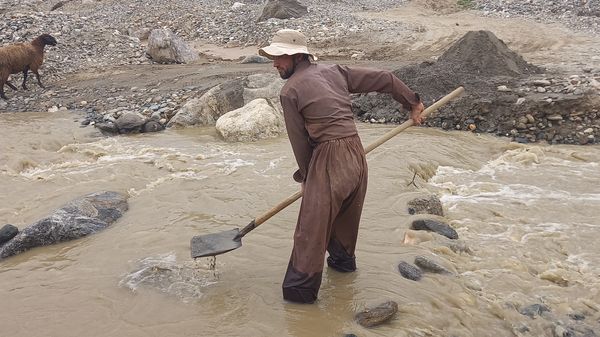 — One Day in Afghanistan —
Written by Shabana Farahmand
JUZGON, BADAKHSHAN — In today's One Day in Afghanistan episode, Shabana Farahmand documents one day in the life of Zumarai Ahmadi, a 28 year-old man who supports himself by selling sand, gravel, and rocks. He has been a salesman specializing in construction materials in Ab Dara-e Juzgon valley for the last 10 years. His work is the only income providing for his large family of 11. He is just one of the dozens of workers in this valley who do this type of work.
The clock's ticking shows that it's 8 in the morning. The noise and crowds of Faizabad reveal that life is already bustling in the city. I get into the front seat of a taxi and ask the driver to take me to Juzgon. Hamid, the driver, accepts and while driving, complains about his life and work.
"I cannot stay here anymore, there is nothing to do, oil prices have gone up and people cannot afford to pay high taxi fares," laments the driver. "They don't understand that oil is no longer as cheap as it used to be during the rule of the previous government. I don't think I can continue living in Afghanistan and am planning to move to Iran to find a better job because the profits out of this job isn't even enough to feed my family," Hamid adds.
Every passenger that gets into the carpool complains about poverty and unemployment until we reach our destination.
When I enter the valley, the first thing I notice is the remains of homes destroyed previously by floods. We arrive in Juzgon at 8:40 am. Juzgon is a valley on the outskirts of Faizabad that houses 26 villages hosting a population of 4,800 people. The people residing in this area are some of the most deprived in the nation, and have seen nothing from the reconstruction effort over the past 20 years.
Juzgon is an area on the outskirts of Badakhshan's capital, Faizabad. It is located at the center of a narrow valley with a river running down the middle. The valley is under high flood risk due to its topography. Juzgon also serves as the hub connecting Faizabad to Badakhshan's northern districts.
Standing in the river, men are busy digging and excavating the surface of the riverbed using shovels, pickaxes, and other tools.
Zumarai quickly notices me looking for him and climbs out of the river to greet me. A young man with a slim build, nevertheless Zumarai's rough hands speak of years of hard work.
"I extract sand from here, I get into the water barefoot and spend hours, sometimes the whole day to work," Zumarai tells Alive in Afghanistan.
"None of my family members, except my youngest brother, have had the chance to go to school," Zumarai says, while working. His brother, 16 year-old Bashir Ahmad, was only able to study until 6th grade, "After which he could not continue due to poverty and unemployment."
Zumarai himself was a construction worker before he entered this field. He had to quit that job due to the low demand for construction workers in the job market.
"Life passes by faster than a stream of water. It's a pity and pathetic that precious human lives are spent in misery and poverty. 10 years of my life have passed taking sand out of Juzgon waters, and I think I have aged a hundred years. Poverty, manual labor and war ages us fast. Despite all these, I am not displeased with my job. I am thankful for the ability to earn a living through halal (permissible/legal) means. It's enough for me that I am healthy and able to work!" Zumarai says.
"I start work at 4:30 am following morning prayers and finish around 6 or 7 pm every day. We can only work six months out of the year, the other six are too cold to work, the water flow stops completely and the valley is covered in snow," Zumarai says, adding, "I spend six months of the year either borrowing money, selling stuff on a pushcart or do whatever I can. There have been winters without any work, so I had to take loans. The working season in the following year was spent trying to pay back those loans."
It is 10 am when Zumarai climbs into the water to gather sand, explaining how the job is done while working, "I wear my boots and gloves before getting into the water, then I take the rocks and sand out with a shovel, and collect it at a single collection point. I separate the rocks and sand in the next stage, then block part of the stream using boulders and rocks to wash the sand. I then load the sand into the customer's truck and sell it to them. But sometimes bad weather causes flash floods, washing away the rocks and sand gathered, which causes us a loss of revenue."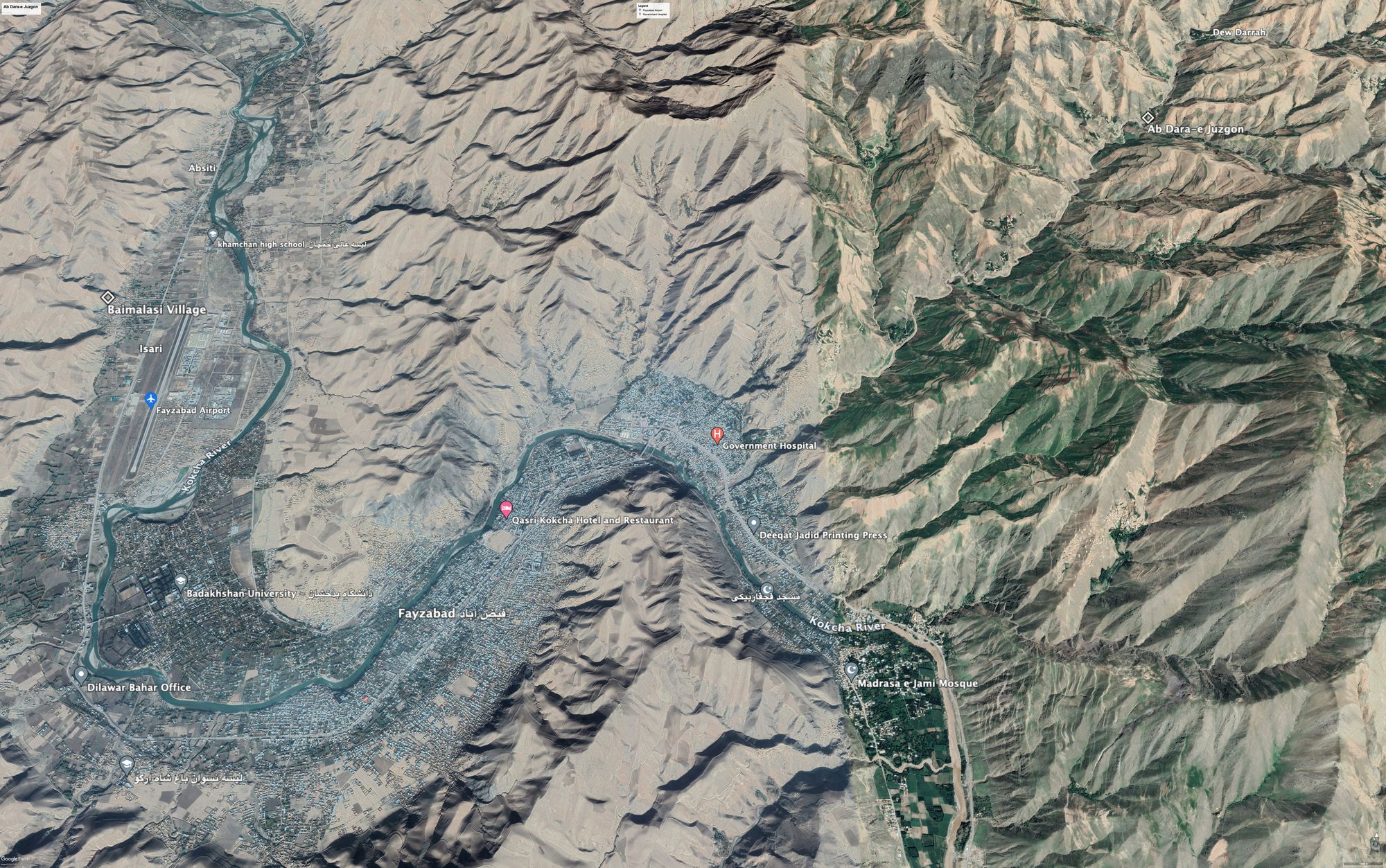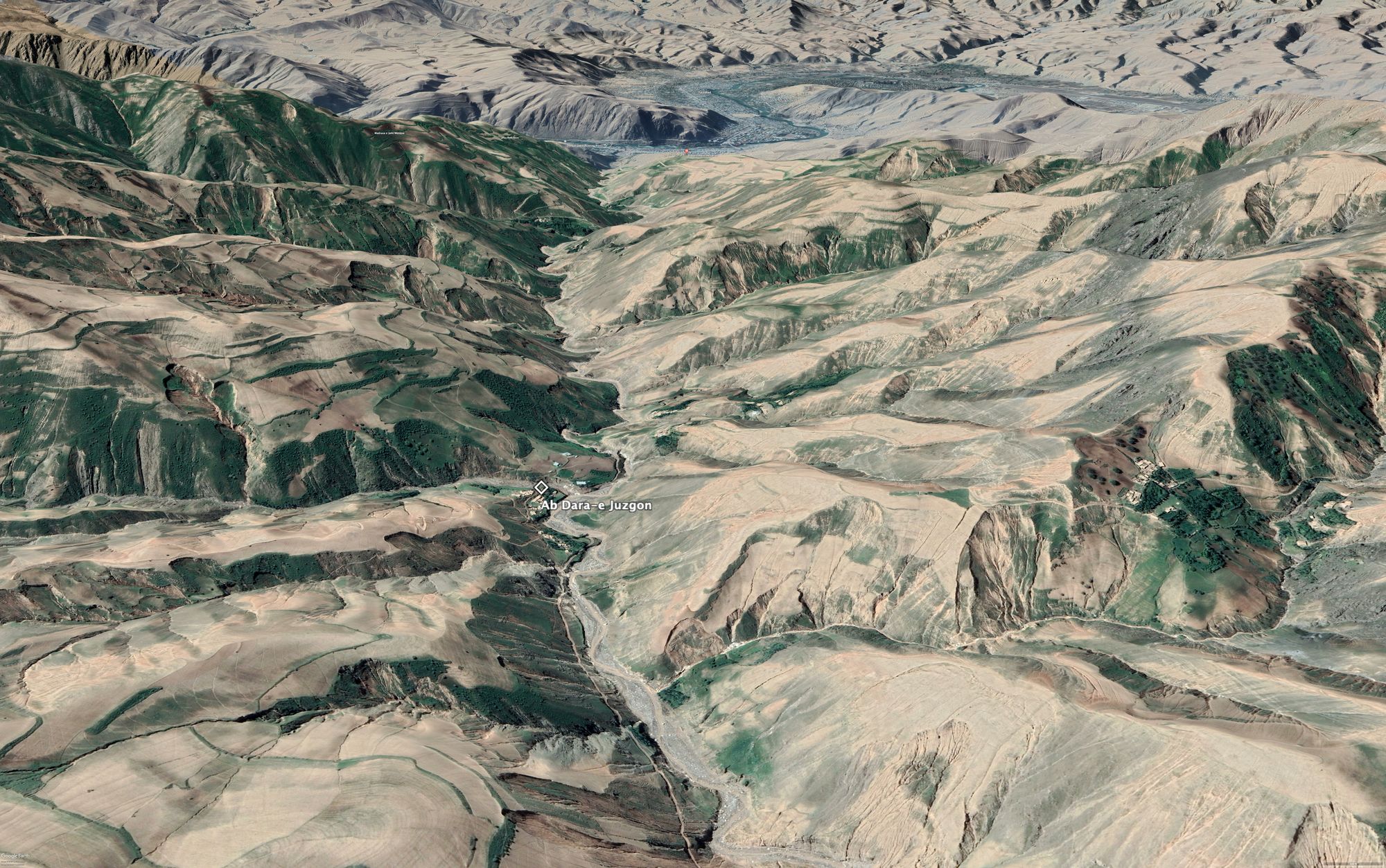 In addition to sand and rocks, Zumarai sells gravel mined from the riverbed as well.
Zumarai earns 200 to 400 Afghanis a day ($2.29 to $4.57). According to him, he used to earn between 800 to 1,200 Afghanis a day during the rule of the previous Afghan government, which fell in August of 2021.

But the daily manual labor does not come without its problems. "My legs and back hurt, as both areas are continually under pressure while at work. Standing in the cold water for hours badly affects my legs too, but I have no choice."
Afghanistan has been engulfed by widespread economic collapse since the fall of the previous government. Men like Zumarai were faced with low demand and a loss of their customer base. Additionally, the Taliban instituted a 100 Afghanis tax for the material ($1.14) for every truck.
According to Zumarai, the Taliban stopped them from working when the group took over, but the men negotiated terms with their local government and agreed to pay taxes for each truckload.
"Although we were not supported by the previous government, our financial situation was much better in that period. We had better daily income, which we could even save for the future of our children, while now, that income is not even sufficient to cover our daily expenses," Zumarai says.
Zumarai wants the Taliban to create jobs for the public and stop taxing them. His biggest dream is the complete end of war in Afghanistan and for schools to be fully open.
Schools for girls above 6th grade are closed in the majority of Afghanistan since the Taliban takeover of the country, save for two provinces, central Daikundi and northern Jawzan.
"We could not study ourselves but want our children not to be forced into doing manual labor just like us. They should study, live their dream and spend their lives with peace and prosperity," Zumarai says. Expressing it with a sneer, he says, "We live in fear. My biggest fear is to continue to live with this fear. The fear of the continuation of our nation's misery, war and unemployment."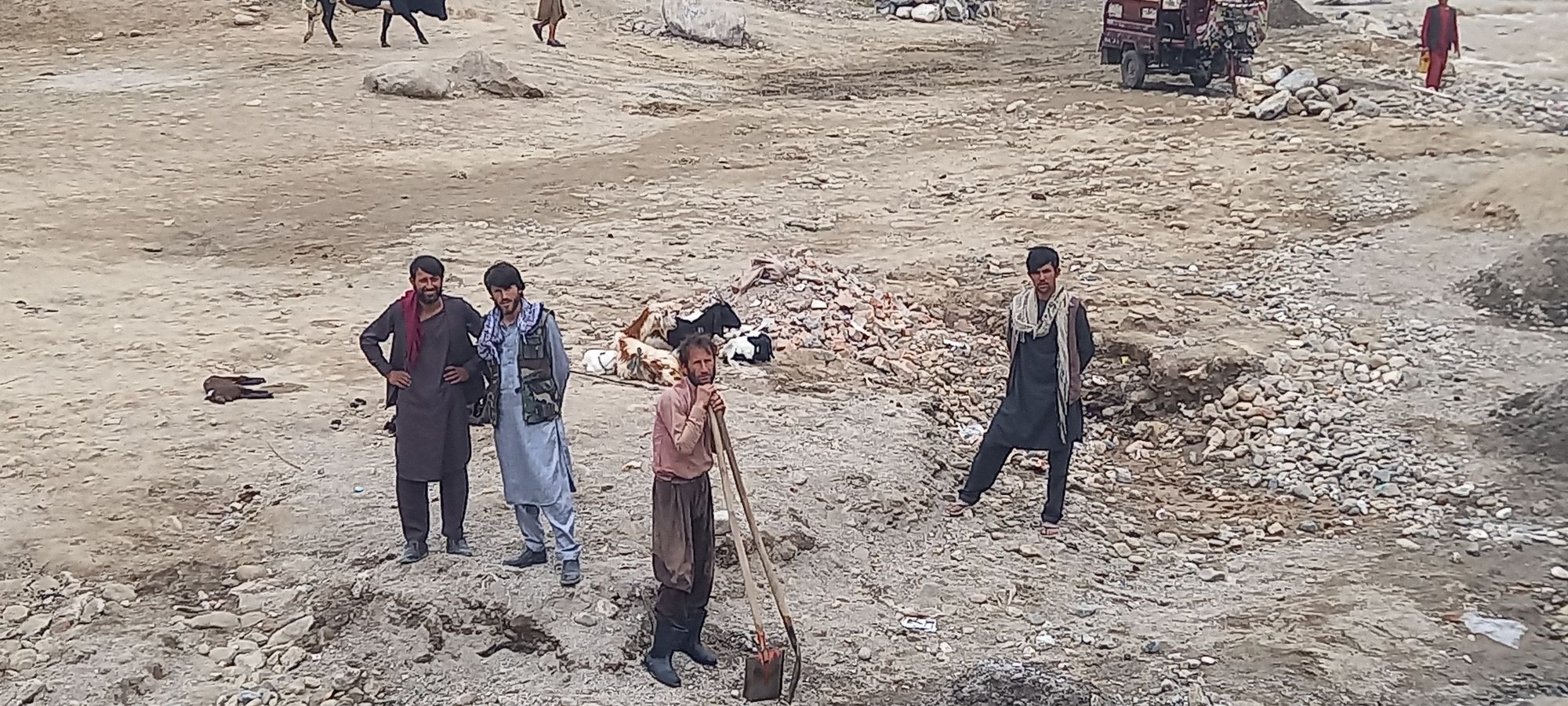 Zumarai works together with a team to collect and sell the material. According to him, a truckload of sand using a Suzuki Dyna costs 1,500 Afghanis and a truckload of sand using a Mazda Titan is 3,000 Afghanis ($17.15 and $34.30). The price jumps higher for transporting material to other districts and the money is divided equally among the team. Gravel is sold at a lower price and rock is sold at 500 Afghanis per square meter ($5.72).
At 11:30 am, a number of workers come toward us and start giving me their names and phone numbers, thinking I am there to list names for aid distribution. One of them says he has sold one of his kidneys due to extreme poverty, another tells me his family doesn't have food to eat. Another one of them says one of his legs is paralyzed due to the workload. All of them are giving me their family details and contact information. It is a strange and sad scene. Their helplessness and poverty shows plainly on their tired, disheveled faces.
A man with a longish beard moves closer and greets us, introducing himself as Safa-ud Din. Safa-ud Din is 37 years-old and has been working in the valley excavating and selling construction material for the past 8 years.
Safa lives with his parents, both of whom are disabled. His mother is blind and his father has been paralyzed from the waist down for the past five years. According to Safa-ud Din, his father's paralysis was due to years of manual labor.
Safa has only been able to take his father to a doctor in Faizabad once so far.  The doctor recommended that Safa take his dad to either Pakistan or India for treatment. The doctor told him that proper treatment is not possible in Badakhshan or any other place in Afghanistan, because the equipment required for his treatment is not available anywhere in the country. But his family couldn't afford to travel out of Afghanistan for the father's health.
Years ago his mother lost her vision suddenly. None of them know the reason behind it. Aman-ud Din, Safa's oldest brother, emigrated to Iran for work and his youngest, Salah-ud Din, has a pushcart selling vegetables. Both are married, Aman with eight kids and Salah with five.
"My biggest dream is security and peace, and my biggest fear is the country going towards a civil war," Safa tells Alive in Afghanistan. He demands that the Taliban provide employment for the public.
Safa also laments the pain in his legs and back and earns the same as Zumarai. "I am happy with my job, and hope to see an increase in demand soon again," Safa says.
Although Safa did not go to school, he would love for his children to study and have higher education.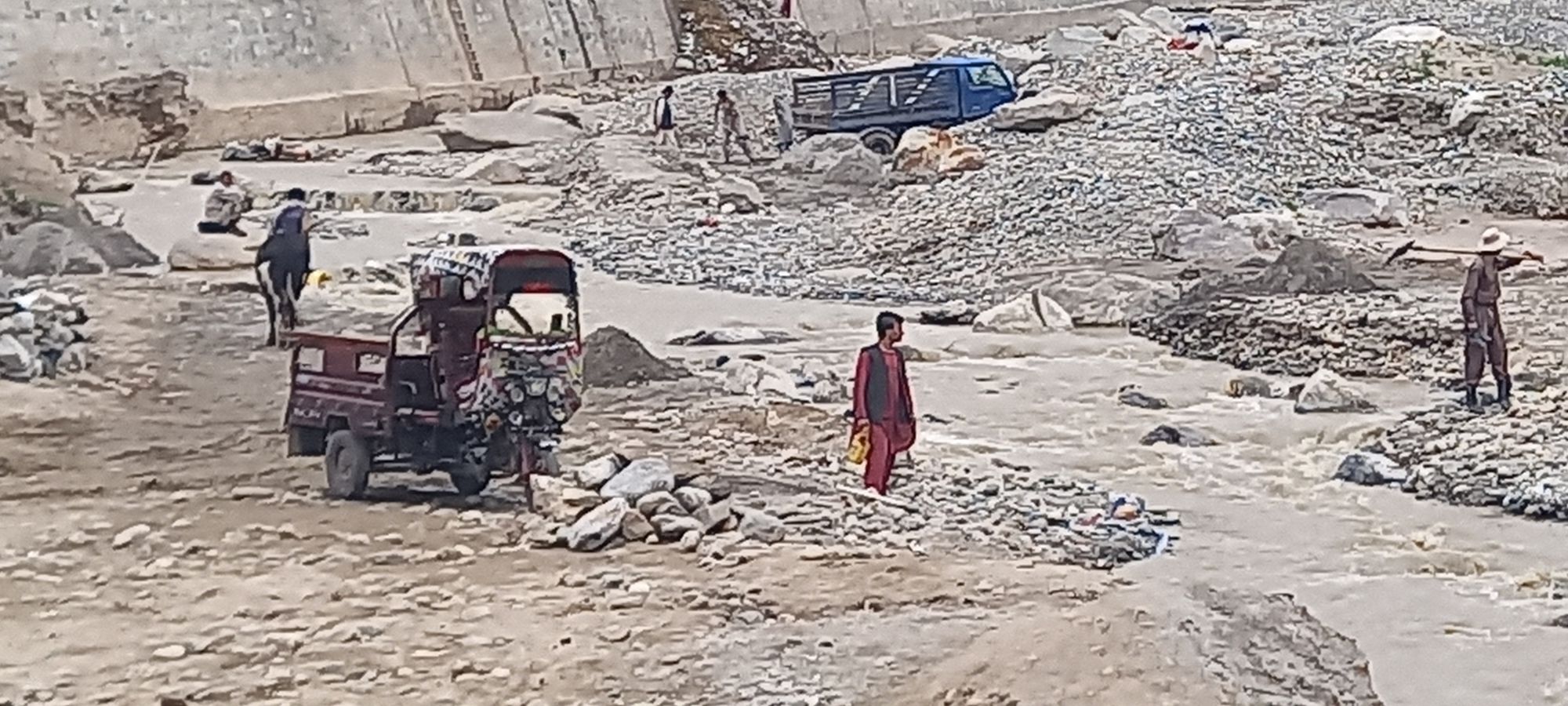 "Our children must study and the opportunity must be provided for them. They must not work as hard as their parents. We urge the Islamic Emirate to open schools for our children and not let another generation become victims of illiteracy and ignorance," Safa says.
It's now 1:30 in the afternoon. After the noon prayers Zumarai's son brought over lunch for his dad, including a share for me  without my knowledge. Across the country Afghans are notorious for their hospitality. Declining an offer of food is taken as an insult to the host, regardless of their financial situation.
It requires a big heart to be hospitable in such poor living and working conditions. The simple but tasty meal is a potato curry we eat along the banks of the sandy river. After lunch is served, Zumarai returns to work, loading a truck full of sand.
"We don't have any contract with the truck owners, and work with customers on a first come, first serve basis," Zumarai says while shoveling sand into the truck.
According to Zumarai, the sand he sells is used for a variety of purposes including as a mix for cement blocks, building homes and office buildings, and sidewalk construction.
The rest of the day is spent watching Zumarai work and photographing as he is busy with his job. By 4 pm, I have to return to Faizabad and bid farewell to Zumarai.
Following Afghanistan's economic collapse, small businesses and large scale industry alike suffered. Despite such widespread difficulties, the only motivation for these people giving meaning to their lives is the responsibility they feel towards their families. The struggles they bear, and the effort they put forth is all in order to keep their families fed. Read more about Afghanistan's economic troubles here.