Tea in Twenty, Sunshine Not Included
The absence of a reliable power grid has made many Afghans, including ironsmith Najibullah Nazari improvise. Mr. Nazari makes solar cookers that can boil 2 liters of water in less than 20 minutes.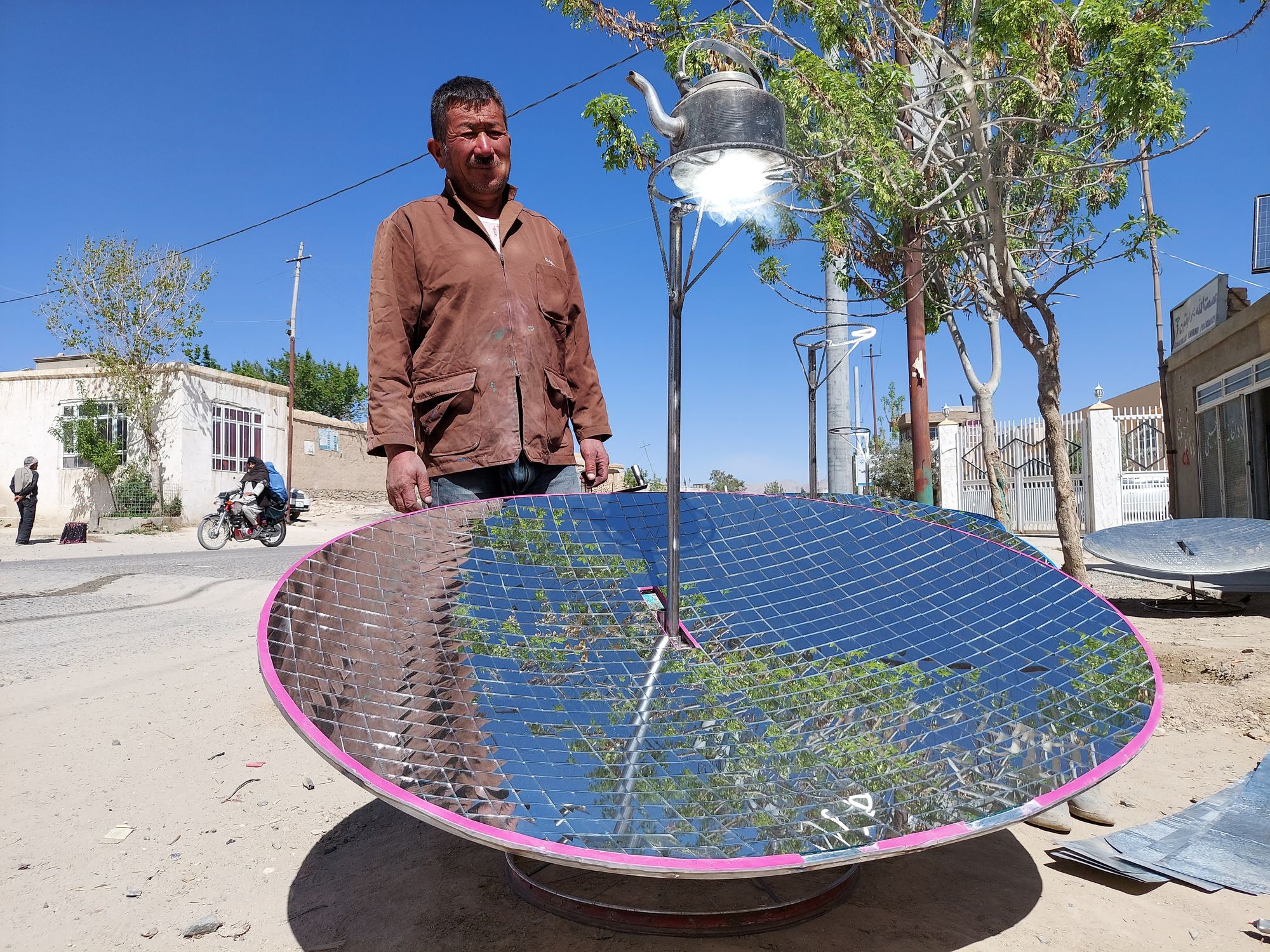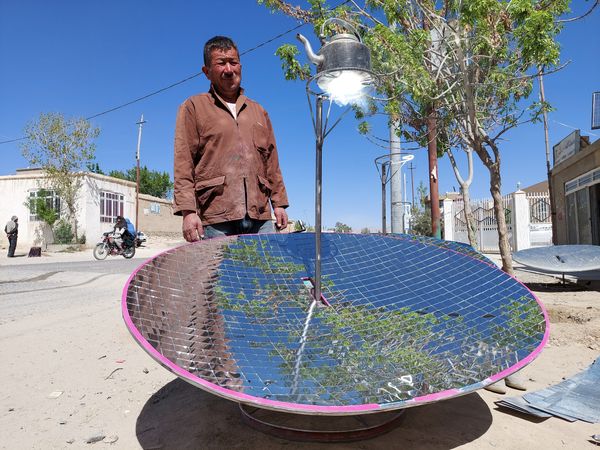 — One Day in Afghanistan —
Written by Mirzahussain Sadid, edited by Mohammad J. Alizada, & Brian J. Conley
---
Alive-in is a not-for-profit media agency that mentors journalists from underrepresented communities to increase local and international understanding. Subscribe to receive our stories directly in your inbox.
If you are able to support our work financially, please click the button below.
---
GHAZI — Ghazni, Ghaznain, or Ghazna, is an ancient city that has served as the capital of the Ghaznavid empire (977 – 1186) and historical scholars such as poet Hakim Sanai (1080 – 1131/1141).

Take everything away
And leave me alone with you.
Close every door
And open the one to you.
— Sanai

The ancient Afghan city of Ghazni was declared the Asian capital of Islamic culture for 2013 by the Islamic Educational, Scientific and Cultural Organization (ISESCO), a Morocco-based body of Islamic countries created in 1981.  
As the name implies, the people of Ghazni are hardworking and have tried to contribute to and improve the culture of Afghanistan throughout the country's history. One of the special skills among the people of this province is the production of solar cookers using the most basic tools to replace thermal, fuel-based and hydroelectric energy for boiling water. The man responsible for kickstarting this initiative in Ghazni is Najibullah Nazari, who has been making solar cookers and other domestic products put to use in Ghazni and many other provinces across Afghanistan.
In today's One Day in Afghanistan episode, Alive in Afghanistan's Mirzahussain Sadid visits Ghazni city to speak to Mr. Nazari, document his work, the idea behind such an initiative, and the end user for the products Najib makes.

I leave Kabul around 3 pm on Friday. After traveling 150 kilometers southwest, I arrive at the provincial capital, and spend the night in one of the downtown hotels. Although Ghazni is my birthplace, I have not traveled to the province for several years due to the lack of security on the Kabul–Ghazni highway. However, with the Taliban victory in August of 2021, the roads are much safer, making it easier for citizens to travel around the country.
Although many years have passed, and changes have taken place in the system of government ruling Afghanistan, there seems to be no change in the hospitality, kindness and simplicity of the people living in this country.
I was pleasantly surprised, although it was the month of Ramadan and usually the prices go up, I didn't have to bargain because what I purchased was reasonable, the taxi drivers were friendly, didn't overcharge and although I asked several people for addresses, everyone was nice. It felt like home.
The next morning, I leave the hotel for the Nawabad area of Ghazni city, a 10 minute drive from my hotel, to visit Mr. Nazari's shop where he makes solar cookers. Mr. Nazari puts his tools down as soon as he sees me, giving me a hug as if we have been friends for many years.
The shop is buzzing with activity. I can hear the generator making a loud noise but it's nothing compared to the piercing sound of the cutter slicing through pieces of iron. solar cookers shaped like satellite dishes on display outside the shop shine in the sun this sunny Saturday morning.
Two of the staff members are busy making a cooker while the other is hammering an iron rod making it into a perfectly circular shape. Najib stands outside his shop after showing me around the relatively large store, a culmination of three shops, telling me about himself.
Originally from the Qarabagh district, 57 year-old Najibullah has been living in Ghazni's Nawabad neighborhood for nearly 20 years. Najib has been married for 32 years, has six children: four sons and two daughters. Mr. Nazari went to elementary school but couldn't continue because of poverty and war. He can read and write but wants his children to be educated.
To find out more about Afghanistan's long running problem with access to education, read Alive in Afghanistan's articles on education.
"My two oldest boys, 25 year-old Ghulam Abbas and 18 year-old Ghulam Sakhi only graduated high school, after which they had to stop and were forced to go to Iran for work due to the increasing economic pressure on our family. I am now trying to send my other kids to school using the minimal income from this business, because education is the only way out of these problems," Mr. Nazari tells Alive in Afghanistan, the sorrow in his voice clearly evident.
The other Nazari children, 20 year-old Zahra (girls) studies at the Ghazni University of Education, while 14 year-old Ghulam Hussain, and 10 year-old Ali Asghar go to school.
Economic struggles within the family forced Najib to travel to Iran shortly after his marriage. He spent five years in Iran and decided to learn a profession so he can take care of his family upon returning. Mr. Nazari then spent six months learning to be an ironsmith while working for his brother who had settled in Lashkargah, the capital of Afghanistan's southern Helmand province.
"When I returned, I mortgaged my house for 400,000 Afghanis ($4,485 currently) to buy equipment, including generators, cutting machines, etc. and worked as an ironsmith for five years," Najib says.
A program in the early years of the United States' intervention in Afghanistan helped Najib learn how to make solar cookers, after which he started the business.
Najibullah's motive for starting this line of work was the lack of public access to electricity, as he says, "The people of Ghazni province did not have access to electricity years ago, we tried to find an alternative to electricity for lighting and boiling water. We succeeded by making the solar cooker, which works better than electricity for boiling water heaters. Now people use this product instead of electric water heaters because it is cheap and boils water quicker."
One of the positive aspects of Afghanistan is the abundance of sunlight, which serves Najib well. "In the beginning I used to make the solar cookers using satellite dishes but started using other materials after the result was positive," Najib says, adding that he's been in this business for more than 10 years.  
A self-taught solar cooker producer, Mr. Nazari says the raw materials include tin, iron, glass, bike wheels, glue and screws, which he buys from the market.  The product is made in four stages; first, the iron is shaped as a circle, then the tin is laid and screwed onto the iron circle, the next stage is cutting the glass into pieces according to the shape, and gluing it onto the tin sheets. A long iron rod sticks out from the middle of the dish, on the end of which a round iron tray is built to place teapots on.
Najib puts a teapot full of water on top of one the trays sitting on the sidewalk and shows how the sunlight from the dish is concentrated on the bottom of the pot, which then boils the water as the clock ticks 11 am. It took less than 20 minutes for the teapot full of water to reach boiling point. There is no tea or invitation for lunch today as it's the month of Ramadan and everyone is fasting
Mr. Nazari used to glue the pieces of glass onto satellite dishes, but the result wasn't great, so he came up with a new method to make the dish himself. According to Najib, the cookers can boil two liters of water in less than 20 minutes on summer days.
According to Mr. Nazari, in the early days, only people in the capital of Ghazni were using this product, but now, it is used not only throughout the province, but in Kandahar, Kabul, Mazar and Herat provinces.
Najibullah and the five staff members working for him can make up to two cookers a day, which he sells from 3,700 to 8,000 Afghanis ($41 to $89) each, depending on the size.
Mr. Nazari's daily or monthly income is not fixed because it depends on the amount of cookers he can sell, which varies from time to time. The shop sells two to three cookers a day sometimes while only selling two to three cookers a month on slow months. The salary for his staff varies as well, depending on their skillset. In addition, Mr. Nazari provides free breakfast and lunch for his store staff.
Najib is concerned about the country's economic problems. "Most people are unemployed, making it difficult for them to buy our cookers, in turn affecting our business negatively. Our sales were great under the previous government, but for now sales have declined."
Sanctions against the Taliban, as well as the freezing of Afghan government assets by western countries, mainly the United States, have fueled a growing economic crisis that is getting worse with each passing day.
The crisis has resulted in every type of product becoming more expensive. Najib used to buy a pack of glass for 1,300 Afghanis ($14.58), which now sells for 3,000 Afghanis ($33.64), a roll of tin has increased from 4,000 ($44.86) before the collapse to 9,000 ($100.93) and a box of glue which used to be 1,500 ($16.82) now sells for twice that amount.
But Mr. Nazari's concern is not only for his income, he is also worried about his kids' use of technology and how much time they spend on it. "The situation in Afghanistan paired with modern technology (smartphones) have negatively affected young people. I try to set a timetable for my kids to study on school days and only use their phones when school is off."
Najib spends at least half of his Friday, the weekend in Afghanistan, at the shop trying to make an income to take care of his family. "I work hard so that my children can study and live comfortably."
The time goes by fast and I don't notice that it's already 1:30 in the afternoon as Mr. Nazari's work keeps me entertained on this sunny Ramadan day, which I normally spend in the shade, fearing that I may become thirsty too quickly.