Taliban House-to-House Raids Spark Widespread Criticism
The Taliban launched a house-to-house search operation in Kabul and adjacent provinces, leading to widespread domestic and global criticism.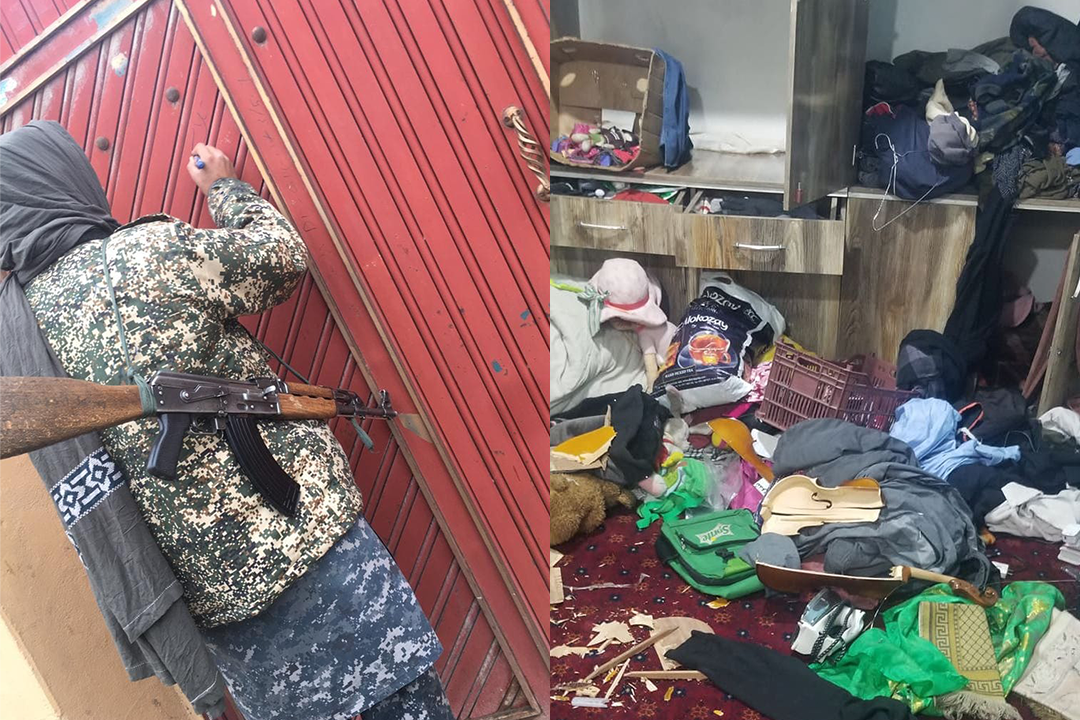 Written by Mohammad J. Alizada, Edited by Brian J. Conley
KABUL – The house-to-house search launched by the Taliban in the 3rd week of February continues in Kabul and neighboring provinces of Parwan, Kapisa, and
Panjshir–despite widespread criticism.

Afghans are speculating that assaults on Taliban in and provinces north of Kabul in the past few months, as well as the possibility of widespread attacks by the National Resistance Front (NRF) in the coming spring might be the driving force behind the raids.
The NRF, led by Ahmad Massoud, the son of late Ahmad Shah Massoud, the leader of the Northern Alliance, has been the only armed resistance against the Taliban since the previous government collapsed last year.
The NRF's activities have been mostly confined to Panjshir, a valley notorious for its resistance against the Soviet occupation of Afghanistan, as well as the only province the Taliban could not capture during their last era ruling Afghanistan (1996 - 2001).
However, Zabiullah Mujahid the Deputy Minister for Information and Culture informed Alive in Afghanistan, "There are no plans for search operations in other
provinces, Kabul and neighboring or adjacent provinces have been very insecure, lots of robberies, kidnappings and presence of weapons, that's why the search operations were launched."

The Taliban began their raids in the northern parts of Kabul city, where the residents are primarily Tajiks from Panjshir, Parwan and Kapisa provinces.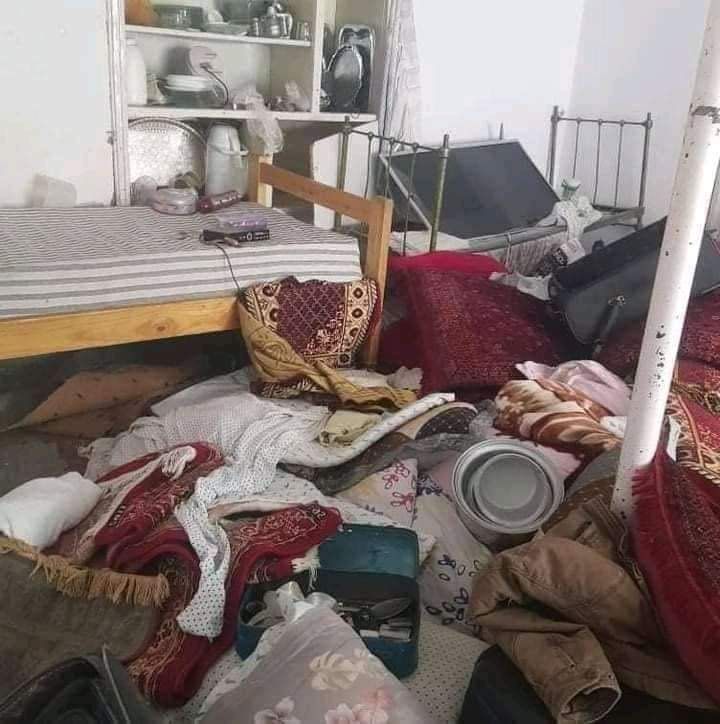 Yalda Sadat, whose house in the Kart-e Parwan area of Kabul city was  searched told Alive in Afghanistan, "It doesn't matter that they scattered our clothes, what matters is that they left us heartbroken."
Ms. Sadat pointed out that according to the tenets of Islam even a brother is not allowed to see his sister's undergarments, let alone members of the Taliban.
"I cried as I was collecting my clothes, because it became a kind of indecency. We have kept our honor and dignity for so long, only to be wiped out in a moment's notice. A woman's private space and privacy must not be violated, isn't that a point of regret and concern?" Yalda said, adding, "It is very difficult when there is fear and horror when you go outside and the same when you are at home, where is the peace?"
According to a statement from the Taliban's acting Deputy Culture and Information Minister Zabihullah Mujahid, the search teams will include women who will carry out parts of the search that involves women and their belongings, but a number of Afghans who spoke to Alive in Afghanistan said none of those protocols were followed, only some of search teams included women.
Zabihullah Mujahid justified their actions in an official statement late February by saying, "The objective of this operation is to arrest thieves, kidnappers, and criminal groups."

The operation quickly led to widespread domestic and global criticism. Human rights organizations and foreign ambassadors have called the raids a violation of citizens' privacy and called for an immediate end to it.
Shahrzad Akbar, the former head of Afghanistan's Independent Human Rights Commission said on twitter, "Everyone I talk to in Kabul is terrified of a bunch of armed men walking in & searching their most private belongings. Some women activists have reported their passports as being confiscated by the Taliban. Afghans are living a nightmare under Taliban's tyranny[.]"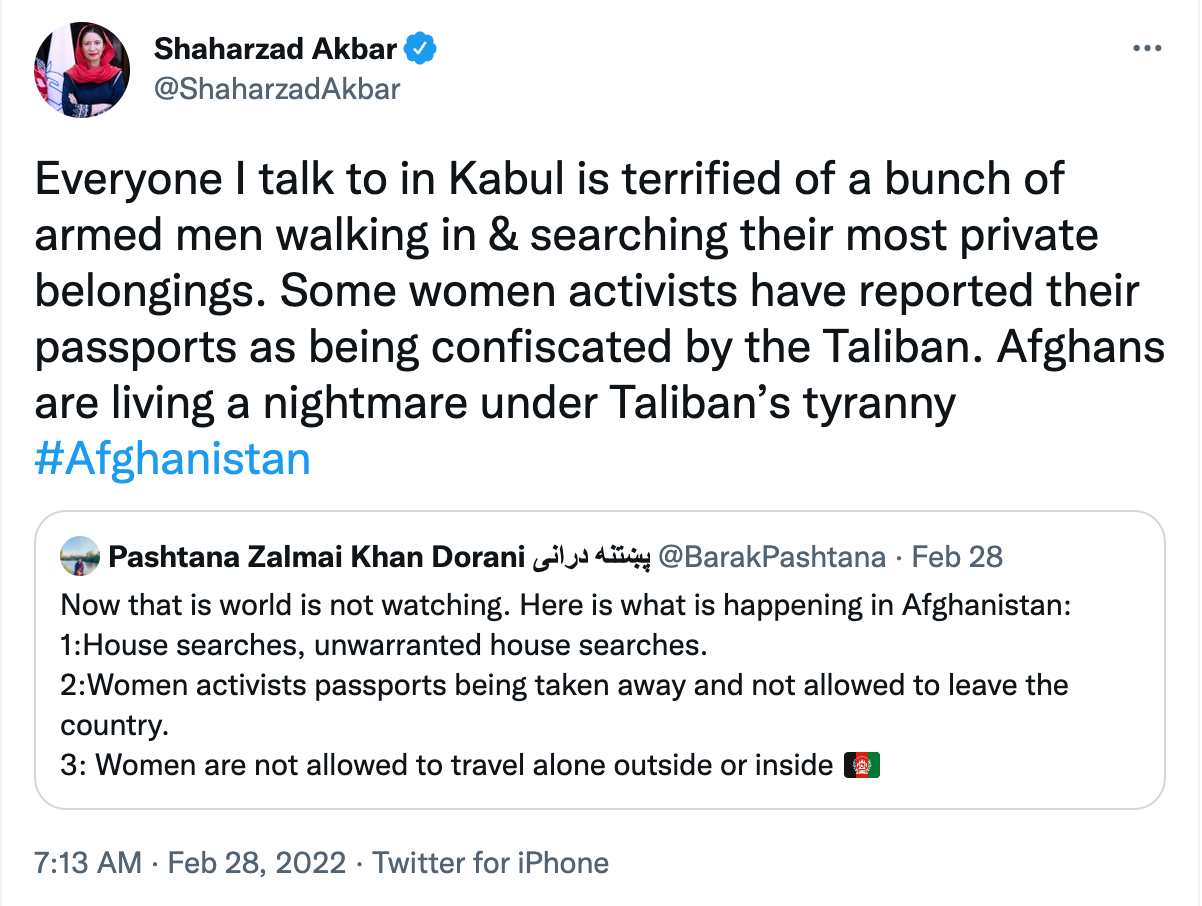 Ambassador and Head of Delegation of the EU to Afghanistan, Andreas Von Brandt, in a tweet said, "The intimidations, house searches, arrests and violence against members of different ethnic groups and women are crimes and must stop immediately."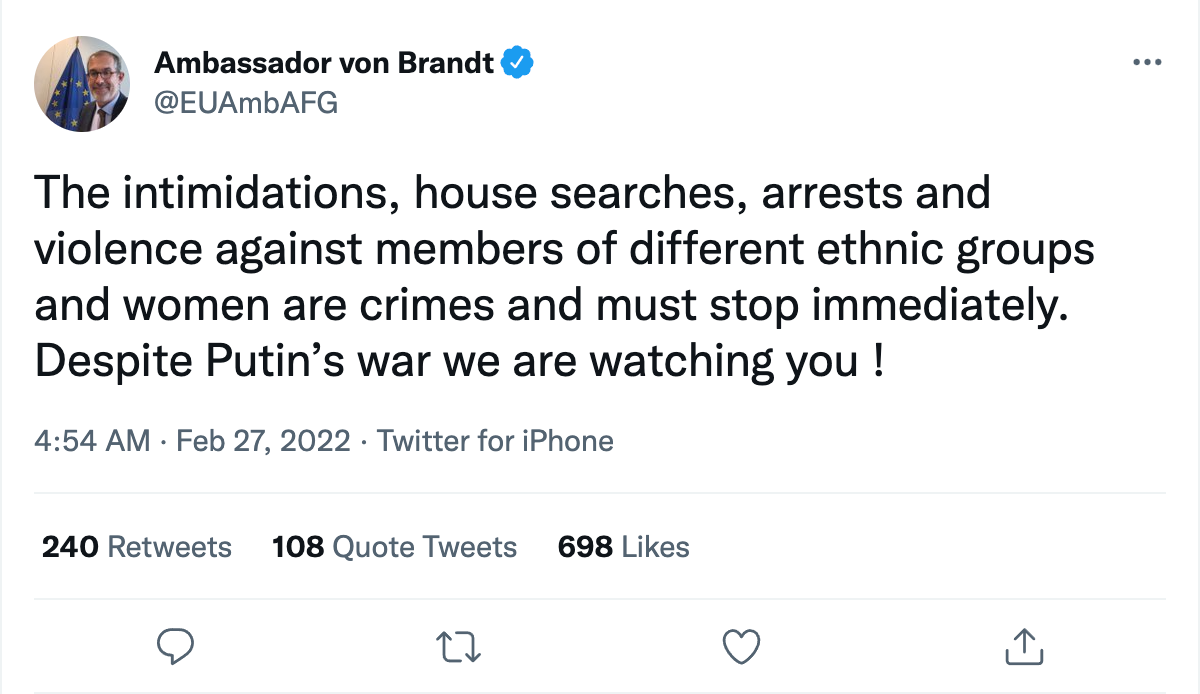 Markus Potzel, the German Ambassador-designate to Afghanistan, in a tweet said he is concerned about the report of house searches, intimidation, and violence.
As the operation expanded to Dasht-e Barchi, a Hazara-dominated area of western Kabul Fatima Talash, a resident of the neighborhood told Alive in Afghanistan, "I found out around 11 am that the Taliban's search operation had reached our street, I was very scared."
"When it was our turn, 4 Taliban members accompanied by one woman came into our home without taking off their shoes, they broke all the boxes, went through our bags and even items belonging to women," Ms. Talash told Alive in Afghanistan.
In Afghanistan it is customary that all who enter remove their shoes. Wearing shoes inside someone's home is considered deeply disrespectful.
Ms. Talash said the actions of Taliban foot soldiers were in contradiction with orders from their leaders to respect people's privacy. The searches were also ordered to be conducted in the presence of an area representative and a Mullah, none of which were followed.
These violations of privacy by Taliban foot soldiers while conducting their searches has been a real sore point for the women interviewed by Alive in Afghanistan.
Another Kabul resident speaking on condition of anonymity said, "The Taliban tore our pillows using knives, my mother has not finished sewing them back up two days after the search."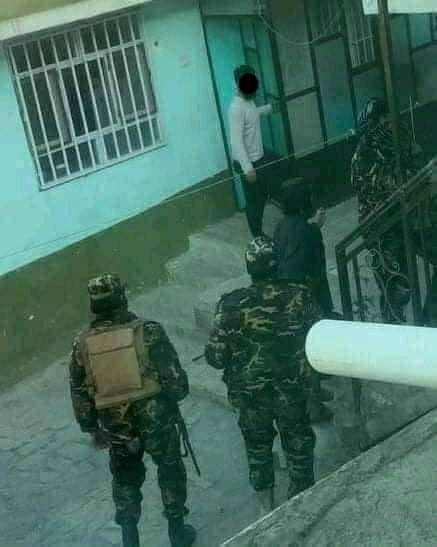 Meanwhile, there are residents welcoming the move by the Taliban. They  consider these searches an effective tool for ensuring the security and safety of the public.
Hawa Majidi, from Kabul, says, "This is the only way to put an end to insecurity and war, which must happen to remove illegal weapons and decrease the amount of crime."
Ms. Majidi believes the only defect in the plan is the lack of women among the search teams. She recommends that the Taliban consider including women within the search teams.
Mujahid said the search operations have been conducted with extreme care and that, "Women are included in searches where necessary," but when asked to comment on the lack of women in some searches, he did not respond.

Ahmad Wafa, a resident of Khair Khana area in the police district 11th of the city has an interesting story from the Taliban searching his house.
"The Taliban found an old and decommissioned phone from our basement which belonged to my grandfather, they wanted to take it with them saying it belongs to the treasury, we tried to make them understand that it's a family heirloom, but we had to go to their commander and take the phone back," Mr. Wafa told Alive in Afghanistan.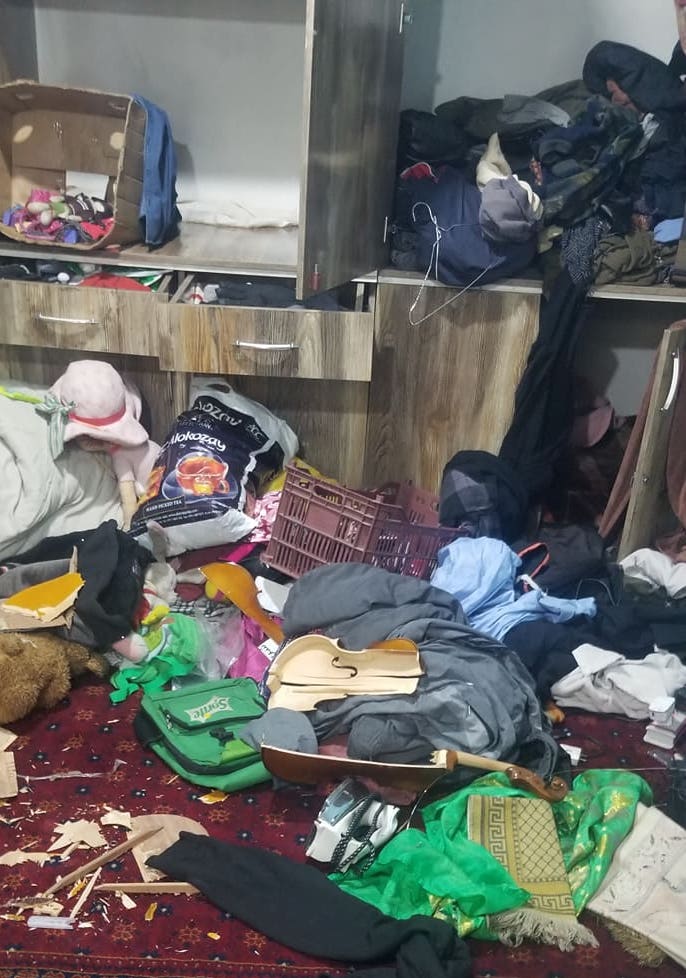 Mr. Wafa added that the Taliban search team also took a decorative knife hanging on the wall with them because, "The Taliban cannot even differentiate between decoration, family heirlooms and military equipment."
Yama Majidi, a former staff member of the previous Afghan government who lives in Deh Sabz district of Kabul, could not believe how smooth the Taliban search went.
Mr. Majidi, who owns some musical instruments, said, "I was really worried, I thought they would beat me up, hang the instruments around my neck and make me walk through the city; but they didn't do any of that."
However, Mr. Majidi also complained about the lack of women in the search teams, saying he saw none in his area, and this caused anger among residents, which may lead to trouble for the Taliban in the future.
Other sources in the neighborhood of Kabul mentioned instruments had been broken, including in one case a violin and guitar.
In separate conferences, a number of Taliban officials have called the house-to-house searches useful and said they have seized large quantities of weapons and ammunition, and arrested a number of destructive groups, including members of the Islamic State.
Taliban Deputy PM Mullah Abdul Ghani Baradar said the house-to-house search was for the security and safety of citizens and people should praise the Taliban for carrying out the operations.
Although the vast majority of Afghans are tired of the continuous war, and any reduction in violence that leads to peace is good news for them, the public believe that targeting a specific area of Kabul area and a handful of provinces is a form of discrimination and demonstrates hostility from the Taliban toward the people living in those specific areas.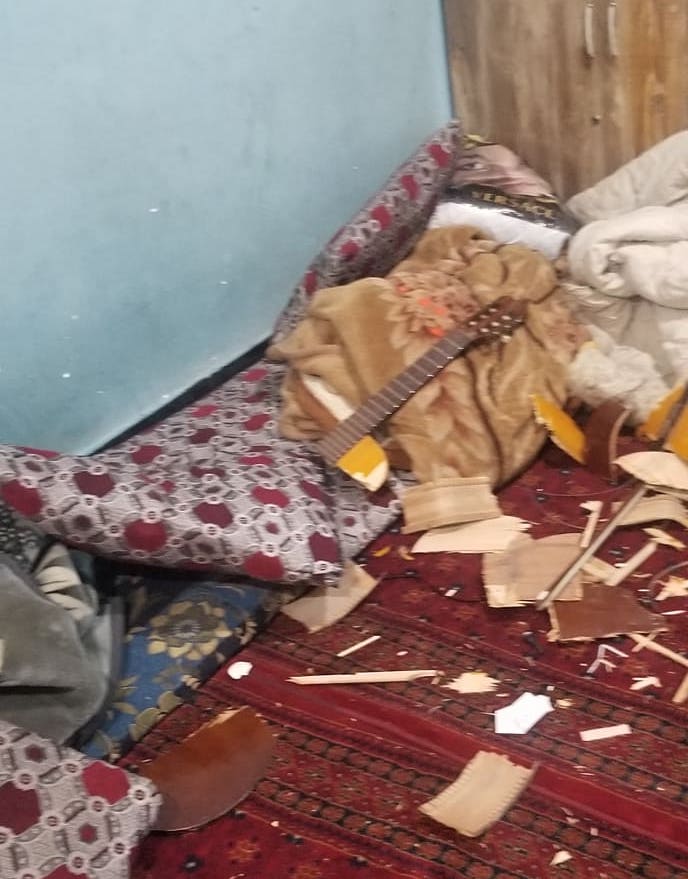 Obaidullah Rasikh, a resident of Afghanistan's northeastern Kapisa says that the Taliban entered people's homes without any prior coordination or any documents showing they had orders to conduct searches.
The searches first began in the Sanjan area of Hesay Awal district in Kapisa, then spread to Hesay Dowum and other regions of the province.
"This is very disconcerting for us, why is this not happening in Helmand, Khost, Nangarhar and other provinces?" Mr. Rasikh asked about the raids, adding, "People are furious because of this. The Taliban must not push people away from themselves by doing this!"
Obaidullah believes the Taliban must do things to win people's hearts; because people are tired of war, discrimination, and opression.
Farzad Dilawar, another resident of Kapisa, raised his voice about the Taliban's sudden entry into their home, which scared his family.
"About 40 Taliban soldiers entered our home while we were sitting there, everyone, especially the children, were really scared. There was no Mullah, no area representative and no woman in their team," Mr. Dilawar told Alive in Afghanistan.
Shoaib Hakimi, a resident of neighboring Parwan province, said the Taliban attitude during the raids in his area was much softer and search teams also included women. However, Farzad Bahaduri, another resident of the province, said the Taliban kicked their doors to get inside.
"I opened my door and asked what they wanted, they said to place the women on one side because they will search the house, they came inside, threw the clothes everywhere, broke the bed, broke one of mirrors on one of our beds as well, the children were still distraught from the experience after they left," Mr. Bahaduri said.
Mr. Bahaduri added, "They opened the cabinet with my wife's clothes and threw them everywhere, they didn't understand Dari so I could at least give them information and communicate."
When asked to comment on the possibility of searches continuing in and expanding to other provinces, Mujahid said that there are no plans for search operations in other provinces as of now, "Kabul and neighboring provinces have been very insecure, lots of robberies, kidnappings, and presence of weapons, that's why the searches were launched."
Samira Nuhzat contributed reporting from Pakistan.