Searching for Gold in Gravel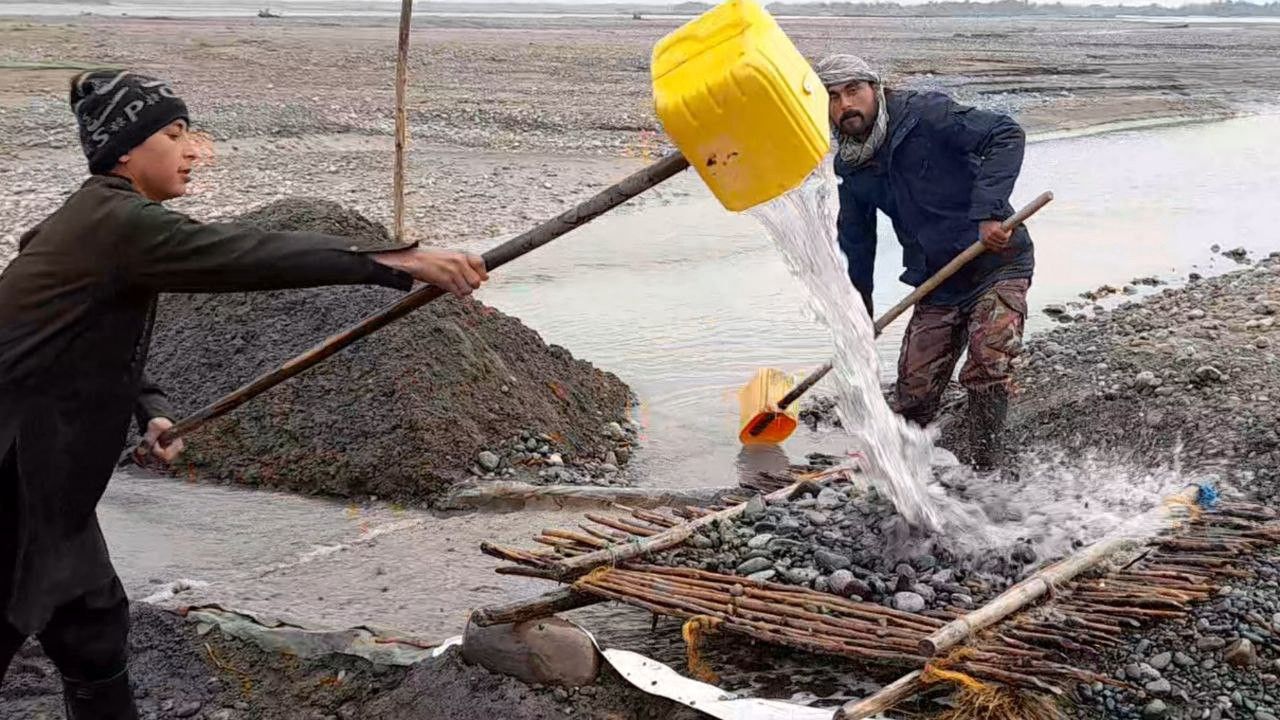 — One Day in Afghanistan —
Reporting By Rahmatullah Bedar, written by Abdul Ahad Poya and Mohammad J. Alizada, edited by Brian J. Conley
Did you know how artisanal miners separate gold from gravel and sand off a riverbed?
To find out, this time I have come to a bordertown in Afghanistan's northern Takhar province, which borders Tajikistan, to find a man who takes care of his family of 8 by mining gold. But how?
It's 7 am on this cold winter morning, I arrive at the home of a gold miner whose house is surrounded by a grove of trees next to a river.
No home in this village has any door or outer wall, therefore I cannot knock on the door, nor will anyone hear my voice over the roaring sound of the river or the continuous chirping of birds. I must wait outside the house until it is time for the man to come out for work.
It's now 7:30 am, a young man comes out of the home he is of average height, brown eyes, wearing a thick winter jacket, head wrapped with a checkered shawl and a shovel on his shoulders.
This is 35 year-old Abdul Qadir Yadgar who lives in Islambad village of Jazeera district in Takhar province. Qadir married some 12 years ago and has 6 kids, including 4 girls and 2 boys.
Qadir and I hop on a makeshift boat constructed from inflated tire tubes and bamboo. We head towards a dry riverbed across from his house on the other side of the river. We arrive at a rocky riverbed where Qadir and his partners wash off the gravel and sand in search of gold.
"This profession requires teamwork and cannot be done alone," Qaidr says while we wait for his partners to arrive so they can start working. Qadir is a supervisor and must arrive before his partners to designate the spot they will work each day.
The time is now 8 am, clouds have covered the sky and a forecast for rain is on the books. The roar of the Amu River serving as a border between Tajikistan and Afghanistan can be heard as Qadir's 5 partners start joining us one by one. These are young men from Qadir's village who work with Qadir to be able to take care of their families.
Qadir calls his partners one by one and has them pick up the gravel and sand from the places he has marked before and orders them to wash it.
"I have done this for 12 years, I know which parts to wash and filter so we can get the most gold," Qadir says.
Each of Qadir's partners has a designated duty, Majid digs the ground, filling the litter, Sattar and Qasim then take the litter and haul it a couple of hundred meters, dumping it on the mesh where Amruddin and Samiullah are waiting with their buckets to filter it by dumping water on the mesh. By doing this, the larger pieces of rock remain on the filter they have crafted out of bamboo sticks while the sand and gold are washed down to the plastic mat beneath.
It's now 10 am and the hard work continues. Although it's cold, beads of sweat can be seen on the faces of the men working to extract a small amount of gold from the river of sand and gravel. The men wash the gravel and sand until 3:30 pm, then spend their time collecting the sand and gold from the top of the plastic under the mesh.
"I have tried to go to Iran 5 times illegally while facing life threatening situations, this is now the usual and is not hard, I am happy we have something to do here," Qadir says, leaning against his shovel while watching over his men.
It's now 11 am, Qadir changes the duties of the men from time to time to make sure they are not exhausted while he helps with one job or the other as needed.
According to Qadir, they work in the same spot for two or three days, the men continue working in the same spot if there is enough gravel and sand to filter but change locations once they have completed filtering.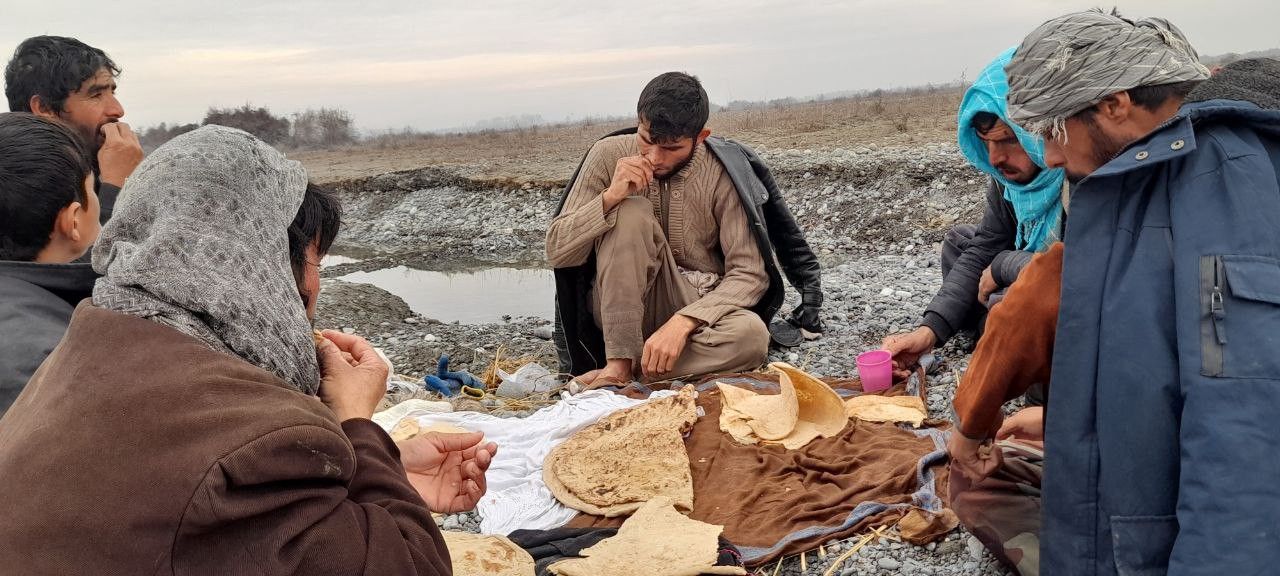 "Our job is like any other profession; everyone is off on Friday and work on weekdays, pay is deducted from anyone that cannot come to work but if it's an emergency, it's ok," Qadir says of their work routine.
The men are paid according to the sale they make, not a daily wage. The result of a day's hard work is just a couple of pea sized nuggets of gold.
The time is now 12:30, Qadir takes off to gather some wood and boils a pot of water for tea, so all of them can eat lunch.
I sit beside him as he places the teapot around the fire and ask about his personal life.
"Folad, my oldest child is 10 and I sent my kids to the madrassa but my kids cannot go to school because of how far it is and the rise of water levels in the river that they have to cross to get there," Qadir tells me.
It's now 1 pm, Qadir has made the tea and lays a piece of cloth with bread inside on a clear patch of ground.
"Friends, lunch is ready," Qadir calls for the men. They wash their hands in the river and join us around the piece of cloth. Qadir puts sugar in their glasses and pours tea over it.
Qadir says in the summer months they cook something but because days are much shorter during the winter months, they each bring a couple of pieces of bread from their home and eat it with tea.
I share their food with them despite repeatedly refusing to do so. They continue talking and joking around until all the bread is gone and the teapot is empty. It is now 2:30 pm and the rain is just a little drizzle, it's time to return to work after lunch, prayer and a small break.
"We must pay the Taliban to be able to work here," Qadir says. A couple of the guys working here have family members in the Taliban as well.
Among those working at the mine is 15 year-old Samiullah. Financial problems and poverty have forced Samiullah work as hard as the other men here at the mine so he can take care of his family.
Samiullah had to leave school due to poverty about 5 years ago and has since worked as a miner. Sami's father is a Taliban fighter while Sami works at the mine to help his dad take care of the family.
It's now 3:30 pm and the call for afternoon prayers rings out from the village mosque. Qadir and his men take up plastic sheet and pour the contents into a bowl. One can see inside the bowl the small amount of gold that has gathered together with the sand.
Now they have to wait for the sand to dry so they can separate the pieces of gold from the sand. Because the weather is rainy today and not much time is left, the separation has to wait until the sand dries.
"When the sand dries, we separate the gold from the sand using a special mesh. We keep the gold inside the plastic until we have gathered about 5 grams," Qadir says.
According to Qadir, they must work for two or three weeks to collect about 5 grams of gold. Qadir then takes the gold to the district center and sells it to a goldsmith or calls one to come and pick it up.
They sell 5 grams of gold for $200 to $250 and divide the money between them.
This is not just the story of Qadir and his men but a number of other men who work hard for weeks just to get a little gold out of the piles of sand and gravel that they must filter through.
Although my work is finished profiling Qadir and his men for the day, they must return to the same spot in the morning to spend another day working hard in order to take care of their families.