Recycling Trash into Art
Standing along the highway just outside Newlands Shopping Centre, Joseph Chiyambukira displays his wares for passersby to peruse and purchase at their leisure. For as long as he can remember Mr. Chiyambukira's father Chiyambukira Takawira has been making handicrafts for sale at this market.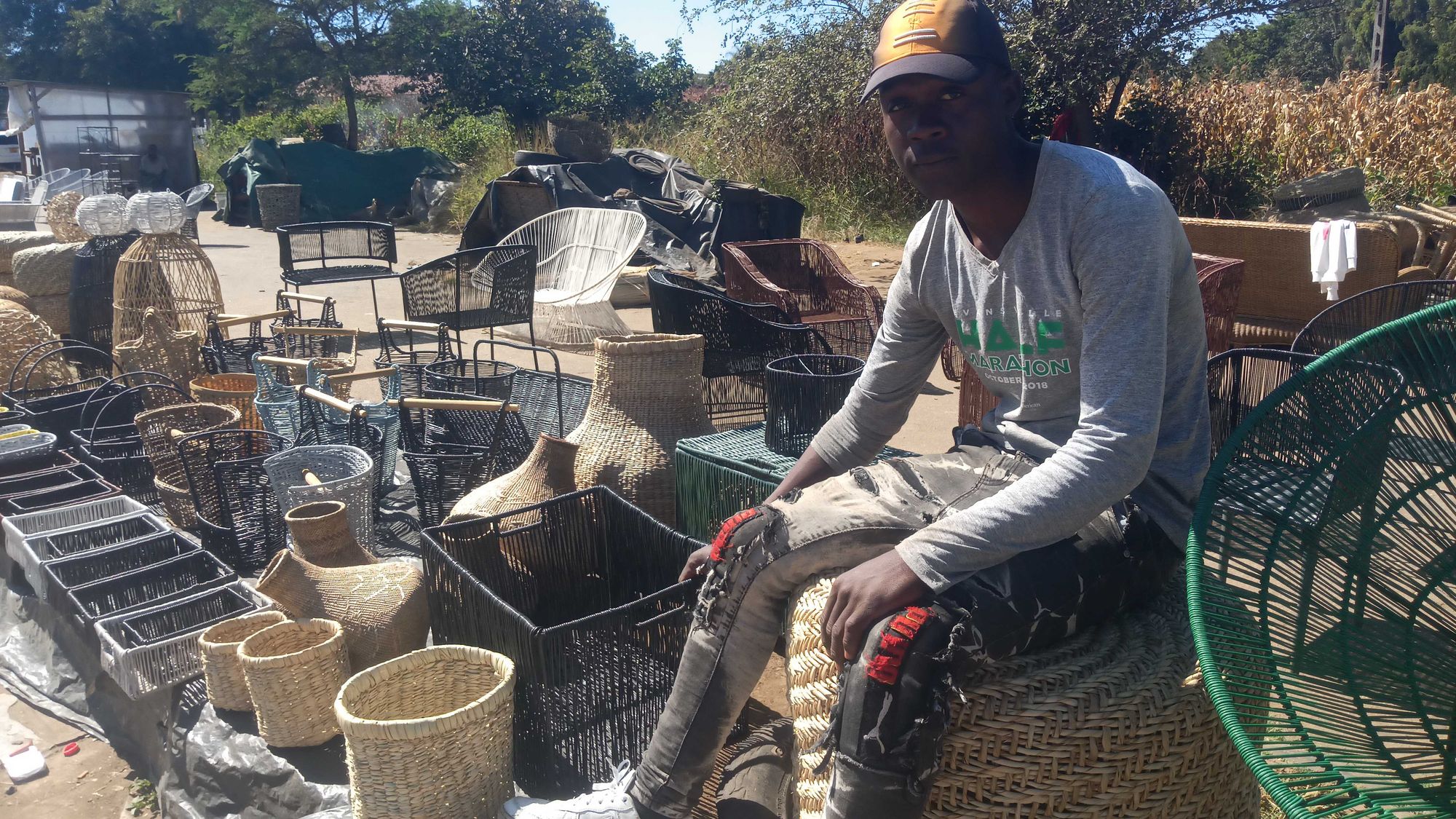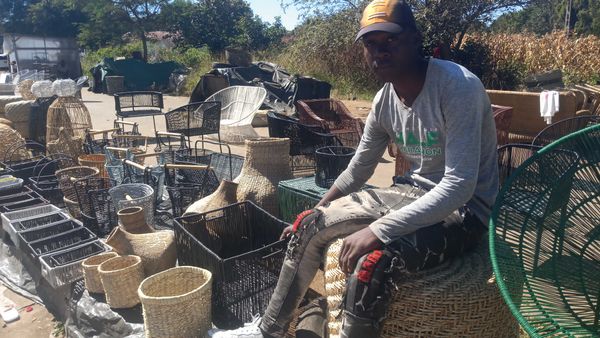 Alive-in is a not-for-profit media agency that mentors journalists from underrepresented communities to increase local and national understanding.
If you are able to support our work financially, please click the button below.
HARARE, ZIMBABWE — The sun overhead is hot but Joseph Chiyambukira's face is well shaded by his yellow baseball cap. Growing up in Zimbabwe's capital, Harare, Joseph has been learning to make different handicrafts under his father's guidance since he was a young boy. It was his father's example that  inspired him to open this shop. As the old proverb says "The apple does not fall far from the tree." Clearly this is true in Joseph's case.
Now nearly 21 years old Chiyambukira Joseph is pursuing Arts and Craft Work as a career, although he does not have any Art School qualification.
While concentrating hard on his next project, wrapping a tire in palm leaves, Joseph says, "I noticed that l was not academically smart but l told myself that it was not the end of the road, so l decided to follow my father's footsteps."
Joseph uses natural materials like palm tree leaves, which are named 'murara' in Shona, a language from the Bantu family spoken by most of Zimbabwe, to make baskets, tables, chairs, lamp shades and many other kinds of household furniture.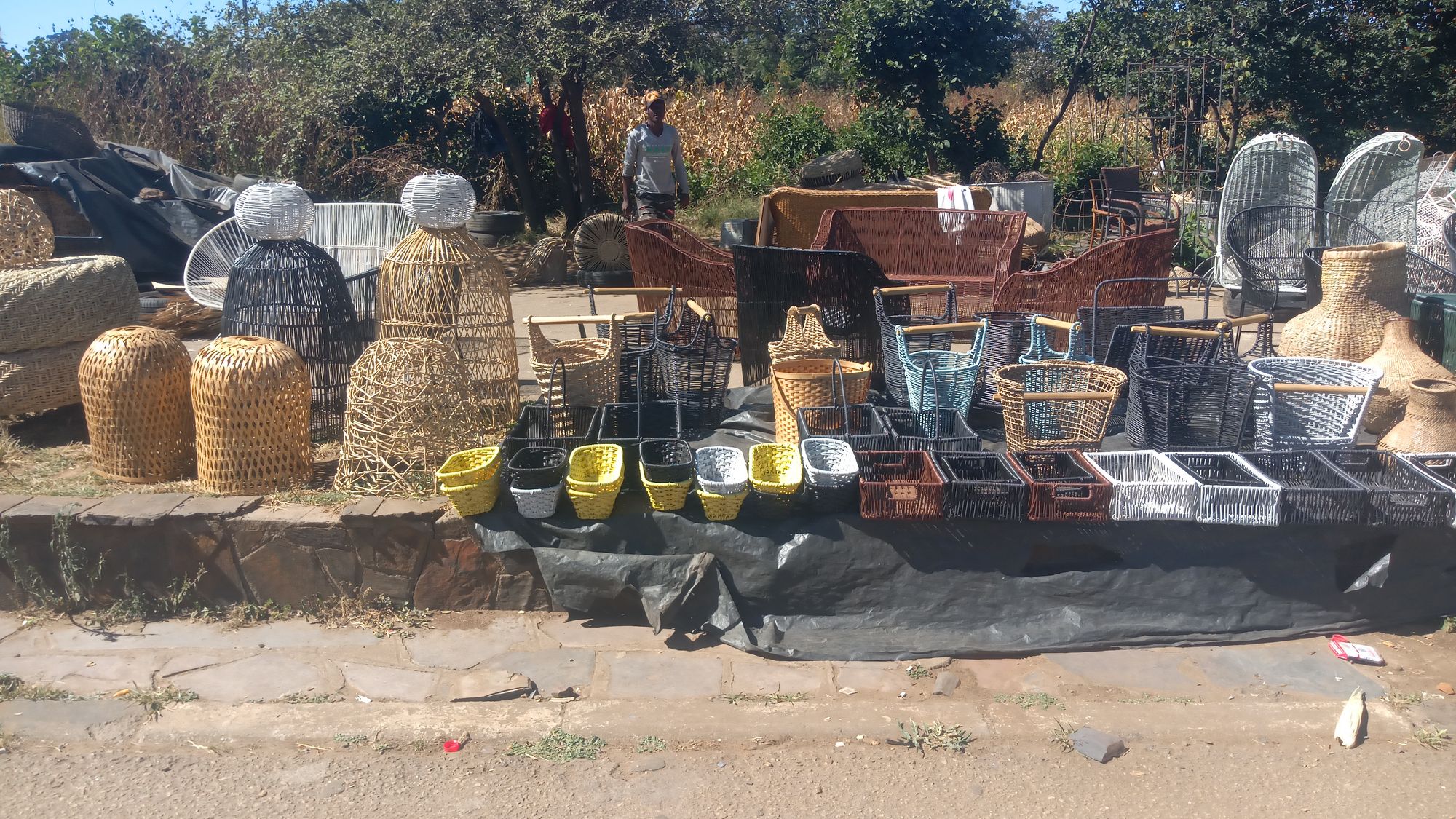 In 2019, when Joseph Chiyambukira was only 17 years old, he took over his father's shop at Newlands Shopping Centre, where his family had a booming business based on the location. The spot is very active due to the heavy traffic passing by or going to and from the shopping centre and is located along the highway that leads to the Northern Suburbs of Harare.
"Following the current unemployment rate in Zimbabwe, l saw an opportunity and l chose to stay and explore."
The Zimbabwe Unemployment Rate is projected to trend around 5.50 percent in 2023 and 5.60 percent in 2024, according to economic models provided by the Zimbabwe National Statistics Agency (ZIMSTAT).
Arts and Craft Work is an industry where unorthodox, exciting and cutting edge designs are constantly generated. Creativity, Drive and Energy are the blood components.
This week Joseph weaved a table made out of different materials, including car tires for the frame and palm tree leaves, or 'murara,' as the coating material.
Designed with the pattern of a bird's nest, to Joseph the design represents growth whether positive or negative.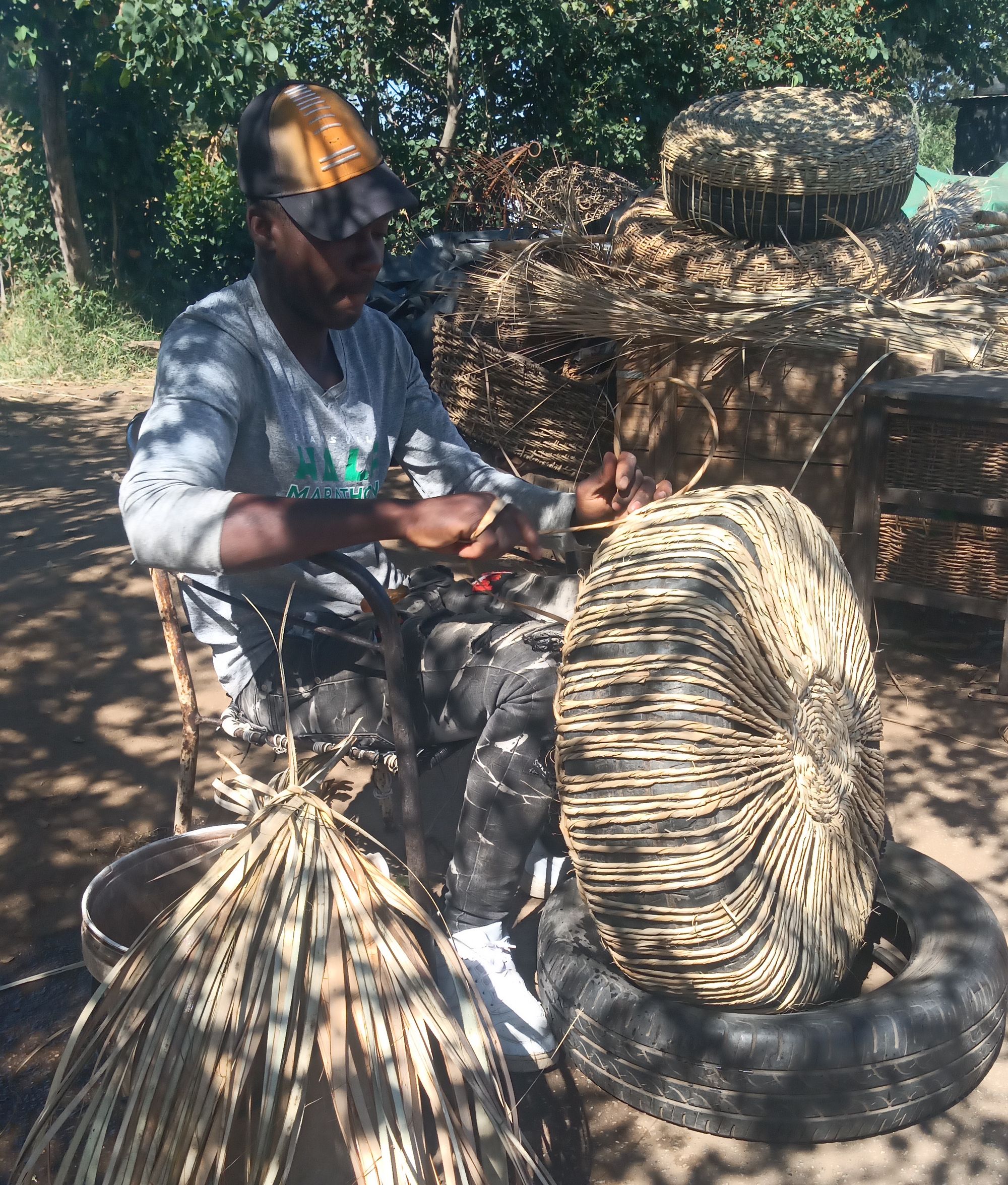 Joseph also mentioned that he has crafted different artworks for a number of prominent people, the identities of  some he can not disclose.
"A lot of prominent people, including celebrities often come by my workplace, placing orders for different furnitures." Mr. Chiyambukira explained.
According to Mr. Chiyambukira sometimes these high profile people share with him what happens to his furniture. There was one customer who owns a restaurant that requested several lampshades made from palm leaves. "I was astonished," Mr Chyambukira said, referring to how he felt when the customer asked him to visit the restaurant and see how his handicraft looked on display.
Joseph Chiyambukira also says he is very humbled that prominent people visit his place of work as well as people from the media space as this raises his hope that his artworks will travel across the local borders to new and different audiences.
As for the imaginative collaborations and pushing the bounds of art creativity Joseph seems to be relentless and destined for greatness.