Profitable Profession to Barely Making By
Jewelry smith Humayoun Khashi has been in the business for the past 25 years. He owns a store in northeastern Afghanistan's Badakhshan province, taking care of his family through the business.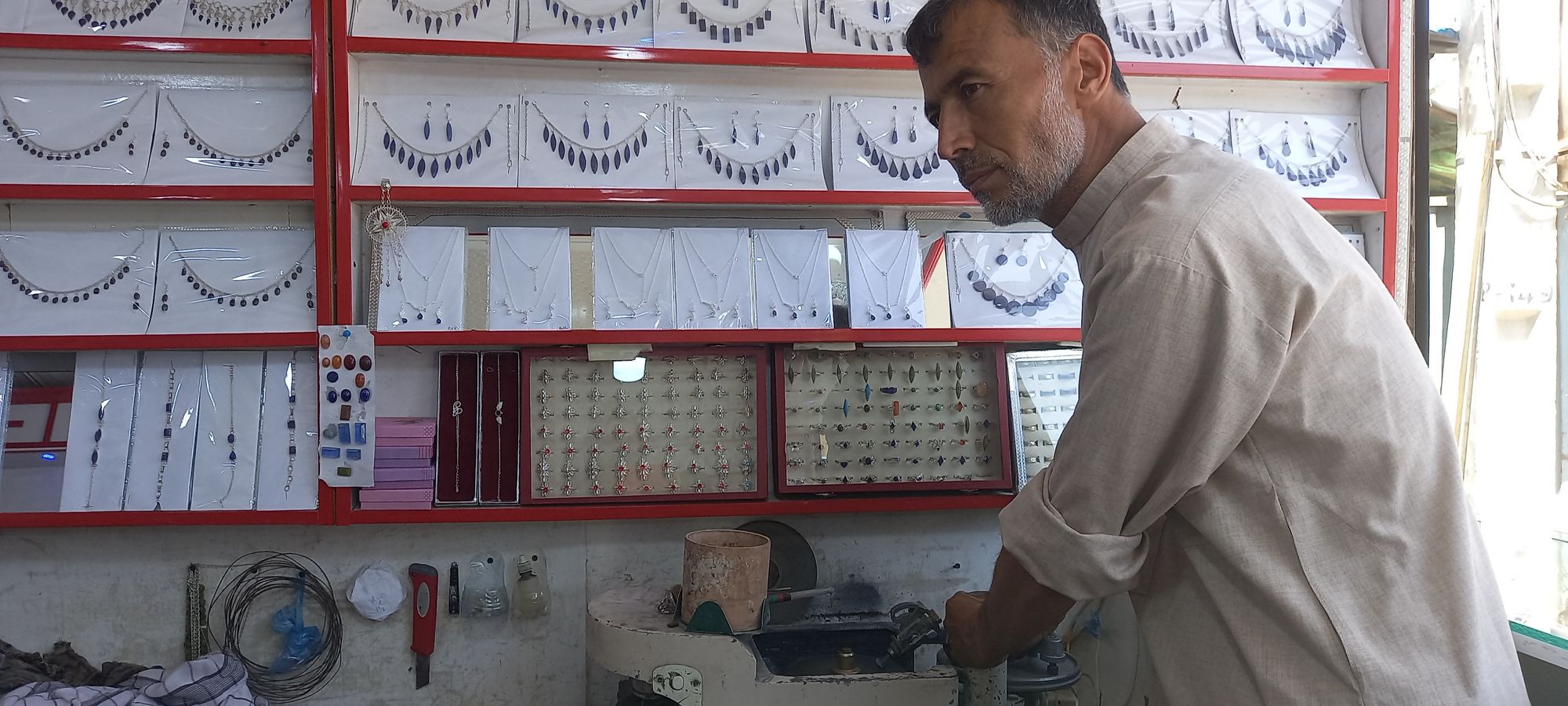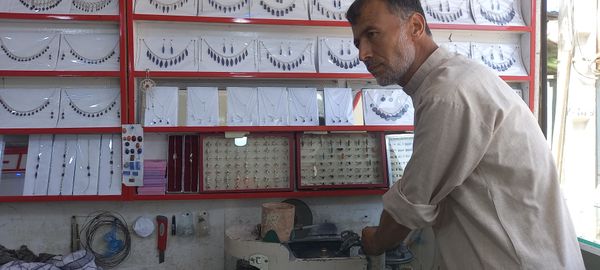 Written by Shabana Farahmand
FAIZABAD, BADAKHSHAN — Making jewelry is as old as human history and comes from the human desire for beauty. When humans got to know themselves, the concept of beauty and ugliness was formed in our collective minds and so began the job of jewelry smiths.
In today's episode of One Day in Afghanistan, Shabana Farahmand visits a jewelry store in Faizabad, the capital of northeastern Afghanistan's Badakhshan province to document a day in the life of Humayoun Khashi, a 40 year-old man with 25 years of experience being a jewelry smith.
Mr. Khashi works very hard to take care of his large family. He and I set up our meeting the day before. Although he was reluctant to accept any media coverage at first, he was readily available after I explained our objective, and storytelling style.
I leave home at 8:30 in the morning to head towards the Hamayoun Khashi Jewelry Store located in "Kochay Zargari - Jewelry Smith Road" in main Faizabad city. When I arrive at Mr. Khashi's store, it looks more like a giant jewelry box. The shop is filled with beautiful precious stones of different colors mostly encased in silver from one corner to the other.
Humayoun greets me warmly and invites me to tea in the customary Afghan hospitality fashion. His work routine is to open the store at six in the morning and close at six, save for Friday, the weekend in Afghanistan and much of the Muslim world. He also has some jewelry making tools at home.
As we drink tea, Humayoun complains about the lack of electricity. The majority of cutting and polishing equipment run on electricity so when there is no power, there is not a lot the jewelers can do.
As we wait for electricity, two girls walk in. They have brought a couple of rings that need cleaning. Humayoun cleans and polishes the rings for them, then charges them 20 Afghanis ($0.23) each for the job. We take this time to talk about Humayoun's profession and family life.
Humayoun originally hails from the Khash district of Badakhshan. He is married to three women and has 12 children. Humayoun, who has studied only up to 7th grade, was deeply saddened by the closure of schools for girls above 6th grade.
"I couldn't get an education myself and I don't want the same thing to happen to my children," Humayoun says. He says he doesn't want to put his children to work until they graduate high school, but with the Taliban barring girls above 6th grade from seeking education in most of Afghanistan, his dream might not become a reality.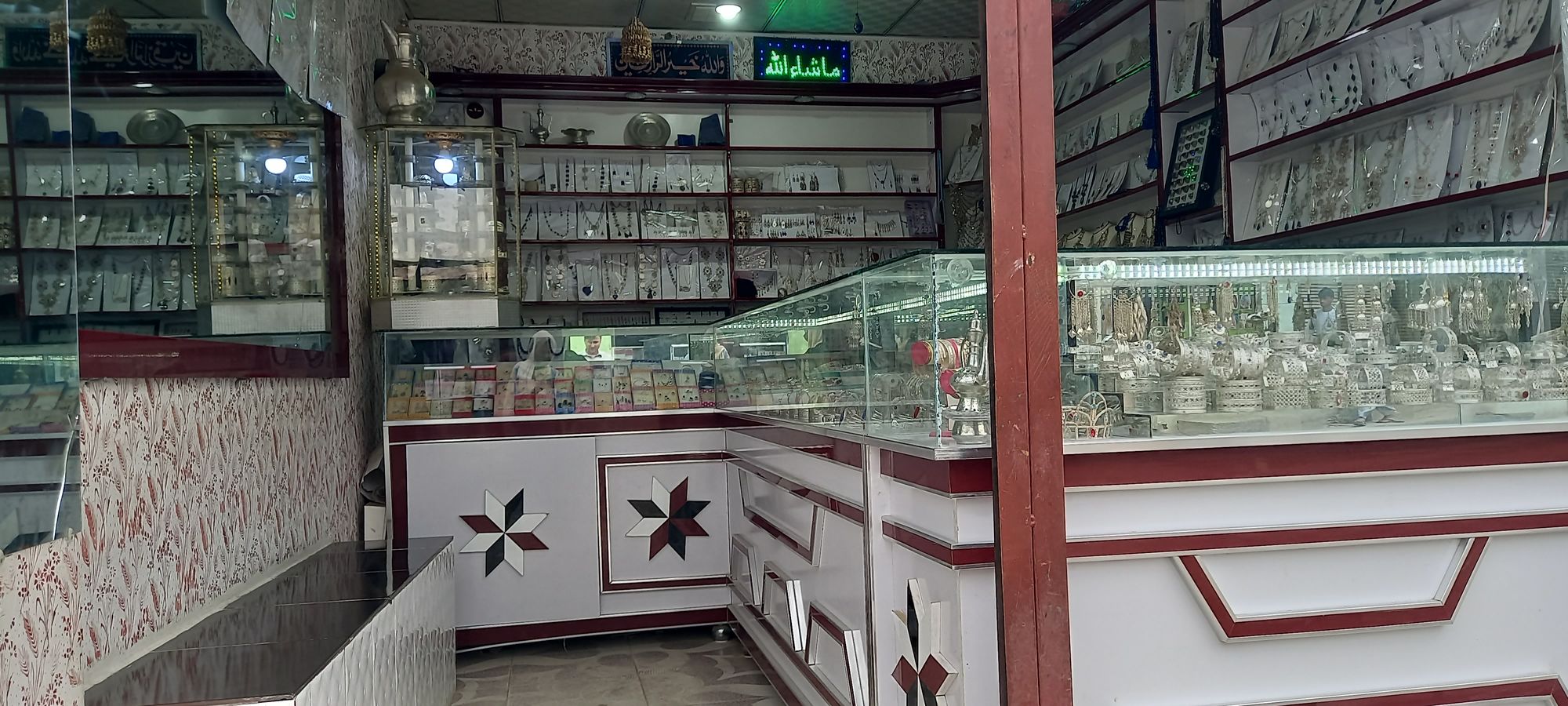 Humayoun's father passed away when he was 18. He had no guardian but his mother. His mom was a smart woman who invested her husband's savings into different businesses, enabling her to care and provide for her children with the profit she made from those businesses.
At around 10:30 the electricity comes back and Humayoun immediately starts cutting a lapis for a ring. He is cutting the piece into a round shape very calmly and carefully.
"If a mistake is made, the stone that took an hour and a half or two hours to cut, is damaged. You can't repair it," Humayoun says while showing me the piece of lapis attached to a tool.
The lapis he is currently cutting is mined in one of the world's oldest mines that has produced continuously for over 7,000 years in Badakhshan.
According to a Foreign Policy (FP) article this year, Afghanistan does sit atop huge deposits of copper, iron, marble, talc, coal, lithium, chromite, cobalt, gold, lapis lazuli, gemstones, and more—making Afghanistan one of the world's most resource-rich countries on paper.
"The tricky part, as it has been for the better part of two decades, is turning potential into reality," the article states.
The mining sector—which never really took off under the former Afghan government, due in no small part to security risks posed by the Taliban insurgency—has yet to fully bloom, even though those at the top of the Islamist group understand its earning and jobs-creation potential, FP said.
"One stone can cost $100, a woman wants a ring that costs that much, as a jeweler you have to pay attention to the cut size, angle and design every second," Humayoun tells me. According to Humayoun, the cutting tool he has at the shop is slow, while the one he has at home is much faster.
He spends more than an hour cutting and polishing the lapis while I pay attention to and take photos and videos of his work and the store, periodically talking with him about his work.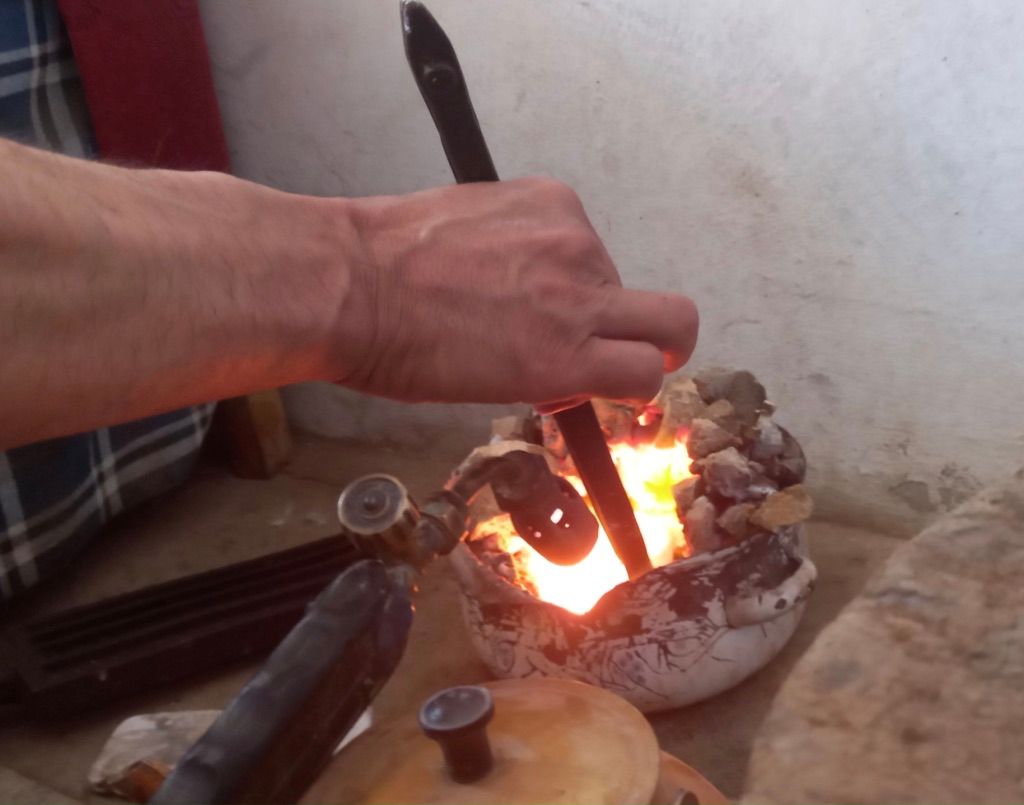 Humayoun got into the profession when it became too difficult to take care of the family with only the profits from his mother's investments. Humayoun had no choice but to become master Majid's apprentice for two months. Master Majid is one of Badakhshan's most famous jewelers. After spending time with Master Majid, Humayoun practiced with copper, brass and other kinds of metal objects until he familiarized himself with the process, patience and delicacy required to make jewelry. He then opened a store with 50,000 Afghani ($574 USD in the current exchange).
"I started working with silver first. I would buy old silver jewelry from women and make necklaces, rings, and bracelets," Humayoun says.
Humayoun did not have many customers in the beginning but he became more famous as time passed. He now has his own fans and his customer base reaches all over Faizabad and Badakhshan. Humayoun is also a painter and calligrapher, some of this work shows on precious stones he has displayed in his store.
He used to hold free classes for individuals interested in jewelry making, through which he trained around 65 people, including 21 women on how to make jewelry. At least two of his students are now jewelers taking care of their families through the business.
"I love cutting stones and making jewelry and think everyone should do what they love," Humayoun says with a smile.
At 11:30 Humayoun starts melting some old silver jewelry. He puts the jewelry in a cup size melting pot, then puts it into a bigger steel pot with rocks covering the inside. He turns on a gas furnace, adjusts the heat level, then leaves the furnace on. Humayoun spends half an hour melting silver and keeps the fire on after to maintain the silver in its liquid form.
At around 12:40 he goes to pray at the nearby mosque while I head home to pray and get a bite to eat. I return to Humayoun's store just after 2 pm.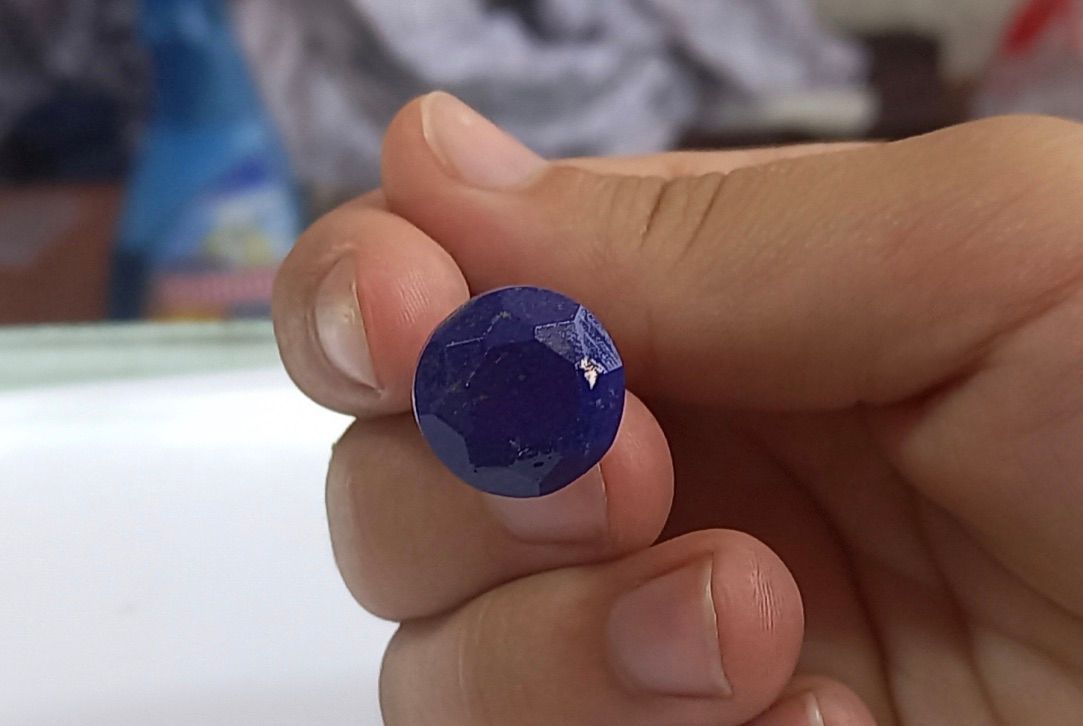 Three women are in the store when I return, talking with Humayoun. The young women have orders, all three order bracelets with lapis and silver.
"You can come back in a week and pick your order up," Humayoun tells the women but does not give them a price because the price will depend on the weight of the lapis and silver. Silver is sold based on karats, the lowest carat being 25, is sold for 40 Afghanis ($0.46) for each karat. The highest is 96, sold for 200 Afghanis ($2.29) for each karat.
The gem stones that Humayoun uses are usually Badakhshan's own lapis, but he also uses ruby, tourmalines and other types of stones mined from Badakhshan's untamed mountains located in Raagh, Keshm, Yaftal, Khash, Keran and Menjan districts.

"The lapis mined from the Char mountains cost $3,000 for a kilogram, this type of stone is extremely strong, and anti-scratch. The stone is expensive for this very reason," Humayoun tells Alive in Afghanistan. According to him, cheaper lapis can be found in Badakhshan too. He says a common size stone for a ring costs around 10,000 Afghanis ($114).
One of the most expensive stones is the ruby, a normal sized stone can cost 25,000 Afghanis ($285), tourmalines are priced at 5,400 Afghanis ($61.73), while lapis is priced in U.S. dollars. Spinel costs $900 per gram.
The silver that Humayoun and other jewelers use are usually from a century ago, passed down from one generation to the next.
According to him, this industry was one of the most profitable jobs in Badakhshan, but the economic crisis following the collapse of Afghanistan's previous government in August 2021 put a damper on his business, resulting in his customer base taking a nosedive.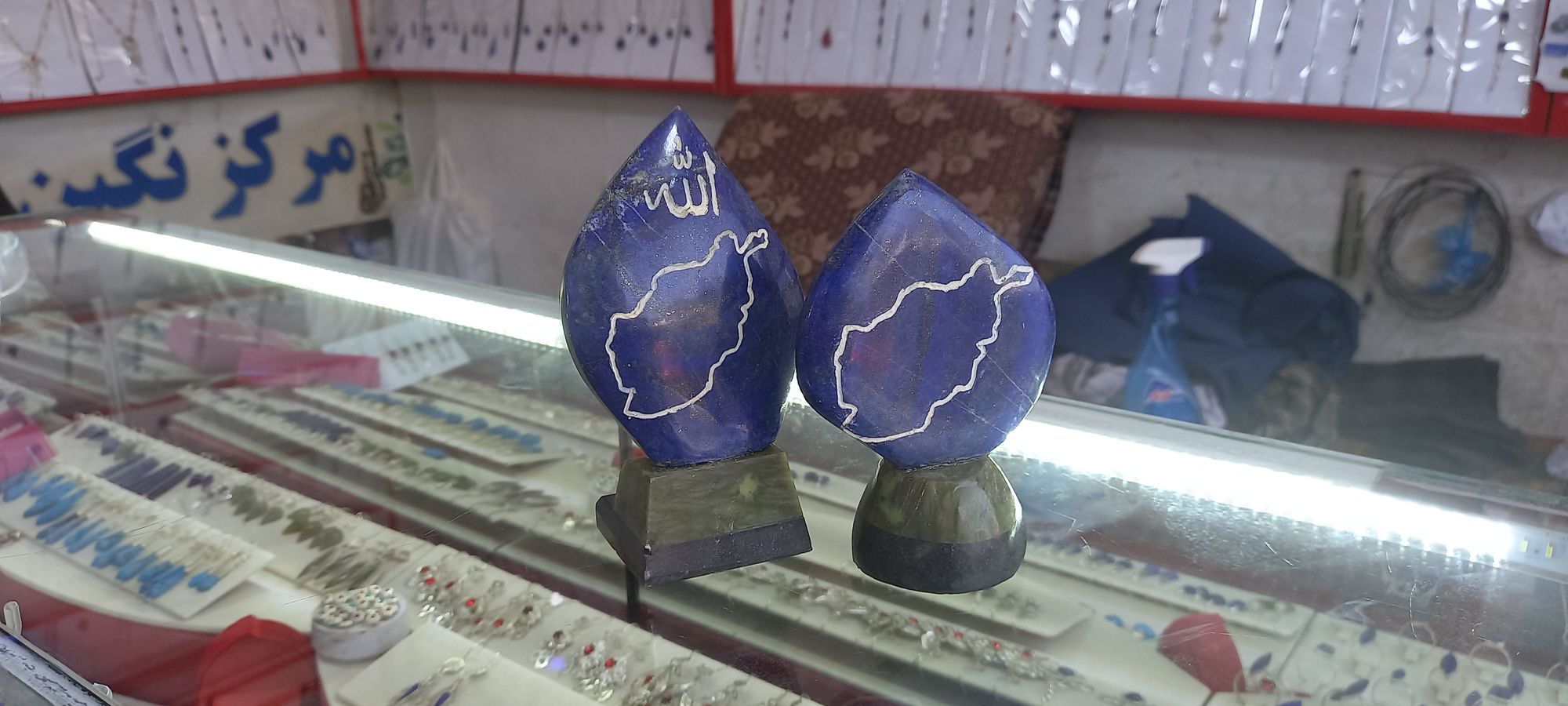 "Most of my customers were from Badakhshan, Kabul, Takhar and Kunduz. When security was better a few years ago, we had foreign customers as well," Humayoun says. But as security worsened, he lost cross-state customers and after the Taliban takeover and subsequent economic crisis, the number of his local customers grew thin as well.  
"The foundation of every marketplace is political stability, security and economic stability," Humayoun states, adding that, "When food prices are skyrocketing with an unemployment crisis at our heel, people can't afford to buy jewelry as it's not considered a priority."
As we are talking, a customer walks in. He is a Taliban member brandishing a weapon and is here to buy a ring. It's now 3 pm.
"Salam. I want to buy a lapis ring," the man says to Humayoun. Humayoun greets him warmly and shows him a variety of lapis rings with different cuts and talks about the cuts and the prices.
The man chooses a ring with a rather large sized stone, asks for the price once, pays and walks out. Humayoun gets back to work using some melted silver to make a necklace.
Humayoun also returns to talking about work and how the change in Afghanistan's political system over the past year has affected him.
"I used to make 10,000 Afghanis ($114) a day during the republic government and 80,000 to 100,000 Afghanis ($914 to $1,143) a month," he says, adding that he currently makes 2,000 Afghanis ($22) a day and about 30,000 Afghanis ($342) a month.
Most of Humayoun's customer base is women, but the amount of customers ordering or buying items are less than those just window shopping.
Humayoun's biggest wish and dream is the expansion and development of Badakhshan's jewelry industry. His other dream is for his girls and boys all to seek education.
"My father was a teacher. He always wanted and wished that we would study, but my family's poverty prevented me from getting an education. I think my message to the youth would be, in addition to getting an education, they should work hard, get a useful and honorable job, and not to depend on others." Humayoun says.
I leave Humayoun at 4, wishing him the best of luck with his business. His business of cutting and polishing stones will continue. Some days that's all he does.
"Cutting stones is very hard and requires a lot of attention," he says as a last message while I bid him goodbye.