Potter Carries on Family Business
A potter in Afghanistan's eastern Laghman province makes a living from the business that has been in the family for the past seven decades.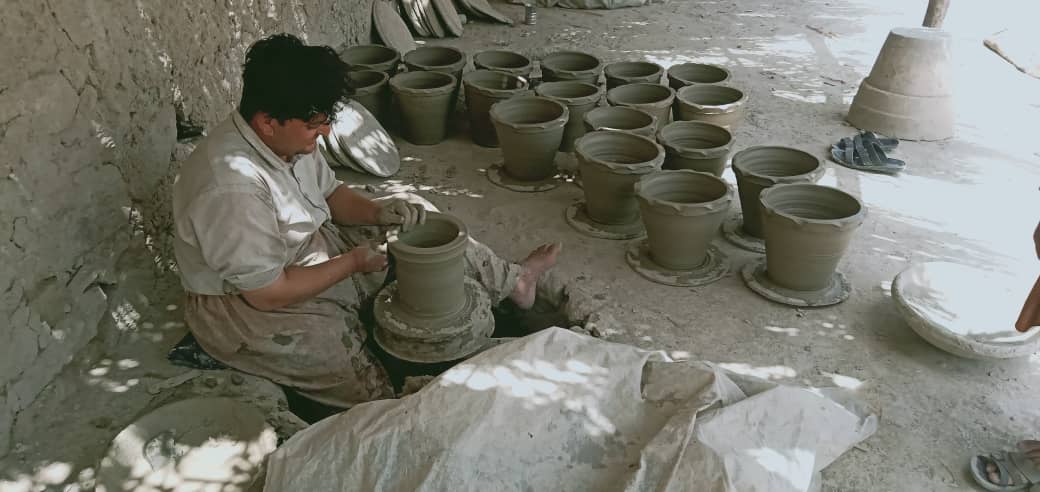 — One Day in Afghanistan —
Reporting by Abdul Qayum Raihan, written by Abdul Ahad Poya, edited by Mohammad J. Alizada, & Brian J. Conley
---
Alive-in is a not-for-profit media agency that mentors journalists from underrepresented communities to increase local and international understanding. Subscribe to receive our stories directly in your inbox.
---
Despite significant technological advances throughout the world, especially the use of automated machinery in the production line, Afghanistan still uses traditional methods in producing daily products. Pottery is a traditional handicraft produced and used in rural Afghanistan, both for preserving tradition and due to the lack of advanced machinery.
For today's One Day in Afghanistan episode, Alive in Afghanistan's Abdul Qayum Raihan visits a potter in Chehlmati area on the outskirts of Mehtarlam, the capital of Laghman province to document his work day.
At around 8 am I hop on a rickshaw from Mehtarlam toward Chelmati. The 20 minute ride is coupled with the rickshaw dodging potholes and making loud unpleasant engine noises as it approaches my destination. I arrive at 30 year-old Sayed Ajan Laghmani's store as Mr. Laghmani is planning his work day with his staff.
Laghman is known for being green, called "Shin Laghman" because of its near tropical weather and abundance of water. As I walk into the open area where Sayed Ajan works my clothes stick to me because of the hot weather. A canopy made of leaves and tree branches shades the area in a corner of the property, which serves as Sayed Ajan's working quarters. In the courtyard dozens of newly made clay flower pots are laid out in the sun to dry. Nearby a customer and one of Sayed Ajan's employees bargain over a bread oven.
Sayed Ajan invites me to sit in the shade as he orders one of his employees, Sajjad, to make us some tea. Hot or not, the Afghan tradition is to always serve tea to guests.
Sajjad is a 13 year-old boy in sixth grade who has been forced by his parents to learn a profession in addition to going to school. As Afghanistan's economic and humanitarian crisis gets worse by the day, children are at higher risk of entering the workforce.
According to a survey published in February,  Save the Children, a Britain-based NGO,  estimated that more than one million children in Afghanistan are engaged in child labour.
"A survey of 1,400 households across seven provinces of Afghanistan found that 82% of Afghans have lost income since the collapse of the former government and transition of power last August, with 18% reporting they had no choice but to send their children out to work," Save the Children said.
A world population dashboard by the United Nations Population Fund (UNFPA) says 41 percent of Afghanistan's 40.8 million population in 2022 was between the ages of 0 to 14.
Sajjad gets a pot of green tea ready and brings it over with some candy on a metal serving tray. Together with Sajjad, Sayed Ajan has four employees, all of whom go to school and work at the factory part time.
While drinking tea we get into Sayed Ajan's life. He married seven years ago and has three daughters. It's culturally inappropriate to ask for the names or ages of the women in Pashtun families across most of Afghanistan, so we let the topic go.
Mr. Laghmani spends most of his weekends at home to relax. Although volleyball is his favorite sport and a local volleyball team plays in his village every day, he seldom participates because his daily workload  leaves him exhausted.
Following his marriage, Sayed Ajan assumed full responsibility for his growing family, having to work to support them. He studied until eighth grade but couldn't continue his education due to the economic challenges facing his family.
What concerns him most and cannot escape his thoughts when he is not working is the future of the country and his children.
"What if they remain illiterate due to the poor economy or if I fail to provide for them?" is a question he asks himself.
Sayed Ajan can only make between 250 to 300 Afghanis ($2.81 to $3.37) per day, despite all the effort, barely enough to pay his employees and take care of his family at the same time.
"I have been working since I could differentiate between my right and left hand," Sayed Ajan, who started working at the delicate age of nine, tells Alive in Afghanistan. He went to school half the day and worked alongside his father, Mohammad Tahir, the other half. Tahir was in the business for more than 40 years and learned the profession from his dad. Sayed Ajan took over the business 10 years ago. The business has been in the family for more than 70 years.
During the 10 years of his career, three of Sayed Ajan's former employees left to establish their own pottery businesses in different parts of the province, each providing an income to support their families.
Mr. Laghmani makes clay vases, tandoors (traditional Afghan woodfire ovens), pitchers, mugs, and bowls, which not only are sold in Laghman but in many other provinces across the country. But Sayed Ajan's dream job is not pottery, he only became a potter to take care of his family and would, "Rather work in an office." What he would do in that office, he is not clear about.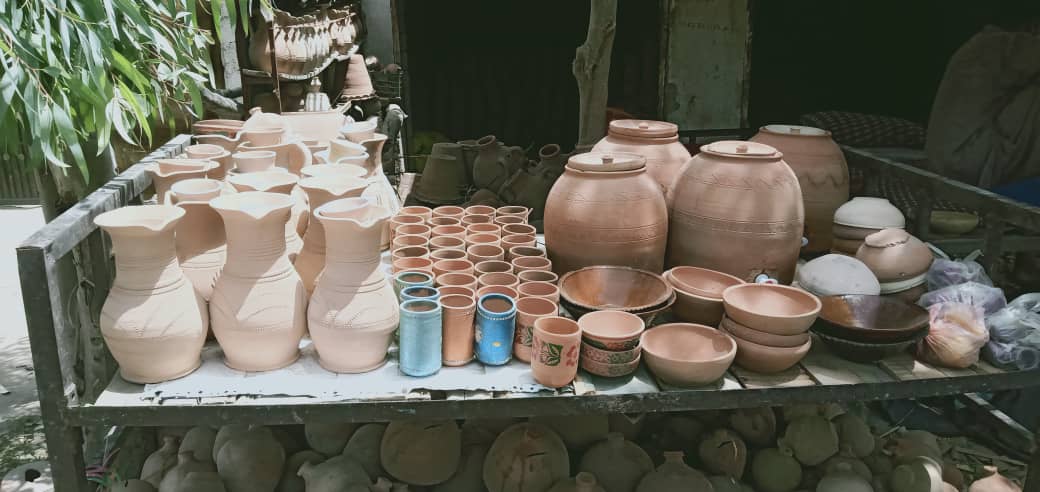 The specific or special type of sticky red clay that Sayed Ajan requires to make his products can only be found in Kabul and Logar provinces, each truckload costs Sayed Ajan between 4,000 to 6,000 Afghanis ($44 to $67 currently), the truckload lasts him between 20 to 25 days.
Sayed Ajan normally starts work at 9 am and finishes by 4:30 pm, making dozens of clay objects, the type depending on customers' orders.
After half an hour of chit-chat, we finish our tea. Sayed Ajan orders his employees to start work while rolling up his sleeve for work as well. The process of making clay objects is simple to the eye.
"We put the clay into a big tub a day before and pour water on top of it, then the employees mix the water and the clay using their feet, the clay is used the next day," Sayed Ajan says as he points to the three big cement tubs in the middle of the big yard that are full of watery beige clay.
The next day each of them takes the required amount of clay out of the tubs, sits next to a hole in the ground that serves the foot-cranked wheel that turns the pot of clay sitting on top, which serves as a circling platter for whatever clay design they are making.
Sayed Ajan and his employees work as a team, once the objects are made according to the needs of the customers, they are put in the sun to dry for two days. After this process, the objects are all placed together in a large fire pit and cooked. Because Sayed Ajan and his team don't cook the clay objects on the same day they are made, I didn't witness a firing while I was visiting him.
Sayed Ajan's phone starts ringing as he finishes telling me the process of making clay objects, he answers and talks to a customer bargaining on the other end over the price of flower pots he needs to be made.
"It was a gardener from Bagh-e Mirza who ordered 45 large flower pots, Bagh-e Mirza is about 25 kilometers away from here," Sayed Ajan says as he puts the phone back in his pocket. Mr. Laghmani makes three different sizes of flower pots that cost between 30 to 50 Afghanis ($0.34 to $0.56). Since his customer had a large order, Sayed Ajan gave him a 5 Afghani ($0.05) discount for each flower pot, in total, the shop will make 2,025 Afghanis ($22.17) from the order within five working days.
No notes are taken as Sayed Ajan memorizes the orders. He measures some clay with his hands and places it on the wheel, puts some water in a container next to it
There is no note-taking of the customer's order, they are memorizing it. Sayed Ajan measures some clay with his hands and places it behind the wheel, and puts some water in a container next to it that he uses to make the clay smooth. Sayed Ajan holds the clay on top of the wooden and hand-made wheel, turns the wheel with one foot and adjusts the clay with his hands in the form of a vase. He finishes a vase in 25 minutes and tells one of his employees to place it under the sun to dry.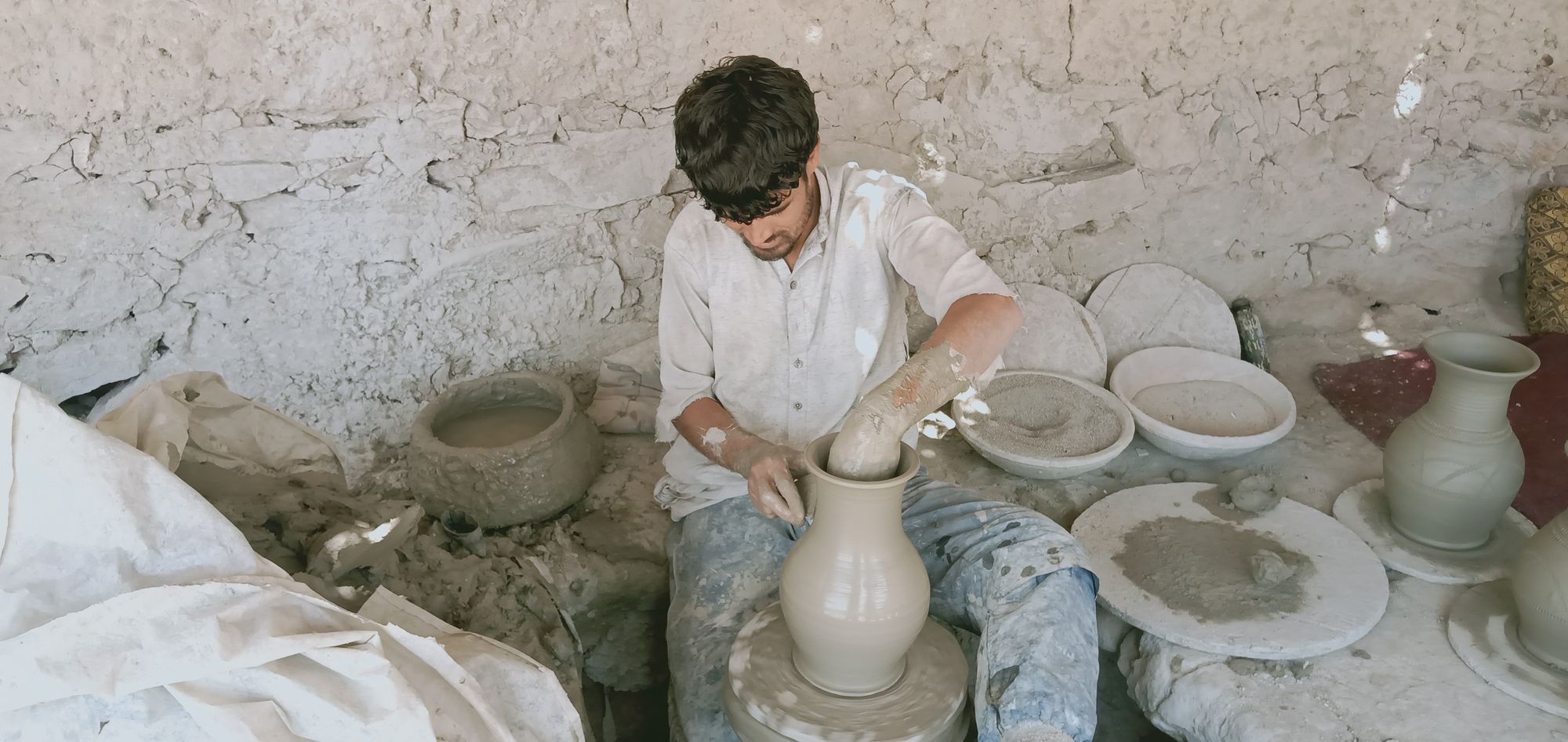 It is now 10 am, the sun is shining with all its might, Sayed Ajan is sitting under the canopy built from tree branches and leaves so the intensity of the heat doesn't stop him from doing his job. After a while, he takes the phone out of his pocket and calls home.
"We have guests in the shop, cook something and send it to us when ready," he orders someone on the other end of the line after which he starts working on a second, then a third vase and continues doing so until lunch time.
It's now noon and everyone is somewhat tired, seeming like the intensity of the heat and the job have both hijacked their energy. At this time, a boy holding an aluminum dish and a tablecloth on his shoulder approaches the factory. His name is Ahmad, Sayed Ajan's cousin. He has brought over some rice that they pour into three large plates, served with yogurt. The rice is delicious.
Normally Sayed Ajan and his employees eat lunch at home but showcasing Afghan custom and hospitality, he doesn't even ask me if I want to eat lunch with them, only provides and expects that I will stay.
During the meal, Sayed Ajan expresses his feelings about the current situation, and the challenges facing the country at the moment.
"If the situation was good, they should have been in school, attending courses or going to madrassas, instead they are working here," Sayed Ajan says about his employees, who are all children, adding that, "They will grow up illiterate just like me."
According to the United Nations Educational, Scientific and Cultural Organization (UNESCO) report in March of 2020, although the literacy rate increased from 34.8 percent in 2017 to 43 percent in 2020, over 10 million youth and adults in Afghanistan remain illiterate.
Lunch and noon prayers take about two hours. We pray at the mosque near the factory after lunch and when we come back, two old men are waiting to buy a couple of pitchers from Sayed Ajan. After some bargaining, they are able to take the pitchers away paying 100 Afghanis ($1.12) for both of them.
Sayed Ajan, who like other Afghans has been affected by the Taliban takeover of Afghanistan in August of 2021, says his factory was closed more than 8 months after the collapse, before reopening in April.
"No one ordered anything for five months after the arrival of the Taliban," Sayed Ajan said, adding that he could barely fulfill the needs of his house in those months.
At 2:35 pm, Sayed Ajan takes his phone out and calls Naqibullah, a driver who is supposed to bring him a truckload of clay from Kabul.
"Where are you? Right, drive safe, be careful!" Sayed Ajan says. After disconnecting the call, Naqibullah says the driver is around two hours away from Laghman.
"Where do I get 4,000 Afghanis to pay him now?" Sayed Ajan asks himself.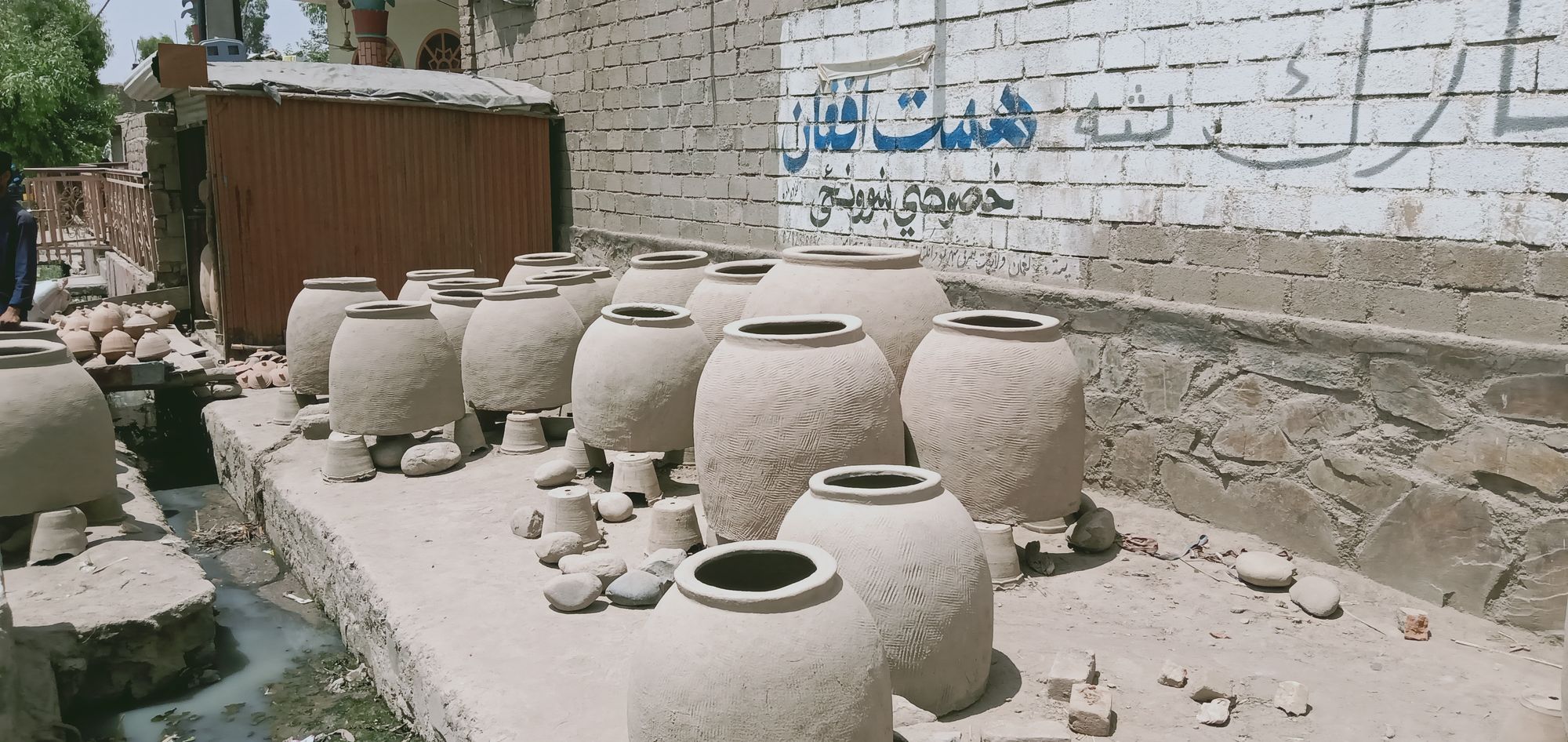 Around 3:45 pm, Sayed Ajan and his team made nearly 20 flower pots and 25 pitchers, a busy day for all of them. According to Sayed Ajan they can make 40 small or 20 large flower pots in a day but it all depends on the number of orders they have.
Sayed Ajan gives each of his employees half an hour a day to implement whatever they have learned, make a flower pot or a pitcher. 14 year-old Kaihan is Sayed Ajan's most experienced employee who can make pitchers by himself. He has been an employee for three years.
For more information about the situation of children in Afghanistan, read Alive in Afghanistan's articles on children.
---
If you are able to support our work financially, please click the button below.
---