Portraits as Protest
Atena Sultani is a talented artist from Herat who, through her paintings, strives to reflect the voices of girls deprived of education and women deprived of work after the fall of the previous Afghan government in August 2021.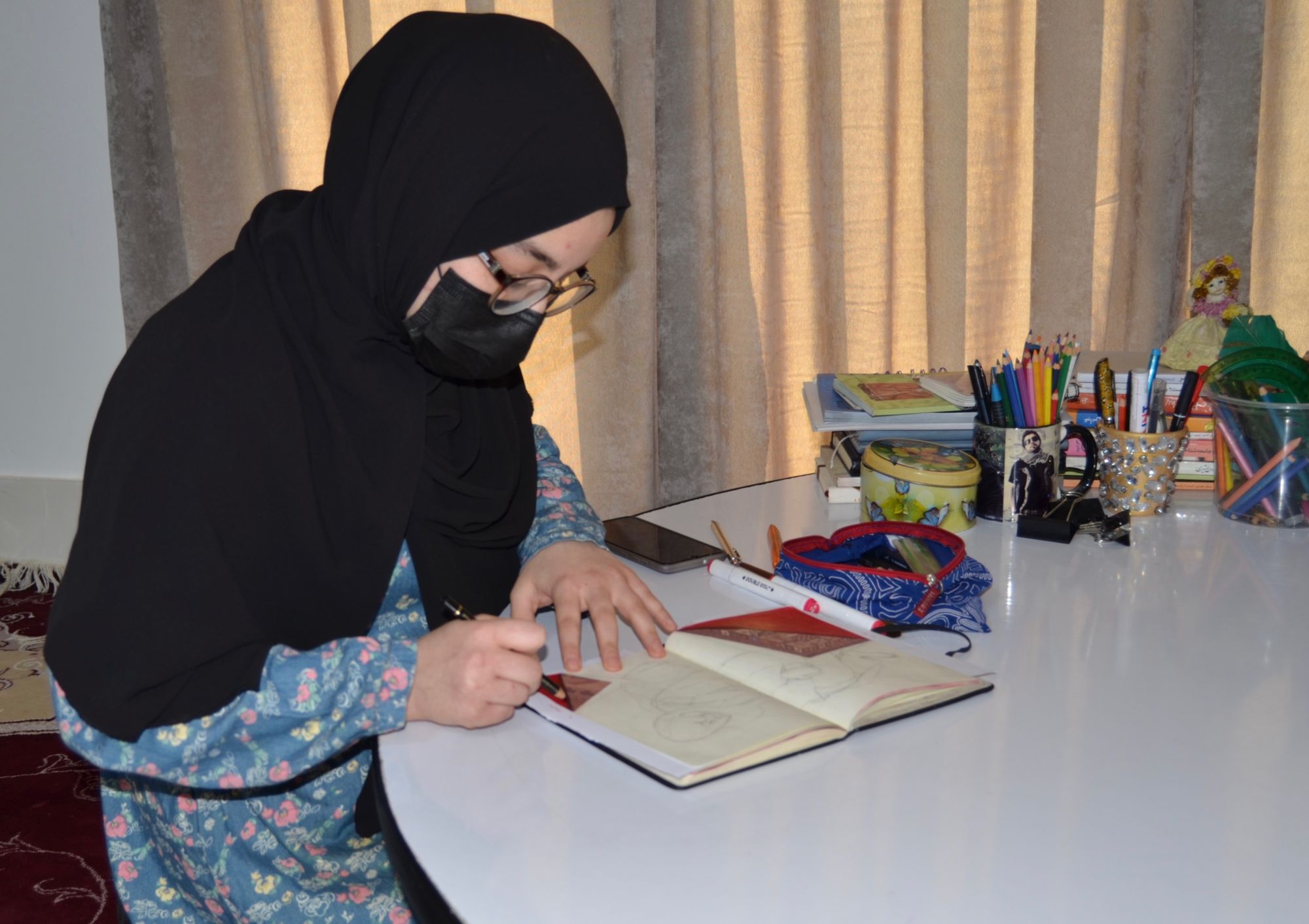 ---
Alive-in is a not-for-profit media agency that mentors journalists from underrepresented communities to increase local and national understanding.
If you are able to support our work financially, please click the button below.
---
HERAT, AFGHANISTAN — Afghan women have turned to a variety of crafts including painting, tailoring, carpet weaving, embroidery, and other vocational skills following the Taliban takeover in August of 2021.
In today's One Day in Afghanistan episode, Alive in Afghanistan documents one day in the life of Atena Sultani, a talented artist from Herat, who strives to reflect the voices of girls deprived of education, and women deprived of work, and depict the lives of this group after the fall of the previous Afghan government.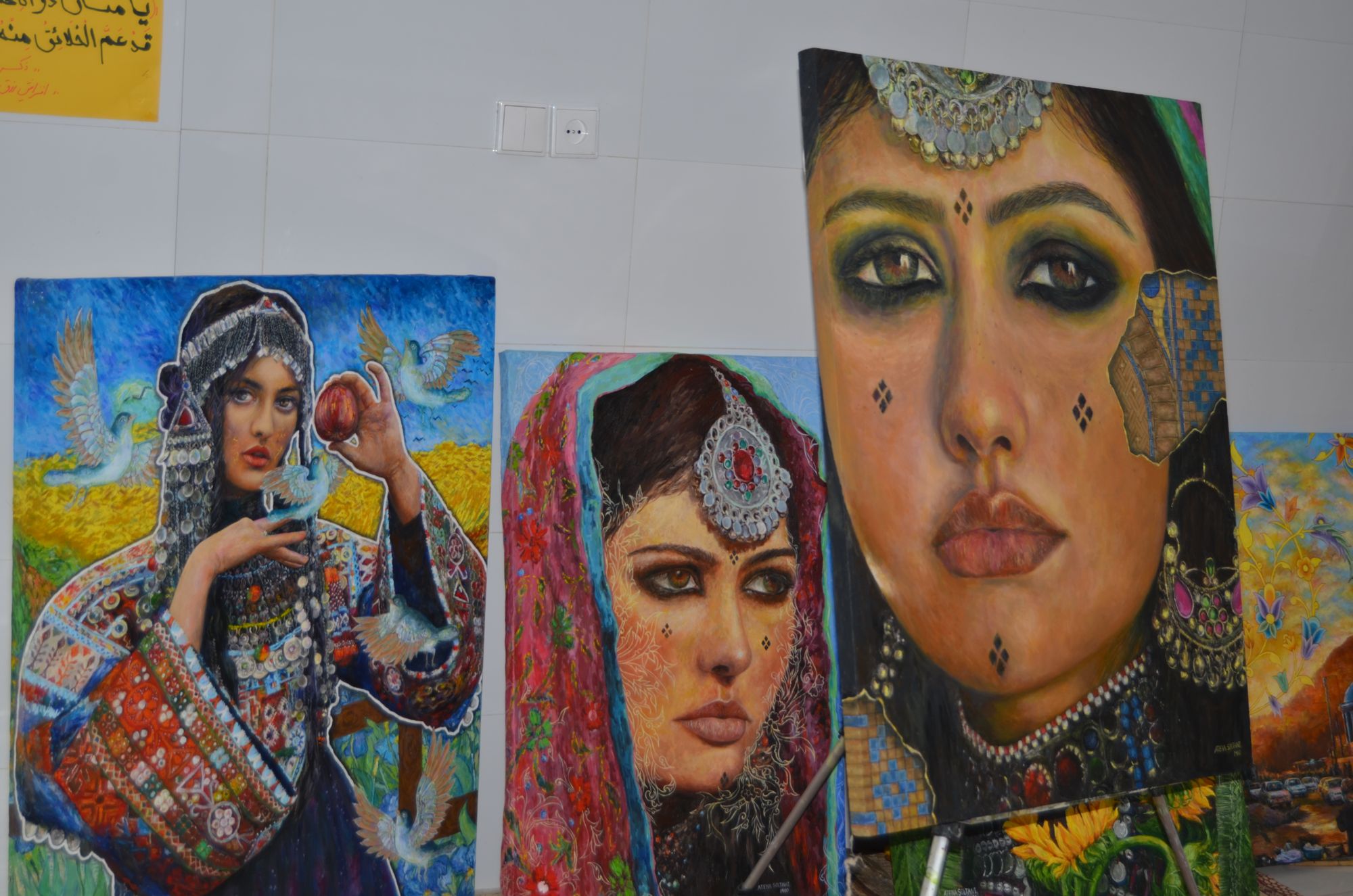 Atena lives in the second unit of a yellow, three-story building. As I enter her home through a spacious hallway, Atena's artwork immediately captivates my gaze. Among Ms. Atena's pieces are paintings featuring models adorned in traditional Afghan attire and jewelry from Avizeh, an Afghan brand specializing in clothing and jewelry based in the United Arab Emirates. To find out more about Avizeh, follow them on Instagram.
I find myself grappling with questions that swirl through my mind at this very moment: Why are these talented girls confined to their homes? Is "domestic confinement" the reward for their abilities? For now, I am left without answers.
Ms. Sultani stands tall, dressed in a blue attire that resembles a portrait skillfully painted by her own hands.
Atena Sultani, a 23-year-old young woman, is a member of a six-person family. She completed her studies at Herat University's Faculty of Fine Arts last year, shortly before the Taliban imposed restrictions on women pursuing higher education outside of the medical field.
She says, "My art was initially for my own mental healing, but when I shared them on social media, I realized that I could be the voice of Afghan girls and the people of Afghanistan. Perhaps my work won't solve any problems, but they can convey the message of the oppression faced by women and girls here."
According to Ms. Sultani, girls in Afghanistan, who have long been denied their right to work and education, comprise the majority of war victims over the last several decades in Afghanistan. She yearns for individuals and the global community to unite their voices in solidarity with Afghan women and girls.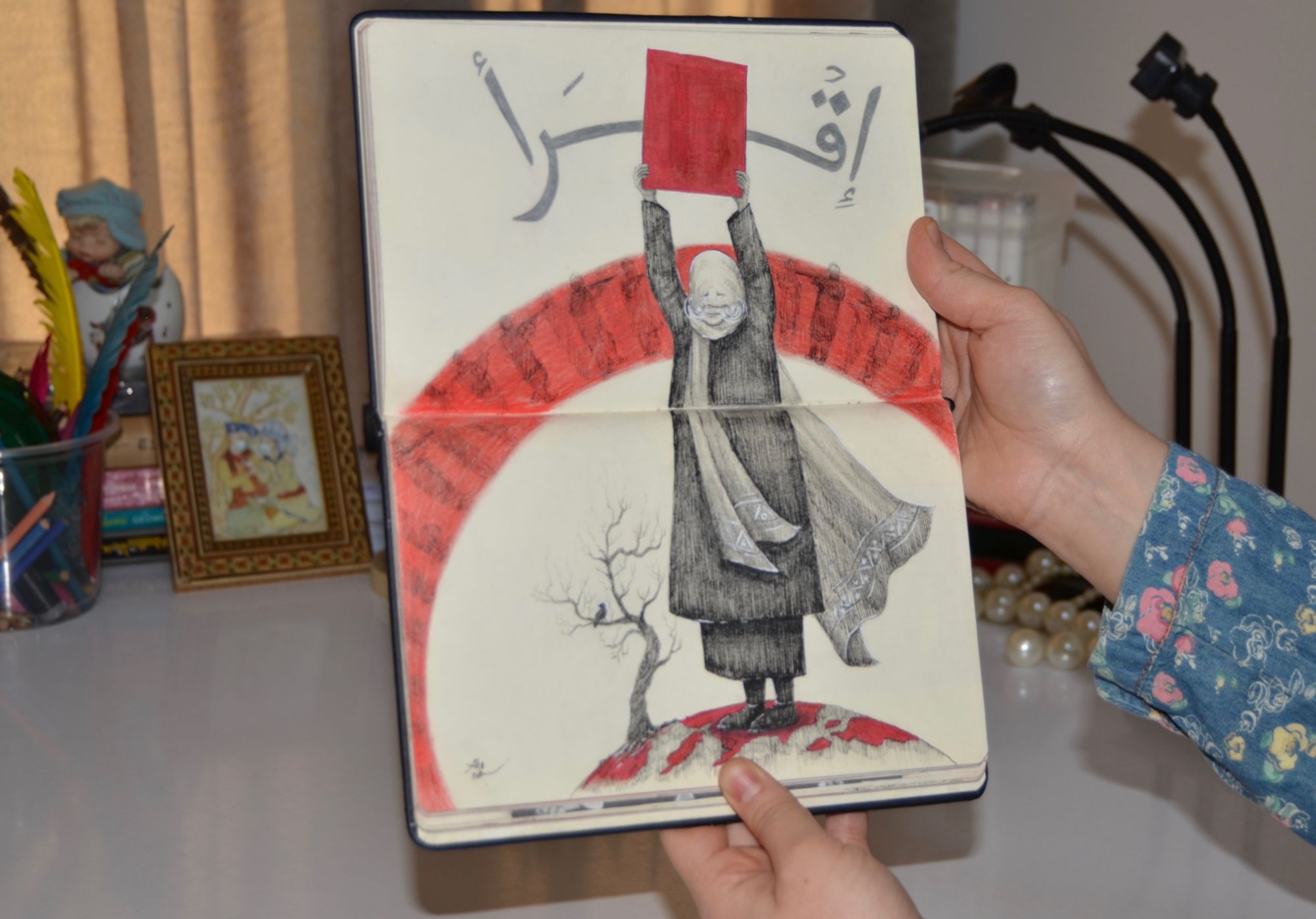 Through her art, Atena aims to convince the governing system in her country to grant Afghan women and girls the right to work and pursue education. Women comprise approximately half of Afghanistan, and she firmly believes when they are deprived of literacy, society remains incomplete.
"I had many hopes during my university days, but now, under the rule of the current regime, all my aspirations have vanished and turned to dust. One of my aspirations was to showcase my work in exhibitions outside the country after graduating from university," Atena tells Alive in Afghanistan.
Ms. Sultani explains that the Taliban government has imposed new restrictions barring artists from painting human faces or portraits, taking away her opportunity to express the truth and freely showcase her protest through art. These restrictions left her with no choice but to share her art globally through social media networks such as Facebook, which is the only way to voice the hidden anguish within her.
The Taliban follows a conservative interpretation of an Islamic Hadith that believes only paintings of inanimate objects are allowed. Depictions of animated objects such as humans and animals may be considered objects of worship or false idols, which are not permitted in Islam.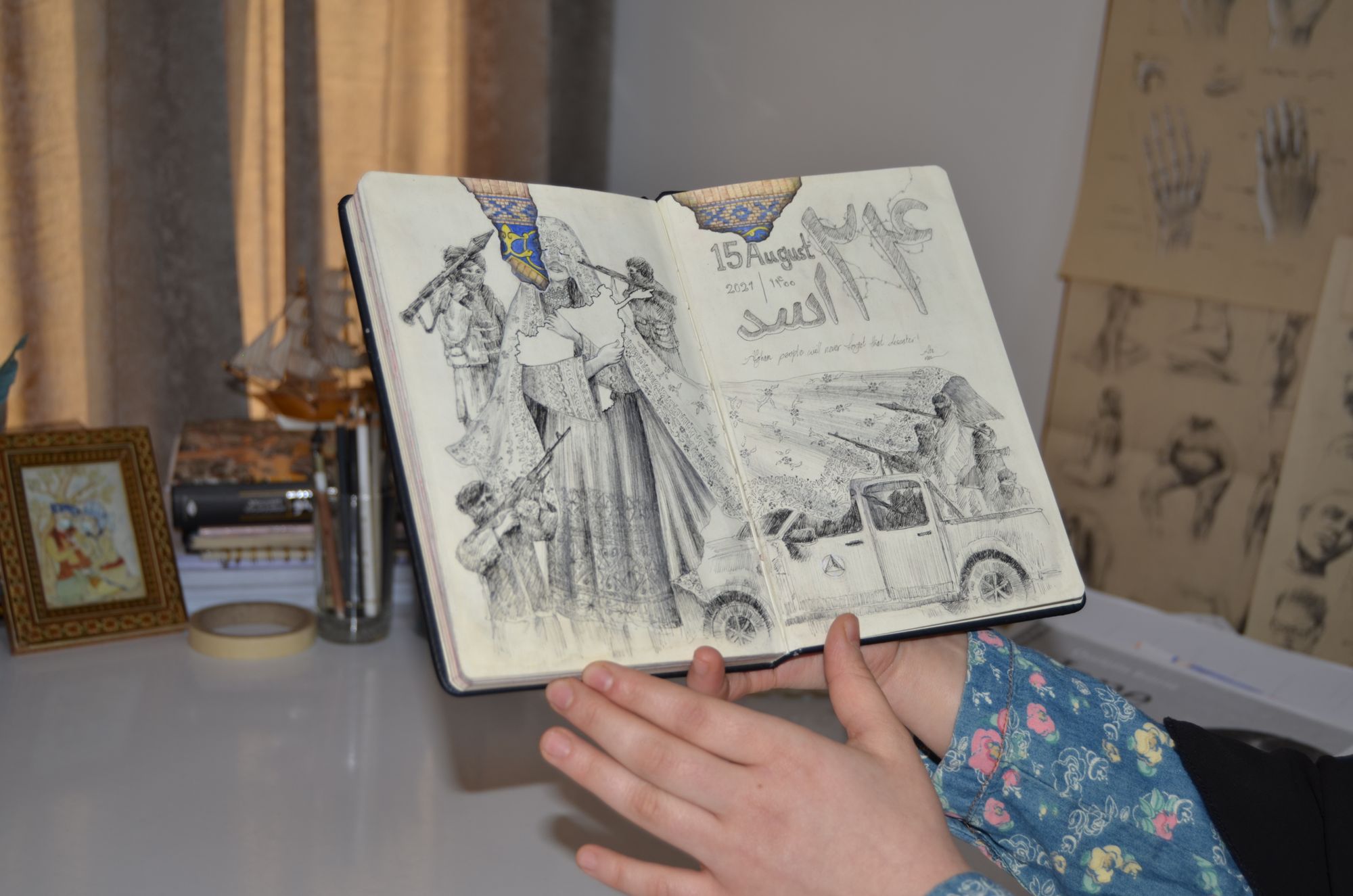 The situation of women under Taliban rule, and the emotion Ms. Sultani feels as a result, is clearly evident in her art.
Ms. Sultani once dreamed of setting up a gallery and providing art education to other girls. However, the escalating restrictions on women rendered her dream impossible to pursue. Nevertheless, she has succeeded in creating 15 art pieces that portray Afghan women and girls which she considers a form of protest against the Taliban.
"I used to do oil painting in the early days [of the Taliban takeover]. After the political transition in the country, the distress that lingered in my mind led me to create protest art on paper for my own satisfaction." According to Atena, "Gradually, these pieces became impactful and caught the attention of many. I shared them with others online and received a great response from those whose hearts truly burn for the girls of this land."
While she doesn't want to make the number of her followers public, she says, "I have a large number of followers on social media who witness my work and encourage me to continue on my path."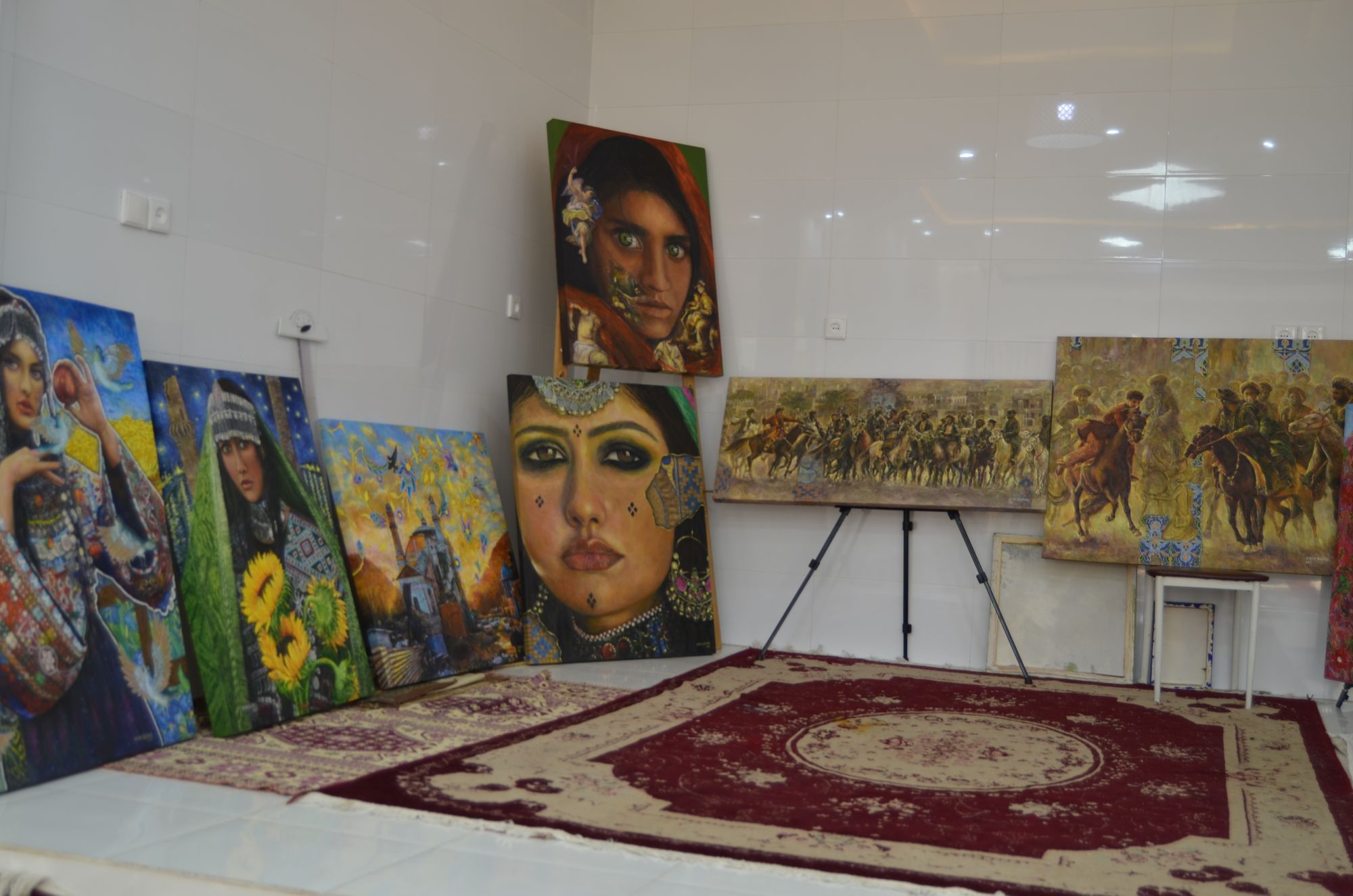 While displaying her work and briefly explaining each piece, Ms. Sultani goes on to share a part of her heartache and lighten her load.
"August 15, 2021 [The Taliban takeover], the first day of the ban on girls' education, the suicide attack on Kaaj Educational Center [in capital Kabul on Sep 30, 2022] the migration of Afghans from the country [since the Taliban takeover], barring women from visiting public parks, banning women from universities, are events that I have used my brush, knowledge, and mind to portray in my paintings as [a sign of] protest, so I can be their voice," Ms. Sultani adds.
Although painting is Ms. Sultani's academic field, August 15, 2021 served as the catalyst for her artistic expression and the utilization of her talents. Consequently, she has depicted her inner emotions, along with those of thousands of others, to the world through imagery. This is particularly significant in a society where freedom of expression is stifled.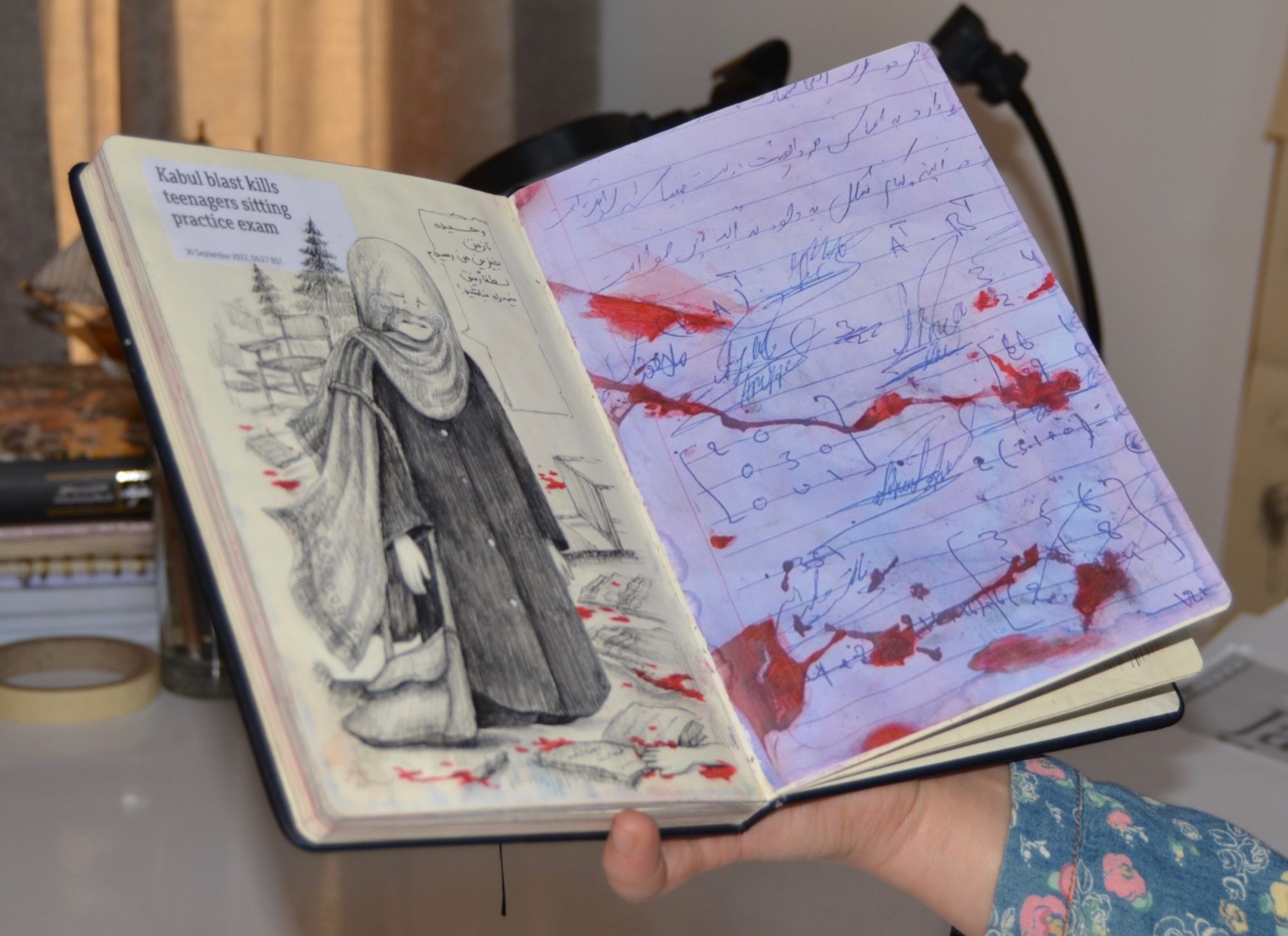 In a country like Afghanistan, where the majority adhere to conservative religious values, engaging in painting is no easy feat and comes with its fair share of challenges. However, in recent years the art form has gained significant momentum, with various groups emerging under different names to showcase their work and pursue diverse objectives. One notable example is the "Hunar Salar" or "Art Lords" group in Kabul.
Ms. Sultani says these problems still persist, adding that, "If this trend continues, the art of painting will face a recession and eventually disappear."
"I took on small projects that covered my expenses during the previous government but couldn't take on any projects following the recent developments and limitations. My family [currently] covers my expenses," Atena says.
According to her, the moral value of her artwork surpasses the financial cost required to create it and the time she invests in each piece is more precious than anything else. She appeals for support from institutions in the art sector as well as the public, urging them not to abandon artists and to stand by them.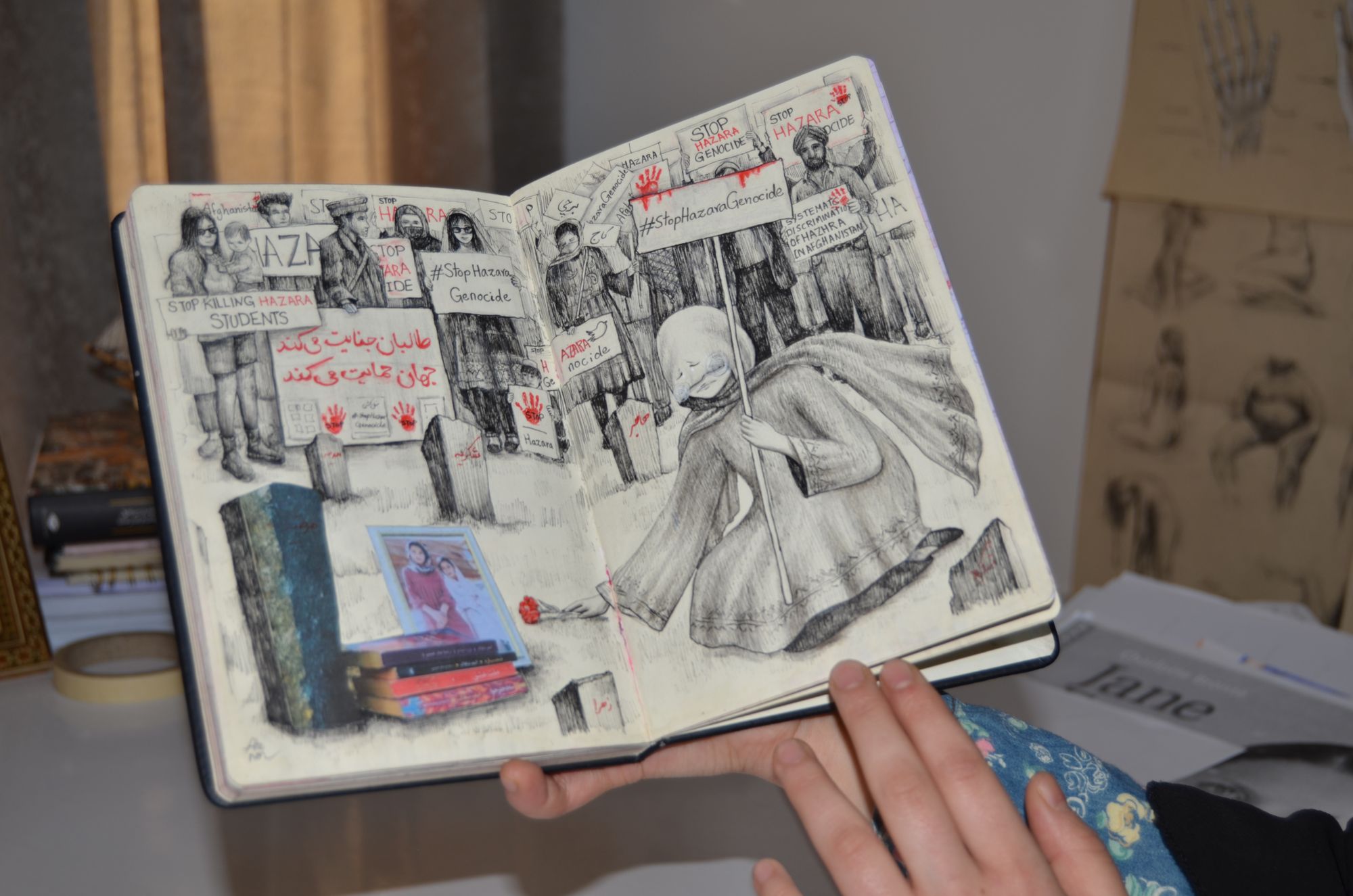 "Recent sanctions have resulted in an increase in the price of raw materials such as paint, brushes, canvas, and other supplies. In the past, a large painting would cost around 2,000 to 3000 Afghanis ($22 to $34), but now a single painting costs at least 5,000 Afghanis ($57)," Ms. Sultani complains.
Initially, her parents opposed her pursuit of the visual arts due to their lack of understanding. However, as time passed and they gained a proper understanding of painting, they have become the biggest supporters of their daughter.
" I am the only artist in my family. When I first entered the world of art, I had no knowledge of this art form, and my family was unfamiliar with painting. Gradually, as I shared my knowledge with them, they became acquainted with this artform. My mother supports me more than anyone else," Atena says.
As a newly emerged artist from a traditional family, Ms. Sultani talks about the challenges that have hindered her progress.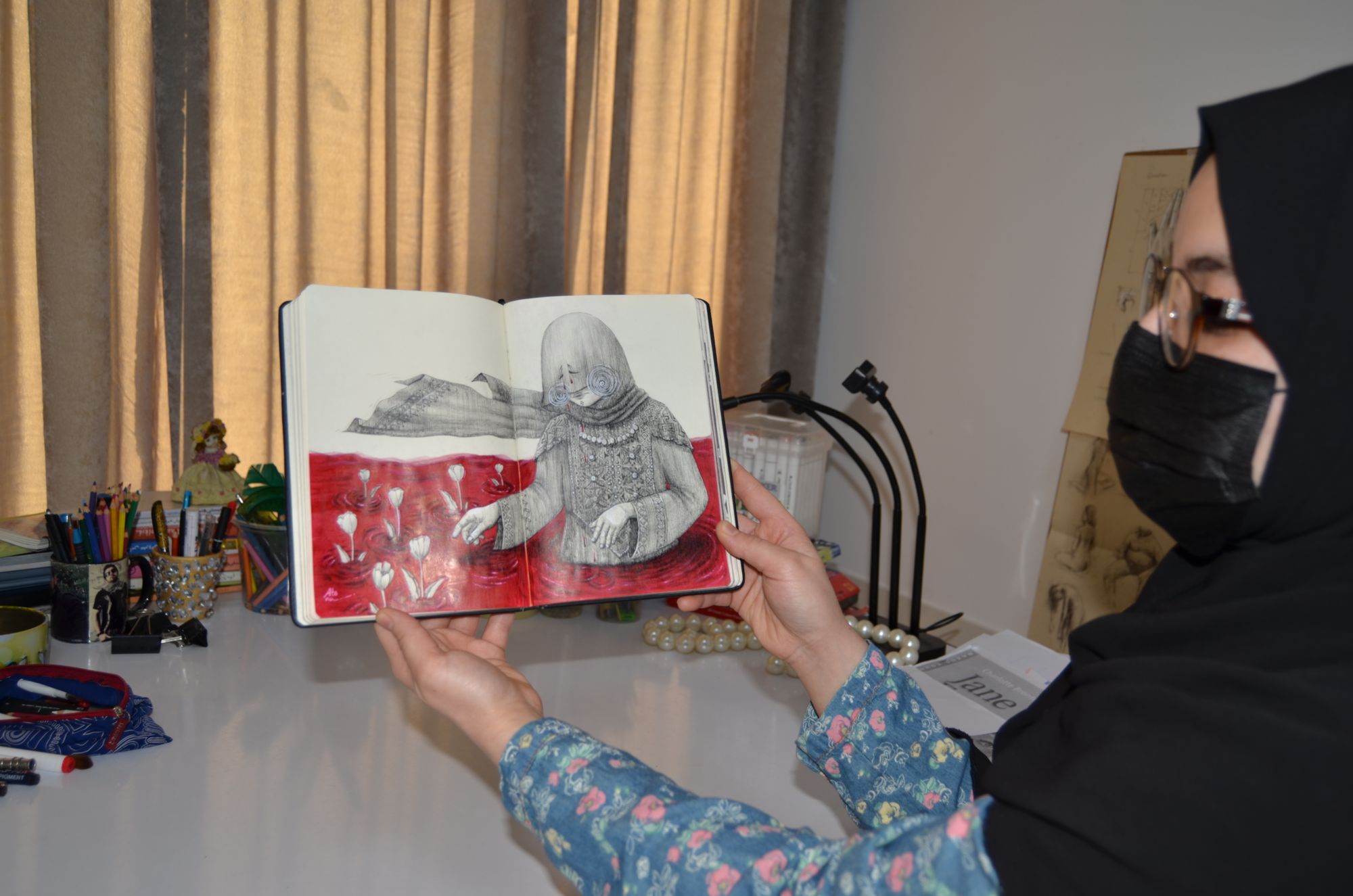 "Visual representations or protest art that I create can only be shared through social media because I am not allowed to participate in exhibitions [by the Taliban], and I have not yet shared my work for sale on any website," Ms. Sultani says.
Painting serves as a means for her to stay engaged and alleviate mental and emotional distress, particularly in a situation where women and girls face limitations on their activities and opportunities outside of the home.
Atena's greatest desire is for girls and women to have the freedom to pursue education and work, a wish that currently feels more like a distant dream under the existing regime.
As the warmth of the sunlight gradually fades, its color shifts from yellow to a reddish hue. It is 4 pm when I bid farewell to Ms. Sultani, and in her parting words, she once again implores the Taliban not to deprive Afghan women and girls of their rights to education and employment.
---
Alive-in is a not-for-profit media agency that mentors journalists from underrepresented communities to increase local and national understanding.
If you are able to support our work financially, please click the button below.
---