Pomegranates; a Source of Fruit and Craft
Kawaras "baskets" are used to transport pomegranates, grapes, and other fresh fruits from Kandahar's orchards to markets both domestic and international.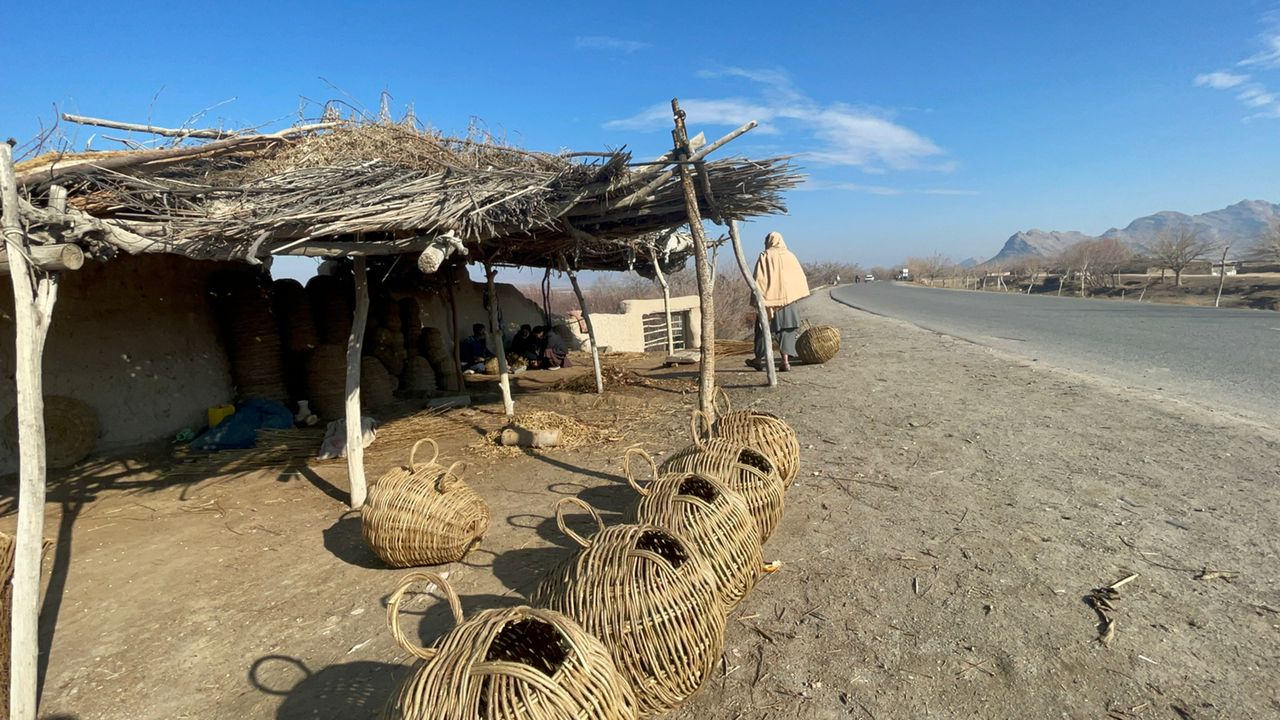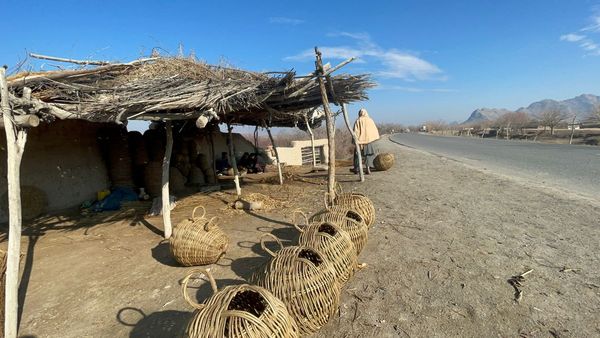 — One Day in Afghanistan —
Written by Nazar Mohammad Razmal Zaman, edited by Mohammad J. Alizada and Brian J. Conley
The province of Kandahar, and especially the district of Arghandab are well-known for their pomegranates. Less well-known, but equally important to Kandaharis are Kawara baskets, made from newly sprouted pomegranate branches.

These baskets are sustainable, all-natural, and have many uses.
Kawaras are used to transport pomegranates, grapes, and other fresh fruits from Kandahar's orchards to markets both domestic and international.

In addition to storing and transporting fresh fruits, these hand-woven Kawaras are used by people to dry meat in the winter, for growing flowers, providing coops to keep chickens, and for decorating their homes.
With the increasing availability of low-cost, manufactured containers these baskets are in danger of going obsolete.
Today I have traveled 18 kilometers outside of Kandahar city to Khair Mohammad, who owns a small roadside shop that sells Kawaras. I've come to his shop on the edge of a pomegranate orchard to document his work for One Day in Afghanistan.
It's 8:30 in the morning, after several days of rain, the sky today is clear and sunny, which provides the perfect environment for Khair Mohammad and his fellow villagers to tend to their daily tasks.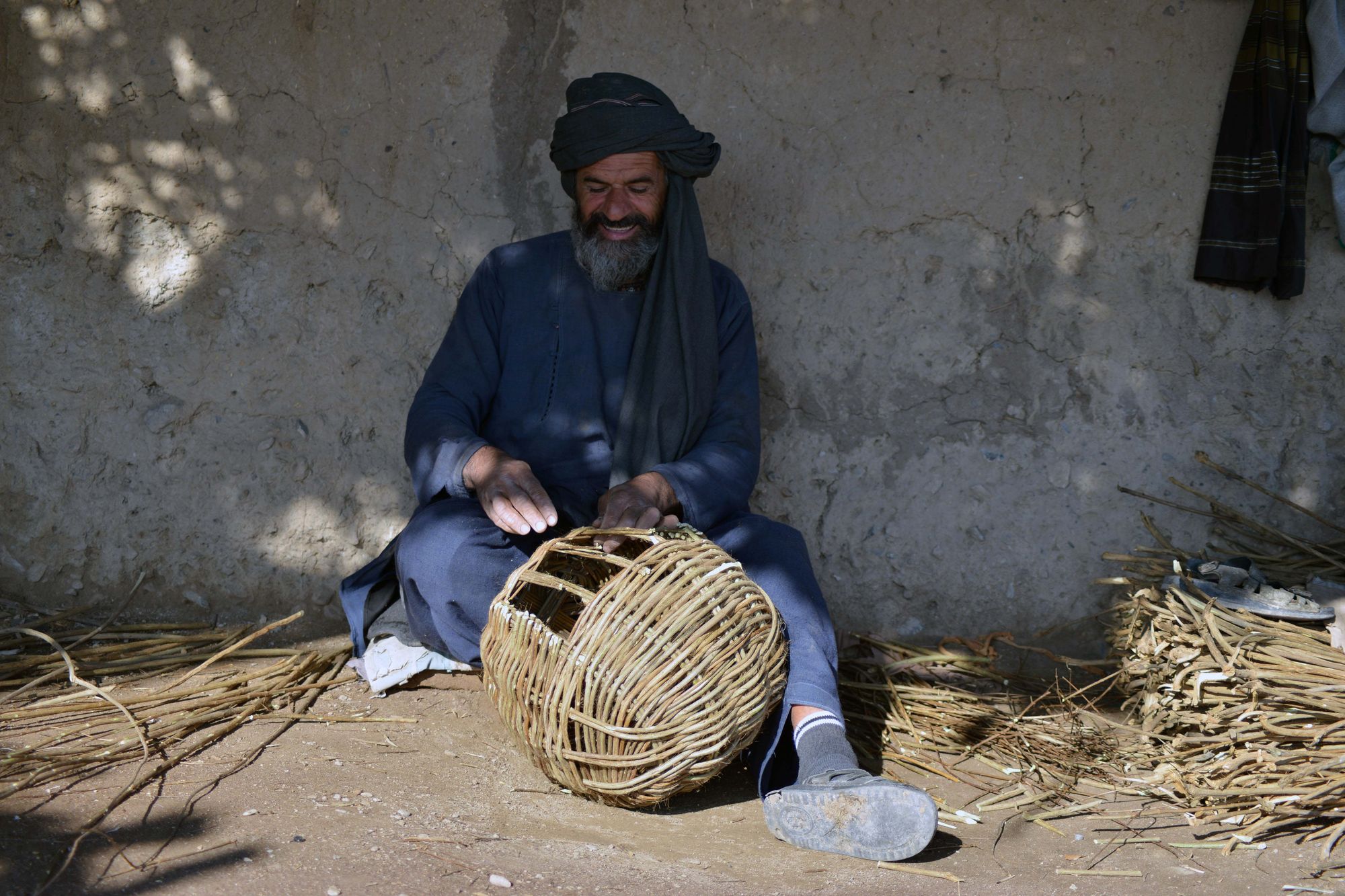 Khair Mohammad greets me with a warm hug and with typical Afghan hospitality, offers to make me tea.
I politely request to postpone the offer because I want to see his work, after which we can drink tea.
Khair Mohammad, who lost one of his legs to an IED during the Soviet occupation of Afghanistan, uses a prosthetic leg to get around.
He begins his work by picking up a bundle of pomegranate branches from the pile that he cut previously.
The rain in the past several days has made his job even easier. With the wet weather the branches he will use for making the Kawaras have softened, and will bend easily under Khair Mohammad's direction.
Khair Mohammad learned to make the Kawaras from his father when he was 10 and has been doing this for the past 40 years. In the past Mr. Mohammad's brothers worked in the same profession, but as the trade declined over the past fifteen years, they left one by one and transitioned to other jobs.
His brothers are now shopkeepers and farmers, his father is old and taken care of by Khair Mohammad.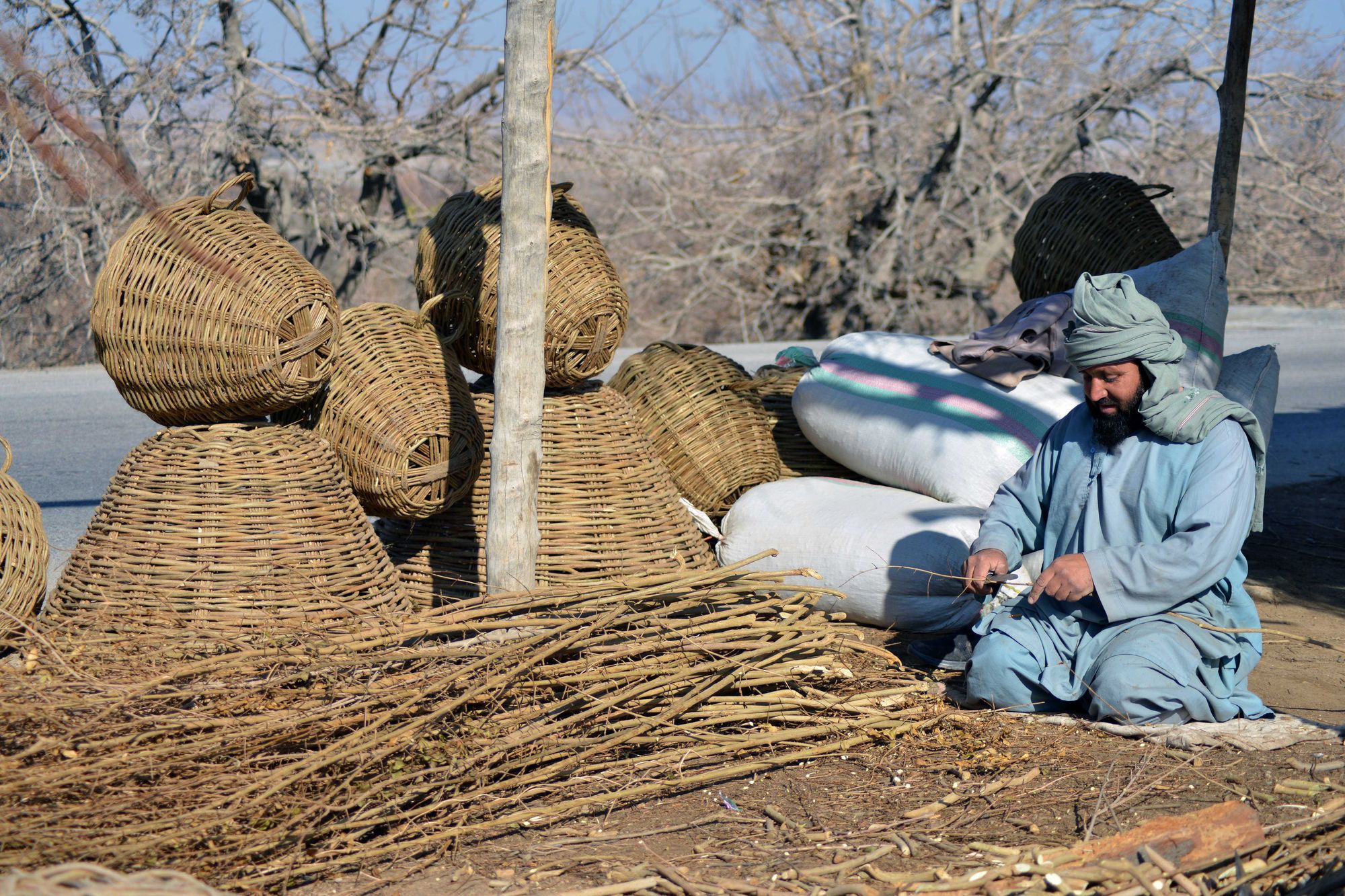 The pomegranate branches were cleaned and smoothed with a large knife and then weaved into each other in horizontal and vertical patterns of the Kawara.
"We start with cutting the branches off the trees, if too much time has passed and the branches are dry, we throw them in water to soften them, then weave them into the Kawaras," Mr. Mohammad told Alive in Afghanistan while weaving one of the thin branches through the half made Kawara.
"People have shifted away from hand-woven Kawaras," Khair Mohammad says. Khair Mohammad used to make a lot of these Kawaras, but the demand for baskets has decreased so now he only makes a few at a time.

Even though Kawaras are much stronger than containers made of plastic or paper, they are also more expensive. The availability of low-cost, factory-made containers has reduced the market for hand-woven baskets.
It's now 11:15 am, if Khair Mohammad hadn't offered tea, I would have totally forgotten about it as his work is very interesting.
To make the tea Khair Mohammad places a steel pot, blackened by dozens of previous uses, onto a fire fed by some of the pomegranate branches.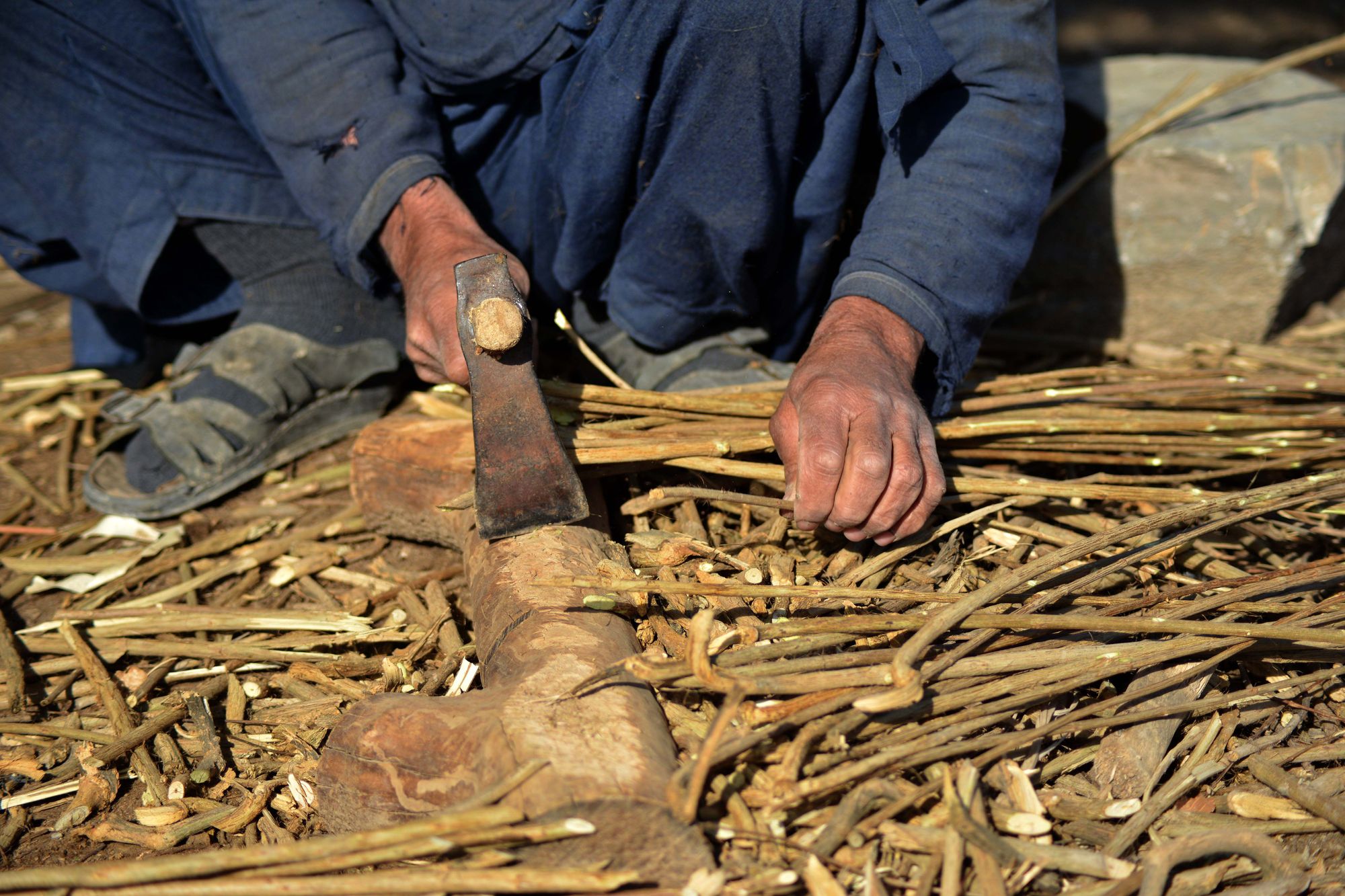 After the black tea is prepared, Khair Mohammad brings it to the shed along with glasses and hard candy wrapped in a small sheet of plastic.
While drinking tea, a fellow villager, Abdul Wali comes by. I ask him if he does the same thing as Mr. Mohammad but he shakes his head no, saying the business does not have the revenue necessary for every villager to do the same thing.
"At the height of the business, a person could make between 550 to 600 Afghanis (about $13-15 at the time) per day while a family that worked together made between 5,500 to 6,000 Afghanis (about $130-$150 at the time) per day from making the Kawaras," Khair Mohammad says.
But now he can only make about 450 Afghanis (about $5 currently) per day.
Pomegranates "Anar" have been a staple of Kandahar and the Arghandab district for as long as I can remember. The pomegranates from this area are the juiciest and most flavorful; they have ruby-red arils and the most remarkable size in all of Afghanistan.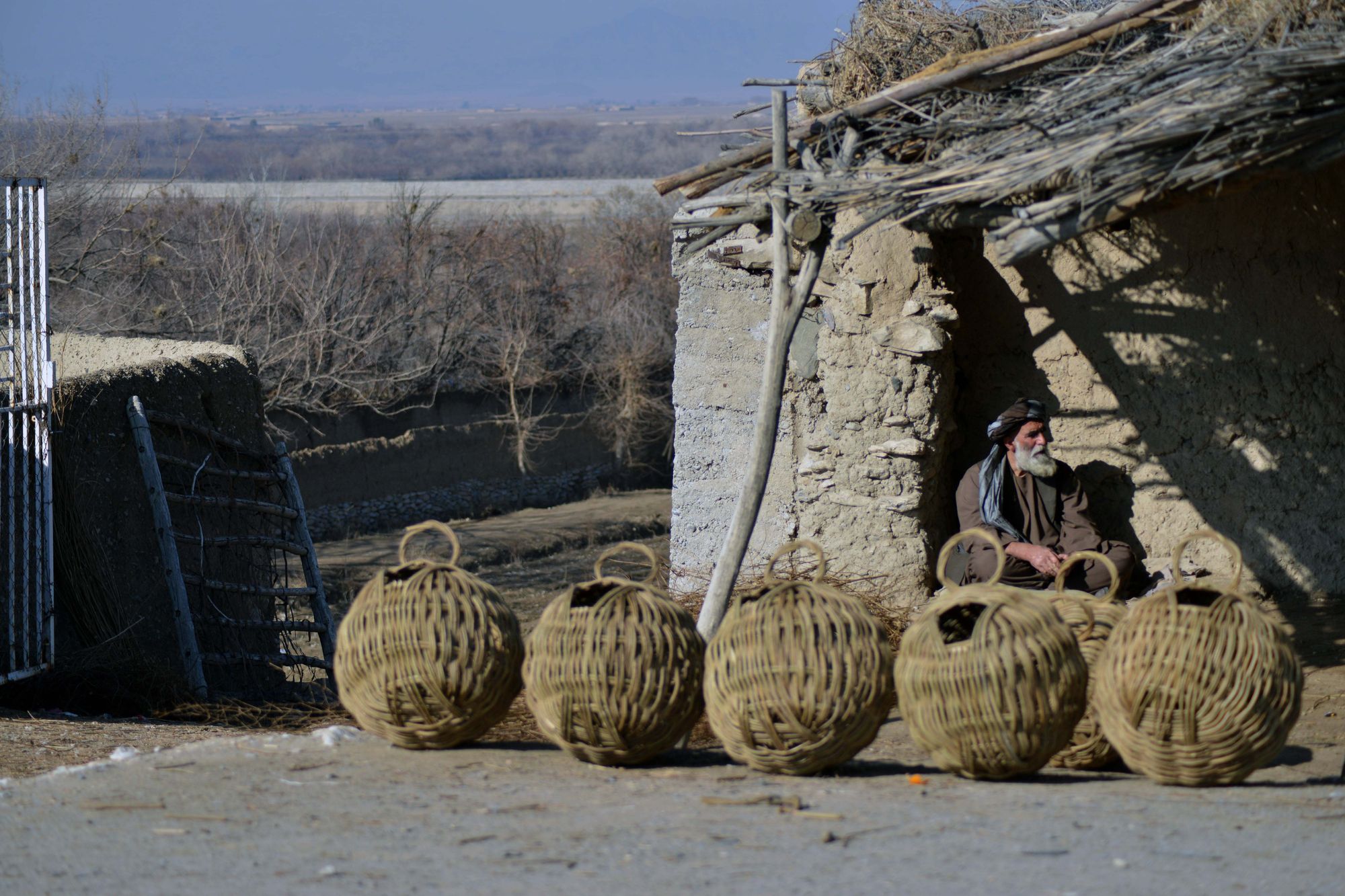 During the pomegranate season, vendors selling the fruit always try to buy them from Kandahar, a source of pride for the residents of Arghandab and the province as a whole.
For most of Arghandab, pomegranate orchards line the street sides in both directions, as far as the eye can see.

Because of the plethora of pomegranate trees and the quality of their wood, long ago Kandaharis began the process of weaving pomegranate branches into baskets.

Abdul Wali hopes that this process can be re-energized and even suggest using the Kawara to ship pomegranates from Arghandab to other parts of Afghanistan and the world.

"It would be great if our products were not sent to other cities and countries in plastic and paper packaging because then it would create more jobs for the villagers," Wali says.
Khair Mohammad agrees with comments made by Abdul Wali and returns to weaving.
The value of the Afghani has fallen significantly over the last decade. According to a chart by Trading Economics, the value of the Afghani was 42.34 for one dollar in December 2010 while 88.4 Afghanis are exchanged against the dollar currently, a loss of more than half the value.
Khair Mohammad is the lone breadwinner and head of a family of 9, including 4 girls and 3 boys. The 450 Afghanis he earns each day on average is barely enough to take care of his large family.
Despite the low income, Khair Mohammad is driven by a desire to keep his trade alive, because he believes it is an important part of Afghan culture.
"The trade has a long history, it's an important way of life, therefore authorities need to do more to keep the trade alive," Khair Mohammad said.
It's now 30 minutes past noon and working hours on the storefront for Khair Mohammad ends here.
"I spend half the day here, and the other half as a laborer on another villager's farm," Khair Mohammad said.

With that, we bid farewell after his offer for lunch, which I politely declined.