Nuristan — the Land of Woodworking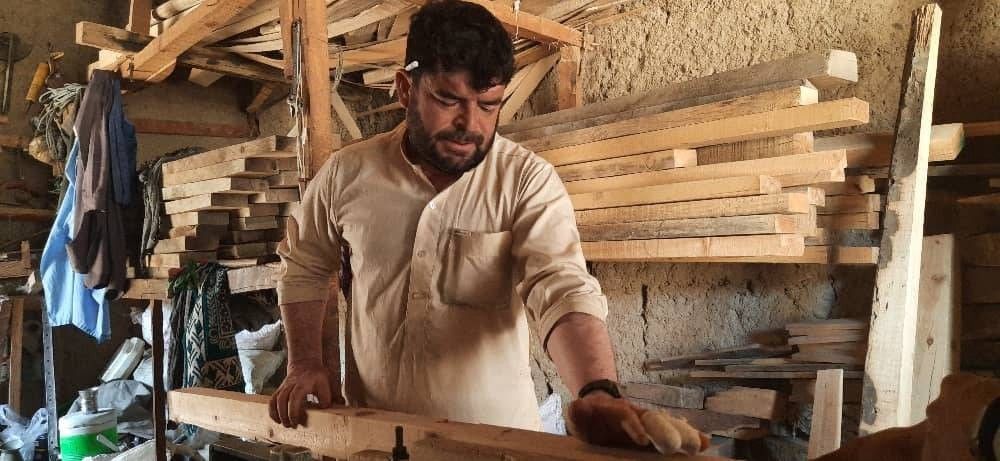 — One Day in Afghanistan —
Reporting by Bashir Ahmad Ahmadi, edited by Mohammad Jawad Alizada and Brian J. Conley
It's 9:24 am and we are walking on a dirt road in Balek village of Tetan valley in a remote area of Nuristan province. I am heading to 40 year-old Mohammad Zaman Ghamsharik's workshop. Mohammad Zaman is a carpenter and the head of a family of 8, including two sons and four daughters, and feeds his family through this business.
Zaman's kids are 16 year-old Mohammad Fahim, 13 year-old Bibi Fahima, 11 year-old Zakia, 9 year-old Mohammad Edris, 7 year-old Mursal and 5 year-old Nabila.
Nuristan is a beautifully rugged, mountainous area in Afghanistan's eastern region. It is one of the most isolated areas in Afghanistan. The province saw little development aid during the years of the western-backed Afghan government that collapsed mid-August after former President Ashraf Ghani fled the capital Kabul.
The mountainous province is known not only for its natural beauty, but also for its carpentry, woodworking and woodcarving. Carpenters here make beautiful chests, tables, and chairs out of the fine wood from the forests in this lush green province.
The village of Balek is about 2.5 hours of drive from Parun, the capital of Nuristan province, on a dirt road. Cars only transport people to the village and the valley every afternoon and come back the next morning.
Mohammad Zaman normally starts work at 9 and finishes at 5 pm, but with winter closing in and due to low demand, he ends his work hours at 2 pm instead. Zaman has been running this workshop for the past 20 years.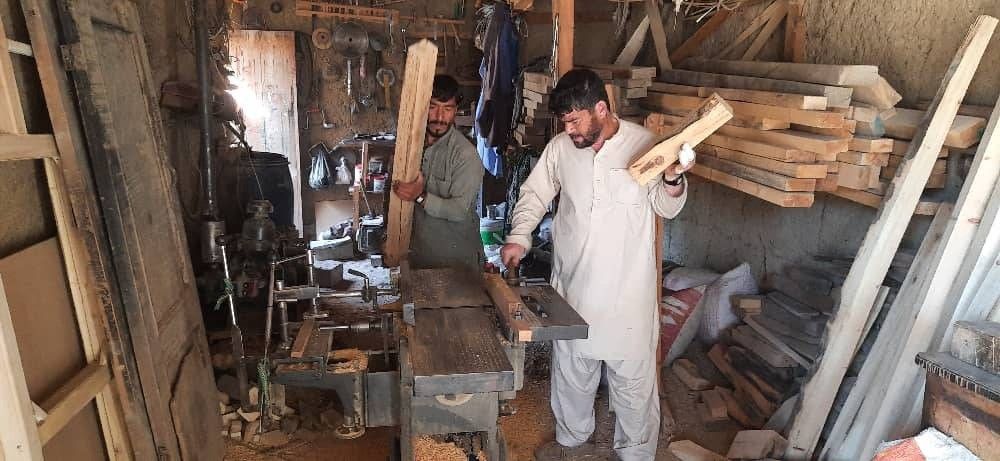 It's now 9:52 am and we are in Mohammad Zaman's shop. Mohammad Zaman needs to start a generator to operate his carpentry equipment. He first checks the fuel, then the engine oil levels and starts the aging generator by turning an iron handle that will kick start the engine.
Balek village does not have any electricity at the moment. Mohammad Zaman says, "The village dam was washed away by terrible flooding in the spring."
"The flood also washed away many agricultural lands, walnut, berry and other fruit trees, as well as the village mill along its path."
Now that the generator is on, Mohammad Zaman begins his day by making window frames. You can see from the look of the workshop that the situation in this area is not very good.
The small shop is filled with different types of wood, carpentry tools and machines, as well as a loud and huge generator that is being cooled by water pumped from a plastic barrel. The number of orders have fallen since the collapse of the former Afghan government, according to Mohammad Zaman.
Ahmad Din, a helper at Mohammad Zaman's shop is from neighboring Laghman province. He is paid 300 Afghanis ($3.33) per day for helping out and is the head of a family of four, who are back in his home province. Zaman currently earns about 700 to 1000 Afghanis ($7.78 to 11.12) per day. The carpenter used to make twice that amount. Because of the difficult roads and the distance, Ahmad Din only rarely sees his family.
While Ahmad Din saws through a piece of wood, Zaman plays with his daughter Mursal. She comes to the shop often to be close to her dad while he works. Zaman keeps giving her candy.
It is now 10:44 am and Mohammad Zaman makes green tea and serves it to us with biscuits. While the carpenter is trying to cut a piece of wood, three of his fingers are caught by the electric saw slightly and we have to take him to the doctor because he's bleeding. We wrap a white cloth around his fingers to stop the bleeding and take Mohammad Zaman to the village medic. He gets bandaged up and we head back to the shop.
Asked why he didn't just go to the clinic to be properly taken care of, he says, "The clinic is three kilometers away and there is no mode of transportation that can get me there fast enough, so I am not going to walk all the way."
"I learned carpentry in Pakistan as a refugee, after my family had to flee Afghanistan due to the civil war," Zaman told Alive in Afghanistan. Zaman said he opened the business after returning to his hometown just after the American intervention in Afghanistan following the 9/11 attacks.
According to Zaman, "We used to receive orders and designs for tables, chairs, chests, book shelves, and beds." The carpenter also does farming on his family's ancestral lands when not working in his workshop.
Zaman says the number of orders he receives has reduced significantly and the type of wood he uses for completing the orders had to be changed from Nuristani wood to wood imported from Russia because it costs half the price. The quality is lower but more affordable.
"Our workload has reduced significantly. People's economic situation was much better during the previous government, they used to build private homes, the government used to construct major facilities. They all ordered different types of things and would pay cash but now the situation is much different, people are unemployed, they don't get paid therefore our orders have also been affected by this."
Mursal, Zaman's little girl shows up at the workshop as the clock ticks 12:10 pm, she tells her dad that lunch is ready.
"Children are flowers, and they must be cared for as delicately," Zaman says while playing around with his daughter for the next 10 minutes.
"Are you going to go to school?" Zaman asks Mursal, but Mursal only laughs as her dad gives her biscuits and candy.
Zaman then invites us for lunch. "This world's work will not end, let's go," he says. Both Zaman and Din close up the shop and we head towards Zaman's home in the valley encased by mountains that are covered in trees.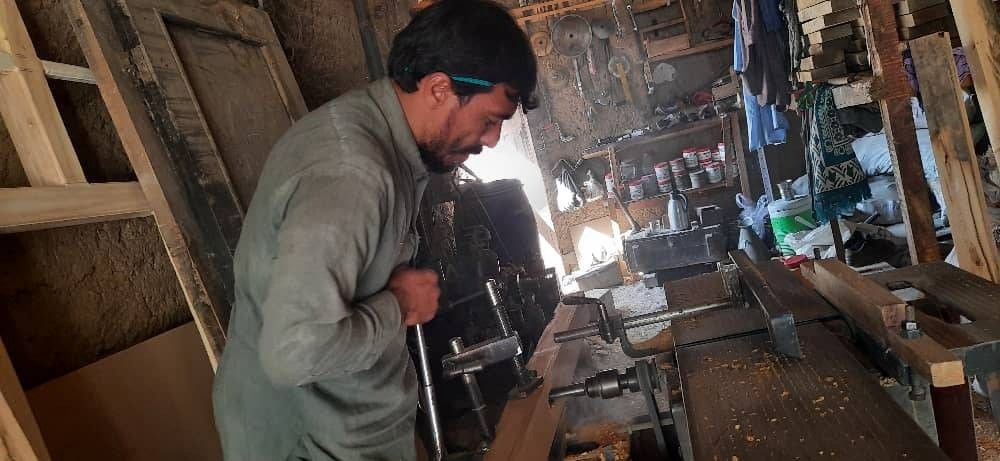 We walk for about 10 minutes to get to Zaman's home, the houses we pass here are made from a combination of mud and rocks. We climb the stairs and go into the carpenter's guest room which is on the second floor of his home.
We wait there a little and Zaman's 13 year-old daughter Fahima brings a deep tray and chalas to wash our hands with. Lunch is rice with yogurt.
We eat lunch around 1 pm and then head towards the mosque, about a 100 meters from Zaman's house to perform noon prayers. We get out of the mosque at around 2:30 pm and head back towards Zaman's home. Dr. Mohammad Zakir, who is the physician in the village also accompanies us, to check Zaman's hand and rebandage his wounds.
The day is over now and I have to head home, 2.5 hours back to Parun by car, down a rough dirt road that has never seen improvement.