Nowhere is Like Your Own Country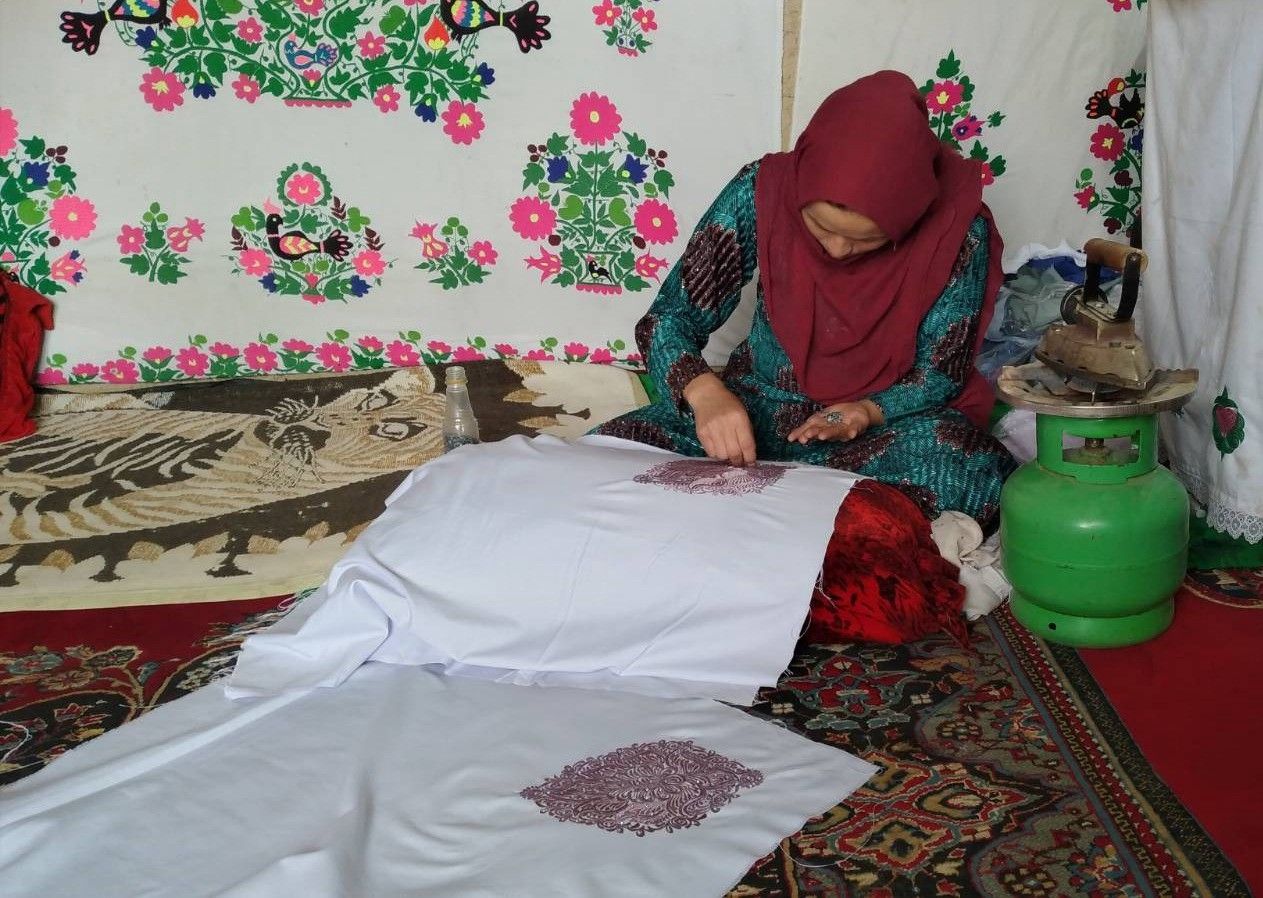 — One Day in Afghanistan —
Reporting by Sima Siawash, edited by Mohammad Jawad Alizada and Brian Conley
DAIKUNDI — It's 8 in the morning, when Ms. Zarifa Ekhtiyari begins her work day in a 3 by 5 meter room. This small space is her workstation, but it is also home to her family, including her mother and father-in-law as well as her husbands two sisters. Zarifa, who began at this profession some two years ago, wants to have an active role in feeding her family of 6 -, alongside her husband. Her husband is working in Iran at the moment. Zarifa says that since the value of the Iranian currency has decreased, her husband cannot feed the family alone and her father-in-law is unemployed.
Zarifa says she likes her job and she has customers as well. Her customers are mostly female from near and far like Ghudar and the Sang-e-Moum desert.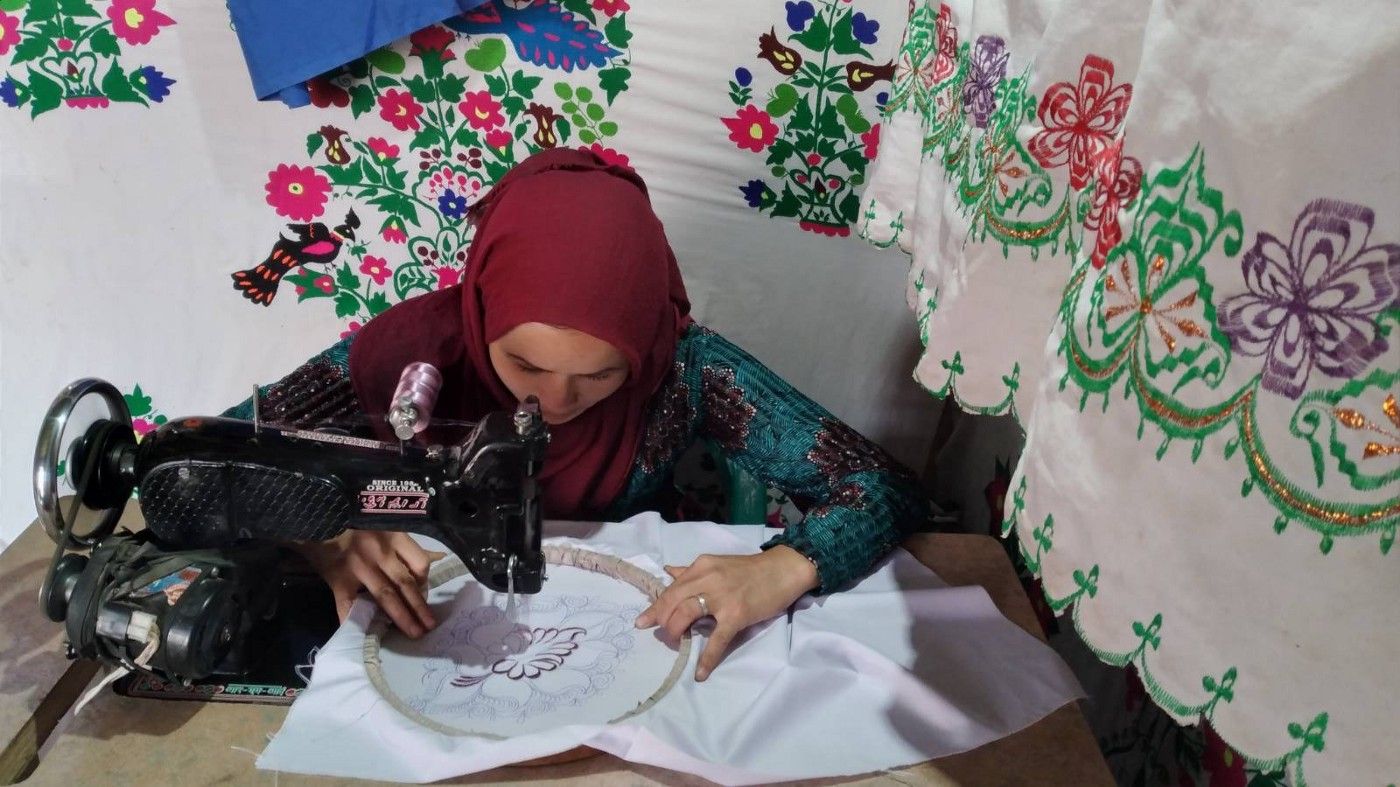 Zarifa continues her work with interest but is also concerned about the impact that the fall of the government continues to have on the number of customers she has; in her opinion, people cannot think of clothing when they are unemployed.
"[Customers] cannot spend money on my embroidery when they are hungry," Zarifa says while working to finish a scarf that a customer ordered.
Ms. Zarifa's keen interest in painting during her school years helped her a lot in designing variations of embroidered material for her customers. She does all this on top of being a mom and a housewife who has to take care of her in- laws.
Zarifa says the sewing machine was a gift from her father and she learned how to do machine-based embroidery from one of her relatives.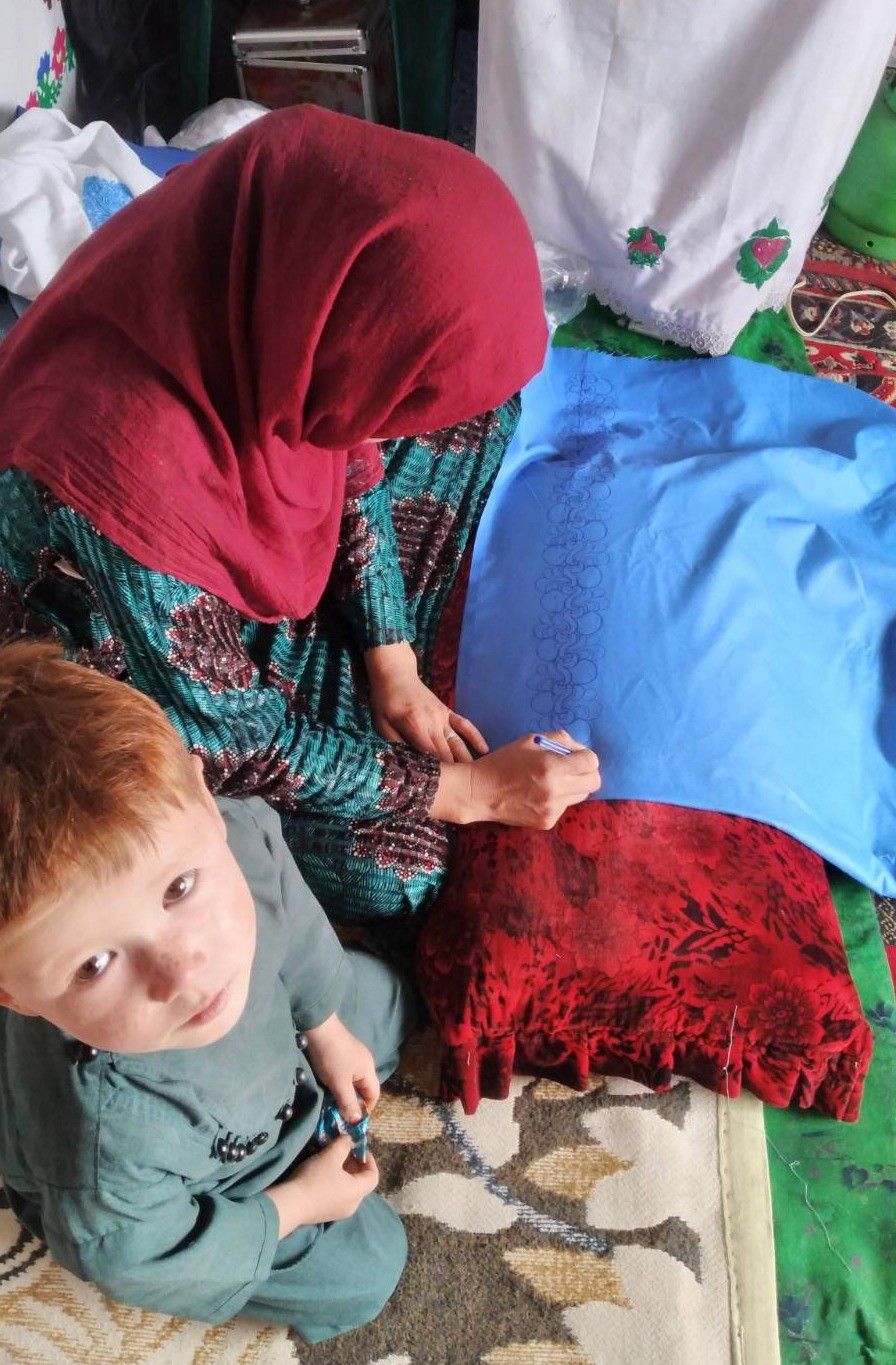 At 10 in the morning, Zarifa takes a break to give a snack to her son, and brings us tea. She resumes work after 15 minutes and begins drawing a pattern on a clear sheet of cloth before putting it into the sewing machine. Zarifa learned to draw these patterns in grade school. She told me the price changes depending on the size of the flower pattern, a small flower is 10 Afghani, a medium one for 20 to 30 Afghani and a large one for 50 to 60 Afghani. In US dollars that amounts to roughly $0.12, $0.23–0.35, and $0.58–0.69
Most of Zarifa's customers consist of those who have young children or are close to getting married. She seems very talented at doing her job, says she does not have a lot of concern when it comes to her and that her line of work is getting better.
At 11:40 am there is a knock on Zarifa's door, a customer has arrived. "Did you bring something for me to sew?" Zarifa asks.
The woman takes out three pieces of cloth from a plastic bag and says, "I want one flower on the corner of each for my daughter-in-law."
"Is it urgent," Zarifa.
"No dear, you can take your time with it," the woman adds.
"Has Zarifa worked for you before, how is she?" I ask.
"Yes my dear, she is very good," the woman says.
There is another knock on the door and another customer is here to pick up her completed order. As noon approaches, Zarifa's work continues in earnest, while we keep talking. She moves on to ironing the pieces she has completed.
At 12 pm it's time for lunch. We eat together with her son, a simple lunch of potato curry. Zarifa takes a lunch break every day from 12 to 1:30 pm, she uses that time to eat and pray, as well as bathe her son and put him down for a nap.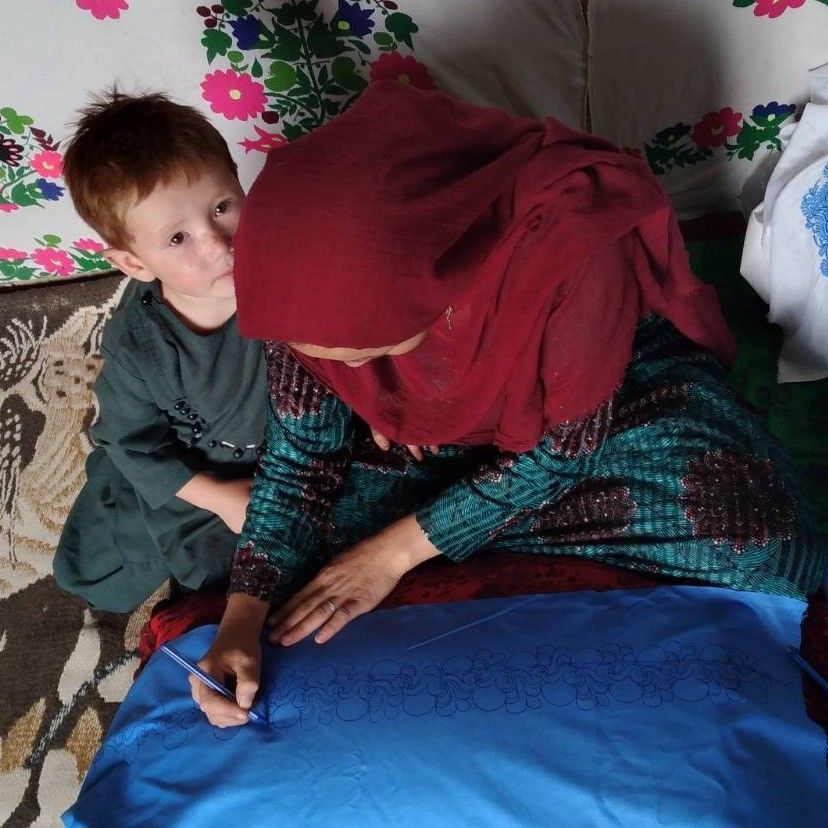 At 1:30 pm Zarifa returns to work. She begins by drawing patterns for some of the new orders she has received in the morning and attaches beads to those she has already completed sewing. She says she makes around 400 to 500 Afghanis, or around $4-$6 US dollars per day, but that is not every day.
Zarifa misses her husband because he is so far away. Sometimes she thinks about moving to Iran but says she will not go until and unless she is compelled to, because as she told me, "Nowhere is like your own country."
As Ms. Zarifa begins work on a scarf, I ask her to explain what she is doing. She says, "This is a type of scarf that a lot of women in Nili [the capital of Daikundi] wear. It is very popular among women. This scarf is made of a simple two meter cotton that I embroider. I charge 50 Afghanis [About $0.58] for a simple scarf and if I only do scarves, I can probably do 5 or 6 each day. Most of my work is for women who are soon to be married."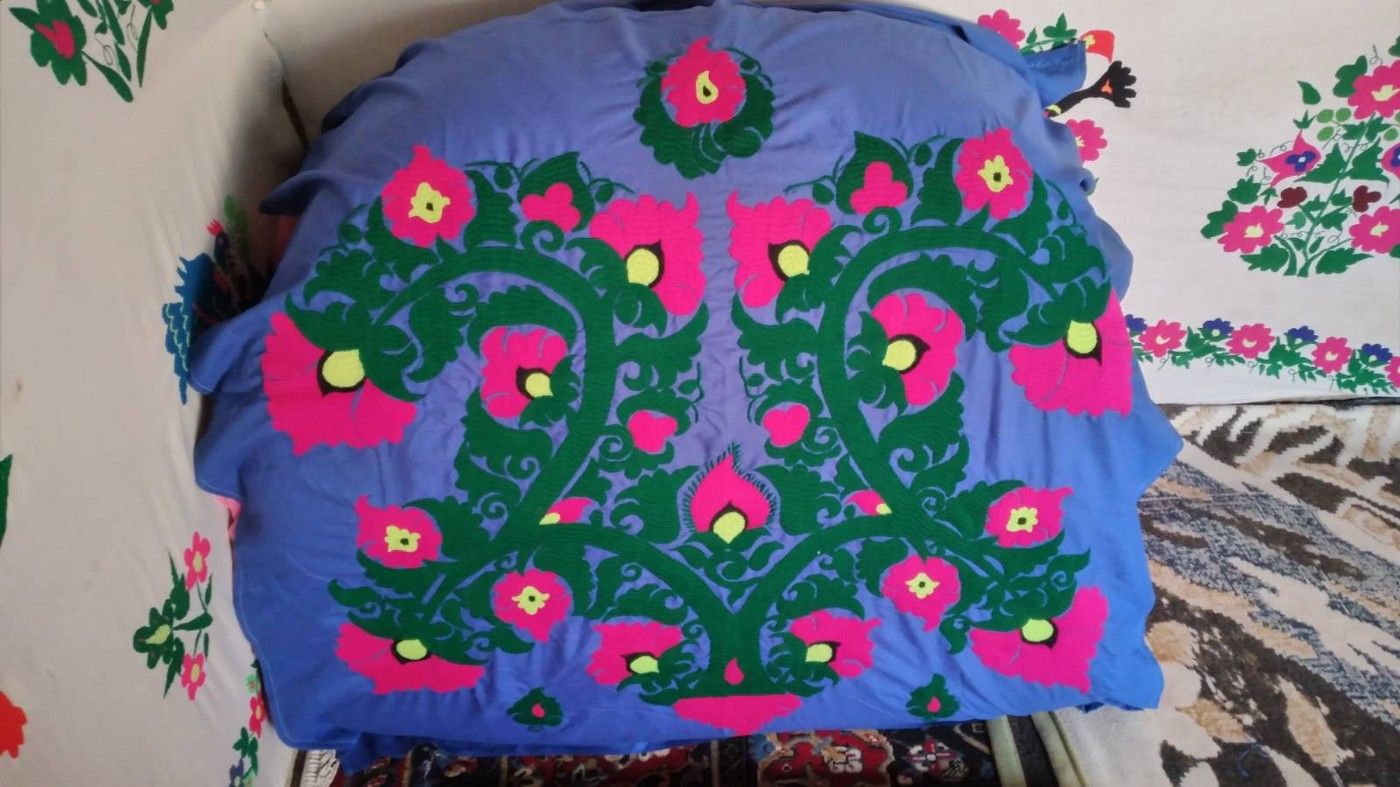 "Now I have some completed items that I must now give back to one of my customers. I have called her and she is on her way to get it. Not a lot of people do machine-based embroidery, but although embroidery by hand is famous in our province, it doesn't have a lot of customers, that's why earning money from hand embroidery is difficult." Although she didn't mention it, there may be fewer customers for hand embroidery due to the much greater cost and time required to produce it.
It is now nearly 4 pm and Zarifa pushes up her sleeves to begin cleaning up her work area.
"Isn't it too soon?" I say.
"I made some dough to cook some bread," she says.
She usually works until 4:30 to 5 pm everyday. She wants to encourage other women to work alongside their husbands to help increase their family's earnings.
Zarifa left me with a final observation about why she enjoys working for herself, "It keeps you busy and also helps cover your home expenditures."