No Education, No Play, No Childhood
Three teenagers work at a shade making workshop in Afghanistan's Nimroz province. The teens say they have no choice but to be their family's breadwinners.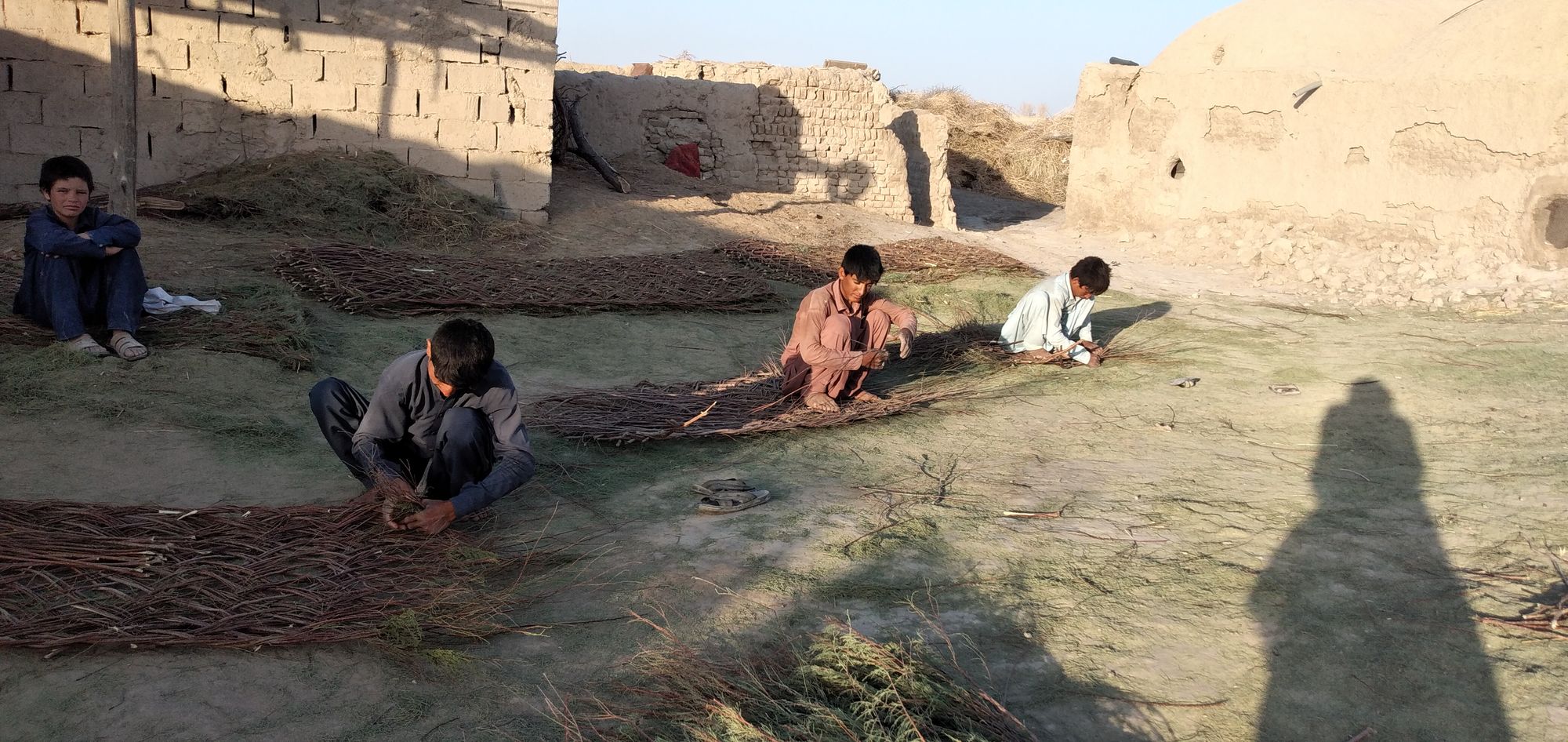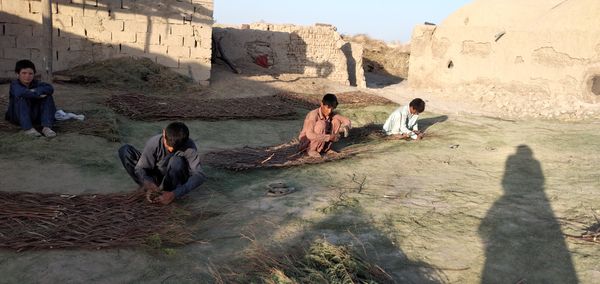 — One Day in Afghanistan —

Written by Shaima Seddiqi
ZARANJ, NIMROZ — Chapar weaving is an art and skill in rural areas of Afghanistan that dates back one hundred years. Chapars are used to provide shade. Although weaving chapars takes a lot of effort, the work provides little income. However, these children have no choice but to continue working in such harsh conditions with minimal financial incentive.
In today's One Day in Afghanistan episode, Shaima Seddiqi documents the lives of three teenagers working at a "chapar," or pergola producing workshop in the Khawja Karim area of Zaranj, the capital of Nimroz province in southwestern Afghanistan. The village is located on the outskirts of Zaranj, about 30 minutes from the city.  
The teens collect branches in the morning and weave in the afternoon. We plan to visit them around 1 pm. In order to reach their workshop we have to either walk or take a mule to the other side of a stream. On the other side of the stream we meet Omar, an 11 year-old villager who guides us to their place of work.
The three boys, 17 year-old Amanullah, 16 year-old Sulaiman and 17 year-old Saeed are busy weaving chapars as we arrive. The trio are cousins who learned how to weave chapars from their fathers. They started working on making chapars six years ago. Aman only went to school for two years, his cousin Sulaiman for three and Saeed tells me he never set foot in school. A member of a family of 10, Aman leads the business.
Child labor has been on the rise in Afghanistan. Surveys by Save the Children report that the percentage of families saying they had a child working outside of home in the seven provinces surveyed grew from 18 to 22 percent from December to June.  Ghor was not included in the survey.
Amanullah's family originally hails from Nimroz's Khashrod district. They migrated to Pakistan 25 years ago, well before Aman was born, and worked there as migrant farmers. They didn't return to Afghanistan until about 10 years ago. Upon their return, they settled in the Garmser district of neighboring Helmand province and only moved back to Nimroz two years ago.
Amanullah's father and uncles are unemployed due to the persistent drought in Nimroz that has reduced farming and agricultural employment throughout the country, making the trio the breadwinners of the family. The cousins' families–30 people in total–live together in a tattered house nearby.
"We three must work so that the others don't go to sleep on empty stomachs. We wake up early in the morning while it's still dark out and everyone else is asleep, accepting all these challenges to find food," Aman tells Alive in Afghanistan while busy weaving a chapar.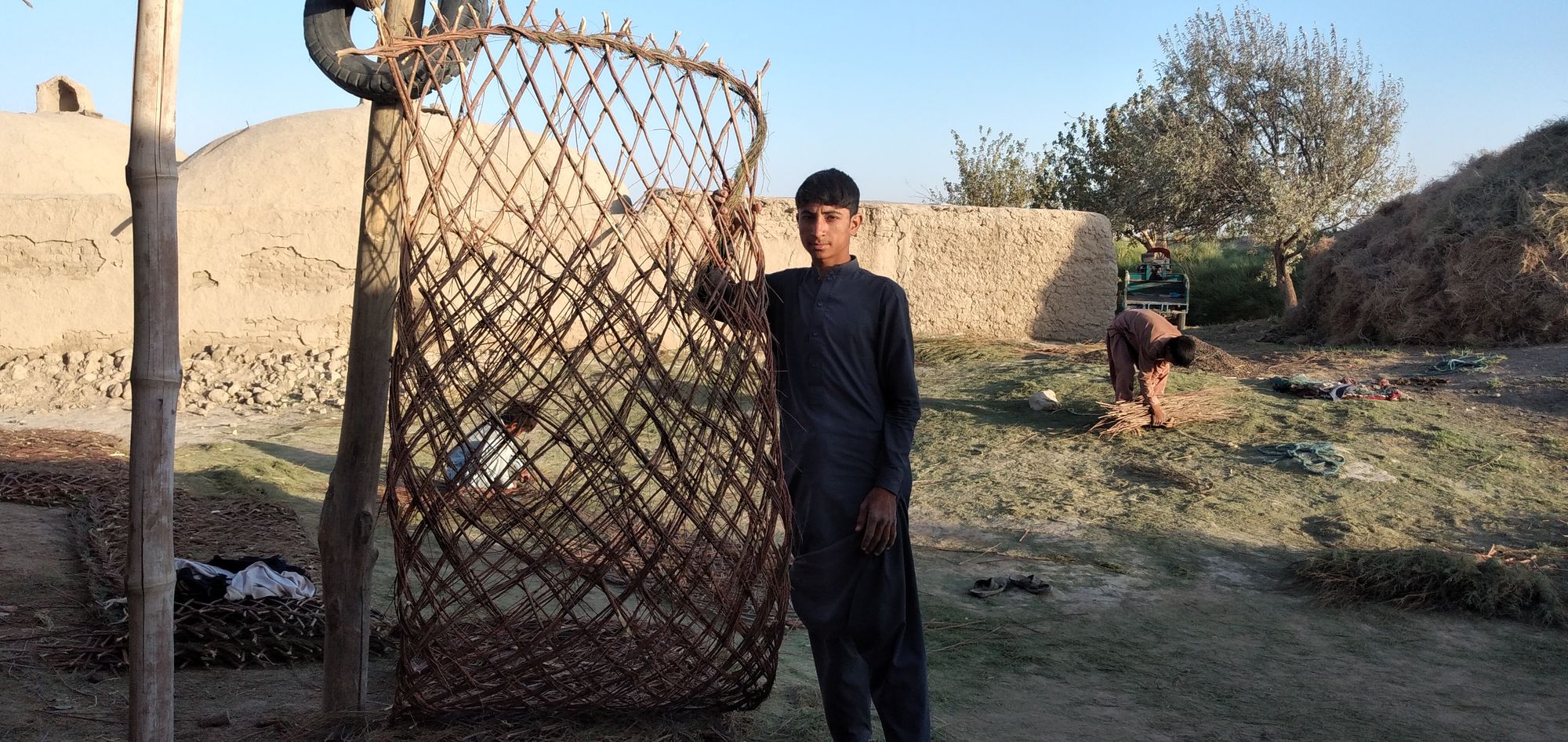 The yard where Aman and the other boys work is littered green with the remnants of the branches as each of them weave part of a pergola.
The trio have three mules at their disposal to travel to the forested areas outside their village each morning. According to the boys it takes around three hours just to get to the area, once there, the group takes a small break before  gathering branches in earnest while trying to avoid being spotted by Taliban security forces who do not allow deforestation.
They take another three hours to collect the branches, before leaving the area to head back to their place of work. Upon returning the trio have lunch and pray before they start weaving the chapars.
"We can make 3 to 4 chapars from one load, and each of us must make 4 chapars daily," Sulaiman says.
Amanullah who is weaving a chapar beside Sulaiman says, "Our financial situation was never good, we were refugees in Pakistan for a while where we couldn't study. Our situation got worse after we returned, my father is a farmer for hire. We must work to survive. We do not have time for education, nor is there a school in and around this village where my brothers and sisters can study."
Aman continues talking about the challenges, issues and hurdles they go through, sweating as he works under the scorching Nimroz sun.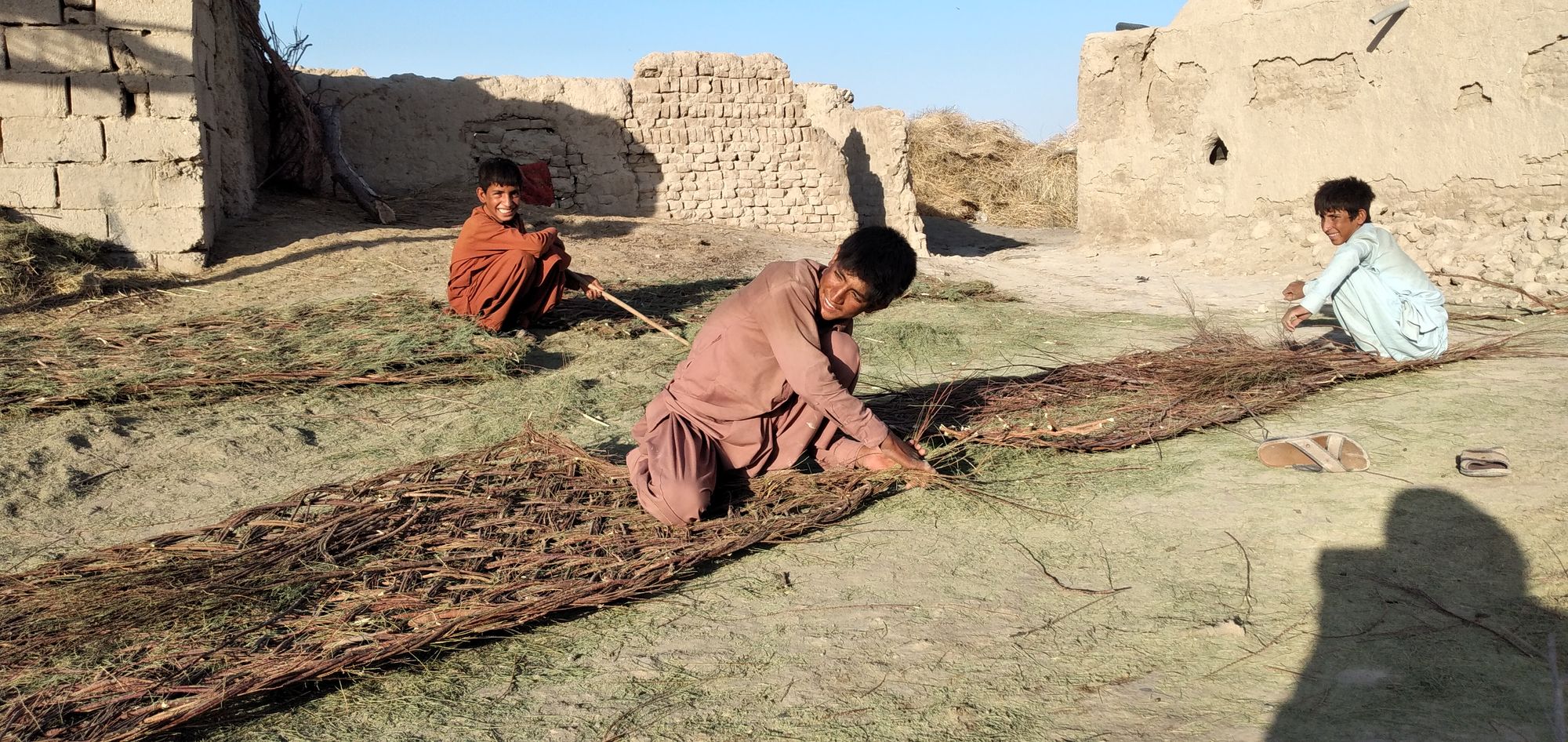 It's now 4:30 in the afternoon. By this time, because of conversing with me, Aman has weaved only one and a half chapars. Sulaiman and Saeed each have made two.
While the trio are working, Aman's father, Borjan, shows up and we strike a conversation after introducing ourselves.
"Poverty and financial constraints made me teach my children skills rather than education, we won't have anything to eat the day they don't work," Borjan tells Alive in Afghanistan.
Sulaiman and Aman say deforestation was legal under Afghanistan's previous government that collapsed in August of 2021, but the Taliban are much harsher.
"If the Taliban catch us cutting the trees, the wood may be confiscated and we may face severe punishment including beating, and imprisonment," Sulaiman says.
Dusk nears and we continue talking while the sun drops, casting golden rays on the eastern walls. The boys keep working non-stop, without taking a break for water or tea in order to complete their goal for the day. By 5:50 pm each of them completes three pieces.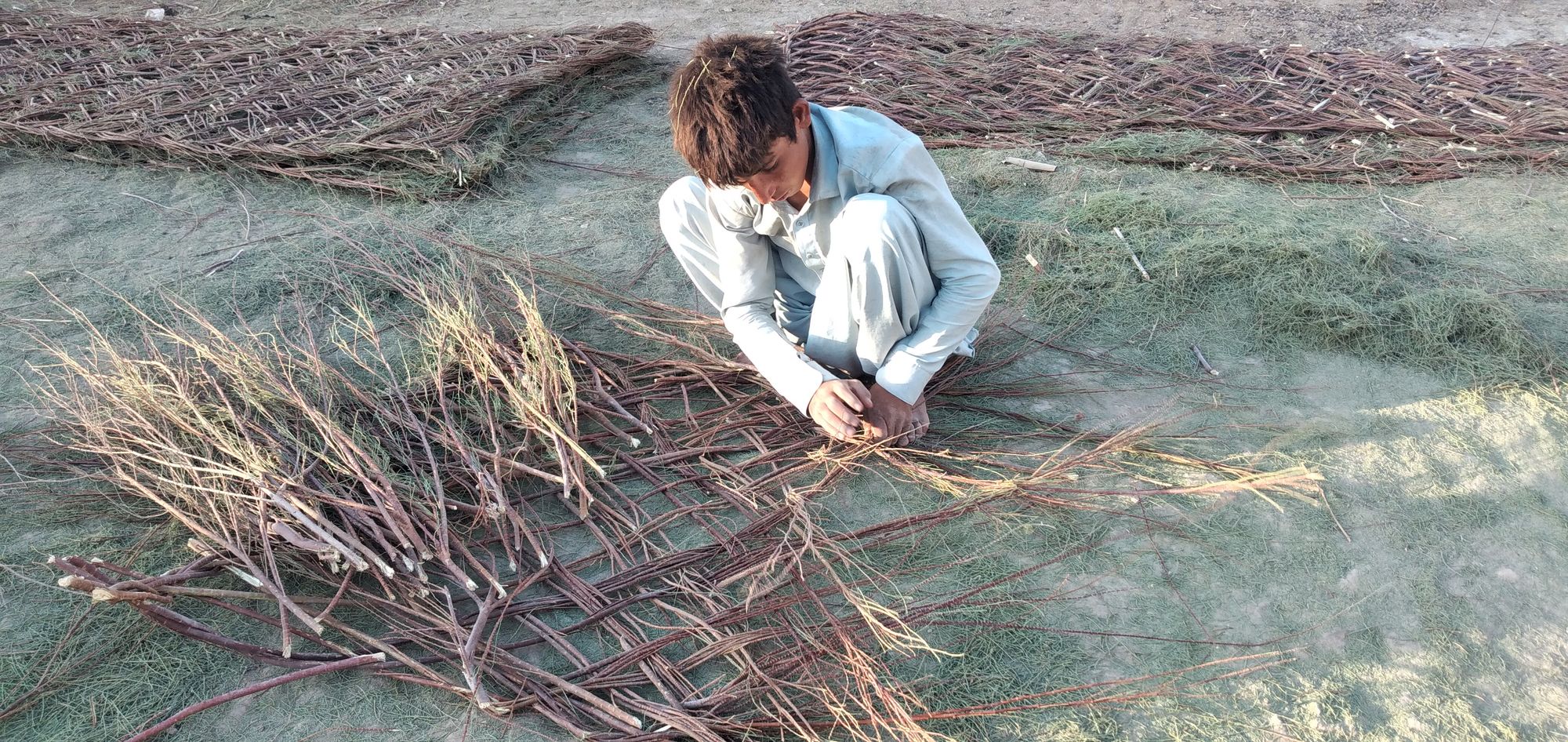 "Chapar is a type of cover which is used as ceiling or roof, villagers use chapar to make ceiling for the stables where animals are kept and cover the chapars with thick plastic or even thicker objects to avoid rain or snow from getting inside. Shopkeepers in cities use them to protect their product from direct sunlight," Aman says.
According to Amanullah, the branches are cut the same size, and laid in the sun for one day so the green branches dry out. Remaining leaves are removed by smacking the branches on the ground, then weaved by crossing the branches under and over each other until they make a rhombus shape.
Sulaiman says, "Chapars must be made with patience so that it should be long-lasting and does not come apart during transportation or installation."
By the end of the day the children' hands are smeared with dust and visible splinters cake their palms.
"There is no employment and income in Nimroz. We know our job is illegal and that deforestation harms the society, but what else can we do? It's great we know this skill, otherwise we would have to beg. We don't disclose our location to anyone and work covertly due to fear from the Taliban and to prevent danger to our lives," Aman says.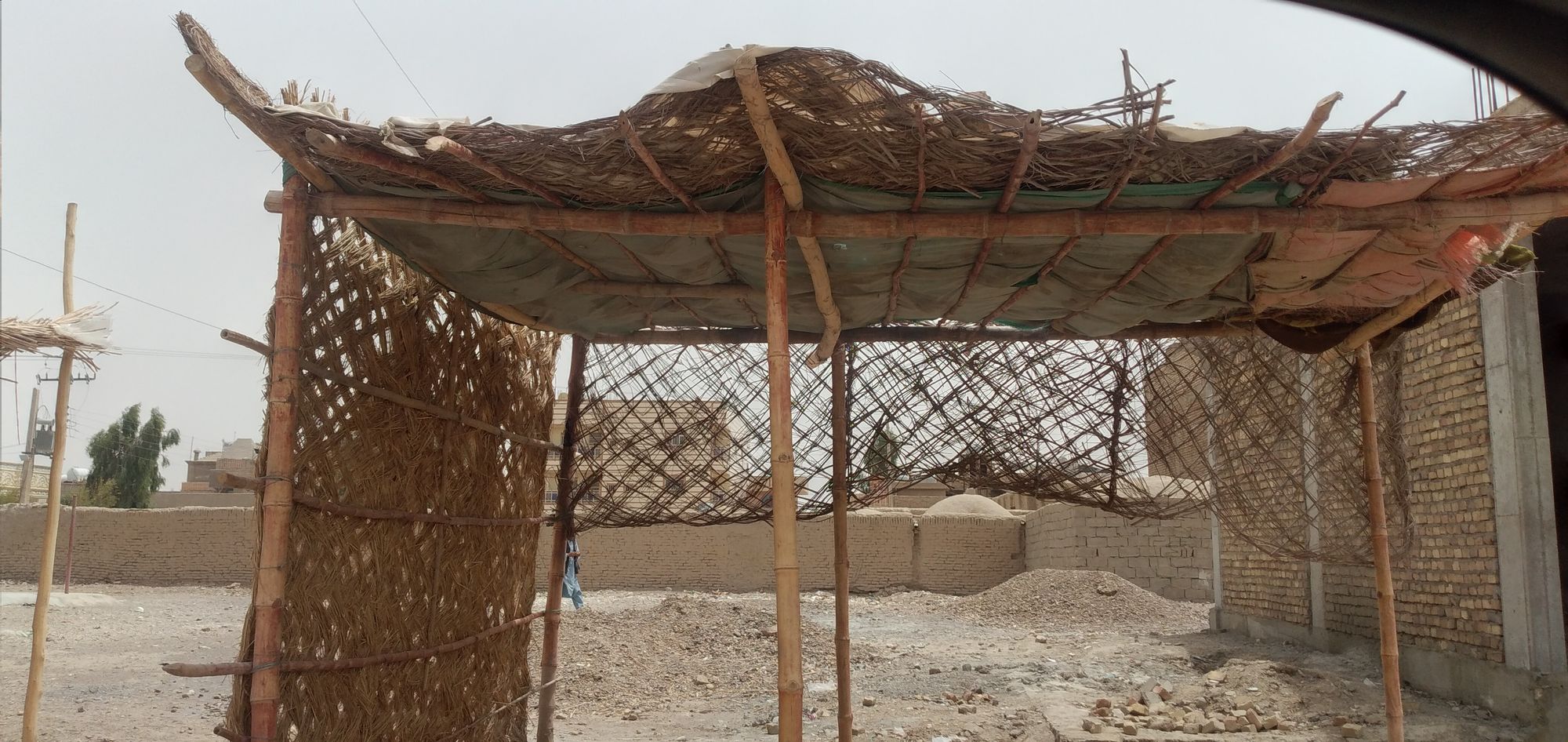 According to Amanullah, chapars are three meters long and one meter wide and are sold at 100 Afghanis ($1.12) each. The chapars are collected from them and taken to Zaranj by a contracted rickshaw driver who comes for collection every two days. He pays them in cash.
Although the evening prayer call is announced at 7 pm and it's getting darker by the minute, I wait until the boys finish their allotted work. They finally make 4 chapars each.
Their mothers visit the workshop once they are done. The women also complain about their difficult lives saying no government or humanitarian organization has visited their village or helped them in the past two years. They can barely survive on what they earn, while access to basic necessities of life, like health and education facilities are non-existent.
Following my conversation with the women, my husband and I finally leave Khawja Karim village at 7:30.