Housework; the Only Option for Women
Golsum Bibi is an illiterate Afghan woman in her mid-twenties. The sweet dish she makes is famous among villagers but Afghanistan's recent economic crisis has put a damper on her business.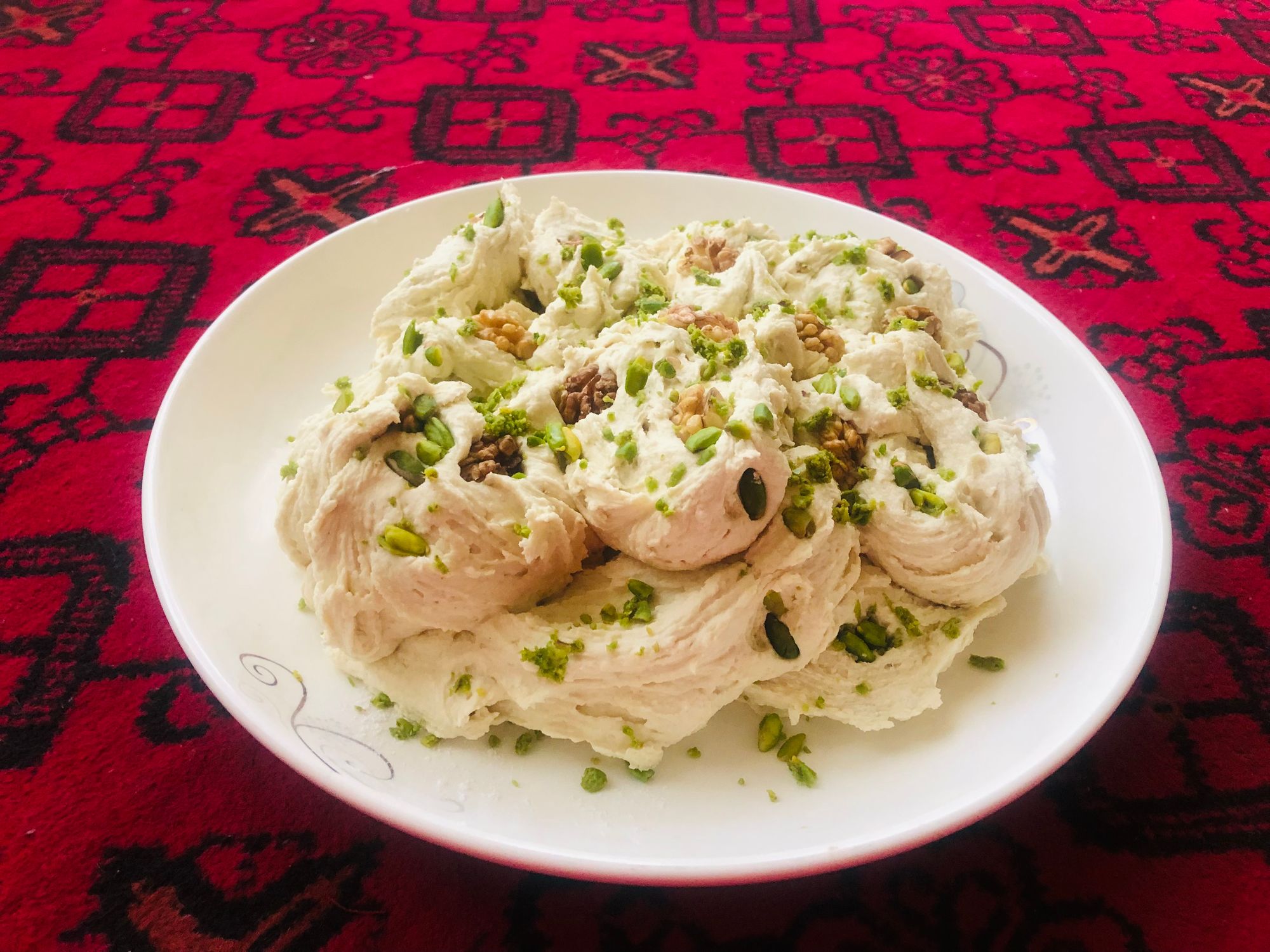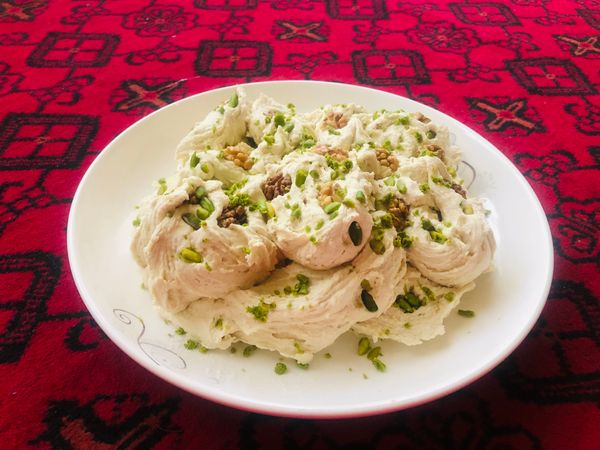 Written by  Shabana Farahmand
FAIZABAD, BADAKHSHAN — In today's One Day in Afghanistan episode, Shabana Farahmand documents a day in the life of Golsum Bibi, an illiterate woman in her mid-twenties who makes Halwa, a sweet dish served on special occasions. The kind of Halwa made in Afghanistan's northeastern Badakhshan province is served for breakfast.
It is 6 in the morning on a spring day, and trees around Faizabad, the capital of Badakhshan are in full bloom, adding to the beauty of nature. I get into a taxi to take me to Aytarchi, a village located on the outskirts of Faizabad, arriving at my destination after 30 minutes. What catches my eyes are the lush green farmlands and the tall trees overshadowing Aytarchi homes.
I find Golsum's home after asking for directions from Aytarchi residents. Golsum opens the door wearing a green jacket over her simple red dress. She has medium height, and brown skin, that complements  her outfit fabulously.
After saying hello, Golsum warmly shakes my hand and kisses me on the cheeks. [Editor's note: Greeting  with light kisses on the cheeks is common among Afghan women]. She welcomes me in a way that seems like we have known each other for years - like close friends! She invites me inside her home after greetings, a house made of mud and clay with a big front courtyard that looks neat and tidy.
Golsum guides me to the room she makes her special Halwa, the thing that has made her famous in her village. According to her, she has made the sweet dish for the past eight years.
She lives together with her parents and three siblings. Golsum has never been to school and the only thing she knows is how to do housework.
"Girls pay little attention to school, education, and university in our village. Only a handful of girls go to school, and [are able to] study in universities in the last few years," Golsum tells Alive in Afghanistan, adding that girls in her age group did not attend school [when they reached school age] and were married off in their teens.
According to Golsum, girls continue being married off in their teens to this day. In contrast, both of her brothers have graduated from high school.
At 9 am Golsum starts making a batch of Halwa that her neighbor ordered. She first sieves 5 cups of pastry flour into a bowl. Next, she pours a kilo of vegetable oil into a metal pot already heating up on the portable stove.
"We wait for the oil to get hot, then add flour in small portions while stirring until they are mixed. We later pour the flour [mixture] into a bowl to cool down," Golsum says as she pours the flour slowly into the hot oil with her left hand while her right keeps stirring the mix.
She empties the mix into a large wooden bowl, saying, "This bowl was given to my mother by my [maternal] grandmother as a wedding gift."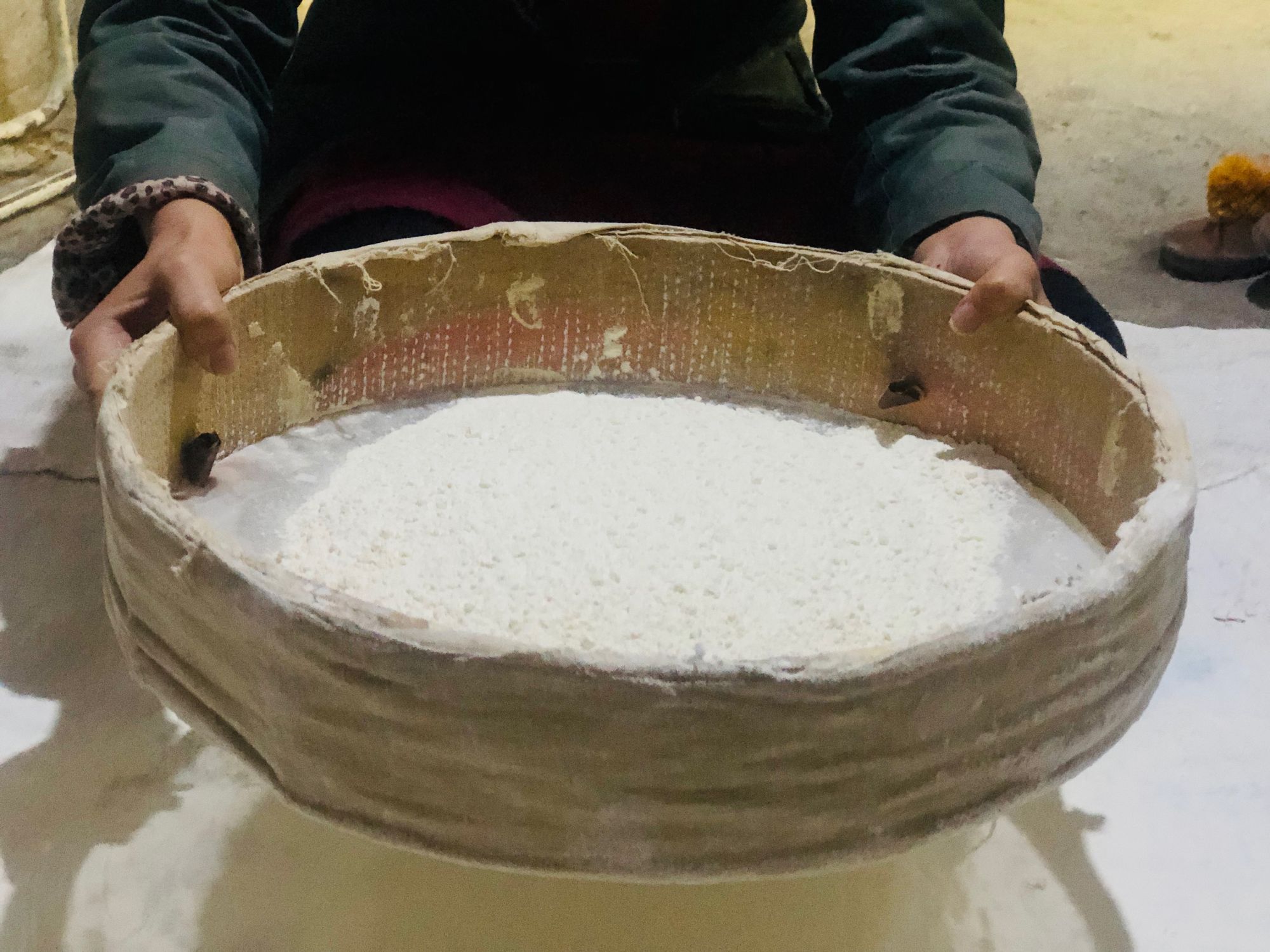 The family bowl is a year older than Golsum, who now uses it to make her famous sweet dish. Having no other way to cool the content, the mixture of flour and oil is then transferred to their basement and kept there until solidifies further. Aytarchi still lacks basic infrastructure like electricity despite billions of dollars spent on reconstruction efforts across Afghanistan from 2001 to 2021.
Golsum and I fill the three hours of waiting time with conversations about her life, dreams, and regrets; she regrets not being able to study and become somebody for herself and her family. She regrets her past filled with spending time doing housework and cooking.
"I didn't dream of going to school or college until the age of 13 or 14. I didn't even have a favorite field of study. That's because no one in my family ever talked to me about school, university, or education. That's why I don't know much about it," Golsum says while adding that she and her sister were not allowed to go to school, "Because there is no difference between an educated and an illiterate woman in our village, you must only know how to do housework!"
Golsum's words are coupled with continuous long sighs that speak volumes about her sadness and regret of a life wasted. She removes the skin from the walnuts and pistachios and grounds some cardamoms. Then measures half a kilo of powdered sugar and puts it next to herself.
The rain continues as the clock ticks 11 am, seldom providing birds enough opportunity to get back to their nests as they fly from one place to the other, chirping away.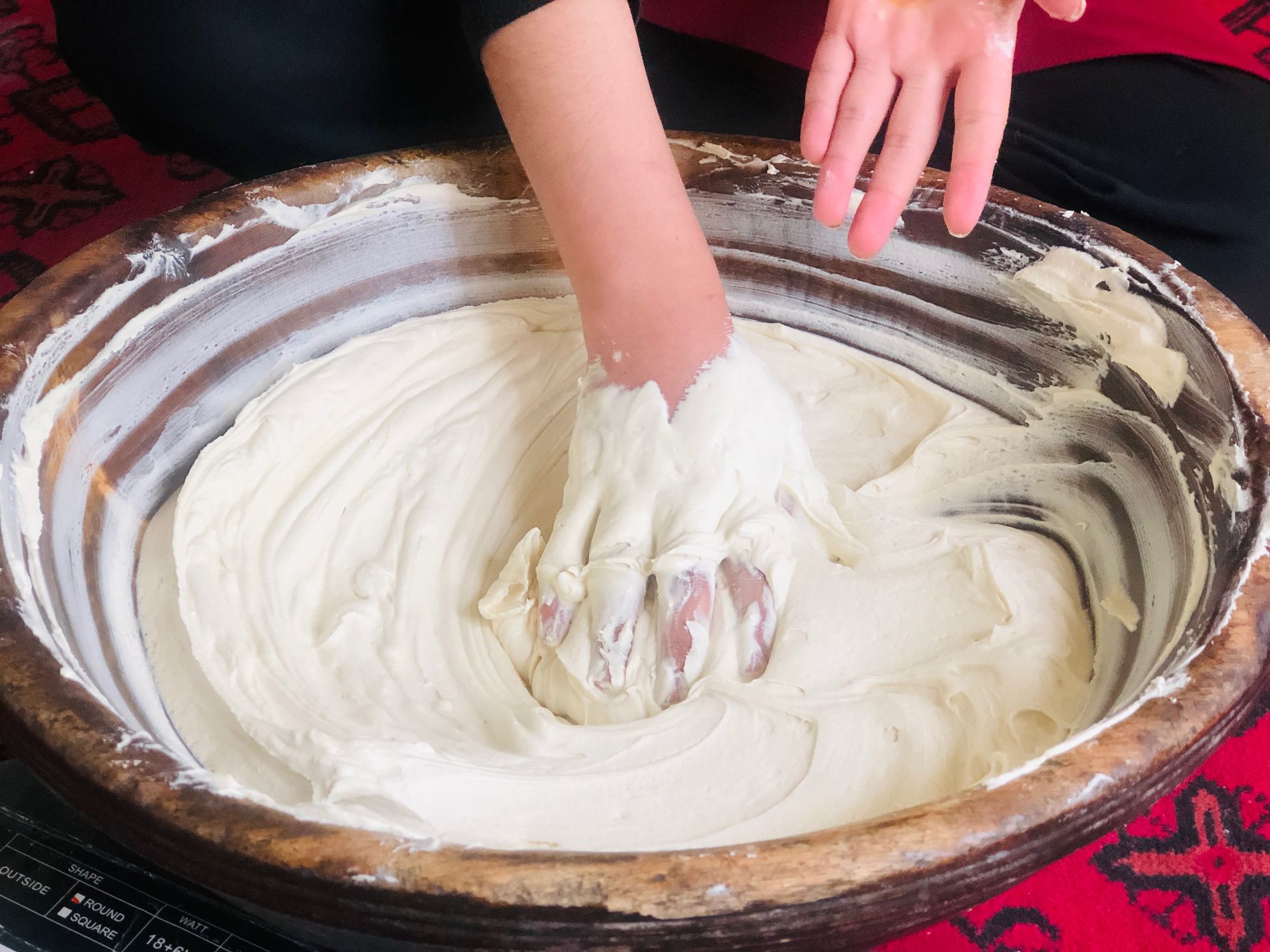 "I always use more oil than flour when making Halwa so it tastes better," Golsum says as she mixes ingredients, bringing my attention back to her. As a girl, it is a wonder how she has stayed single this long as marrying early is seen as an honorable act in their village, according to Golsum.
"Girls are considered mature at 15 years old and up here, they get married at these ages, but I am still single because I haven't found my ideal man. I haven't liked any of the men that have proposed. But people don't understand any of this, they gossip about me not having a suitor or that I am in love, but I don't take them seriously!" Golsum says, adding, "My dream in life now is to choose a spouse who values and respects women."
That is only if her parents ask her for her consent, not common among traditional Afghan families. The only difference between Golsum's family and other village parents is that Golsum's family does not believe in marrying their girls off at an early age, Golsum says.
At 12:30 Golsum and I offer prayers together, after which she resumes work. She brings the wooden bowl out of their basement saying, "It's now ready for hand rolling."
For the next two hours, Golsum rolls, fists, and punches the dough-like mixture. According to her, the more the content rolls, the sweeter and tastier it becomes. Golsum learned the Halwa recipe from her mother, who learned it from her mother, Golsum's grandmother.
The idea to make and sell Halwa crossed Golsum's mind when she was 18, following the first time she learned how to make it. Golsum thought making money out of the skill would help her father take better care of household expenses.
Golsum who frequented her neighbors' homes, told them about her idea and the neighbors were her first customers.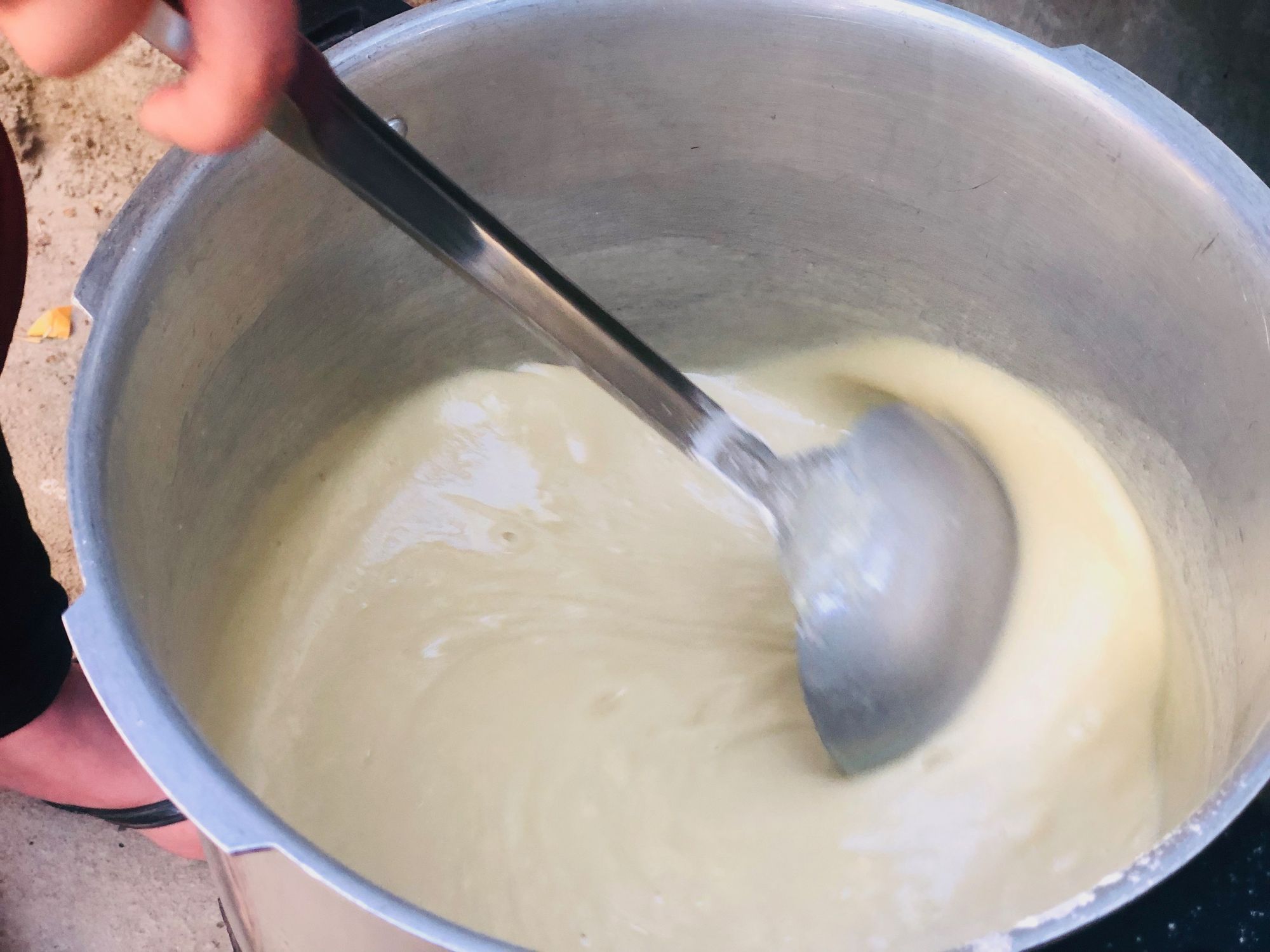 "I made Halwa out of 3.5 kilos of flour and 10 liters of cooking oil the first time, filling several large plates. I made 1,000 Afghanis ($11.4) in profits and continued the work. Everyone liked my cooking as the word spread and I gained more customers [as time went on]," Golsum says.
But Afghanistan's recent political change and subsequent economic crisis put a damper on Golsum's business.
"It's been a year since I stopped making Halwa. I gradually lost all of my customers a year ago, starting with the collapse of the previous Afghan government. The increase in prices for the raw ingredients meant I couldn't make any profits, in fact, I incurred financial loss," Golsum says. The business was shut down until a day before when one of her neighbors placed an order for Halwa.
"I accepted the order out of respect and politeness and will deliver it to her tomorrow," Golsum adds. While speaking with Golsum, a tall woman enters the house. She introduces herself as Ziwar. 45 year-old Ziwar is wearing a red floral dress and has come over to check on her order.
"She is a hardworking woman, the Halwa she makes is delicious, clean, and may not have any match all over Faizabad. That's why I placed my order with her," Ziwar tells Alive in Afghanistan. The woman heads back to her house after finding out her order is not ready yet.
Meanwhile, Golsum continues kneading the content while adding sugar, followed by ground pistachios, walnuts, and cardamom, and continues working on it for 20 more minutes.
"When the Halwa is ready, we dish it out on plates and decorate it with walnuts, pistachios, and almonds, then wait for it to cool down. Halwa must always be kept in a cool place so it does not soften; Badakhshi Halwa must be firm while served - not too soft," Golsum adds.
After 20 minutes the Halwa is ready to be served and my day with Golsum Bibi is now over as I notice that it's getting dark and I must return home.
---
Alive-in is a not-for-profit media agency that mentors journalists from underrepresented communities to increase local and national understanding.
If you are able to support our work financially, please click the button below.
---