Honey; There is Honey
Guncha Gul Karimi is an inspiring businesswoman who started a honey production & processing factory in western Afghanistan's Herat province 13 years ago.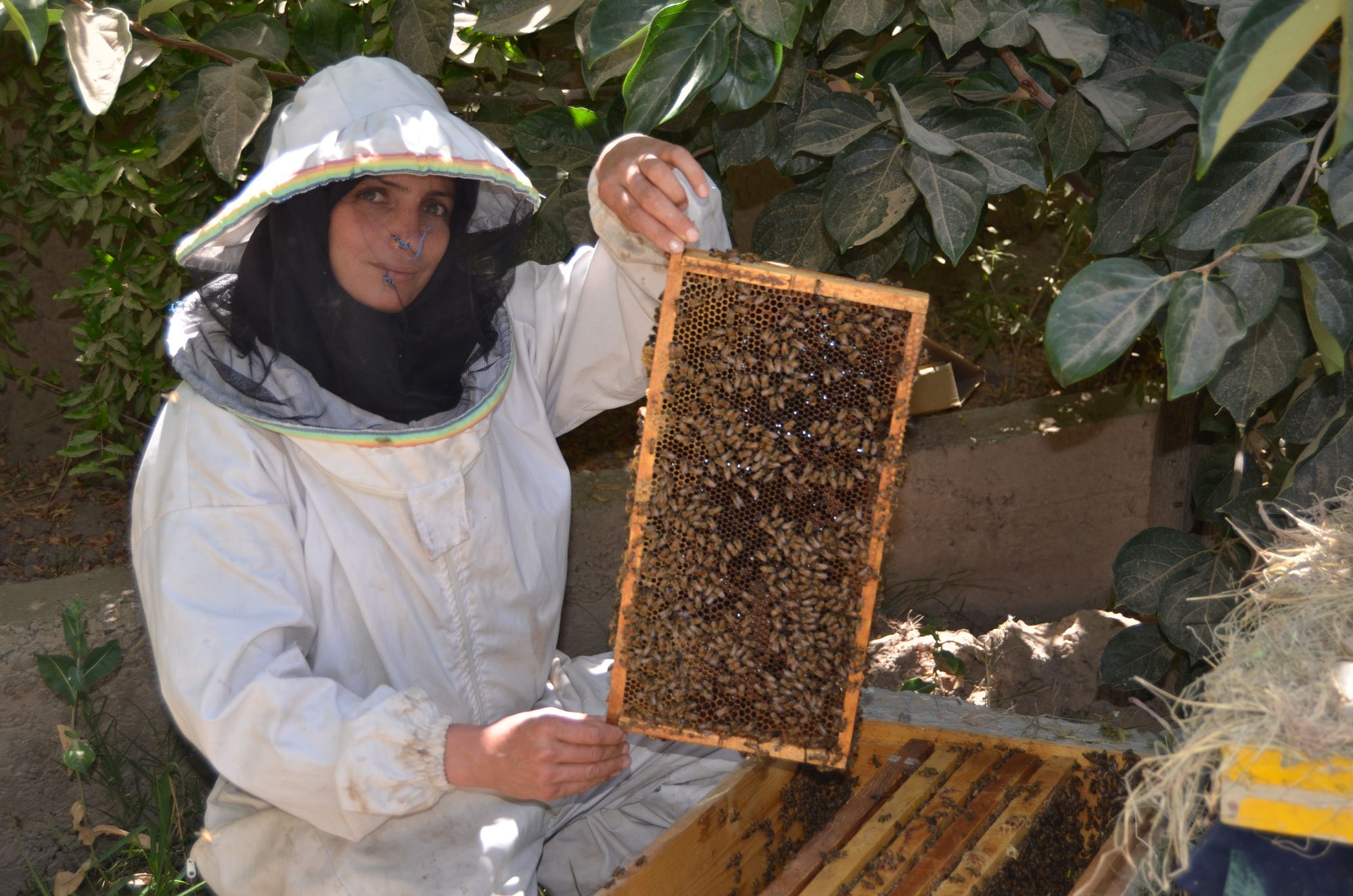 — One Day in Afghanistan —
Written by Abdul Karim Azim
HERAT, AFGHANISTAN — Ghuncha Gul Karimi is a woman who started her beekeeping business with a small investment of 6,500 Afghanis ($73), and now her capital reaches 400,000 Afghanis ($4,494).
Mrs. Karimi is the example of a successful woman under the Taliban rule, who has become a role model for other Afghan women.
In today's episode of One Day in Afghanistan, Alive in Afghanistan's Abdul Karim Azim documents a day in the life of Ghuncha Gul Karimi, a beekeeper and honey producer in western Afghanistan's Herat province.
Mrs. Karimi's honey farm uses traditional methods to process honey. The honey is separated from the hive and packaged raw, with no pasteurization involved.
In the morning, I hail a rickshaw and leave Herat, the capital of the province. I head towards a farm in "Talab," a village located 25 kilometers west of Herat city. The farm, Abdul Majid Garden is where some of Mrs. Karimi's honey bees are kept.
When I get there, I enter the farm. Guncha is waiting and we greet each other. She started this business 13 years ago and has been taking care of her family's finances since.
She currently owns three bee farms and in addition to her husband and herself, employs two women. It's now 8:30 in the morning, Guncha is wearing a bee suit as we head toward the hives. She opens the lids on one of the boxes. I keep a little distance between us, eyeing her with both excitement and fear as the swarm of bees keep buzzing around. Excitement for covering such a topic, and fear of being stung by one or several of them.
"Don't get too close or the bees will sting you," Mrs. Karimi warns me. I finally brave it and start taking visuals, documenting her work. Mrs. Karimi is working side by side with her husband, 45 year-old Abdul Khaliq.
"My husband and I are friends, it's super sweet working together!" Mrs. Karimi says, beaming with pride and joy.
The couple is part of a family of 10, including seven children (four girls, three boys) and Khaliq's mom.
"We are looking for the queen bee," Mrs. Karimi says as the couple keep lifting the lids one after the other. The queen, according to Mrs. Karimi, is strong and acts as a gatekeeper checking every bee that comes into the hive. If a bee brings dirt and pollution from outside, the queen, with the help of other bees will throw it out of the hive or in some instances kill the bee.
It's now 9:30 in the morning, Mrs. Karimi's honey collecting process has finished for now and I follow her into a room where the honey extraction machine is placed.
The room looks more like a kitchen than a processing factory. The machine is hand-cranked; four hives are inserted into the barrel shaped aluminum with a frame inside. The hives are locked in and then the wheel is turned. The honey is then separated from the hive and flows through an opening in the bottom of the barrel.
The liquid flows onto a filter, removing any residue and leaving pure honey collected in a bucket under the filter.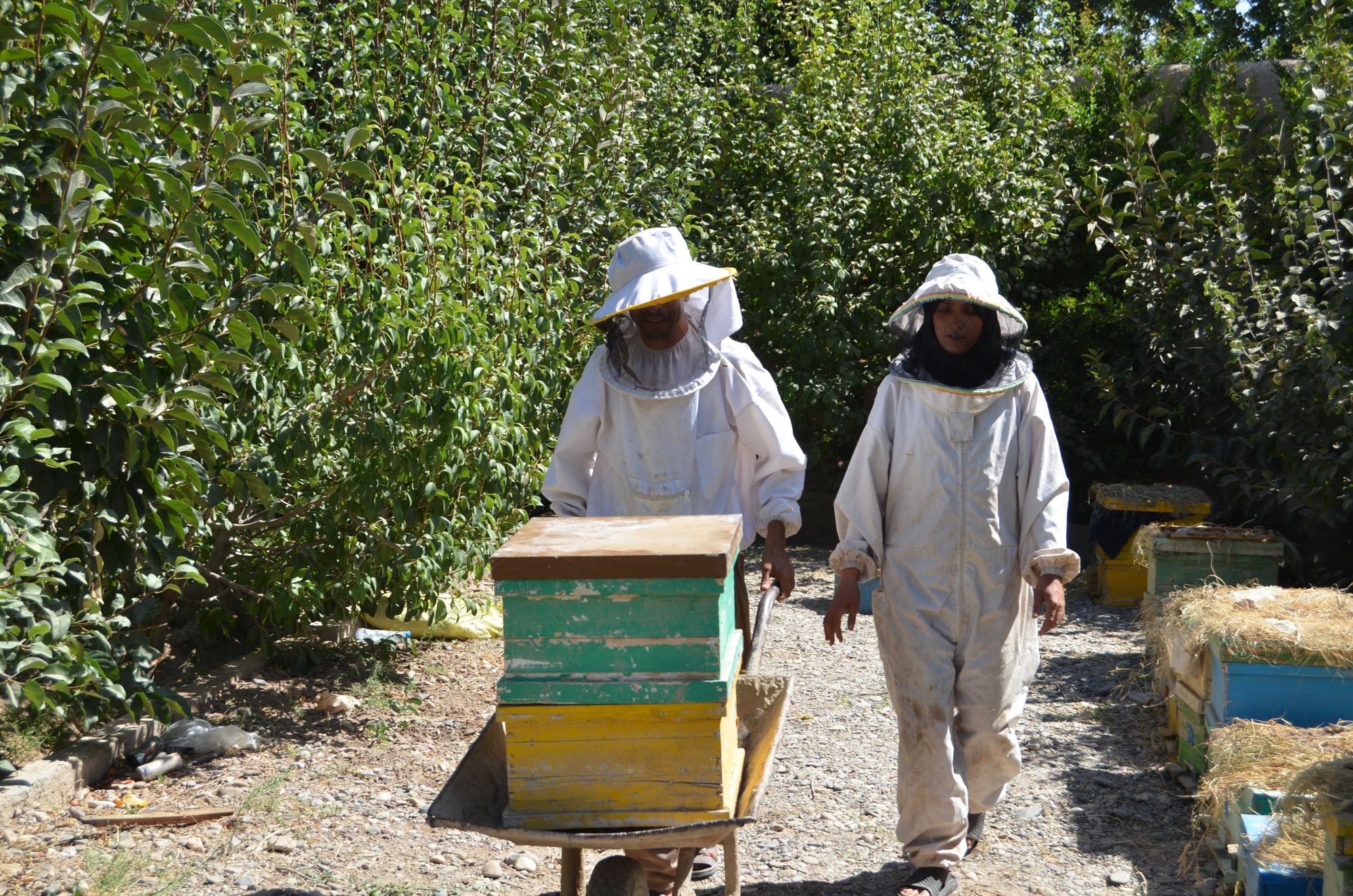 After Guncha shows me her method of honey processing, we sit down for an interview.
"I love my job!" Guncha says happily, adding that to her, "Beekeeping is an interesting job to have."
"But lack of marketing and proper management in the market has caused damage to the growth and development of the honey industry," Guncha says while getting back to work, asking relevant institutions to support beekeepers.
"I would love for this industry to grow and more women to be involved in the beekeeping business," Guncha says.
The clock on my cell phone shows it's now 10 am. Guncha laments the uselessness of development projects for women saying, "None of them were used to support women and have not been effective."
She asks organizations to launch effective projects to support women and avoid symbolic activities.
"I learned beekeeping in a training seminar," Guncha tells Alive in Afghanistan, adding that she purchased one beehive "box" on loan from the charity organization that trained her with the help of her instructor.
She first started to keep the box on her roof, moved to the small garden in her home, "I looked at farms in my village, surrounding villages, the province and other provinces for the most suitable locations to raise honeybees."
The process was slow, Guncha took each step with careful consideration and expanded her horizons only, "When I saw that I had the capability to do so."
"I paid half of the loan back in the first year by selling the honey," Guncha says, adding that she was able to pay back the full loan amount during the second year.
Mrs. Karimi used a portion of the funds she got out of the small business for household expenses and, "Kept some for savings."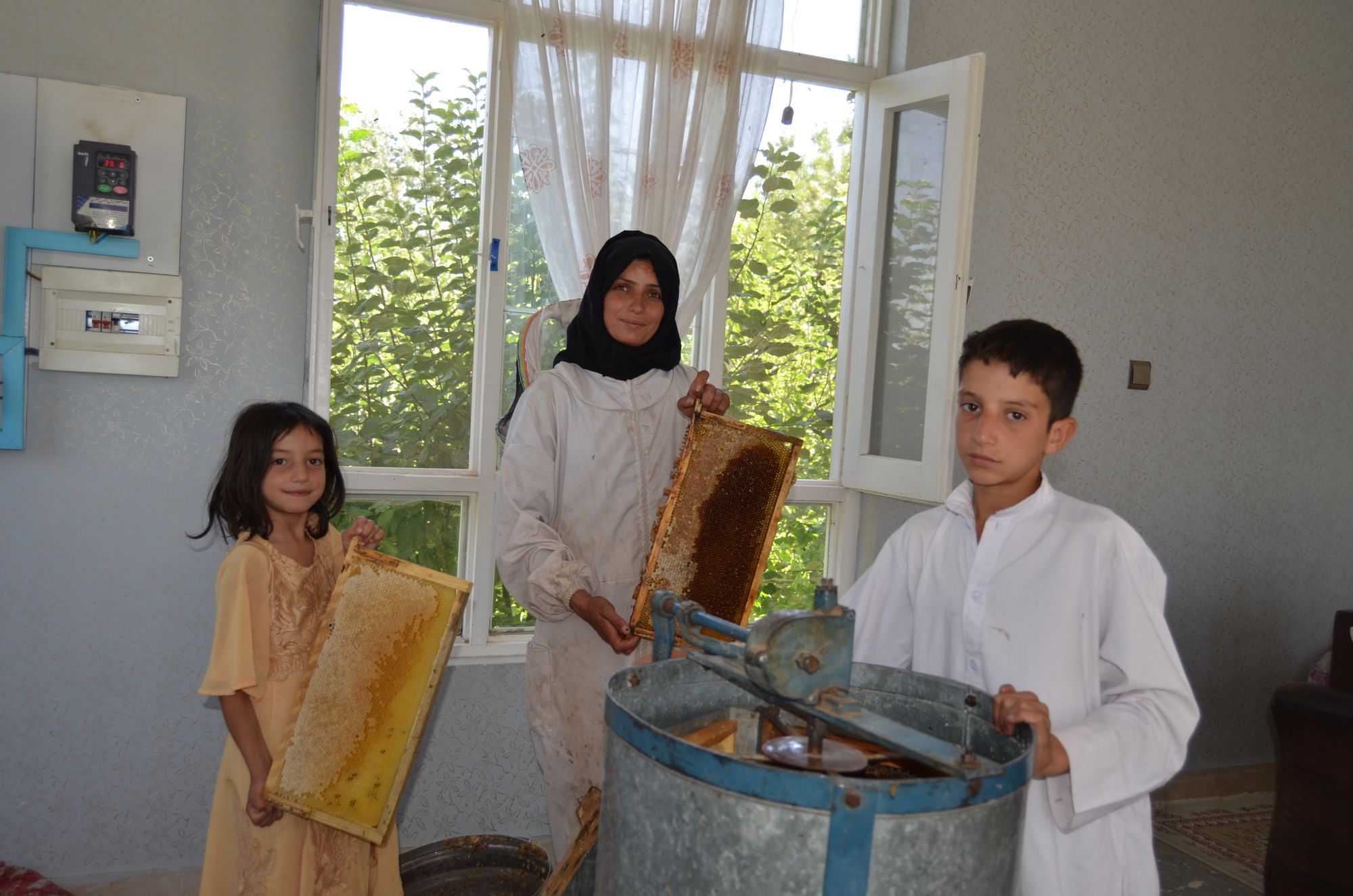 Its now 11:30 am and Mrs. Karimi is talking about her dreams and hopes for the future, "I dreamed that Ashraf Ghani [former Afghan President] called me the Queen of Bees a while ago, since then I have dreamt of being called that by my colleagues and people, that is one of my biggest dreams."
Former President Ashraf Ghani was the head of state from September 2014 until he fled Afghanistan in mid August of last year as the Taliban were amassing in the capital Kabul, resulting in the fall of the entire country to the Islamic fundamentalist group.
Although she is very interested in beekeeping, the job requires a lot of work and has high costs. In addition to that, the main costs of beekeeping are wax, sugar, and chemical fertilizers, and the prices of each have seen unprecedented increases this year.
"We have to feed the bees inside the boxes for 45 days until the clover blossoms, then we release them to the wild," Mrs. Karimi says, adding that they can only collect honey for four or five months out of the year.
Around noon our conversation diverts to Mrs. Karimi talking about the lack of quality control when importing bees and honey.
"Honey imported from Iran and Pakistan is cheap and low quality. It also enters the market indiscriminately, causing honey processing businesses in Herat to lose customers," Mrs. Karimi says.
According to her, the honey yield this year has decreased in comparison to previous years. So far this year she has collected 170 kilograms of honey from one farm, while last year it was twice that figure.
"Climate change, seasonal winds, various diseases, as well as bee imports from neighboring countries are among the causes for low honey production."
Although Mrs. Karimi insists that I stay over for lunch, customary in Afghanistan, I politely decline her offer and head out to eat lunch and pray.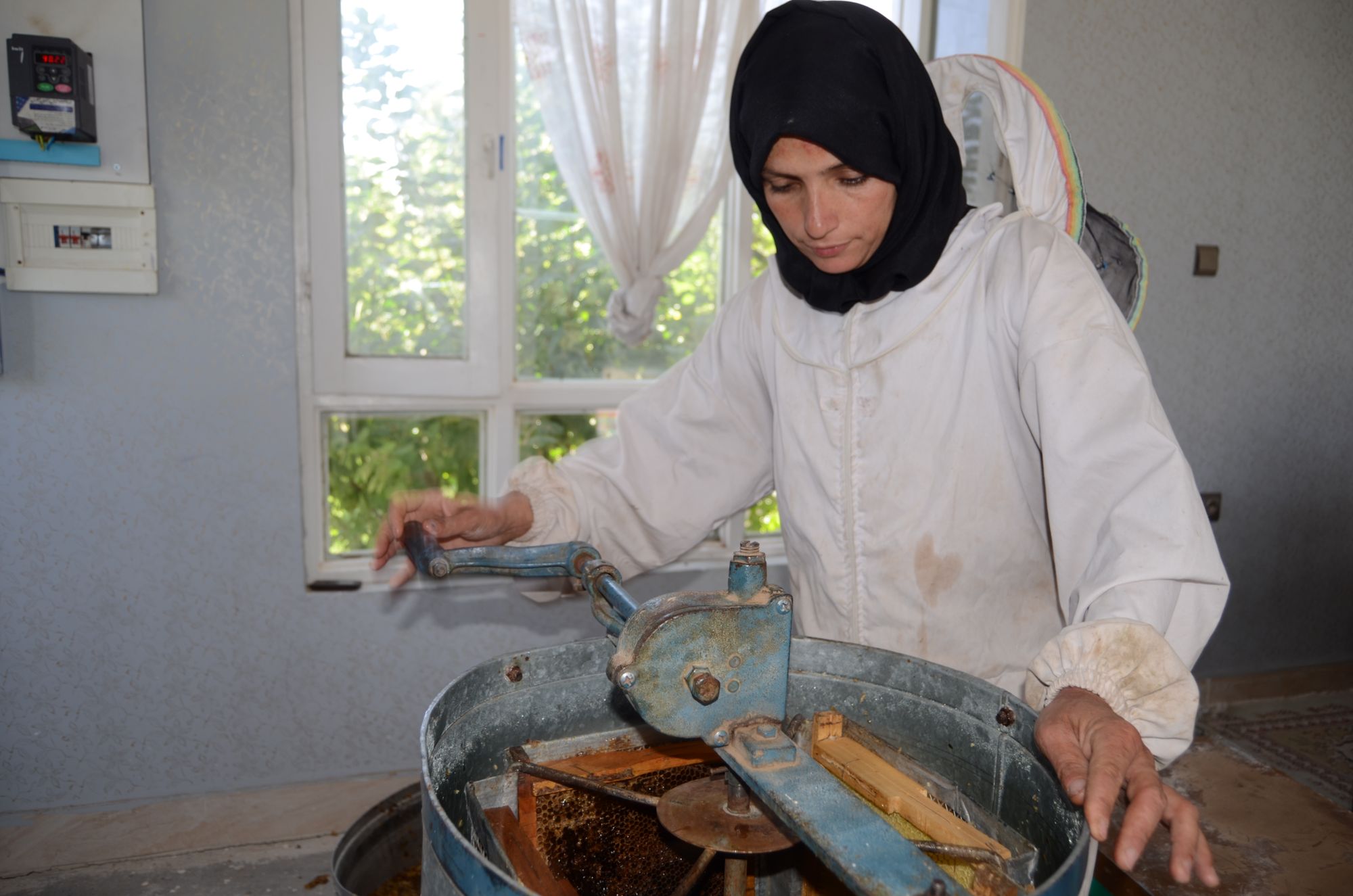 After lunch and prayers, I visit the Herat Beekeepers' Association. Shoaib Ibrahimi, the head of the association in Herat province, says that at his agency hoped honey production would increase compared to last year, but climate change, and early seasonal winds causing clover blossoms to die, lead to the decline in honey production.
Despite the challenges, honey production in the western province has relatively stayed the same. According to statistics by the association, the agency estimates honey production this year will be around 100 tons, the same as the year before.
Mr. Ibrahimi also noted that the import of low quality and cheap products had been a cause behind the decline in Afghans buying local.
According to the statistics provided by the Herat Province Beekeepers Association, about 10% of women in this province are engaged in beekeeping, and the majority of them support their families through this beekeeping.To find out more about female business owners and the general situation of women in Afghanistan, read Alive in Afghanistan's articles about Women.