Grapes Feed Families
Basir Ahmad Darwishi has worked as a raisin processor in western Afghanistan's Herat province for the past 20 years. His business employs over a dozen locals annually, a vital resource considering the country's economic situation.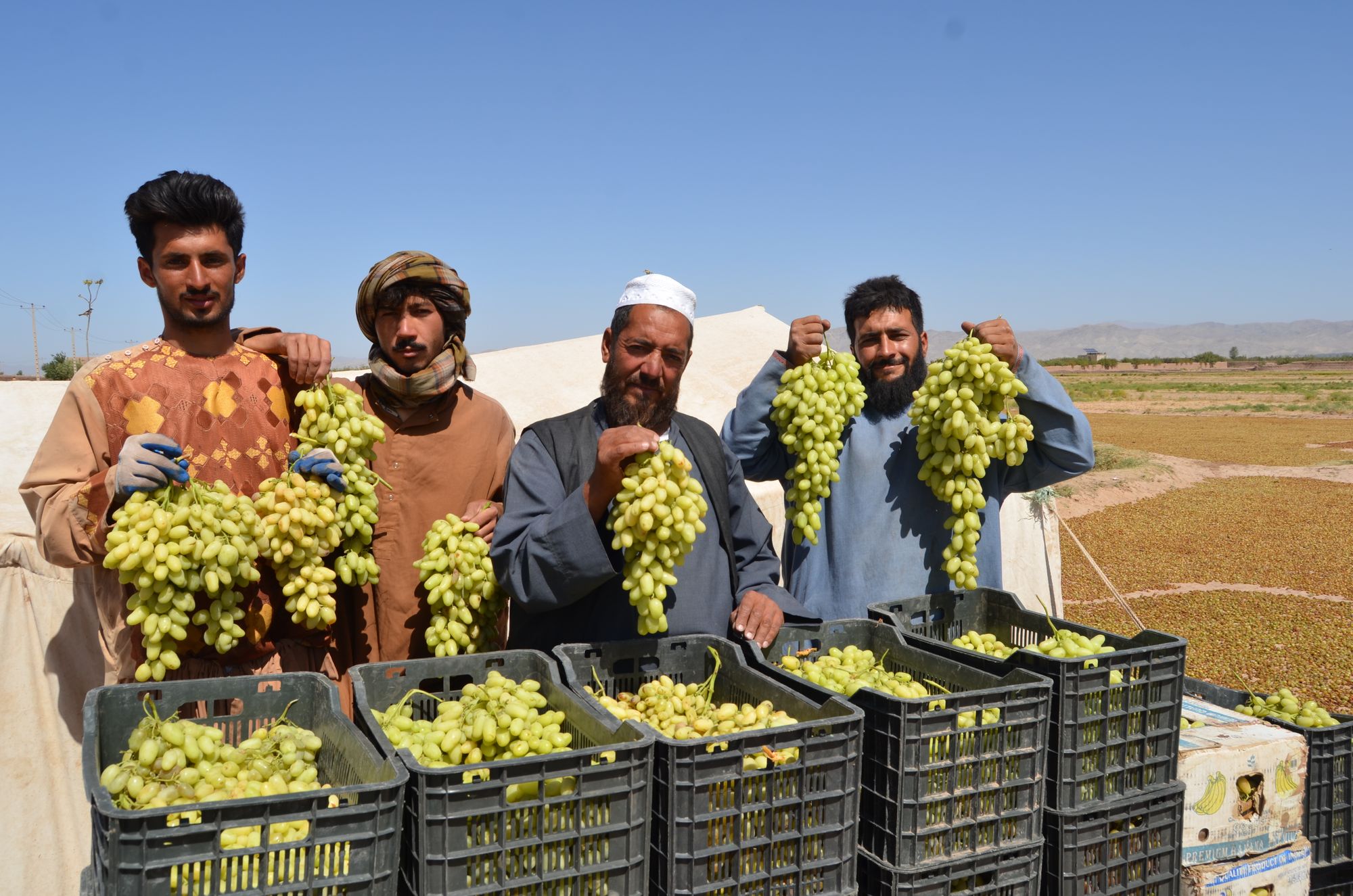 — One Day in Afghanistan —

Written by Abdul Karim Azim
IMAM SHASH NOOR, HERAT — In today's One Day in Afghanistan episode, Abdul Karim Azim documents a day in the life of raisin processor Basir Ahmad Darwishi in Injil, a district in western Afghanistan's Herat province.
With the meeting set up in advance, I leave Herat, heading towards Imam Shash Noor village in Injil district at 8:30 am. Imam Shash Noor is about 20 kilometers away from Herat. My first stop is the fields where grapes are processed into raisins.
Outside the city limits, small clusters of single story mud huts and farmlands stretch out on either side of the road, as far as the eye can see. Eventually the road arrives at my destination where I am met by Mr. Darwishi, a polite and handsome man.
Laborers working for Mr. Darwishi are already busy in the fields working at various stages of the process.  Mr. Darwishi, who has been a farmer and raisin producer for the past 20 years, explains the process as his staff rinse the grapes behind him.
"Kishmish-e abjosh (boiled raisins) became popular in Herat over the past 20 years. Initially there were only a few ovens but the number has been increasing. When grapes are close to being picked, we come and build the ovens at specific locations and prepare an area to collect the grapes for drying.  Then we tell the farmers that we are ready to buy their produce," Basir tells Alive in Afghanistan.
According to Basir, the ovens are fired up for use once grape purchasing begins. On average Basir hires 20 laborers for the job each year.
It's now 9 am and while we oversee the laborers Basir continues describing his work, "We buy and process five tons of grapes into raisins daily." According to Basir, his team purchases and processes 300 tons of grapes into raisins during the grape harvest each year.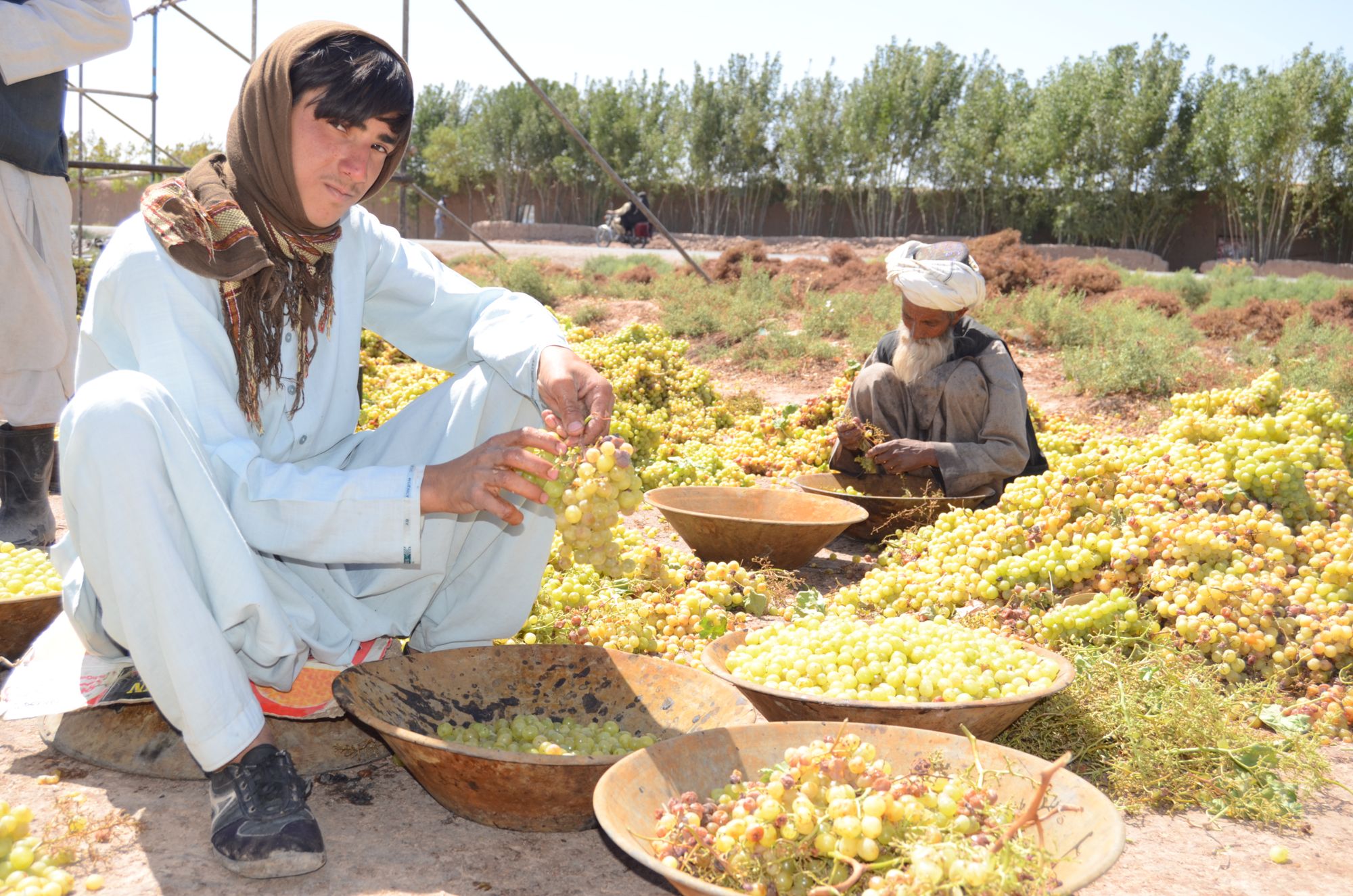 According to Mr. Darwishi, once the grapes are purchased, laborers remove the stems and wash them. Metal baskets are then filled with grapes to the precise level required, and submerged in a boiling liquid, which is a mix of water and a chemical solution made of potassium carbonate and ethyl oleate to help dry the grapes faster.
While Basir is explaining the process, the generator that runs the water pump and fan for the oven drones on in the background, a constant nuisance and reminder of Afghanistan's weak power infrastructure. Nearby a laborer wears a scarf covering his head and face and long gloves to avoid burning himself repeatedly dips baskets of grapes into the hot liquid, pulls them out seconds after and hands them over to the next laborer in line who dumps the baskets into a barrel filled with cold water.
Once the grapes have cooled, they are laid out on the area prepared for drying the grapes, where they will bask in the sun for the next five days. Once dry the raisins are ready to sell.
"At that time, we gather and transport them to the city to sell," Basir tells Alive in Afghanistan.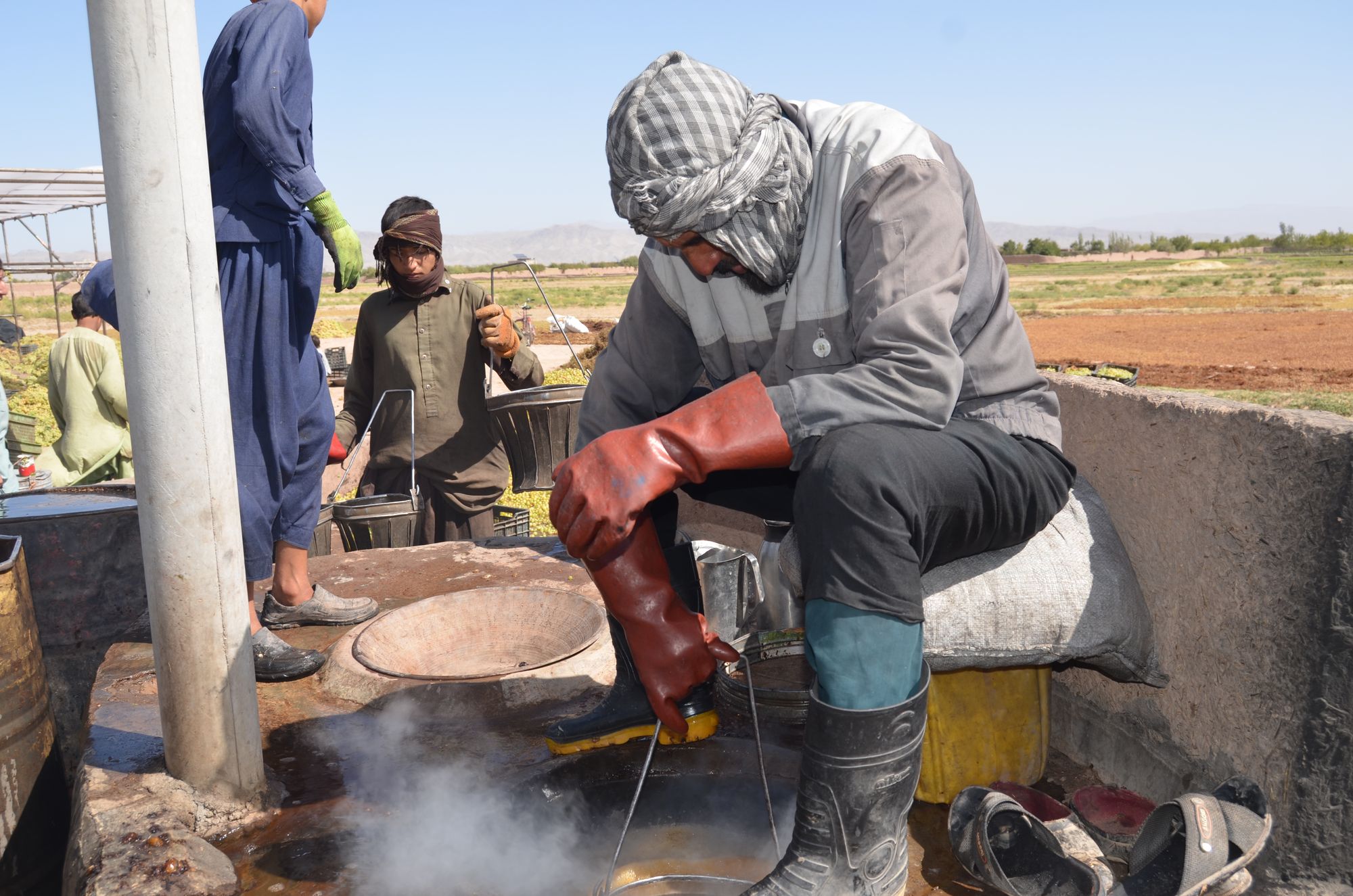 It's now 10:30 am and the grind continues. According to Mr. Darwishi, Herat alone is home to 35 varieties of grapes, the most famous and expensive are; Laal, Ayta, Shingul Khani, Girdak and Hussaini. Laal and Shingul Khani are the two most popular types used to make raisins. These high value grapes are sold for up to 500 Afghanis ($5.74) per kilogram in the Herat.
Mr. Darwishi told Alive in Afghanistan he has invested more than 15 million Afghanis (nearly $170,000) in the business so far. According to him, the more grapes he purchases, the higher his revenue.
"On average I make a profit of 200,000 Afghanis annually ($2,257) on average," Mr. Darwishi adds.

Basir pays adult laborers between 100 to 400 Afghanis a day ($1.13 to $4.51), and laborers who are younger than 18 between 30 to 170 Afghanis a day, ($0.34 to $1.92, based on current exchange rates). The exact rate is based on the ease or intensity of the job and the laborers' level of expertise.
"The master [laborer manning the oven] makes around 600 to 800 Afghanis a day ($6.77 to $9.03) because he is in charge of the oven and that is a very demanding job," Mr. Darwishi says.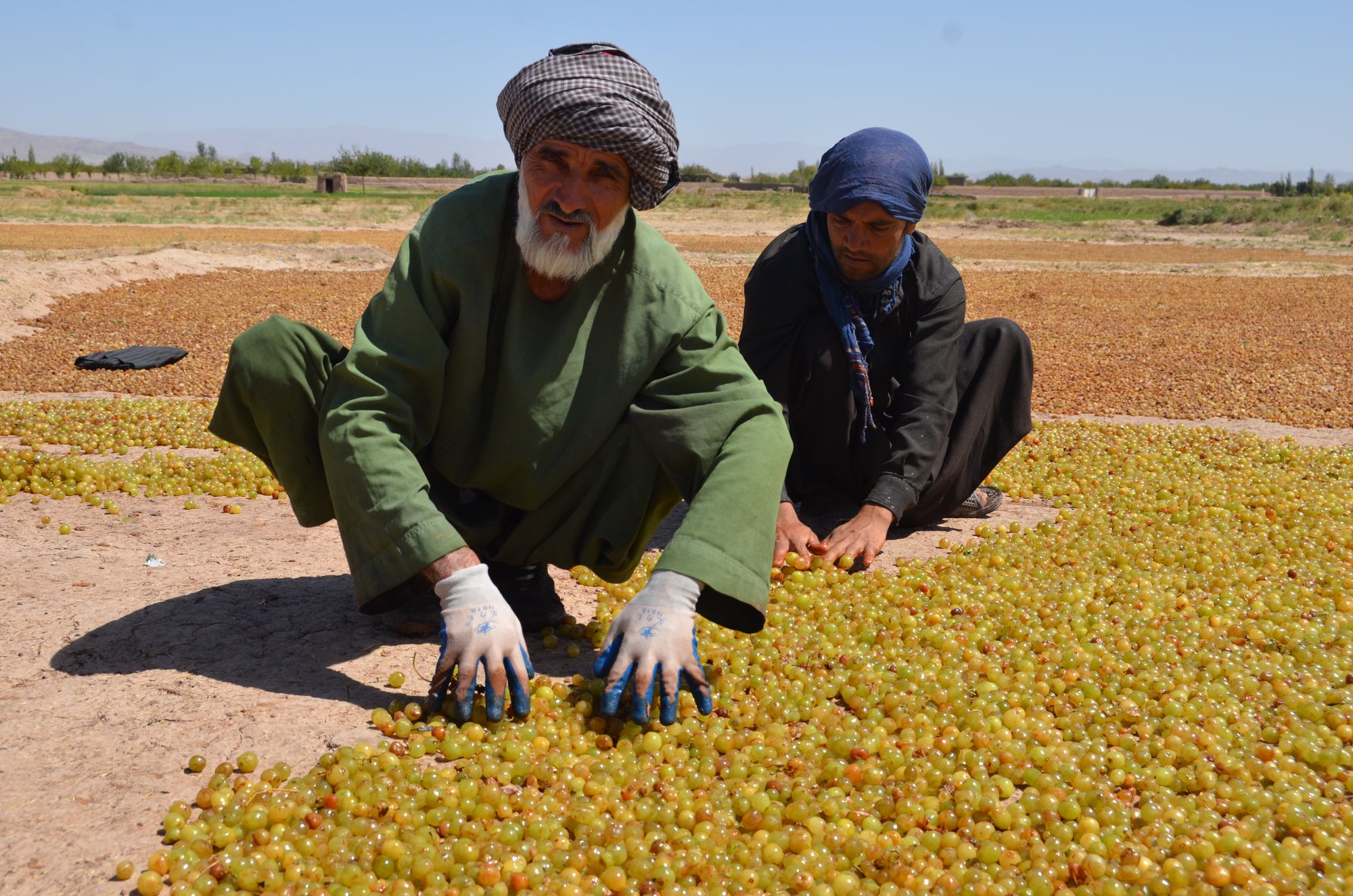 It's now 11 am and one of the elderly men sitting near the oven hums a song in Pashto while he separates grapes from their stems. His name is Gul Ahmad, he makes 150 Afghanis a day ($1.72).
Gul Ahmad is the head of a family of nine. All the money he earns from picking grapes is spent taking care of his family.
"I have to work to help cover at least some of my family's expenses," Gul Ahmad tells Alive in Afghanistan.
Checking my phone, I see that it's now 11:30. Nearby a boy named Mahmoud sits with his sleeves rolled up, separating stems from grapes and dropping them into a black storage basket on the ground beneath him.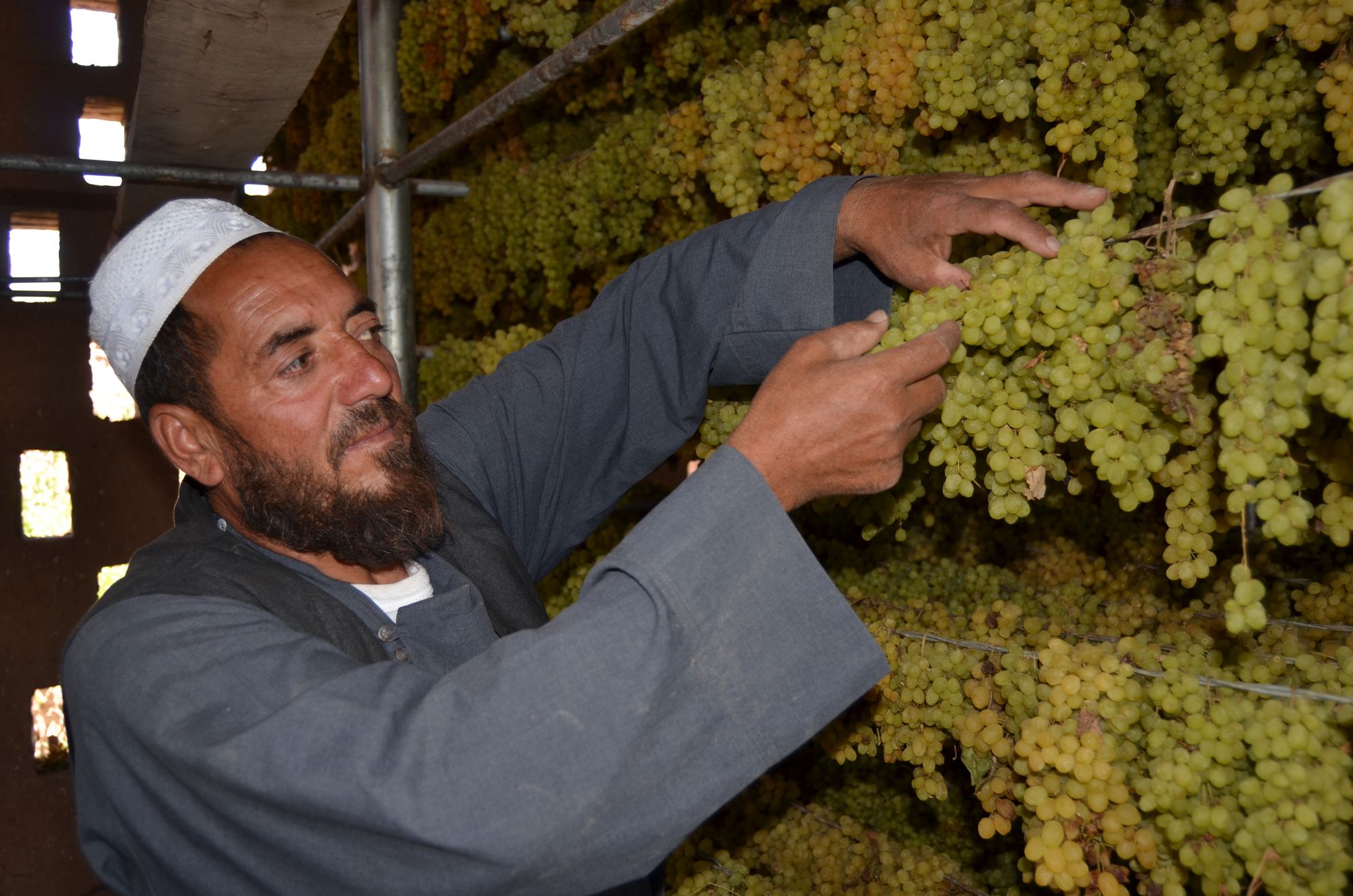 Mahmoud is a member of a family of 10, he is paid 50 Afghanis a day for his work on the grape vineyard ($0.57). His older brothers are also laborers. Mahmoud hands the money he earns over to his mother to buy groceries with.
The 11 year-old boy is a student in fifth grade who comes to work at 7:30 am, works until noon and goes to school in the afternoon. His family's financial situation prevents him from having enough time to study.  Despite that, Mahmoud tells Alive in Afghanistan, "I dream of becoming a teacher so I can serve my homeland."
After my conversation with Mahmoud ends, Mr. Darwishi and I leave Imam Shash Noor for his own vineyard, located about five kilometers from the village. His vineyard has a drying room built with an agriculture grant from the World Bank. The facility is used to dry grapes in a more natural and slow method.
This process doesn't require any chemicals or an oven, but demands a specific skills that Mr. Darwishi has learned. According to him, this drying method takes a month instead of a few days.
The drying room is filled with grapes hanging from ropes that are spaced far enough apart for the clusters of grapes not to touch each other, allowing air to move through freely.
While showing me the drying room, Mr. Darwishi talks about the challenges he and other farmers face.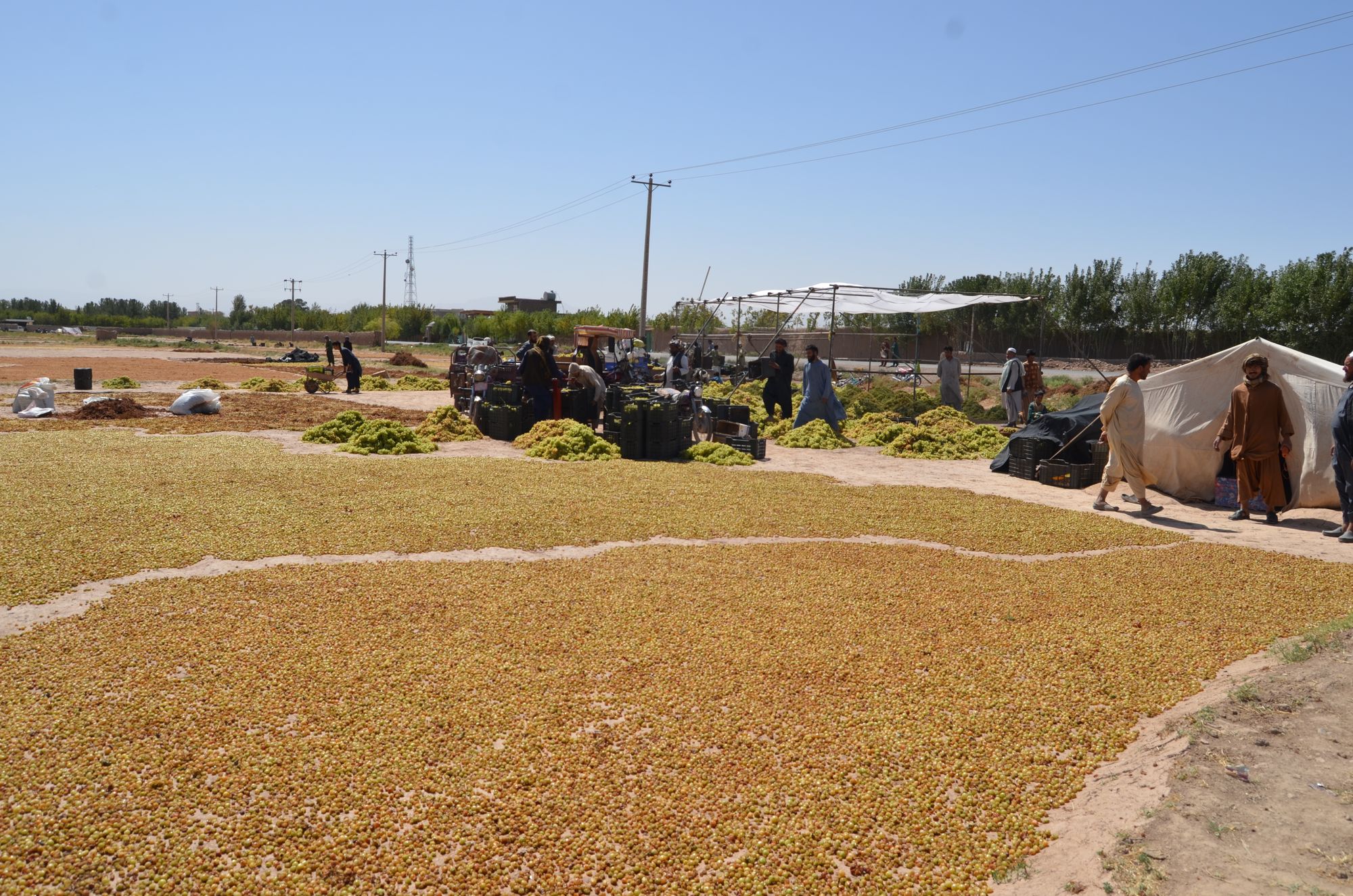 "The challenges include the drought over the past couple of years, receding water levels, low quality but expensive fertilizers, and the lack of a stable market in Herat or Afghanistan. Prices for raisins are high one day, and drop the next," Mr. Darwishi says.
He continues, "The government must pay serious attention to marketing our products and providing cool storages for farmers so we can store and sell our products for a better price."
According to him, Herat's grapes are exported to Pakistan and from there to India, as well as Central Asia and Russia. Mr. Darwishi is content with the degree of marketing this year because, "The price for Herat's grapes have been somewhat good this year."
At 2 pm I have to bid goodbye to Mr. Darwishi despite his insistence that I stay for dinner.