Famous for His Mule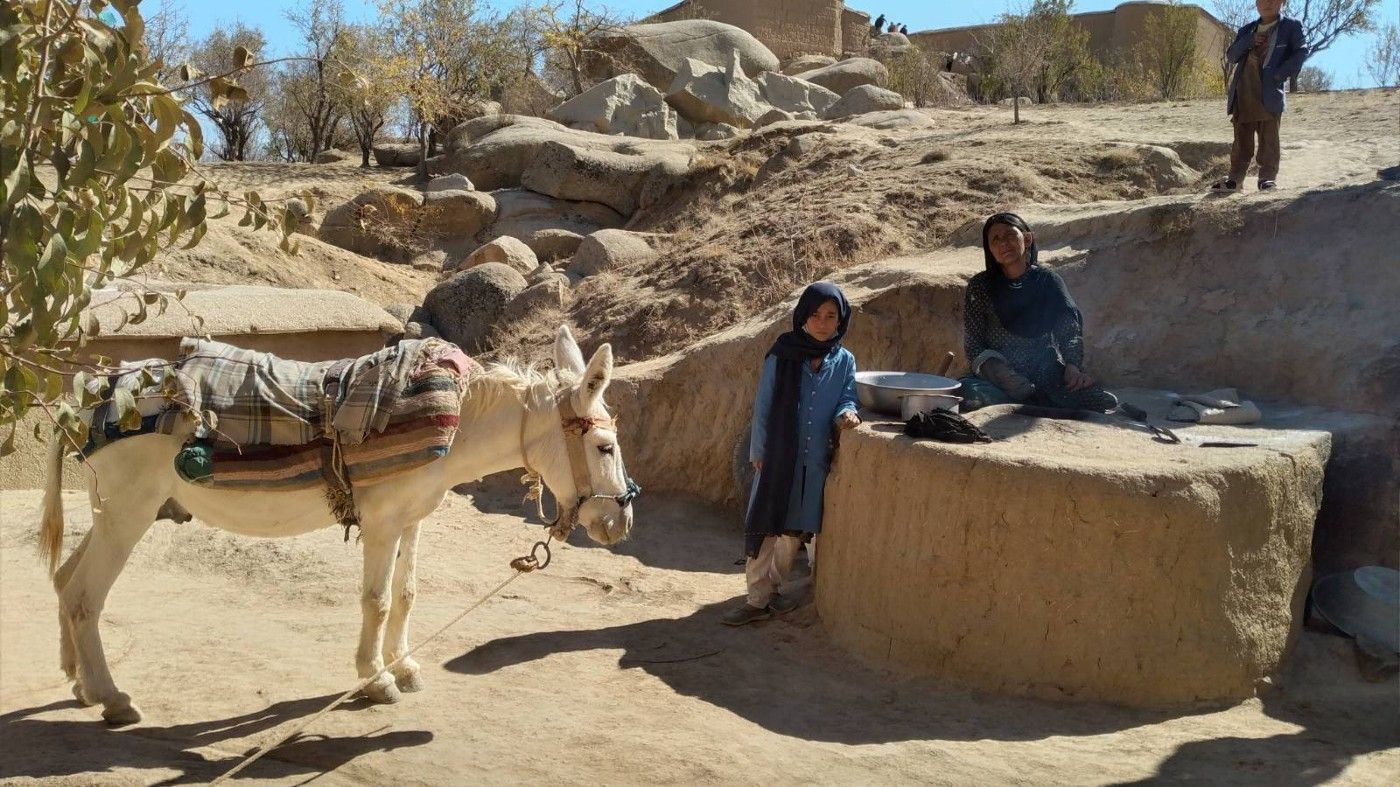 — One Day in Afghanistan —
By Sima Siawash, edited by Mohammad J. Alizada and Brian J. Conley
NILI — Afghanistan is a mountainous country that is full of regions with rough terrain where modern technology still gives way to centuries old methods of transportation. The people of this country, especially those in rural areas still walk, use mules or horses to get to their destinations, which can take hours and sometimes days. But the mules are not only used to get from point A to point B, they are also used as a source of revenue.
47 year-old Dad Khuda Rahimi, from Daikundi province's capital Nili does exactly that. He uses his mule to transport goods for people in the small city and its neighborhoods, charging people a small fee for the job.
Mr. Rahimi is married and has five children, one girl, 24 year-old Tamana, and four boys, 23-year-old Ayat, 15 year-old Binyamin, 11 year-old Abidain and 7 year-old Yousof. Mr. Rahimi's son is working in Iran to be able to help the family while three of his youngest kids go to school.
"We have not married Tamana because her mother is ill," Mr. Rahimi says but now that Tamana is closing in on 25 and with the number of suitors dwindling, both Tamana and her parents are worried.
Dad Khuda did not disclose information about his wife's illness.
The sun is just shining on the doors and windows of the residents of this small city, waking them up from their sleep. I head towards Nili full of enthusiasm and arrive in old Nili city after passing streets lined by farms, streams and mudhuts. The time now is 8:30 am and people are slowly pouring into the city. Store owners open their stores one by one and put some of their goods outside for the customers to see as they pass by.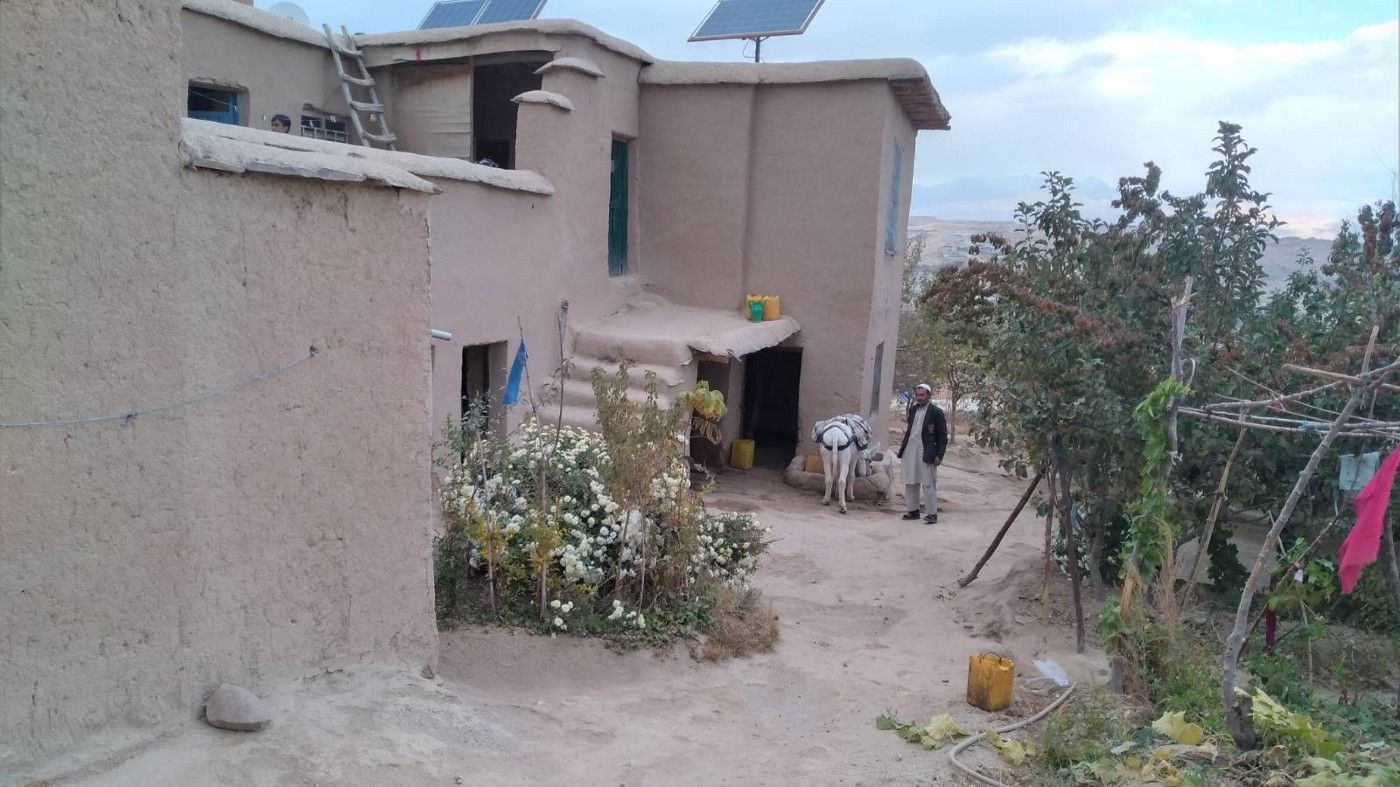 Doka is the spot that Mr. Rahimi and two of his friends, Hashim Ekhtyari and Hussain Ali Sharifi, who do the same job, hang out in order to wait for customers. On normal days the three gather at this spot with their mules around 8 am and go home by 5 pm.
Although Mr. Rahimi and his friends have eaten breakfast before I arrived at the spot, they are yet to receive any orders. The time now is 9:10 am and Dad Khuda's phone starts ringing in his pocket. He takes it out of his vest pocket and answers.
"Hello, who is this? Ok, where should I come to, Aziz Khan? All right, I will be there," Dad Khuda says to his customer Aziz Khan on the other end and hangs up.
"It was Aziz, he wants two bags of flour and two of rice right now," He tells the duo, asking Hashim for help to load up his mule. Dad Khuda will charge 250 Afghanis ($2.72) for the work, giving a share to Hashim for the help.
Dad Khuda is also a farmer as well, he has some farmland himself and works as a farmer for hire as well, but due to drought, the farming only counts as his second job, he makes most of his money from carrying goods for people.
Hashim on the other hand is a laborer and digs wells for people but since that is not permanent, he uses his mule for revenue as well.
Dad Khuda and Hashim take off towards a store, the address to which was provided by Aziz, their customer. Dad Khuda and Hashim load up the bags on the back of the mule and start heading towards his customer's house, which is about 30 minutes away, through back alleys and narrow streets that makes him hold the bags tight on the back of the mule as the animal is moving.
We arrive at the destination about 11:07 am, Dad Khuda unloads the bags and gives them to Aziz's wife.
"Why don't you stay for lunch?" Aziz's wife offers Dad Khuda with the Afghan hospitality that is well known throughout the country but he refuses and we head back towards Nili.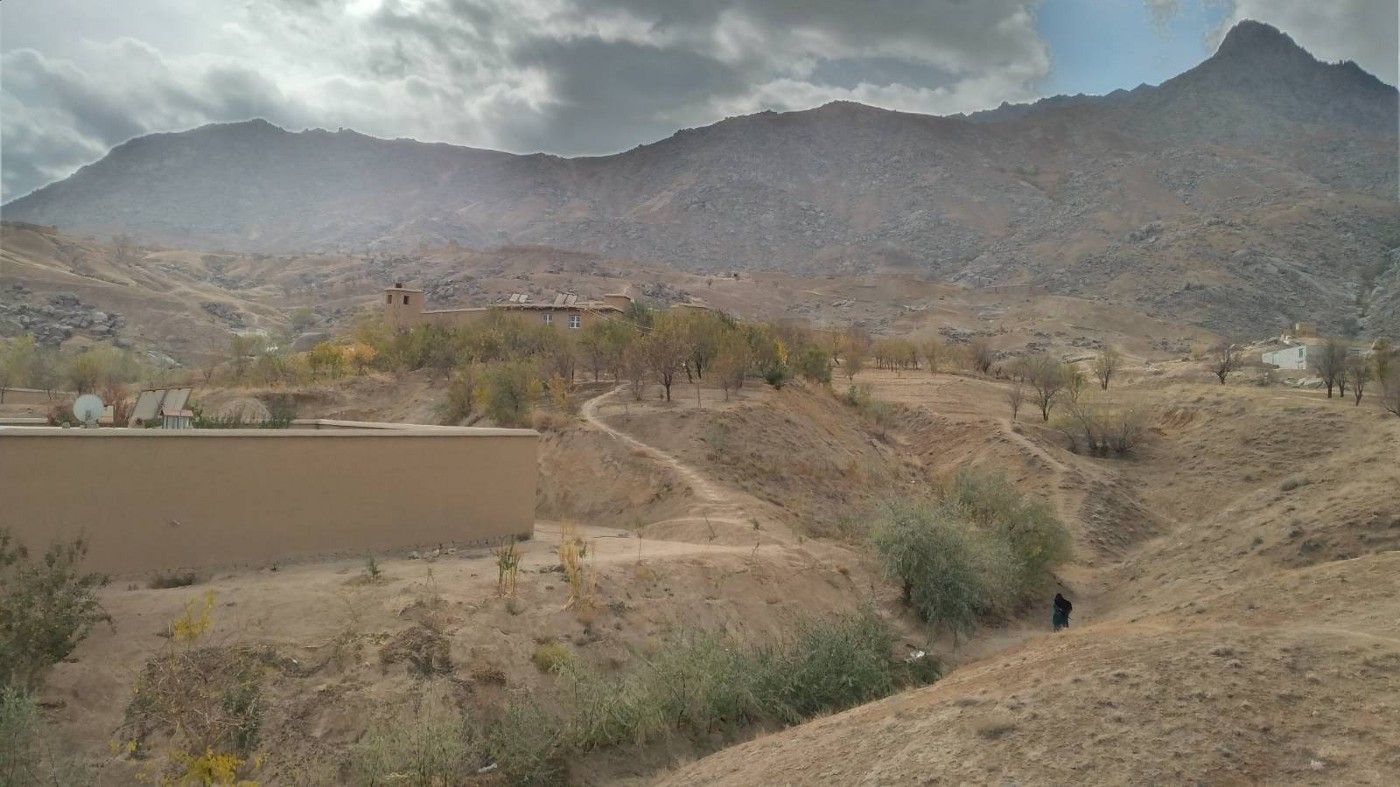 Now that the load is off the mule's back, it's moving faster across the path while we are trying to keep up. The mule knows the way back, like he has been on these pathways many times.
Dad Khuda buys a biscuit on the way back and shares it between us saying, "The taste of your own income is different!"
Perhaps…
We arrive at Doka around 12 noon. Dad Khuda ties his mule to a tree near Hashim and Hussain's mules and dumps some hay in front of them. The three are good friends, the one or ones not transporting something will prepare lunch. For lunch, one of them has prepared some cauliflower. They get ready to eat, and I head towards the city to get a sandwich.
We return to their usual spot around 2 pm where I find Dad Khuda.
"When I am farming, I transfer my orders to my friends," Dad Khuda tells Alive in Afghanistan during the interview profiling him and his work. However, due to the persistent drought, his farm does not produce enough to be sufficient for the family expenditures.
Dad Khuda says he waits for calls and orders from customers throughout the day when he is not busy farming for himself or is not pulled away for other work.
"I earn about 300 to 400 Afghanis ($3.27 to $4.35) each day from this business," Dad Khuda says.
According to Dad Khuda, the price of each transport varies based on the distance and the weight of the load. He usually works in and around the Nili city neighborhood. Mr. Rahimi has been in this business for the last 15 years and has familiarized himself with almost all neighborhoods in and around the city and have made loads of friends.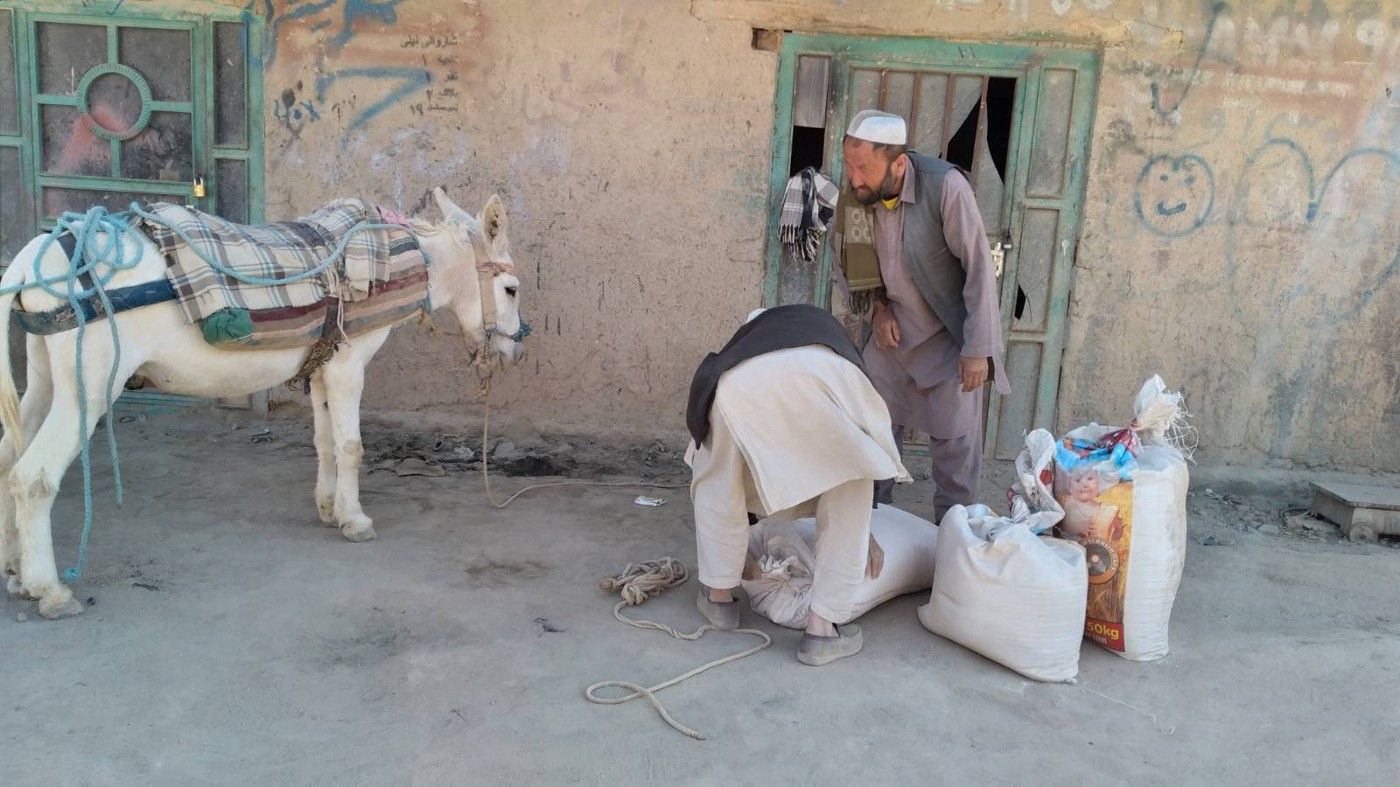 "I am the most famous person in Nili, everyone knows me," he says with a sarcastic tone. This is a fact I have witnessed today, Mr. Rahimi is greeted everywhere he goes and by whoever sees him. He knows most of the people in the area and their precise home address.
Mr. Rahimi gets another call after 40 minutes. A customer wants him and two of his friends to transport the goods he purchased for himself and his neighbor. All three of them untangle their mules and start heading towards the store where the customer is located.
"We will charge him 400 Afghanis ($4.35) this time, the distance is not far but the load is heavy," Dad Khuda tells me while we are walking to the shop.
According to Rahimi, he never came short of money prior to the collapse of Afghanistan to the Taliban, which took place in mid-August this year.
"I could always find work, but now it is not the same," Dad Khuda tells me while adding that people do not have the ability to buy their needs and therefore the demand for transportation of goods have decreased as well.
The economic crisis following Afghanistan's collapse is increasing with each passing day. With Afghanistan's assets frozen, hunger and unemployment, among mounting challenges for the ordinary Afghans are skyrocketing.