Family Keeps Ancient Art Alive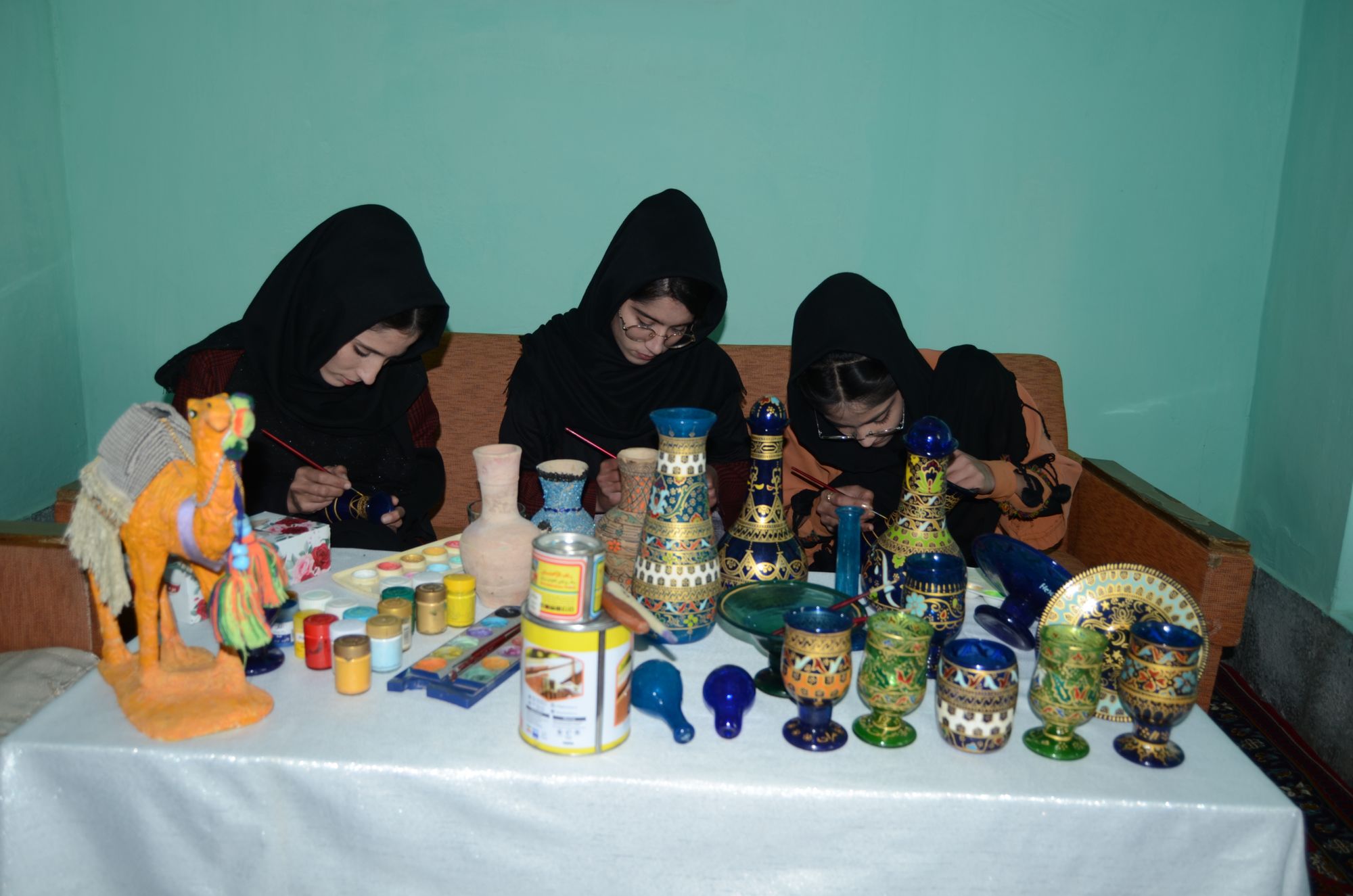 — One Day in Afghanistan —
Written by Abdul Karim Azim, edited by Mohammad J. Alizada and Brian J. Conley
HERAT – Herat is a cultural city whose name is associated with miniature art. Herat's miniatures are inextricably linked with Ostad Kamaluddin Behzad, a man who brought miniature art to its peak in Herat in the 15th or 16th century, with its fame reaching European countries.
Kamaluddin Behzad was born in 1450 and died in 1535 during the late Timurid and early Safavid periods.
Regarded as marking the highpoint of the great tradition of Islamic Miniature painting, Mr. Behzad is the most famous Afghan painter of miniatures, and an expert miniature artist in the world, who founded the Behzad School in Herat.
Centuries after his death, students at the Kamaluddin Behzad Vocational Institute in Herat consider themselves the inheritors of Mr. Behzad's art as they follow his path of learning the art of miniatures.
The phrase "miniature painting" is derived not from the size of the images, but based on the use of minium, or red lead, in early examples of this art form, particularly by medieval illuminators adding small illustrations also called illuminations to their manuscripts.
Our current One Day in Afghanistan article features a family of artists that has been through many ups and downs to educate four of their girls, learn miniature art and gift it to their community.
55 year-old Seeed Akram Hashemi married  42 year-old Shigofa 25 years ago. The couple have 8 children, 25 year-old Saeed Tariq, 23 year-old Feraiba, 22 year-old Yasamin, 20 year-old Fahima, 19 year-old Fatana, 15 year-old Shafiq, 13 year-old Shabana and 11 year-old Maryam.
Tariq and Shafiq are boys, the rest are girls. The Hashemi family originally hails from Afghanistan's eastern Kunar province but resettled in Herat some 20 years ago.
It's now 8:30 am and I have traveled 18 kilometers outside Herat city to Kart-e Gulkhana area of Injil district to speak with Yasamin, who manages the art in this family. 4 of the sisters work together in this profession. Each of the beautiful miniature pieces shows a variety of colors, including blue, red, orange and some green. The pieces decorating the corners of their home catch my attention so much that I sit and scan them for several minutes.
Ms. Yasamin brings her favorite pieces from antique shops, paints them for 300 to 800 Afghanis each, then returns them to the shopkeeper who pays her for the decorative work. The money is then split four ways between the sisters. However, the income is not consistent  because the market is unpredictable and depends on the number of orders from the antique stores that sell the objects.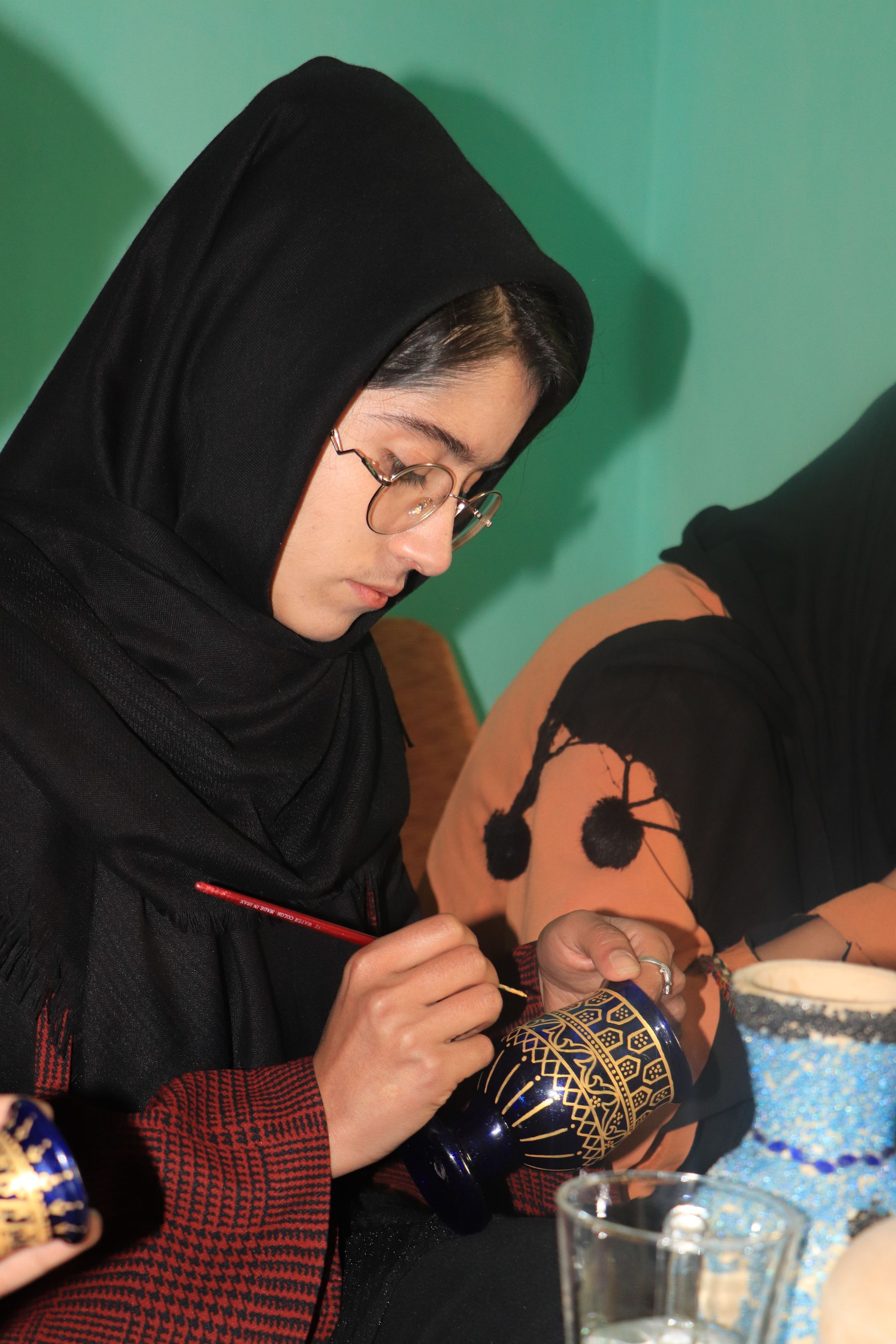 It's now 9:30 am, Yasamin tells me she first learned to do miniature painting from her sister Feraiba some 5 years ago when Feraiba brought the art into their home.
"Engraving and miniature art had a hot market and high demand in the past but unemployment and the economic collapse has hurt everyone," Yasamin tells Alive in Afghanistan.
Yasamin's sister Feraiba learned the craft at the Behzad institute.
According to Feraiba, many foreigners came to Afghanistan and the city of Herat in the past, in order to buy their paintings. This gave their business a boost, "But there are neither any foreigners now, nor is our craft getting exported abroad."
Miniature painting is considered a valued artform by people in the US, Brazil, Germany and Australia, she believes this artform needs the full support of the government and investors.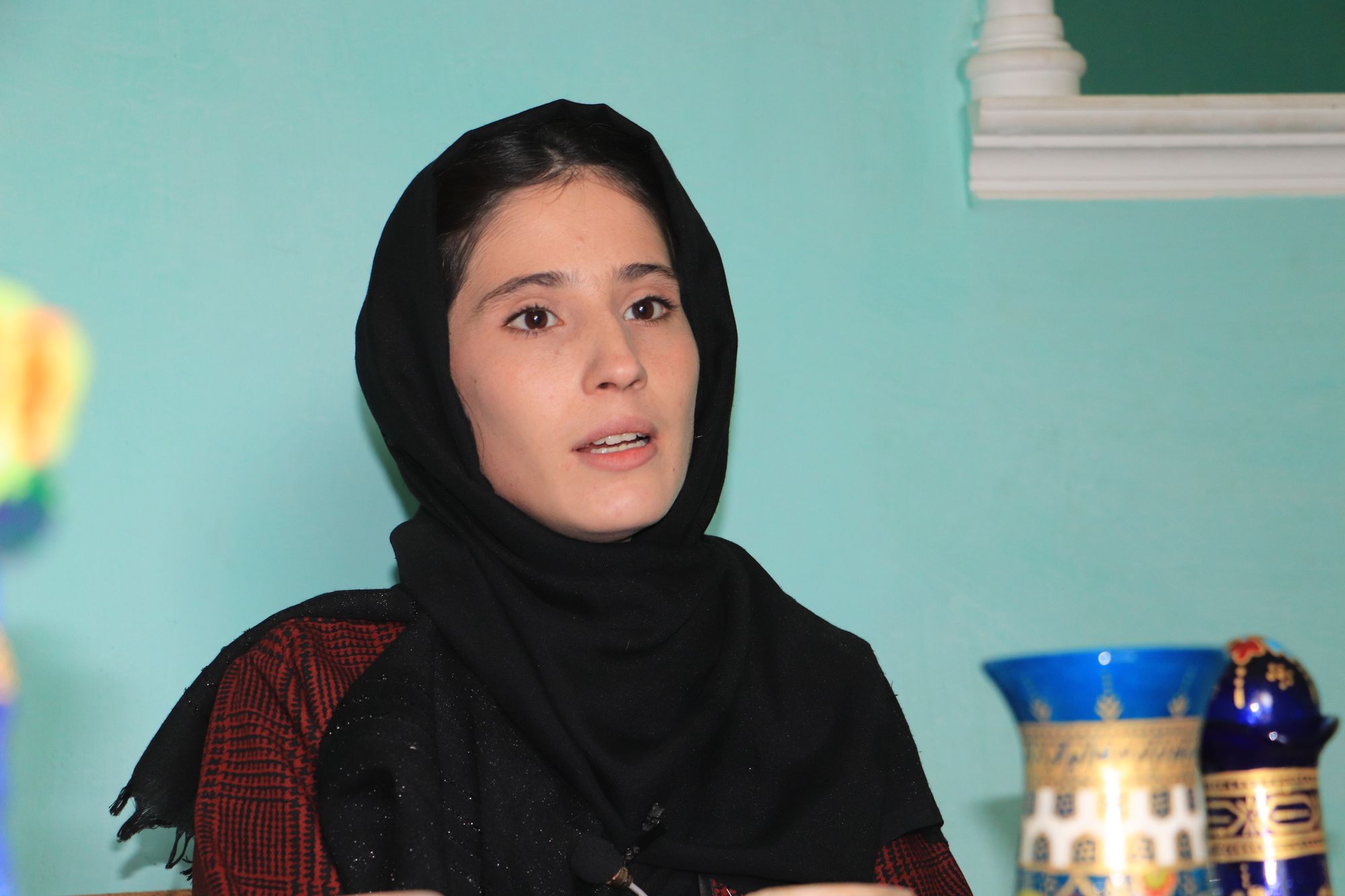 Yasamin and her sisters used to complete five sets a week but now they only paint two sets a week. She hopes that women dealing in art from around the world will put Afghan miniature art on display abroad. When she is not painting, Yasamin works to improve her skills in Taekwondo, her favorite form of martial arts. She learned Taekwondo at one of the Martial Arts clubs but now practices at home as most clubs have closed their doors following the Taliban takeover of Afghanistan in mid-August of last year.
The 4 sisters pay for their education with the money they make selling  their paintings. The sisters paint a variety of items including pitchers, bowls, glasses, jugs for weddings, special groom and bride sets, flower pots, picture frames, and other items made of glass.
Yasamin however is concerned about the future of the job for herself and her sister, she seems hopeless and says, "Our art form has been out of the public eye for awhile." But Yasamin's sense of hopelessness is not just due to the business. The closure of girls' schools; inequality; and the violation of her gender's fundamental rights are all reasons for her sense of desperation. She wants the Taliban government to respect women's rights and accept their wishes.
Yasamin asks international organizations to help her in her field. "We are facing a lot of problems, my father's monthly income does not meet our needs."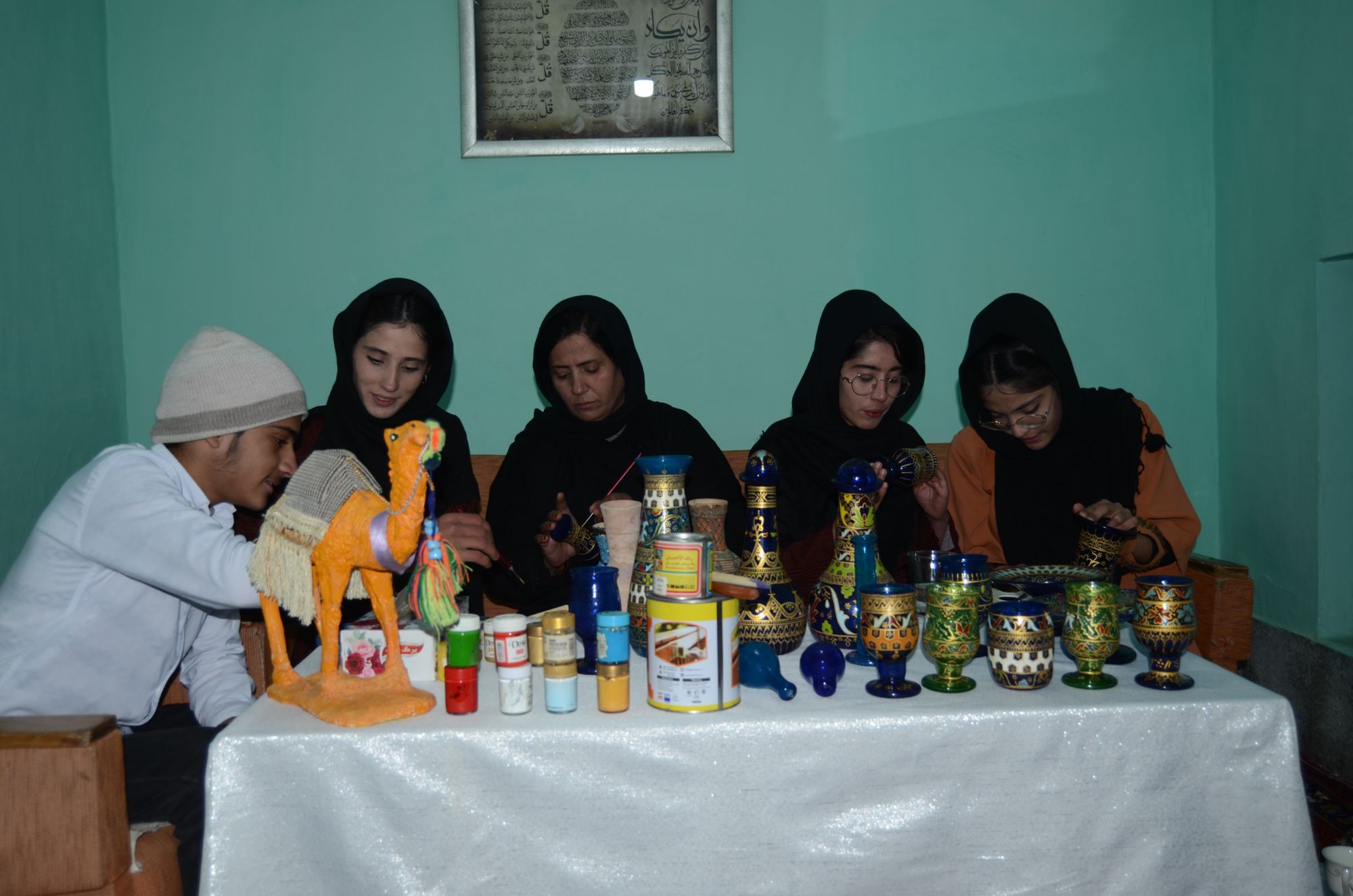 Yasamin talks while she and her sisters are busy painting several pieces with their small brushes, the intricate designs painted in yellow over the blue pieces of blown glass create a beautiful composition.
Around 10:30 am the girls' mother comes in with saffron tea and a beautiful miniature plate full of cookies. She pours tea for her daughters and I, while pouring tea she says the couple have supported and educated their girls despite a lot of challenges and hurdles. Shigofa, who herself is not educated, says, "No child of this country should grow up illiterate."
Mrs. Hashemi however does not limit herself to being a housewife, but learned miniature art from her daughters and is now playing a valuable role in the field helping her daughters paint their beautiful designs.
The home the couple and their children live in has been built by the wife and husband, "25 years ago when I was a new bride, we came to Herat and did not have a home, we didn't have enough money to hire laborers as well, so my husband and I built our home in several phases ourselves."
It's now 11 am, Mrs. Hashemi gives me a little background about her husband. Saeed Akram Hashemi works at a plumbing supply store some 10 kilometers from his home. He bikes to work every day and helps take care of the family with his meager wages.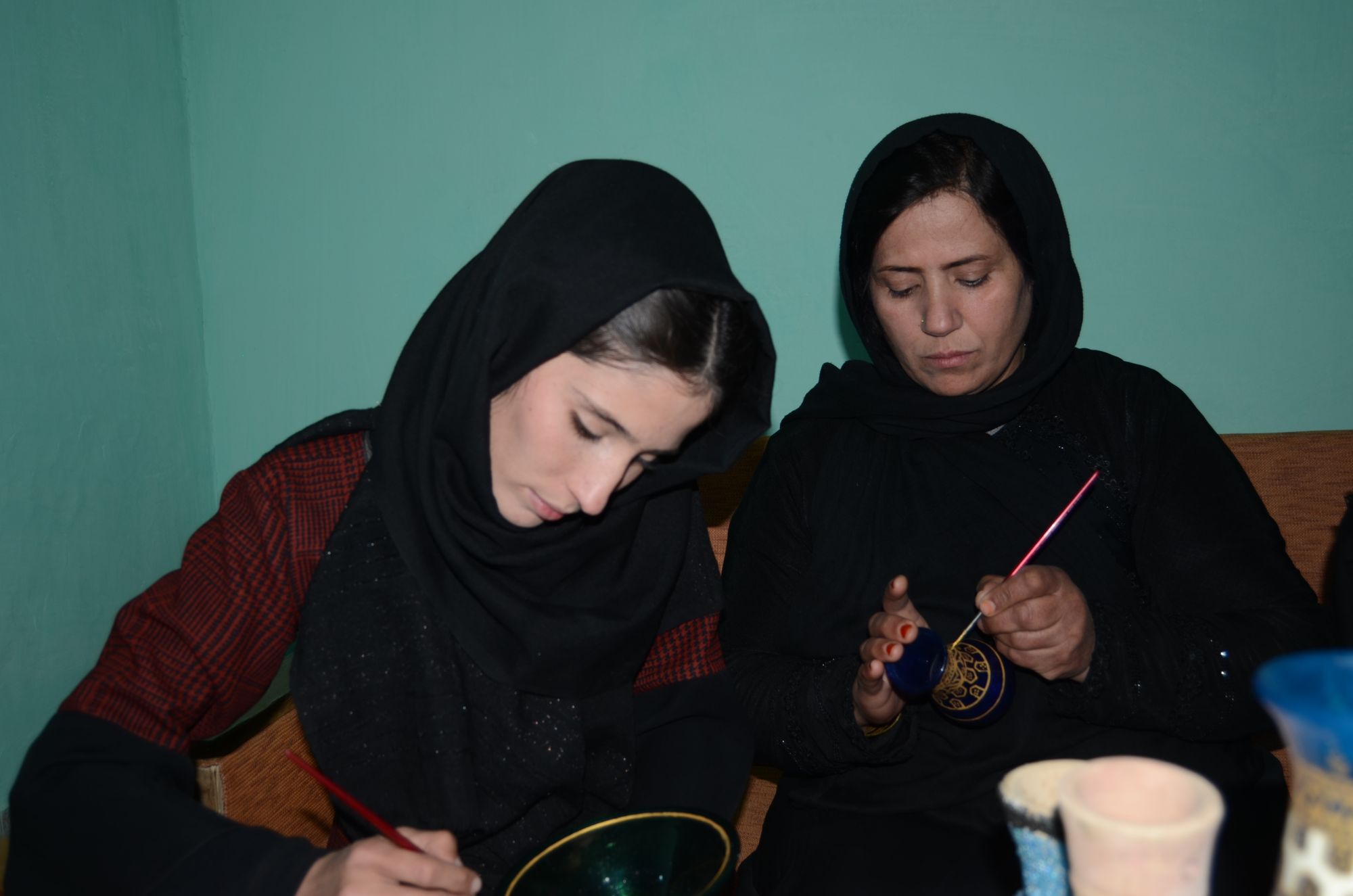 She praises Mr. Hashemi who ensured their children were educated, especially the girls.
Shigofa refers to her daughters as the flowers at her top of the basket, a phrase Afghans use for family members and friends who are very dear to them. She seems happy with her life and hopes for a better life for her girls.
It's now 12 pm and lunchtime. Because the man of the house is not here, I go out for a meal at the district bazaar. When I return after noon prayers Mr. Hashemi, the head of the household, is there to greet me.
Mr Hashemi seems to be an extremely kind man with a deep respect for art and artists.
"I moved because of the conflict in my own hometown and thought Herat would be a better place to raise my children," Mr. Hashemi told Alive in Afghanistan. Saeed Akram seems hopeful about his girls' future saying, "Problems also have an end point, and they end one day."
At the end of the day I finally have a moment to speak with 19 year-old Fahima, she also learned the craft from her older sister and now creates miniature art independently from her sister's direction.
"I love all my sisters but my friendship with my oldest sister is special," Fahima says. Fahima sends the money she earns from the paintings on her education and giving allowances to her smaller siblings. She helps her mom with house chores when she is not busy with painting.
It's now 4 pm and I have to say goodbye to the family, Saeed Akram accompanies me to the road in the village and says goodbye with a hug.