Families Across Afghanistan Respond to Floods
Recent devastating floods across several Afghan provinces left a trail of destruction in its wake, and scores of Afghans homeless.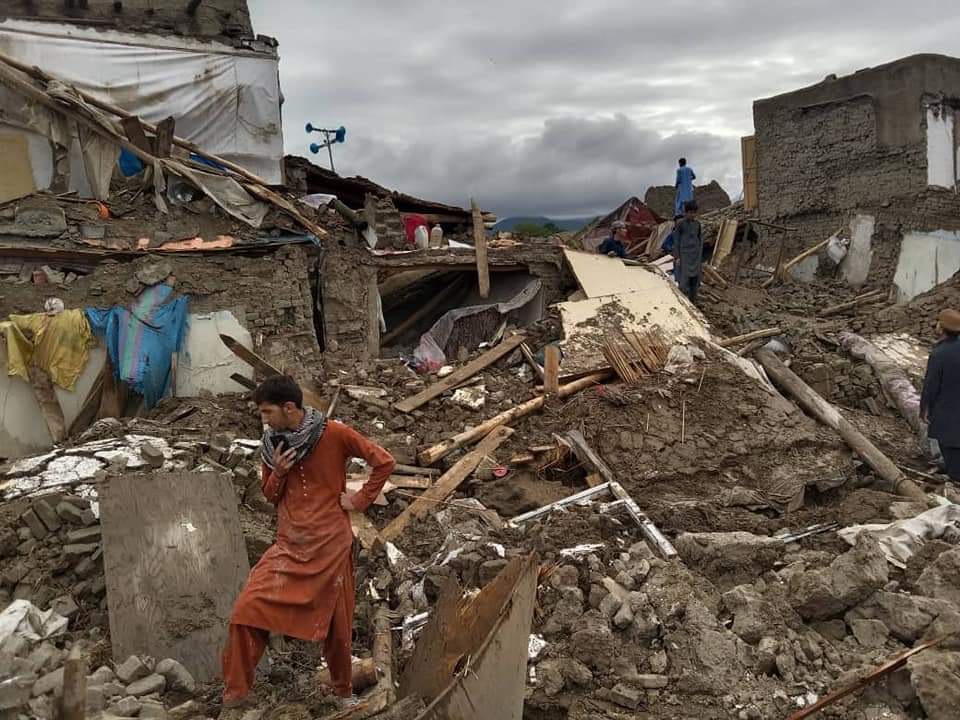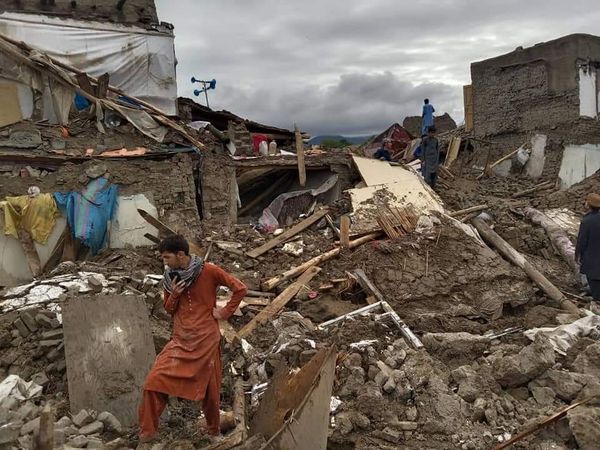 Reporting by  Shaima Seddiqi, Razia Jafari, Shabana Farahmand and Sima Siawash. Written by Abdul  Karim Azim

The flood destroyed my whole life
The recent floods in most parts of Afghanistan have caused huge human and financial losses to the residents of this country.
The latest statistics of flood-affected people in Afghanistan have been a disaster, and Logar Province has suffered the most human and financial losses. Razia Jafari, a journalist for Alive in Afghanistan, describes the bitter and unfortunate story of a youth from Logar.
Habibullah Wahdat is one of the hard-working youths in Logar province, who works as a web designer, and has been in great pain from the recent floods. He says, "the flood destroyed my whole life; it took everything from me."
On the day before the flood Habibullah traveled to Kabul to deliver his sister's wedding invitations to relatives there. After spending the night at his uncle's house in Kabul he left early the next morning to return to Logar.
"When I arrived in Logar, the sky had taken on a different color, black clouds had darkened everywhere, and the sky was howling. I was sitting in a car and I was on my way to Khushi district and my village when suddenly it started to drizzle. When I got out of the car, the rain had soaked my whole body and the ground was full of mud."
Despite these challenges, Habibullah was excited to see the rain,  "Because the recent summer heat was very annoying."
When Habibullah Wahdat arrived home, his two daughters were watching the rain from the window and when they saw him, their faces became filled with happiness.
"They all came and greeted me. I went to my mother, kissed her hands and told her about my sister's wedding. She asked me if I gave the invitation cards to everyone, I said yes, I reached everyone."
Habibullah's wife insisted he change clothes so that he wouldn't become sick. After he changed the rain started to get much worse and his youngest son was very scared.
"I hugged him, and said, 'Don't be afraid, my son, it's the voice of the sky.' I was also shocked."
At the same moment they heard the voice of a neighbor, informing them that a flood was coming.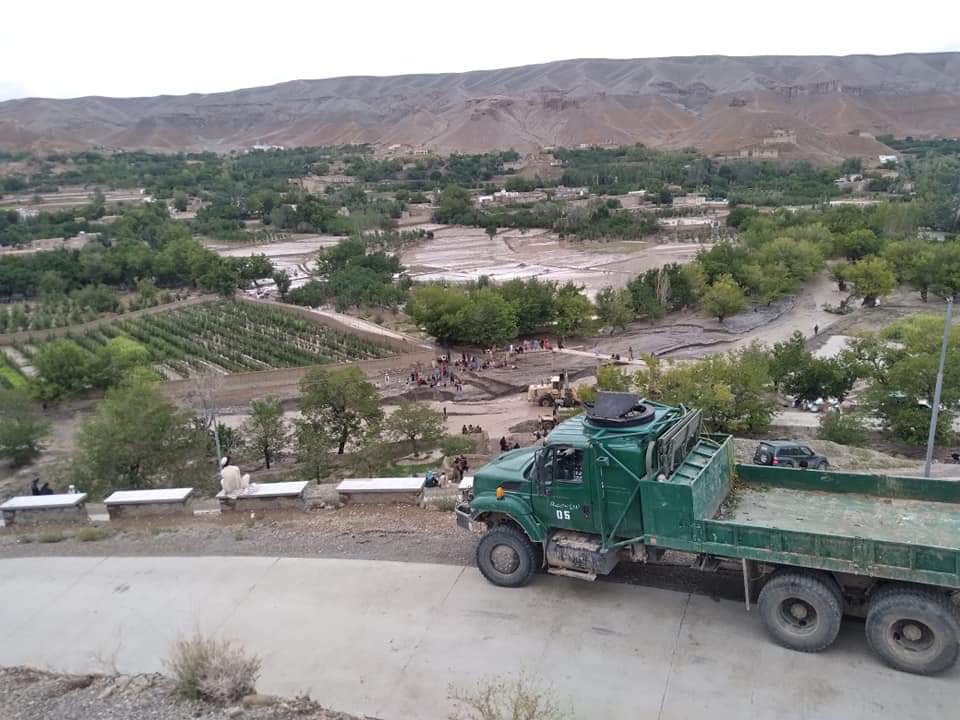 Habibullah joined his neighbor in the street where he saw that the entire village and the surrounding agricultural land was all flooded. By this point their home was surrounded by the water.
"We were all scared, there was no other way but to trust in God because every place was covered with water, we thought that the house was safer for us than anywhere else."

As evening approached the family heard the sound of walls collapsing from everywhere. The walls of their home completely caved in. Habibullah's sister ran into the building to recover her gold valuables.
"As soon as she came out of the house, the roof collapsed. We were wondering what to do. We stood on a high hill with my sister, mother, wife, and children when suddenly the flood increased."
Habibullah tied his two children to his waist with a bit of cloth, and hugged his daughter, hoping to protect them from the flood. In the meantime, the floodwaters kept rising. As they attempted to escape the area the flood became stronger and pulled the family members in different directions.

"It wasn't long before I looked behind and saw that the wall of our house fell on my mother. My heart stopped. I could not save my mother, but I tried to save my children because they were children and could not save themselves. I was struggling, and in several places, my children almost drowned, but I persevered and did not let go."
As bits of wood and stones rushed by on all sides, the children were screaming and Habibullah saw another torrent of water approaching. "I was thinking about my children. I didn't know where my sister, my wife, and my eldest child were."
A branch struck Habibullah in the head and his daughter fell from his arms. He was crying and shouting, "My daughter!" But it was useless. He tried to save his young son, but realized that it was impossible even to save himself.
"The flood swept us away. While we were struggling, I felt my shoulders lighten. I understood then that my sons had been swept away by the flood." With great effort, he raised himself above the waters to look around. All three of his children had been swept away by the flood.
"I was looking at it and said to myself, I wish God would take my life too."
Habibullah searched the floodwaters in vain.  The sister who was to be married in two days, was not there.. There was no trace of his wife or children and his entire body was covered by cuts and bruises. From the top of a nearby hill, he looked toward his house.
"I was watching the floods and I was crying; I didn't know with whom shall I share this sadness. I was looking at the wall that fell on top of my mother until it got dark."
He spent the whole night thinking about his sister, wife, mother, and children. He spent the entire night crying and in the morning people came to help search for his family.
"Except for the dead body of my mother, there was no trace of my wife, who was my life partner, my children, who were my heart, and my sister, whom I loved very much. In short, the flood took away my whole life."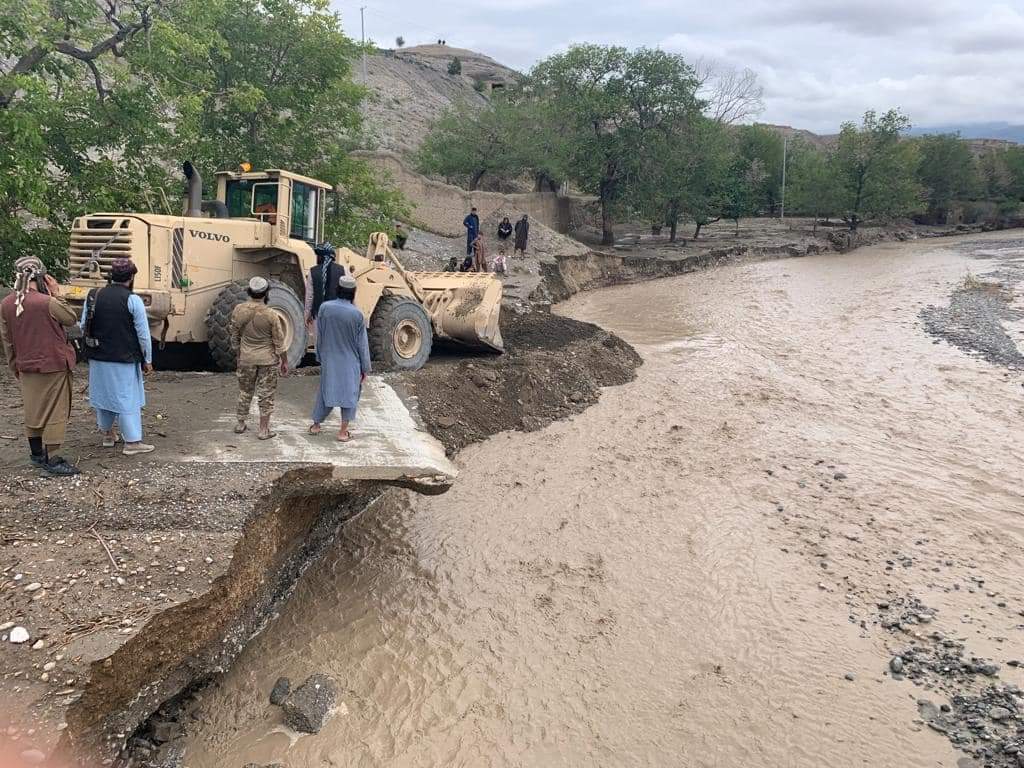 Floods in Daikundi province also caused damage
In Daikundi province, like other provinces around the country, the recent rains in villages and districts caused a lot of damage. The people most affected by floods were the farmers of the province, whose crops were covered with mud left by the flood. Floods blocked some of the transportation routes, preventing people from being able to transfer patients to health centers for an entire week, and severely limiting work throughout the province.
Ali Gohar Ayubi, a resident of "Miana Qol Olia" village in Daikundi, was a victim of the recent flood which destroyed his crops such as grass, potato, wheat, and fruit trees and wrecked the canals used to irrigate his land.
Chaman Mousawi, from Miramor district, says that the recent floods in this district caused a lot of harm to people, destroyed the drinking water supply in their village, blocked most of the transportation routes to the district center and other districts, and affected the farmers of this district. He calls on government and aid agencies to help people in this province.
Nimroz was not left unscathed.
Mawlawi Mohammad Qasim Mohammed, the head of the Natural Disaster Management in Nimroz, told Alive in Afghanistan, "Due to the recent floods, 1200 acres of agricultural land was destroyed in Bandar, Karakti, Padgi and Qala Mir villages of Chaharburjak district, and a lot of damage was caused to the farmers." According to Mr. Mohammad  the situation in this district is critical and need both cash and non-cash assistance from any aid institutions or foundations that can provide support.
Meanwhile, Mawlawi Gholam Rabbani, one of the victims of the recent floods in Chaharburjak, says that after the Helmand River overflowed, residents in the area suffered a lot of losses. He adds, "The people of Nimroz have been suffering from drought for years and they were hopeful that their problems would be solved with the construction of the Kamal Khan Dam, but despite the existence of the dam, people lost everything to the floodwaters."
He wants government officials and aid agencies to pay serious attention to the recent flood victims.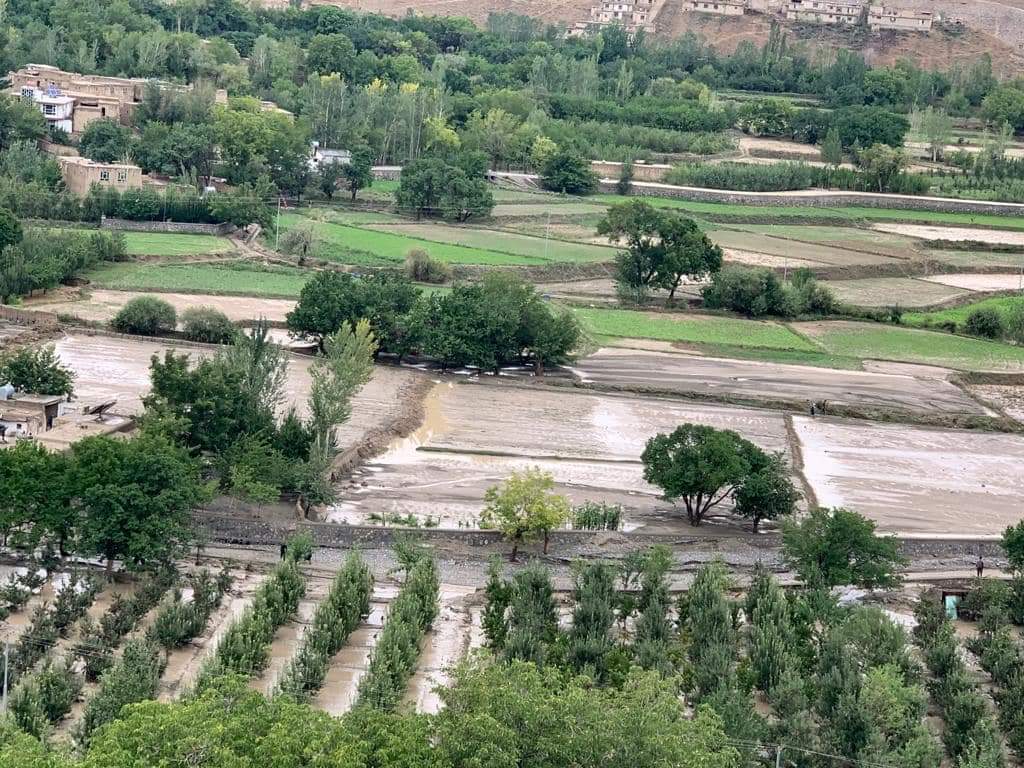 Floods in Faryab are 'The wrath of God'
Mawlawi Asadullah "Waqas", the head of Natural Disasters Management of Faryab province, told Alive in Afghanistan, he believes the recent incidents in the country to be the wrath of God. "The recent floods in the country are the wrath of God and our people were affected by it." Mr. Waqas says, "From 1400 (2021) to the beginning of 1401 (2022) in Faryab, more than 2000 acres of agricultural land and 500 residential houses, and 5 mosques were destroyed due to the floods."
According to Mawlawi Waqas, 16 people died and he estimated 10 were injured in the recent floods. He called on the leadership of the Islamic Emirate of Afghanistan and aid agencies to help and support people in this province.
Meanwhile, Mohammad Yunus, a resident of Kart-e Dostum in Faryab, told Alive in Afghanistan, "Kart-e Dostum is always at risk of floods because this area is inside a valley and the government must take fundamental steps to prevent damages." According to Mr. Yunus all the houses were flooded and the agricultural lands were destroyed. He asked aid agencies to support the reconstruction of the canal and retaining wall
Mohammad Ibrahim, a resident of Pesha Khana, another village in Faryab, says "We have problems with floods throughout the year, and our route crossesh the river, which in the spring season, our cars are flooded every day, and flood creates many problems."
He asks the government of Afghanistan and partner institutions to support the construction of levees and roads. Ibrahim says that due to the recent floods, all residential houses were flooded and two children from the village were washed away, he asks the institutions to help people with infrastructure instead of food.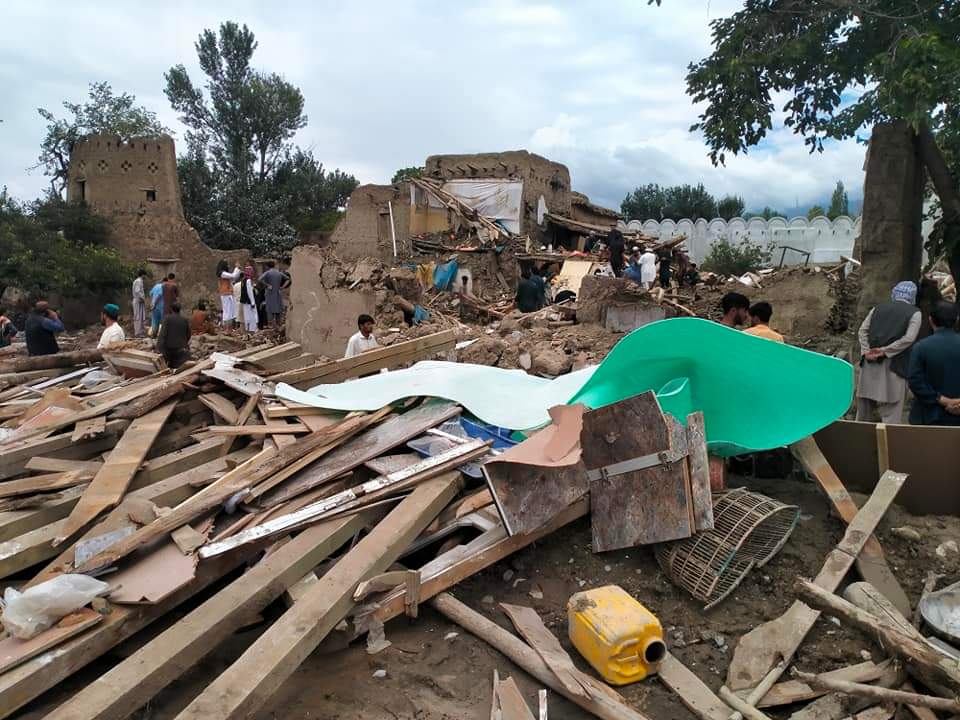 Ghazni residents were "waiting for death" in floodwaters
Mohammad Anil, a victim of the recent floods in Kolukhak village of Kishk, an area on the outskirts of Ghazni, the capital of the province with the same name, told Alive in Afghanistan that the recent floods had destroyed all they had, leaving them in a dire condition.
"It started to rain in the morning of August 25 and continued till noon, we were surrounded by floods."

By 3 pm the flood waters began to get into homes in Kolukhak. According to Mr. Anil there was nowhere to go so they remained standing inside the room although it was filling with water. The village mosque was totally destroyed by the flood.
"We were awake until the next morning when the rain stopped."
According to Mr. Anil, entire village streets were flooded and there was no way to escape. Around 11 pm, villagers began to panic. Believing the Deh Sultan dam might collapse the villagers  went to alert the people living near the dam that a flood might be coming.
Mr. Anil told Alive in Afghanistan that no government representatives nor aid agencies have provided assistance to the flood victims. Local people were the only ones helping each other, and no reporter has visited the area.
He helped by rescuing children and people's motorbikes from the water. Mothers were forced to hold their children tightly to their arms all night to make sure they were not taken away by the flood.
Anil says he reads Alive in Afghanistan and wants the agency to cooperate in attracting international aid to the victims of the floods, he wants the voices of the deprived Afghans to be told to the world.
Geti, another resident of Kolukhal, has been a migrant farmer for years, and depends on  farming to survive . She has been married for nine years and has five children.
The floods have taken away their source of income, and now even  finding a loaf of bread is difficult.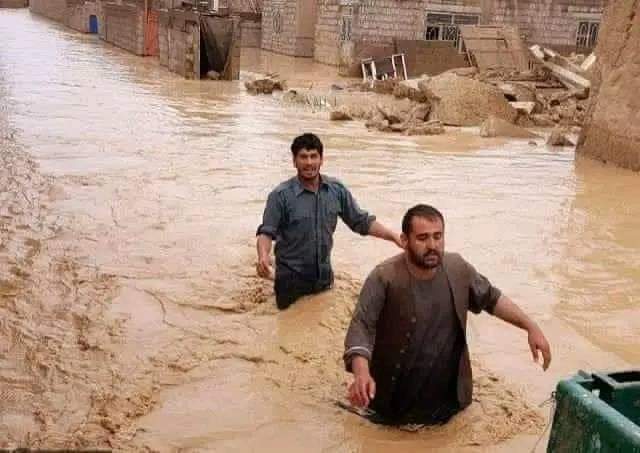 She also lamented the Taliban and aid agencies' lack of assistance saying no assistance has been provided to flood victims yet.
"Everyone was agitated and highly concerned at dusk, we were all waiting for death when flood water got into our homes." Maria, a woman in Kolukhak village told Alive in Afghanistan. "Part of the house's outer walls were destroyed and we took shelter inside our home."
Maria lost her husband six years ago and is currently living with two of her sons. Her 16 year-old son is a farmer for hire who earned around 200 to 300 Afghanis ($2.25 to $3.37) per day but is now totally unemployed and unsure what to do. Maria and her sons live together in a single room provided by her niece.
"Being a widow, taking care of orphaned children, unemployment, being sick, rising prices of daily goods and now the floods has taken everything from us. I don't know how to continue," Maria told Alive in Afghanistan.
Maria's youngest son goes to a school for orphans and has high blood pressure, getting sick at the slightest amount of stress. The recent floods terrified her 12 year-old son and she says"He has convulsions as soon as he sees water."
All three told Alive in Afghanistan they  want the caretaker government to help and the international community to stand beside the people of Afghanistan, help flood victims because according to them, no aid agency or government entity has provided any assistance to victims of the recent floods so far.