Factory Employing Women Makes 5,000 Breads a Day
Around 50 women work at a bakery in Afghanistan's southern Kandahar province producing around 5,000 homemade bread a day.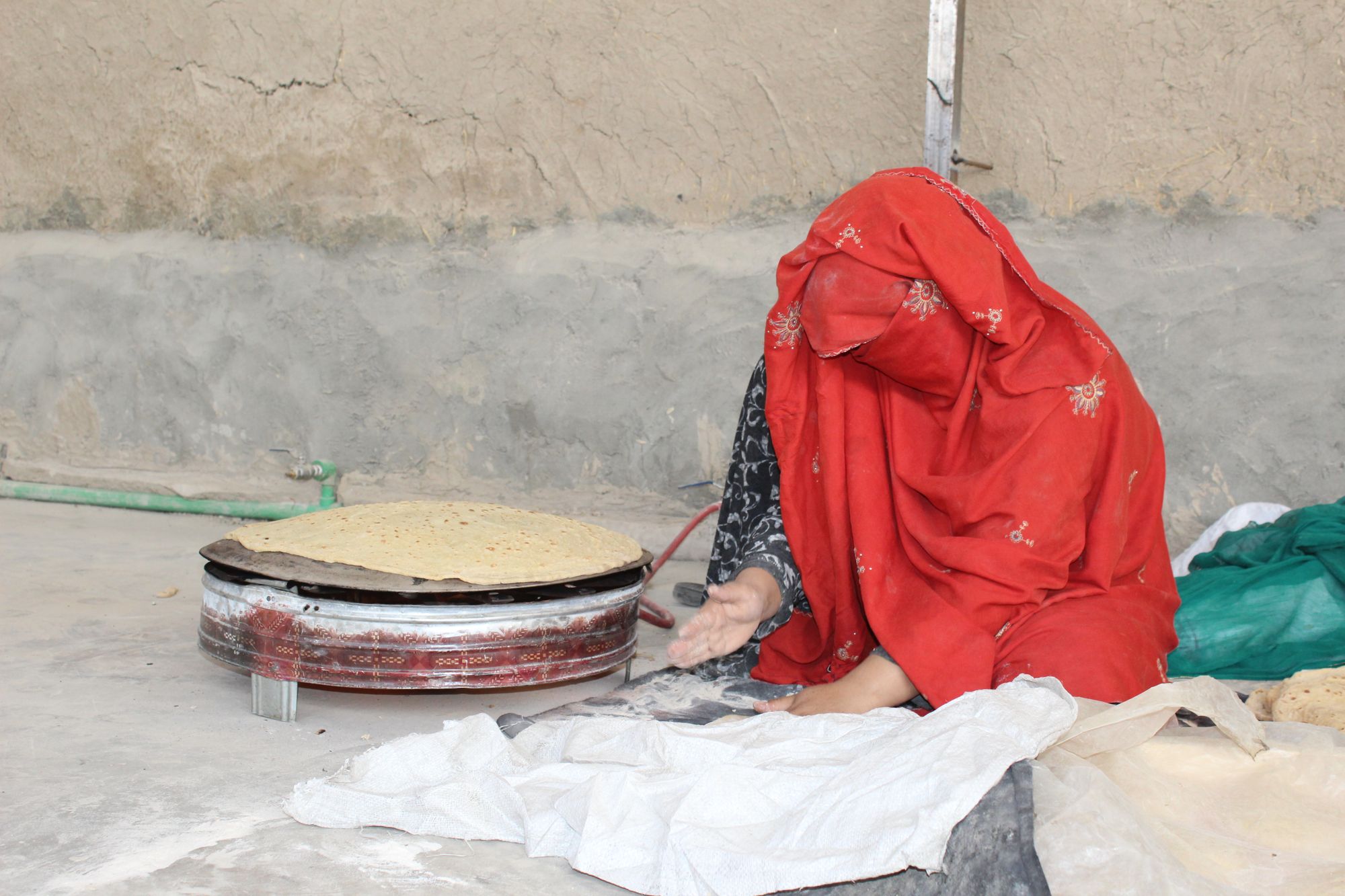 Written by Nazar Mohammad Razmal Zaman, edited by Mohammad J. Alizada, & Brian J. Conley
---
Alive-in is a not-for-profit media agency that mentors journalists from underrepresented communities to increase local and international understanding. Subscribe to receive our stories directly in your inbox.
---
KANDAHAR — "I am the breadwinner for my family of six, my husband is a drug user and unemployed, so the responsibility for my family lies on my shoulders alone," Jina, a 21 year-old woman working at a bakery in Afghanistan's southern Kandahar province said.
Rows of women wearing a variety of different colored headscarves and burqas are making bread with a stove lying in front of each one of them. Gray mud walls topped by a metal roof surround them. Afghan women traditionally do not work outside the home. However, when male relatives are unable to support the family due to death, disability, or other reasons, women are forced to break from tradition and venture outside their home to find work.
The bakery in Kandahar employs around 50 vulnerable women and produces around 5,000 loaves of typical Kandahari flatbread per day. Many of these women were forced to work when their husbands died, abandoned them, or became addicted to drugs.
According to a study by the Asia Foundation published in 2020, 80 percent of Afghan adults live with some form of disability and around 6 million Afghans are estimated to struggle with substance use and drug addiction. For more information about drug use and addiction to drugs, read Alive in Afghanistan's Discrimination Persists Despite Prevalence of Disabled Adults, and Struggling with Poverty and Trauma, Millions of Afghans Turn to Drugs.
Torpekai is a 42 year-old single mother who has to take care of six kids. Her husband was killed by crossfire during a firefight between the Taliban and Afghan security forces in Kandahar's Panjwai district around two years ago. She comes to the bakery every morning at 5 am to cook around 160 loaves before lunchtime.

"My bad days started when I lost my husband, I was left with six children and no one to take care of them," Torpekai told Alive in Afghanistan. According to Torpekai, her husband was farming in their village when a firefight occurred between Afghan forces and the Taliban. It was during this firefight that he was struck in the head and died in the hospital.
Torpekai then moved her family from Panjwai to Kandahar city. "I have been working since that day, but my problems were solved to some extent when I found a job at this bakery. I am very happy with this job."

Although she is paid between 200 and 250 Afghanis ($2.24 to $2.79) per day, Torpekai is happy because her life before this was exhausting.
The bread factory she works for opened following the Taliban takeover in August of 2021.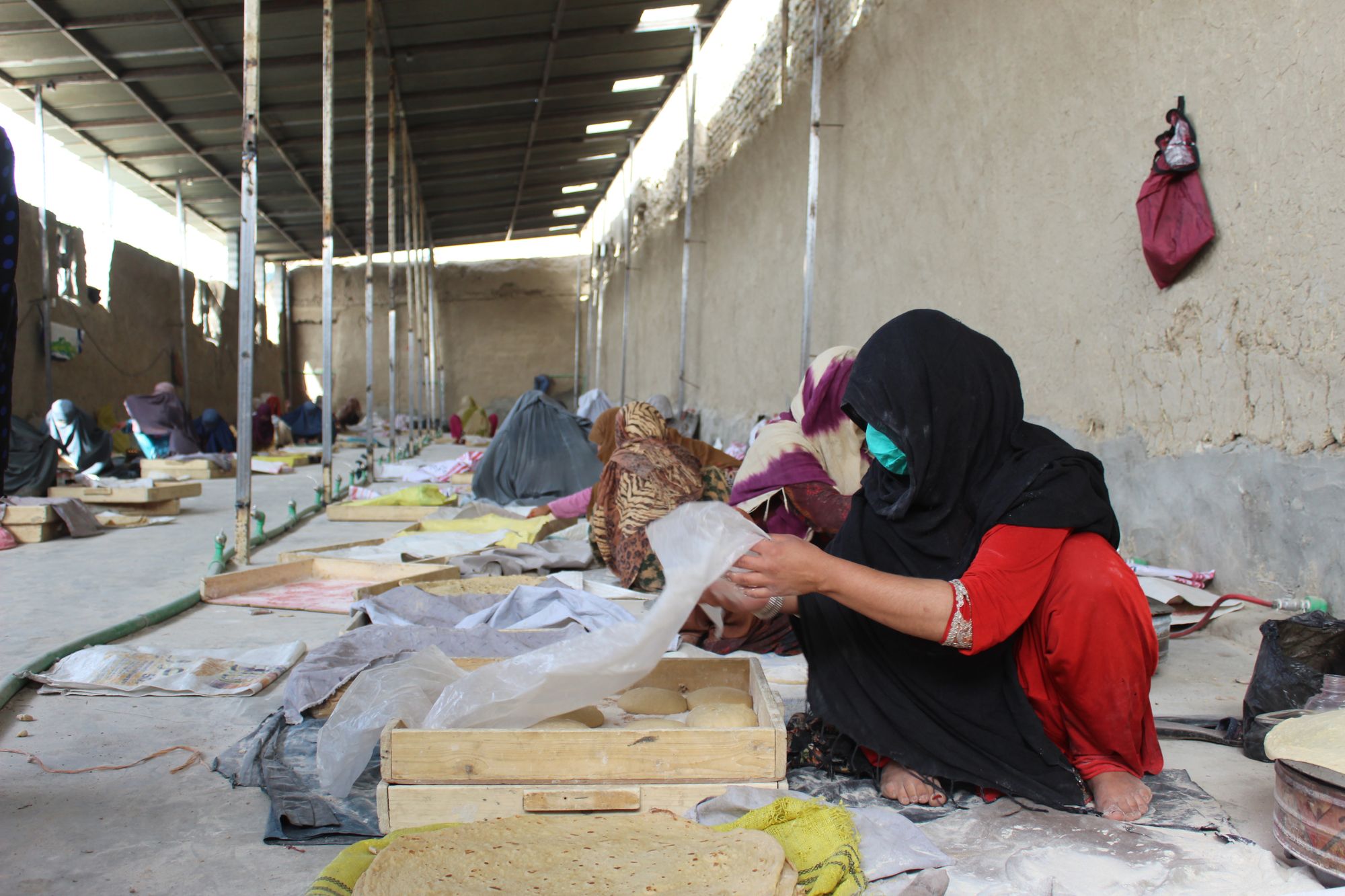 Razma, the breadwinner of a family of 14. Her husband has been addicted to heroin for several years, forcing her to take care of their large household on her own.
"I really needed this job, I can now pay my rent and partially take care of my expenses," Razma told Alive in Afghanistan. "[Before this job] I couldn't afford to pay rent, if I found enough money for rent, we couldn't even find a piece of bread to eat."
30 year-old Bibi Hawa is married to a disabled Afghan who lost both his legs and one of his eyes in an  Improvised Explosive Device (IED) explosion along the roadside in Kandahar's Arghandab district around a year ago. Bibi Hawa was forced to take charge of her family of six, including four children.
According to a report by the United Nations Assistance Mission in Afghanistan (UNAMA) published in July last year, 1,659 people were killed and 3,524 others were injured between 1 January and 30 June 2021.
Non-suicide IED's accounted for 38 percent of the casualties resulting in 501 deaths and 1,457 injuries.
"The total number of civilians killed and injured increased by 47 percent compared with the first half of 2020," the report said. UNAMA usually publishes a report on "Protection of civilians in armed conflict" in Afghanistan, documenting the number of civilians killed and wounded as a result of armed conflict in the country since the agency began systematic documentation of civilian casualties in 2009, but there are no reports published since July of last year.  
According to the report, civilian casualties have decreased significantly as combat across the country between the Taliban and the former Afghan government halted with the government's surrender. During the war combat accounted for the majority of civilian casualties.
Bibi Hawa spent six months begging on the streets of Kandahar before she found work in the bakery. She told Alive in Afghanistan that she would still be begging if not for this job.
"I had a lot of needs. I pay 5,000 Afghanis ($55.88) a month for rent, how would I be able to feed my family otherwise?" Hawa asks.
Although the Taliban have banned women from working in public offices, women across Afghanistan are springing up to help their families by working outside of home. For more information, read Alive in Afghanistan's articles on and about Women.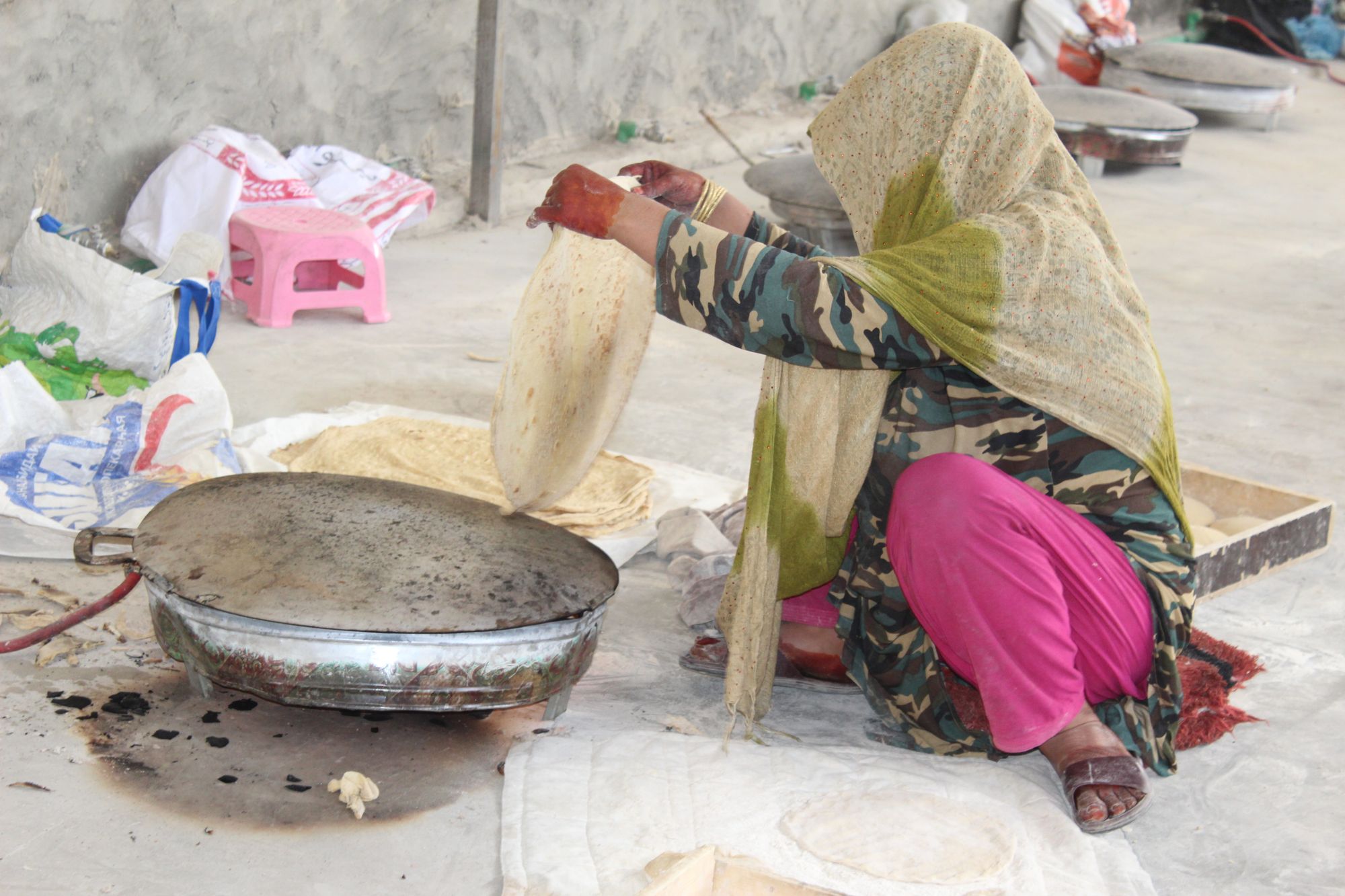 Qudratullah Azizi, the factory's deputy, told Alive in Afghanistan that the reason they decided to open such a factory was due to the changes in Afghanistan's political landscape that pushed a lot of families into a dire economic situation.
"We are happy that a number of women and men benefit from the bakery on a daily basis by working here," Qudratullah said.
According to Azizi, the bakery hires 31 men in addition to the female bakers; 10 to make the dough, four to pack it into plastic bags, 15 to distribute and deliver around Kandahar, one accountant, and one three-wheel owner who delivers flour to the bakery.
"Our aim is to expand our services and hire more vulnerable women," Qudratullah said.  
Sitting nearby, Qadria is another woman busy making her own loaves of bread in the factory. As she flattens the dough into a large round shape on top of the hot pan, Qadriashe says, "Household economy has been severely weakened, with the heaviest burden put on women's shoulders."
According to Qadria, "The International aid agencies as well as the Taliban government must take steps to alleviate the economic situation among women, so that more families can be saved from the current economic crisis."
---
If you are able to support our work financially, please click the button below.
---