Entire Villages Illuminated Thanks to Female Traders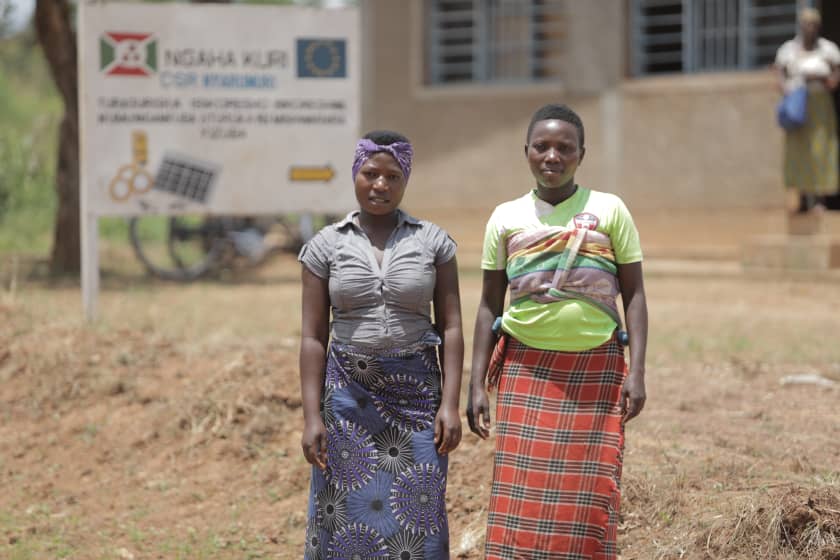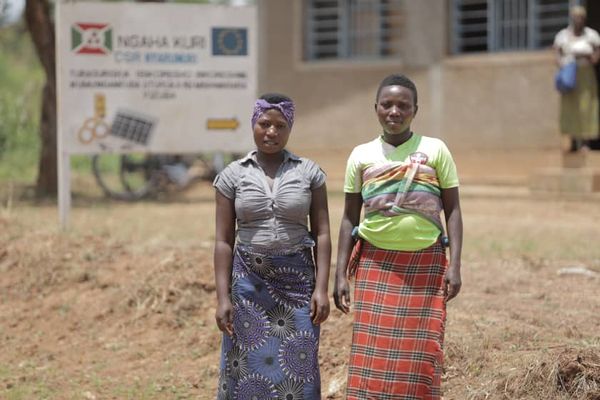 written by Alain Majesté Barenga
NYARUMURI, BURUNDI–Along Burundi's borders with Tanzania and the Democratic Republic of Congo poverty and unemployment are rampant. Sixty percent of the population are unemployed and most of the population live on less than 300 dollars per year.
Despite the circumstances in these villages, the lives of hundreds of households of Burundians living in these remote areas have been changed by women who travel across the borders to import solar kits such as solar lamps for lighting, solar televisions, solar panels imported from Tanzania and the Democratic Republic of Congo. This is the case of the village of Nyarumuri in Ruyigi province, 10 km from the Tanzanian border where the solar lamps open up this locality.
Nyarumuri is located in  one of the most remote corners of the country. To reach Nyarumuri visitors must travel about 45 km from the capital of Ruyigi province, which is itself 65 km from Burundi's capital Gitega. This village is not connected to the electrical grid, but due to the efforts of women importing solar products more than 60% of inhabitants have access to electricity.
January Irakoze, a 30 year-old local resident, is one of these cross-border women.
Every day at 5 am, January travels across the border into Tanzania to Nyaruge Market on Nyakayenzi Hill. She has to walk for about 2 hours. " Nyaruge market in Tanzania is far from houses".
Justine is another woman from the Nyarumuri area in Ruyigi, commune, which will buy solar products in Tanzania. She spends 22,000 Burundian Francs (BIF) (approximately $10.76) to travel to the border. To reach her final destination, she will walk for another 3 hours.
She buys solar products for 20 thousand Tanzanian shillings (around 30 thousand BIF or ~$9 USD). "Arriving in Burundi, you can earn up to 50 thousand BIF ($23.75) because our solar products are in high demand in the villages".

Micheline, 44 years old, remembers how many problems her children had due to the lack of electricity.  Micheline tells Alive in Burundi, "Thanks to the sale of solar lamps the locality of Nyarumuri has entered the future."
According to Micheline, before they were able to buy these solar lamps her children had to revise their homework in the dark, with only the light from a cooking flame or a traditional kerosene lamp to read by as their eyes were stung by the smoke.

''We wondered how to fight school failures and improve the conditions of our students in our village of Nyarumuri, but without success. The only way was electricity'' she indicates.

Six months ago, thanks to women who trade cross-border solar products , Micheline received her first solar lamp, an essential tool to light up her house and allow her children to study well, a solar panel, and a rechargeable battery.

"In our locality of Nyarumuri I never imagined that it would work so well, today my house and those of the neighbors are well lit", says this mother of 4 children

Since the beginning of 2022, nearly 5,000 solar lamps were sold by the women who bring their products from across the border to households in Nyabitsinda commune,  including the most remote villages of Ruyigi province on the Tanzanian border.
Solar energy to fight youth unemployment in Nyabitsinda
Blaise Jimbere , 35, is married and the father of 3 children. Since solar panels have arrived on Rutema hill in the Muhwazi zone of Nyabitsinda commune in Ruyigi province, Blaise has been able to open his hairdressing salon.
The man is known in the community because he has been working as a hairdresser at the Muhwazi market since 2007. Before then, Blaise worked for another salon that was very far from his home. Blaise first asked his friends for support  to purchase solar equipment to set up a hairdressing salon in his community.
"I feel very comfortable. For example, on market day when I do my hair for a lot of people, I come home with 3 or 4 thousand Francs  (~1.45-1.93 USD). It is with this little job that I manage to feed my family."
Now Blaise runs a salon near the market which enables him to gradually pay for his solar panel which he bought on credit with Amina, another woman who imports these products from Tanzania. Every week the hairdresser pays her 6,000 francs (~$2.90).
Blaise cleans electric razors in his workshop under the watchful eye of a group of young people who have come to learn hairdressing, while customers enjoy music, air-conditioning and free charging of their mobile phones.
Otherwise for neighbors who do not come to have their hair done, charging a phone costs them 100 francs(~$.05).
While the problem of employment arises more acutely in this locality close to the border with Tanzania, Blaise supports young people who want to create their own salons.
"At the end of a short-term training, I accompany these young people in the creation of their own hairdressing salons so that they can fly on their own wings, and it is thanks to these women who trade cross- border that this is possible," he rejoices.At the Muhwazi market , the only urban center in this locality, Blaise supervises 4 hairdressing salons run by young people learning the trade.
"All these hairdressers are here because of the cross-border trade by women," he says.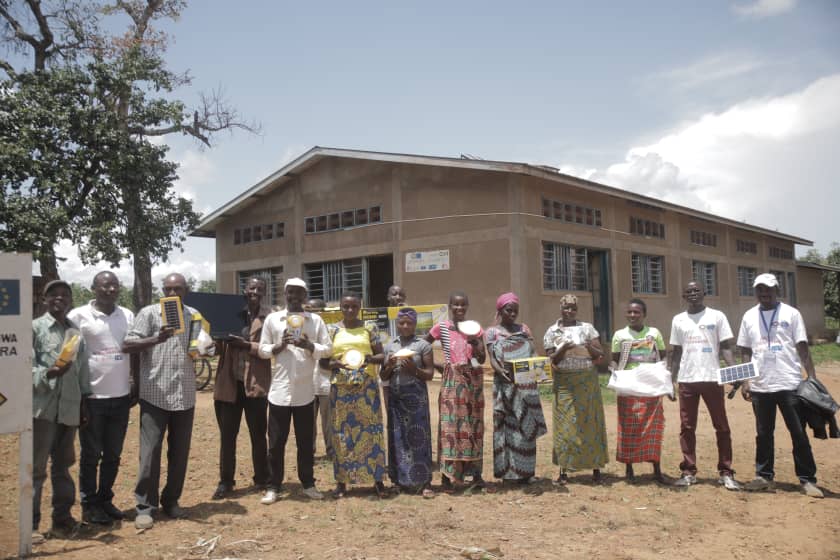 In the east of Burundi, another village opened by cross-border women
Closer to the Democratic Republic of Congo than to the Burundi's largest city Bujumbura, the Gatumba border post is located on the southernmost border crossing with the DRC, almost straddling these two countries. Despite the precarious security situation between these neighboring countries, life in Gatumba follows a daily routine, providing a goldmine for women who import solar products to light Burundian villages.
Although only 6 kilometers separate Gatumba in Burundi from the city of Uvira in the Democratic Republic of Congo, the journey is very exhausting despite its short distance. Gatumba is an eponymous area, serving as a passage for the Congo, is the last major Burundian agglomeration before reaching the DRC.
Among the must-sees of Gatumba , the Rusizi River. Nicknamed the Traffic River due to the cross-border trade in underground or black market goods, this river is a godsend for the cross-border trade in solar products. The river's murky depths support several women in Gatumba and enable many remote Burundian villages to be illuminated.
Gatumba is located a few kilometers from the Burundi-Congolese border post in the buffer zone of Gatumba . This proximity to this twin country has an impact on the developments in the depths. A cross-border trade of women selling solar products is flourishing now than before, has been woven over time and has enabled enclave villages to have electricity and use electronic products thanks to the solar products that these women bring from neighboring Congo to the kavimvira market 30 km from the Burundian border. These women sell and distribute equipment using solar energy in places that are not connected to the national electricity grid. Its impact on the lives of rural populations is applauded with both hands by the beneficiaries.
In her spare time Carine, 40, sells solar flashlights bought in Congo in the locality of Kavimvira . Every morning, bag in hand, she pilots her tiny boat through the muddy depths of the Rusizi River in Congo to stock up on solar kits which she will sell to villagers in Burundi. " We do this business underground, it's our livelihood. It supports our families and opens up our villages thanks to the light from the solar kits we sell, electricity is a sign of development," she tells Alive in Burundi.
"I contribute to promoting excellence thanks to this trade in solar products that I sell in Burundi from the Congo," says Yvonne, a woman who trades cross-border solar kits in Gatumba. The cross-border trade enables her to feed her family. By selling just 10 to 15 solar kits every day, each sold for 15,000 Burundian francs (~$7.24), the mother is very satisfied with her life.
A television was unthinkable in our locality!
In the living room of her house back in Nyarumuri, an elderly rural woman has her eyes glued to the screen of her television set. Her name is Aline Ndayikeje and she is well known in the surrounding area for her television, in this locality which is not connected to the electrical grid. The nearest electricity network is about 60 km from her home, in the provincial capital.
Mrs. Ndayikeje says that when the first kits began to be sold at a lower cost, she did not hesitate for a single minute and immediately jumped at the chance since, according to her, "Solar television is a solution accessible to all to follow television broadcasts".
"Before these women imported solar products, no one had acquired a television in the locality. I myself had never believed that one day I would own a television".
With enthusiasm, Mrs. Violette Ndayikeze explains that to acquire this solar television, she had to save money. "A television was something unthinkable in our locality, before these women started importing them!" According to Mrs. Ndayikeze her brothers who live in town admire her for having acquired a solar-powered television even though she is a simple farmer.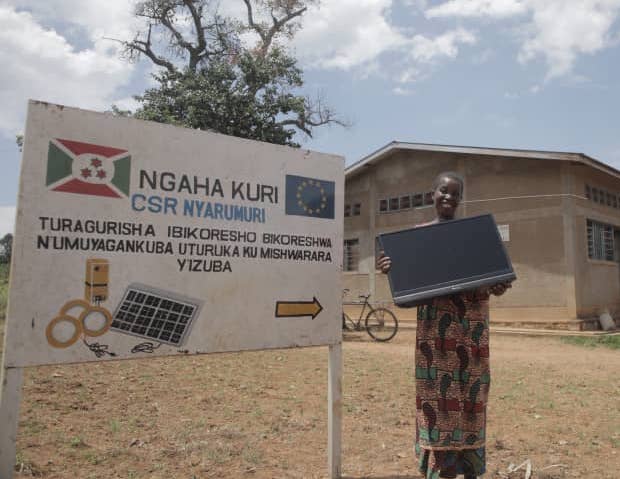 Mrs. Ndayikeze is full of praise for solar TV. She says she can follow the news without worrying about the electricity bill. More so, the solar TV turns on in low sunlight, even in bad weather, when there is no sun.
As for the usefulness of solar television, she emphasizes the fact that it allows her to follow the news on a daily basis. At night, her television is also used to light up the house, she adds, all smiles.
Mrs. Ndayikeze's solar television is one of the first batches sold by the women who do cross-border trade to the residents of localities far from urban centers connected to the electricity grid. Ndayikeze is one of many beneficiaries in eastern Burundi, Rutana and Ruyigi provinces, and rural Bujumbura who have purchased solar televisions at a low price to increase sales.
The appearance of solar televisions have also had a positive impact on the education of young people in these villages. "Thanks to solar television, my children have a vast general knowledge," Mrs. Ndayikeze noted with enthusiasm.