Embroidery; the Delicate Art of Resistance
Nargis Mahmoodi and her five children work every day as embroiderers to earn livelihood for their family in southwestern Afghanistan's Nimroz province.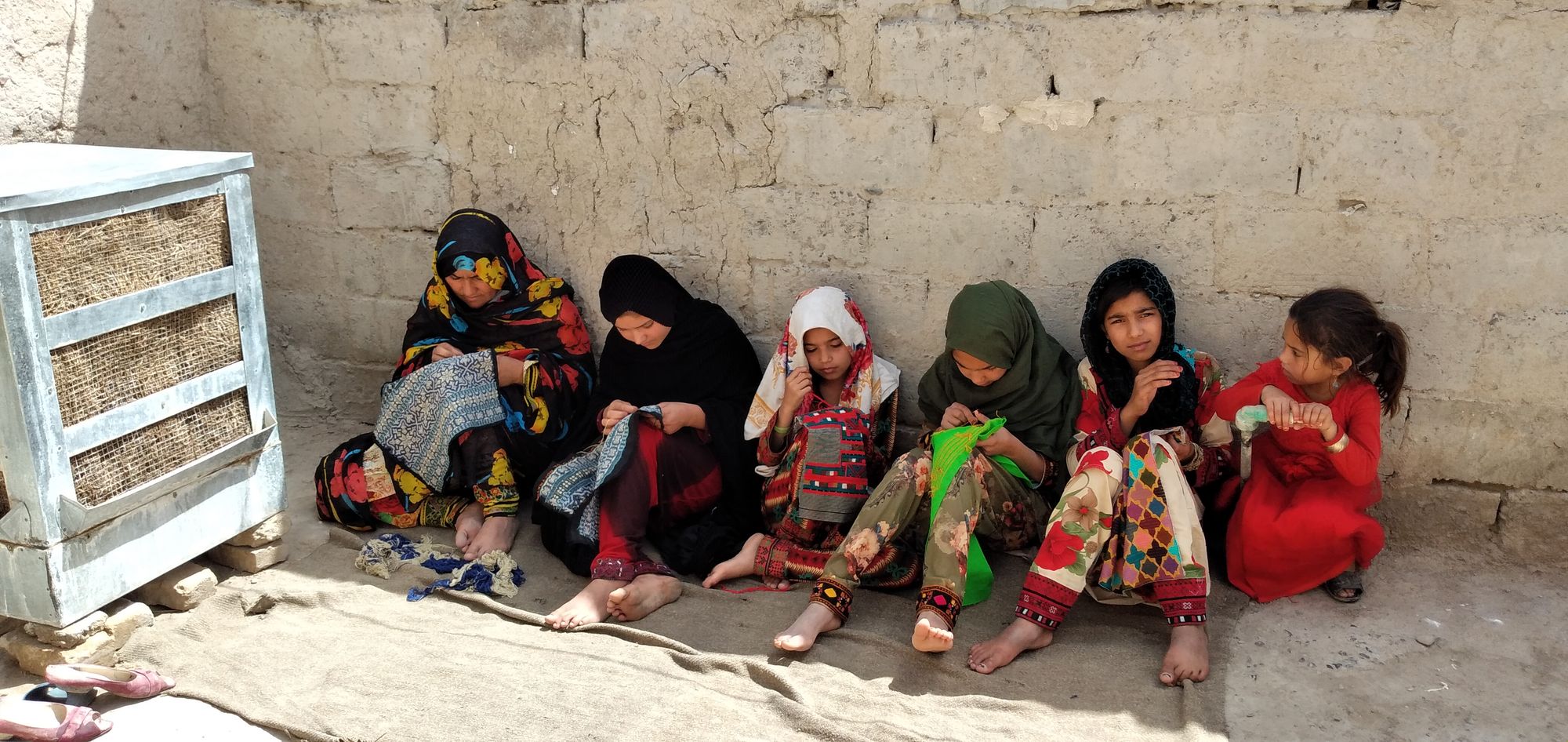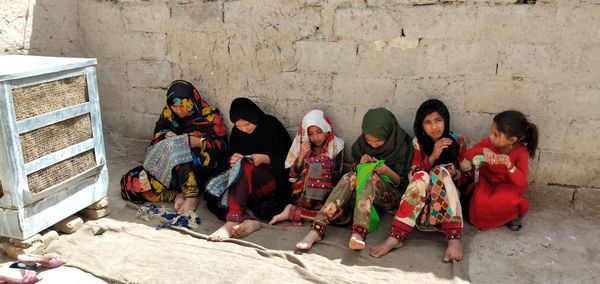 — One Day in Afghanistan —

Written by Shaima Seddiqi
QALA-E MOHAMMAD, NIMROZ — The Baloch people are an ancient, semi-nomadic tribe that settled in an area of land that stretches through what is now Iran, Afghanistan, and Pakistan. Although the precise number of their population is unknown, the Defense Language Institute of the US Department of Defense estimates 2 million Baloches live in Afghanistan.
The Baloch people are one of the forgotten minority ethnic groups in Afghanistan. No government has paid much attention to this ethnic group and a majority of Afghanistan's Baloch people live in chronic poverty. Livestock and agriculture are the main sources of revenue for the majority of the people, just like most of rural Afghanistan.
In Afghanistan's southwestern Nimroz province, the districts with the largest population of Balochis are Kang, Asl-e Chakhansur and Chaharborjak. Smaller clans within the ethnic groups are Naroi, Nahtani Rukhshani (Badini), Azbakzehi, Salarzehi, Regi, and Brahawi Zarozahi.
Balochi is one of the oldest living languages of the Indo-Iranian group of the Indo-European languages.
Baloch men wear white kameez, broad shalwars and white turbans. Baloch women adorn themselves with what they call "Zigopdan".  Zigopdan is a combination of two Balochi words; zi (collar) and gopdan (bag). This clothing is exclusive to the women of the ethnic group. It has been popular among the Baloch people and considered a sign of pride and identity of their people.
Embroidering zigopdan is one the most delicate, complex, and extraordinary handicrafts among Afghan women, gaining fame in the region. This type of embroidery is done using colorful gauze, silk, and plastic threads on top of a variety of fabrics.
In today's One Day in Afghanistan episode, Alive in Afghanistan's Shaima Seddiqi documents the life of  Nargis Mahmoodi, and her five children who work as embroiderers in their small home on the outskirts of Zaranj, the capital of Afghanistan's southwestern Nimroz province. Ms. Mahmoodi and her family are Baloch.
I leave the city heading towards the village of Qala-e Mohammad with my husband and arrive around 9:30 am. I knock on the Mahmoodis' gate, and a six year-old boy opens the small iron gate. As I enter the small courtyard, about 5 square meters, Nargis smiles and receives me warmly.
The small courtyard, one 12 square meter room, and another smaller room make up the entirety of  Nargis's residence. One of the rooms is used for a kitchen, the other as their living and sleeping quarters. Nargis takes my scarf and hangs it on the coathanger near the door. She invites me to sit as I notice the girls busy embroidering.
Ms. Mahmoodi has five children, three girls and two boys. Ms. Mahmoodi's children do not go to school, instead, those that can help feed their family by doing embroidery.
Nargis takes a gray colored fabric and starts embroidering after we sit down. Meanwhile her mother and sister who live down the street join us.
When I ask her about her work and life, she replies with a very bitter and sad story.
Nargis Mahmoodi was born in Iran's Zabul province 32 years ago after her family emigrated there. She was engaged to her late husband Hikmatullah Tajik at the age of 12. Both Hikmatullah and Nargis are originally from neighboring Farah province.
After living with her father-in-law's family for two years, the couple left them and came back to their hometown. Hikmat joined the Afghan police force, and was stationed at Farah's Police HQ for seven years. He was injured in a Taliban attack on the Police HQ and succumbed to his wounds after four days.
Nargis's eyes tear up as she tells me her story, "I begged many times for him to be taken to Kabul and treated there, but that didn't happen. None of his brothers paid attention to his health or treatment."
After Hikmat died, his brothers fought Nargis over the compensation and pension owed her by the Afghan government for years. Nargis could not bear the long fight and four years after Hikmat passed away she moved to Nimroz to be close to her family.
It was difficult to live with her family together with her five children, so she had to move out and get a small place, where she lives now, and pays a monthly rent of 500 Afghanis(approximately $5.66). The house had no electricity and the gate was stolen. When Nargis moved in, she had to buy another gate for 2,500 Afghanis ($28.26) with money she received from a charity.
A solar panel and battery that can run some lights, a refrigerator, and a swamp cooler were donated to her after she moved into the house.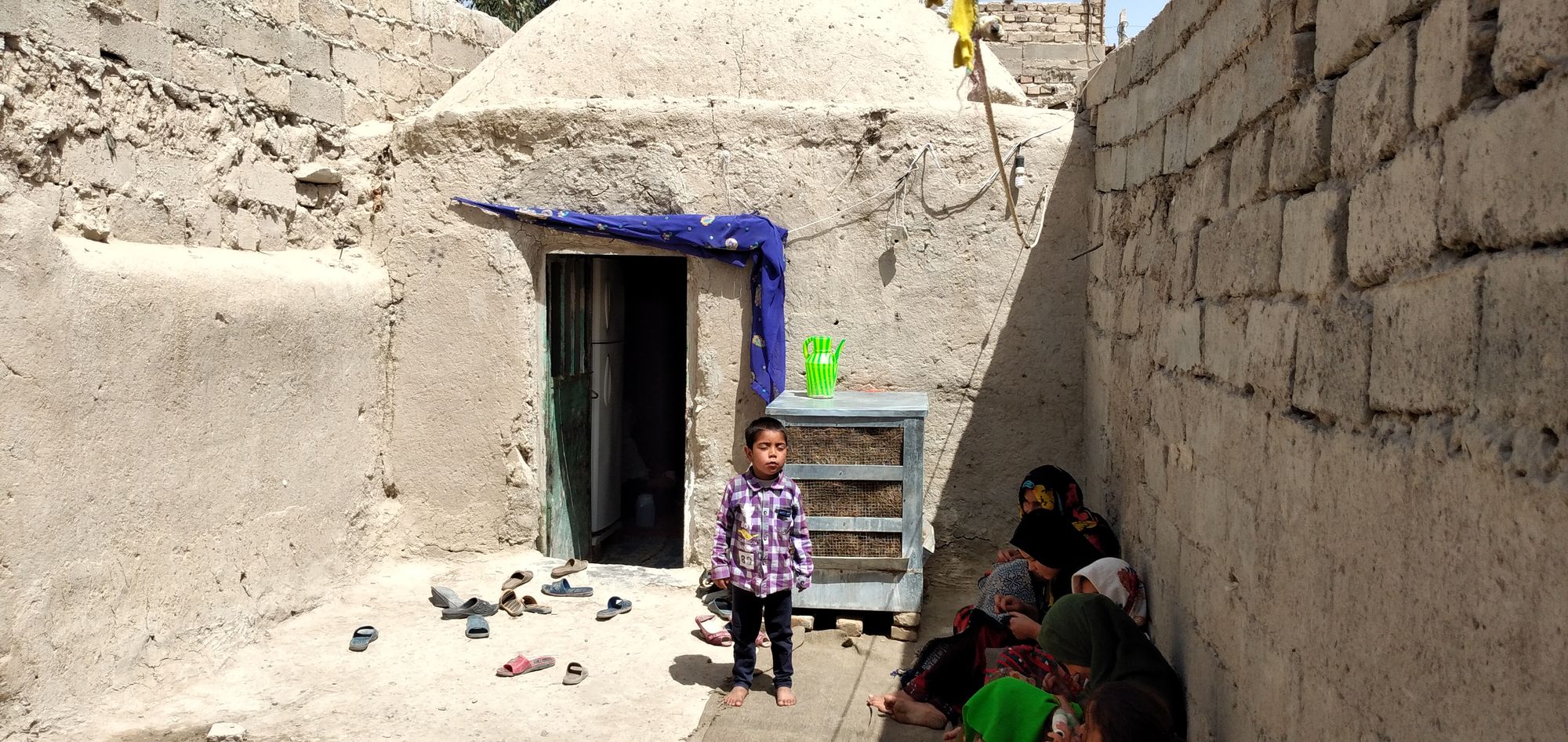 Nargis works on two pieces of zigopdan to finish them at the same time, but is trying to do more work on the gray one because she will make more money from it.
I look at my cell phone and the time is now 12:10 pm. The girls are busy working but Yosuf and Asma, the youngest of the children, are hungry. Nargis takes some leftover meat sauce from the refrigerator and heats it over a stovetop attached to a propane tank.
Nargis says one of her neighbors gave her some meat a few days ago which she cooked last night, the leftover sauce is from that, which she uses for lunch, together with a few loaves of bread.
Several  water containers, unwashed dishes and a bag of flour are scattered around the kitchen. Other large plastic bottles filled with some kind of orange substance are filled and placed near the bathroom door.
"Those are dishwashing liquid. The ingredients and processing guidelines were given to me by a charity organization a few days ago," Ms. Mahmoodi says, adding that she was also trained on how to make the liquid. The charity told her that she can make the dishwashing detergent and then sell it herself.
"I sold 10 bottles to the trainers, but our local shopkeeper who sold a few told me that the liquid is not of very good quality, and customers won't buy it," Ms. Mahmoodi says, concerned how she is going to be able to sell the others she has already made.
Time passes as she and her kids continue embroidering after lunch. As it gets hotter inside, the family moves out to the shade provided by their house's walls, where they sit and keep working.
It is now 2:30 pm, the hardworking mother and her girls prepare for afternoon prayers, stand in line and pray together as I follow suit. After prayers, it's time for Asma and Yosuf to take their afternoon naps, so Nargis lulls them to sleep.
13 year-old Sarah washes the dishes before returning to work. Each of them takes responsibility for embroidering one part of the dress they are supposed to make, the collar, neckline, sleeve, and skirt. The family has very little time for housekeeping because most of their time must be spent on embroidery.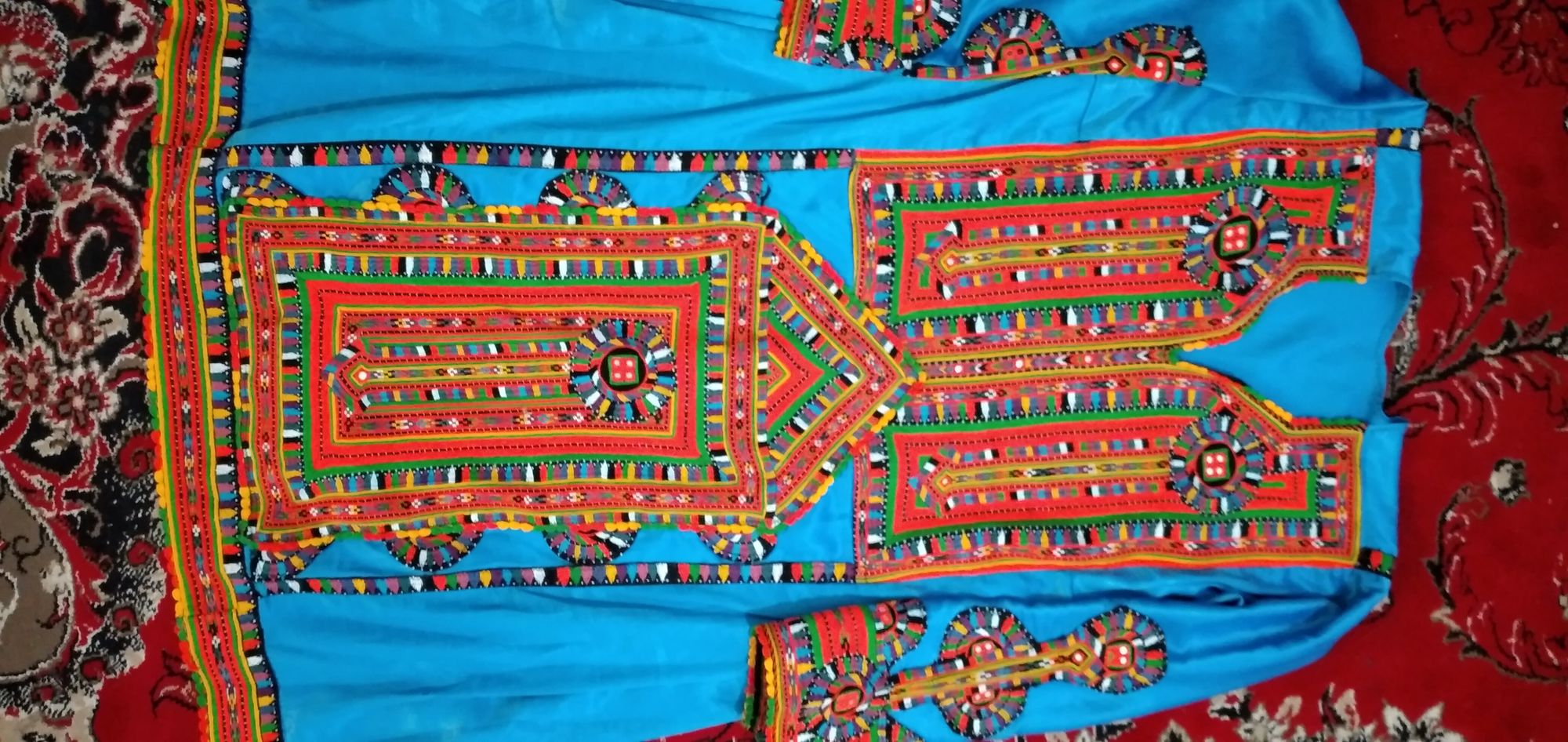 According to Nargis, her sister-in-law has a contract with a local store to do zigopdan embroidery. Her sister-in-law has a contract with a local handicraft store, she receives 10 to 15 sets of printed zigopdans a month and distributes them to neighbors. After the embroidery is done, she collects them and hands them over to the store owner, at which point she is paid.
Nargis herself gets her zigopdan sets from her sister-in-law and spends at least five hours a day on embroidery, but often the workload is so much that she must keep her children awake until midnight to complete the orders.
On average, the family can complete two sets a month because this type of embroidery is very complicated and time consuming.
"Cream, gray, green and white are currently the fashion/style right now," Nargis says. The sets vary in prices based on the type of embroidery required, which ranges from 1,000 to 30,000 Afghanis ($11.30 to $339). Once the sewing is complete the store owners sell them for between 4,000 to 9,000 Afghanis ($45.21 to $101.72), double the price she is paid.
According to Nargis, zigopdan embroidery became common around 50 years ago but has been a tradition among the ethnic group for much longer.
"Back then, families used to make embroidered pillowcases and curtains to give to their daughters as wedding gifts," Nargis says. According to Nargis this style of embroidery has become antique but there are still people who order them. A pair of embroidered pillowcases sell for 1,000 Afghanis ($33.91) and curtains up to 6,000 Afghanis ($67.82) depending on the size.
Nargis initially learned embroidery from her sister-in-law. In the process she learned to embroider all types of zigopdan. One of the most expensive types of zigopdan she makes is called "Chapa Dozi,"which literally means "reverse embroidery". This type of embroidery is done by embroidering on the reverse side of the fabric with silk threads. These sets sell for between 9,000 to 30,000 Afghanis ($101.72 to $339).
My curiosity peaks as she tells me about all the different types of embroidery and I ask if she can show me some examples. She sends one of the girls to their neighbor's house to bring some samples in addition to what they have in their home. She shows me the different, colorful and beautiful samples with herself and her daughters trying on some of the clothes to show them off.
There is an impromptu fashion show for my pleasure by the ladies, but taking pictures of everyone, especially the older girls, is not permitted due to cultural sensitivities.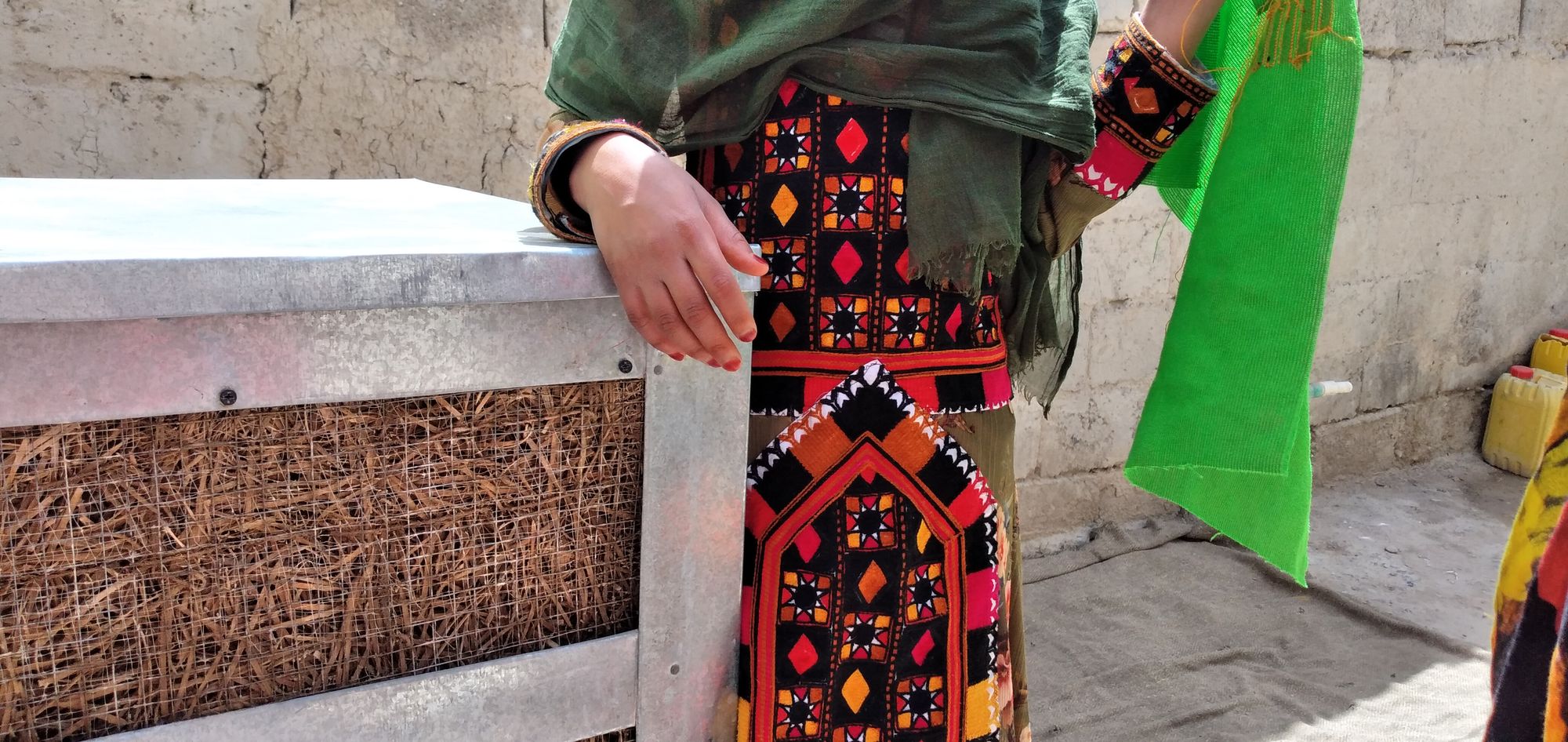 According to Nargis, tailors sew the sets once the embroidery process is complete, iron them and then the handicraft merchants smuggle the material to Iran where the pieces are sold for twice the price.
"Balochi zigopdan have been showcased in European countries as well, where a set has been sold for up to $1,000. These dresses also have a customer base in northern Afghanistan," Nargis explains to me as I take photos one after the other of the different designs.
Ms. Mahmoodi adds that every set of zigopdan comes with embroidery around the collar, cuff, bottom hem of the skirt and shalwar. This is called sartooping.
"If a Balochi zigopdan is not sartooped, it's not complete, the person wearing it is not going to look good," she explains as she puts a piece of embroidered shalwar hem around around her lower leg, telling me the red color which was a custom among the Baloch years ago has made a comeback.
Nargis says the Balochi zigopdans are not only famous among their ethnic group, but people across the country. It meets the hijab requirements but can be heavy due to the designs and the amount of embroidery contained on one dress.
The zigopdan is worn on special occasions and previously female politicians and parliamentarians used to also order them.
It is now 4 pm and I have to return home as Nargis lights a fire in her custom oven to boil some water for tea. She tells Sarah to return the neighbor's pieces of embroidery and bids goodbye to me.
Nargis's life, and the lives of her children will continue in this mundane but very tough and challenging manner, tomorrow, the day after, and perhaps for years unless a miracle happens that lifts her from the poverty she is in right now.
But she is not the only woman living in this situation. Millions of Afghan women and men are unemployed as Afghanistan's economic crisis gets worse, fueled by sanctions and cuts to humanitarian aid following the collapse of Afghanistan's western-backed government in August of 2021.
At least for now, Narghis has found a way to make a living so that she and her children will not starve. For more information about Afghanistan's economic situation and the plight of Afghan women, read Alive in Afghanistan pieces about Economy and Women.