Education is Not an Option for These Girls
Afghan children are increasingly joining the workforce in a country marred by poverty.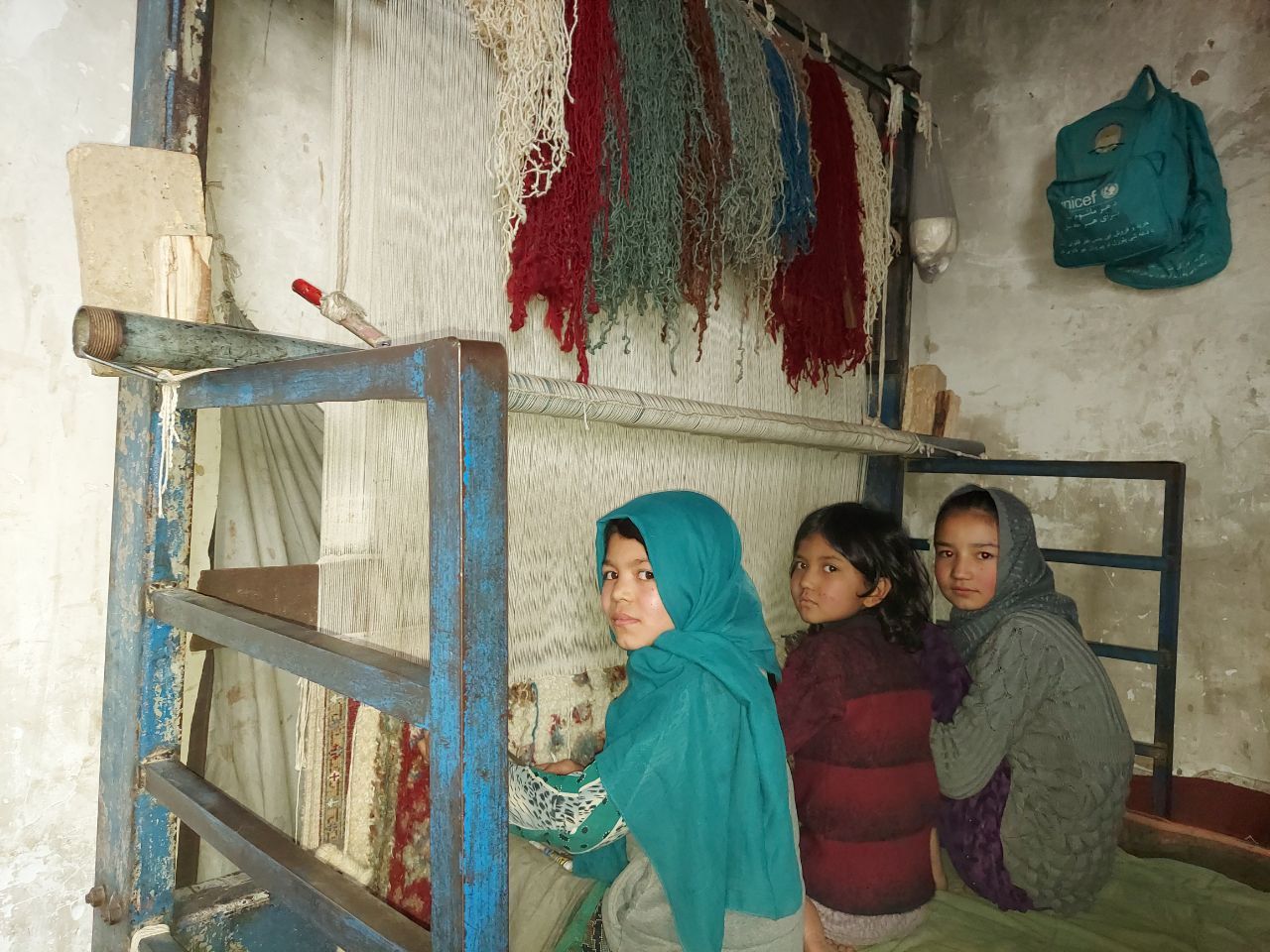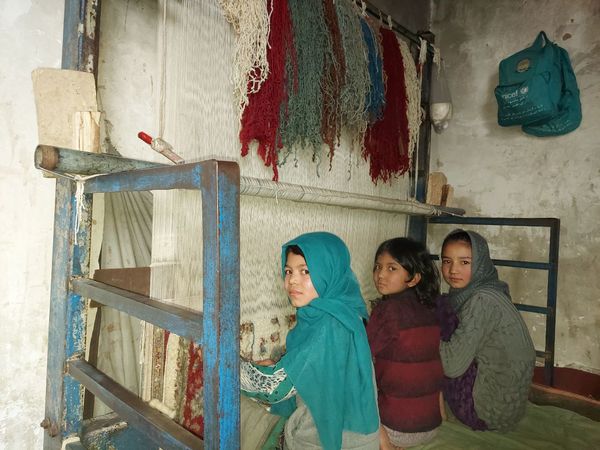 Written by Mirzahussain Sadid, edited by Mohammad J. Alizada, and Brian J. Conley
Children who should be busy with entertainment and education, carefree of any concern for life, work hard in Kabul and other provinces to take care of themselves and their families. A large number of Afghan children are forced to work a variety of jobs, including serving as shepherds in the countryside, selling plastic bags or, chewing gum, polishing shoes, begging, and washing cars, no matter what the weather, often breathing car fumes and other pollutants. On top of that, they are constantly assaulted with insults and other verbal abuse.
In this report, you will read the stories of children from three households who make carpets all day to help take care of their families. In Afghanistan carpets are predominantly made by the Uzbek, Hazara and Tajik ethnic groups.
For these children, carpet weaving provides some benefit, including safety, ease, and predictability. For them, working at home is safer because they don't run the risk of suicide bombings, gun battles, magnetic bombs and other kinds of danger that Afghans face everyday. Although the number of attacks has significantly reduced since the Taliban takeover, they still take place.  
Making carpets is comparatively easier for children than other jobs, because it doesn't require a lot of hard physical labor. Tying the knots is easier for children because of their small hands. But the labor required to lift and pull down the bar for combing in between every row requires much more strength than many children have.
Although hard to make, and tedious work for children, carpets provide a predictable income, costing a set amount of money for each meter, paid within a set timeline based on the time required to finish the carpet. There are several ways you can make a carpet, if you are a novice or alone, you can make carpets with others for a small weekly fee, you can take the carpet from the contractor wholesaler, the perks of that is that they will set it up for you, and you will be paid for in each meter or you can buy the frame, and the material, make it yourself and sell it to the wholesalers.
Ten years old Zahra, and nine years old Fatima, are two young sisters who are weaving a 6-meter carpet with their mother in the Etefaq town of Kabul. The blue frame of the carpet fills one of the room's white mud walls. A conventional wood heater occupies the other side of the room.  The girls learned to make carpets from their mother beginning two years ago when they had just reached the age to differentiate their left hand from their right.
Zahra says, "My father has a thrift shop in Mandawi (a market for buying daily necessities), but the money he earns from selling second-hand goods is not enough for our daily expenses, sometimes it is not even enough for his round-trip fare. Therefore, my sister and I are weaving carpets with our mother to help cover the family's financial needs."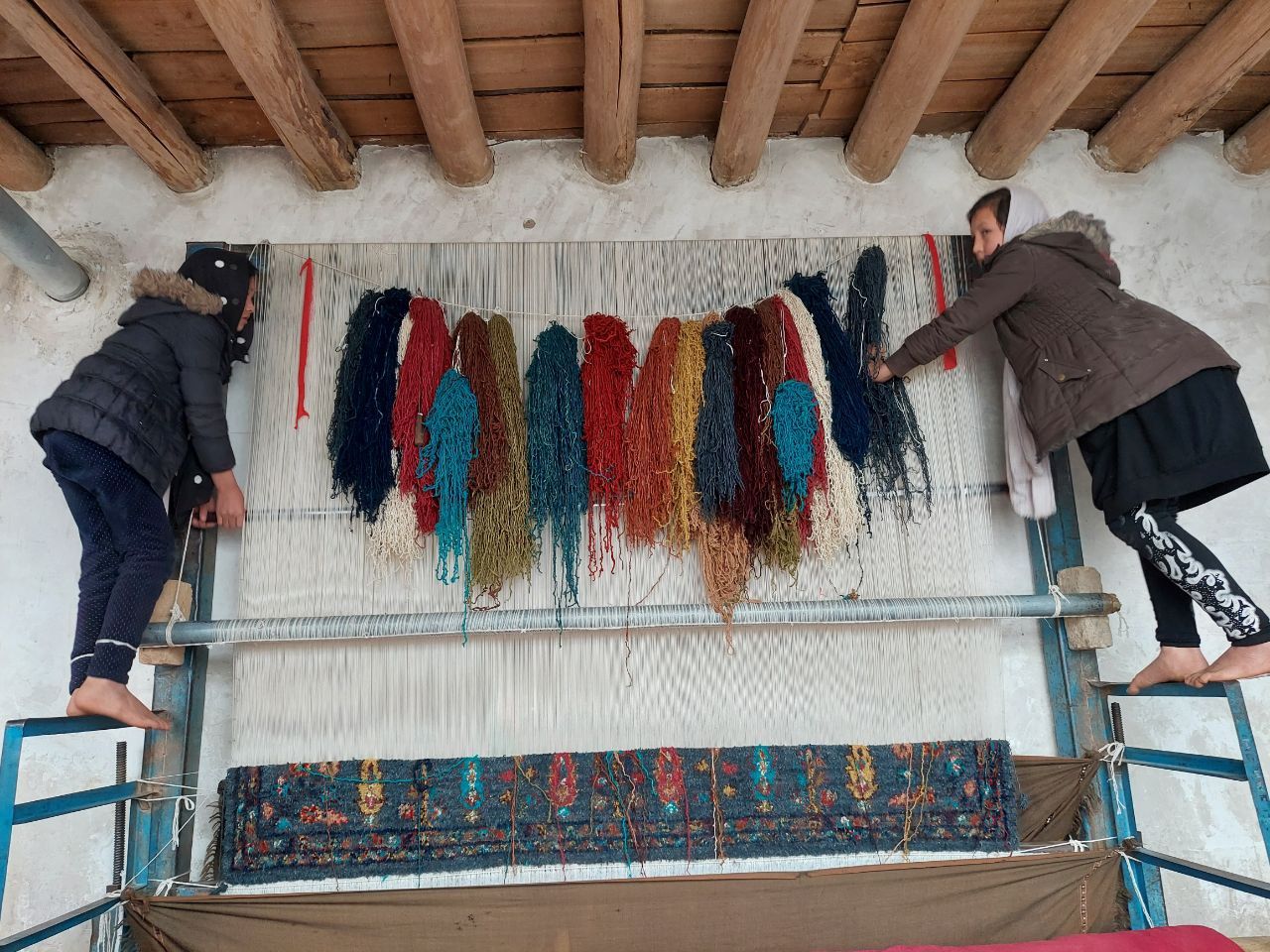 Zahra adds with a sad face and a deep sigh: "I would like to go to school with my sister Fatima, to play with our neighbors' kids, but the bad economic situation has taken away all the beauty of life from us. We are even deprived of our childhood games. For now, we have turned carpet weaving from a requirement into a kind of game to cover the expenses of our family of five people."
The mother and two young daughters, whose only thought is to weave carpets and earn some money from them, can weave a 6-meter carpet every three months. They charge 2,200 Afghanis per meter, and the total income from one carpet is 13,200 AFN ($150), which is not even enough to feed the family. Their rent is 1,500 Afghanis per month.
Carpets are made in two or three steps, the first step is knotting–where the knots are tied around the loom's vertical threads (the warp). The second step is the weft crossing and combing. After tying the knots on every row, two horizontal strings, one tight, and one loose, are taken across the warp and then tightened against the knots with a comb in a downward motion.
Because Zahra and Fatima are so young, their small hands can't even lift the iron rod that is required to tighten the strings in between every row. The two sisters must use all their strength to lift the rod.
Theirs is not the only family that is struggling with many challenges. Just a few houses down the road from Zahra and Fatima, three other sisters are busy spending their teenage and youth years making carpets. 18 year-old Rahima, 16 year-old Aqila, and 14 year-old Farzana spend most of their time weaving carpets at their home. Together they earn a small amount for their daily expenses.
The three sisters, who learned carpet weaving from their mother, have been doing this work for 10 years. They too are weaving a six-meter carpet. They started weaving the carpet in the early winter. It's taken a long time but today they feel good because it's the final days of work and they're going to get a three-month wage.

Rahima says, "The only way to save us from hunger and to continue our day-to-day life is carpet weaving."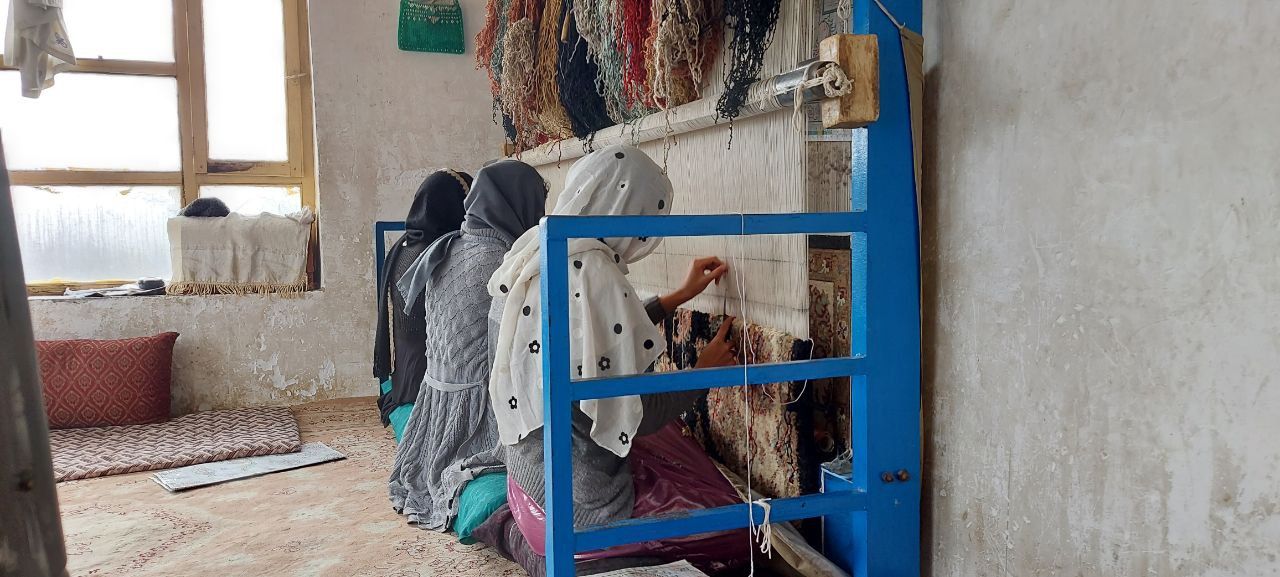 Among the three sisters, only Aqela, who was born after Rahima, feels lucky because she has been able to study until sixth grade. Farzana, who is the youngest girl in the family talks of herself being illiterate, "We live in a rental house we pay 1,200 Afghanis a month as rent. Moving from one house to another and poverty caused us to give up and say goodbye to school forever."
Even if the economy allowed the girls to go to school, the Taliban are yet to allow girls' schools above 6th grade to reopen.
Despite all this, Rahima who is the oldest of the two sisters, adds, "My sisters and I have no choice but to make carpets at home, we are illiterate. We have no option but to do this so we can take care of our family of seven."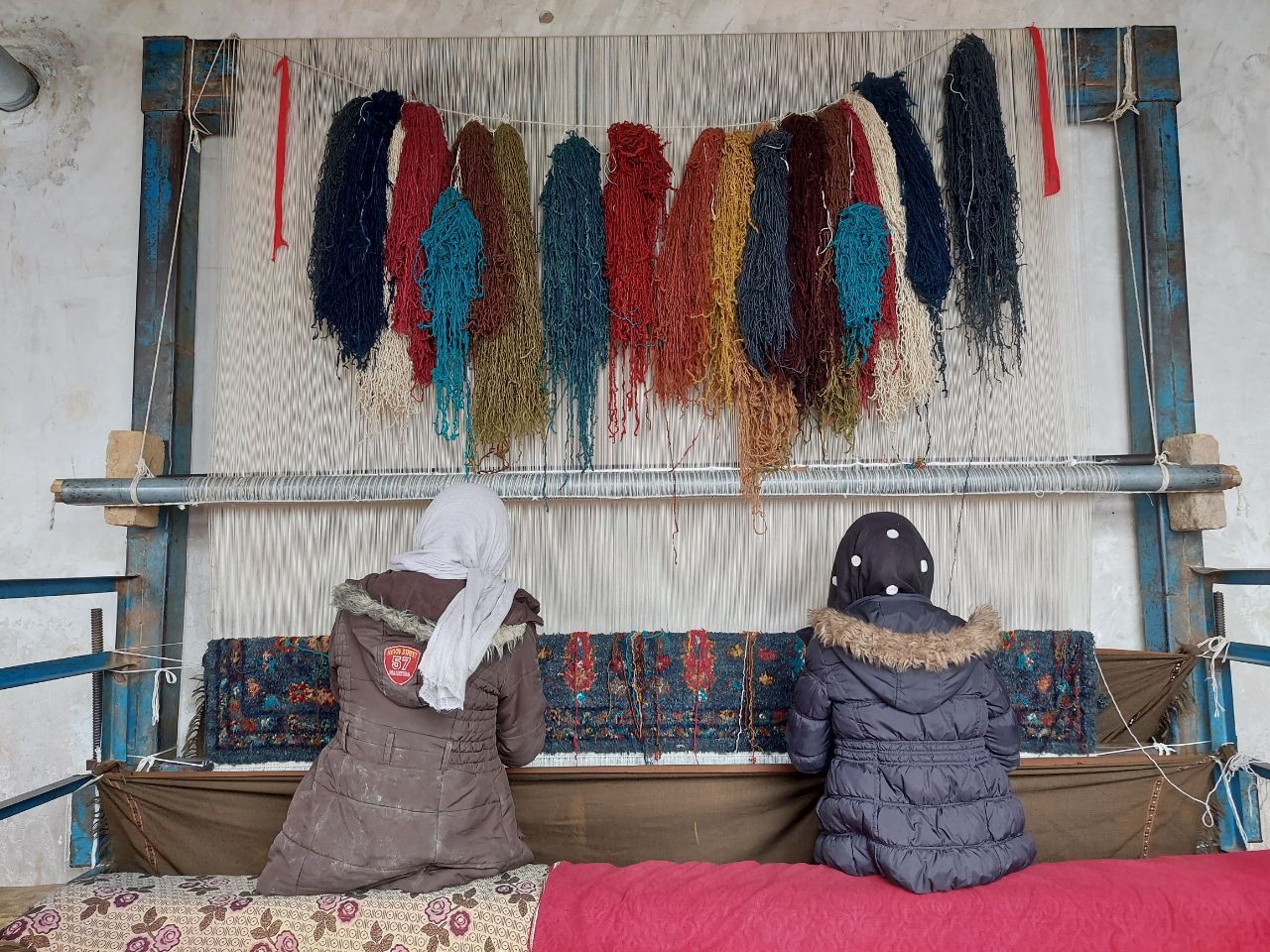 Meanwhile, 11 year-old Latifa, 9 year-old Masooma, 7 year-old Atifa and 6 year-old Sediqah are busy making carpets just a few houses away from the three sisters. The children spend their days making carpets instead of going to school or playing around.
Their mother says, "I had to send them to the neighbor's house to learn, but now they can make carpets at home." Because their home is a lot smaller and the roof much lower, they can only make carpets with a two-meter high frame.
Latifa is the oldest child in this family, they have no one else helping them, Latifa has only gone through first grade but it is not even clear if the children can study given the family's economic situation, a point of major concern for their mother.
None of the three families Alive in Afghanistan spoke to want to make carpets by choice. They are doing this work because of the threat of poverty and the economic situation.