Distillery Hopes Afghans Go Local
Afghan factory producing distilled products hopes that business revitalizes throughout Afghanistan. The factory owner says support for local produce is needed for factories to stand on their feet.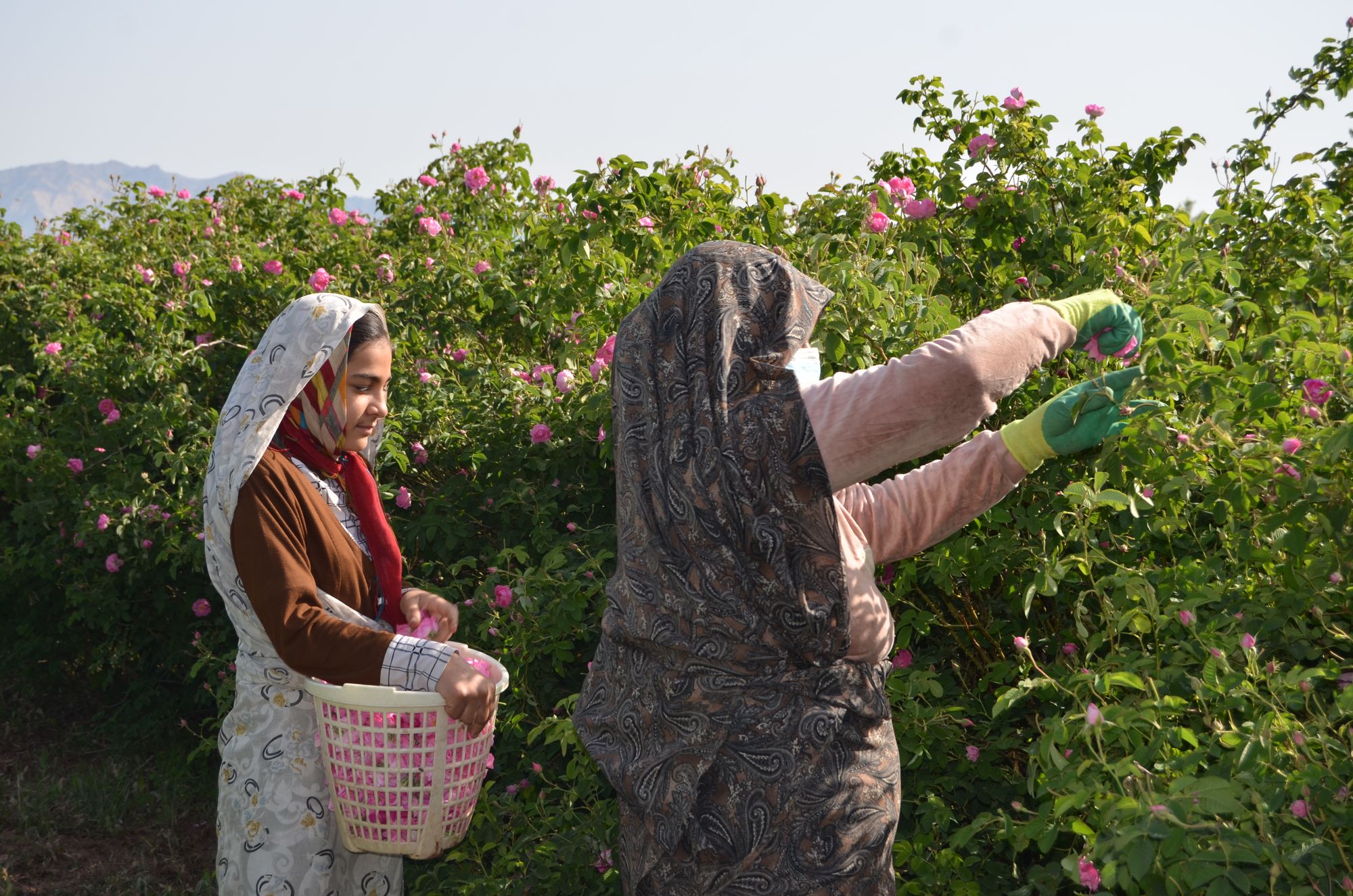 — One Day in Afghanistan —
Written by Abdul Karim Azim
HERAT, AFGHANISTAN — With the progress of medical and pharmaceutical science and the increasing number of diseases, following the recommendations of  specialists and medical science is increasingly important in controlling and curing disease, but many people in Afghanistan still prefer herbal medicine.
In Today's One Day in Afghanistan, Alive in Afghanistan's Abdul Karim Azim profiles a perfume, distilled liquids and herbal medicine manufacturer in western Afghanistan's Herat province.
Early in the morning, Fazl Ahmad Attaran, the manager of the Afghan Attaran Herbal Distillery, and I head towards their flower farms in "Khair Do Zan" village, about 20 kilometers west of Herat city, the capital of the province. The farm is one of many used for growing flowers for the distillery.
We arrive after crossing the back alleys and haphazard streets. The open air and spectacular green fields of the farm give life new meaning. After passing through empty fields, we arrive at a 4,000 square meter farm completely covered by rose bushes and pink flowers.
A group of women and an old man are busy picking flowers, Mr. Attaran says that they receive between 150 to 200 Afghanis ($1.70 to $2.27) per day for picking roses on the farm.
It's now 9 am and I am talking to Mama Juma Gul, a handsome, 65 year-old man who has been working on this farm for the past 10 years. Juma Gul starts work at 7 am and works until 11 am. Then he goes home for lunch and prayers, comes back to the farm at 2 p.m. and continues working until 5. The old man picks six to seven kilos of flowers per day, getting paid 25 Afghanis ($0.28) per kilo.
Juma Gul is the head of a family of eight. Two of his sons work in Iran and send money home to Afghanistan, helping their father cover the household expenses. In addition to picking flowers, Juma Gul is also responsible for irrigating the field. Although he is not paid in cash for the irrigation, Juma says Mr. Attaran occasionally pays him with supplies such as tea, sugar, or sweets from the city.
It's now 9:30 am and I find one of the ladies working at the farm. Bibi Shah is a 60 year-old woman busy picking flowers and working the same routine as Juma Gul. She earns her family's livelihood by picking flowers, washing clothes, and cleaning.
Although initially Bibi Shah shies away from talking, I respectfully and calmly ask her some questions. In Afghanistan it is taboo for women to speak to strange men both for religious and cultural reasons, regardless of their age difference.
Bibi Shah married her husband Aslam 45 years ago and has five children. Mrs. Shah also earns around 150 Afghanis ($1.70) per day.
"The presence of the Taliban has caused a lot of damage to my life and the life of Afghans in general, especially the youth who have left the country in droves," Bibi Shah tells Alive in Afghanistan, adding, "Most of the youth from our village, including one of my sons, immigrated to Iran."

A recent study by Gallup, a global analytics and advice firm, said that 53 percent of Afghans wanted to leave Afghanistan between August and September of last year.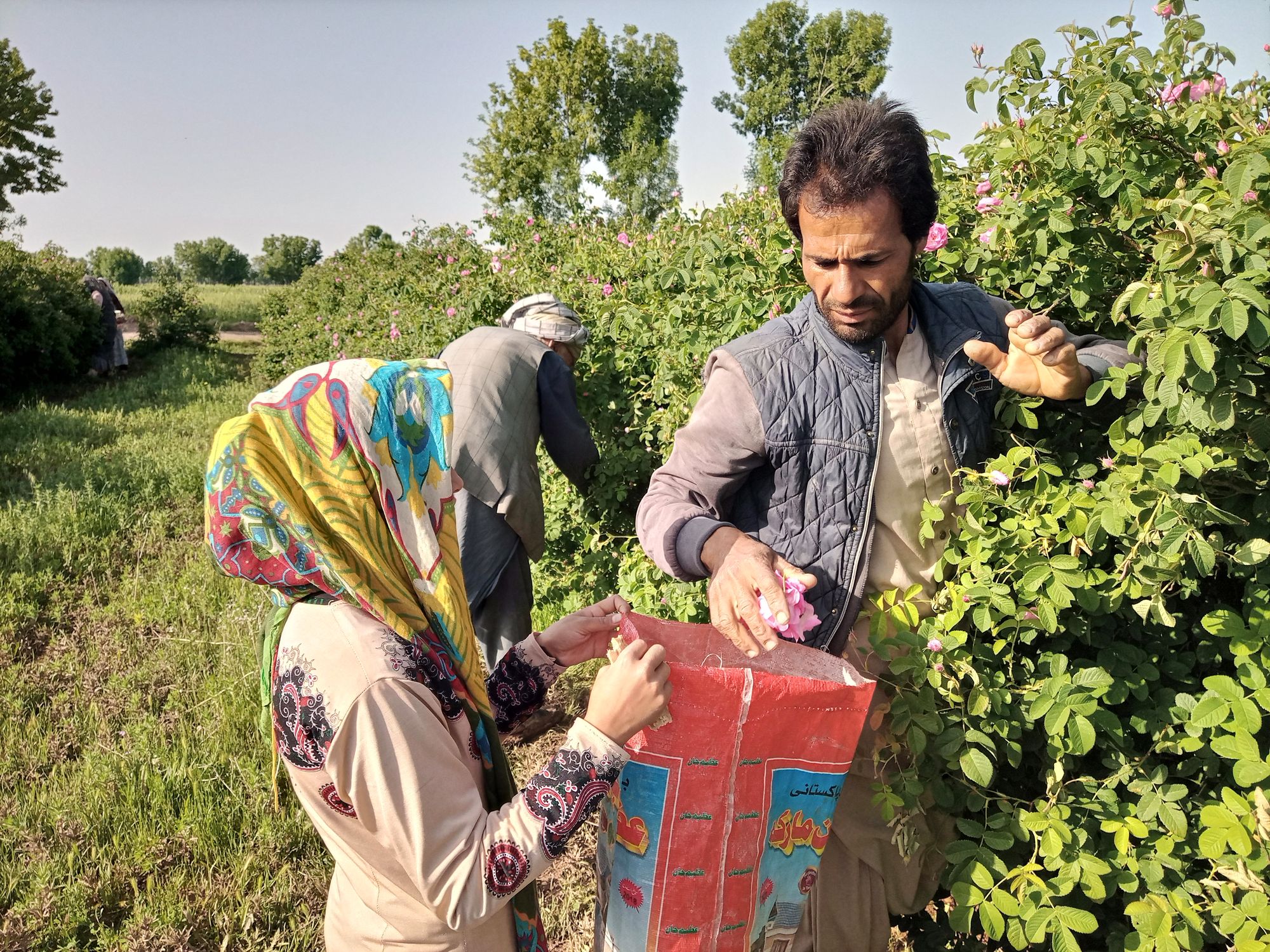 "This percentage, one of the highest in the world in 2021, is potentially even higher now, with millions on the brink of starvation since the Taliban's takeover," the study said.
However, Bibi has no choice but to stay in Afghanistan and work. After my brief conversation with Bibi Shah, I look towards the corner of the farm where a young girl is busy picking flowers with her mother. It's now 10:30 am.
The mother and daughter want to talk but refuse to do so in front of the camera due to their family's restrictions. Both tell me about their jobs while busy picking flowers.
Feriba, the daughter, tells me they, "Pick 10 kilos of flowers each day, getting paid 250 Afghanis ($2.84)."
Fazl Ahmad says picking flowers starts at the beginning of the year (March) and continues until after May, but other herbs and plants are picked throughout the year.  
At 11 am Mr. Attaran and I head towards his factory while listening to the beautiful voice of Amir Jan Saboori, a famous Herati singer. We listen to music and chat through the journey and arrive at his factory around 11:30.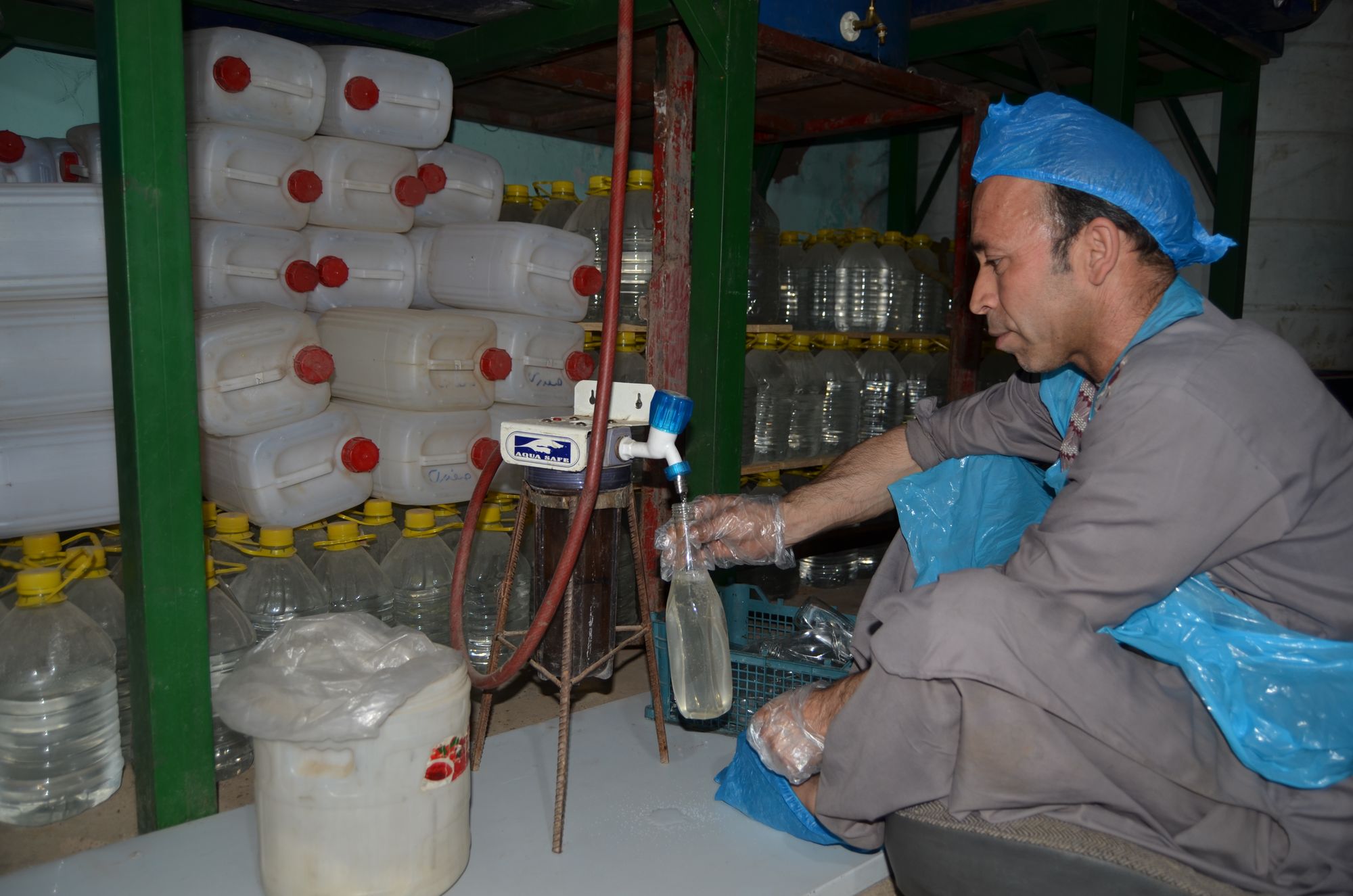 As we climb down to the basement, it's very dark until our eyes adjust from the bright sunlight outside. A lamp is on, illuminating the distillery, flowers and other herbs.
Fazl Ahmad Attaran, the head of the factory, learned this profession in Iran 20 years ago. He opened the factory 10 years ago with an investment of $100,000. Fazl Ahmad's factory employs seven people directly but including indirect and short-term employees who work to collect different kinds of herbs throughout the province; his total staff reaches about 100.  
Fazl Ahmad is the head of a family of eight and his factory earns around 20,000 to 30,000 Afghanis ($227 to $340) per day from sales currently.
"Recent political events have significantly decreased the amount of sales. Before the Taliban victory in Afghanistan, our sales were between 40,000 to 50,000 Afghanis per day," Fazl Ahmad tells Alive in Afghanistan.
Businesses throughout Afghanistan have seen a sharp decline in revenue since the Taliban takeover of Afghanistan in August of 2021. The decline in revenue stream is due to sanctions and the elimination of international aid following the Taliban takeover of Afghanistan continues to fuel the ongoing economic crisis.
For more information about Afghanistan's economic situation, read Alive in Afghanistan's articles on Economy.
"I chose this profession because of my deep interest in it," Fazl Ahmad says, adding that, "65 types of flowers and herbs are used and produced at this factory."
The most famous of these are rose water, mint water, dill water, bindii water, anise water and other distilled waters and extracts. Fazl Ahmad laments the Taliban's action in allowing the import of low quality distills from Iran with much lower tariffs enabling them to be sold at half the price in the market, cutting into the market for domestically produced goods.  
"If the state stops these imports, we can stand on our own feet. It is the government's responsibility to prevent similar imports," Mr. Attaran says.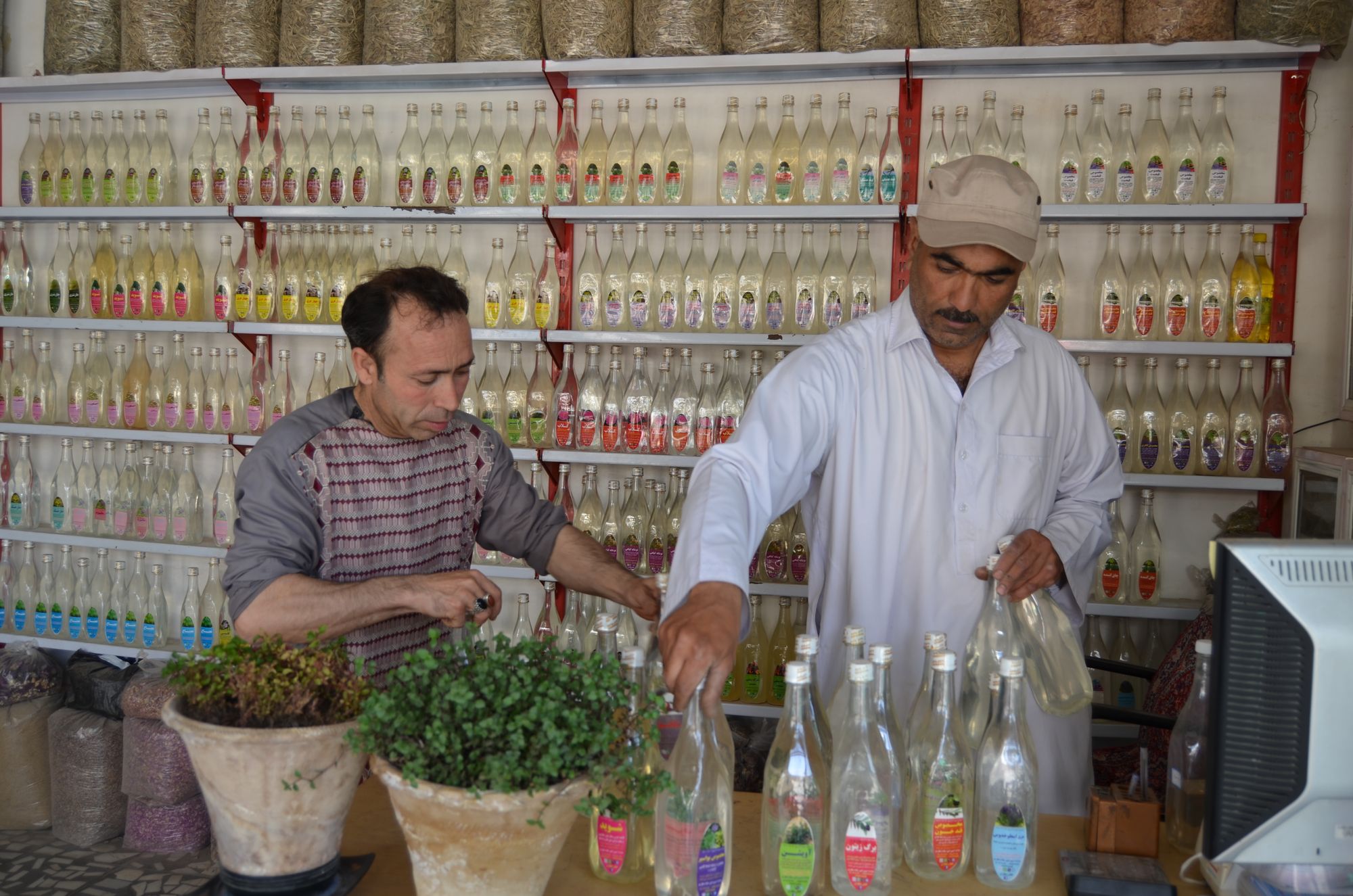 According to Mr. Attaran, his products are not just used for food consumption, but also used as herbal medicine in treating kidney stones, black jaundice (Hepatitis B), constipation, and other diseases.
It is now 2 pm and our conversation about Fazl Ahmad's work continues. According to Fazl Ahmad, his factory can produce more than 8,000 liters of rose water and 50,000 liters of other distillates each year. But a lack of support from the government, according to him, reduces the demand for their products, slowing down the factory's production.
"I can employ hundreds of people if our product sells, but that needs support from the local government and the public," Fazl Ahmad says.