Disabled Afghan Soldier With No Pension
A former Afghan soldier who lost a leg to a mine now sells dried fruit on the side of a road. The pension paid before the Taliban took control no longer available, leaving him and thousands of others to fend for themselves.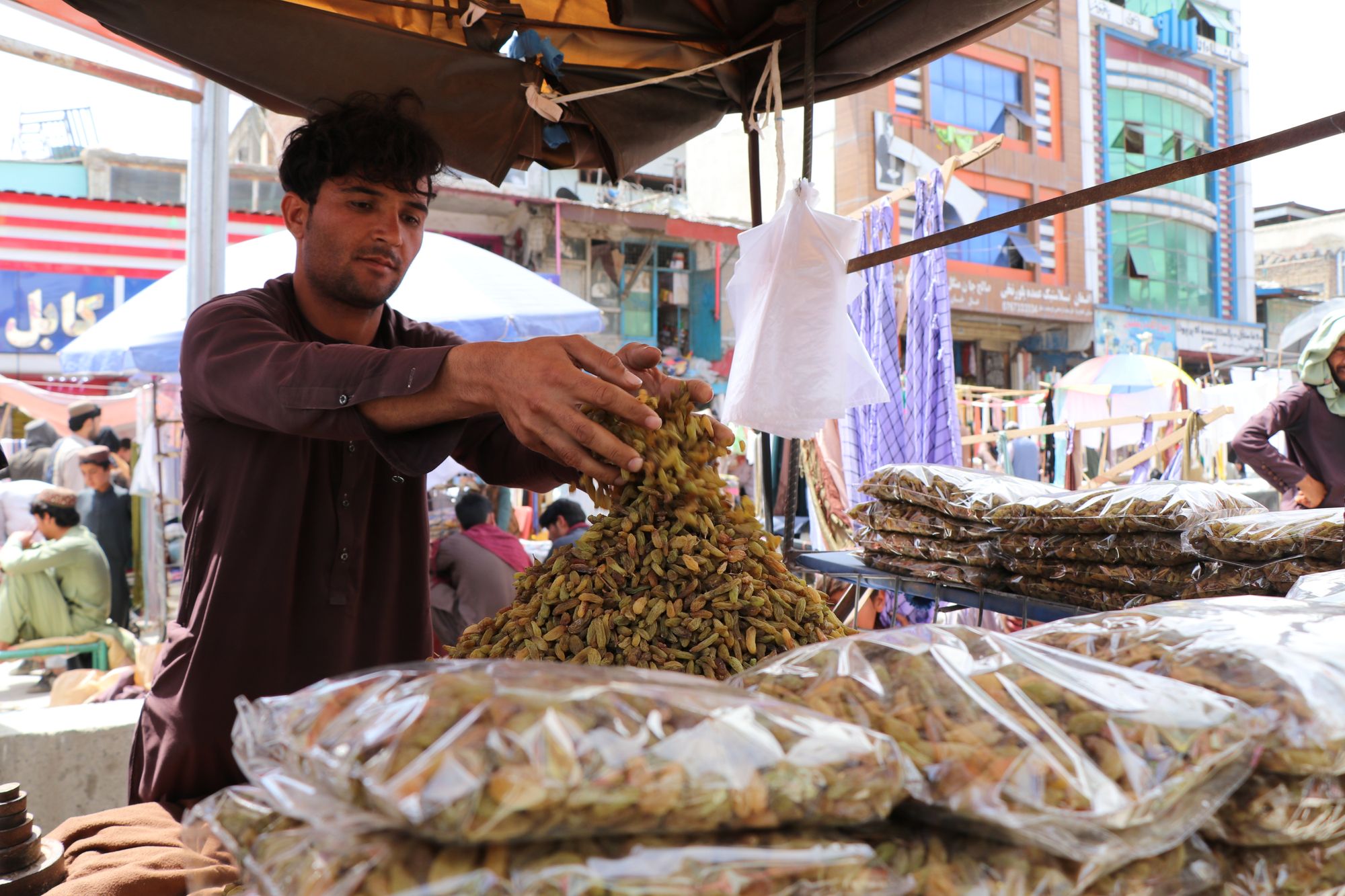 Written by Mohammad Yosuf Mangal
KHOST, AFGHANISTAN —- "It was my cousin's wedding, my family called to invite me to the wedding. I requested leave from my commander who accepted without delay. We had to travel by air from Sangin district because of how unsafe the roads were. When I got out of the checkpoint to get into the Humvee about 200 meters away, I stepped on a landmine that catapulted me backward. Meanwhile, another anti-tank mine blew up the Humvee tearing it to shreds, killing five soldiers' inside," 28 year-old Khairullah, a former Afghan Army soldier told Alive in Afghanistan of his horrific experience during the war prior to the Taliban's takeover of Afghanistan in August of 2021.
Khairullah lost his right leg in the explosion, but back home, his family had a totally different story. After Khairullah went into a coma, his family was notified that he had died, and a dead body was given to them. However, the dead body belonged to one of Khairullah's team members, not him.
The sky over Khost today is cloudy, much like the atmosphere of the country, with a higher likelihood of rain showers. My destination is located about an hour away from Khost City, the capital of Afghanistan's eastern Khost province. I am traveling on a motorbike with my friend to Khairullah's home village, Zeray Tirkhe.
Every morning, when the call to prayer rings out from the neighborhood mosque's loudspeaker, Khairullah heads to Khost City to find something to eat. He walks on a prosthetic leg for an hour, limping with each stride, then rides the daily commute to Khost City. He pays about 40 Afghanis ($0.47) a day for his round-trip commute to the city.
At 6:30 every day, Khairullah pulls out the pushcart from a carport and heads towards the main city roundabout, where the flow of traffic and pedestrians is potentially higher than in any other locations throughout Khost, meaning better sales.
Once Khairullah reaches his destination, he uncovers the pyramid-shaped pile of raisins stacked on his pushcart. He shovels through them to make sure they are not sticking together, and then he hangs plastic bags on the side of his cart for customers to fill with raisins.
Khairullah says he studied up to the 7th grade, "But I couldn't continue my studies due to financial difficulties. My dad was also unemployed at the time, so I had to start working."
Khairullah says this as the city streets start to get crowded, and people passing by the cart ask him about the price of raisins on his cart. Khairullah has an average height, wide eyebrows, and curly hair.
He fills clear plastic bags with raisins from the pile and weighs each before lining them up on top of each other around the raised edges of the pushcart that is made for displaying the dried fruits he has to offer.
One by one, the plastic bags are filled while the pile gets smaller as a potential customer walking by asks about the price of the raisins. He walks off without saying anything.
Before resorting to selling dried fruit on a pushcart, Khairullah worked at a stone factory for three months where he earned between 300 to 500 Afghanis ($.353 to $5.89) a day. But working at a stone factory while being disabled was too much for him and Khairullah had to quit.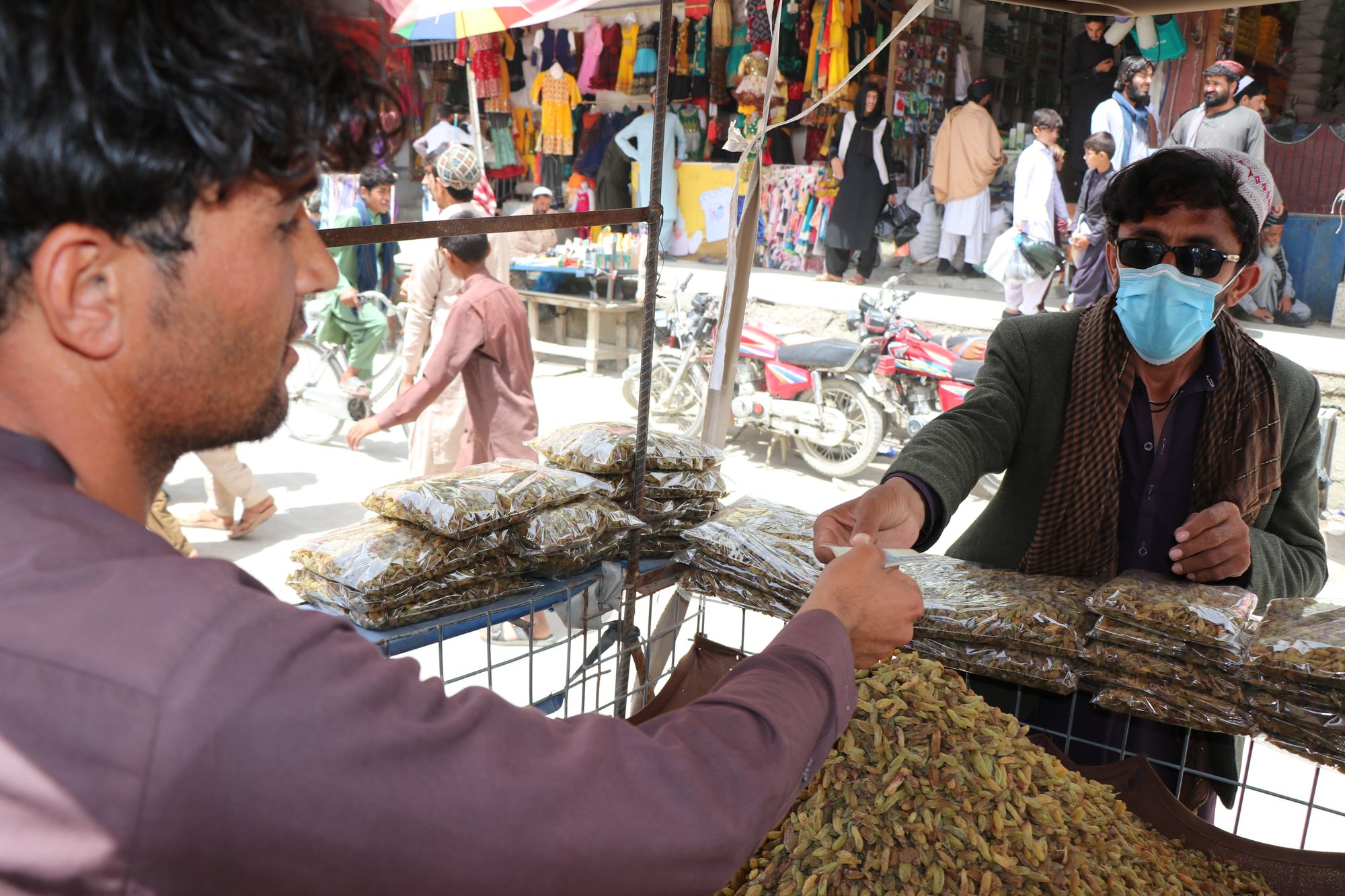 In addition to his studies, he held a strong interest in joining the military. After leaving his studies in 2015, he enlisted in the Afghan National Army. Khairullah spent the initial ten days in Kabul, undergoing basic training for the army. He, along with a few of his friends, was then deployed to southern Helmand province to continue military training.
"After seven months of military training, the time came to choose a specialty. I opted for the communication sector," Khairullah tells Alive in Afghanistan. Upon completing his military training, Khairullah was dispatched to Sangin, the frontline of the bitter was between Western-backed Afghan security forces and the Taliban.
Sangin remained a volatile district in Helmand and across the country throughout the war, claiming the lives of countless civilians, Afghan and International security forces, and the Taliban. Hundreds like Khairullah were left with one limb cut off or the other.
In addition to being the frontline of war, Sangin was home to vast poppy fields and drug production. After a few missions in the district, Khairullah was leaving to attend a cousin's wedding when he stepped over an anti-personnel Improvised Explosive Device (IED) that left him unconscious. Khairullah opened his eyes at the province's Emergency Hospital 15 days later.
Emergency is an Italian-based NGO operating hospitals in Afghanistan and throughout the world for victims of war.  
"When I saw that I was missing a leg, I became very hopeless. I was no longer a complete human and couldn't continue my duty. Life is extremely difficult for disabled individuals in Afghanistan because they can't find work," Khairullah said, sighing while talking about his past.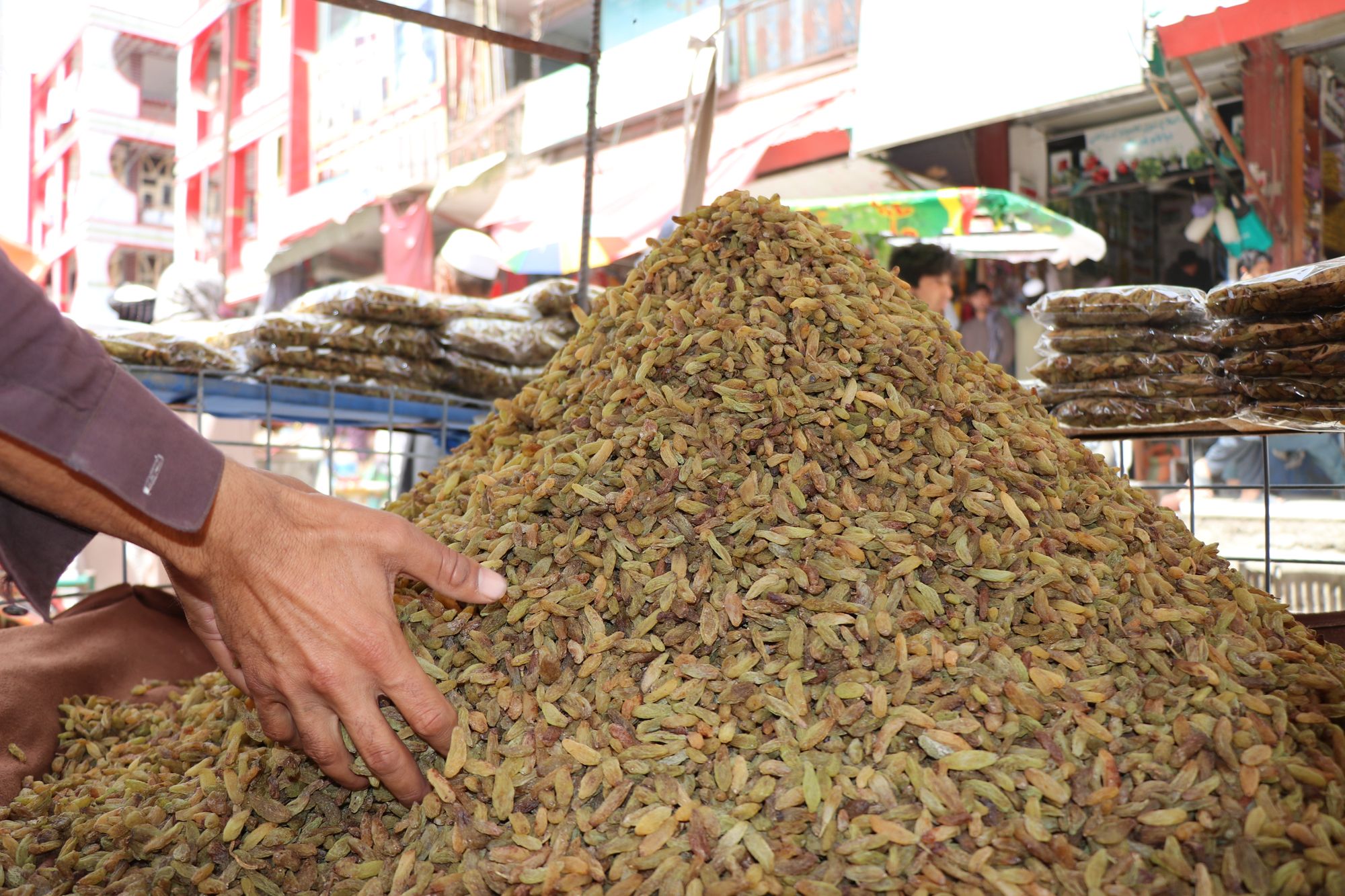 But his family back home was handed the body of one of his teammates and told that Khairullah was killed, which initiated a countrywide search by his family.
"Our home was filled with sorrow. They had brought the body of another soldier instead of mine. They [Afghan Army officials handling casualties] had placed my ID card on his [Khairullah's teammate's] body," Khairullah says, adding, "My family had dug a grave for him while prayers were ongoing. However, when my mother examined the body more closely, she realized that it wasn't me; it was someone else. A sickle had cut off the fingertips on my right hand during my childhood. When my mother saw the right hand of the body, she noticed that the fingers were intact. At that moment, she said, 'This is not my son.' I spent 27 days in the emergency hospital in Helmand and was unaware of what my family had been through."
Following the explosion, Khairullah's father searched a large number of hospitals throughout the country for a month to find his son, finally able to find Khairullah in Helmand.
"When my father, mother, brothers, and my wife heard that I was alive, they were overjoyed, as if a dead person had come back to life. When I returned home after treatment, people came to visit me whom I had never seen before," Khairullah says.
From that time on, some of Khairullah's friends and acquaintances gave him the nickname "The Resurrected Dead" and referred to him by that name. This was because they had dug a grave for him with their own hands, believing him to be deceased, and yet he had emerged alive.
As if in a queue, the clock strikes noon, signifying lunchtime. But instead of taking a break, Khairullah sits there with dry, chapped lips waiting for potential customers to buy his product.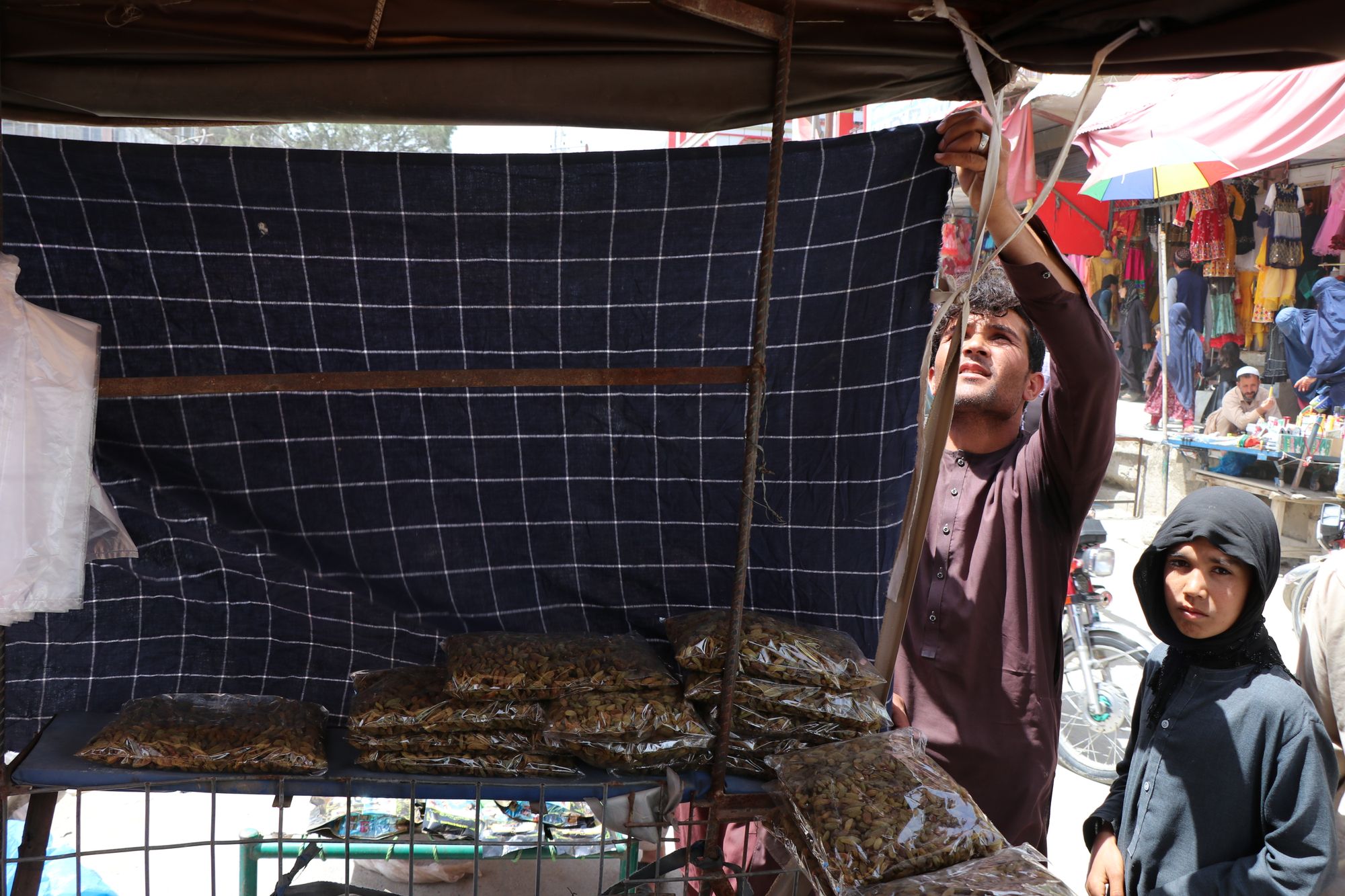 A man wearing a light green shalwar kameez with a checkered scarf around his neck stops by at this moment.
"Salam Alaikum," the man greets Khairullah.
"Walaikum Salam," Khairullah responds.
"How much is it?" the potential customer asks.
"280," Khairullah responds.
"How about 230?" the man asks.
"I can't do 230, I will do 260," Khairullah bargains.
"I can do 230," the man says, trying to keep the same price.
"We only profit 20 Afghanis at 260, I can only do 260," Khairullah responds.
"How about 250? Can you do 250 instead?" the man asks Khairullah, hoping to bring down the price for a kilogram of raisins 10 Afghanis lower.
"I will do 250, for only 10 Afghanis of profit, but not lower," Khairullah says.
The man hands him a clear plastic bag, and Khairullah puts it into another bag, while onlookers who have witnessed the exchange and the camera presence are growing in number around Khairullah's pushcart.
While the exchange is ongoing, a couple of pushcart owners near Khairullah start fighting each other, with one pushing the other. A pushcart falls to the ground, spilling all of its contents onto the pedestrian crossing as the punching and kicking continue.
Onlookers who were previously focused on the exchange between Khairullah and his customer just a moment ago now turn their heads the other way, paying attention to the fistfight happening a few meters away.
Khairullah bags the raisins without any notice and hands them to his customer, who then takes his wallet out and pays Khairullah.
Once the customer is gone, we return to discussing Khairullah's past. According to Khairullah, he used to receive 58,000 Afghanis every 6 months from the previous government for his disability, which stopped after the Taliban took over Afghanistan.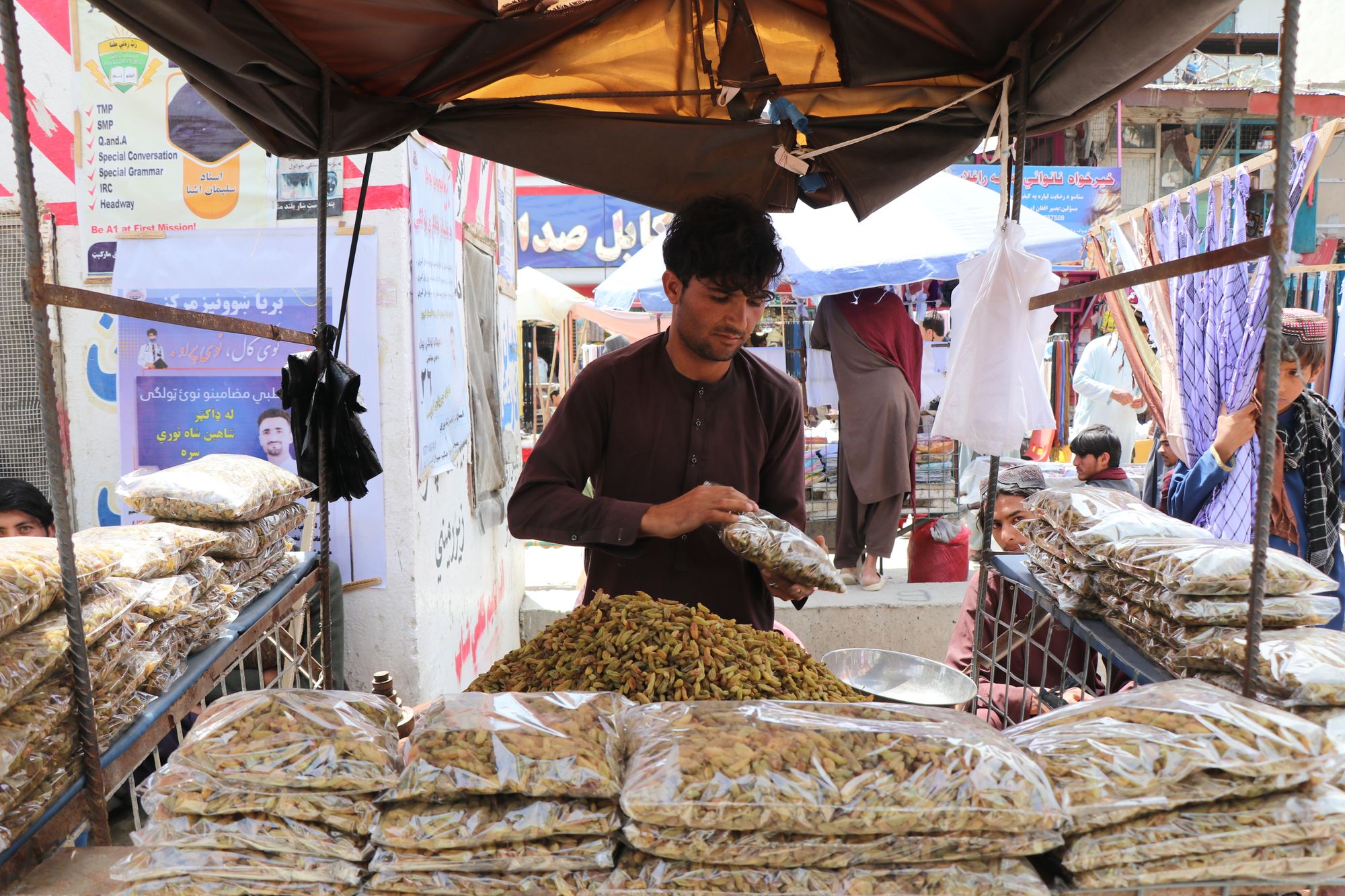 "Two months after the collapse of the regime, the World Food Programme supported me for six months. After that, the Red Cross Committee asked me to come to Kabul. For eight months, I learned how to repair mobile phones. At the same time, they provided me with a monthly stipend of 5,000 Afghanis ($65)," Khairullah says.
Informed about Khairullah's situation, the Red Cross committee summoned him to Kabul and provided him with an eight-month vocational training in mobile repair. This training took place before Khairullah began working at a stone factory or becoming a pushcart seller. The same training opportunity was also extended to his fellow colleagues, with the goal of enabling them to achieve self-reliance in the future. However, upon Khairullah's return to Khost after successfully completing the training, he found himself unable to capitalize on his newly acquired skill due to financial constraints and a lack of investment.
According to Khairullah, he tried to secure a job in both government and private institutions following the collapse, but no organization would accept him. He claims this was due to his disability. Left with no choice and job prospects, he started working at a stone-breaking factory.
Khairullah then purchased a pushcart with the help of a relative, with an agreement that a part of his profits would go to the lender. According to Khairullah, he sells up to 50 kilograms of raisins a day on average, for 250 Afghanis per kilogram. He earns between 5 to 20 Afghanis per kilogram, totaling around 300 Afghanis a day.
It's 1:30 in the afternoon, the warmest time of the day. Direct sunlight is not good for the raisins, as it affects their quality and color. So, Khairullah uses scarves tied around the pushcart to cast shade on the raisins and shield them from the sunlight.
Khairullah's primary concern is that he might be out of work at the end of the raisin season. Although raisins are used throughout the year, he can only sell them during the harvesting season. This is because he doesn't have the capital to buy raisins himself and works only because someone else helped him buy the pushcart and raisins.
During the time that the Taliban took power, Khairullah heard many reports of torture and mistreatment of former government security forces by the Taliban. However, he hasn't faced any issues himself. He believes the reason for this is his disability.
"With the establishment of the Emirate, I was afraid of what they might do to me, but it's good that they announced a general amnesty," Khairullah says.
Mr. Khairullah hopes to find a place near the city where he can settle, so his children can attend school. He believes that the quality and method of education in city schools are better compared to the surrounding areas, and teachers work hard for students. However, he doesn't think he can fulfill this wish in such dire economic circumstances.
His biggest hope in life is for his children to receive an education and become self-sufficient.
"I want someone to help me with my children's education. If I couldn't get an education, at least my children should. I would continue to study if I had the chance. My wish is to become an engineer or a doctor," Khairullah says.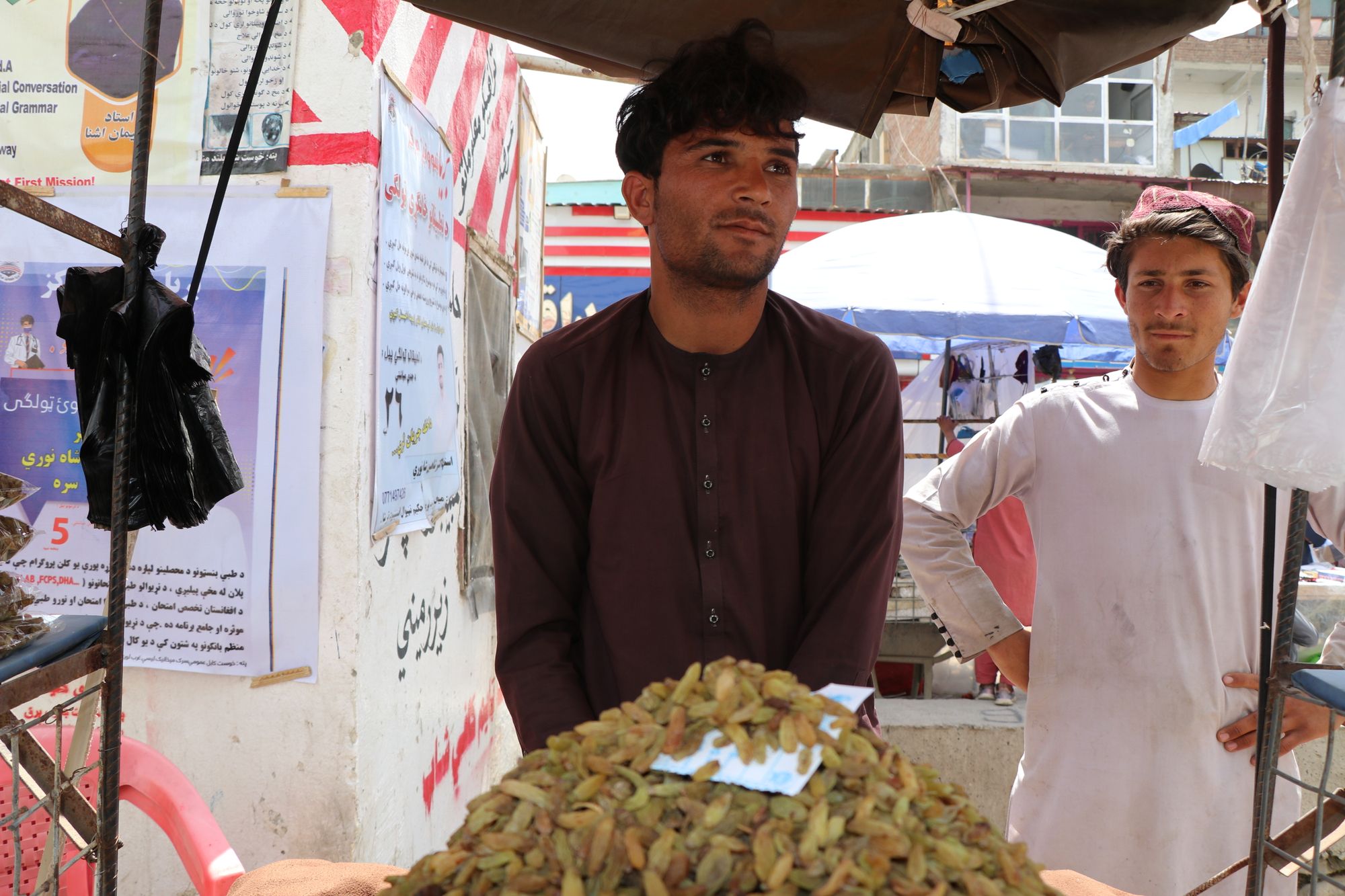 Despite society's need for various professions, students in Afghanistan, from elementary to high school, mostly dream of becoming doctors or engineers because these positions generate the highest revenue and offer the most stability.
Although Khairullah has many memories, both happy and sad, one of the funniest memories he has, which makes him laugh when recounting it, is "I was pouring tea for my commander but poured it into the candy dish instead of the cup. My worst memory is stepping on a mine."
Khairullah wishes to travel throughout Afghanistan if his financial situation improves. The explosion that took his leg has affected his mental well-being, and he needs relaxation. However, with Afghanistan's current economic crisis, it's unclear if Khairullah will ever be able to fulfill that wish.
For now, when he is tired, he finds solace and peace in listening to music by local singers and sometimes humming to himself. However, he does not mention a specific singer who might be his favorite.
Following the Taliban takeover, Khairullah visited the directorate for disability affairs several times and has a disability ID but has failed to receive any money from the agency so far.
On the other hand, Malawi Abdul Rahim Ehsan, the director of the disabled and handicapped in Khost, stated in an interview with Alive in Afghanistan, "We provide a monthly stipend to the disabled and the families of the fallen military personnel alongside the Emirate [fighters]. There is no difference between them [Taliban and previous government forces]."
However, he adds that they have removed some individuals from their lists who received allowances in the previous regime based on connections, not actual disabilities.