Disability Does not Stop Mama Aziz
65 year-old shoe cobbler Mama Aziz Sultani became paralyzed from waist down after an accident while digging a well in Afghanistan's western Herat province. Since then he has been taking care of his family by cobbling/polishing shoes.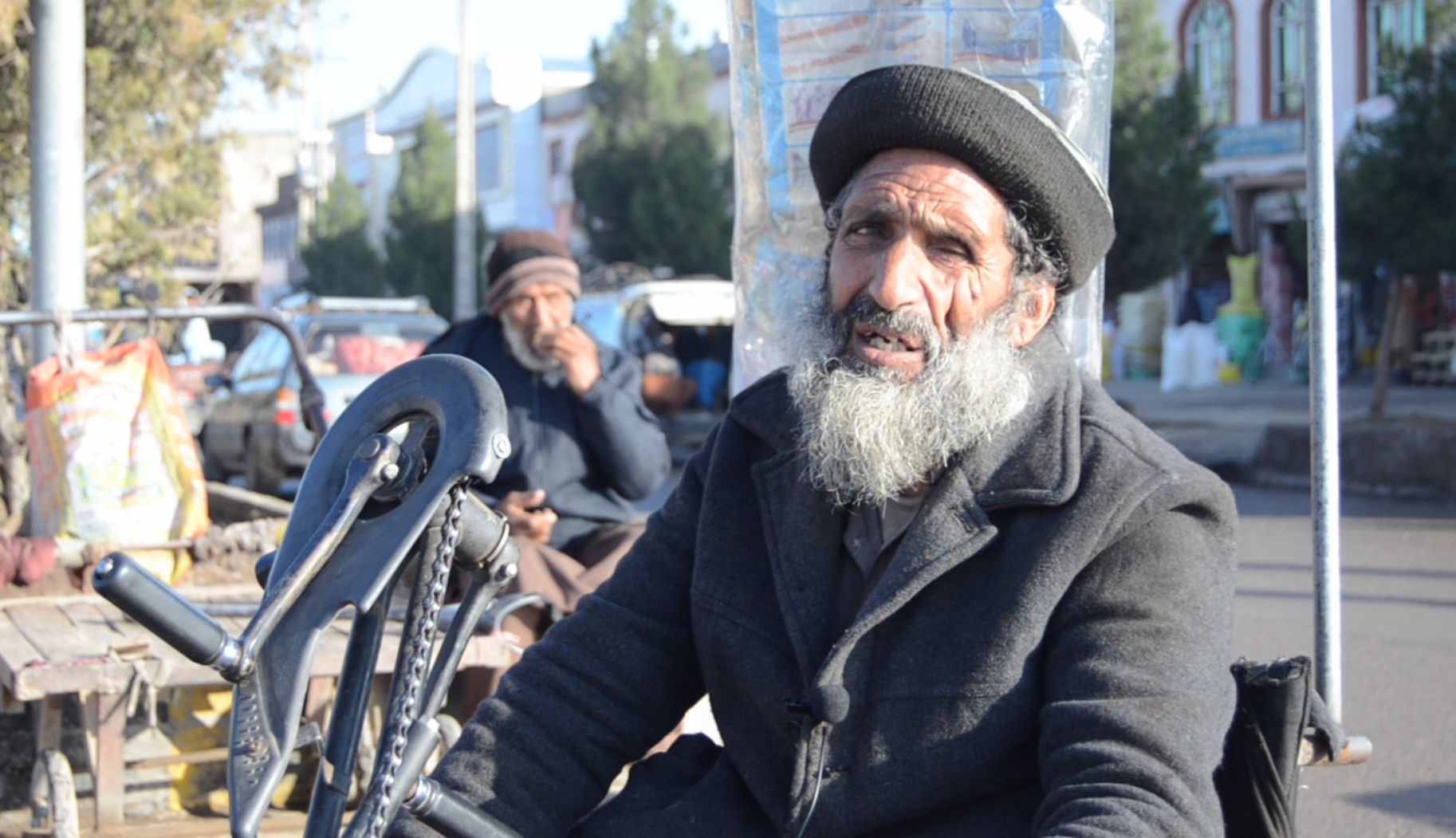 — One Day in Afghanistan —

Written by Abdul Karim Azim, edited by Mohammad J. Alizada and Brian J. Conley
65 year-old shoe cobbler Mama Aziz Sultani became paralyzed from waist down after an accident while digging a well in Afghanistan's western Herat province. Since then he has been taking care of his family by cobbling/polishing shoes, as well as selling phone credit to take care of his family as a sole breadwinner.
In 2013 Afghanistan's parliament passed the Law on Rights and Privileges of Persons with Disabilities. The law was intended to prohibit discrimination against persons with disabilities and ensure the state would promote inclusivity of persons with disabilities in all aspects of society. Today Abdul Karim Azim takes us to meet a disabled Afghan working against the odds to feed his family every day.

Eleven years ago a simple work accident in the Ab Sultan neighborhood of Herat changed Mama Aziz's life forever.

Mama Aziz Sultani had gone to work around 10 am as usual, digging a well by hand with only a pick and shovel and the assistance of a friend. His friend lifted the dirt out of the well using a rubber bucket attached to a rope, bringing the dirt to the surface by means of a hand crank above the well.

Aziz filled the bucket and signaled his colleague to pull. He returned to digging when suddenly he felt a sharp pain in his back and fell to the ground.

He woke up in the hospital days later.

By accident the bucket had slipped and hit Aziz in the back, knocking him unconscious. As a result of the accident Mama Aziz lost his left eye and became paralyzed from the waist down.

Since then, Mama Aziz has been forced to use a colostomy bag to defecate. Aziz uses a wheelchair, is a shoe cobbler in Herat and sells phone credit to people on the side, in order to feed his family.
About 1.5 million people of Afghanistan's estimated 33 million population have some kind of physical disability, according to a national survey in 2015, International Committee of the Red Cross said in a statement in 2019.

According to statistics Alive in Afghanistan obtained from an organization providing services to the disabled, a total of 1,447 persons with disabilities are registered in Herat province, but the number could be much higher as the services the organization provides are very limited.

I arrive at Aziz's house around 8:30 in the morning and knock on the door. His youngest son Omid opens the door and invites me inside. The house belongs to his brother-in-law, who has given Mama Aziz two rooms to reside in without requiring him to pay  rent. Aziz's brother-in-law is a driver who travels a lot.

When I enter the room Mama Aziz is sitting with a homemade blanket around his legs eating a breakfast that includes a glass of green tea with a piece of bread.

65 year-old Mama Aziz is married to 50 year-old Shirin Gul. The couple married some 35 years ago. They have four children, including two girls, 21 year-old Saleha, 17 year-old Sara, and two boys, 12 year-old Farhad and 9 year-old Omid.

Farhad goes to school half the day and works at a mechanic shop the rest of the day and Omid goes to the neighborhood mosque for religious studies.

After finishing his tea, Mama Aziz prepares to leave for work. His family members help him get into the wheelchair and he pedals out of the house with the yellow gate, his routine every morning.
I am poor, alone and homeless
I have nothing, no heart and I am destitute
Mama Aziz sings. We talk about his life some more.

"I gave my eldest daughter away about two years ago, engaged her to her cousin but found out during their engagement that he is a drug addict, I separated them and now she is home," Mama Aziz tells Alive in Afghanistan about Saleha, his eldest daughter.

He says he will give his daughter away if he finds a good family, "The dowry is not important, the most important thing is finding a person my daughter can live with."
ترا سرو چنین آباد باد است
مرا خاک چنین افتاد تاد است
نصیب هر کسی را روز اول
مهیا کرد و آنرا داد و داد است
You are given this green cedar
I am given this barren ground
Everyone's luck/fortune is determined on the first day
It's given and prepared

Mama Aziz starts heading to his workplace, which takes about half an hour of peddling every day.

It's now 10 am and Mama has only polished one pair of shoes. Mama Aziz earns about 30 to 70 Afghanis per day from polishing shoes and selling phone credit, which he says is not enough to take care of his family.

Mama Aziz took a loan of 50,000 Afghanis from the Red Cross about three years ago. The loan is 3,000 per month of payment in the first year, bumped to 3,500 in the second year and 5,000 in the third. He is still paying what he can into the loan he took out.

Mama Aziz has battled a lot of challenges throughout his life, including poverty, unemployment and many other issues.
Since the collapse of Afghanistan's western-backed government in mid-August last year, the value of the Afghani has dropped significantly against the dollar. As of Thursday this week, 93 Afghanis were exchanged for one dollar. Just before the collapse, the Afghani was exchanged 75 against the dollar.

However, this is an improvement since the fall of the previous government, the  rate fell as low as 107 Afghanis against the dollar just a couple of months ago.

It's now 10:30 am and a man with a white Corolla stops in front of Aziz, pulls down his window and hands him two pieces of bread. Mama Aziz has only earned 30 Afghanis so far.

A middle-aged man stops by Aziz asking for phone credit, he buys a couple of scratch cards and dials it into his phone.

Scratch cards are used in Afghanistan to purchase credit for prepaid phones.

"How much have you earned?" the man asks.

"30 Afghanis," Mama Aziz tells the curious man. The man takes 10 Afghanis out of his pocket and hands them over to Aziz.

The man gets into his car and leaves. Mama Aziz meanwhile tells me that he has received no assistance from any organizations providing services to the disabled.
I return to Mama Aziz's station about 1:30 following lunch. So far he has sold 6 scratch cards and has earned 30 Afghanis from shining shoes.

"I profit 15 Afghanis from selling a 250 Afghani scratch card, 3 Afghanis from a 50 Afghani card and sell between 5 to 7 scratch cards every day," Mama Aziz says.

He tells me more about his life, "Although I love my wife, I am afraid of her."

The story of every married man on the planet.

Although Mama Aziz jokes about that, he says is afraid because his wife is much younger than him, he is also disabled and she might choose to leave him for someone better.

The couple have been together for three and a half decades now.

Mama Aziz does not have a designated spot he works from but spends most of his time on 29th street, Tile Merchants' Blvd and a spot in front of Fazli Market in Herat's 5th district.

Mama is very pleased with the kindness of the shopkeepers in his places of business.
"The shopkeepers buy me 5 pieces of bread on days I don't earn an income so I don't return home empty handed," Aziz says.

It's now 2:30 in the afternoon, another customer who needs to repair his shoes comes to Mama Aziz and pays 30 Afghanis for the repair.

Aziz gets busy repairing the customer's shoes by stitching the torn pieces together. When finished, he shines the shoe and hands it back to the customer.

By 4 o'clock a person with a black vehicle stops by, hands Aziz a bag with some meat inside and leaves. Mama Aziz seems very happy, and he thanks god for his good fortune.

"God is great, I think it's time to wrap up and go home," Mama Aziz says as he prepares to leave. The man has earned 60 Afghanis today.

"It's colder today so I am leaving for home earlier than usual."