Desperate Afghans Sell Belongings to Survive Hunger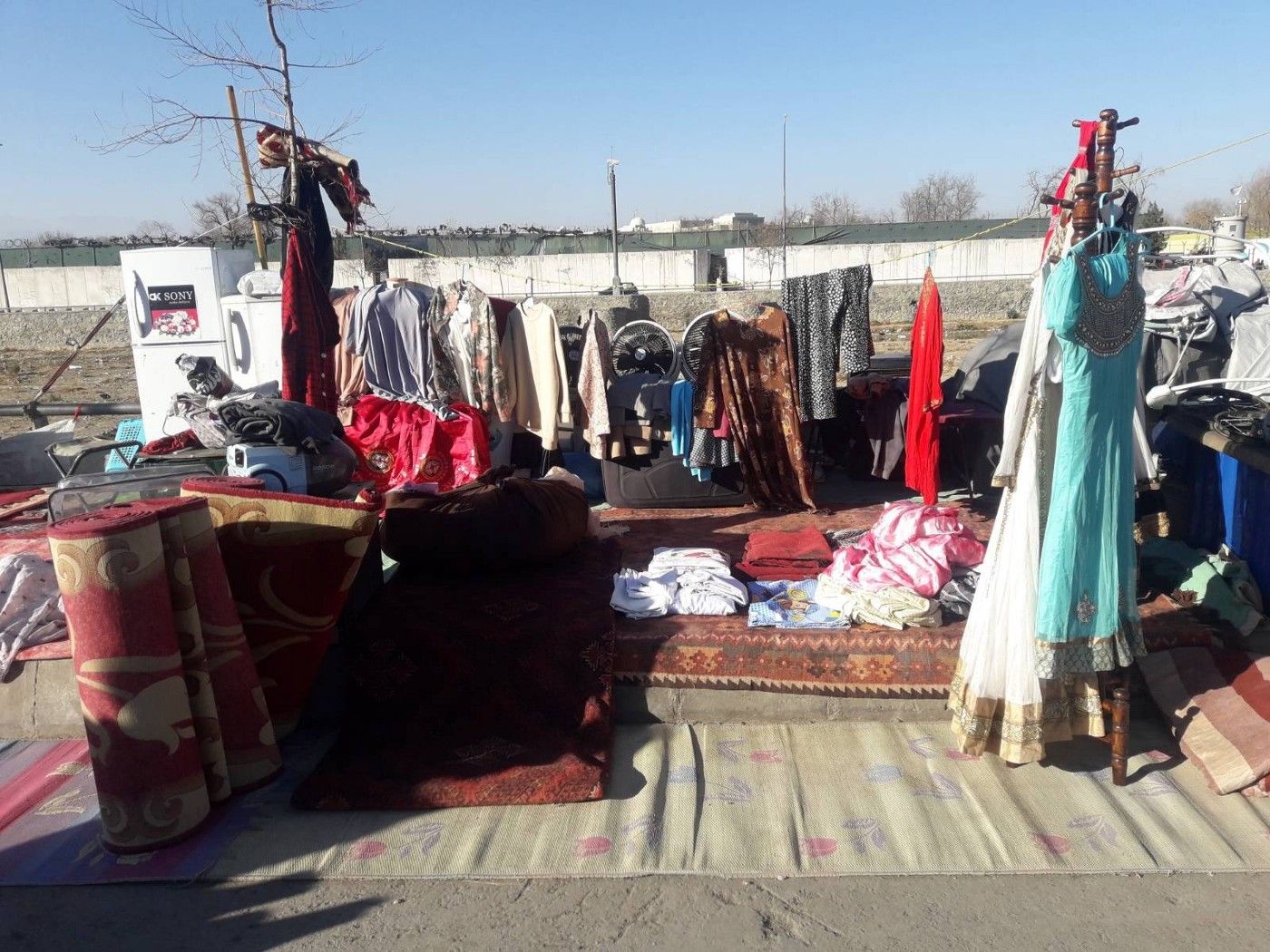 Written by Abdul Ahad Poya, edited by Mohammad J. Alizada and Brian J. Conley
"I saved up money for years to buy and complete home appliances and necessities but after Ashraf Ghani fled and Kabul fell, I had no choice but to sell most of my valuable belongings out of fear that my kids will starve, belongings that I had purchased with great happiness," Maryam Sulaimani tells Alive in Afghanistan.
Ms. Sulaimani came to the used appliances market here in Afghanistan's capital Kabul to buy a tea thermos. Holding tight to her 11 year-old son's hand, she searched through all of eastern Makroryan's pedestrian walkways to find a thermos she can afford. 46 year-old Maryam has a family of nine whose income dried up after her husband and her eldest son lost their jobs some four months ago.
Ms. Sulaimani says, "Just a month after the collapse of Kabul we had spent all of our savings. Not long after that the economic crisis engulfed our family and we had to sell a fridge that cost us 25,000 Afghanis (around $330 at the time of purchase), for 10,000 (around $100).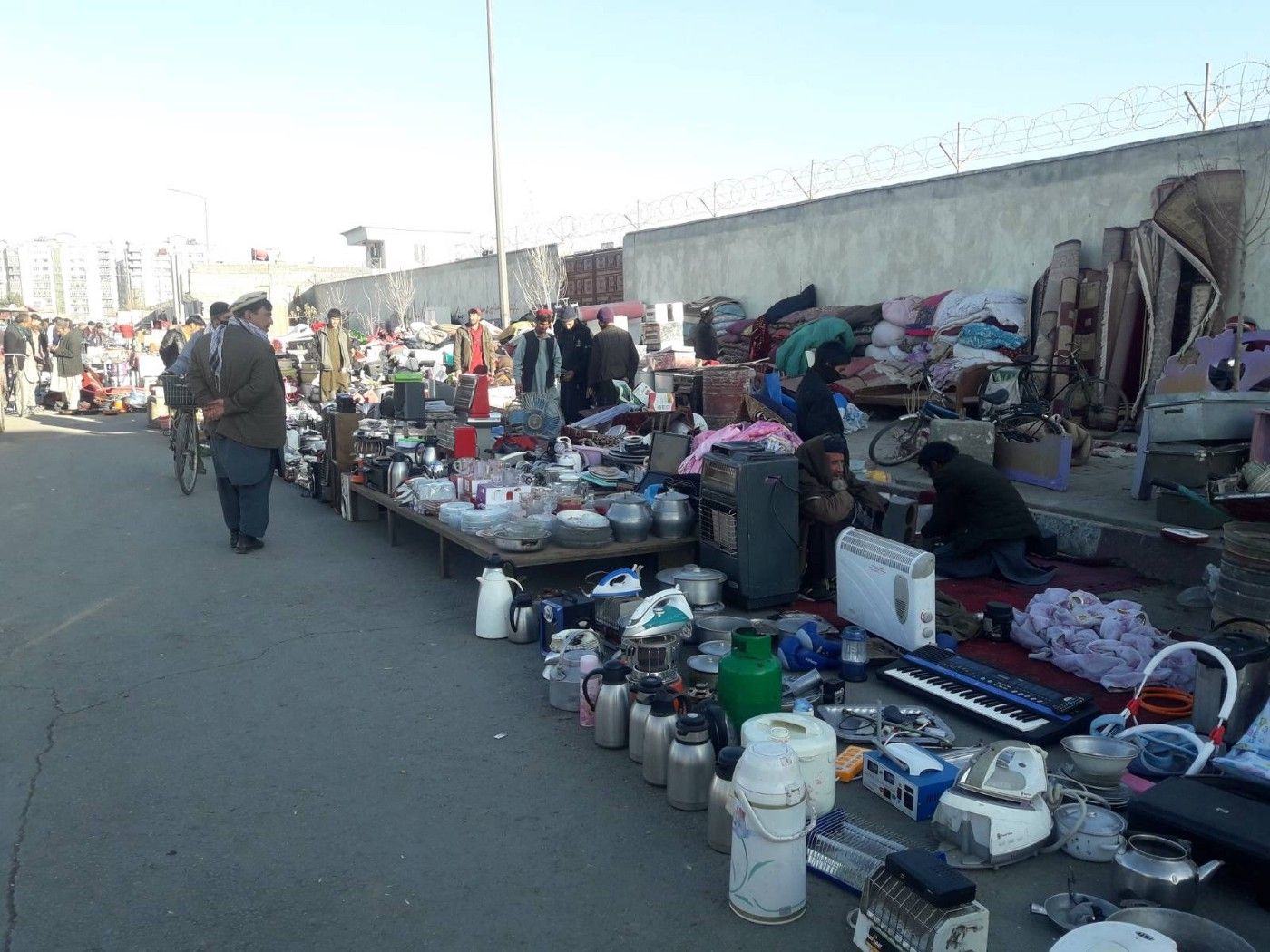 Since the collapse, the value of the Afghani has dropped significantly against the dollar. As of Tuesday this week, 104 Afghanis was exchanged against the dollar, the lowest since the American intervention. Just before the collapse, the Afghani was exchanged 75 against the dollar.
Likewise, she sold an 18,000 Afghanis ($240 at the time of purchase) carpet for 6,000 (about $60 now) and a washing machine that cost 15,000 Afghani ($200 at the time of purchase) for 5,000 (around $50 now). Selling her belongings is a painful experience for Maryam which she suffers due to the situation she and many Afghan families find themselves in.
With the winter approaching and the lack of equipment at home, she buys a curtain, a mat and a thermos for 700 Afghanis ($7). Maryam's husband was a taxi driver and her son a metalworker before the Taliban takeover of Afghanistan mid-August this year. According to her, some of her close relatives have also had to sell their belongings and migrate to Pakistan and a number of them are living on scraps.
Around 2 pm a 25 year-old man opens the door to his car and takes out a 32-inch TV and starts bargaining with the buyer. His name is Maiwand Afghan and he is selling his TV due to the economic crisis that is gripping his family and the entire country. He looks like someone who has taken a decision to sell the only TV in his home due to the immense mental pressure as a result of the economic turndown. He doesn't want to talk about his family or his living situation but says, "I have to sell the TV I bought for 8,500 Afghanis (around $113 at the time of purchase), for 3,000 ($30)."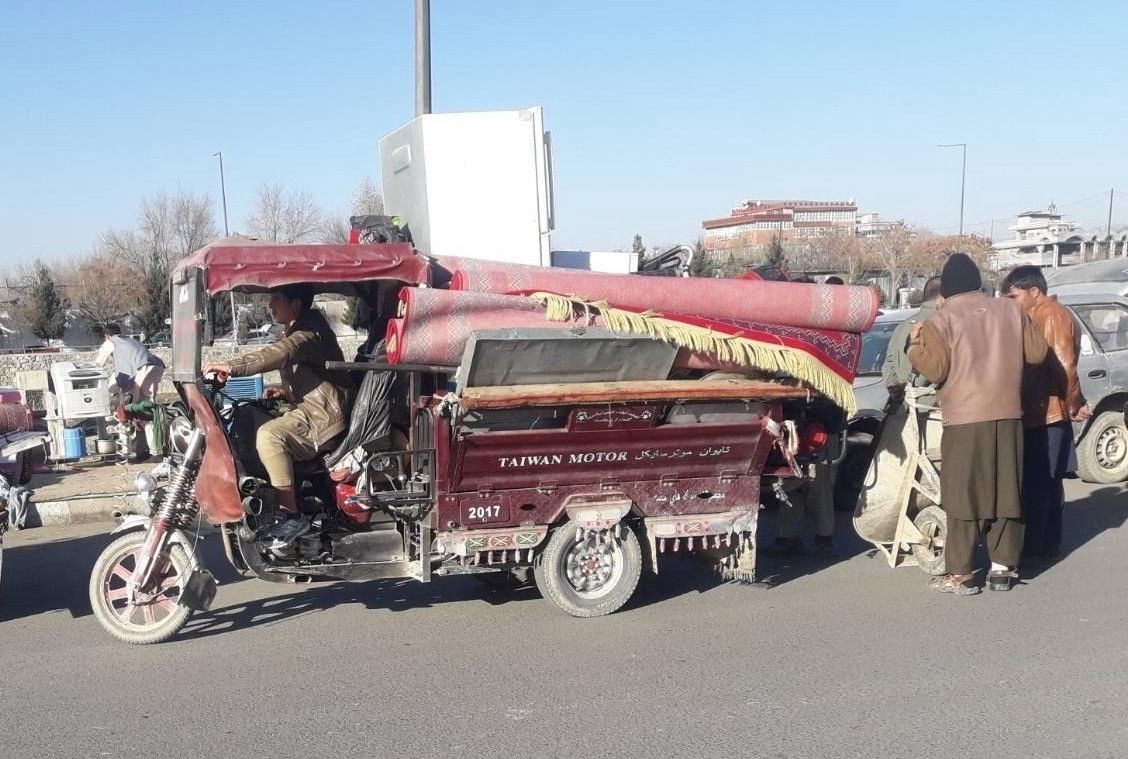 Shah Jahan is a 56 year-old woman who has also come to the market to buy a thermos, a place where Sefatullah Nabizada, a merchant selling belongings, including his own, has taken over half of the pedestrian walkway to showcase the items he has to sell. Shah Jahan's husband was a driver who can no longer work due to his age and her son, currently the only breadwinner of the house, now drives his father's route from Kabul to Baghlan. Shah Jahan says her son's income has decreased in the current situation.
"I have seven mouths to feed at home and no other source of revenue," Shah Jahan says. The car her son drives is someone else's. He also had an accident recently and still owes money for the repairs. Sang dar pay lang — A rock to the crippled's foot, is a phrase in Afghanistan used for those who are in a difficult situation made worse only by the circumstances that surround them. According to Ms. Shah Jahan, their living situation has gotten worse since the Taliban takeover. As money has dried up, they now have to buy second hand household items because they cannot afford new ones. She is bargaining to buy the thermos for 250 ($2.5) but the shopkeeper won't sell it for less than 300 ($3). Afraid she may need the money elsewhere, Ms. Jahan walks away but later returns and buys the thermos.
This Kabul resident also speaks of her relatives who have sold their household items due to poverty in order to be able to feed their families. Although two of her family members were working in the former government, they have been unemployed since the Taliban takeover.
30 year-old Sefatullah Nabizada is a merchant who has taken over half of the walkway in front of his own home to sell his own household items as well as those he has bought from other customers. Mr. Nabizada is a former English teacher at a formidable English language center in Kabul that has now been closed due to disinterest by students following the takeover.
Sefatuallh is the breadwinner for a family of five, including his father, mother, wife and a newborn baby. He started this business by selling his own belongings for income.
"I didn't have any other choice," Mr. Nabizada tells Alive in Afghanistan. Sefatullah profits about 200 to 300 Afghanis ($2 to $3) per day, which is hardly enough to feed his family.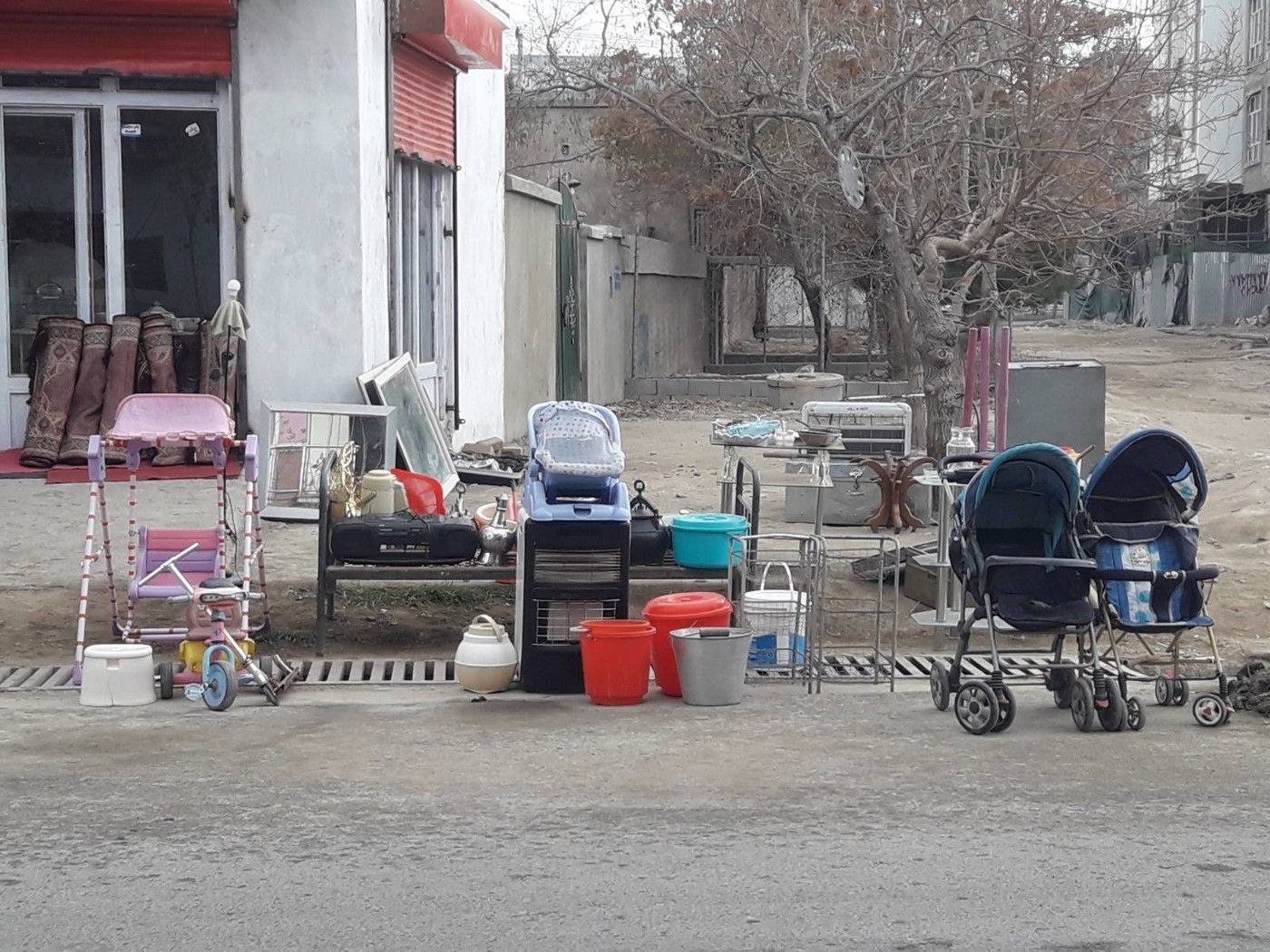 Mr. Nabizada visits the homes of Kabul residents to buy their belongings. He tells the story of an elderly couple who have lost hope since the Taliban takeover and have been left alone with no breadwinner. The couple gave their only daughter in marriage hoping their new son-in-law would support the couple, but their daughter and son-in-law fled Afghanistan during the evacuation, leaving the elderly couple to fend for themselves. Sefatullah says the couple sold their belongings because that was the only way they could maybe earn enough to feed themselves for a month.
In another Kabul neighborhood, a flatbed truck full of office material stops in front of a second-hand store and starts emptying tables, computers, chairs and other office material. The seller who wishes to remain anonymous says he owned a Tourism Agency that went bankrupt after the Kabul airport shut down following the collapse.
This middle-aged man put all his office equipment on sale and laid off all four of his employees. He is very concerned about his family's future and does not know what he will do next. "I don't earn enough to even pay the rent."