Despair, Like Prices, on the Rise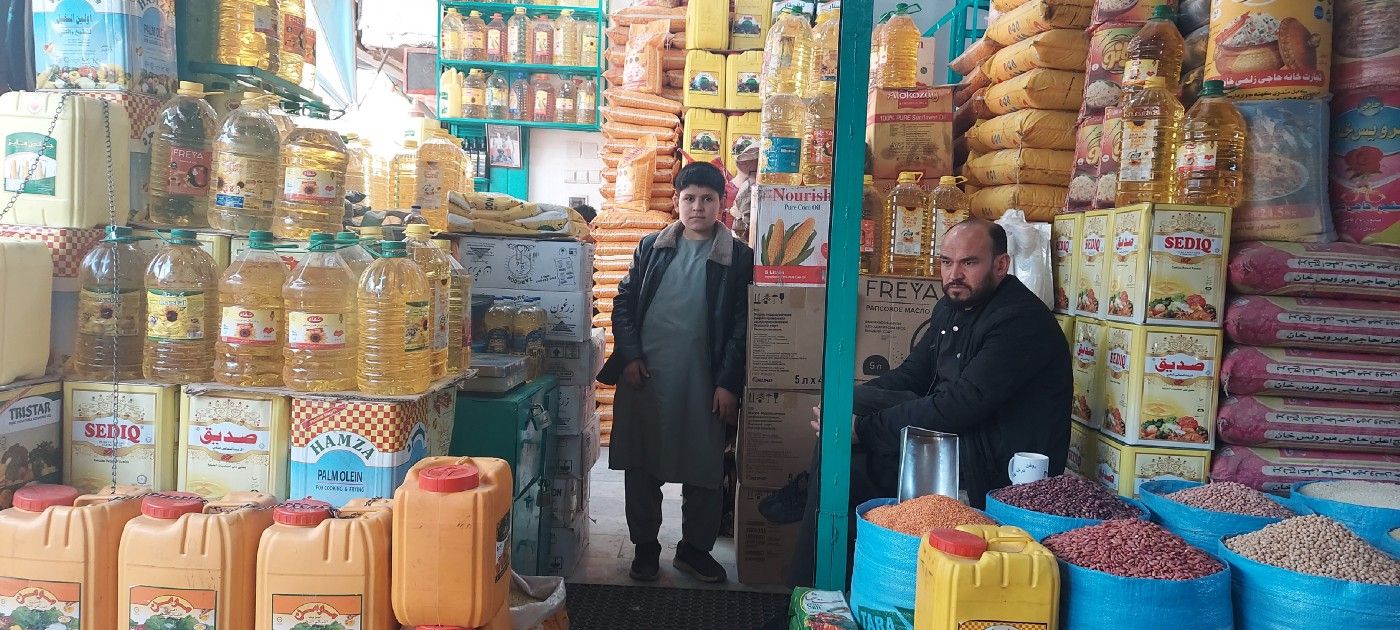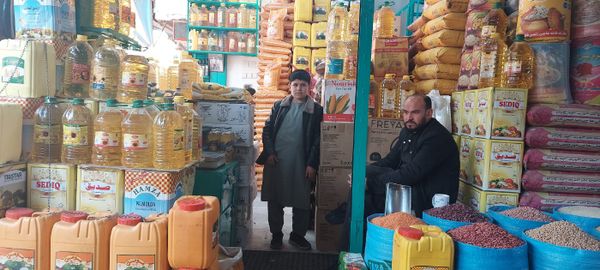 Written by Mohammad J. Alizada, edited by Brian J. Conley
AFGHANISTAN — Tears form in the eyes of an old, frail woman as she walks away in silence after being asked about her life and how she manages it. Ozra Wahidi, the woman selling plastic bags for 10 Afghanis ($0.11) a piece in Kabul city's main market for daily goods to make a living, was a tailor before the collapse of Afghanistan's western-backed government in mid-August this year.
"I had to close the shop due to lack of customers," Ozra, an elderly woman who can barely stand, tells Alive in Afghanistan while awaiting customers in the busy market. She buys 20 bags for 140 Afghanis ($1.49) and makes a profit of 60 Afghanis ($0.64) each day. At 3 pm, she still has 7 plastic bags remaining to be sold.
Ozra now has to feed a family of seven, her husband and daughters, with the money she earns. Ms. Wahidi's husband has been unemployed since the Taliban took over and her daughters cannot do manual labor due to the restrictive customs and traditions against working women, as well as the Taliban rule, which bars women from working in public places.
Sanctions against the Taliban, as well as the freezing of Afghan government assets by western countries, mainly the United States, have fueled a growing humanitarian catastrophe that is getting worse with each passing day.
"I must return home empty handed, I cannot afford this," 46 year-old Shabnam Niazi, who has come to the market to buy a container of cooking oil says. Ms. Niazi's husband, who used to work at a private firm, has been unemployed since the Taliban takeover and none of the family of seven have any income at the moment.
Since the takeover, most working women in the public sector have been unemployed and have had to stay home and await an uncertain future. Prices of goods, including cooking oil, flour, rice, and other household items have doubled since August. Shopkeepers and patrons alike say the spike is due to the sharp decrease of the Afghani against the dollar, the increase in customs' taxes, border closures, and price gouging, among other things.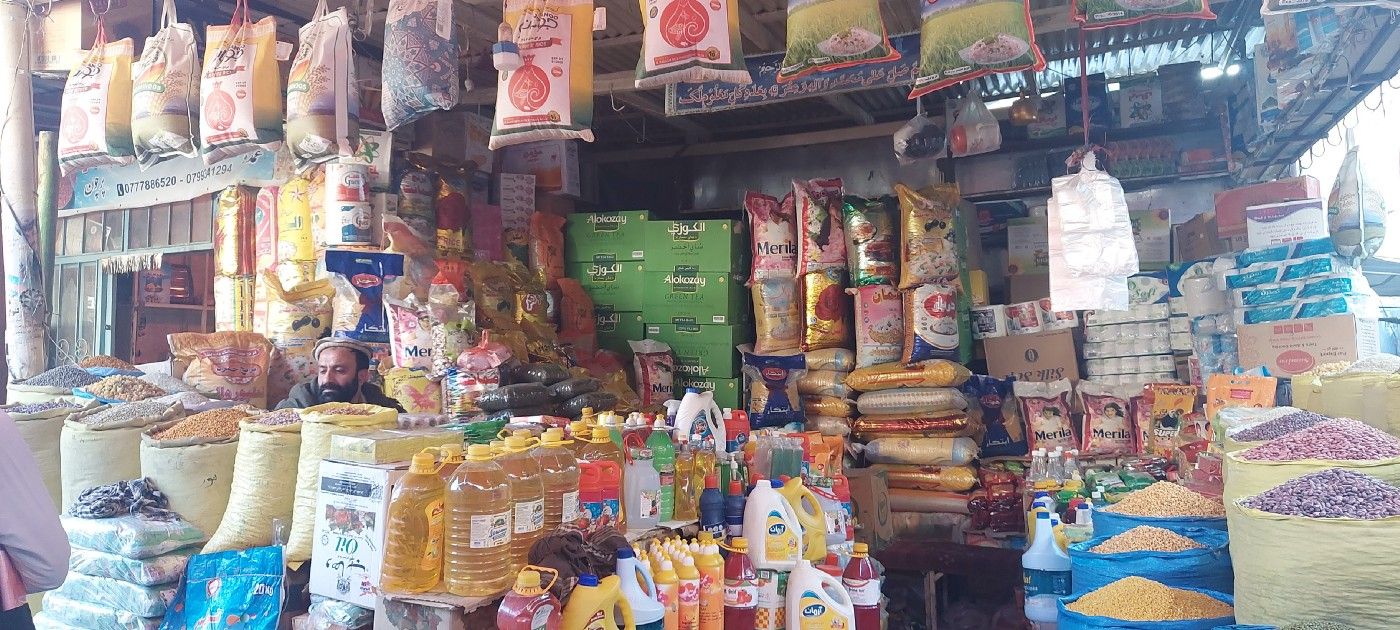 A 16 liter container of cooking oil that used to sell for 1200 Afghanis ($12.74) now sells for 2600 ($27.60), more than double the price, a bag of rice that cost between 1,900 to 2,000 Afghanis ($20 to $21) now sells for 2,450 ($26), and flour has increased from 1,700 ($18) to 2,250 ($24).
Haji Shams, one of the shopkeepers in the Kabul market, is concerned about the status of trade and says one of the reasons behind the price hikes is also the global spike in fuel prices.
Afghanistan is a landlocked country with no trains and the only way to get goods into and out of the country are by roads, but the border crossings have been blocked by neighboring countries on a regular basis since the collapse.
Another shopkeeper, Zohurrudin Naseri, says prices of goods have seen an upward spike while the number of customers has decreased sharply.
"We have to sell some of the items below the purchased price," Zohurrudin said.
According to Zohurrudin, "People who used to buy a sack of flour, only buy it by the kilo now."
Shopkeepers agree that customers buy many fewer items now as unemployment increases.
"I can barely earn enough to pay for the fuel for my car most days," Mohammad Yosof Ahmadzai, a Kabul taxi driver who has come to the market, tells Alive in Afghanistan. The best day for Yosof now is one where he earns as much as he spends.
Yosof says he doesn't have any choice but to go on as he has eight mouths to feed. Yosof's customer base has decreased 80 percent, according to him.
"I have no hope for this country," Yosof said.
The situation seems the same in western province of Herat where shopkeepers and customers alike are highly concerned.
Khair Mohammad, a resident of Herat, the capital city of the province of Herat, says although people are unemployed and do not have enough to eat, it doesn't seem like anyone in power cares about their plight.
Abdul Azim, a shopkeeper in Herat city, says prices have been increasing since the day the Taliban took over but 100 days since the militant group took control, there seems to be no pause in the increase of prices.
Another shopkeeper, Ali Ahmad Omari, also blames other businessmen for price gouging and says some store owners see the price hikes as an opportunity to sell for a higher amount, which only adds to the problem.
The issue seems universal in Afghanistan as residents in both northern Jawzjan and Balkh and eastern Nangarhar, and southeastern Paktia provinces confirmed that price hikes have persisted despite the rise in severe poverty following the Taliban takeover.
One thing common among all Afghans interviewed for this piece was the sense of hopelessness for a future. Afghanistan relied on aid for seventy-five percent of the government budget, even before the collapse. Once the western-backed government collapsed the international community turned off the tap of international aid and currently only a trickle of funds flow into Afghanistan from a very small number of countries, not nearly enough to cover the need.
The United Nations Development Programme (UNDP) said as much as 97 percent of the population is at risk of sinking below the poverty line by mid 2022 unless a response to the country's political and economic crisis is urgently launched.
With reporting by Abdul Ahad Poya, Mirzahussain Sadid in Kabul and Abdul Karim Azim in Herat