Contrary to Tradition, This Rancher is a Woman
Karima is a hardworking Afghan woman who has spent most of her childhood and adult life tending to livestock. But she has made a business out of that skill now and takes care of her family through that.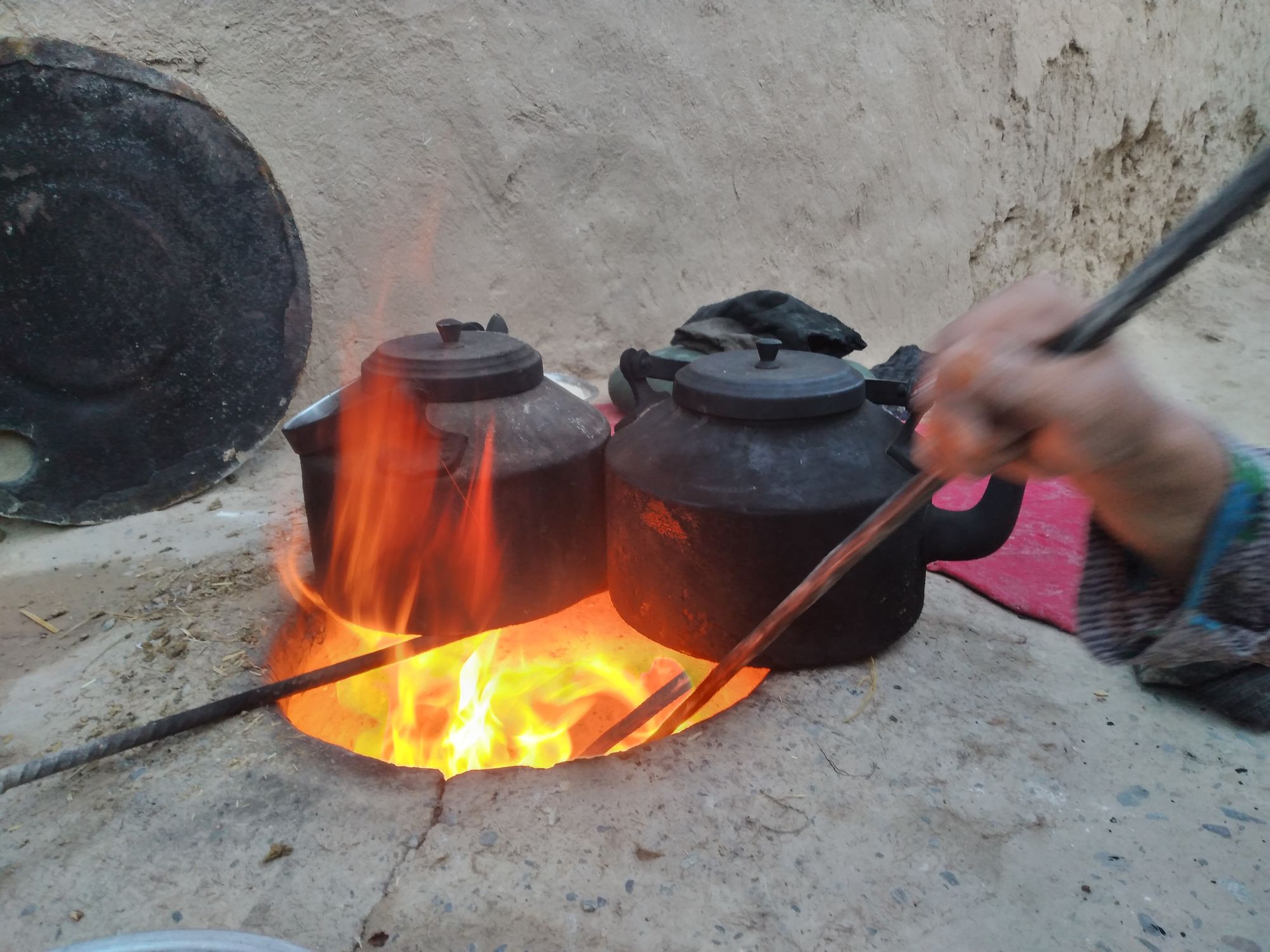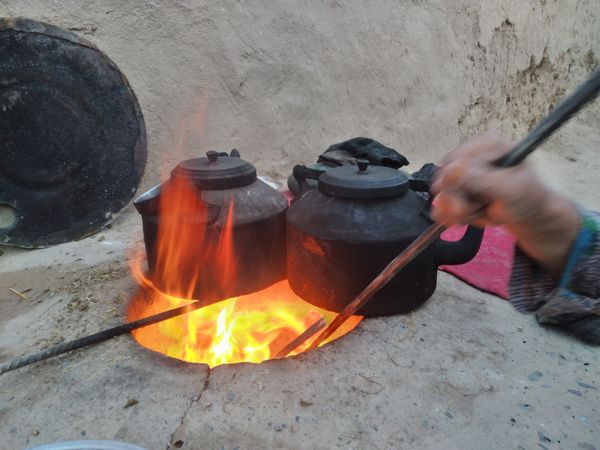 Written by Sima Yoldoz
TAKHAR, AFGHANISTAN — "The worst days of my life were when I was pregnant at the age of 15 and despite dozens of episodes of pain and challenges, there was no culture of going to the doctor. In fact, my new family considered it a shame to take a newlywed to the doctor."
This is part of Mrs. Karima's sad story, who instead of going to school, was busy tending to livestock even as a child.
Growing up as a girl in remote parts of Afghanistan has historically been difficult and it is no different today. Girls traditionally do not have the right to decide many topics related to their own lives, have limited financial resources available to them and are denied participation in any sort of public life.
In addition to this, in most provinces girls above 6th grade have been barred from going to school following the Taliban victory in August of 2021 Despite all this, there are still women and girls who do not give up and fight bravely with few resources to overcome life's challenges.
In today's One Day in Afghanistan episode, Alive in Afghanistan's Sima Yoldoz documents one day in the life of Karima, a 39 year-old woman living on the outskirts of Taleqan city, the capital of northeastern Afghanistan's Takhar province. Since she was little Karima has been responsible for taking care of the livestock and household chores.
I leave the city of Taleqan at eight in the morning to head towards Karima's house in "Bulak WartaBuz" village, located some three kilometers away from the city. My rickshaw gets me there, although wobbling from one side to the other while navigating the dirt road leading to her place.
Karima is busy sweeping her yard when I arrive as I am welcomed by animal sounds all around me. Karima's daughters are groggy like they have just woken up. I am invited to sit on a plastic carpet on the terrace and we start talking about her life.
"I used to take our cows, sheep and goats grazing until I turned 10, after that I was not allowed to leave the house because of customs and tradition," Ms. Karima tells Alive in Afghanistan.
Karima was engaged to Abdul Marouf when she was 14 years old, "I was never asked for my consent."
Her story gets more painful after marriage. As the first woman to marry into a family of 17 Karima had her work cut out for her. She became responsible for cooking, cleaning and washing the clothes for all her husband's family members at that young age. This continued for six years.
Karima "got lucky" after six years when her husband left his extended family and bought a house. This after Karima has given birth to her first child and is pregnant with her second.
Since then, Karima has given birth to nine children – five girls and four boys. Her husband Marouf works as a day laborer but is only sometimes able to work. If he is able to find work, he earns between 350 to 400 Afghanis ($3.96 to $4.52) per day.
The couple's only source of income is raising livestock. Years ago, after separating from her husband's family, Karima sold the inherited land she got from her dad for 180,000 Afghanis ($2,034 currently) and bought 10 cows and 30 goats and sheep.
Contrary to more traditional families, Karima runs the livestock business herself. She has employed a man to take care of, guard and graze her livestock and pays him 20,000 Afghanis ($222) a year for his work.
Karima's eldest son Sebgatullah migrated to Iran around two years ago for work due to lack of employment. Only three of her children go to school, the rest have not been able to enroll due to economic constraints.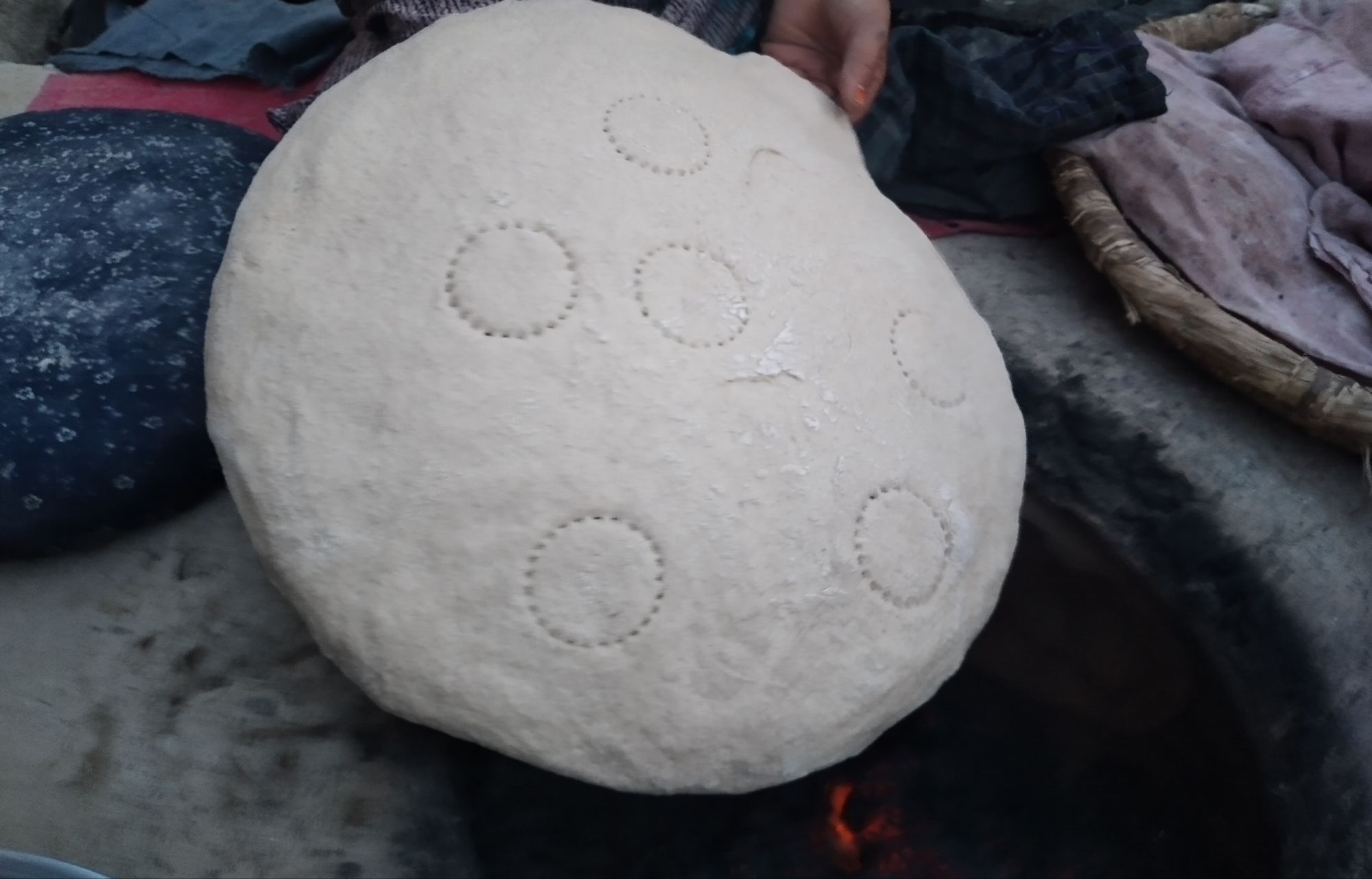 Karima's routine is to wake up at 5 am and collect fodder for their cows with her son Naimatullah until he is ready to go to school. Karima usually cleans the barn and milks the animals from 6 to 8 am.  
"I milk the cows three times a day (morning, lunch and evening)," Karima says. Only four of Karima's cows produce milk, two others are pregnant and are expected to give birth within the next few weeks.
Karims sells between 8 to 10 liters of milk to a local shopkeeper every day with a price tag of 30 Afghanis ($0.34) per liter, the shopkeeper sells each liter for 50 Afghanis ($0.56). Together all of this work earns Karima around 6,500 Afghanis ($73) per month, of which around 4,000 Afghanis ($44.95) are household expenses and the remaining is used to purchase grass for the livestock.  
After cleaning the barn, milking the cows and eating breakfast, Mrs. Karima collects fodder again. She leaves the basic household chores to her daughters Samira and Sahar and during the day she does cooking, laundry and the other heavy tasks herself.
"I provide my family's living expenses, and pay for stationery and clothes for my children from this source," Karima tells me.
It is now 9 in the morning and doing the laundry is included in Karima's schedule today.
"We wash the clothes by hand. I would prefer a washing machine, but we cannot afford to buy one yet," Karima says as she gathers a bunch of clothes and walks outside. She puts the clothes down near a tub of water to wash them.
Karima starts putting the clothes into the tub, pours water and rubs soap on them, then washes the clothes one by one. After draining their water, she rinses them with clean water. Samira and Sahar both help in hanging them on the clothesline in the yard to dry in the sunlight. The laundry takes three hours in total. While washing the clothes, Sahar brings us green tea with chocolate saying, "Drink up, it will get rid of your exhaustion."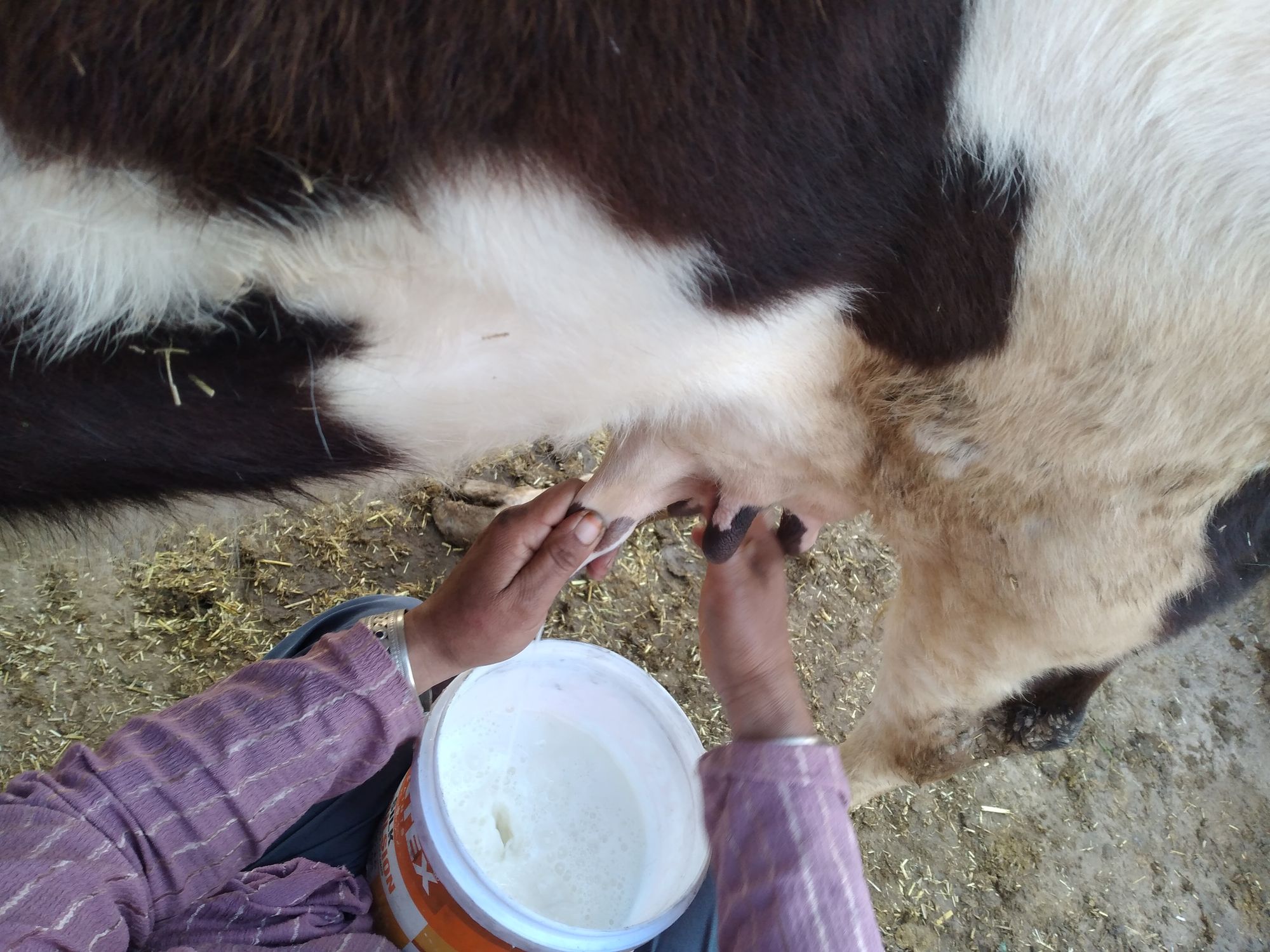 It's now 12 pm, after finishing the laundry, Karima goes to the stable again to milk the cows. She again provides some fodder before she milks them. It takes around 45 minutes for her to finish milking the cows. The result is two full buckets of fresh milk containing about five liters in each. Karima takes the milk inside her home, removes her work clothes and prepares for lunch.
Lunch includes freshly baked bread and yogurt. We all eat together. During lunch, Karima asks Sahar and Samira, "How long shall I cook for you? You must learn how to cook so we don't serve yogurt and bread to our guests!"
Karima is clearly irritated with her girls. She has worked all morning and her daughters didn't prepare anything for lunch. Afghans are traditionally expected to provide the best meal they can with guests present.
Afghanistan and its people are notorious for their hospitality. After lunch, Karima takes a break for an hour, during which we pray. Afterwards she kneads some dough to bake bread for tonight and the next day.
While kneading the dough, Karima orders Sahar to wash the dishes. Samira and Sahar usually take turns sweeping the rooms and washing the dishes. During the day Sahar is tasked with washing the dishes and sweeping, while Samira takes that responsibility in the evenings.
The dough is ready to be baked around 3 in the afternoon. Karima takes the dough to the tandoor oven, located in one corner of the house. She first heats the tandoor with dry wood, then chooses a place for herself around the tandoor, and rolls up her sleeves to start baking the bread.
Tolerating the tandoor's heat requires patience and experience. Over the years it has become normal for Karima, just like millions of other Afghan women whose daily routine is dictated by the need to bake bread in their homes. She first makes balls of the dough, then flattens them over a sheet, puts them onto a tandoor cushion or bread pad and sticks them inside the tandoor.
Sweat is pouring from her head and face while she bakes. "My life is very difficult. I wish to live a more comfortable life one day and be away from all this suffering and difficulty so that I can breathe easily. But it doesn't seem like life's challenges will ever leave us."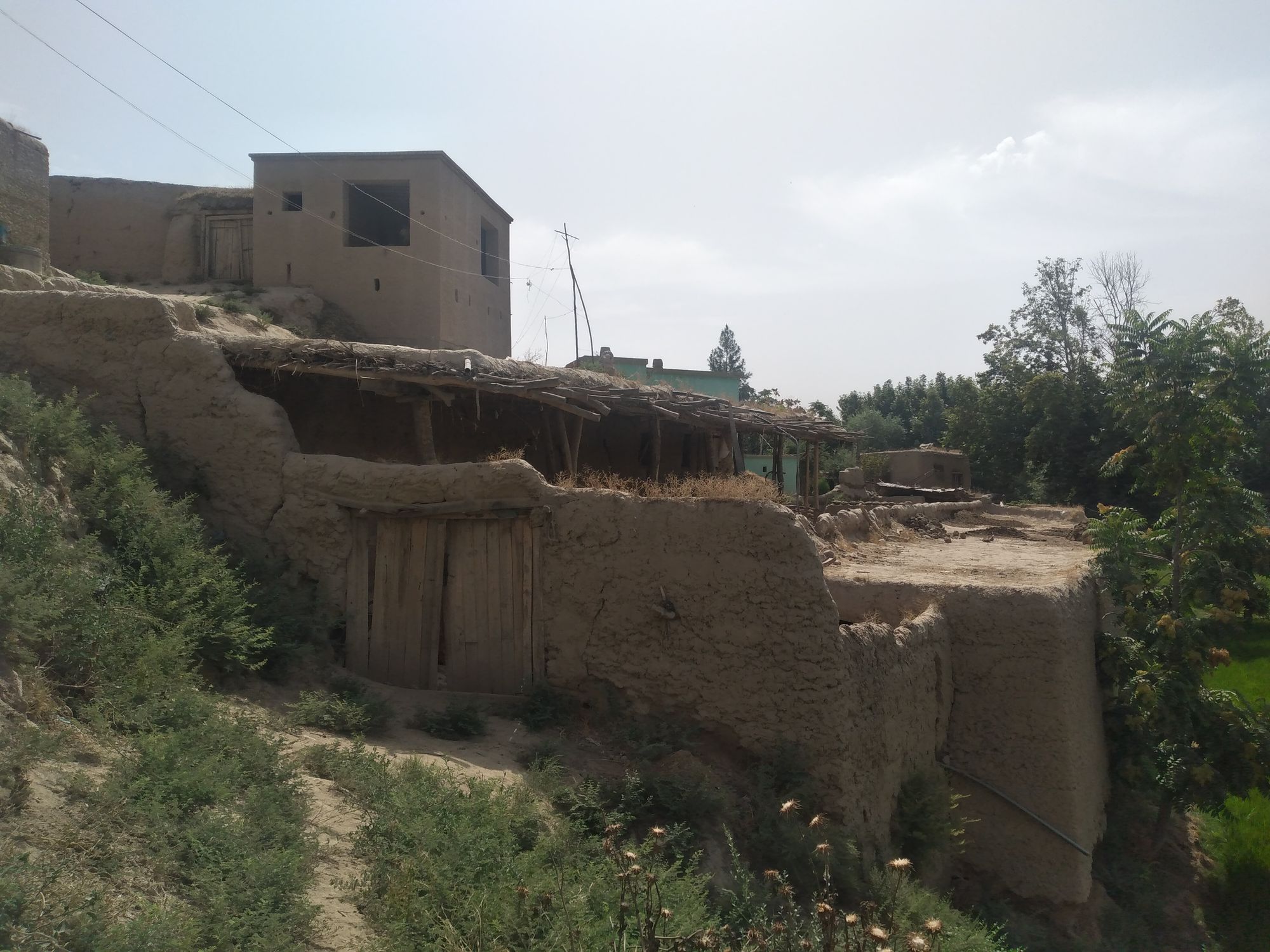 In addition to her challenges, Karima's biggest concern is the continued closure of girls' schools. She doesn't want them to spend their lives in poverty and without education like she did. Karima is ready to do anything for her children to get an education and build a better future for themselves.
Millions of Afghan children are out of school. The lack of facilities and Taliban's ban on girls above 6th grade from attending school are not the only factors preventing Afghan children from going to school. Poverty also keeps children from seeking education.  
Karima complains about high food prices–both for humans and–animals saying, "Although I sell the milk my cows produce, the money is not sufficient to buy enough hay and grass for the animals because the prices of daily goods have increased."
The continuous drought that has affected Afghanistan for several years is one of the reasons for the increase in prices of hay and grass for livestock.
"The animals have become thin and do not give enough milk because I cannot provide them enough food," Karima says.
Although my day with Karima ends here, her life and struggle to make it better will go on. She will wake up tomorrow to do the same thing, over and over again in the hope of change.
For more information regarding Afghanistan's economic, and educational situation, read Alive in Afghanistan's articles on Education, Economy, and Drought.