Community of Hazaras Living Among Pashtuns
A small community of Hazaras lives peacefully in Garmser, a Pashtun-dominated district of southern Afghanistan's Helmand province. Residents of the village talk of the strong relationship between the two ethnic groups.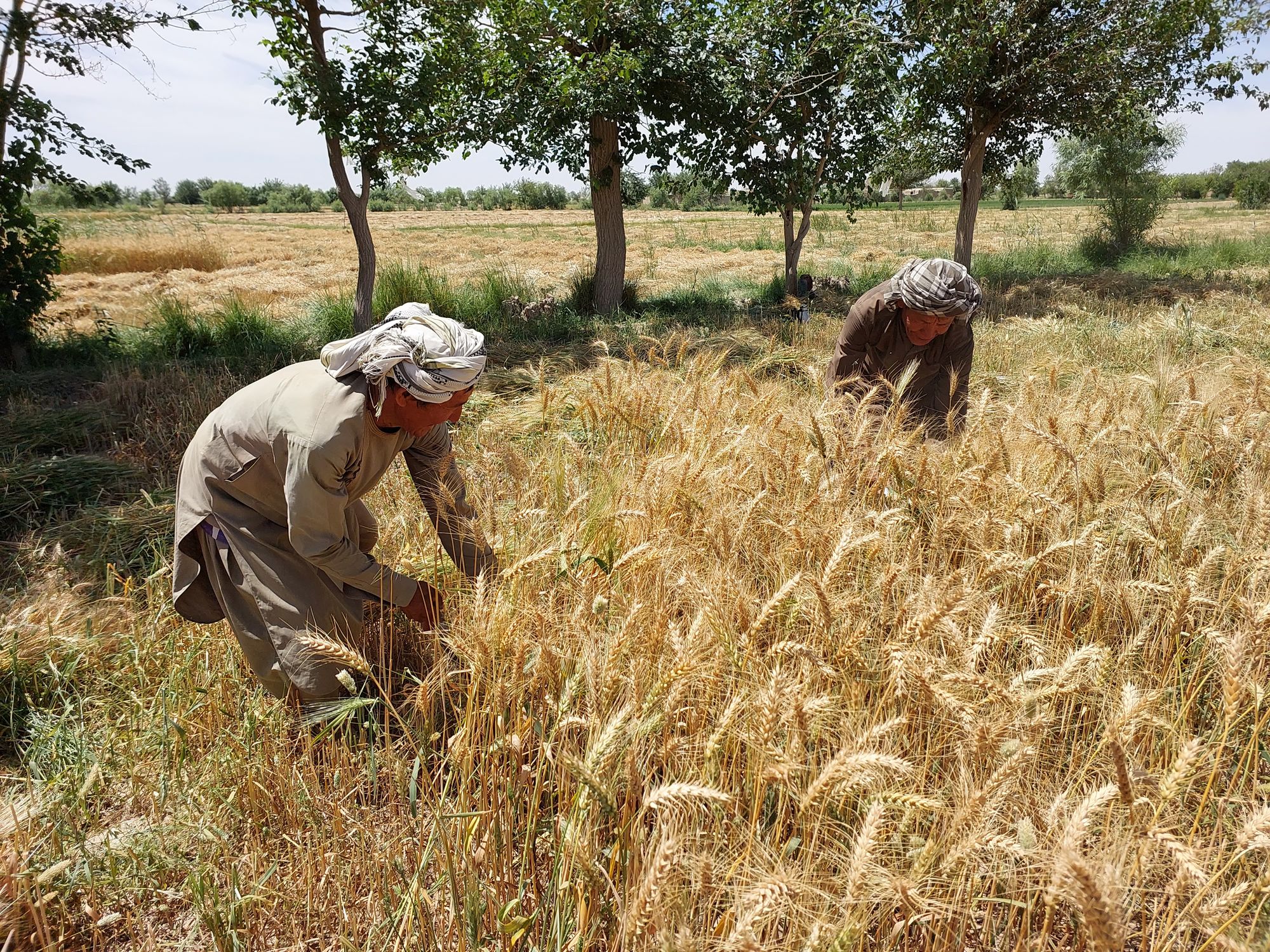 Writteb by Nematullah Hemat
GARMSER, HELMAND — In today's episode of Alive in Afghanistan, Nematullah Hemat documents a day in the life of a small Hazara community living in Garmser, a district in southern Afghanistan's Helmand province. Hazaras are one of Afghanistan's main ethnic groups who live in the provincial capital of Lashkargah, and Garmser, Nad-e Ali, Nawa, Marja, and Gereshk districts. According to estimates by the provincial Central Statistics Office, around 30,000 Hazara families live in the majority Pashtun-populated province.
A majority of the families settled in the province during King Zahir Shah's era (1933 – 1973). To document their life, we set off from Lashkargah, the capital of the province, to Garmser, about 66 kilometers south of the provincial capital.
It's 6:30 in the morning when we leave for Laki, a small village in Garmser populated by Hazaras; the road to this district is partially paved but most of it is a stretch of bumpy dirt road cutting through a dry and dusty desert that tires travelers out. A majority of the connecting roads in this province are not paved, the few that were, were destroyed during the years of continuous war between the Taliban, the previous Afghan government, and foreign troops.
Dr. Hassan Reza, a dentist and Laki resident has offered to be our guide to his home village. After arriving in Hazar Joft, the district center, Dr. Reza, guides me by phone to the Safa Bazaar, a small marketplace near his village.
It takes another 1 hour and 20 minutes to reach Safa, where Dr. Reza meets me. Beautiful mud houses appear in the distance as we near the village. The differences between homes made by Hazaras and Pashtuns are clearly evident as we arrive.
The differences between the homes are that Hazaras spend more time and effort to beautify their home, the mud walls are smooth, and small towers are built on the corners of the enclosure. Dr. Reza and I park our cars next to the village mosque and walk over the adjacent farm.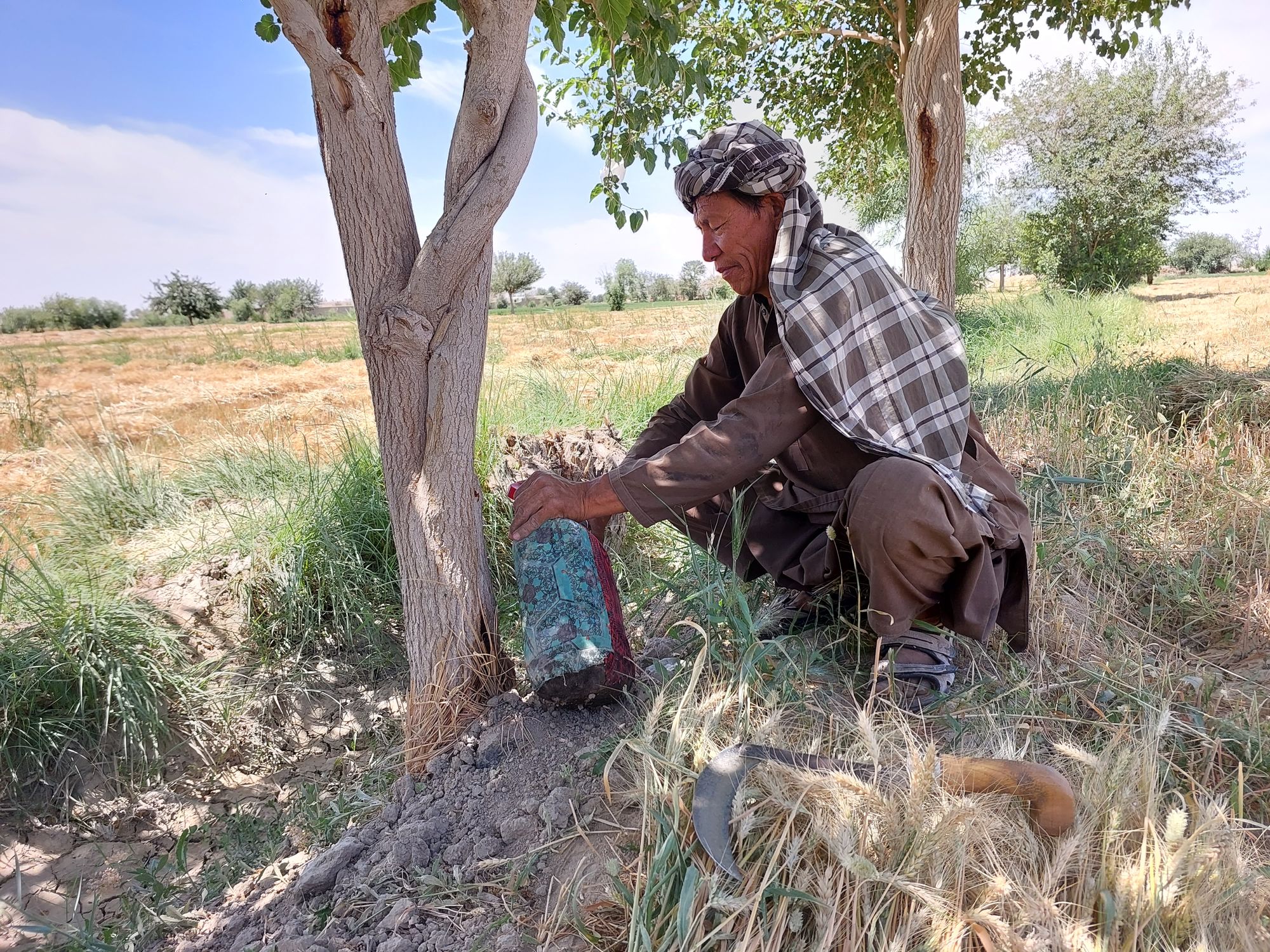 Two brothers, Habibullah and Chaman Shah Haidari, are busy harvesting wheat in the scorching Helmand sun. As we approach the siblings, Chaman Shah walks over to a cloth-covered water can sitting under the shade of a tree. Reaching the shade he fills a glass and drinks it down, using the break to momentarily escape the heat.
After an initial meet and greet, Dr. Reza calls over Mehdi, a 30 year-old man from a nearby home, who greets me warmly. Mehdi invites us to walk over to his home, where we are immediately met with bowls of yogurt. Mehdi offers us both yogurt saying, "Drink up! It's from our own cattle."
Residents of Helmand and other southern provinces serve yogurt, often topped with chopped cucumbers, as a cooling drink for guests to beat the heat during hot summer months.
63 year-old Abdul Aziz and 50 year-old Bismillah Jan, both Kali residents, join us outside Mehdi's home as we sit on a thin homemade rug made with an old fabric in several colors. Most people native to southern provinces use open spaces outside their family compound to host non-family male guests.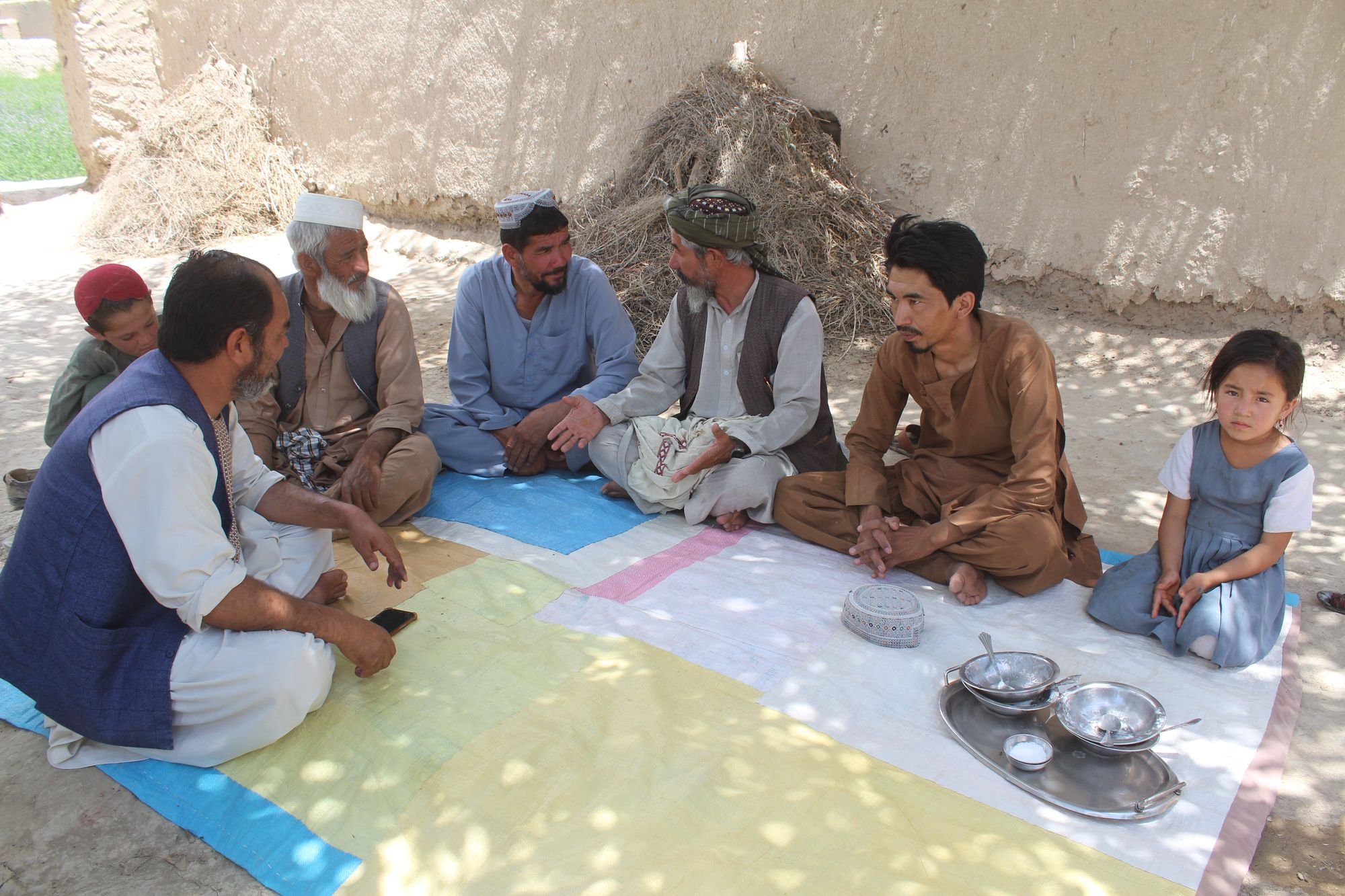 "We moved here when I was a child. I have lived a majority of my life in this tiny village, among Pashtuns. The population is made up of 19 families, consisting of an estimated 160 people. The number of residents was higher previously, but some left due to reduced resources, lack of schools, and health centers, among other issues," Mr. Aziz tells Alive in Afghanistan.
Abdul Aziz had this to say about being a Hazara living in a Pashtun-dominated area, "Our inter-tribal relationship, culture, and communication is highly strong between us and our Pashtun brothers. Although occasional arguments due to land-related issues do arise between us, everyone's effort is to continue life with our brotherhood intact."
According to Abdul Aziz, the majority of Laki's Hazara population speak both Pashto and Hazaragi, a dialect of Dari. Children from the village go to schools or madrassas that have a Pashto curriculum. Aziz speaks to me in fluent Pashto while providing information about his home village.
Bismillah follows Aziz by saying that despite their dissatisfaction with the living conditions, they must try to live life happily next to their families.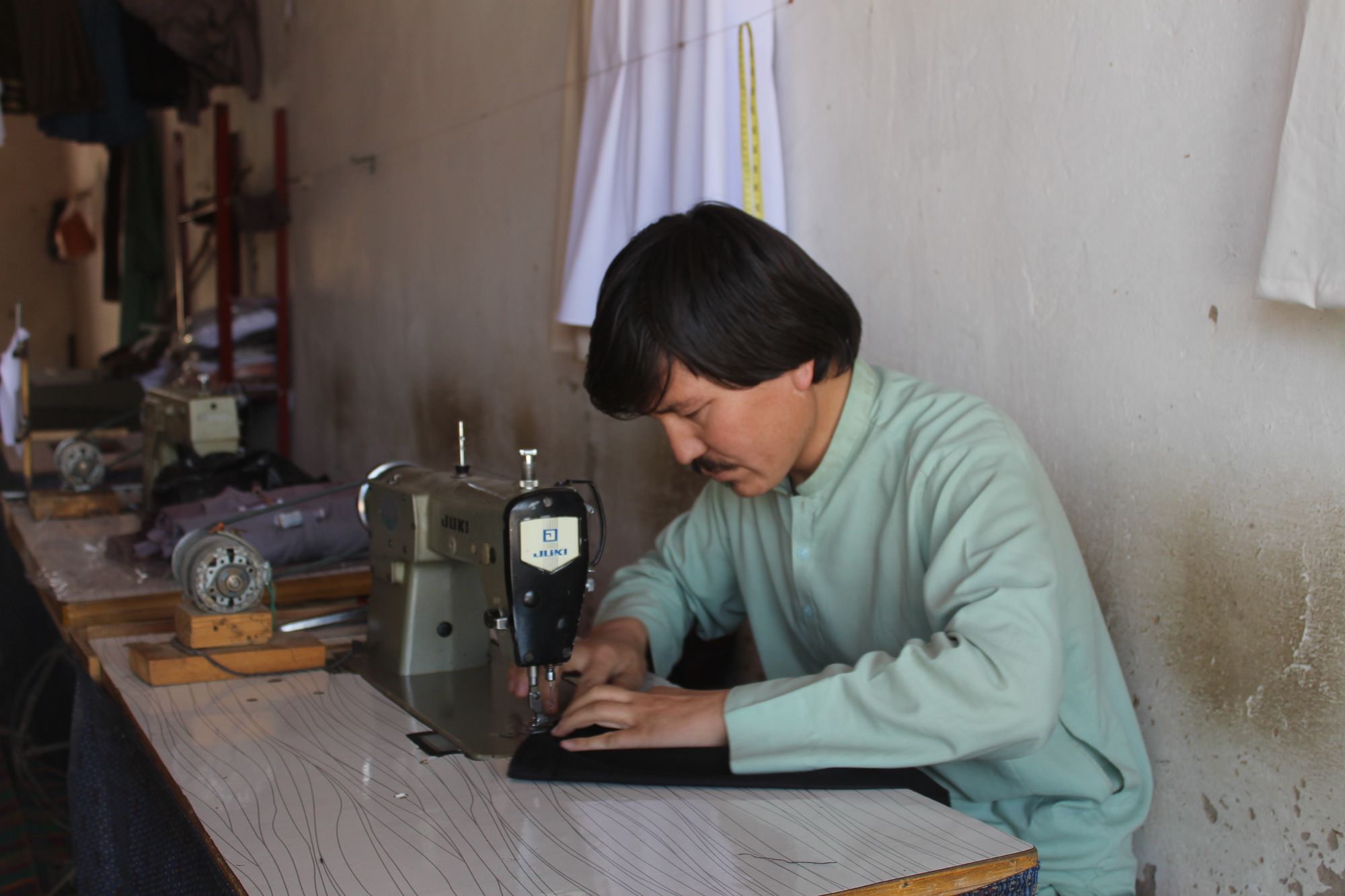 "It's a village life, resources are numbered, a majority of our children have remained illiterate and continue to suffer from illiteracy. There are very few educational centers, and health facilities are far away from us, but we continue living life anyway we can," Bismillah tells Alive in Afghanistan.
"Previous governments did little to help our village, we have no schools, no clinics, and the road to the provincial capital is an unpaved and bumpy dirt road, we have a hard time getting sick residents to the provincial capital, these are all issues we face on a daily basis. We had high hopes that the Taliban government would help us, however, our issues remain as is," Bismillah adds.
A large number of Laki residents, including the youth, are farmers, welders, tailors, and hairdressers. While visiting the market, I speak to Mohammad Hassan, a Hazara boy from Sokhta, a nearby village.
Hassan says his tribe lives peacefully among and works together with Pashtuns.
"There is a large population of Hazaras living in Sokhta, Pashtuns are our brothers, we have a lot in common culturally, and I work together with my Pashtun brothers quite often, we treat each other very well. Although kids on both sides fight each other sometimes, we don't pay attention to that and continue living life," Hassan tells Alive in Afghanistan.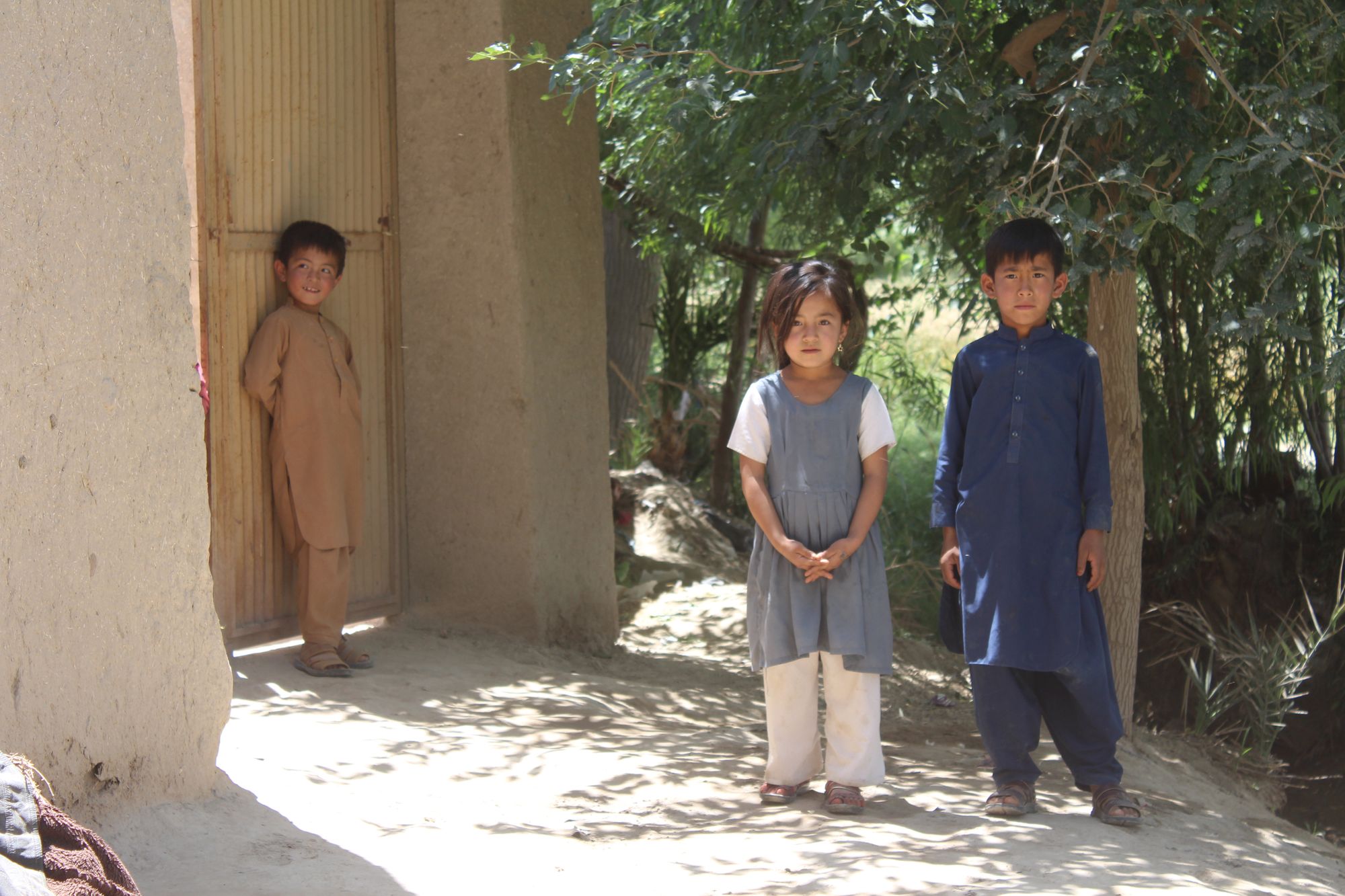 Hassan goes on to say that, "We mourn together, we celebrate together, and enjoy the diversity and contrast between Pashtuns and Hazaras. Some of our traditions are interesting for Pashtuns, and some of their traditions are interesting for us. Pashtun women also take part in a lot of our events."
Wedding cakes are one of the Hazara family traditions that are interesting and a must see for Pashtun women. Pashtuns living in rural areas don't serve cake at weddings, those that do live in urban areas, and cities.
Haji Mohammad Afzal Kharoti, a Pashtun tribal elder in Garmser says, "Even two brothers fight each other at times, however, we have made our youth and children understand that Hazaras are our countrymen, not to be discriminated against, and treated the same as other Pashtuns."
13 year-old student Abdul Aziz, a 7th-grade student in Laki, says, "Pashtun children treat us well and do not discriminate."
Abdul would have preferred studying Dari in school, but learning Pashto at the school is something he must do. Unfortunately for him there are no public schools with Dari curriculum for Hazara children in Helmand, save private schools in Lashkargah.