Children Without a Childhood
The number of families putting children like Mohammad and Mustafa to work is increasing across Afghanistan as poverty in the country marred by an economic crisis rises.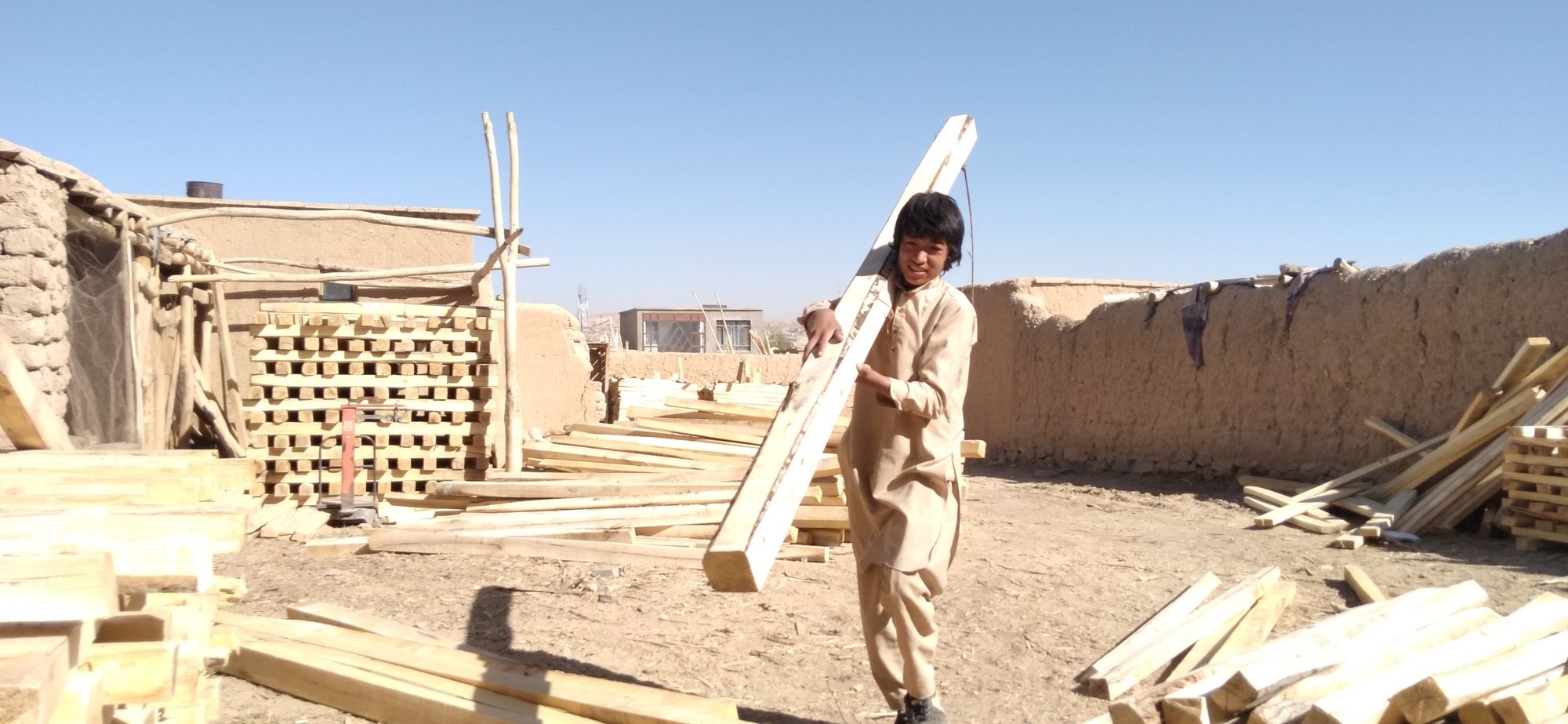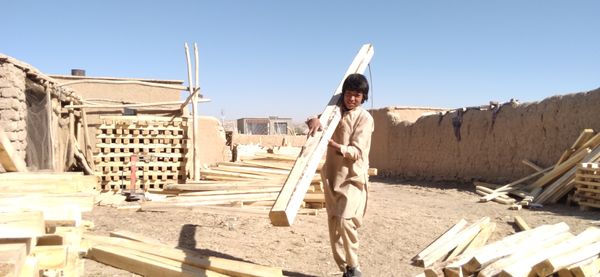 Written by Fereshta Hussainyar
FIROZKOH, GHOR — Child labor has been on the rise in Afghanistan. Surveys by Save the Children reported that the percentage of families saying they had a child working outside of home in the seven provinces surveyed grew from 18 to 22 percent from December to June.  Ghor was not included in the survey.
In today's episode of One Day in Afghanistan, Fereshta Hussainyar documents a day in the lives of 14 year-old Mohammad and 13 year-old Mustafa, two teenagers working at a lumberyard on the outskirts of Firozkoh, the capital of central Afghanistan's Ghor province.
I leave Firozkoh early for Pushta-e Eidgah, around 7:30 am. The village is about 4 kilometers away from the capital where residents buy their lumber. People are busy going to work on this chilly fall morning as we drive through Firozkoh. As we arrive at the area, we cross lumber stores one after the other, set up in a perfect row.
After spending almost an hour on the road, I arrive at the Mullah Azim lumberyard at 8:30, where Mohammad and Mustafa work as woodcutters and salesmen. The lumberyard row has its usual morning rush, the sounds of heavy machinery and axes cutting through logs are irritating to the ear and can be heard from afar.
When I enter the lumberyard, I see Mohammad, Mustafa and 23 year-old Mohammad Zareef loading a customer's cargo to be transported on a motorized tricycle.
"I  work alongside my colleagues every day and have the responsibility to keep the lumberyard safe, for which I get paid 200 Afghanis a day ($2.30)," Mohammad tells Alive in Afghanistan, after which he is called to help his colleagues who are sorting four-by-four timbers that have been cut. Mohammad and Mustafa hand the pieces of wood over to Zareef, who piles them on top of each other one by one.
Mohammad has three brothers and a sister who are all older than him. His dad lost one of his legs to a traffic accident 16 years ago and his mother is a housewife. One of Mohammad's brothers' served the former Afghan army as a soldier and the other was working as a waiter, both of them left to work in Iran following the collapse of Afghanistan's previous government in August of 2021. According to Mohammad, his siblings cannot even make enough to cover their expenses due to the ongoing political unrest in Iran.
"The prices range between 250 to 350 Afghanis ($2.87 to $4.02); they can be used to make doors, windows, wardrobes, closets, etc," Mohammad says while working.
At 8:51 am Khalifa Forough, a 60 year-old customer with a white beard and a little hunchback walks into the lumberyard and scans the four-by-fours. He is a carpenter who owns a store in the city. Meanwhile Zareef tries hard to rent a three-wheeled motorcycle so if the customer wants to buy wood, transportation for the items he purchases is ready to go.
"Carpentry has no profit at all this year because the construction industry has collapsed. We only make a little profit from selling sawdust, which is used for heating up homes in winter," Khalifa Forough tells Alive in Afghanistan.
While we are busy talking with Khalifa Forough, an 11 year-old child carrying drinking water in plastic containers walks in.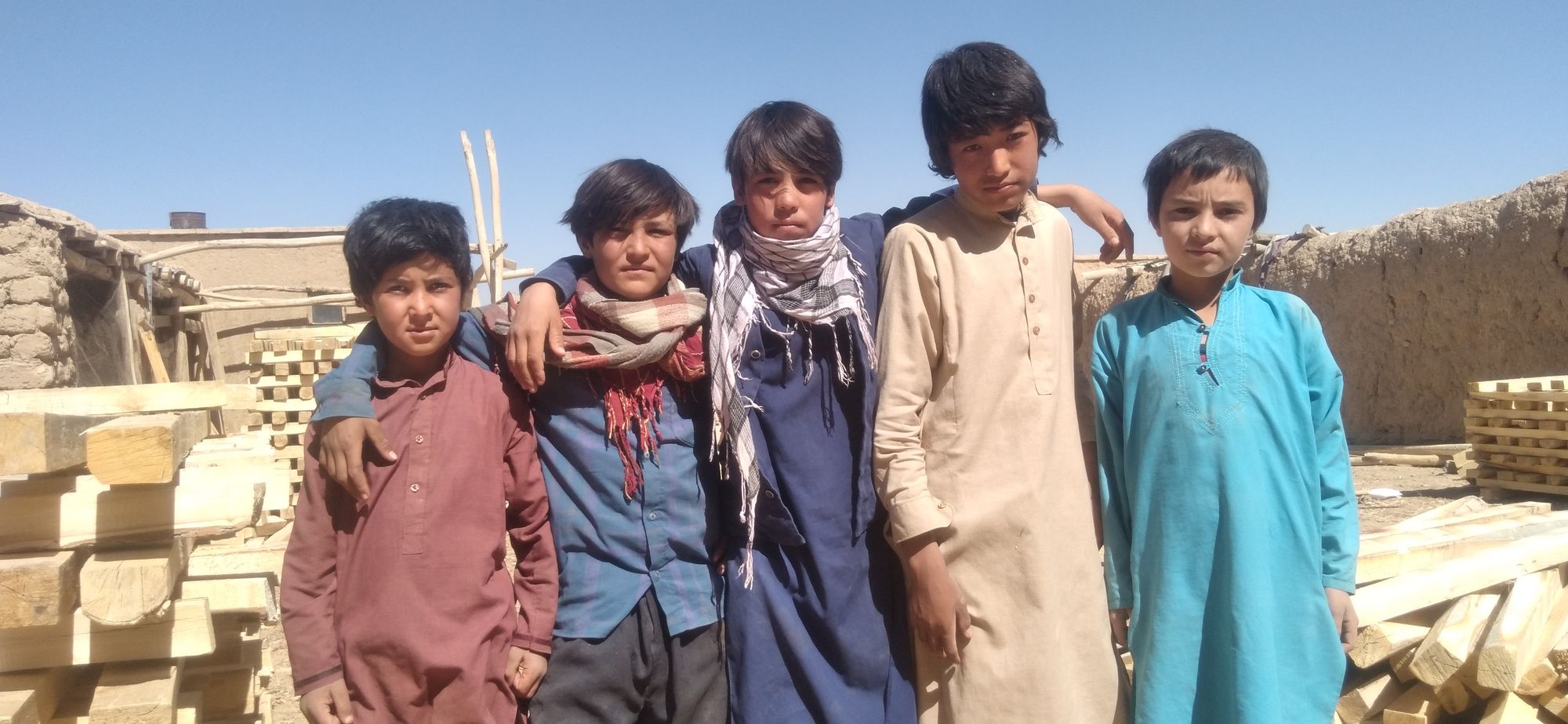 "I am Juma, I work for Haji Agha, the woodseller next to this one," he introduces himself. When I ask him about school, Juma innocently says, "I can't study because we are poor. My dad has two wives and lives with his other wife. My mother, brother and I live here. My brother, who works for a mechanic, and I are the only breadwinners of my family, we have no choice but to work."
Juma is paid 1,700 Afghanis ($19.54) per month for working at the lumberyard. The stories of Juma and children like him really depress me. They work hard instead of going to school or having the chance to be a child, yet are barely able to provide for their families.
Children across Afghanistan are deprived from education due to a variety of reasons, economy and security being chief among them. For more information about children, read Alive in Afghanistan's articles on Children and Education.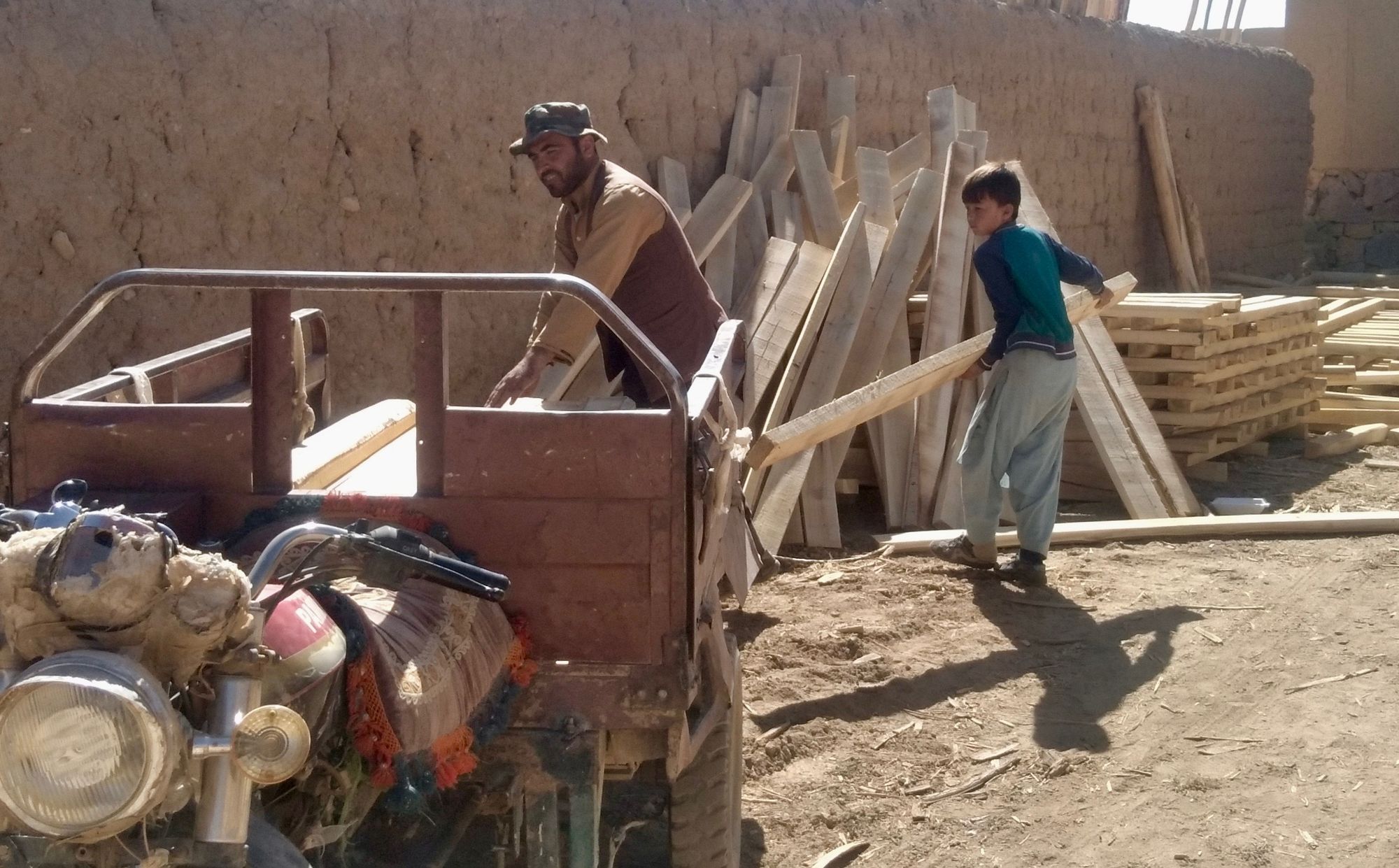 "I couldn't find any work despite looking very hard for it," Arif says to Mohammad as he enters the lumberyard. Arif is in 8th grade, goes to school in the afternoon and works in the morning to cover his costs.
"Want to play football (soccer) after work?" Arif asks Mohammad.
"No, I have to refill my propane canister," Mohammad replies.
In one corner of the store where Mohammad works, there is a small three meter by three meter room with a thin blue carpet that covers the floor. There are two big wooden chests and carpentry tools inside the room. The lumberyard staff use the room for shade when it's too hot, to get warm when too cold, or just to relax.
When I look at Mohammad's face again, he is watching some children ride their bikes in the street. Maybe he is imagining riding one himself, but he must go back to work.
Time flies by as Mohammad's customers come and go one after the other. Around 10 am, two Pashto speaking customers enter the lumberyard. From the looks of it, they don't seem like they are residents of Ghor. After bargaining with Mohammad over the price of wood for a little while, they do not reach an agreement and leave the store.
I decide to leave Mohammad alone for a bit and take a walk down the street. Every single one of the wood-sellers are desperately waiting for customers but no one is lucky. There are some trucks parked on the street; one loaded with wood and another with hay.
Every single shop-owner and pedestrian I speak with complains about the same problem, poverty and unemployment.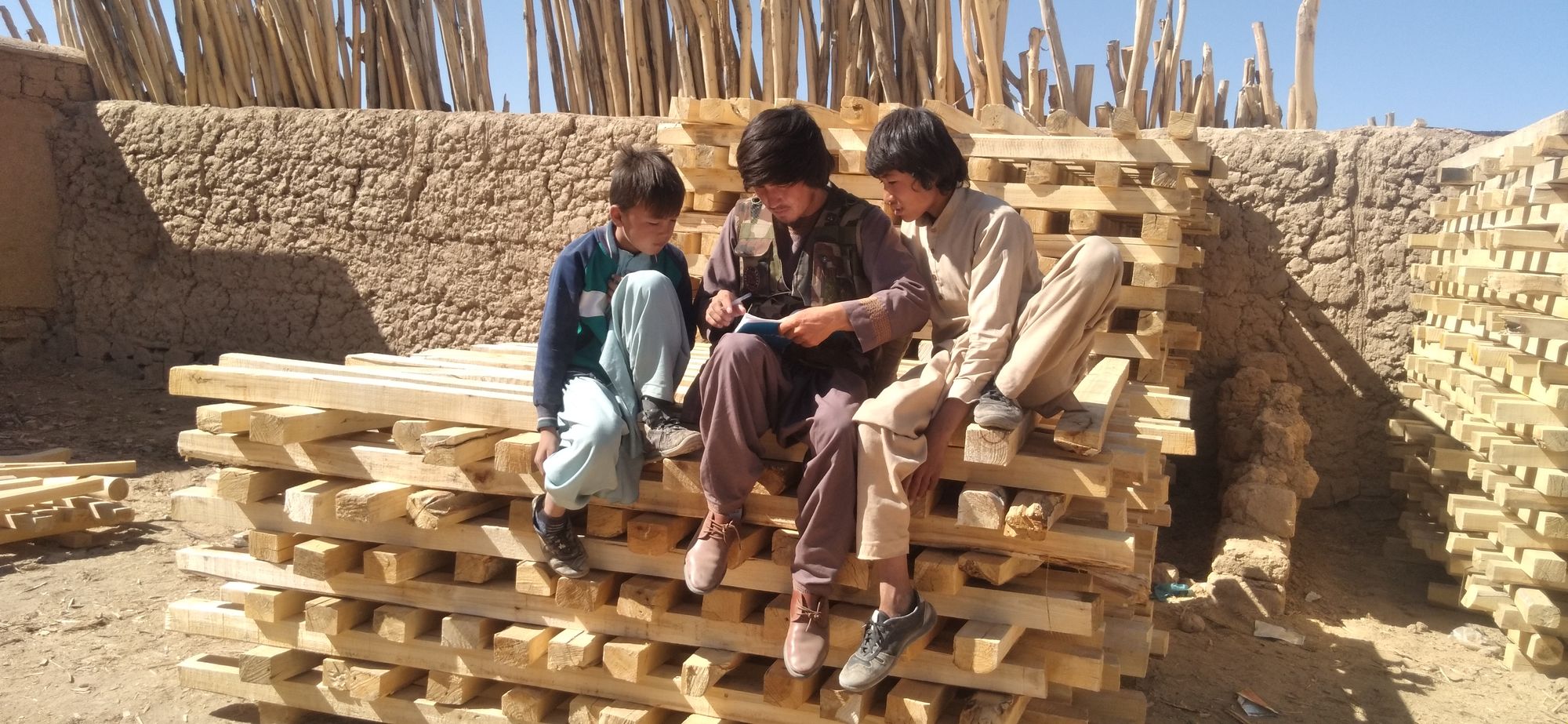 "My business partner Mullah Azeem and I did our accounts about two weeks ago, our calculations showed a loss of 20,000 Afghanis ($229) so far this year," Zareef, who also owns part of the lumberyard ,tells Alive in Afghanistan before adding, "We no longer have the customer base we used to."
While listening to Zareef, my eyes lock onto some children who are roaming the street. The children approach me after seeing the notebook and pen in my hands, thinking I might be an aid worker.
"Aunty, are you listing people for aid? If so, please register our names as well," Ismatulla, one of the three children says with nervous anticipation.
I tell them I am a reporter, not an aid worker. These children also work at a nearby lumberyard skinning fresh logs. They are paid in tree bark to use as fuel to warm their homes in winter.
It is nearly noon now and the number of customers has decreased for the moment. Mohammad and his colleagues seem tired. He walks towards the small room, with me in pursuit. I sit near him and moments later, I realize he has fallen asleep.
I start reviewing my notes while Mohammad sleeps. After several minutes he wakes up, looks towards the street where some children are riding their bikes. Mohammad joins them, taking Mustafa's bike without his permission.
While riding the bike, the chains come off and Mohammad has to stop immediately. He moves the bike out of sight so Mustafa can't see him trying to put the chains back on. Mohammad's hands work on the bike while he eyes the lumberyard so he doesn't miss any potential customers and risk getting yelled at by his boss.
"It's lunch time, you all and Mohammad come and have lunch with me," Mustafa tells us, not giving any indication of choice in the matter as the clock turns 12:30. Mustafa's house is about 200 meters from the lumberyard.
Afghans are notorious for their hospitality and consider it rude if a meal invitation is not accepted by the guest. Our lunch includes eggs, fresh bread and tea.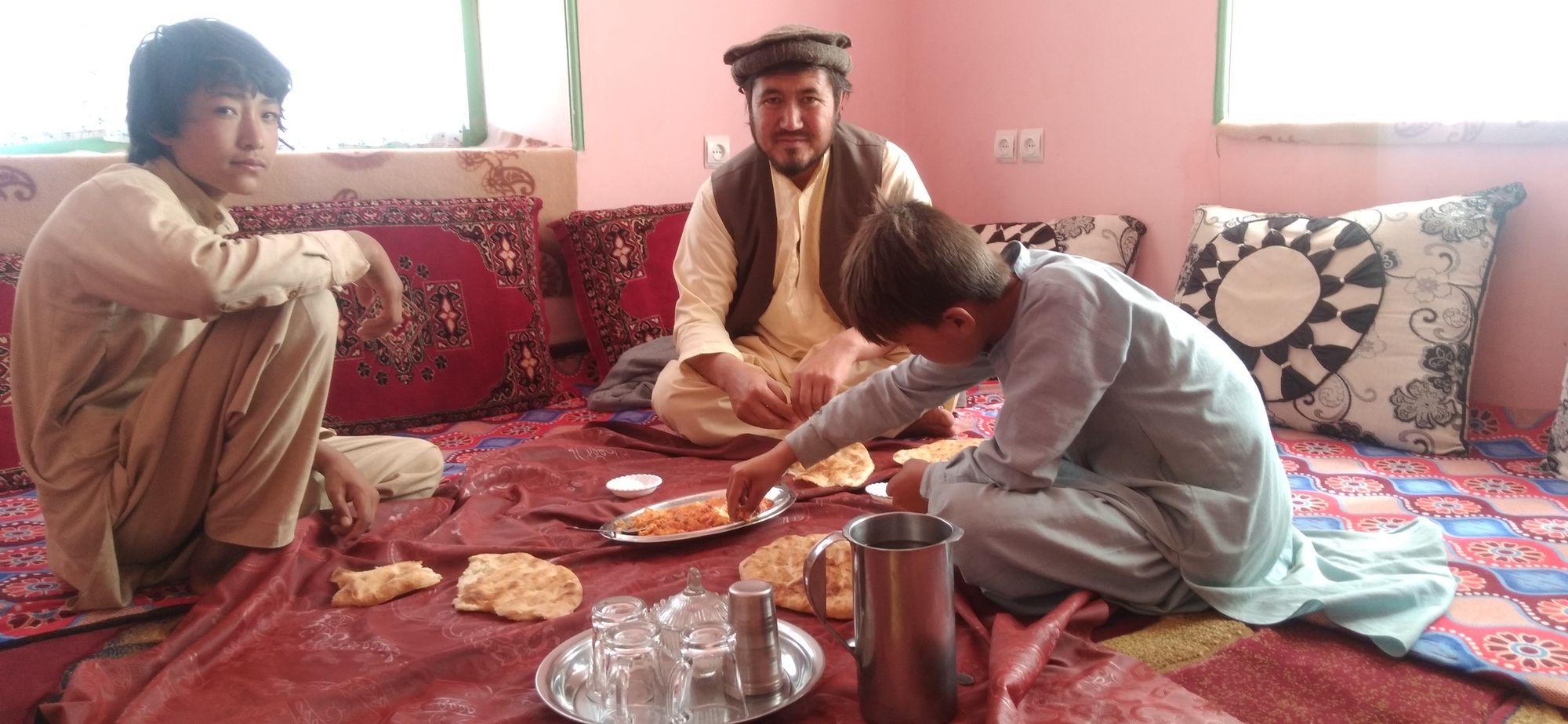 While we are having lunch I ask Mustafa why he doesn't go to school.
"My dad left to work in our village so I couldn't go to school for a while. When I went back to school a few days ago, my teacher said I was excluded from class this year and would have to come back next year to repeat 4th grade," Mustafa tells Alive in Afghanistan.
We head back to the lumberyard at 1:45 pm but the market is nearly empty. There are only a few customers walking around the bazaar. Mustafa and Mohammad busy themselves playing with the other children while Zareef heads towards the university he studies at.
Mustafa's phone rings at 3 pm. It's his dad, he wants Mustafa to collect their debt with Mohammad's help. He has sent a truckload of wood to them and wants their debts collected so he can pay for the wood he has sent over.
"Unload the logs near the saw and store them in the yard after you are done cutting them," Mustafa's dad tells him.
But Mustafa leaves to collect the debts alone, leaving Mohammad at the store to wait for any potential customers. But the number of customers are few as we wait.
Since fall days are short, the sun starts going down soon and night is on its way. I say goodbye to Mohammad and leave for Firozkoh.